Living in a landlocked state, water sports aren't on everybody's radar. Destinations like Fort Collins though boast lakes and rivers open to a range of boating, with a good number only open to non-motorized boats like kayaks.
It's important once in a while to schedule some time on the water. Activities like kayaking, canoeing and stand up paddle boarding are mentally relaxing and good for your body.
Northern Colorado's most populous city, Fort Collins, is consistently rated as one of the most livable in the country. It boasts more than 165,000 people, so it's got both a city and small-town feel. Nature is in Fort Collins' backyard, with the Arapaho and Roosevelt national forests to the west. Plus there are abundant opportunities for water sports like kayaking without ever leaving the city limits.
Where to Kayak in Fort Collins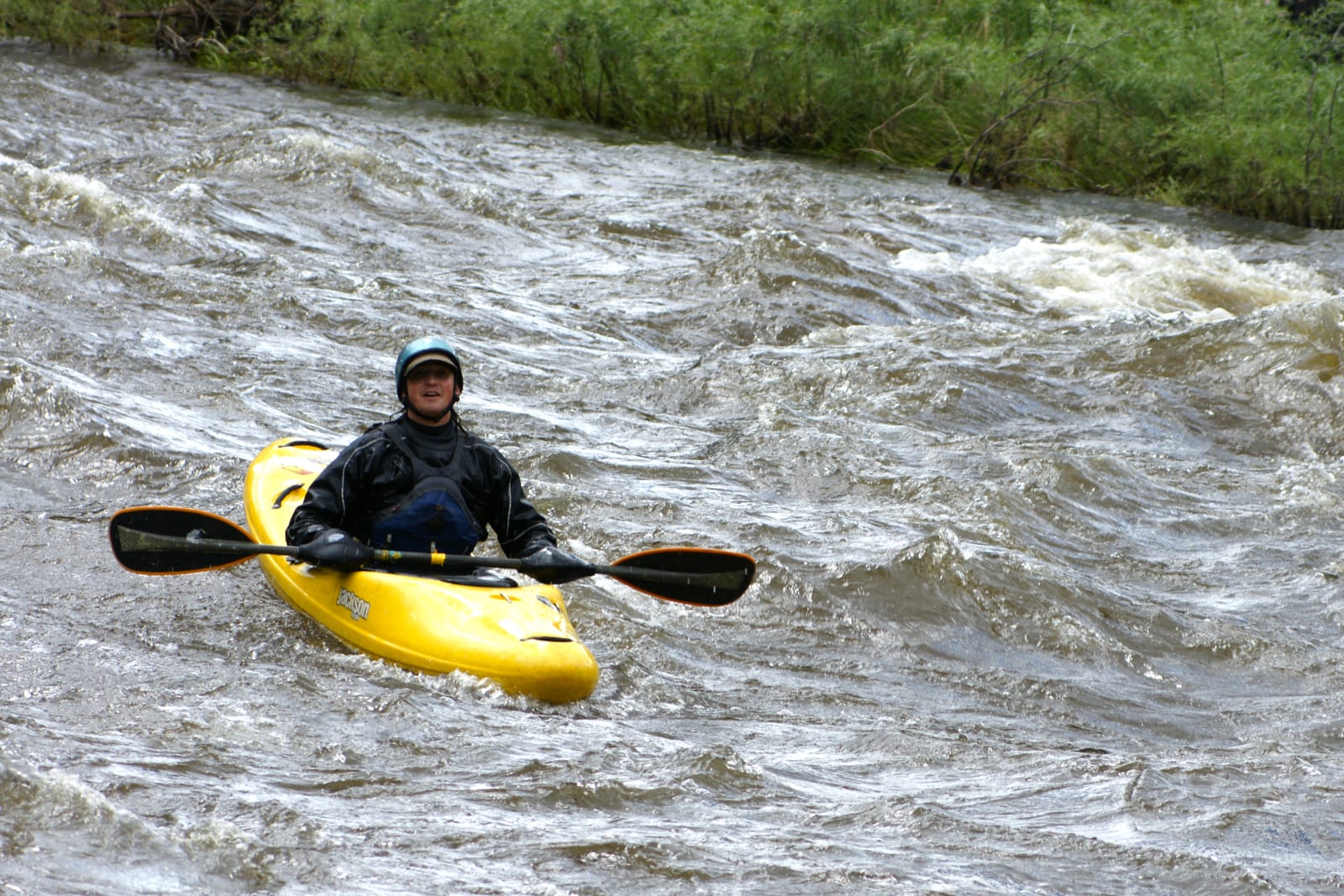 Any day splashing on the water beats a day surfing TV from the couch. So gather up your kayak checklist, including sunscreen, sunglasses, water, snacks, and water-ready clothing, and hit the water. There are mainly two types of kayaks, sit-in or sit-on-top. Your choice depends on the adventure you're going after. The most user-friendly and wet is sit-on-top. Dryer and harder to get out of is sit-in.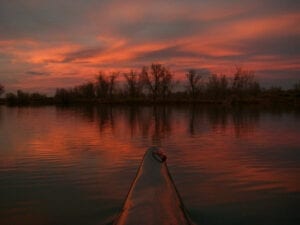 Natural Areas and Ponds – There are natural areas and ponds all across town that permit non-motorized boating. This would be canoeing, stand up paddle boarding, kayaking, etc. Fort Collins natural areas open to kayaks include:
Arapaho Bend
Gateway Natural Area
Kingfisher Point
McMurray Natural Area
North Shields Ponds
Pineridge Natural Area
Prospect Ponds
Riverbend Ponds
The Beaver Pond in Arapaho Bend Natural Area is a stunning spot for an early morning on a sunset kayak trip. Arapaho Bend is also popular for fishing and horseback riding. While there you see the old ruins of the Strauss Cabin, one of the oldest in the region.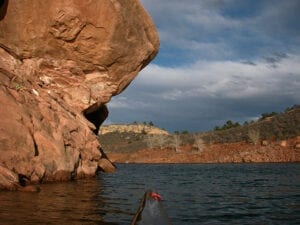 Horsetooth Reservoir – The largest lake in town measures nearly 6.5 miles when full. It's only a 15-minute drive from downtown FC. Unlike the above natural areas and ponds, Horsetooth Reservoir is also open to motorized boats. Summer weekends can reach boating capacity.
You can rent whatever you need at the Inlet Bay Marina there, more info is below.
Cache La Poudre River – If you have some time underneath your belt with a kayak, it may be time to take on part of the Cache La Poudre River. The Filter Run is targeted at advanced beginners. The best time to take on this moderate class 2-3 whitewater is late spring and summer.
It takes about an hour to complete the 2.4 miles, which is about 45 miles from downtown. There are a few put-in and take-out points, though most kayak the whole 2.4-mile stretch several times as a loop.
Other local lakes to consider are Boyd Lake State Park, Carter Lake, and Lonetree Reservoir.
Kayak and Boat Rentals in Fort Collins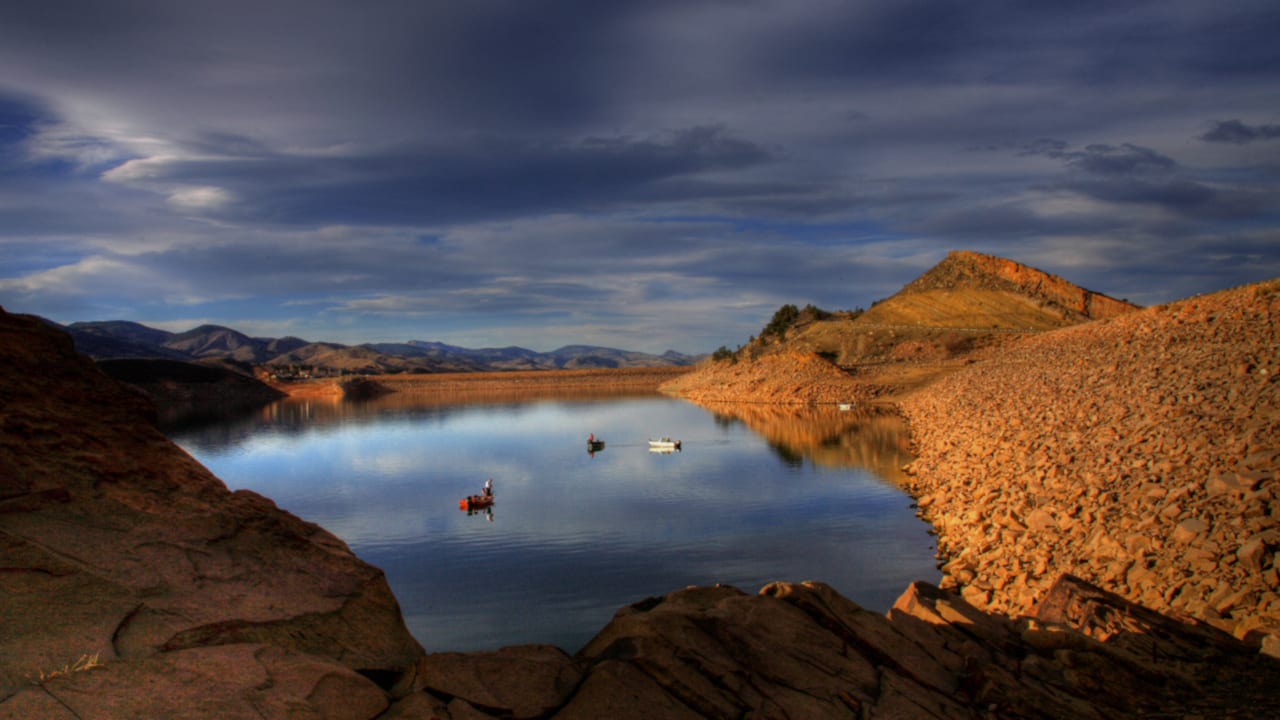 Inlet Bay Marina – The only marina at Horsetooth Reservoir, Inlet Bay Marina rents both motorized and non-motorized watercraft. Choices for the latter include kayaks, canoes, stand up paddle boards, and hydro bike rentals.
Motor boats include pontoon, tower ski boats, jet skis, group boats, fishing boats, and runabouts. Single-person sit-on-top kayaks are rentable by the hour with a 2-hour minimum. Must be 21 and no pets allowed.
Mountain Whitewater – This whitewater rafting outfit hosts guided trips down the spectacular Cache La Poudre River. In addition, Mountain Whitewater has a variety of non-motorized watercraft for rent. You can rent one and two-person duckies, which are inflatable kayaks, as well as hard-sided kayaks.
They also rent SUPs, canoes, and rafts for full-day adventures. You are responsible for transporting your own inflatable kayaks, which are not inflated at the time.
Rocky Mountain Adventure – Another rafting outfit out of Fort Collins, Rocky Mountain Adventures provides both kayak only and kayak package rentals for the half or full day. Packages come with a PDF, spray jacket, helmet, paddle, stern float bag, spray skirt, and kayak. Discounts are offered for additional days. You can also rent stand up paddle boards, rafts, and inflatable kayaks.
Enjoy your time exploring the bodies of water in Larimer County. Fort Collins is a top spot for recreational watersports. After your day kayaking, consider spending the evening in Old Town and overnight at one of the many top hotels in town. See why it's one of Colorado's most livable cities!