Atop Grand Mesa in western Colorado, there is a large system of lakes and reservoirs commonly known as "The Mesa Lakes" or "The Grand Mesa Lakes." Split between Delta and Mesa County, there are over 300 lakes and reservoirs in the area which offer a variety of outdoor activities.
Most of the Mesa Lakes rest near 10,000 feet in elevation and are surrounded by beautiful Grand Mesa National Forest scenery. To reach the area, motorists must travel along the Grand Mesa Scenic Byway with many choices to extend visits overnight in cabins, hotels, and campgrounds.
Popular Mesa Lakes
With so many lakes to choose from, it can be difficult to know where to get started when visiting Grand Mesa. Here are a few suggested destinations to begin your trip.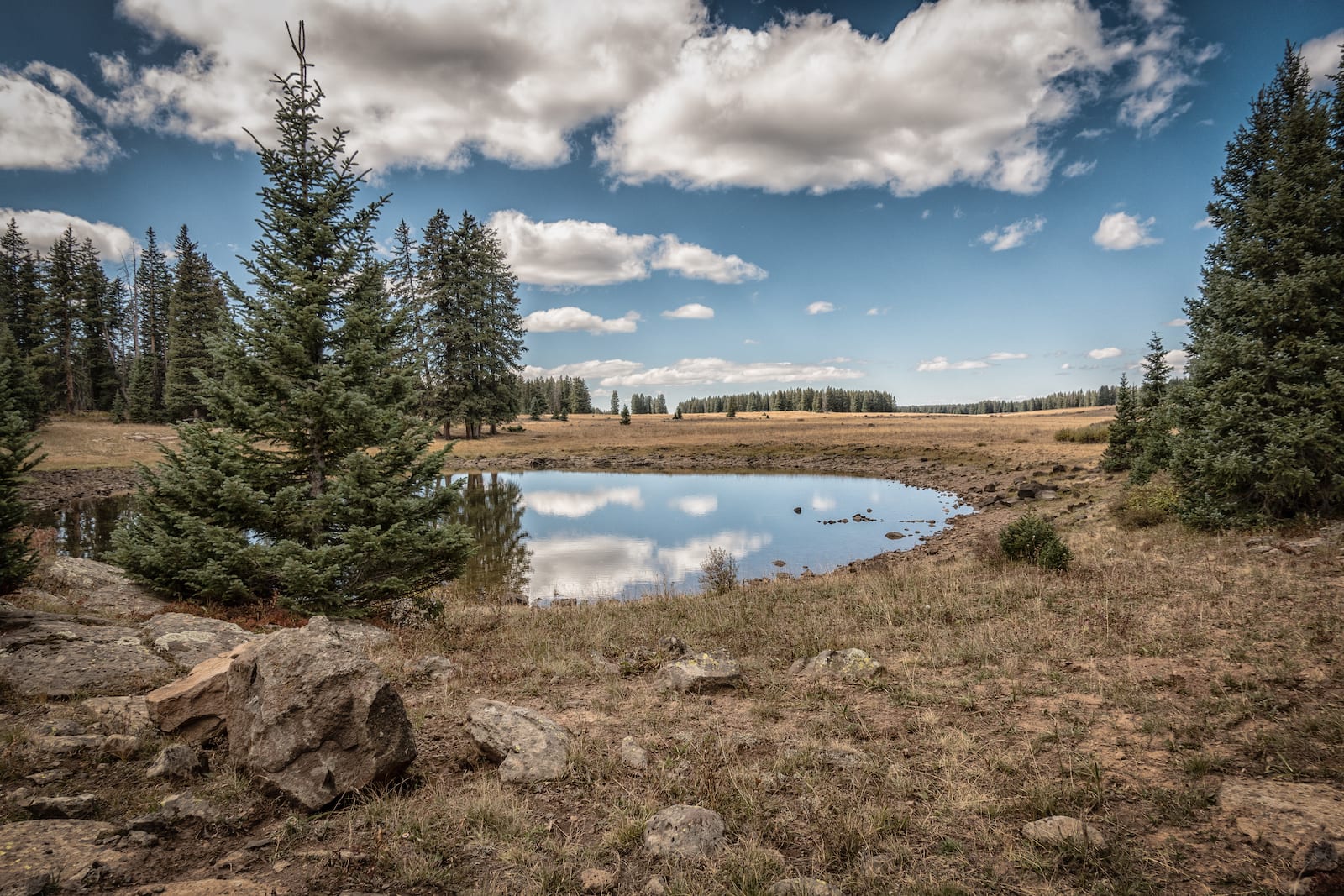 Mesa Lakes: Heading south from Mesa, Colorado, the eponymous Mesa Lakes system is a popular, easily accessible fishing destination. The area contains eight stocked reservoirs, multiple campgrounds, access to trails, and a lodge, perfect for day-use or overnight trips.
Island Lake: Continuing east along the Grand Mesa Scenic Byway, visitors will see the breathtaking Island Lake. Here, multiple campgrounds and access to trails make Island Lake a good basecamp for hikers and mountain bikers.
Bull Creek, Trickle Park, and Granby Reservoirs: In a similar vein, those planning to explore OHV trails in the Mesa Lakes area can find plenty of options near the Bull Creek Reservoirs or the Trickle Park Reservoir. Additional off-road adventure is popular around the many Granby Reservoirs.
Hotel Twin Lake, Eggleston Lake, Baron Lake area: Just off of the scenic byway, motorists can take Baron Lake Dr. to the visitor center near Cobbett and Deep Ward Lake. This is the most congested area of lakes with tons of accommodation and activity options.
Activities
Atop Grand Mesa, the many lakes and activities attract many outdoor enthusiasts, all year round. Near the waters, visitors can find a few stores, lodging, and hospitality options, including the Powderhorn Mountain Resort, which offers downhill skiing and mountain biking opportunities.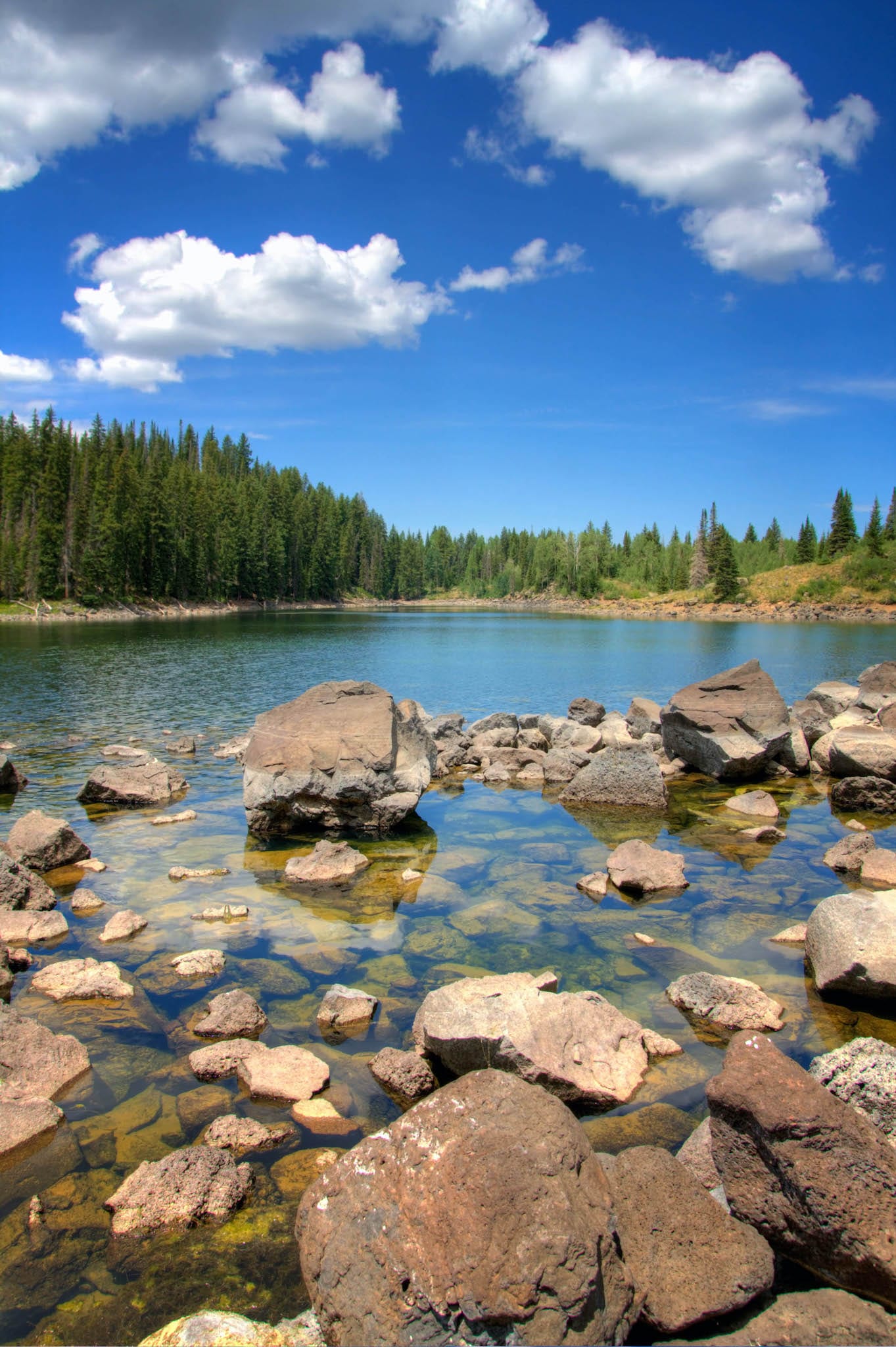 Birding & Wildlife: Surrounding the Mesa Lakes, tremendous opportunities for wildlife encounters await. The area is densely populated with elk, bighorn sheep, and deer, with the occasional chance to spot moose or badgers. The Mesa Lakes area is great for bird watching, with recorded sightings of owls, jays, warblers, finches, woodpeckers, and more.
Boating: Throughout the Grand Mesa Lakes system, there are many public boat launches maintained by the National Forest Service. Boat ramps may be gravel or concrete with paid and free parking available, depending on the location. Here are a few of the most popular launch points in the area:
For a full description of boating regulations in the Grand Mesa Lakes, please see this resource from the Grand Mesa National Forest.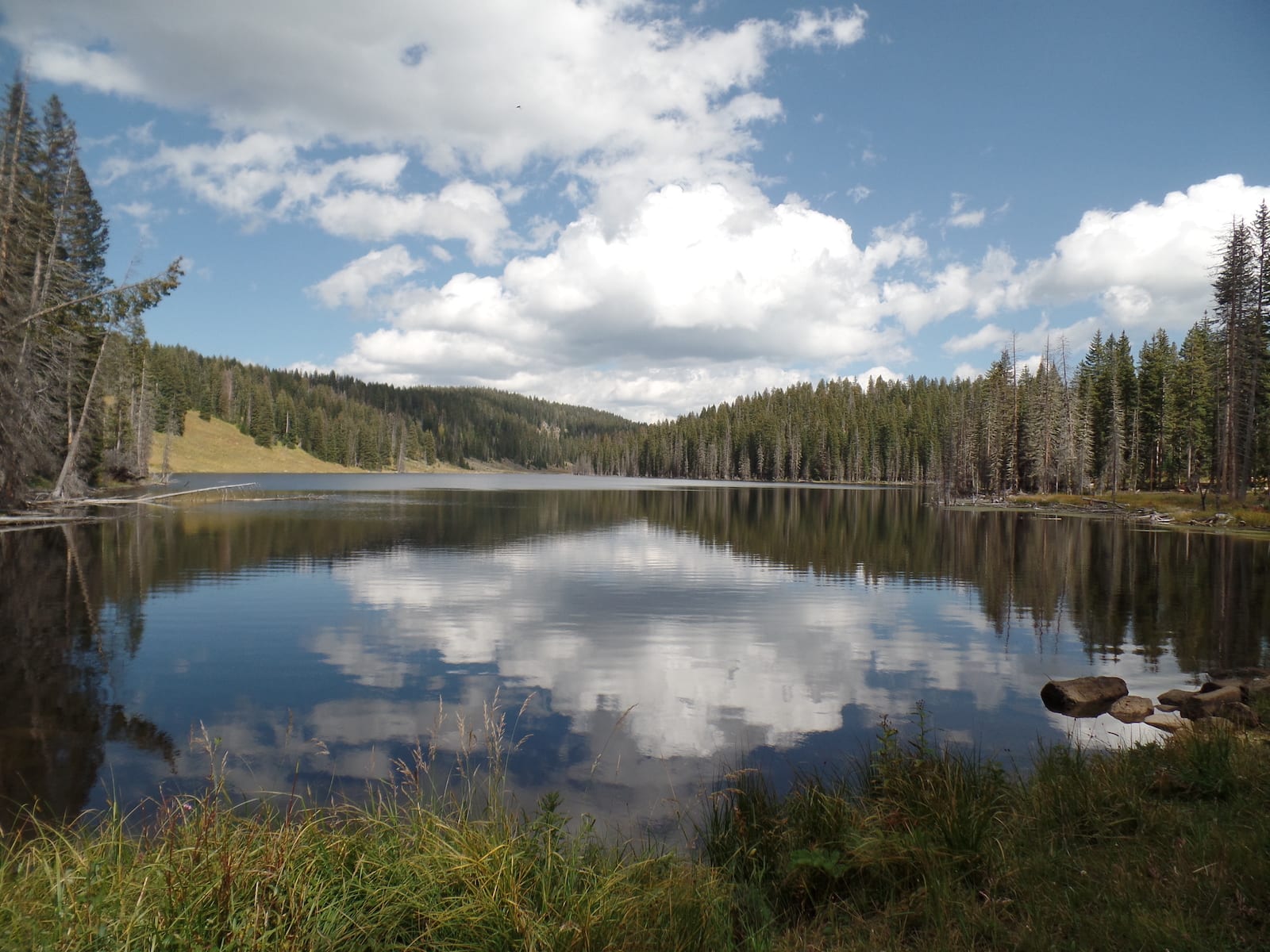 Camping: There are many developed national forest campgrounds in the Grand Mesa Lakes area, primarily found along Grand Valley Rd (also known as Lakeshore Drive). Reservations can be made for some campgrounds, while many in the area are first-come, first-served.
A fee is required for overnight stays in all campgrounds, with access to toilets always onsite. Potable water is only available in a few sites, and campers should plan accordingly.
Grand Mesa Lake campgrounds have a limited season and typically only see light usage from June until October while open and operating. A few of the most popular campgrounds include:
Aside from the developed campgrounds, the extensive trail system in the Grand Mesa National Forest offers a large amount of primitive, backcountry camping opportunities.
Fishing: There are many stocked reservoirs and countless natural waters in the Mesa Lakes area that draw the attention of those looking to fish within the breathtaking scenery. A valid Colorado fishing license is required for all anglers aged 16 years or older.
In the Grand Mesa Lakes area, there are opportunities to catch brook, brown, cutthroat, and rainbow trout. If you are looking to avoid the crowds, some anglers choose to hike into remote waters such as South Mesa Lake along the Lost Lake Trail.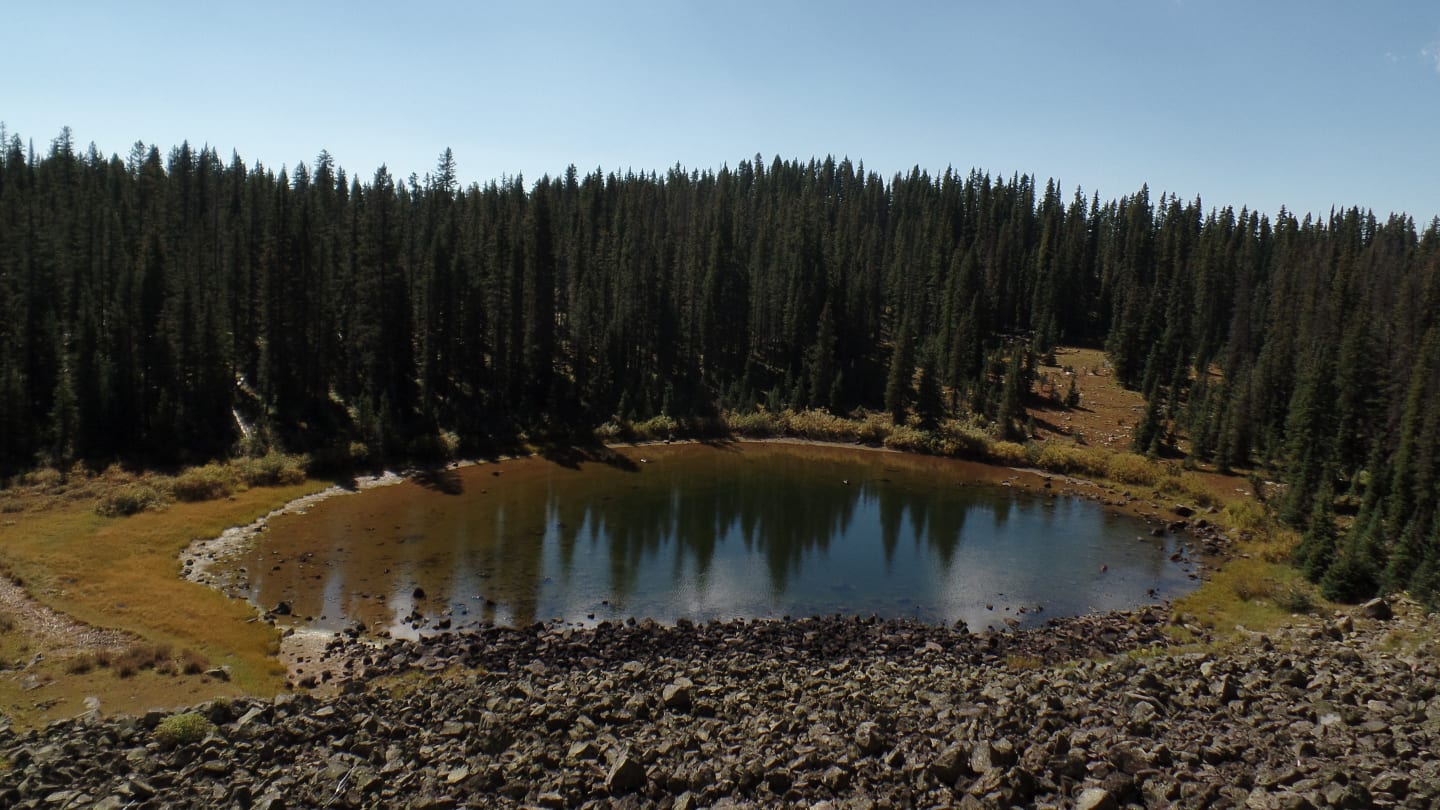 Hunting: Licensed and permitted hunting is allowed in designated areas of the Grand Mesa National Forest. Small game and waterfowl hunting are available throughout, while the Two Peak #521 Trail is popular for big game hunting northeast of the main Mesa Lakes area.
Picnicking: The US Forest Service maintains many free and paid picnic sites throughout the Mesa Lakes system, which offer parking, picnic tables, restrooms, and trash facilities. Most picnic sites can be accessed in the early summer or late spring and typically remain open until major snows in October. Here are a few of the most popular picnic sites within the Grand Mesa Lakes:
Trails: Grand Mesa's lakes are surrounded by an extensive trail system with opportunities for hiking, mountain biking, OHVs, and horseback riding. Visitors should familiarize themselves with a map of local trail designations and plan accordingly based on their method of travel. In the winter, trail access is open for snowshoes, cross-country skis, and snowmobiles.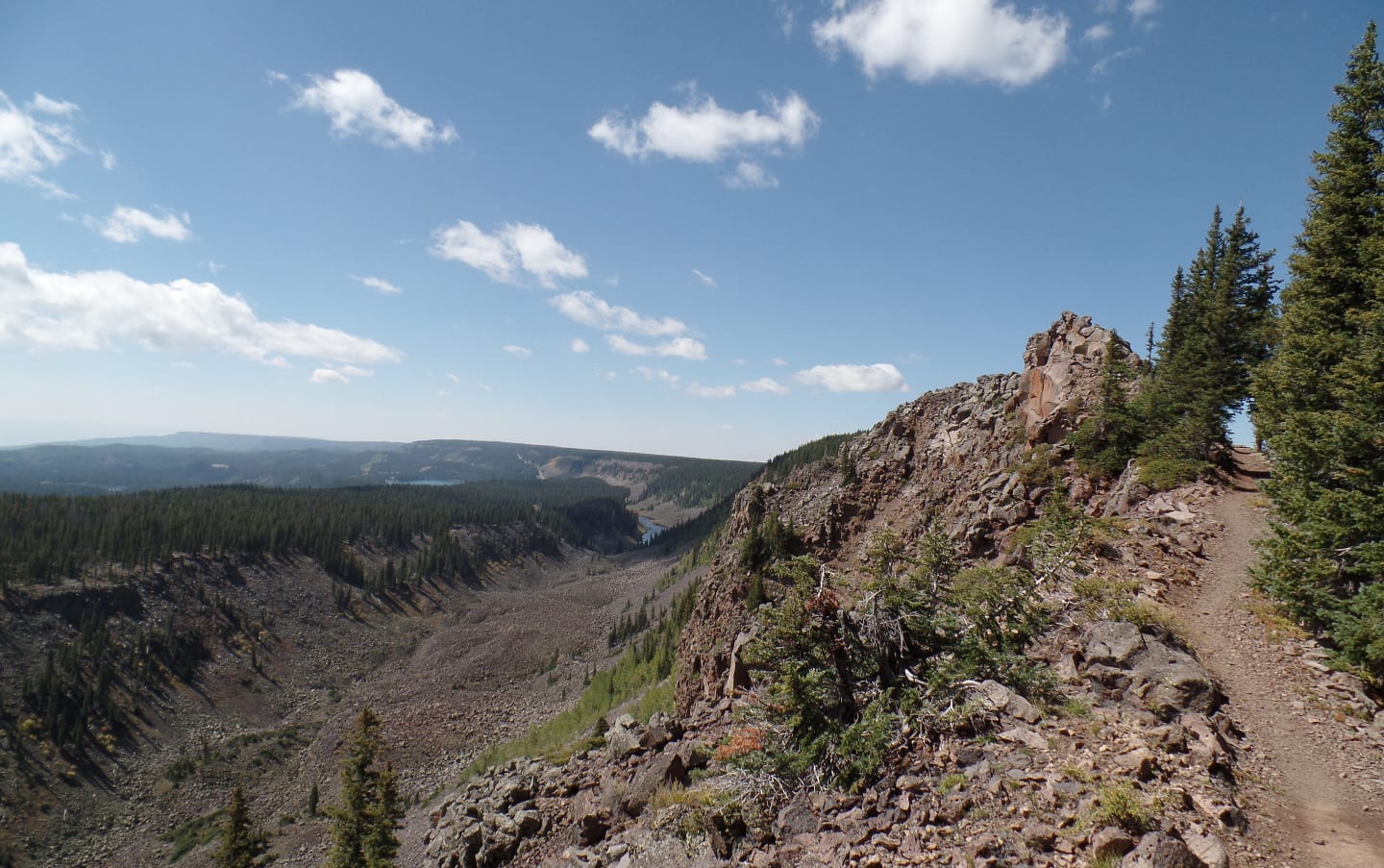 If you're looking for a challenging hike, a journey to the top of Crag Crest (the highest point on the mesa) offers stunning panoramic views of the surrounding lakes and scenery. Access to the Crag Crest National Recreation Trail is located along the Grand Mesa Scenic Byway, near Island Lake.
Details
Address: Mesa Lakes, between Mesa and Collbran, CO 81418
Phone: 970-874-6600
Season: July – October
Hours: 24/7
Fees: Camping fees
Maps & Information: (PDF)