Sometimes you may start to feel a bit landlocked in Colorado, especially if you come from a coastal area or happen to love the water. Luckily, Colorado has its fair share of big lakes and reservoirs open to boating, with marinas on-site to rent you a boat.
Whether you're looking for a speed boat to shred some water, a pontoon boat to party with your friends, or a simple fishing vessel to catch a trophy, there are watercraft rentals to suit your needs. Some Colorado bodies of water are only open to non-motorized craft, such as a kayak, canoe, or stand-up paddleboard (SUP), however, we're going to focus instead on the ones open to motor boating. But if you're looking for motorless, you can usually rent that too.
Lakes and Marinas with Boat Rentals
From the great plains to the western slope and all in between, you'll find incredible natural lakes and manmade reservoirs providing boat rentals. Some rentals permit pets, some don't, so ask in advance. Some lakes permit swimming from your boat, some don't, check with the marina. The marinas usually have a general store, which will also usually sell fishing licenses if you need one.
Choose durations that fit your schedule and budget, from sometimes hourly to half and full days, or maybe overnight rentals like at Navajo Reservoir. The high season for boating in Colorado is around Mid June to mid-August during the height of the summer, though the season runs earlier from mid-spring to mid-fall, depending on location. Reserve your boat a few weeks ahead of time at the popular spots during weekends and holidays.
Here are some of the places where you can rent a boat in Colorado, in no particular order:
Lake Estes – Estes Park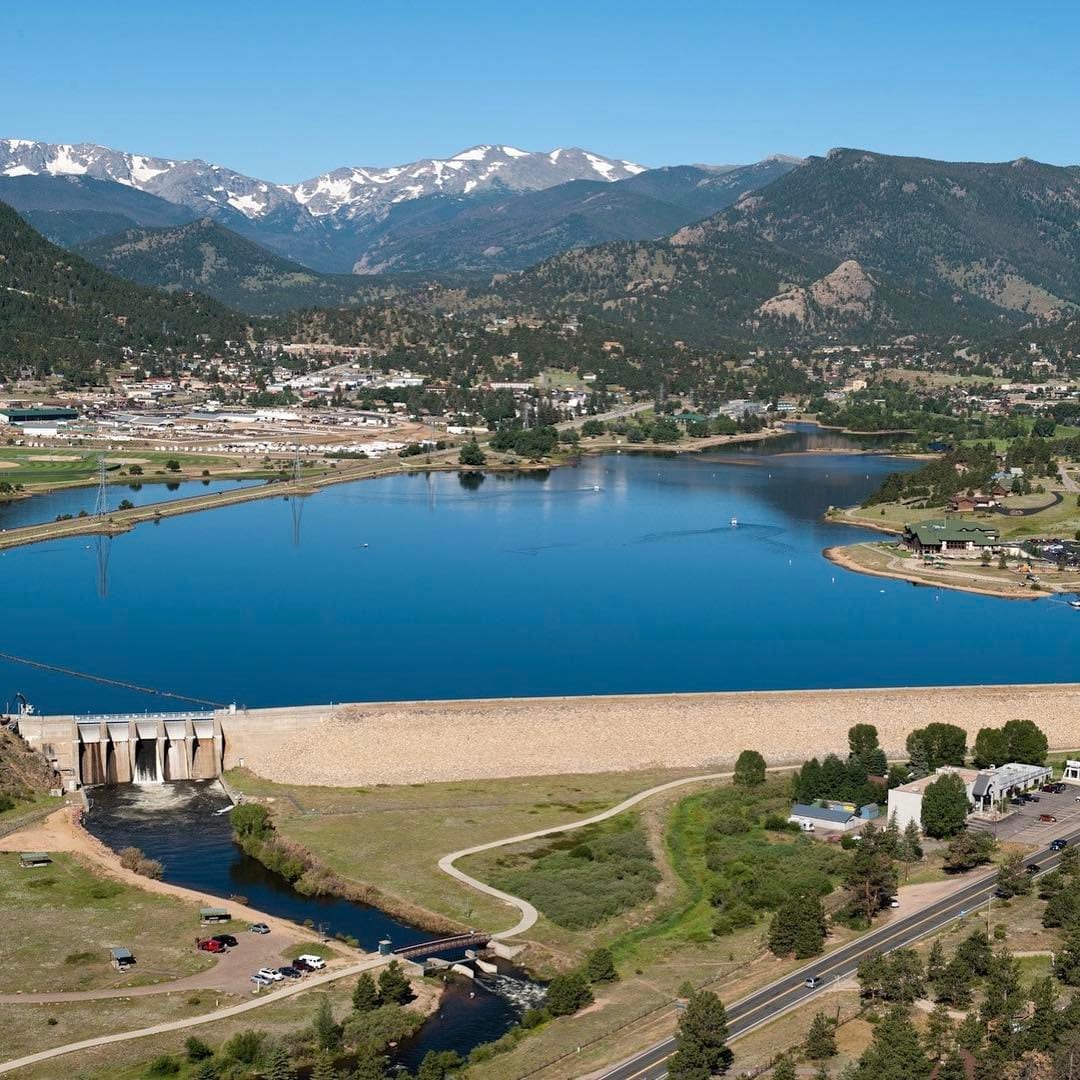 Located in the charming RMNP gateway town of Estes Park, Lakes Estes is an excellent place to rent both motorized and non-motorized watercraft. The Big Thompson River flows in and out of the reservoir, which is formed by the Olympus Dam. Visit the Lakes Estes Marina for boat rentals from May to October.
It's open daily from 9 am to 5 pm for rentals. Pontoon boats are the only reservable watercraft, which you can do by calling ahead. The other boat rentals are first-come, first-serve.
Lake Estes Marina: 1770 Big Thompson Ave, Estes Park, CO 80517 | 970-586-2011
Large pontoon boat (10-person)
Pontoon boat (7-person)
Fishing boat (4-person)
Paddleboat (4-person)
Canoes, SUP, 1 and 2 person Kayaks
Dillon Reservoir – Dillon and Frisco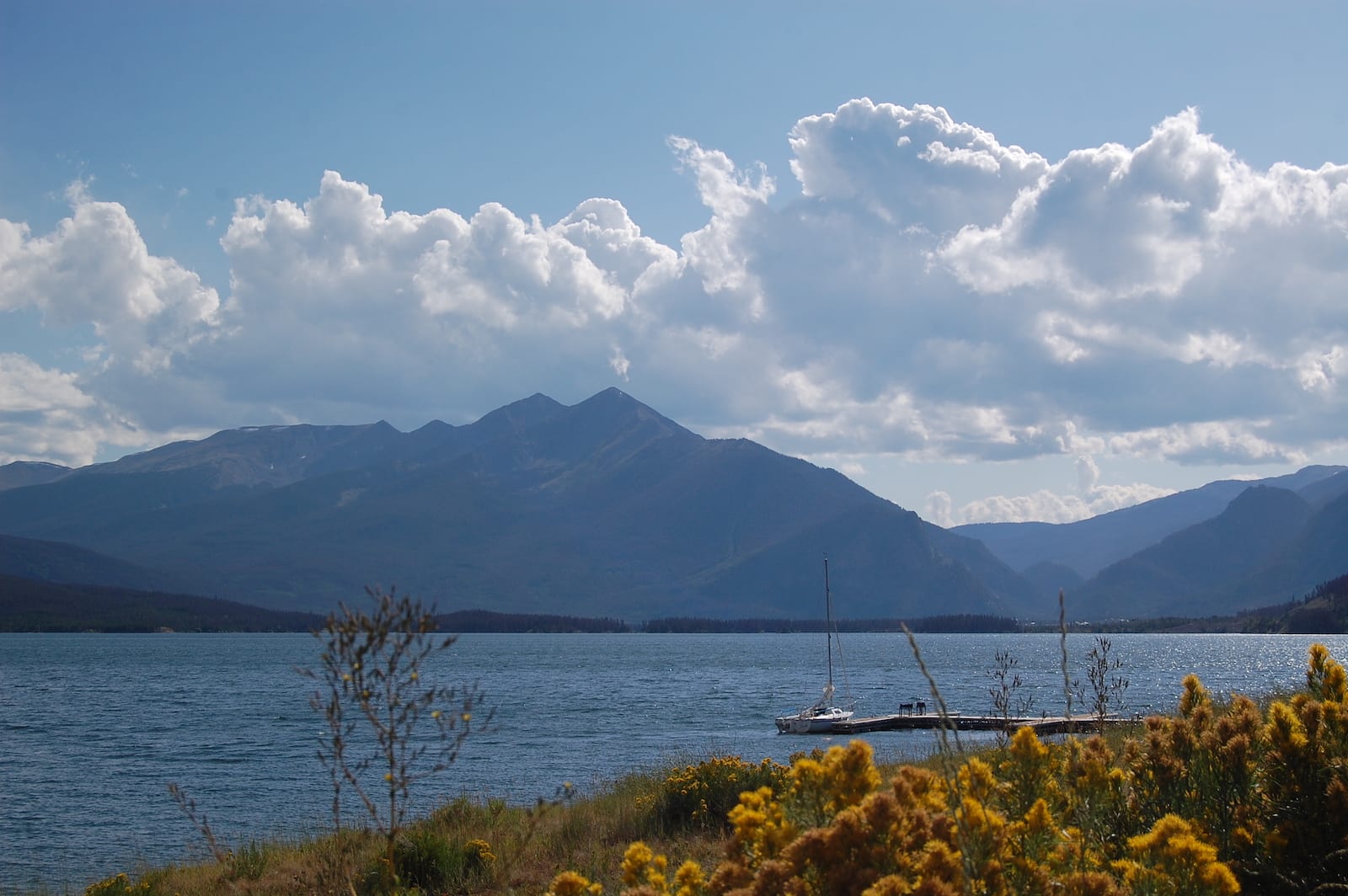 Summit County's beautiful centerpiece is the 3,300 surface acre Dillon Reservoir. It boasts two marinas, one on either side, in Frisco and Dillon. The water is owned and managed by Denver Water, which pumps the water over the continental divide to help supply Colorado's capital city. There are lovely campgrounds scattered around the lake, operated by the White River National Forest. Enjoy boating past 27 miles of shoreline. The sailing on the Dillon Reservoir is considered world-class.
The Dillon Marina will rent you several different sizes of boats, in 2, 3, and 4-hour sessions. They also offer sailing lessons, boat tours, and dining at the lakeside tiki bar. The Frisco Bay Marina provides several powerboat options, as well as boat tours, lessons, and dining at the Island Grill, featuring casual fare and daily afternoon happy hour.
Dillon Marina: 203 W Lodgepole St, Dillon, CO 80435 | 970-468-5100
25′ Pontoon, 22′ Pontoon, 20′ Pontoon
*22′ Catalina Sailboat – *requires sailing certification or passing a written quiz with 90%
SUP and Kayaks
Pub Ryan's Tiki bar
Frisco Bay Marina: 267 Marina Rd, Frisco, CO 80443 | 970-668-4334
Fishing Boat 25HP
20′ Pontoon Boat 90HP (10-person)
24′ Pontoon Boat 90HP (13-person)
Sailboats
Canoes, Kayaks, and SUP
Island Grill
Blue Mesa Reservoir – Gunnison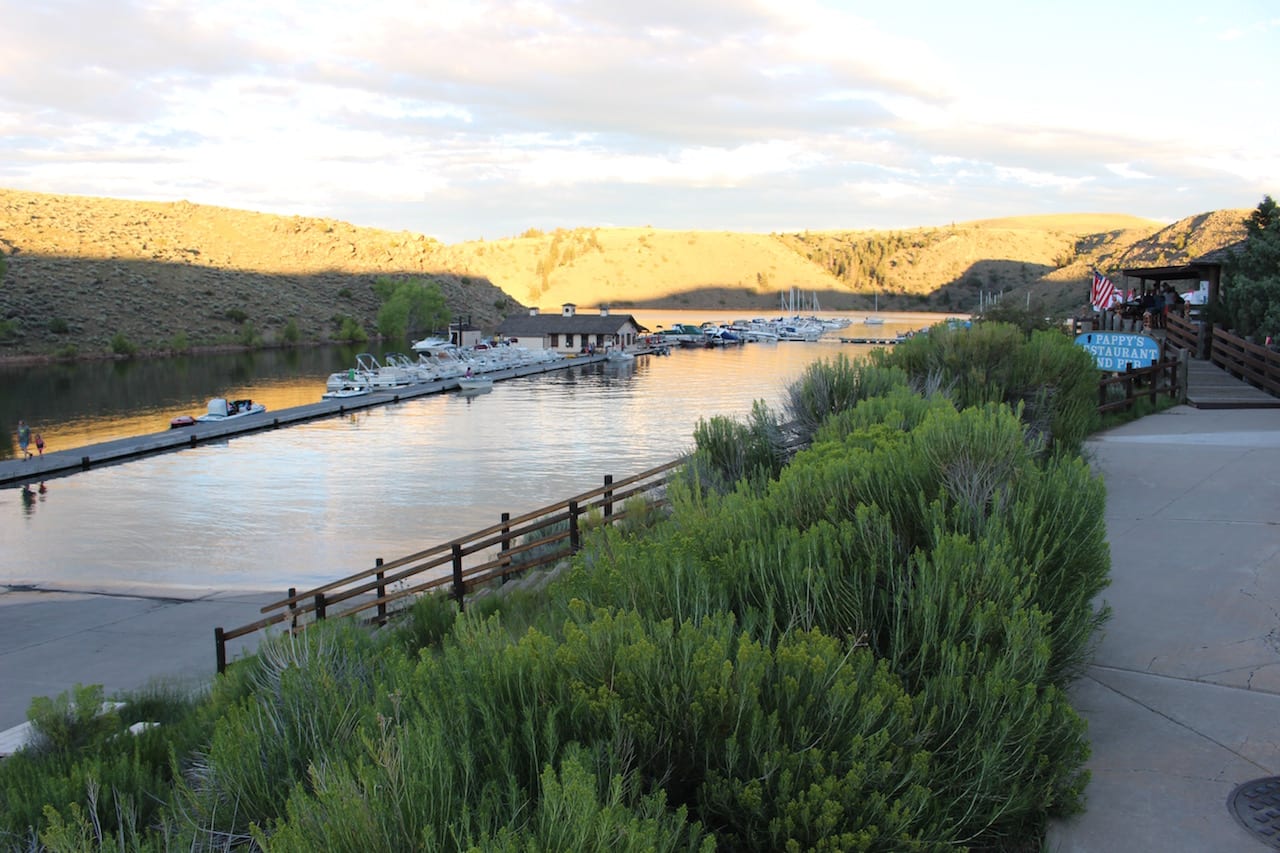 The Blue Mesa Reservoir is the largest lake in Colorado that's entirely within the state, with a whopping 9,180 surface acres. It boasts a length of 20 miles creating 96 miles of shoreline. The wide-open reservoir is well suited for boating and is located within the Curecanti National Recreation Area, accessible from Highway 50 just west of Gunnison. With such a huge length, it's unlikely you'll boat the whole thing.
Most opt for a day out on a pontoon boat, fishing, swimming, and sightseeing. You can rent boats from both Elk Creek and Lake Fork Marinas. Stop by Pappy's Restaurant and Pub for lakeside dining and fun. The lake is known for excellent fishing due to its deep waters and big fish.
Elk Creek Marina: 16 mi. W of Gunnison on Hwy 50 | 970-641-0707
20′ and 24′ Pontoon Boats, 8-12 people max, 2 pets
Aluminum Fishing Boats
Kayaks, Canoes and Stand Up Paddle Boards Rentals
Full-day, half-day, hourly rentals through September 30
Eastside of Blue Mesa (closer for those in Gunnison and front range)
Lake Fork Marina: 29 mi W of Gunnison on Hwy 50 | 970-641-3048
20′ and 24′ Pontoon Boats, 8-12 people max, 2 pets
Aluminum Fishing Boats
Kayaks, Canoes and Stand Up Paddle Boards Rentals
Full-day, half-day, hourly rentals through September 30
Campground by the marina with paved spots good for trailers
West end of Blue Mesa by Dam (closer to Montrose and Grand Junction)
Navajo Reservoir – Arboles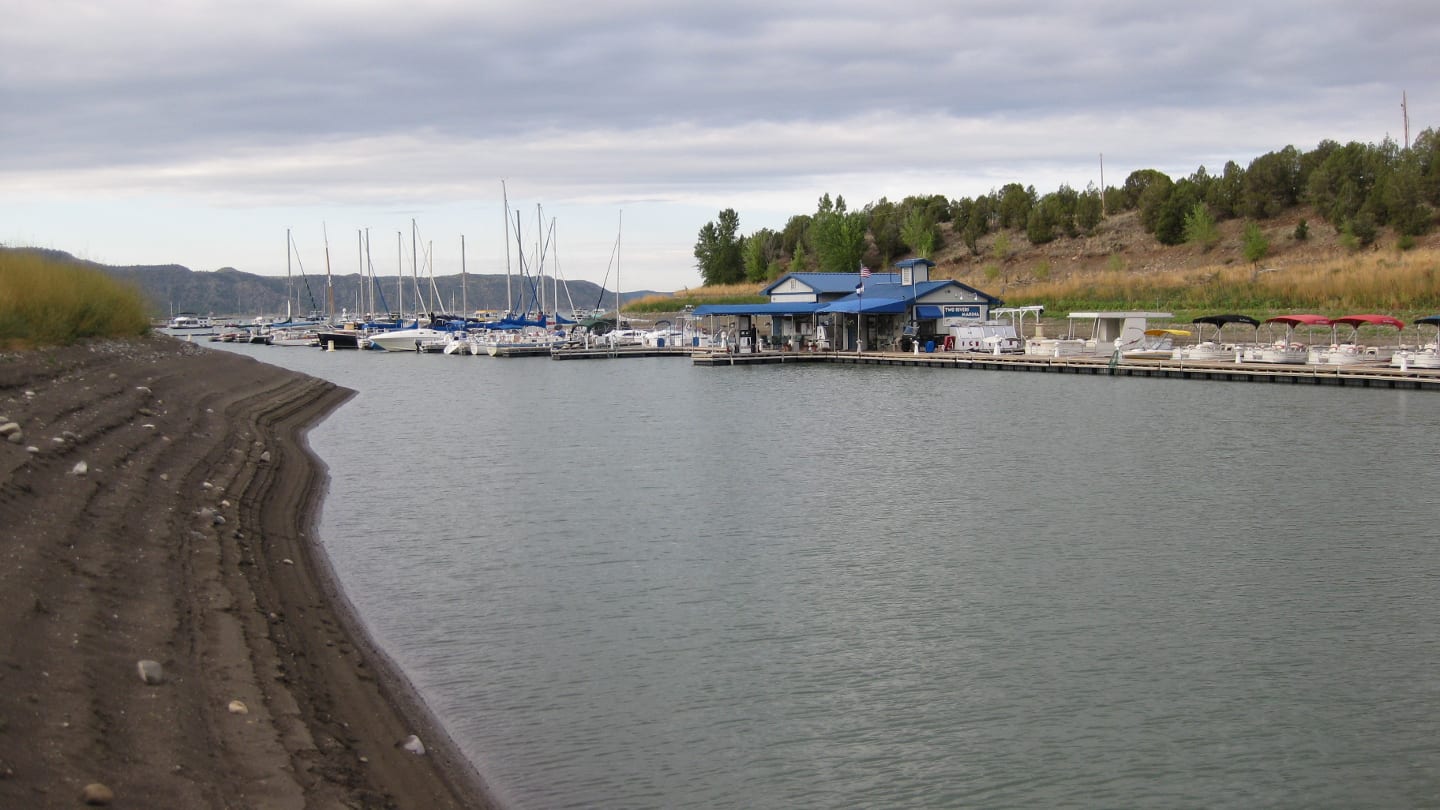 Although it's mostly located in northern New Mexico, this reservoir is massive. It sports 150 miles of shoreline and 15,000 surface acres to enjoy. The portion in Colorado is located in Arboles by the Southern Ute Reservation and is all part of Navajo State Park. The Two River Marina in Colorado rents a couple of pontoon boats, including a thirty-foot pontoon that comes with a slide, barbecue, and restroom. The boat ramp at Navajo Reservoir opens from May 1 through November.
An hour south in New Mexico lies the Navajo Lake Marina by the dam, which also rents watercraft including a spacious 48-foot houseboat, the closest you can get to sleep on the water. They have a much larger selection of boats. You can rent a jet ski for an hour and then switch it up the next day. Grab breakfast or lunch on The Patio at Brue Cafe. Boat rental lengths vary between hourly, half-day, full-day, and overnight, all depending on the type of craft.
Two River Marina: 1526 County Rd 982, Arboles, CO 81121 | 970-883-2628
20′ Pontoon boats up to 9 people
30′  Pontoon boats up to 16 people
4 Stand Up Paddle Boards
Navajo Lake Marina: #42 CR 4110, Navajo Dam, NM 87419 | 505-632-3245
Jet Skis
30′ x 10′ Party Barge – grill, 2 restrooms, water slide
19′ Hurricane Deck boat
25′ Deluxe Pontoon boat
21′ Pontoon boat up to 9 people
19′ Pontoon boat up to 7 people
11′ Craig Cat Elite
16′ Bass Tracker
42′ Aqua Lodge – private bedroom, loft sleeping area, sleeper sofa; overnight (preferred 2-night min)
48′ Houseboat – Destination Yacht – 3 private bedrooms, kitchen; 3-7 days
10% Discount on rentals Monday-Thursdays, excluding holidays
Brue Cafe
Horsetooth Reservoir – Fort Collins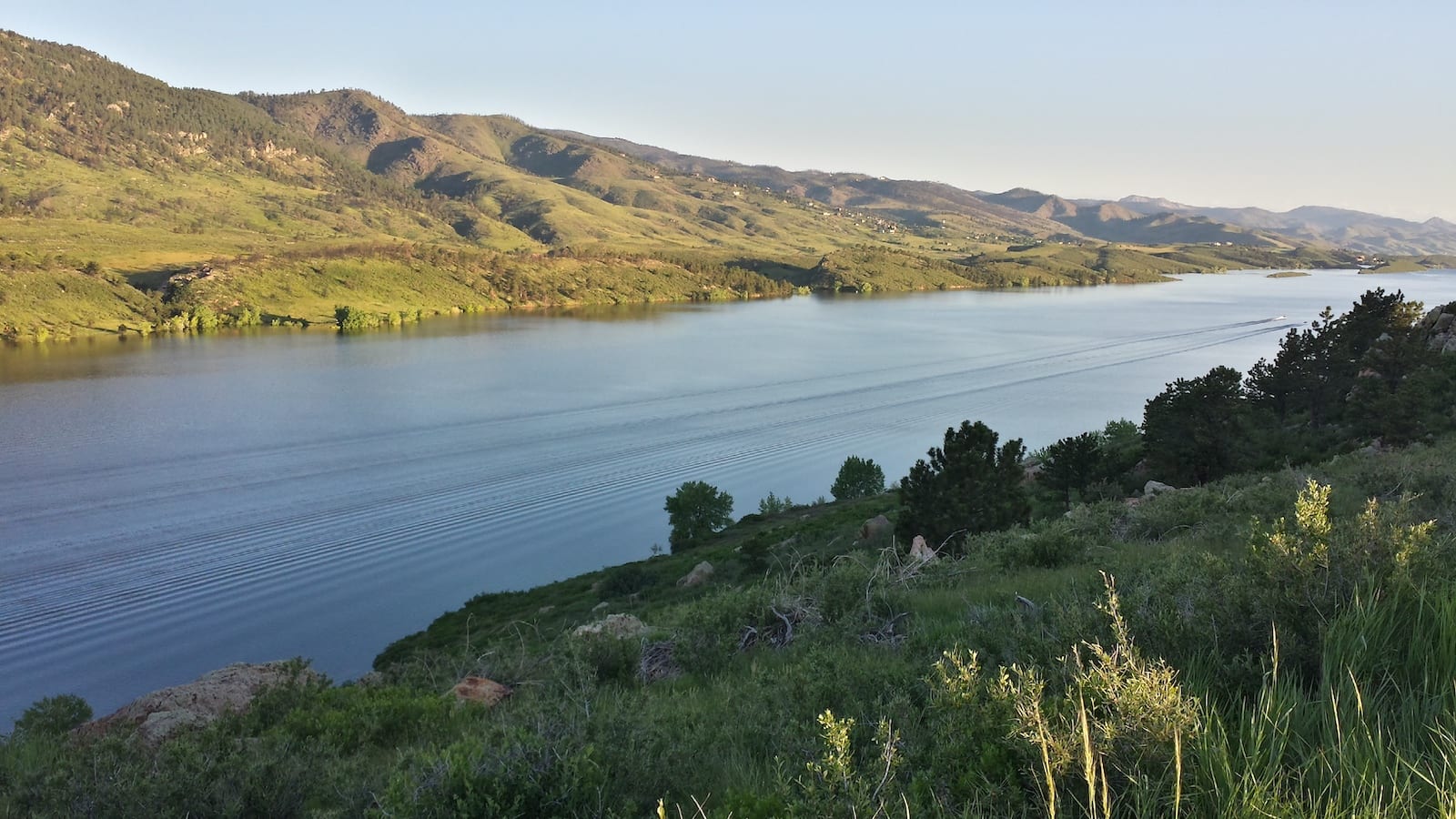 Fort Collins is always one of Colorado's top-rated cities and desirable places to live. This is in great thanks due to the outstanding nature around Larimer County. One of northern Colorado's top attractions is Horsetooth Reservoir. It boasts an expansive and interconnected network of hiking trails, lakeside camping, and naturally, awesome fishing and boating. The Inlet Bay Marina rents a myriad of watercraft by the hour, from pontoons to group boats.
Inlet Bay Marina: 4314 Shoreline Dr, Fort Collins, CO 80526 | 970-223-0140
2017 Pontoon boats up t0 8 people
2018 Pontoons with slides up to 10 people, no pets
Group Boats – Big Cat and Super Cat up to 20 people, no pets
Tower Ski Boats 6-8 people, no pets
Fishing Boats up to 6 people
Jet Skis up to 2 people
Runabouts up to 5 people
Kayaks, Canoes, Paddle Board, Hydro Bike Rentals
Green Mountain Reservoir – Heeney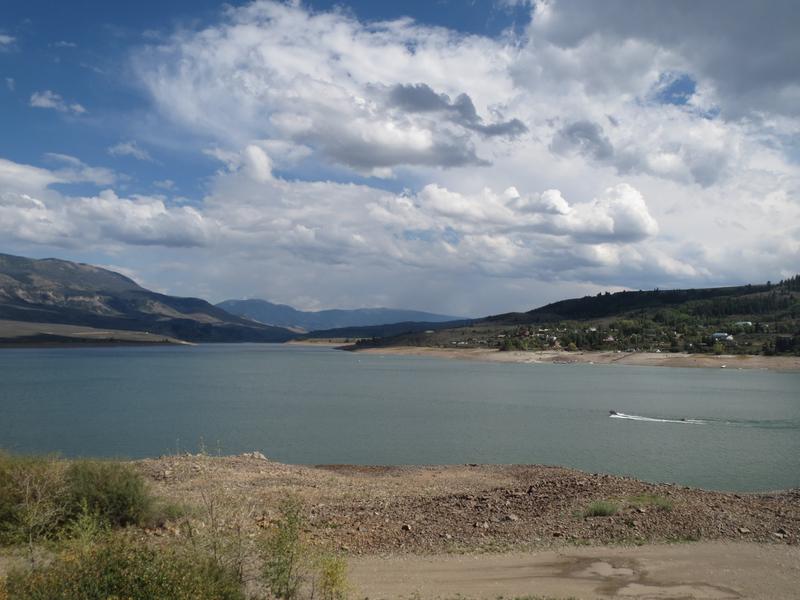 Situated north of Silverthorne on US-9, Green Mountain Reservoir provides a convenient retreat from the masses in Summit County. On the northwest corner of the lake lies the Heeney Marina where you can rent a boat. Opt for a large or small pontoon boat, or a simple paddleboard, available in 2, 4, and 8-hour increments. You're welcome to swim in the lake here just off the side of the hour boat. Have fun in little Heeney, Colo. Most boats get booked during the season, so reserve early.
Heeney Marina: 151 Co Rd 1798, Silverthorne, CO 80498 | 970-724-9441
Large Pontoon up to 10 people
Small Fishing Pontoon up to 5 people
Paddle Boards
Store
Lake Granby – Granby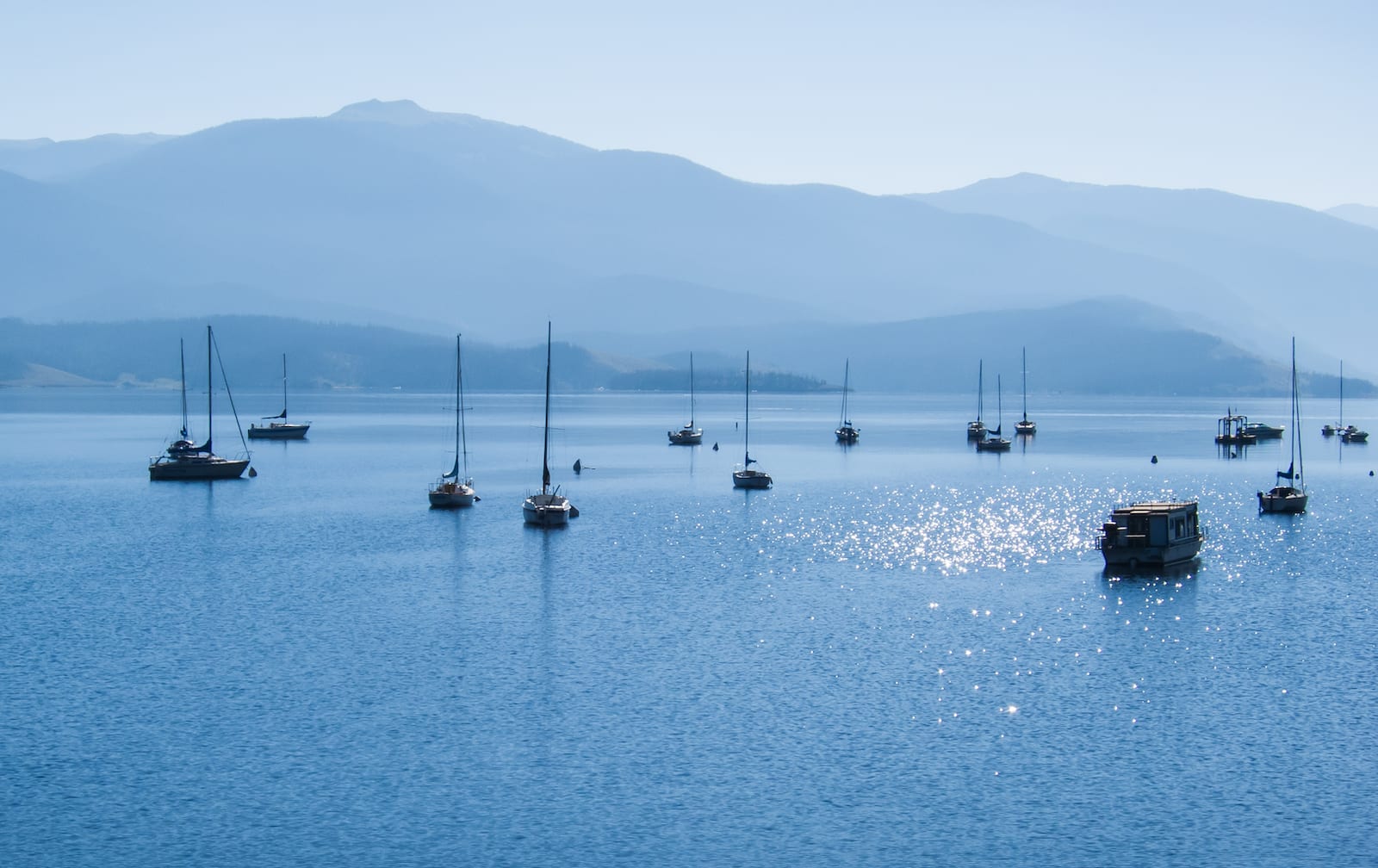 Depending on who you ask, Lake Granby is the second or third largest lake in Colorado. John Martin Reservoir in southeast Colorado often takes the number two spot, behind Blue Mesa at one. Regardless, Lake Granby is a beautiful place to enjoy the water on a big high alpine lake.
It's located within the Arapaho National Recreation Area, which also boasts four other lakes. There are three marinas that rent boats in Granby on Lake Granby. You can also grab lunch lakeside at the Indian Peaks Marina full-service restaurant & bar.
Indian Peaks Marina: 6862 US-34, Granby, CO 80446 | 970-887-3456
Pontoon boats
Two-seat catamarans
Restaurant and bar
Highland Marina: 7878 US-34, Granby, CO 80446 | 970-887-3541
21′ 11″ Pontoon boat for up to 10 people
2 hours, 4 hours, full-day
Bait and tackle store
Beacon Land Marina: 1026 Jerico Rd #64, Grand Lake, CO 80447 | 970-627-3671
20′, 22′, 24′, 25′ Pontoon boats from 6-9 people – pet friendly available by reservation
2, 4, 6, 8-hour rentals
17′ Canoe – no pets, hourly
Guided fishing trips
Grand Lake – Grand Lake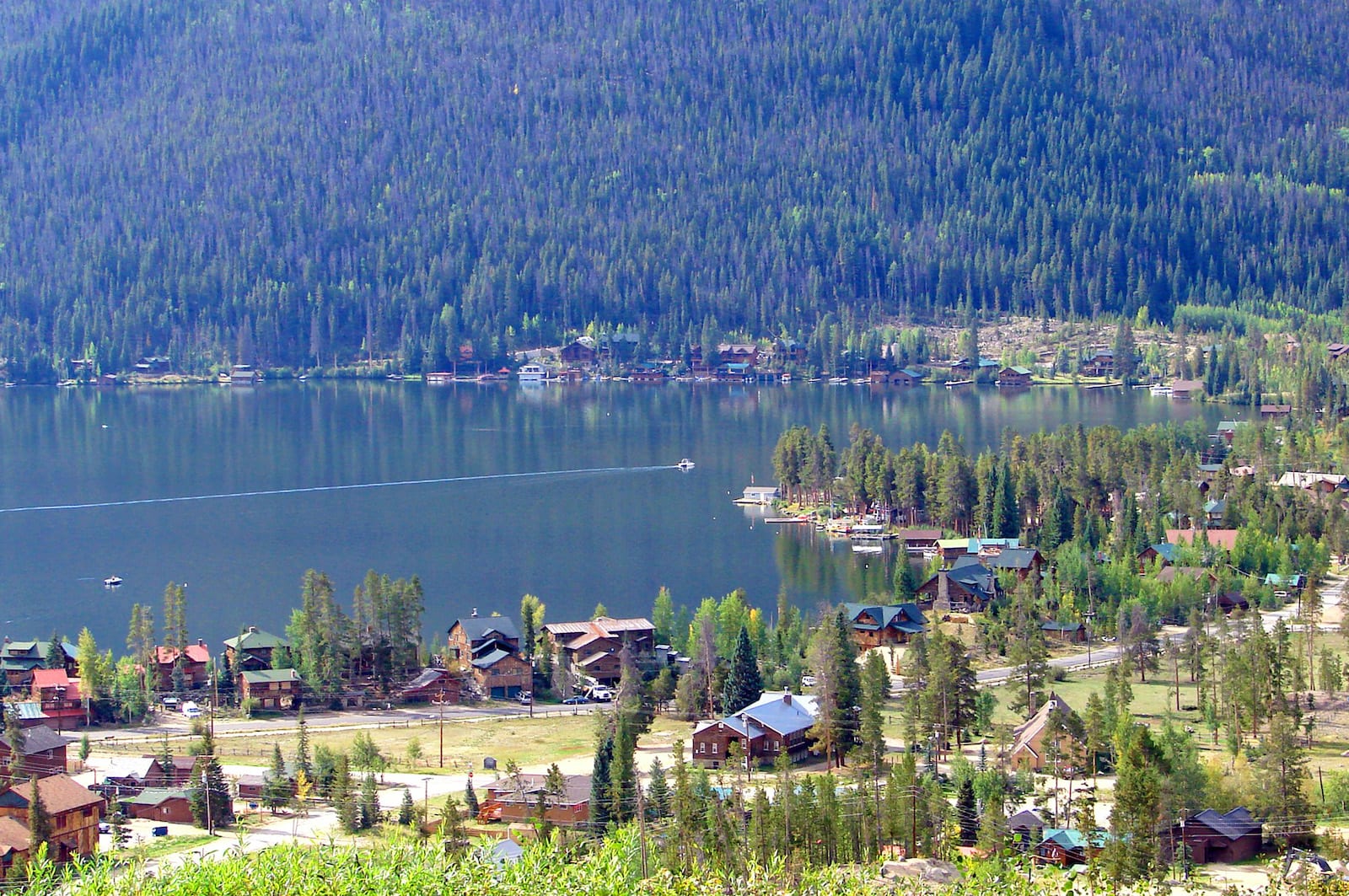 Like the aforementioned Lake Granby, Grand Lake is another big lake in Grand County. Although it's not also located within the Arapaho NRA, it does border Shadow Mountain Lake, which is part of the recreation area. What's unique about this one though is it's natural and not manmade.
It resides in the town of Grand Lake, which is the western gateway to Rocky Mountain National Park. There are three marinas on Grand Lake, one of which, the Trail Ridge Marina, also lets you boat on Shadow Mountain Lake. It's the only marina serving two lakes.
Trail Ridge Marina: 12634 US-34, Grand Lake, CO 80447 | 970-627-3586
Pontoon boats – both pet friendly and no pet boats
Fishing boats
Tiki boat up to 10 people
Paddle Boards, and Kayaks
2, 3, 4, and 8-hour increments
Use on Grand Lake or Shadow Mountain Lake
Grand Lake Marina: 1132 Lake Ave, Grand Lake, CO 80447 | 970-627-9273
18′, 20′, 22′ Pontoon boat
13′, 15′, 17′ Sport boat
30′ Charter boat with driver
Hourly
Kayak, Canoe, and Paddle Board
Headwaters Marina: 1030 Lake Ave, Grand Lake, CO 80447 | 970-627-5031
Pontoon boats
Sport runabouts
Fishing boats
Paddle Boats
Hourly
1-hour scenic lake tours
Lake Pueblo – Pueblo West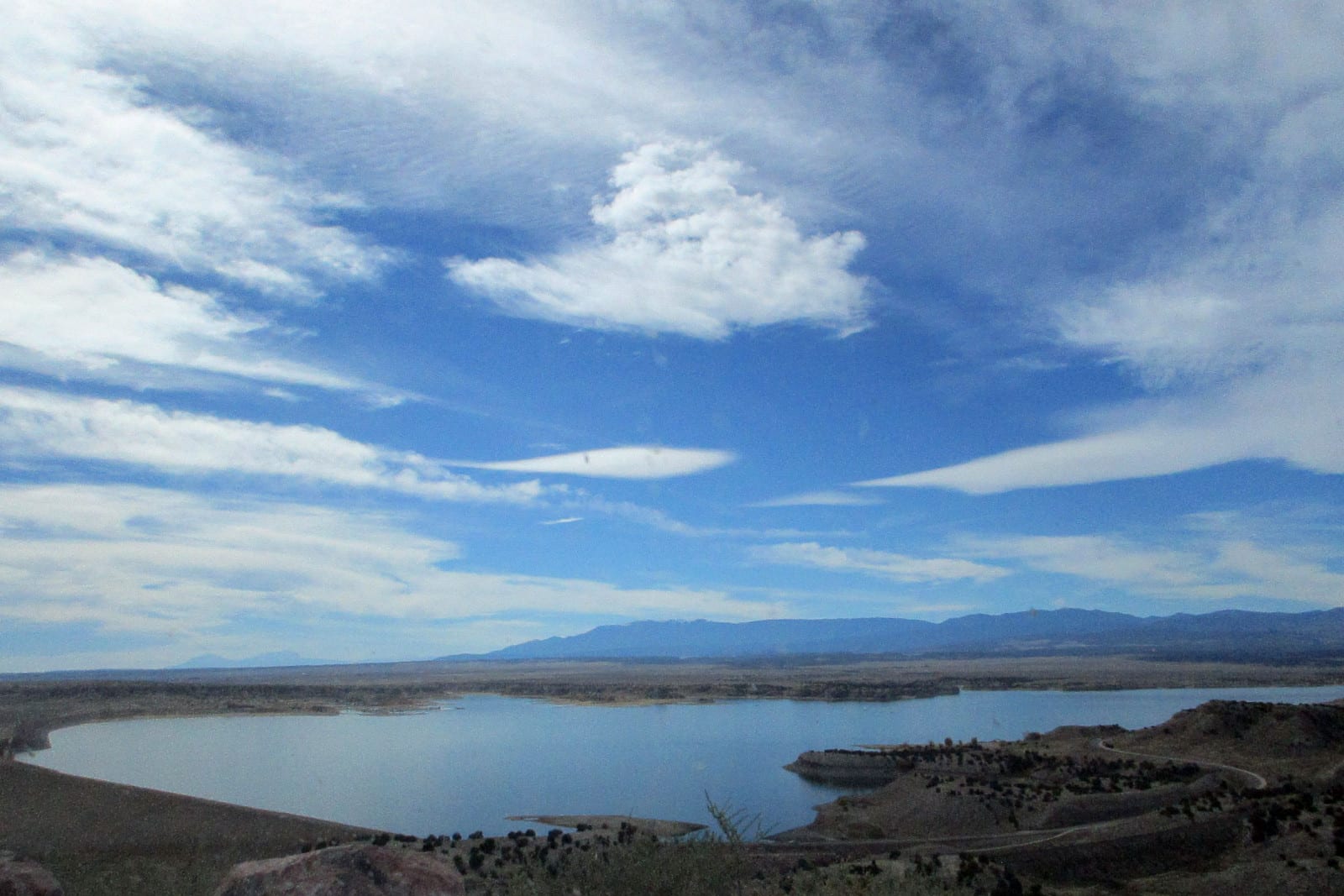 This southern Front Range state park is centered around the big Pueblo Reservoir. It's hugely popular for boating and water sports, offering convenient access from around I-25 just southwest of Pueblo. The 4500-surface acre Lake Pueblo has two marinas, North Shore and South Shore. You can rent boats for half-day and full-day, except for weekend holidays where it is a full day only, which is open 8 am to 5 pm.
It's popular renting a boat here so call a few weeks in advance to reserve and assure your spot. There are campgrounds around Lake Pueblo, which make the perfect combo with a day spent boating. Visit the Water Street Cafe at the North Shore Marina for a good meal from 7 am to 3:30 pm.
North Shore Marina: N Marina Rd, Pueblo West, CO 81007 | 719-547-3880
Water Street Cafe
Clean restrooms and shower facilities
Boat slips
South Shore Marina: 1 S Marina Rd, Pueblo, CO 81005 | 719-564-1043
20′ Pontoon boat up to 8 people
24′ Pontoon boat up to 10 people
25′ Pontoon boat up to 12 people
Save 10% Monday-Thursday; Active military discount 10%
Eleven Mile Reservoir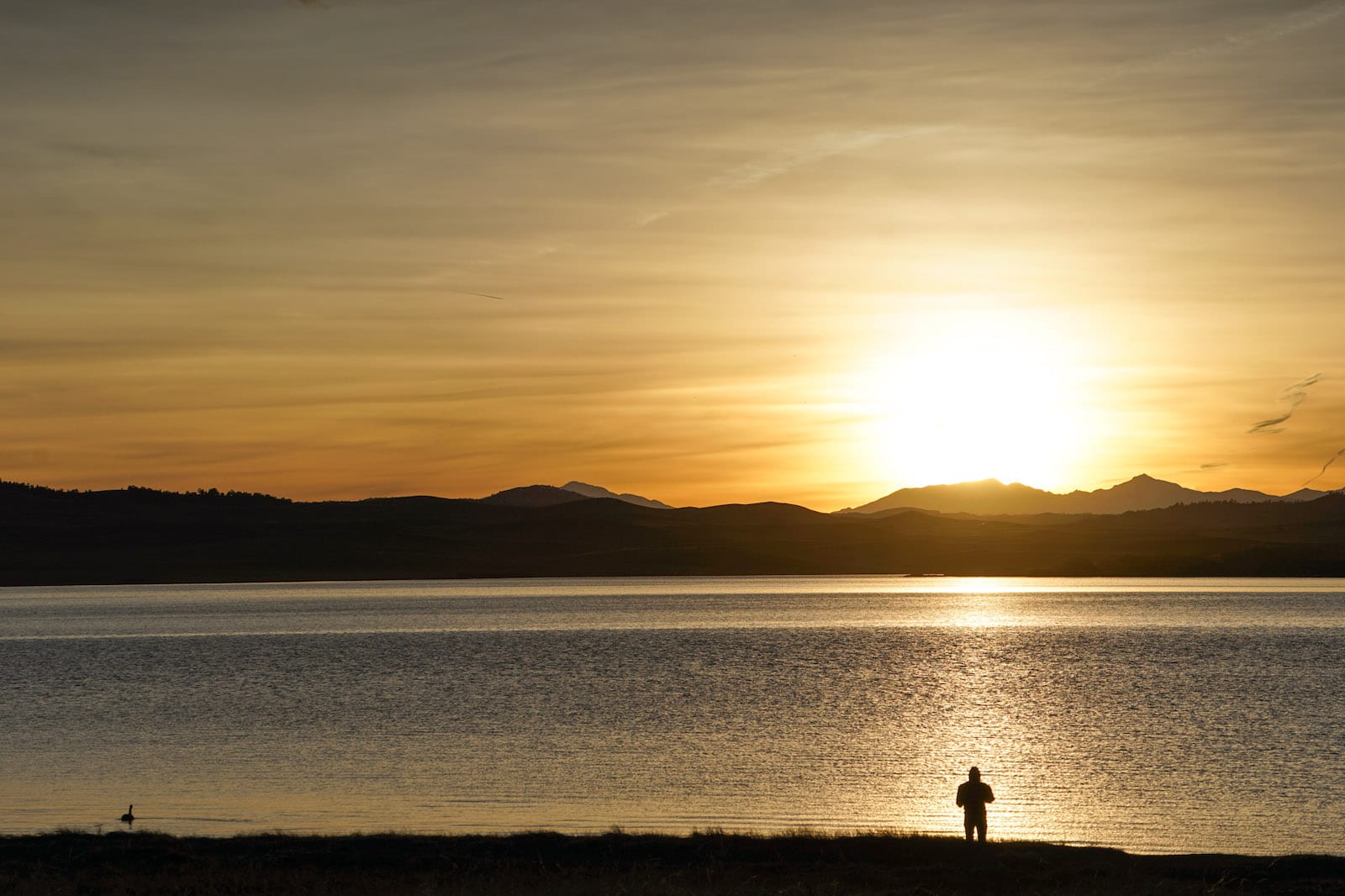 Nestled in the Eleven Mile Canyon, this state park lies in the southeast of South Park, which is an expansive basin that holds the South Park National Heritage Area. Visit the 11 Mile Marina in Lake George for boat rentals, open Monday-Friday 8 am to 6 pm and on weekends from 7 am to 7 pm. In addition to renting your own, you can also opt for guided fishing trips on Eleven Mile Reservoir, which come with equipment, the boat, and a guide.
Ice fishing is available in the winter. You can also fly fish the epic South Platte River with a guide. Go sightseeing on the lake with an Echo Tour. The marina rents the following gear too: fish finder, trolling rig, heater stove, toolbox, winter ice fishing equipment.
11 Mile Marina: 4224 Co Rd 92, Lake George, CO 80827 | 719-748-0317
18′ and 20′ Pontoon Boats up to 10 people
16 Ft Lund Fishing Boat up to 5 people
Canoes and Kayaks
2 hours, 4 hours, additional hours rentals
No pets or portable grills
Guided fishing trips and Echo tour of the lake
Rental equipment
Someday Rentals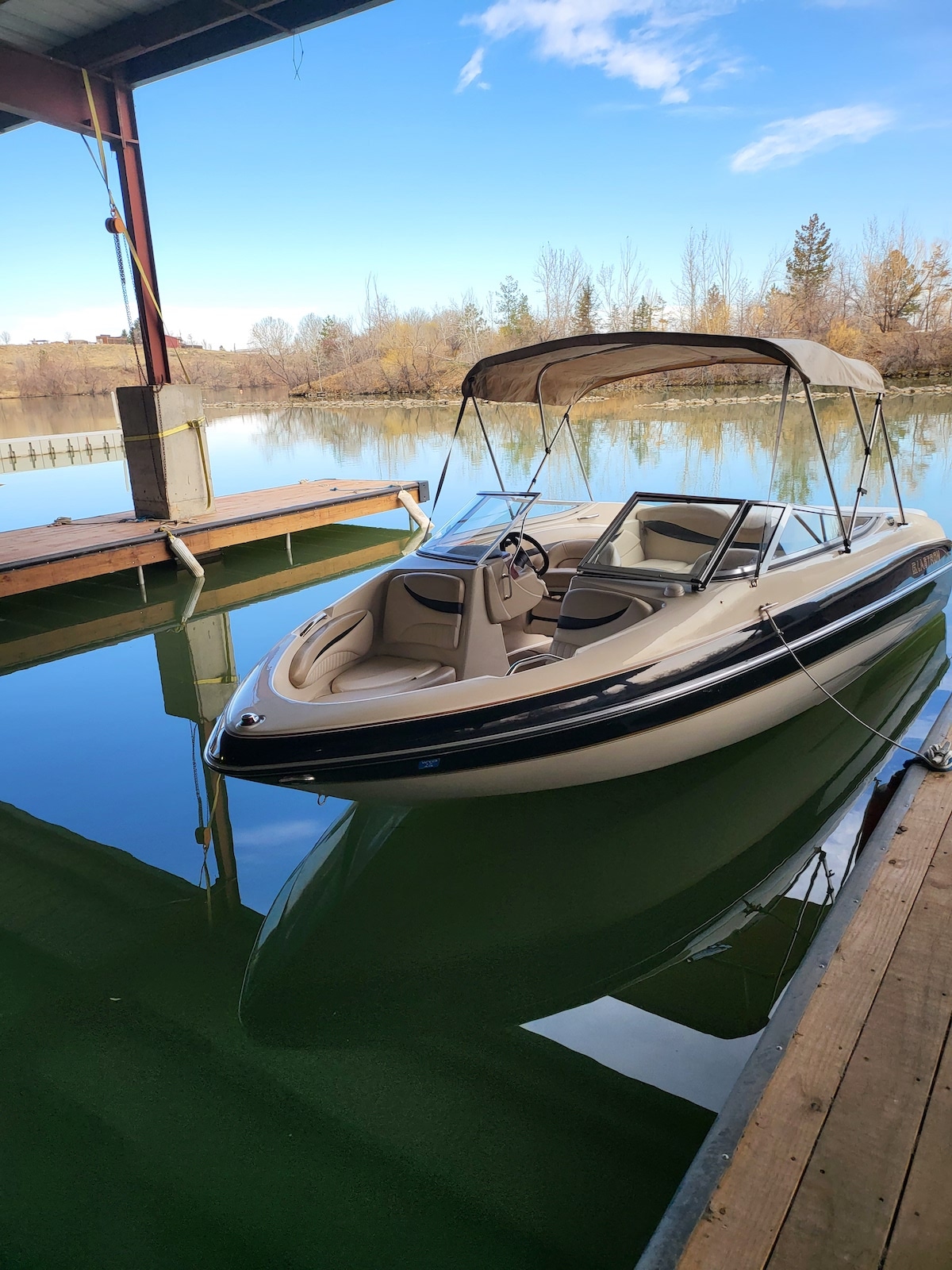 Someday Rentals is a local small business located in Brighton, offering full-day boat rentals to any lake in Colorado. Customers are able to pick the boat up the night before their rental date and get to keep the boat until 7 pm the day of their rental. Delivery options are also available for an additional fee.
They currently offer an 8-Person Glastron GX-205, which provides plenty of power for the Colorado waters. All rentals from Someday Rentals include life jackets for all boaters, a 3-person tube, water skis, a kneeboard, and all safety gear.
Someday Rentals raises the bar with customer service by including drinks and snacks with their rentals. To help keep everyone safe they have also placed QR codes throughout their boat that help explain how to properly use the boat and all equipment.
You can book your rental now at somedayrentals.com/book or reach out to them with any questions via email at info@somedayrentals.com or via phone at 303.521.2066.
That's a round-up of only a sliver of Colorado's boat-able waters and marinas where you can rent a boat. Check out our long list of lakes and reservoirs in Colorado. Be safe on the water and remember your sun protection! Don't end up a lobster, someone always does.