In one of the earliest major dam projects in Colorado, a 550 foot long, 111 feet high earthen and rock dam was built creating the Rio Grande Reservoir in Hinsdale County. It's located between Lake City and Creede on Highway 149.
"Too thick to drink, too thin to plow," was said of the Rio Grande by an early immigrant to the historic Texas River. The headwaters of this historically divisive river lies a few hundred miles north in the Colorado Rockies. The Rio Grande Reservoir lies 1 hour from Creede and 1.2 hours from Lake City.
The original intent for the reservoir created behind it was for agriculture in the San Luis Valley, but over the years the lake has grown in popularity for fishing and recreation. It was built from 1910 to 1914. Long and narrow, the Rio Grande Reservoir is the third-highest major reservoir in Colorado at an elevation of 9,400 feet and contains 51,110 acre-feet of water.
Activities
Boating and fishing are the primary activities, but a wide range of outdoor activities including mountain biking, horseback riding, camping, climbing, hunting, and hiking are available in the Rio Grande National Forest that surrounds the reservoir.
Boating: The reservoir is stocked each summer and motorized boats are allowed. There is a boat ramp cut into the bank halfway up the length of the lake, but it is not recommended for large boats or long trailers. There are boat ramps, toilets, drinking water, ample parking, and no fees to use the Boating Site.
Nearby the Rio Grande Reservoir there is rafting on the Rio Grande River. May to September you can find commercial raft trips with varying degrees of difficulty. Late June is best for peak whitewater conditions.
Camping: There are four campgrounds located on the road back to the Rio Grande Reservoir from Highway 149. This is County Road 18 / FSR 520. Here they are in order from closest to Creede:
Read about the camping near Creede.
Fishing: Many fishermen do well from shore or by wading in and fly fishing. The reservoir is open from May 1 – November 15 unless early or late snow blocks access.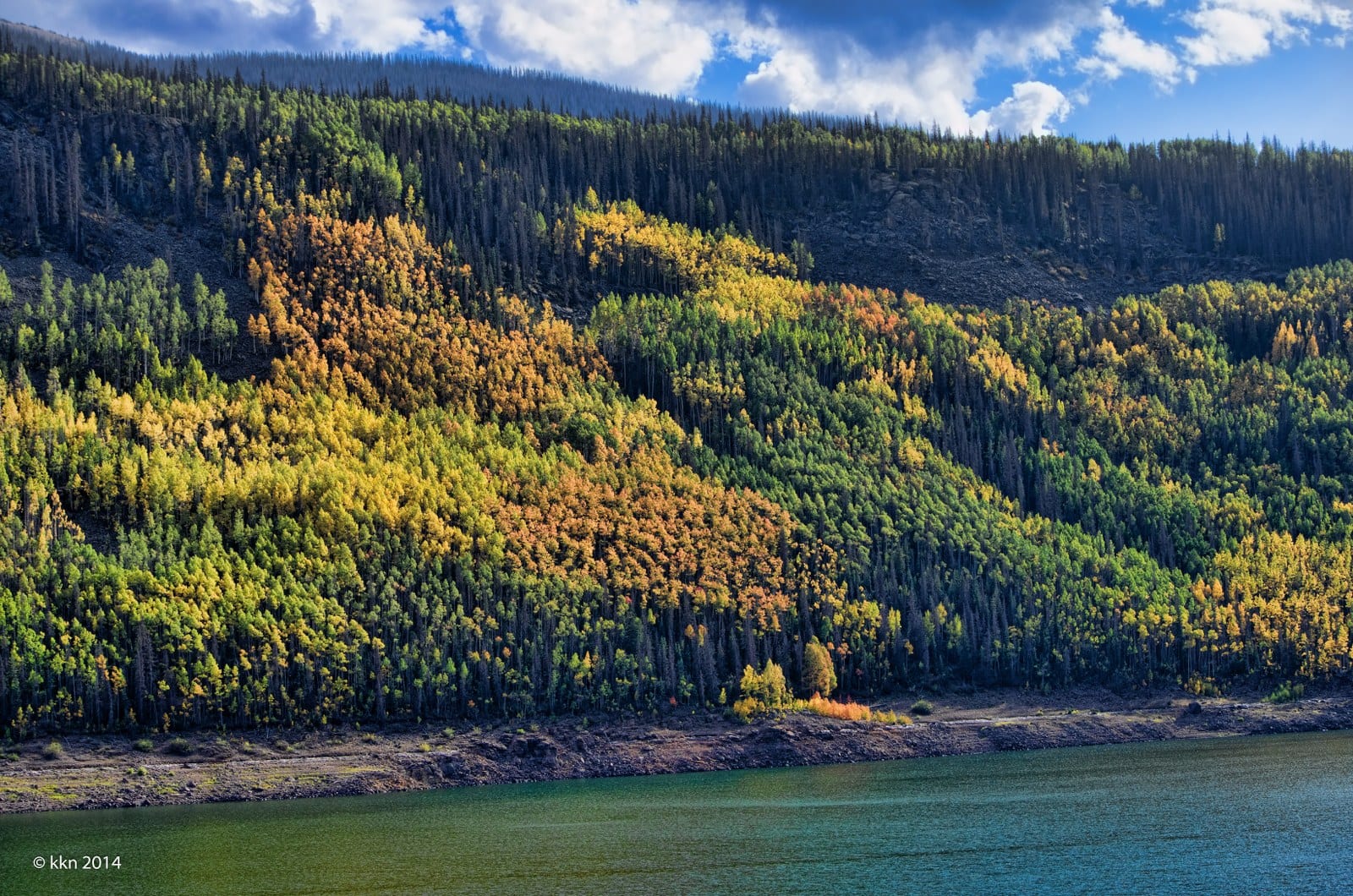 Hiking / Horseback Riding: The nearby Weminuche Wilderness offers a wonderful day trip or overnight backpacking adventure. You can access the trailheads for Rio Grande Pyramid and the Window off of the road nearby the reservoir.
Picnicking: There is a picnic site open all year, but it's usually only accessible from June to October. There are a few picnic tables, which overlook the reservoir and surrounding wilderness. It's free but there is no potable water.
OHV: If you continue on Highway 520 it eventually crosses Stony Pass and descends into Silverton. The first 6 miles after the reservoir is suitable for 2WD, then it turns into a 4WD, high-clearance drive for the rest of the way through Timber Hill and up and over Stony Pass.
Road Canyon Reservoir No. 1 and No. 2 are found just before the Rio Grande Reservoir. As part of the Road Canyon Reservoir SWA, public use requires a valid Colorado hunting or fishing license for adults 16+.
Getting There
From Creede – 2WD is fine for this trip. To reach the Rio Grande Reservoir travel west from Creede, Colorado for 19 miles on Colorado Highway 149 ( Silver Thread Byway ). Turn left on Forest Service Road 520. After 13 miles on Highway 520, you'll be at the midpoint of the reservoir. Turn onto the access road and you'll find the boat ramp and shoreline in both directions.
From Lake City – You'll travel south from Lake City for 30 miles on Highway 149. Then turn on FSR 520 and follow the above directions.
Details
Address: Highway 520, Hinsdale County, CO (near Creede)
Season: May 1 – November 15 (weather permitting)