There are four phenomenal waterfalls within a short drive of Pagosa Springs. These waterfalls span from easy to moderate in hiking difficulty and there's even one you can see from the parking lot. So, there's something here for everyone.
All of the waterfalls near Pagosa Springs are best viewed in springtime when snow run-off is at its peak. Read on for inspiration as you plan your next waterfall hike. After you're finishing exploring these, check out some of Colorado's other great waterfalls.
Here are the best waterfalls near Pagosa Springs, CO, in no particular order:
Piedra Falls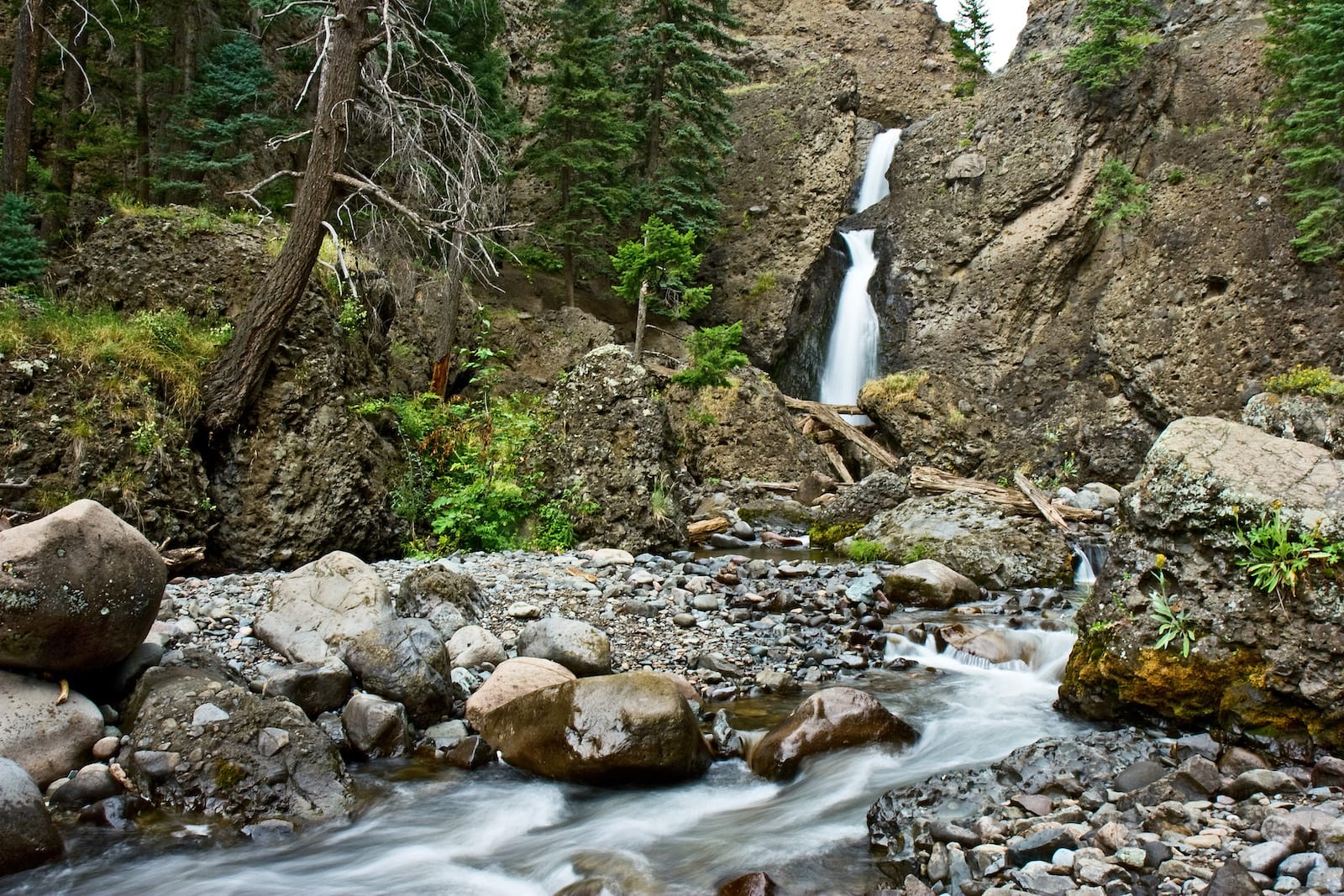 Hiking to Piedra Falls is one of the most popular activities near Pagosa Springs. This family-friendly hike is a short, ½ mile walk which takes about 30 minutes to one hour round trip, depending on your group. Children of all ages should be able to complete the walk. At the end of this out-and-back trail, you'll be rewarded with an impressive sight. Piedra Falls is tucked in a v-shaped canyon and thunders off the cliff in two wide steps. After you've enjoyed the waterfall, return to your car the way you came.
How to get to Piedra Falls:
Travel north on Piedra Road (FS 631) for about 17 miles to the intersection at Sportsman's Campground & Mountain Cabins. From there, take Middle Fork Road (FS 636) for two miles. Take the first right turn onto East Toner Road (FS 637). You'll find the trailhead at the road's end, about 7.5 miles in. This drive shouldn't be attempted in wet weather or early in the season as the road conditions can be quite poor.
There is a lot of dispersed camping and several campgrounds on the drive back to Piedra Falls. The waterfall hike happens to be located nearby Williams Creek Reservoir. So you can enjoy two great attractions while camping under the San Juan Mountain sky.
Treasure Falls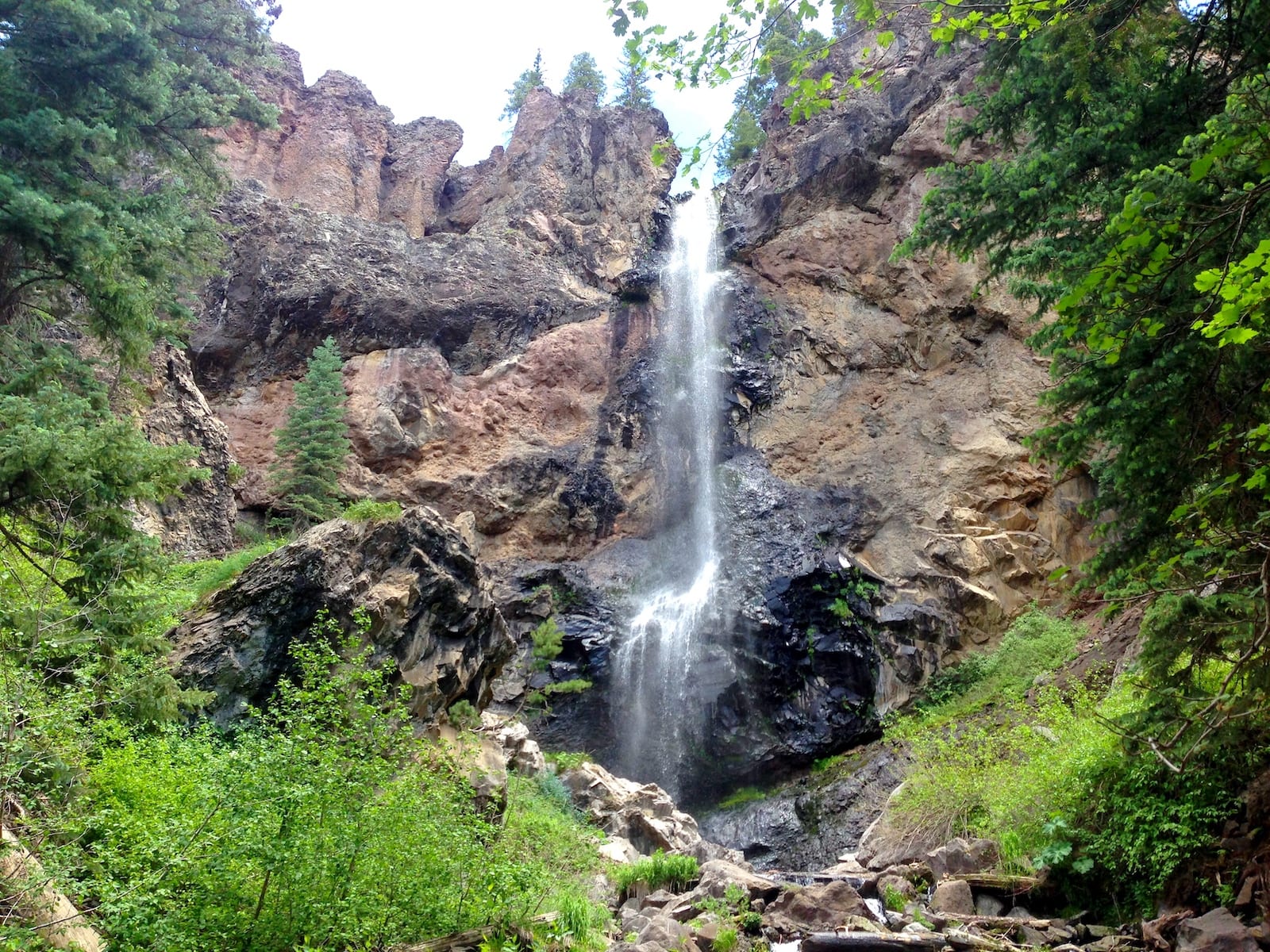 Treasure Falls is a 100 foot waterfall that's easily reached from Highway 160. In fact, you can see it from the highway. Set right on the side of Treasure Mountain, the waterfall is one of the most popular attractions near Pagosa Springs. Treasure Falls is the stuff of legends as it is rumored that a group of French explorers buried treasure near here during attacks by Native Americans and their rival Spaniards. The rumored treasure has never been found.
The hike is a short half mile walk to the falls. There are some steep sections that may be too difficult for some visitors, but plenty of benches along the way provide opportunities to rest. The trail is not handicap accessible. However, the waterfall is visible from the highway and parking area.
There are two different observation decks called Blowout and Misty Deck, which each offer different vantage points of the falls. The hike is typically easy and family friendly, but becomes much more difficult when the trail is wet or there is snow on.
How to get to Treasure Falls:
Travel east from Pagosa Springs on Highway 160. The waterfall parking lot is located along the shoulder of the highway about 15 miles outside of town.
Fourmile Falls and Falls Creek Waterfall
Set in the Weminuche Wilderness to the north of Pagosa Springs, this magnificent double waterfall is a bit more difficult to reach than the two previous ones on our list. You'll trek three miles to reach the first waterfall and another mile to the second. There's a good amount of the hike that's uphill. However, you'll get to enjoy not only beautiful waterfalls, but fantastic views of Pagosa Peak and Eagle Mountain.
The tree-lined trail follows an old stock driveway along the banks of Fourmile Creek. At around the three mile mark, you'll pass the 300-foot tall Falls Creek Waterfall. If you continue along the trail further, you'll find Four Mile Falls, an even more impressive sight. If you'd like an even longer hike you can continue further along the trail to Four Mile Lake, a pleasant lake that's popular for fishing. As the Weminuche Wilderness is US Forest Service land, camping is permitted, however, not within 100 yards of the water's edge.
How to get to Fourmile Falls:
From Pagosa Springs, take Fourmile Road (FR 645) north out of town. The road turns to dirt but is maintained and should be okay for most vehicles. The trailhead is at the end of the road, about 12 miles in.
Silver Falls
Silver Falls is reached by a very short, 1/8th mile trail. It hardly qualifies as a hike. However, the drive to reach the trailhead from Pagosa Springs makes it the most difficult waterfall on our list to reach. The trail itself is fairly easy although it gets a bit steep right before you reach the falls. Most people should be able to make the walk.
How to get to Silver Falls:
Silver Falls is located along East Fork Road about 19 miles east of Pagosa Springs. You'll take Hwy 160 east for about 12 miles. From there, you'll turn right on East Fork Road (FR 667). It's best to have a high clearance 4×4 as conditions on East Fork Road can be a bit rough. The trailhead is about 8 miles in and has a few parking spots.
That's a roundup of the top waterfalls in the mountains around Pagosa Springs, CO. Remember to wear good shoes with traction and prepare to get a little wet. Enjoy!