The towns of Creede and Lake City, Colorado lie about an hour apart on CO-149, a scenic route that's also known as the Silver Thread Scenic Byway. We've rounded up our favorite of the area's more well-known waterfalls for your inspiration.
In addition to the one's on our list, the mountains in this part of Colorado have numerous unnamed and short-lived waterfalls, especially during times of heavy snow runoff, so you're likely to find more as you explore area trails. The route between Creede and Lake City is one of the most gorgeous drives in the state. It's a designated national scenic byway, paved and suitable for year round driving, known as the Silver Thread Byway.
Here are the best waterfalls near Creede and Lake City, CO, in no particular order:
North Clear Creek Falls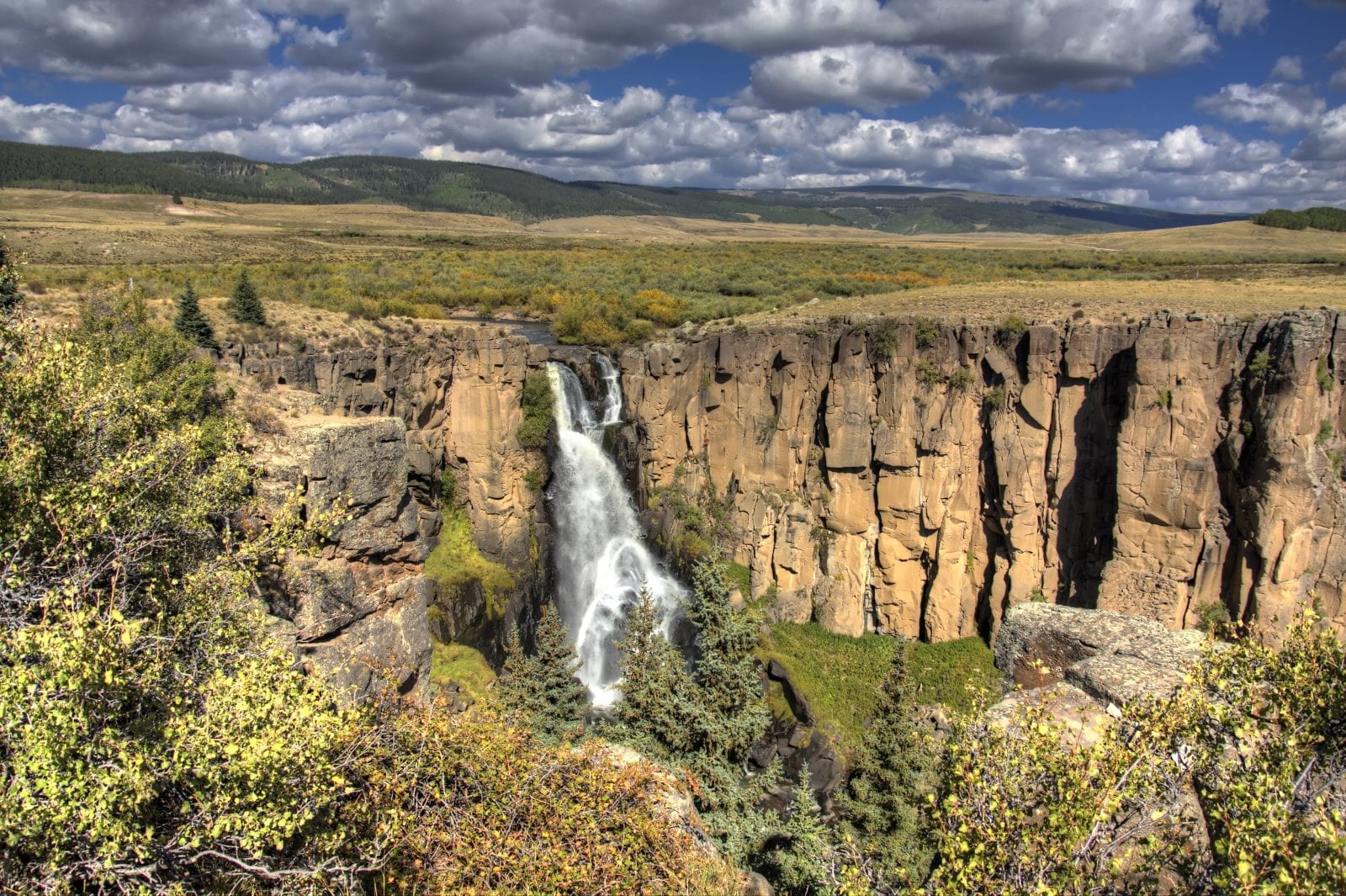 Boasting the title of most photographed waterfall in Colorado, North Clear Creek Falls is an incredibly beautiful waterfall that anyone can see. This impressive waterfall drops more than a hundred feet into Willow Canyon and is viewable from a nice, fenced observation area just off of Highway 149.
The observation area is well appointed and makes a nice place to stop and rest. There's a new restroom, picnic areas, plenty of paved parking and a handicap-accessible trail. If the weather is good, traveling the old road (FS Road 510) offers interesting views and passes through the original moose relocation site.
How to get to North Clear Creek Falls:
From Creede, travel west on Hwy 149 for about 26 miles. Turn right on Forest Road 510 and drive a short distance to the parking lot where a short walk will take you right to views of the falls. In the winter, FS 510 is not plowed, so it may be impossible to reach the falls.
South Clear Creek Falls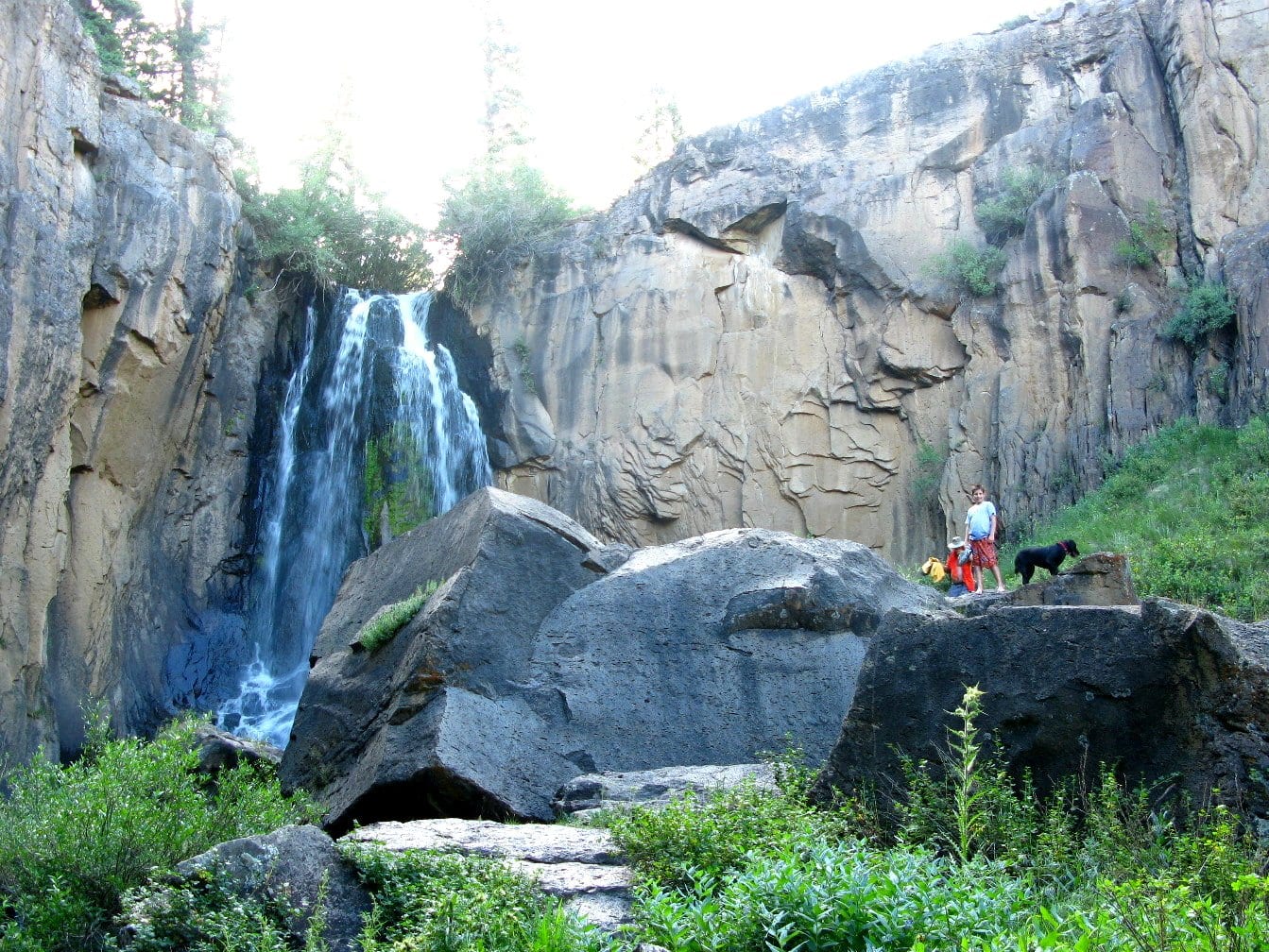 South Clear Creek Falls is another waterfall that's just a short distance off of the Silver Thread Scenic Byway, about equal distance from both Creede and Lake City. The hike to the falls is a short and easy 900 foot walk. The best time to see the falls at their most impressive is in the spring or early summer. A visit to South Clear Creek Falls is easily combined with North Clear Creek Falls, which is the more impressive of the two waterfalls.
How to get to South Clear Creek Falls:
From Creede, take Colorado 149 for 23 miles and turn right when you see the Silver Thread Campground sign. Look for a sign that marks the trailhead.
Copper Creek Falls
Copper Creek Falls is a lesser-known waterfall that can only be reached by high-clearance 4×4 vehicles. The drive up to Copper Creek Falls is about 20 miles and the road gets more difficult the closer you get to the falls. The area is quite secluded and the drive to reach the falls passes through the Soward Ranch, which is private property.
Moose sightings are common. If you'd like to bring along a picnic, Love Lake nearby is a nice place to stop and sit for a while. It has a small picnic area with tables, benches and fire rings.
How to Get to Copper Creek Falls:
Travel on CO-149N from Creede about 7 miles until you reach Middle Creek Road. From there, you'll take County Road 523 when the road forks at Love Lake until it forks again onto County Road 524. Copper Creek Falls is located on a small loop on the right hand side of the road.
Phoenix Park Falls
The Phoenix Park Waterfall, which sit above Phoenix Park are thought by many to be one of the most beautiful waterfalls near Creede. The falls are reached by taking a 2.2-mile hike that is intermediate in difficulty. If you aren't up for the trek, you can take it in a 4×4 vehicle if you're an experienced off-road driver.
Either way you choose to take it, there are a few steep climbs along the route. There are areas for fishing and camping along the way as well as plenty of opportunities to spot wildlife and beautiful wildflowers. Pack your own water as you won't find any here.
How to Get to Phoenix Park Falls:
From Creede, travel up East Willow Creek Road about 4.5 miles. The trailhead is located in the first switchback. If you have a high-clearance 4×4 you can attempt to drive up the fairly difficult road, but the last half mile is only open to foot traffic.
Whitmore Falls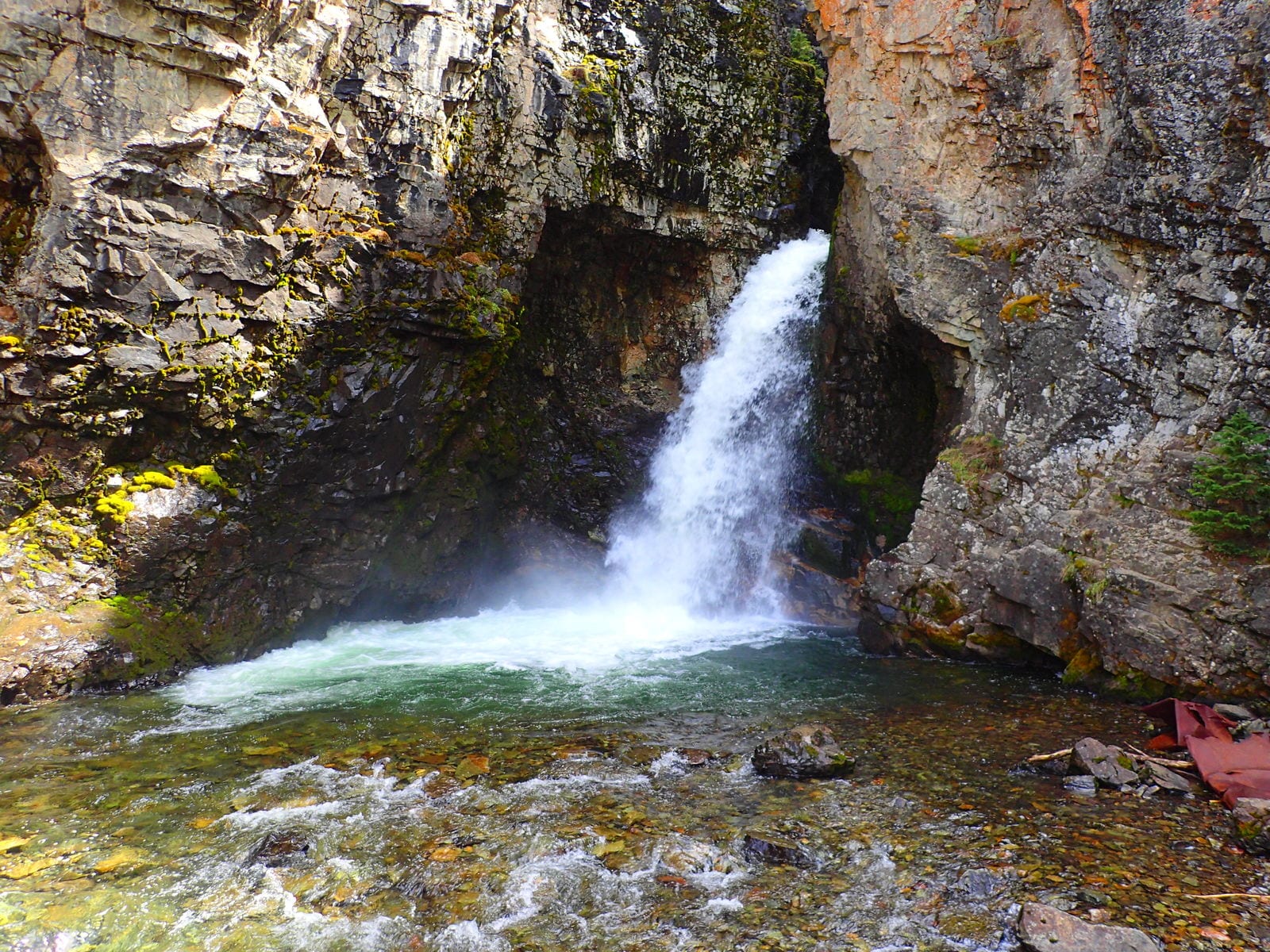 Whitmore Falls is a thrilling hike that remains a bit off the beaten path, about an hour west of Lake City. It's only a short hike from the trailhead along Engineer Pass Road but the drive up is quite scenic. There's no designated parking area, only a pull off along the roadside, so don't expect restrooms or other services.
The hike is a short, 0.2 mile walk. The path is somewhat steep and is mostly covered in gravel, so poles can come in handy. The waterfall is a modest, plunge waterfall that drops approximately 40 feet from the rock cliffs into Henson Creek.
The road to reach the falls may be difficult to navigate, or even closed if the weather is poor. In good conditions, regular passenger vehicles can make the drive up to the falls, but past the falls the road conditions get increasingly worse. Engineer Pass is located on the Alpine Loop, a designated 4×4 national scenic byway, which also cross Cinnamon Pass. The waterfall is also nearby the ghost town of Capitol City, another worthy stop suitable for 2WD to reach.
How to get to Whitmore Falls:
From Lake City take 1st street out of town and then turn left onto Alpine Loop Scenic Byway, also known as Engineer Pass Road. This is a dirt road which follows along the path of Henson Creek. It's closed from December – May. The trail for the falls is located about 11 miles west of Lake City. You'll find it approximately 2 miles after you pass the Capitol City Landmark.
Nellie Creek Falls
Nellie Creek Falls is a small, but beautiful, two stage waterfall near Lake City. The visit is very nice in the fall when the aspens take on their beautiful golden color. The scenery is beautiful along the road with a number of small streams and waterfalls. About 3 miles farther along the road, you'll find the Uncompahgre Peak trailhead, which takes you up the tallest fourteener in the San Juans.
How to get to Nellie Creek Falls:
To reach the falls, you'll have to drive or walk about a half mile up Nellie Creek Road which is just off of the Alpine Loop from Lake City towards Engineer Pass. The road can be quite rough and requires four-wheel drive if you choose to drive it. There isn't a parking lot near the falls, so you'll have to find the best place you can to pull off the narrow road.
Thanks for checking out our roundup of Colorado waterfalls nearby the historic mining towns of Lake City and Creede. Definitely plan a trip to this wonderful and remote part of Colorado this summer.