When the summer reaches its zenith and the snowfall becomes snow melt, many winter sports fans decide to chase waterfalls. From falls flowing off of cliff sides and mountaintops to falls that create an oasis in the desert, there is no end to the natural beauty and serenity that can be found wherever you are in Colorado.
The best time to go looking for waterfalls is between May and July, while the snow melt is in full affect on Colorado's rivers. Though you can visit most of the waterfalls in Colorado year round. Just expect a reduced flow and the good chance it's frozen come winter; maybe you'll see some ice climbers. Each season has its beauty.
Here are among the top waterfalls in Colorado, in no particular order:
Treasure Falls
Closest Town: Pagosa Springs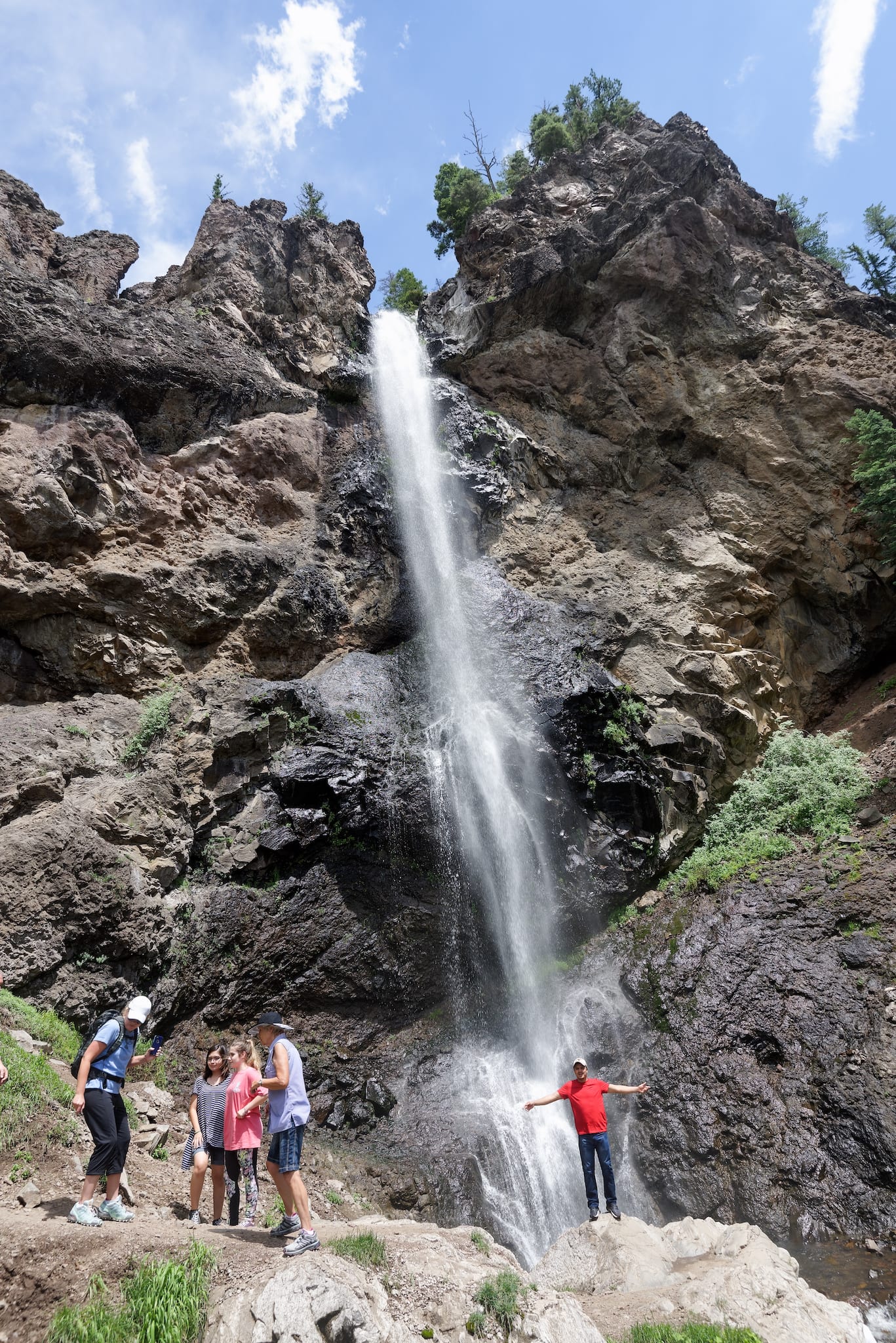 A road trip across Highway 160 in southern Colorado has many amazing views in store, but one of the most stunning of these is just off of the highway, about 15 miles east of Pagosa Springs.
Treasure Falls got its name from the legendary "Treasure Mountain", a site that was chosen by French soldiers looking to find a safe place to bury their gold from the Spanish in the San Juan Mountains. Although many prospectors attempted to find this legendary mountain with its buried treasure, the place was lost to time and Treasure Falls was named in its honor.
Since these falls are located conveniently off of the highway, the site is a perfect place to stop, stretch, and take in the scenery. If you're up for a closer inspection, there is a 0.6mi loop that will take you directly to the base of the falls.
On hot summer days, visitors brave enough will hike beneath the spray of the waterfall to cool off. On frozen winter days, explorers can try their luck ice climbing (with safety gear, of course). And then go warm up in town at the hot springs.
Hanging Lake Waterfall
Closest Town: Glenwood Springs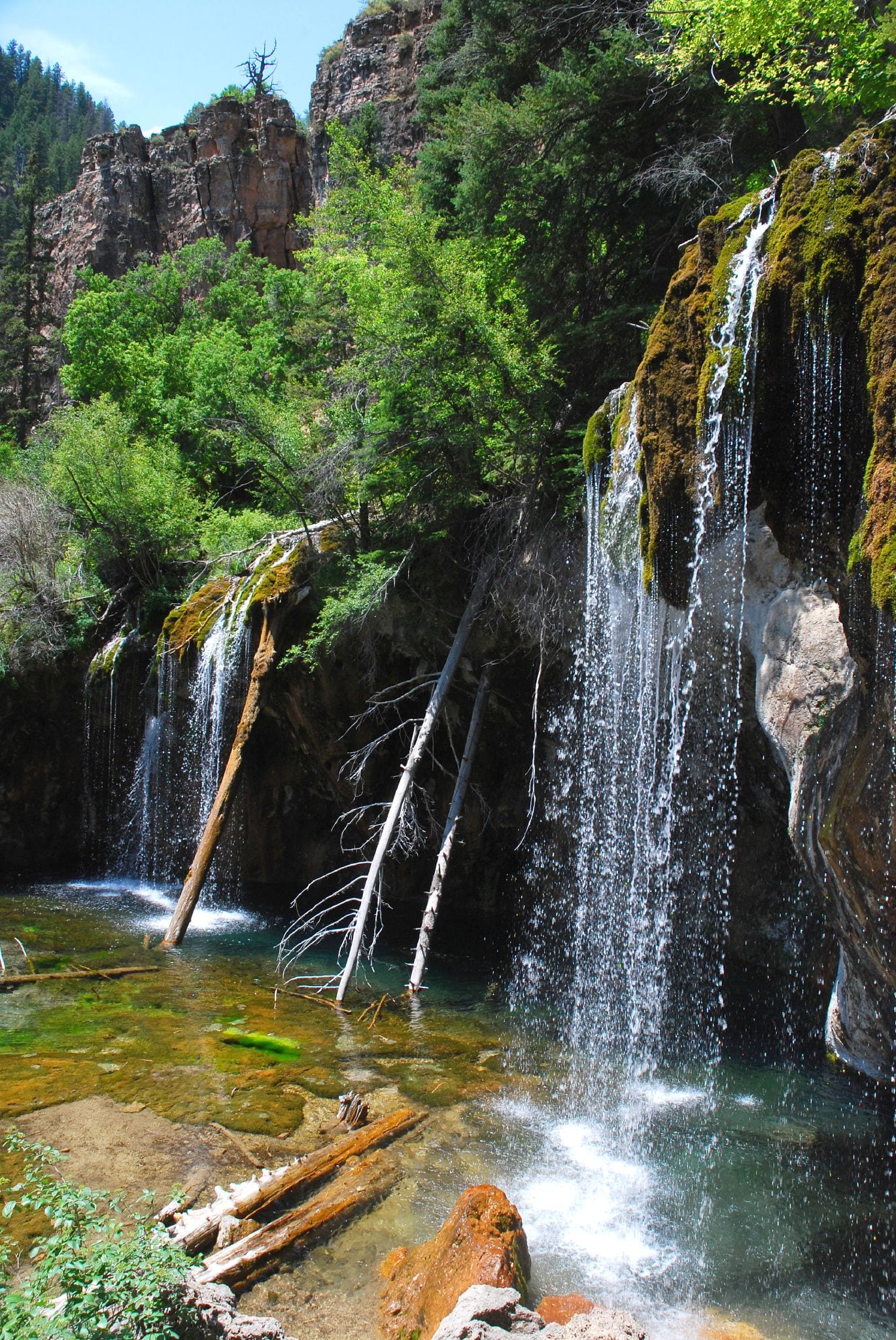 About 10 miles east of Glenwood Springs is where you'll find Hanging Lake, just within a long day trip from Denver. This spot is one of the most unique natural landmarks you'll come across while exploring Colorado.
There is no swimming of any kind allowed at Hanging Lake, however, a wooden walkway was built to allow visitors to enjoy the scenery without disrupting the fragile ecosystems below their feet. Gaze into the serene water of this lake, formed by travertine deposition and nearby hot springs–processes that still continue today.
Surrounding the falls is an abundance of greenery, an example of what botanists call
"one of the best and largest examples of a hanging garden plant community".
This awe-inspiring flora gives Hanging Lake a fairy tale feel, perfect for your next hiking adventure in the Glenwood Springs area. Please note that there is currently a permit system in place to visit this natural wonder, so be sure to book your spot ahead of time and ensure that you do not bring pets on this trail.
Bridal Veil Falls
Closest Town: Telluride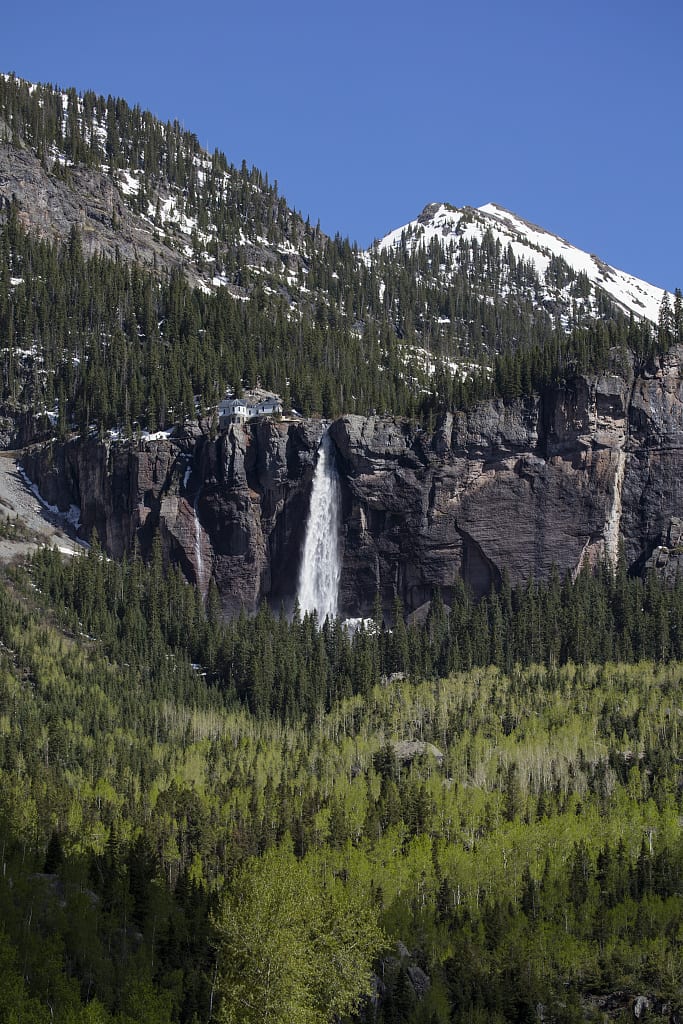 Telluride is an incredible scenic gem for ski buffs and tourists, nestled in its picturesque canyon. The crowning jewel of this area is Bridal Veil Falls, located about three miles east of town. These gushing falls are one of the tallest in all of Colorado, standing at 335 ft.
They are topped by a privately-owned power plant that turns the power of running water into energy for the surrounding area. Depending upon the time of year you visit, the falls may be frozen in places and gushing in others, making this a popular spot for ice climbers and rock scramblers alike.
The scramble to this area is very steep and rocky, so be prepared for the difficult 1.8-mile hike to the top of the falls. The view at the end is worth it to witness the stark beauty of the southern Colorado mountains as well as the pure power of the gushing Bridal Veil Falls.
Bear Creek Falls
Closest Town: Telluride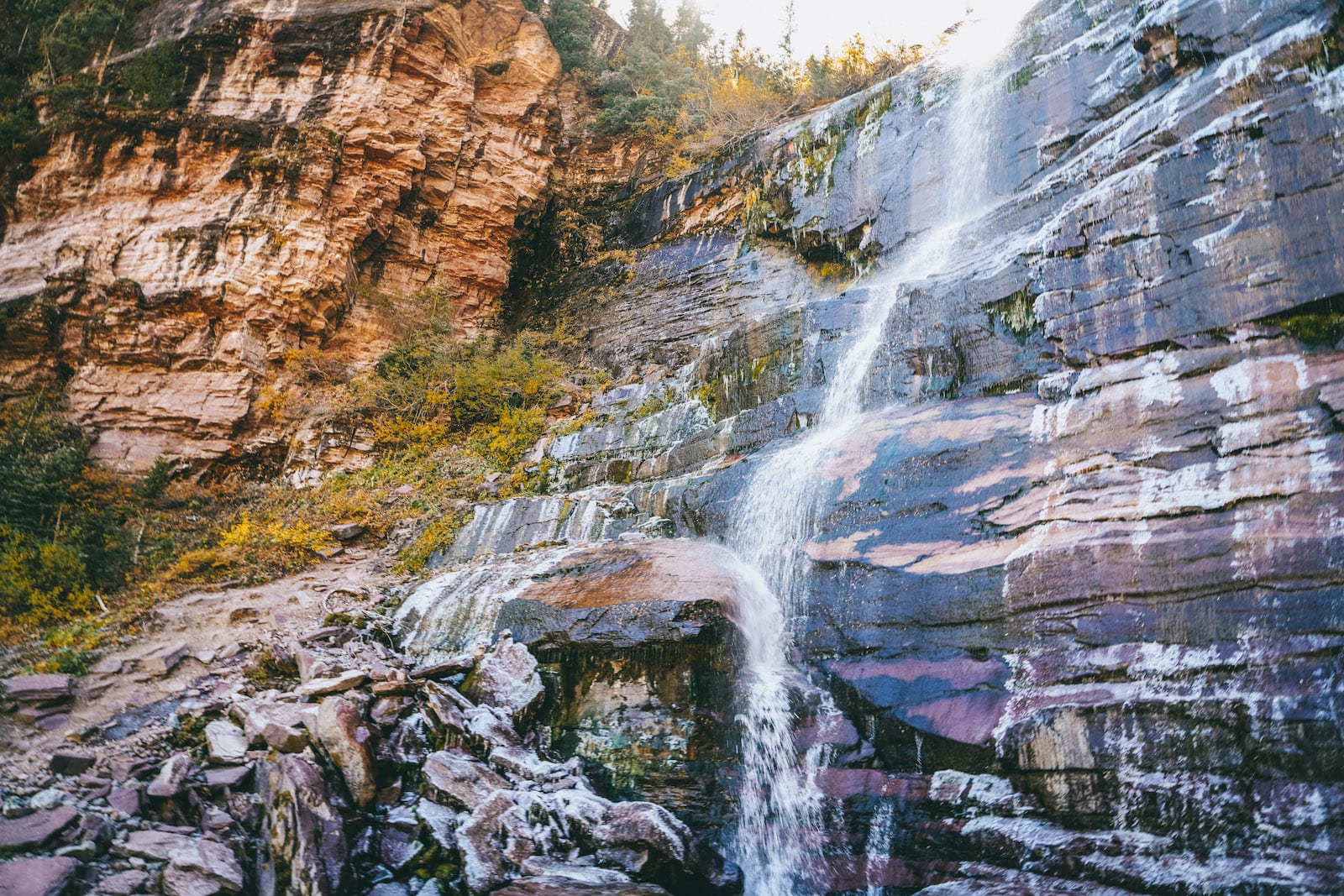 If you're hoping for a longer hike while visiting Telluride, Bear Creek Falls is another option for the more adventurous souls. The falls are not accessible by car, unfortunately, and the only way to see them is to hike the 5.1-mile out-and-back Bear Creek Trail.
Those who don't mind getting a little winded will be inspired by the scenic and tranquil beauty of the falls at the end of this trail. Sit beside the falls for a picnic or a relaxing afternoon before hiking back down into town to watch the sunset. Bring along your furry friends for the jaunt as well; dogs are more than welcome on Bear Creek Trail.
A common name, there's also another Bear Creek Falls in Ouray, which is located about an hour's drive from Telluride. It's accessible as an overlook from Highway 550, the Million Dollar Highway.
Horsetooth Falls
Closest Town: Fort Collins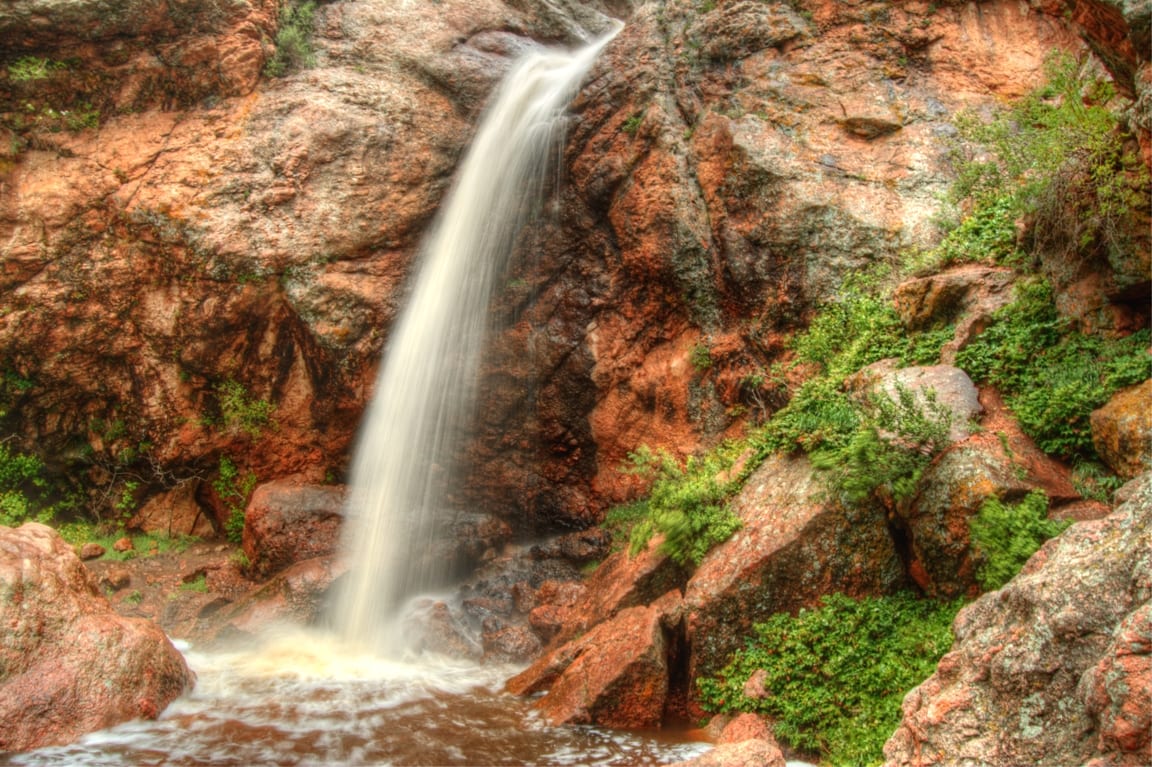 Anyone who has visited Fort Collins should know about Horsetooth Mountain Open Space, a gorgeous spot for hikers, picnickers, and those who just want to take a scenic drive along the foothills of the Rockies. However, only the most enthusiastic of waterfall hunters are aware of another of this area's wonders: Horsetooth Falls.
Accessible by a 3-mile out-and-back loop that begins near the parking area, Horsetooth Falls is a large, free-flowing waterfall that spills over a cliffside into a small pool below. This location is perfect for a warm summer day before all of the late spring snow has melted. Just stand beneath the falls and you'll be cool in no time!
Zapata Falls
Closest Town: Mosca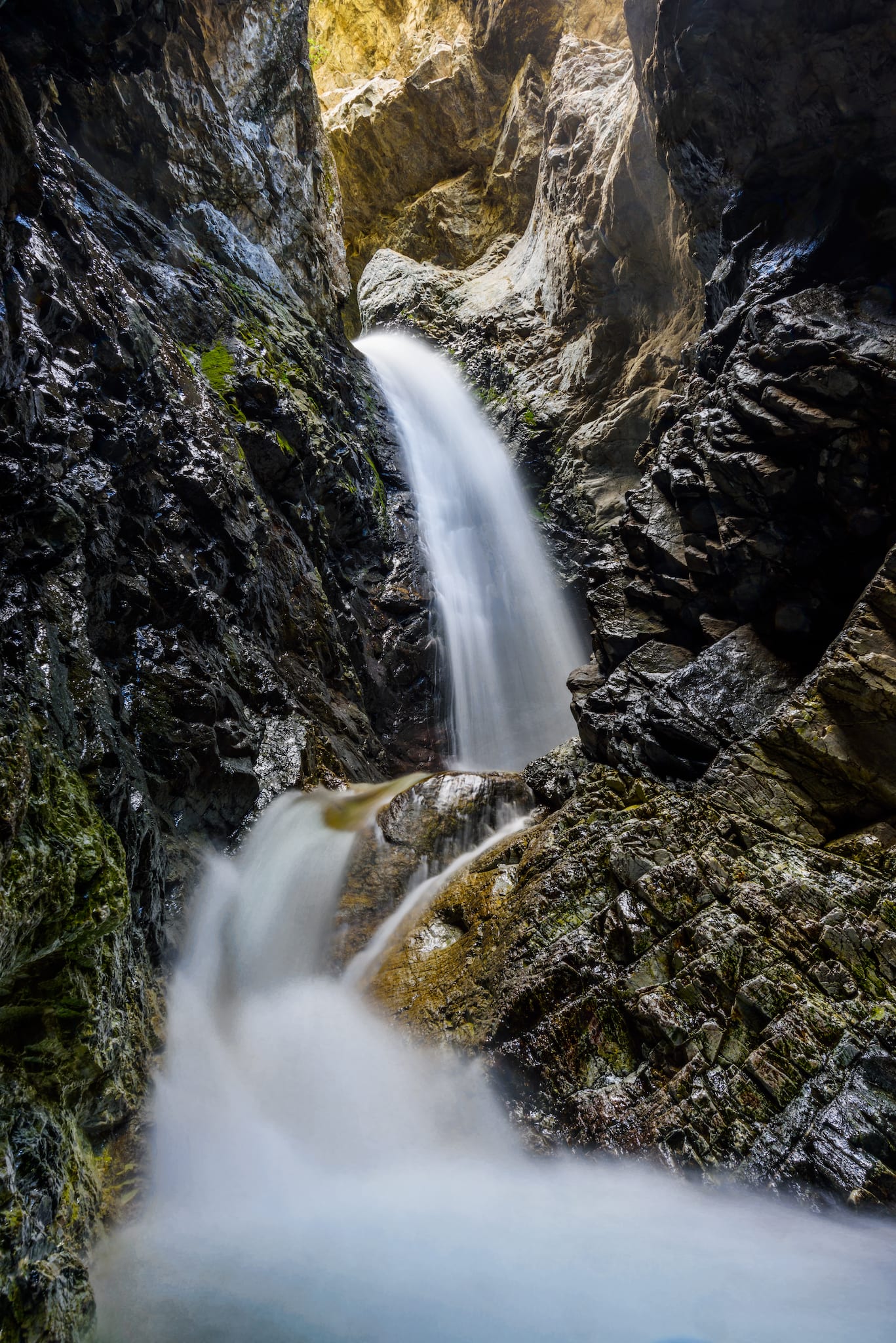 During your next visit to Great Sand Dunes National Park and Preserve, think about stopping off at the refreshing desert oasis located nearby – Zapata Falls. Although the falls are only found 0.5mi uphill from the parking lot, this hike is one for the more adventurous travelers who don't mind scrambling over rocks and wading through ice-cold water to get to the prize at the end.
Once you've gotten your fill of the bizarre and alien landscape that the dunes provide, Zapata Falls provides a natural oasis to explore and relax in. After a long day of scrambling up and down the dunes, cooling off in the gentle waters below these 25ft falls is the perfect way to end a day full of Colorado's natural wonders.
Ouzel Falls
Closest Town: Estes Park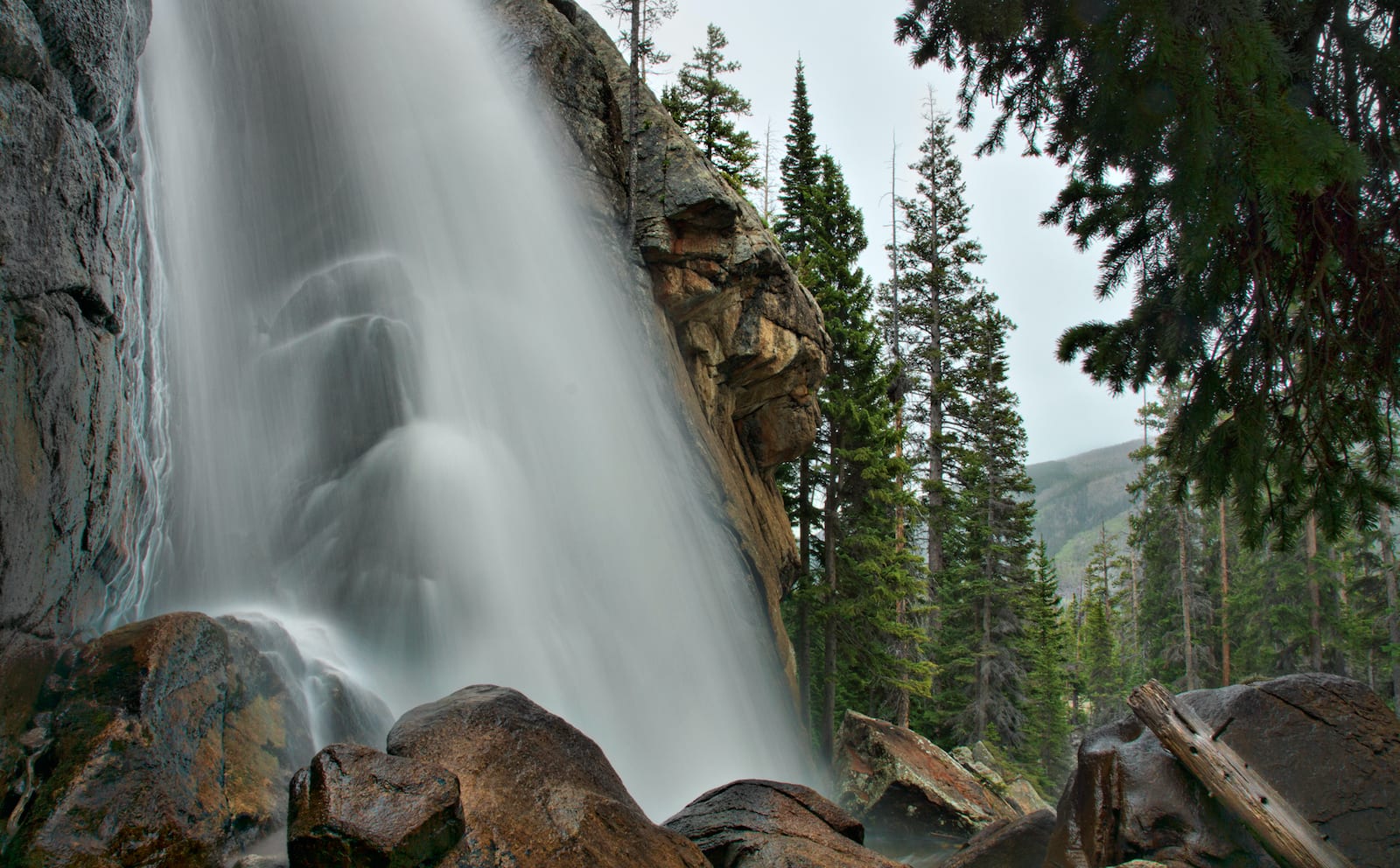 Rocky Mountain National Park (RMNP) is one of the most popular national parks in Colorado, owing to its gorgeous mountain scenery and miles upon miles of hiking trails to trek. A hidden gem in this national park is Ouzel Falls, located on the Wild Basin Trail.
This 5.4mi round-trip hike isn't easy by any means, but there are several waterfalls located along the route, including the Copeland Falls and Calypso Cascades, for those who want to get more bang for their hike.
Ouzel Falls itself is impressive as well, standing at 40 feet tall and with a gushing cascade that will wow nature lovers. The falls may be gushing or partially frozen-over during certain times of the year, so plan your trip around the snow melt if you are looking to see each of these waterfalls in action.
Plus if staying multiple days, there are other waterfalls in RMNP by Estes Park.
Seven Falls
Closest Town: Colorado Springs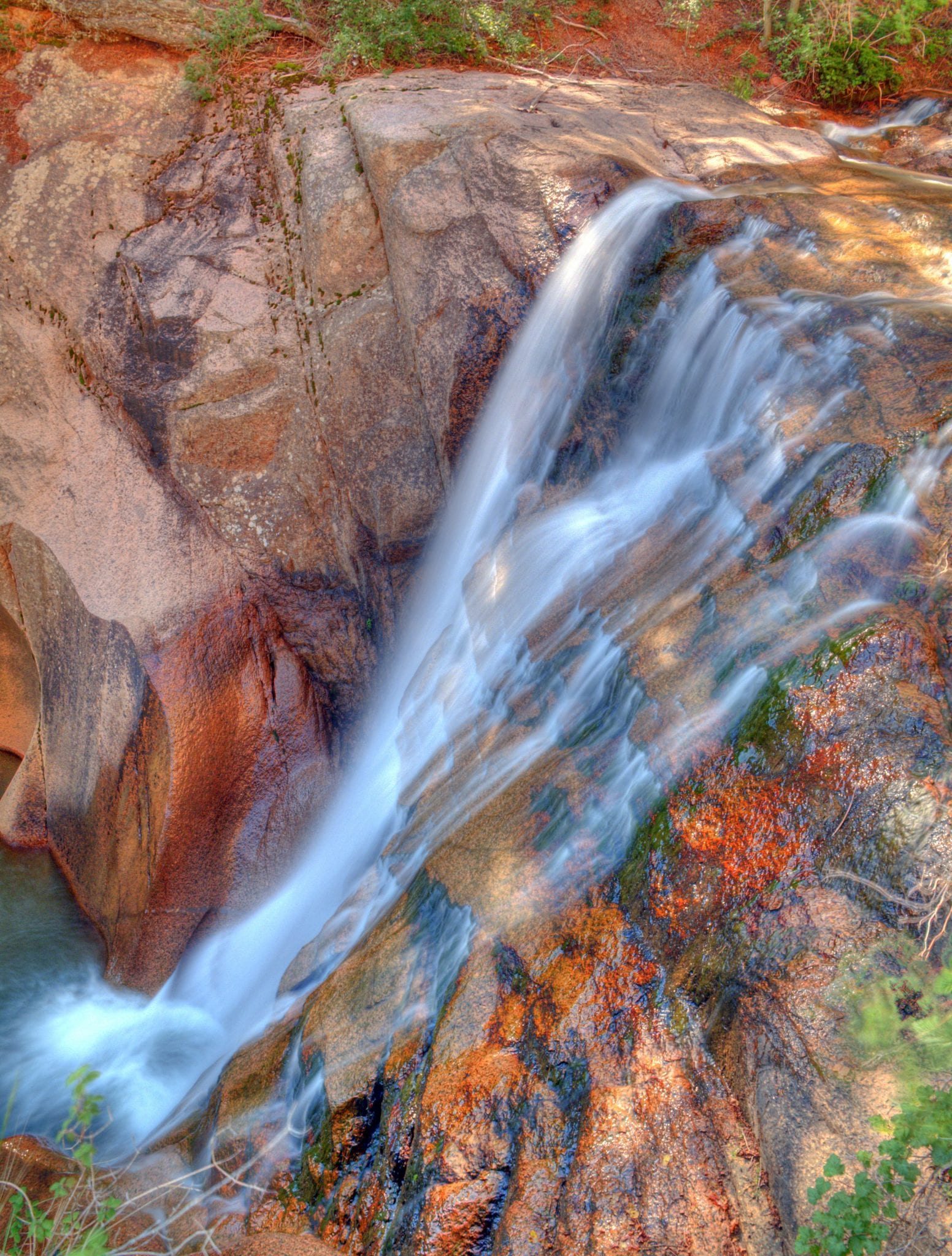 If you aren't the type to hike for miles to see waterfalls, there is an easy one you can visit in the Colorado Springs area, which doesn't require an intense scramble to get to. Seven Falls is one of the most popular tourist attractions in the area and even includes a staircase that takes you directly to the top of the falls.
Expect to pay for a ticket to visit this waterfall, which is located on the Broadmoor Resort property. Shuttle vans and buses run to Seven Falls to make parking a bit easier for the thousands of guests who climb up these falls each year. You can also park onsite.
Whether you're visiting during the icy wintertime to see the frozen falls or you've come during the summertime to see them gush at their maximum, these falls are a popular site year-round for tourists. And don't worry about them drying up-Seven Falls flows all year long.
Rifle Falls
Closest Town: Rifle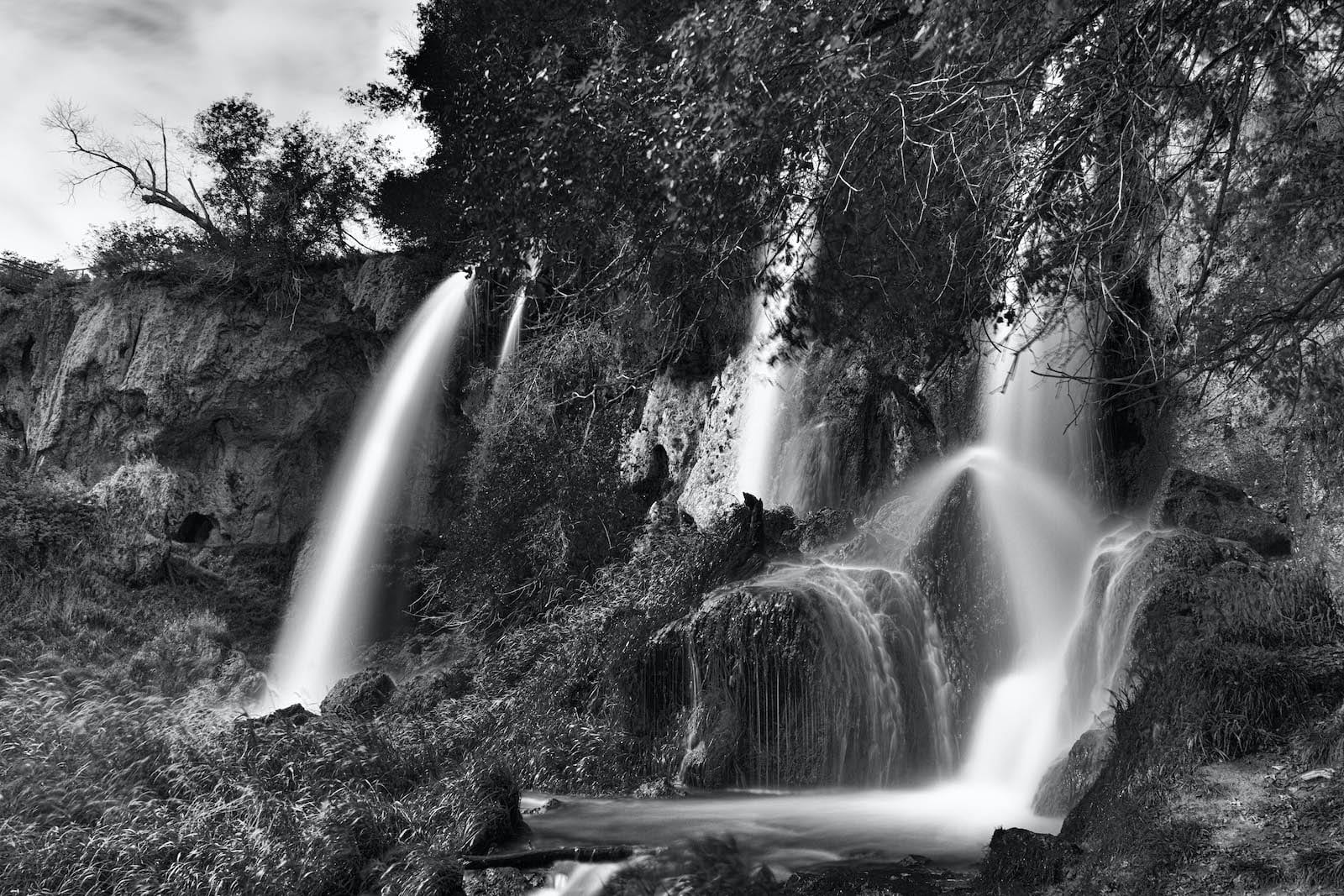 Rifle Falls State Park is one of the most popular areas to camp, boat, and fish on the Western Slope. It's located near Rifle, and after setting foot within the park you will understand why. Unlike much of the stark, rocky beauty of Colorado, the area surrounding Rifle Falls is unexpectedly lush and full to the brimming with greenery and vegetation.
Spray from the falls keeps the area green during even the driest parts of the year. During the wintertime, the falls freeze into gorgeous columns of ice. Watch the water crash over 70 feet of rocks while you picnic in this gorgeous park with your family.
Beneath the falls are a series of limestone caves that are well-known among spelunkers and cavers in the area. There are also a variety of other outdoor activities for visitors to enjoy.
Plan out your trip to this park well in advance if you plan to arrive during the summertime. This is a very popular destination for those looking to cool off during the warmest days of the year.
North Clear Creek Falls
Closest town: Lake City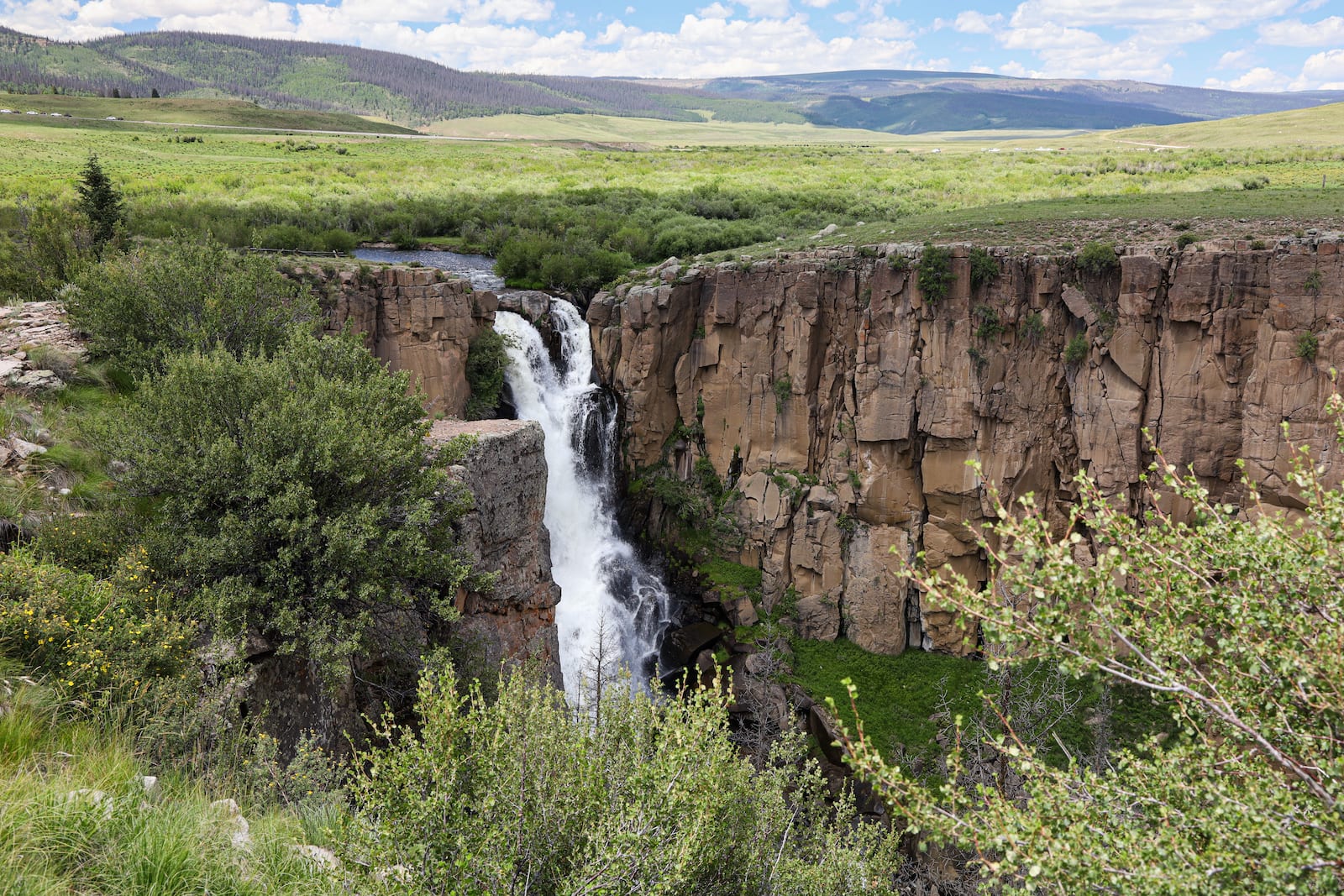 This last waterfall is tucked away almost right between Creede and Lake City on the magnificent Silver Thread Scenic Byway. It's free to access and located right off the highway, making it one of the top roadside attractions in the state, in my book. North Clear Creek Falls is a 100+ foot waterfall that rages off the side of a cliff.
Parking is nearby, so only a short hike is required to reach the viewing point, which looks down over the waterfalls from across the way. Another local bonus for the waterfall chaser is South Clear Creek Falls, located only four miles to the, you guessed it, south. A campground can be found at this second waterfall, which is the smaller of the two and less frequented.
Explore More of Colorado's Natural Wonders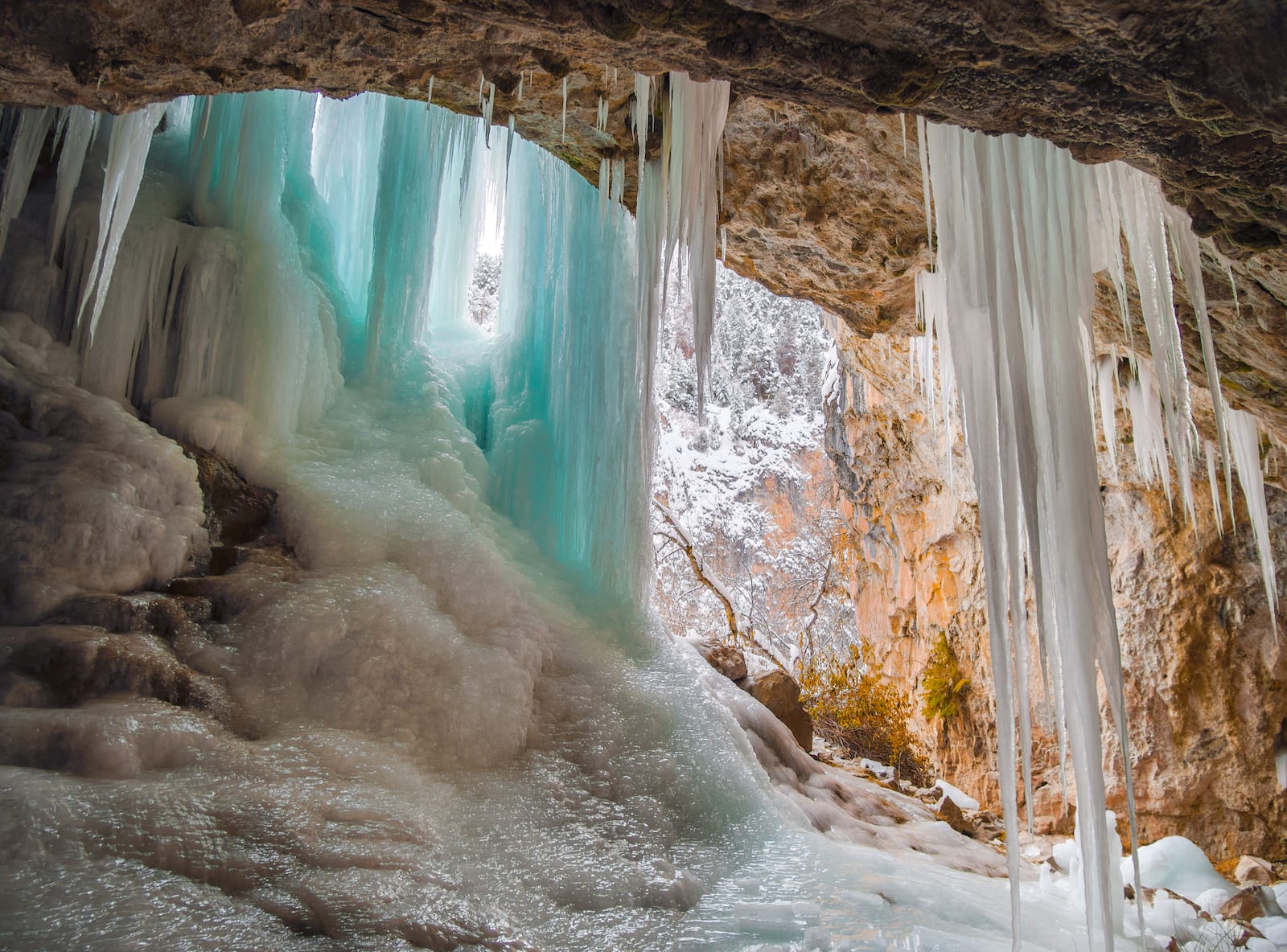 The scenic beauty of Colorado is unparalleled and there's far more to explore than just waterfalls. For those who absolutely cannot get enough of alpine lake views, look at the largest natural lakes in the Rocky Mountain state.
If getting right into the rapids is more to your taste, whitewater rafting in Colorado is among the best places to do it anywhere. It has everything from easy routes to more intense expert trips. Take a look at some of the best whitewater rafting in Colorado.