Situated in Garfield County, Colorado, Hanging Lake is a breathtaking bright blue lake formed by travertine deposition and other dissolved minerals. It's a great example of a hanging garden plant community and one of the most popular short hikes in the state.
Designated in 2011 as a National Natural Landmark, the 72-acre federally-owned area is open for public use year-round. Located within the White River National Forest, it's very busy on summer and fall weekends and can be accessed with snowshoes in the winter.
National Natural Landmark and Waterfalls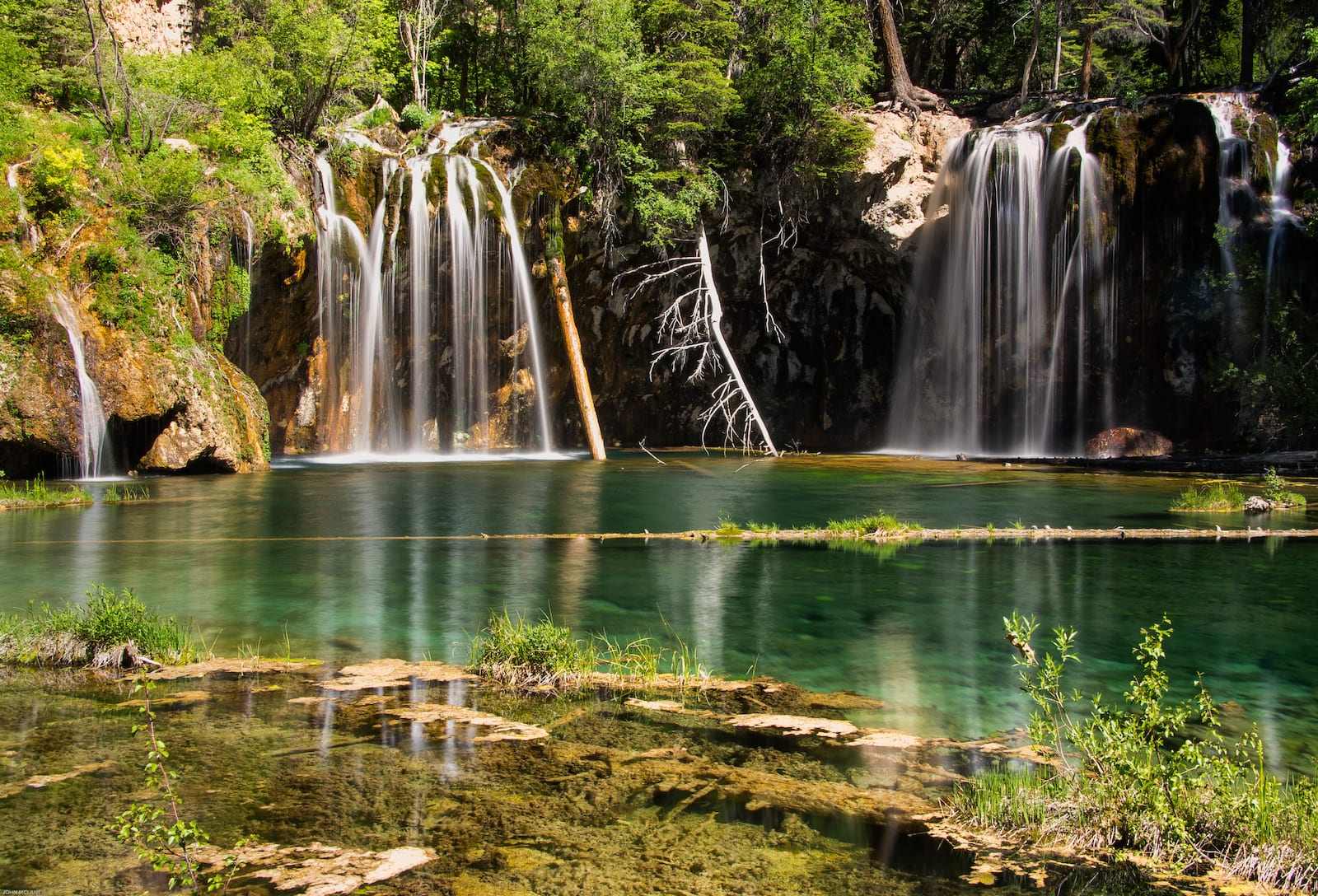 Formed by a geological fault, over an acre of the valley floor fell off the fault line and became the bottom of the lake. The water that fills the lake comes from Dead Horse Creek, which is also responsible for creating the unique travertine shoreline. As the water runs over logs and rocks, it deposits dissolved limestone and creates light-colored, concentric formations.
The bright turquoise-colored water comes from other dissolved minerals. Hanging Lake is one of the biggest, unchanged travertine systems in the Colorado Rocky Mountains that continues to develop and change through geologic and hydraulic movements.
It's an extremely delicate ecosystem. Bodily contact with the water or the floating log is strictly prohibited to preserve its natural beauty.
Getting There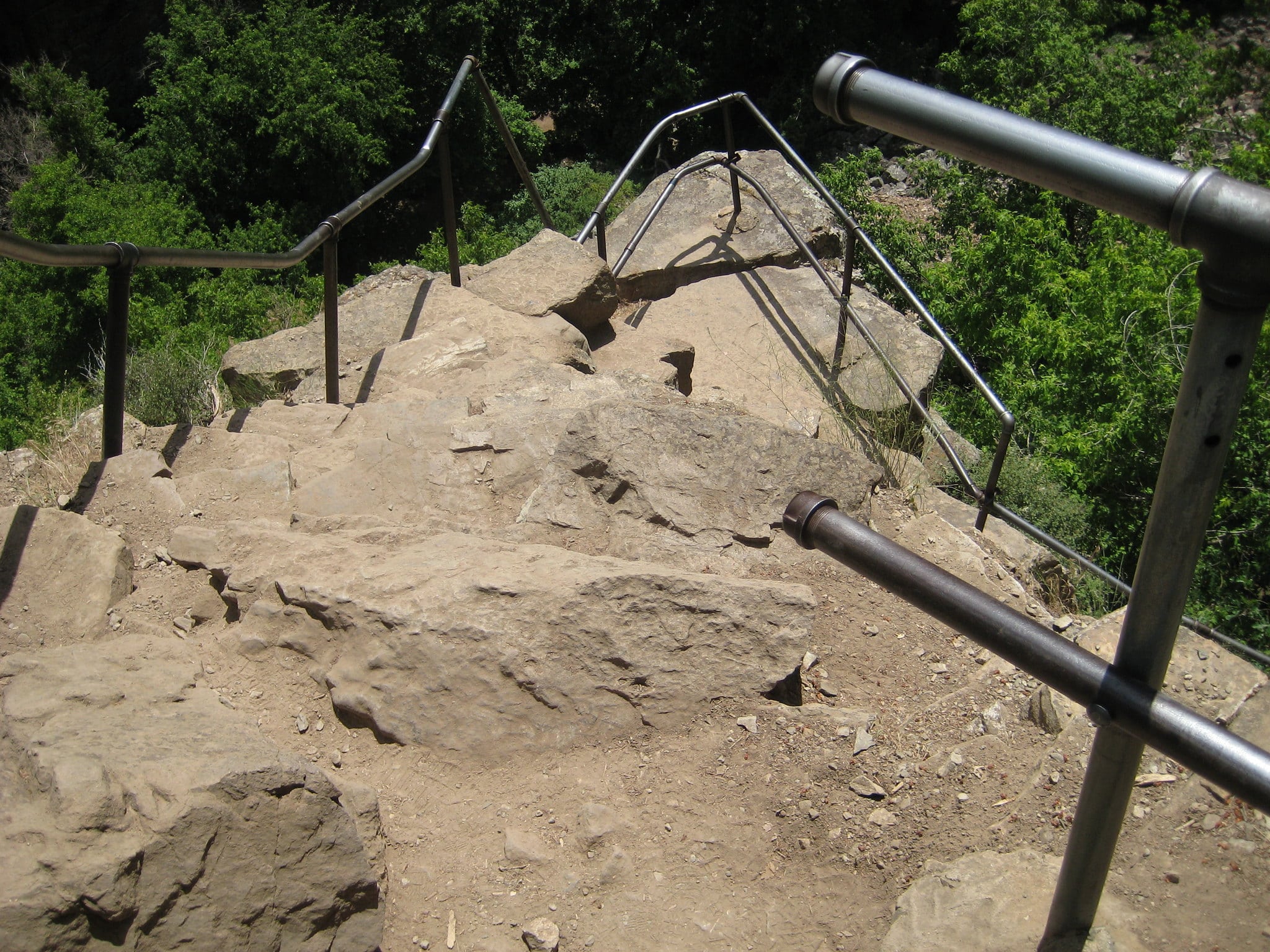 Trailhead parking is available at a rest stop off the highway. From Glenwood Springs, Take I-70 east for just over 9 miles to exit 125. The drive only takes about 15 minutes in total.
If you are coming from Eagle, it is 23 miles west on I-70. However, there is no westbound entrance so you have to get off at exit 121 to Grizzly Creek. Make a U-turn and get back on I-70 going the opposite direction, after a short drive you'll exit at 125 to Hanging Lake.
There are plenty of facilities at the trailhead, as it is a fully developed rest area. Be sure to use the restrooms, there are none available once you start hiking. The area also provides drinking water, picnic tables, trash receptacles, and detailed maps of the area.
The hike itself is no small feat, climbing almost 1,200 feet of elevation in just over a mile. Many parts are incredibly steep and rocky, which may be difficult for anyone with physical limitations, the elderly, or small children.
Tips for Hiking to Hanging Lake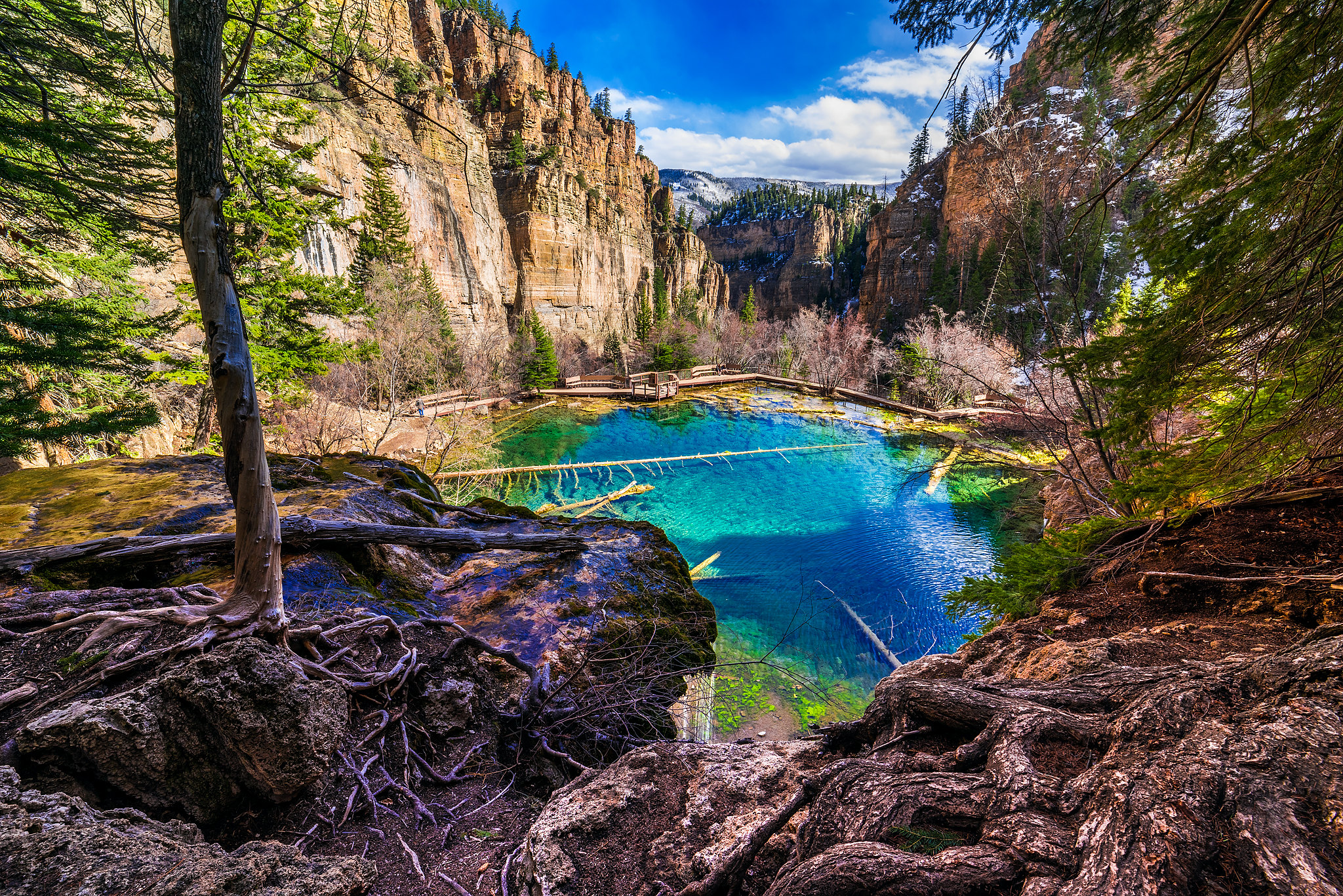 As with any hiking trip, visiting Hanging Lake comes with its own risks and rewards. These tips will help you have the safest, most enjoyable hike possible.
Permits and reservation slots are required to hike to the lake. Use the online system to pay per hiker and choose the time of day you want to visit. The busiest time of the year is May 1st – October 31st, so be sure to plan ahead to snag a spot.
Count on there being no cell reception for the entirety of the hike, so have any information you need downloaded or printed out. It's always a good idea to have a way to navigate the trail without using cellular data should you get lost or off-track.
Sturdy shoes are a must. Because of the steep, rocky nature of the trail, it is best to wear hiking boots or shoes with ample traction that won't slip off your foot.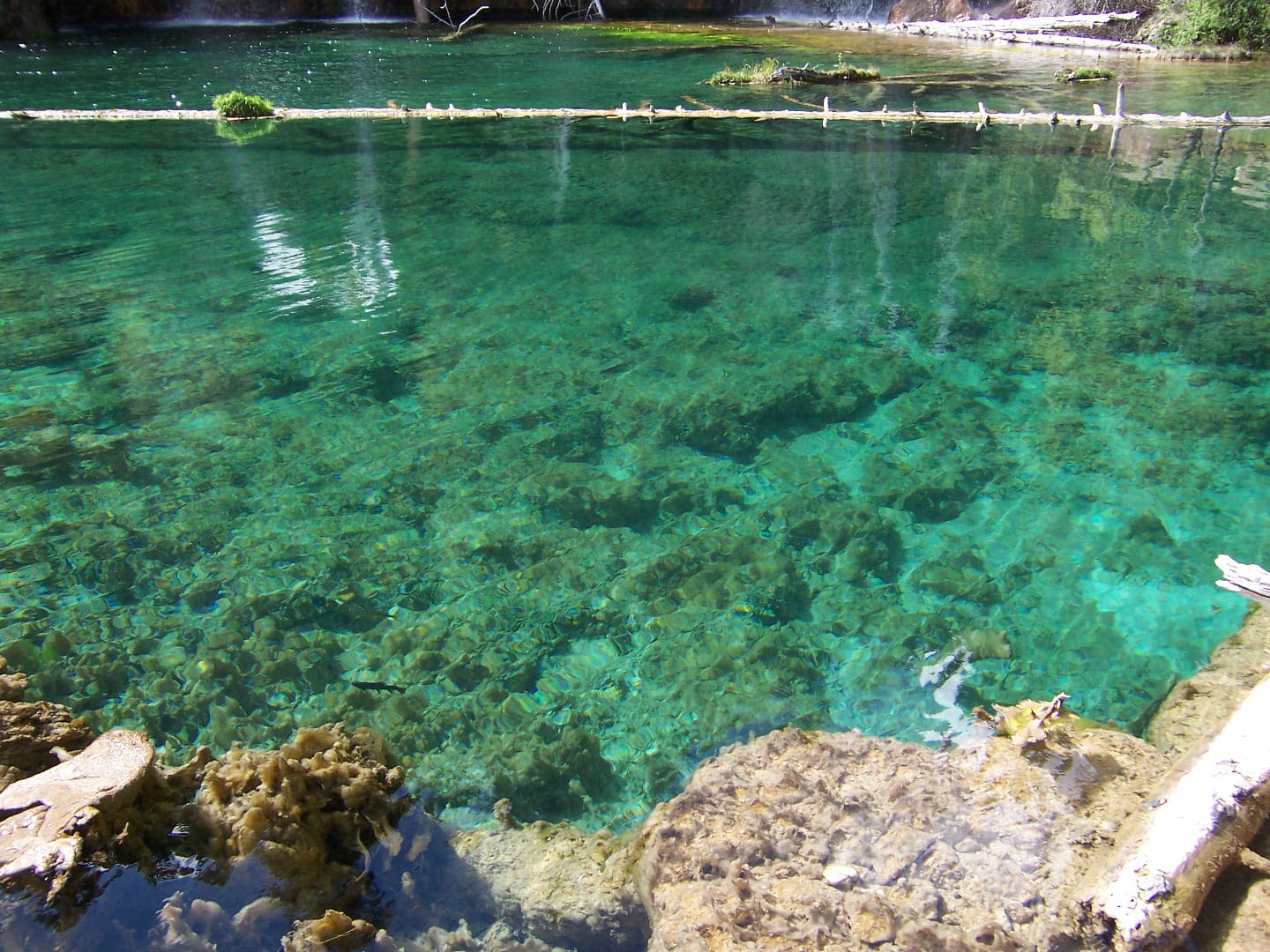 The parking lot can only accommodate vehicles up to 25 feet in length and each car must have a valid hiking permit for that day.
Dogs are strictly prohibited from the trail, but there are several boarding facilities in Glenwood Springs that will take great care of your furry friend while you're gone.
Bring plenty of water with you, the high elevation and strenuous conditions will quickly make you dehydrated if you aren't prepared.
Starting in October and until around April, the trail will most likely be covered in snow and ice. It is recommended you bring some sort of traction device for your hiking shoes.
Nearby Activities
Biking – The Rio Grande Trail is a rails-to-trail paved path that winds along the Roaring Fork River for 42 miles. There is a slight elevation gain, but it is suitable for all ages and can be done in sections or as an entire trail.
Fishing – The longest stretch of Gold Medal Water in Colorado is right near Hanging Lake within the Roaring Fork Valley. Fishermen say the waters are suitable for casting a line year-round, and some even claim it's best in the wintertime.
Take a float trip down the Roaring Fork River or wander along the Rio Grande River until you find a nice spot to cast a line. This is a great place to catch trout.
There are plenty of little creeks and side streams of the Colorado River to catch brown trout. Grizzly Creek is nearby and a local favorite. You could also park at the rest stop at Exit 119 off I-70 and walk upstream to the riverbed.
Hot Springs – Glenwood Springs is merely 10 minutes away and filled with developed and primitive hot springs to recover in after hiking to the lake. Take a dip in the geothermally heated mineral tubs and let the stress of the day soak away.
Details
Address: East of Glenwood Springs, CO on I-70
County: Garfield County
Designated: 2011
Acres: 72
Ownership: Federal
Website: nps.gov or fs.usda.gov
Latest in Hanging Lake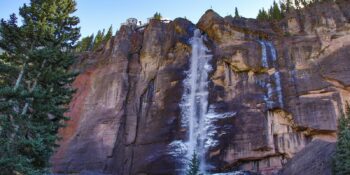 When the summer reaches its zenith and the snowfall becomes snow melt, many winter sports fans…