If you're looking for a fabulous waterfall hike, there are several in the Colorado Springs area just waiting to be explored. Take your pick from among the favorite waterfalls, some of which require little more than a few minutes trek from the car.
The Pikes Peak region is blessed with stunning natural landmarks, with no shortage of spectacular waterfalls. From Colorado Springs you can be at handful of towering cascades (or at least the trailhead) within a short drive. Read on for inspiration on waterfall hikes you can take near The Springs.
Here are the best waterfalls near Colorado Springs, CO, in no particular order:
1. Helen Hunt Falls – Colorado Springs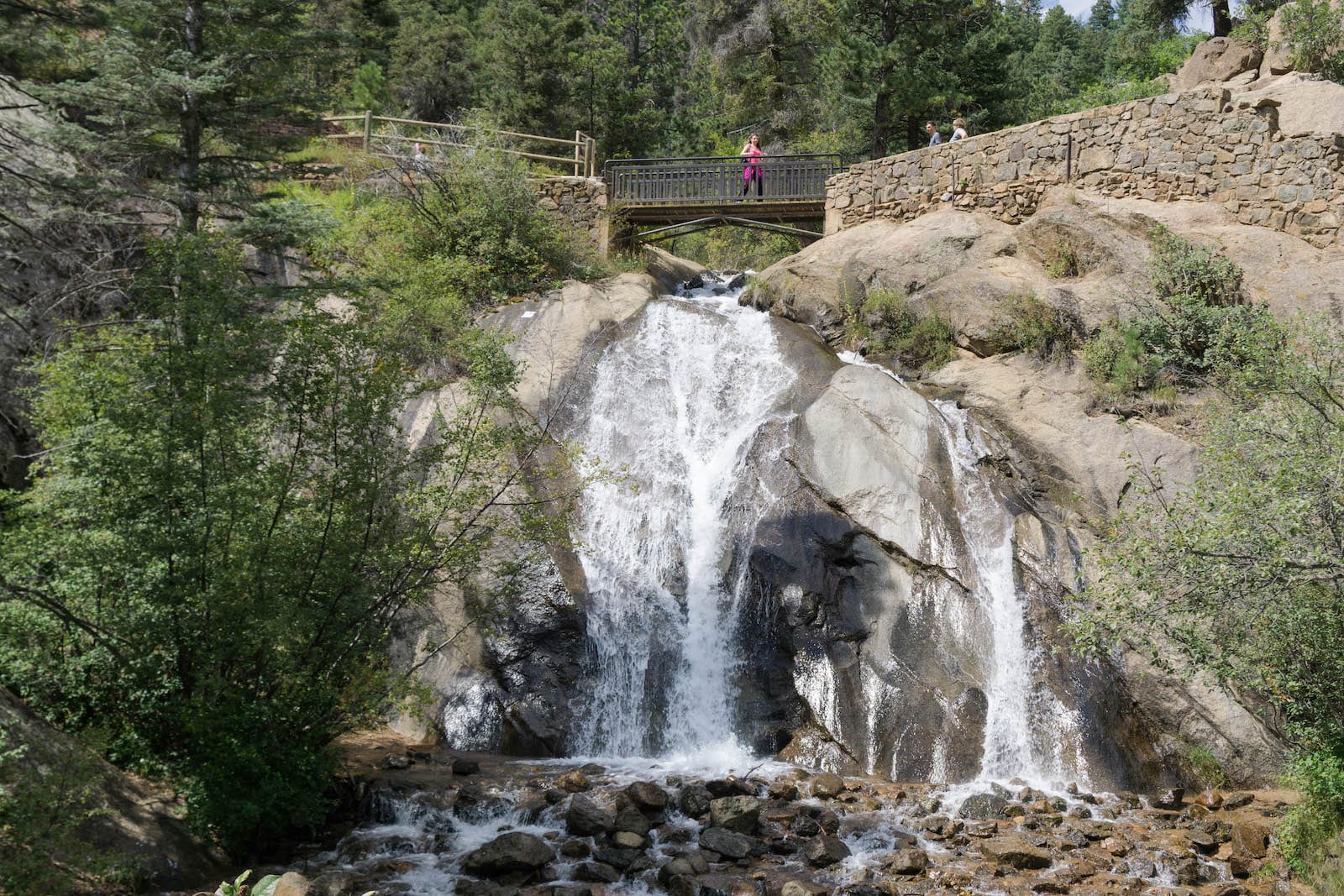 The scenic drive into Cheyenne Canyon is almost as beautiful as the waterfalls you'll find at the end of this short hike. Helen Hunt Falls was named after author Helen Hunt Jackson. The falls are a popular hiking and picnicking area with the star of the show being a beautiful 35 foot waterfall.
The best time to come is in Spring and early Summer, when the water level is at its highest. It's hard to even call this one a proper hike as the falls are located a very short walk from the visitors center. If you're an avid hiker looking for more of a challenge, you can park at the Strasmore Visitor Center and hike 4 somewhat difficult miles to the waterfall.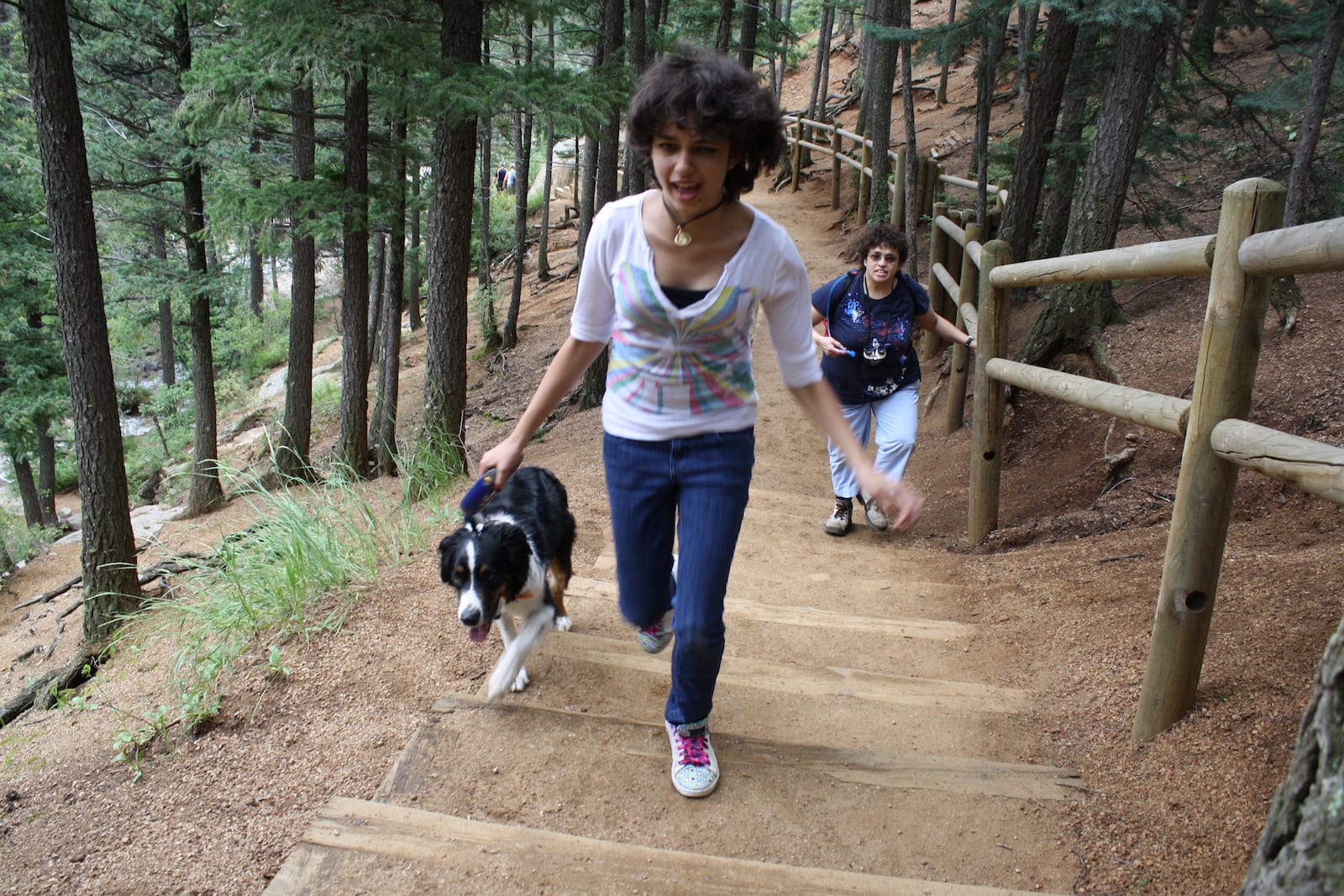 How to Get to Helen Hunt Falls:
Helen Hunt Falls is located inside North Cheyenne Cañon Park. Take North Cheyenne Canyon Road about 2.5 miles into the canyon. The parking lot and the falls are found easily right along the road.
2. St. Mary's Falls – Colorado Springs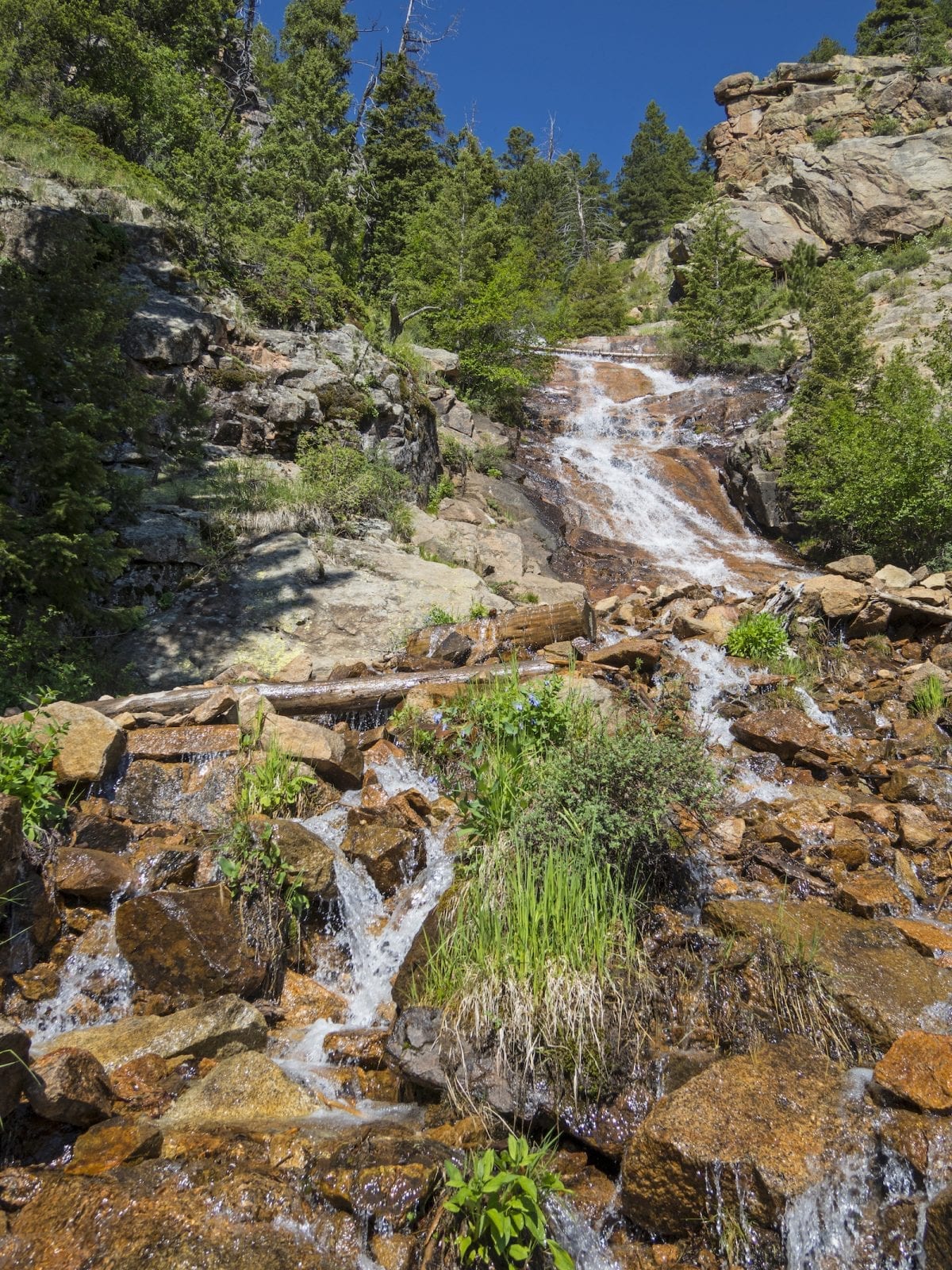 If you are visiting Helen Hunt Falls but the short hike to see them isn't quite enough, check out St. Mary's Falls. These falls, which are located up above Helen Hunt Falls in North Cheyenne Cañon Park, are more secluded. They are reached by a moderate difficulty trail lined with pine trees and offering beautiful views out over downtown Colorado Springs.
The trail follows along the winding Buffalo Creek and gains more than 1,300 feet over 3.1 miles. Even though the hike is more suited for avid hikers than some of the other waterfall hikes on this list, the trip will pay off though when you reach the end and bask in the spray of this beautiful, cascading waterfall.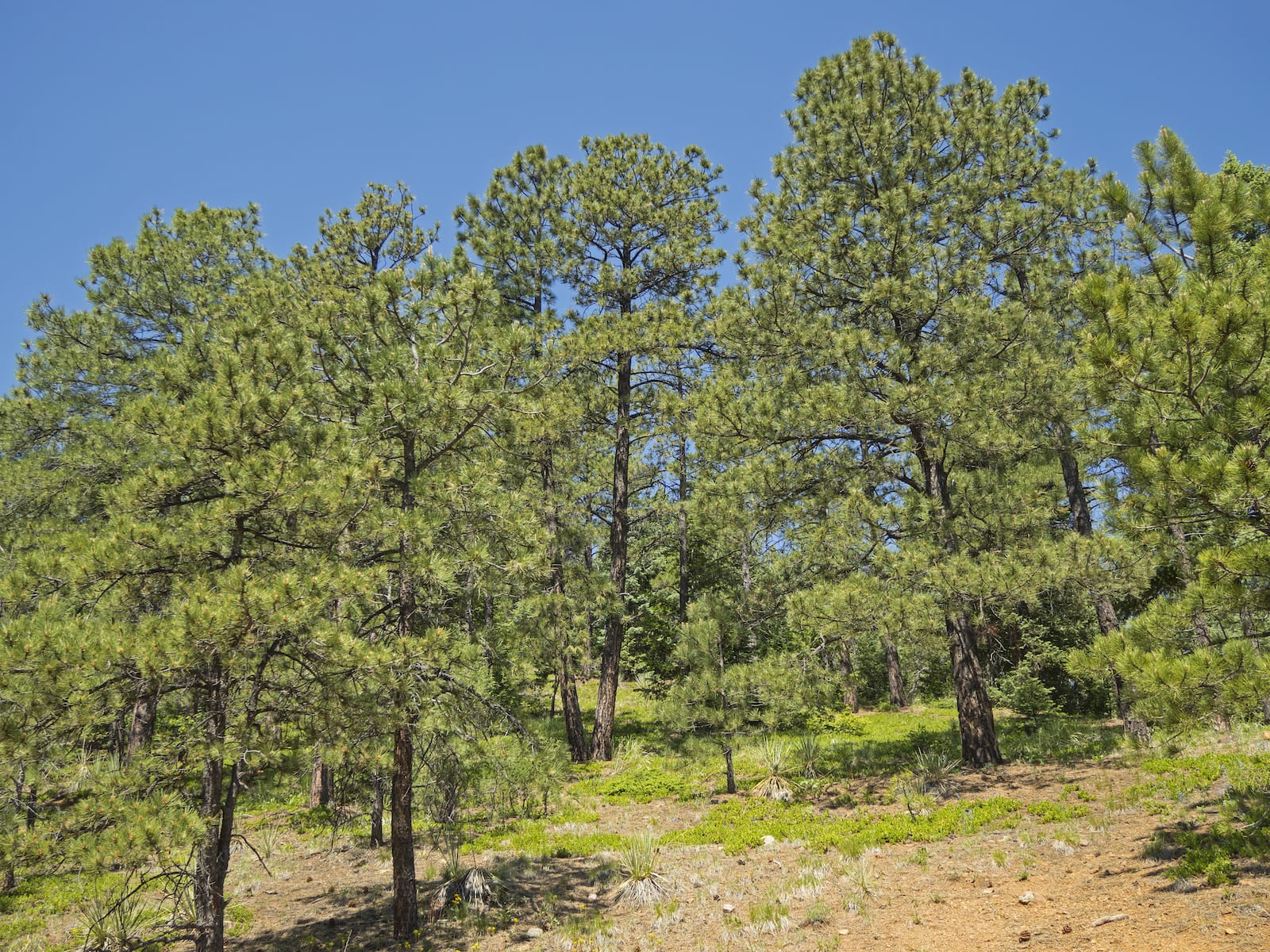 How to get to St. Mary's Falls:
Take North Cheyenne Canyon Road about 2.5 miles into the canyon. Take the road about 3 miles up past the park entrance, to the gravel parking area above Helen Hunt Falls.
3. Catamount Falls – Green Mountain Falls
The hike to Catamount Falls starts in the picturesque town of Green Mountain Falls. This hike has not one, but three different waterfalls that spill down the mountainside from Pikes Peak. It's reached by taking the Thomas Trailhead right from town and making a nearly 3 mile loop. The trail is pretty well marked with yellow circular signs.
You'll come to the first waterfall, Crystal Falls, after just a half mile. Make sure to stop at the observation area a bit further along to get another perspective on the trail. Catamount Falls is about ¾ of a mile further along a more strenuous section of trail
After checking out Catamount Falls, you'll head north, back towards town along the Thomas Trail where another small waterfall can be observed from a little footbridge. This hike is perfect for a hot summer day as the trail is very shaded. If you aren't up for making the entire 2.8 mile loop, you can just follow the directions above to reach Crystal Falls and return back the same way you came.
How to get to Catamount Falls:
The best place to park to hike to Catamount Falls is the Lake Park parking area in Green Mountain Falls. From there, you can walk along town streets to the Thomas Trailhead, which can be easily found using GPS on your smartphone.
4. Seven Falls – Colorado Springs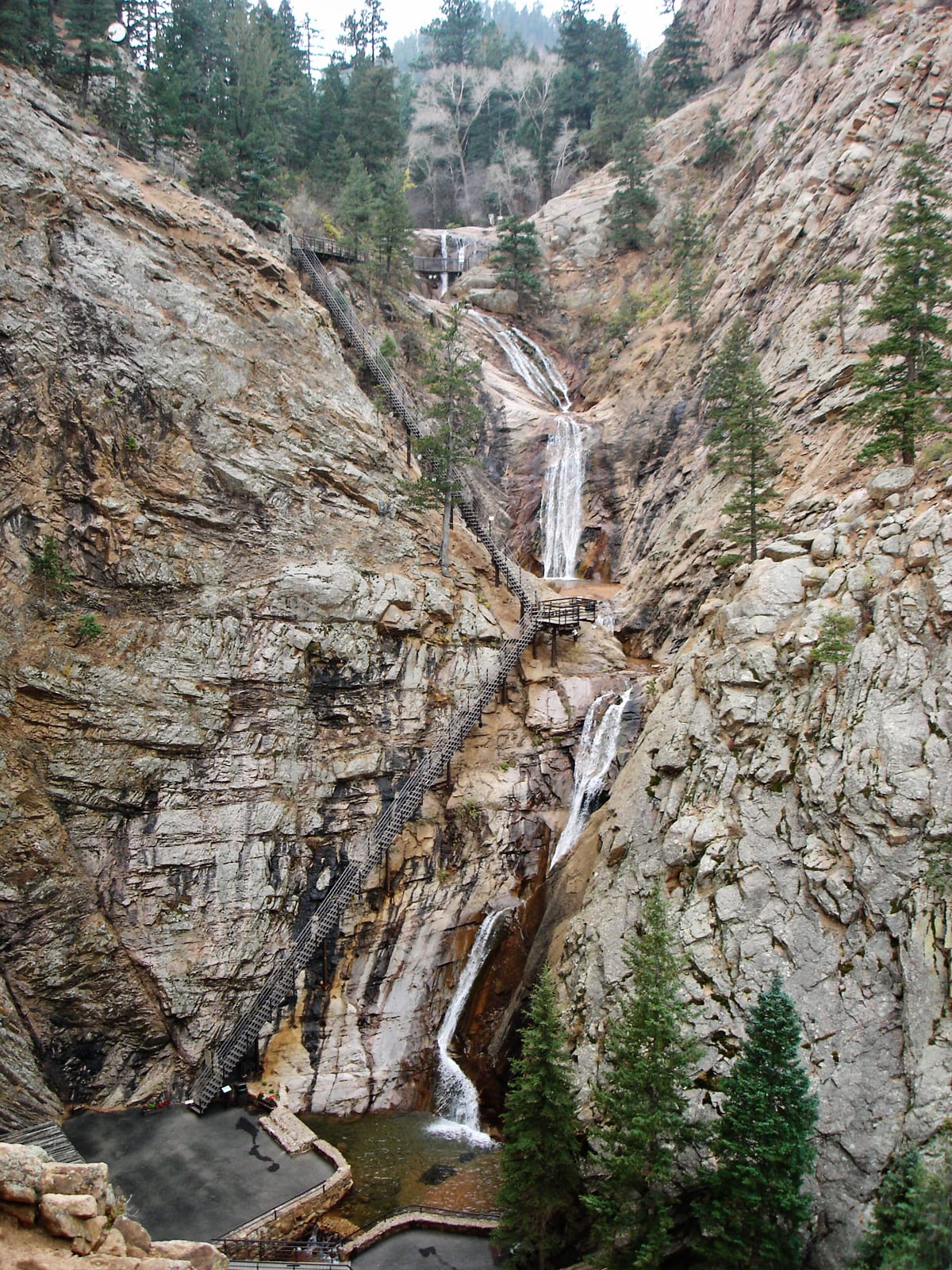 Seven Falls is one of Colorado's most captivating natural wonders, as evidenced by it having earned a coveted spot on National Geographic's list of International Waterfalls. The 7-tiered waterfall sits in a box canyon between the towering canyon walls known as the Pillars of Hercules. The journey up to the top of the falls involves climbing 224 steps.
Once you reach the top, you've got the option to continue your hike on the trails above the falls. These trails lead to a smaller waterfall known as Midnight Falls and to Inspiration Point, an overlook offering views of the city. These upper trails are only open from May to October.
Seven Falls is a fully developed tourist attraction with retail shops, a restaurant, ziplining and more. You can also take an elevator 14 stories up to a point called the Eagles Nest, which is a fantastic spot to take photos of the falls. If you visit in the evening, the falls are lit up with colorful lights. It's quite the lovely sight.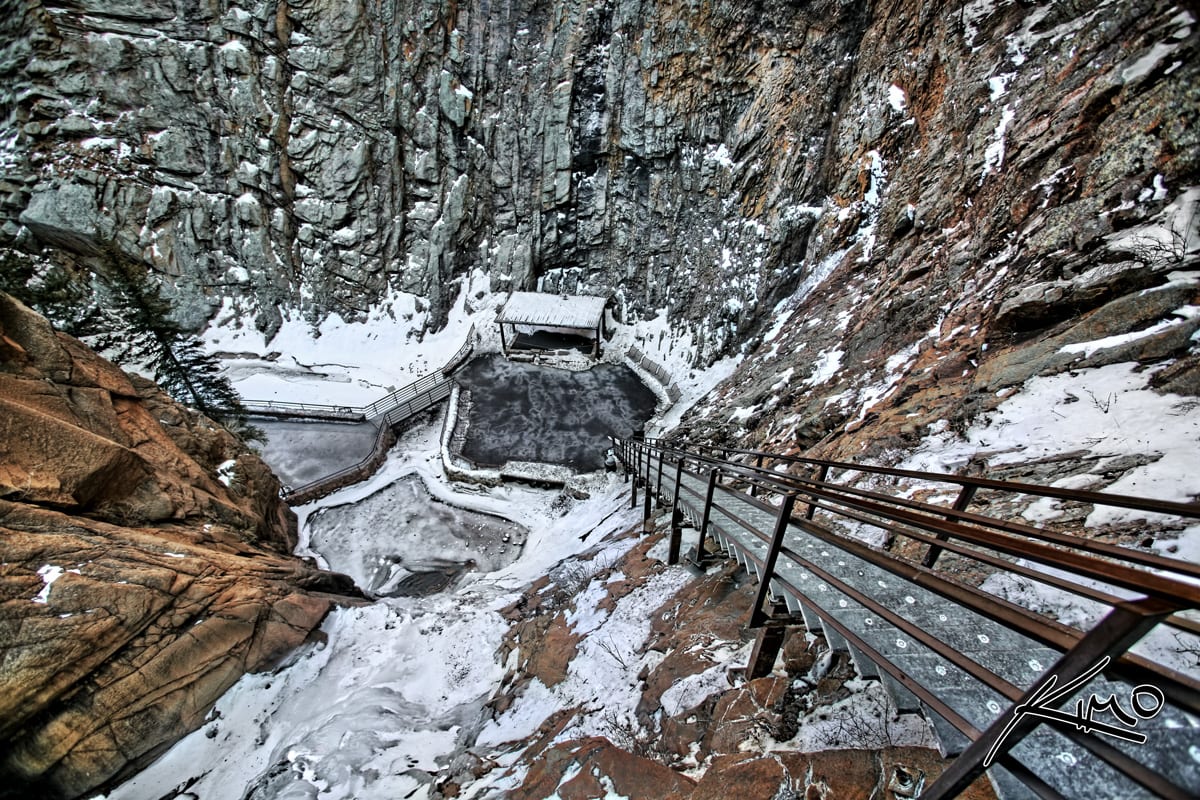 How to Get to Seven Falls:
Seven Falls visitors must park at 1045 Lower Gold Camp Road, located at Norris Penrose Event Center. From there, shuttle transportation is complimentary up to the falls. There is no parking at South Cheyenne Canyon Park for Seven Falls visitors.
5. Rainbow Falls – Manitou Springs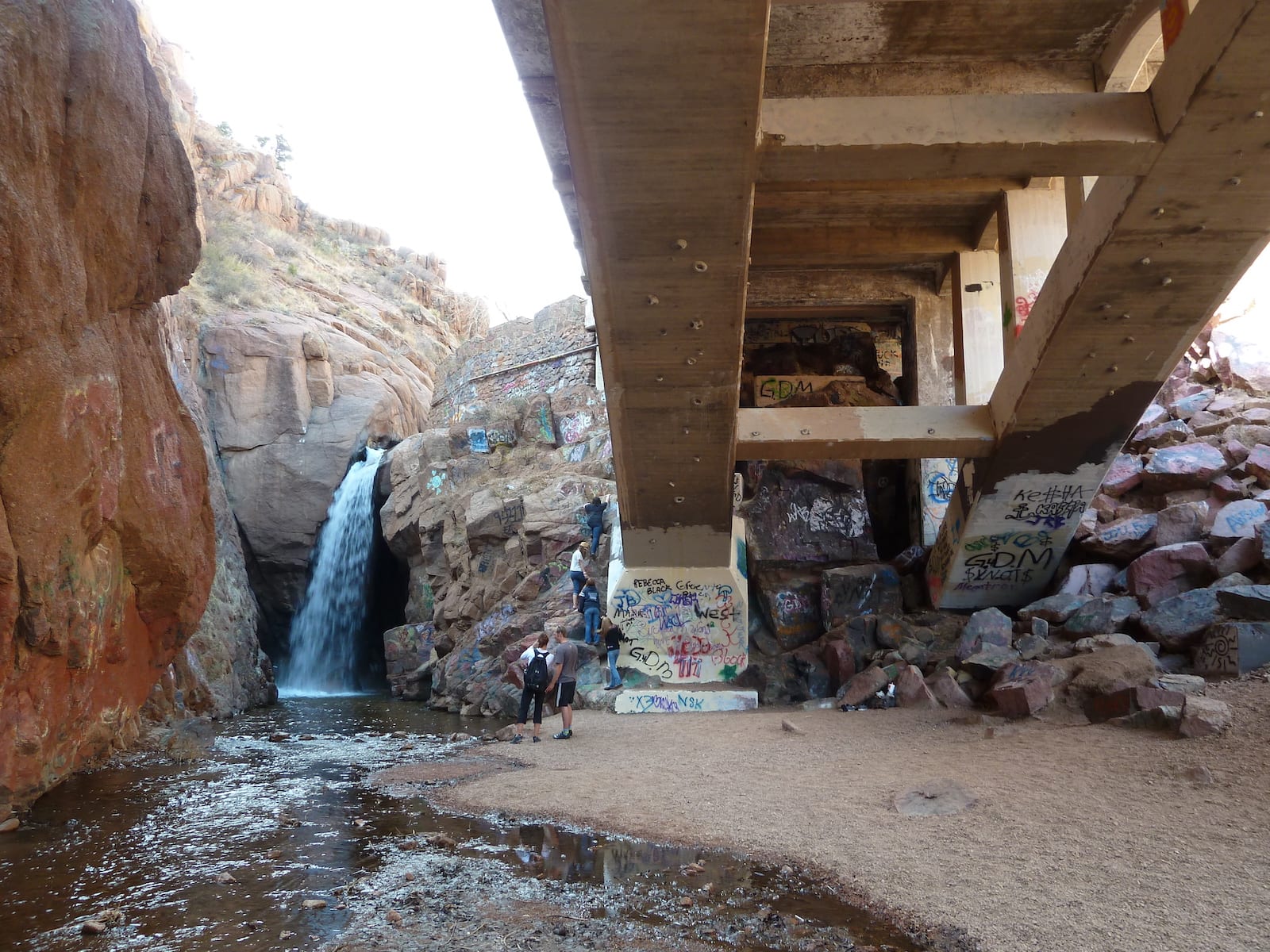 Rainbow Falls is an easy-to-reach waterfall along Fountain Creek in the town of Manitou Springs, a charming mountain town near Colorado Springs. The falls are designated as a historic site, known as the Rainbow Falls Historic Site. The area spreads over about 5 acres and includes a parking lot, a historic bridge, informational signs, picnic areas and an easy 0.15 mile walking trail to Rainbow Falls.
Many locals refer to the falls as Graffiti Falls due to the large amount of graffiti that have been painted here over the years. The park was not well kept for many years and suffered from other neglect and misuse, but things have changed in recent years and many improvements have been made. A $1 donation to the continued upkeep of the park is expected to visit.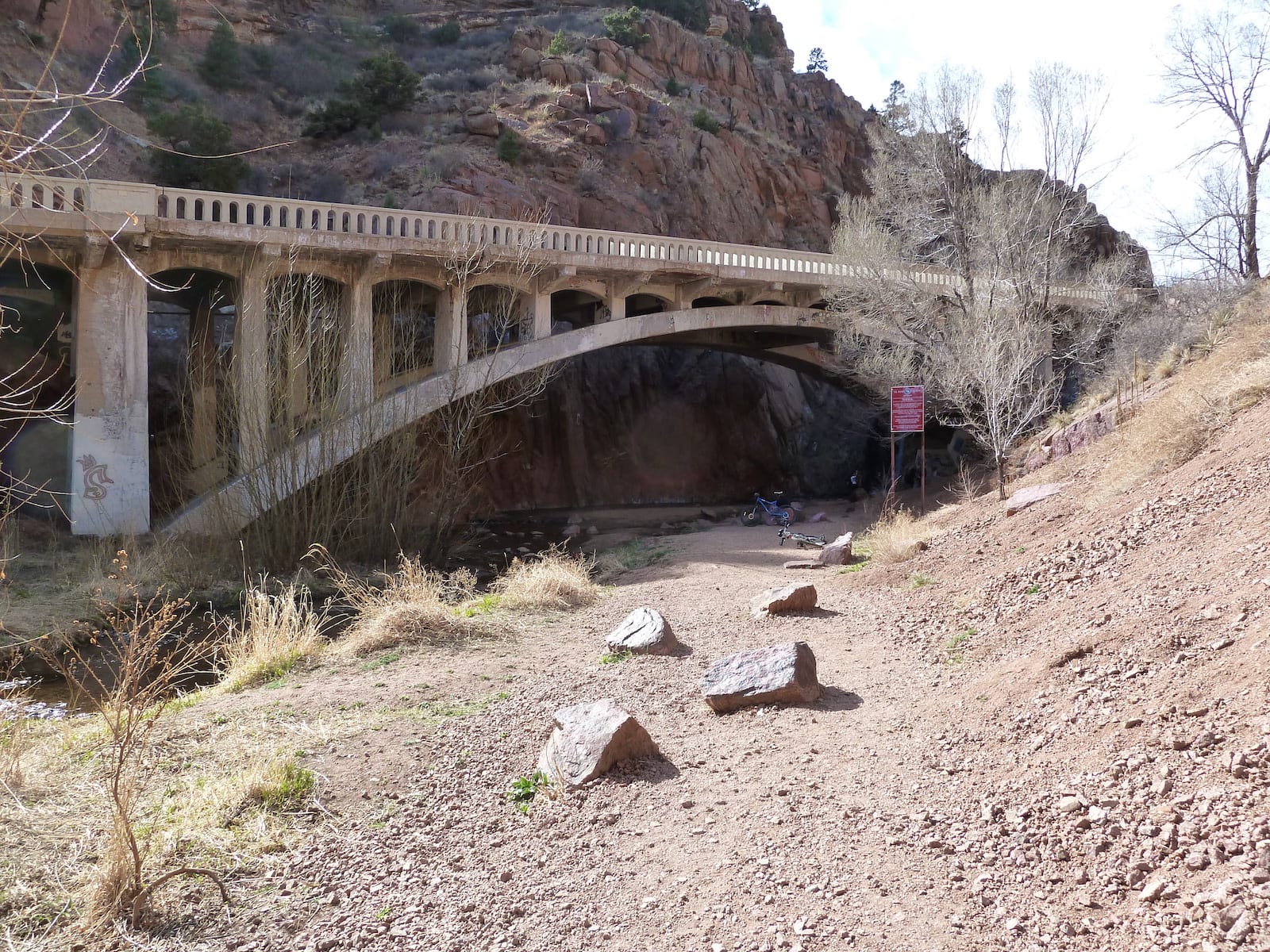 How to get to Rainbow Falls:
Rainbow Falls drops under the bridge that links Highway 24 to Manitou Avenue in the town of Manitou Springs. You can find the trailhead on Serpentine Drive not far from highway 24 and across from Cave of the Winds.
Those are the top waterfalls all within, relatively, easy access of downtown Colorado Springs. Add one of these natural landmarks to your vacation itinerary!