Whether you're a longtime resident of the Mile High City or you're visiting for a couple of days, Denver's historic main street, Colfax Avenue, (aka "the longest, wickedest street in America") is worth a visit.
Though Colfax has experienced an infamous past, today it's brimming with history, entertainment, and glorious eats. It runs between Golden, Lakewood, Denver and Aurora. Along these 26.5 miles are locally raised businesses that have helped shape the cultural arena of Denver today. It's continuously commercial the whole route, making it the longest street of its kind in the nation.
Most of the commercial route is lined with shops, restaurants, hotels and a myriad of other colorful businesses. As more people continue to see the charm that Colfax delivers, it will only continue to thrive and evolve back into the great main street of Denver that its past exhibits.
Where is Colfax Avenue?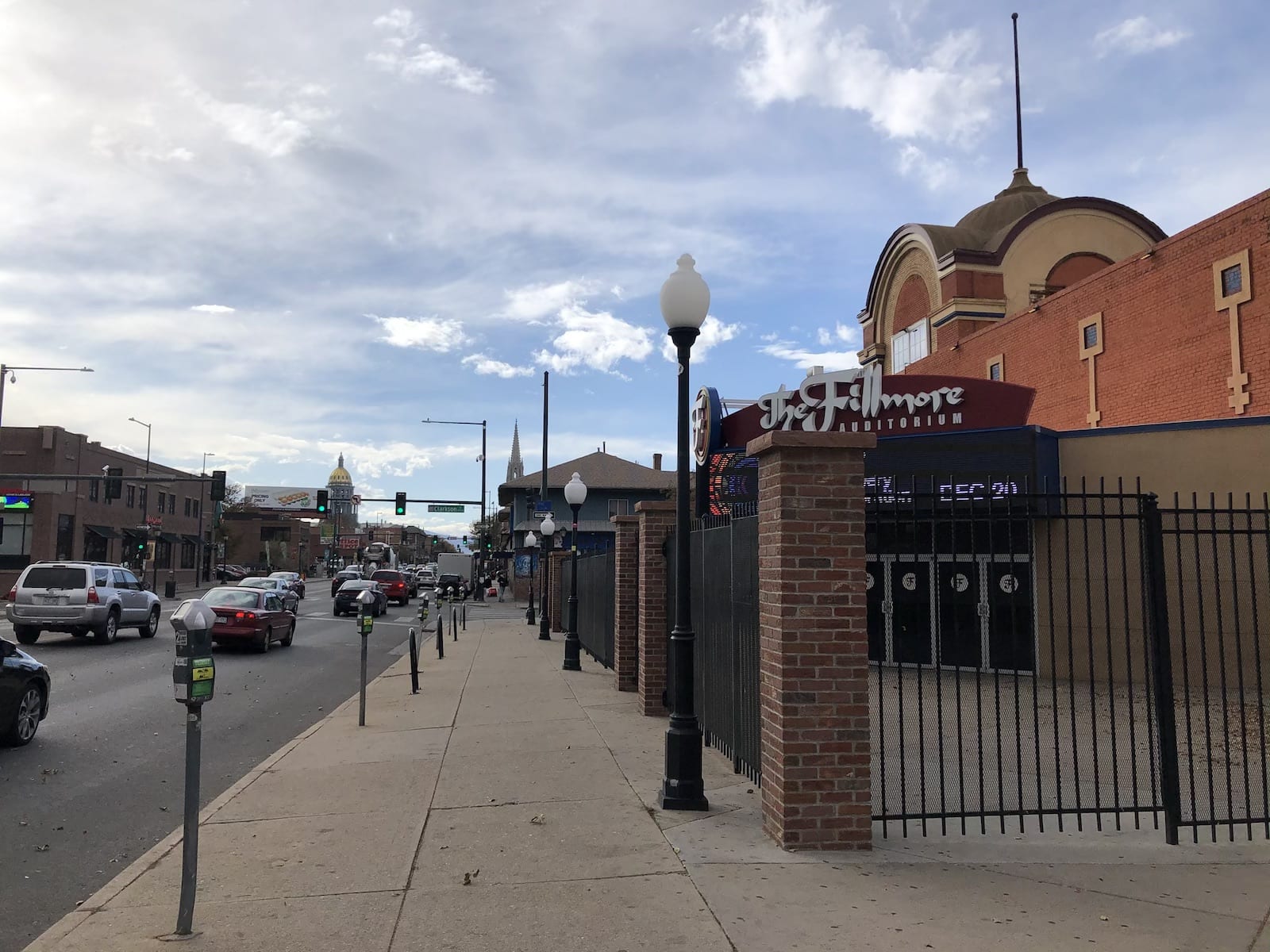 Colfax Ave. was and continues to be the main non interstate route to cut across Denver and its suburbs directly east and west. Interstate 70 to the north is the quickest way between furthest cities. The street runs east and west, and parallel with numbered avenues. To the neighboring north is 16th Ave. and to the direct south of Colfax is 14th Ave., making Colfax the unlabeled 15th Avenue. U.S. Route 40 traverses the whole length of it.
Downtown Denver divides East Colfax and West Colfax. The blocks of East Colfax closer to downtown Denver is the most walkable portion. The rest of East Colfax and West Colfax are much further spread out in terms of points of interest, and better traveled by bus or car.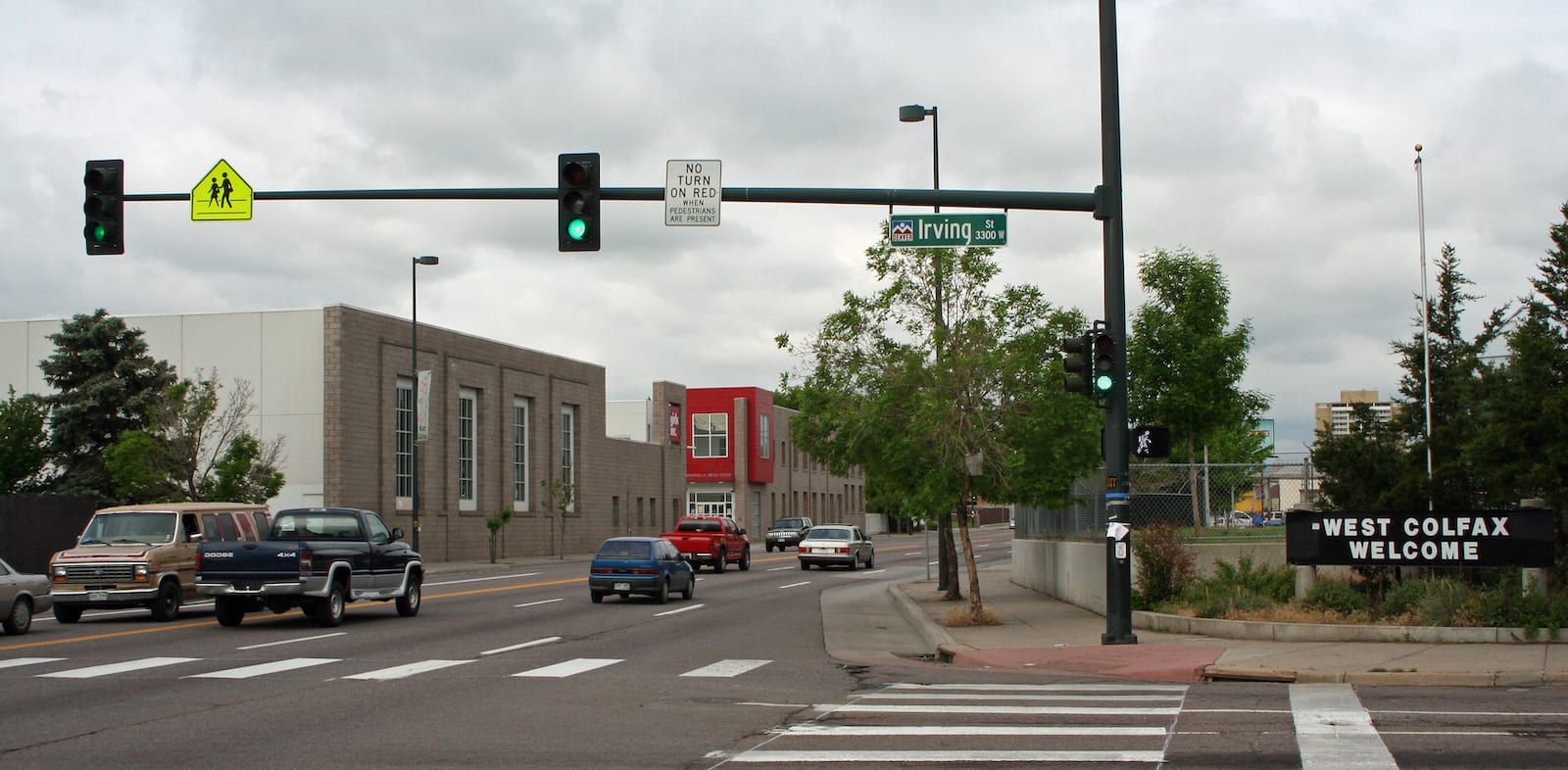 Golden's Heritage Road is the is where West Colfax ends up. It goes east from Golden to Lakewood and thru downtown Denver. East Colfax Avenues starts by the City and County Building, which begins the busiest stretch for foot traffic. There are RTD bus routes that service the whole avenue. In fact the Bus Route 15-East Colfax has the most ridership in all of the RTD, more than 7 million annually.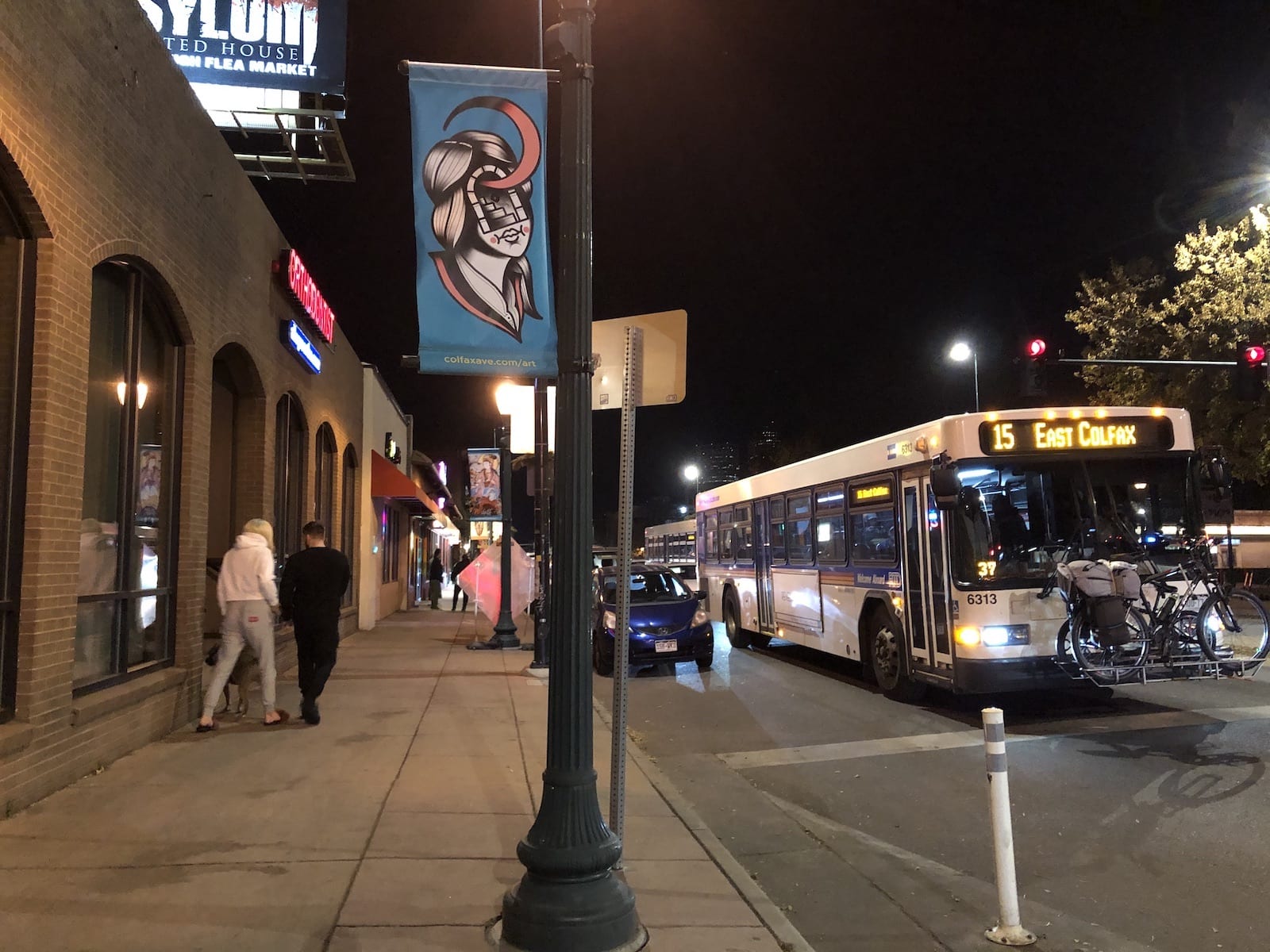 East Colfax continues from Denver and thru downtown Aurora. On the eastern reaches of East Colfax the commercial activity tapers off. I-70, which was running parallel to the north now meets Colfax and they continue the I-70 highway eastward. This ends Colfax 26.5 miles of commercial stretch street.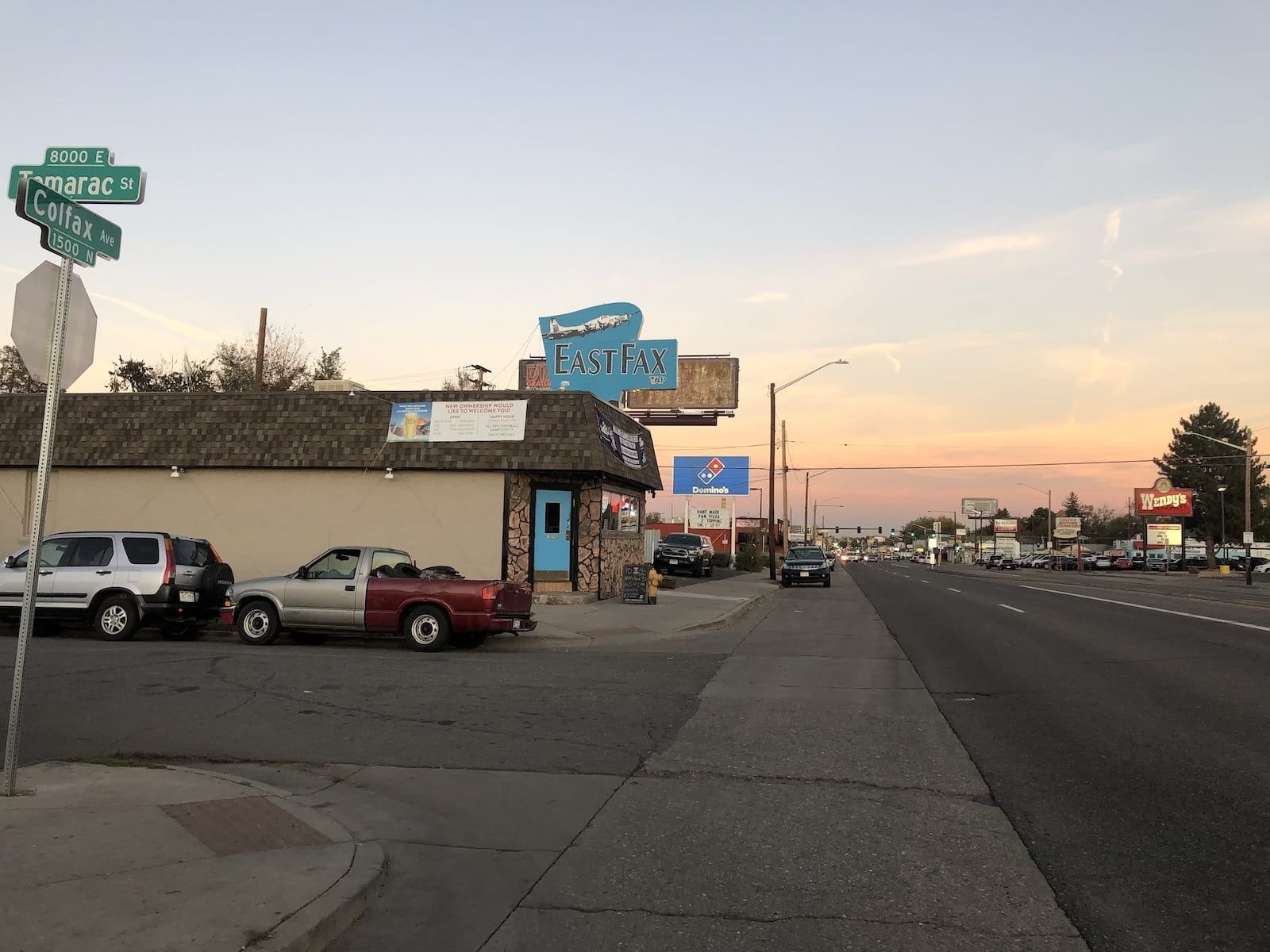 If you continue on I-70 thereafter take Exit 292, where Colfax becomes State Highway 36 (carrying the Colfax name), passing thru Watkins, Bennett and ending in Strasburg at Headlight Road. If you measure Colfax this way from Headlight Road in Strasburg to West Heritage Road in Golden, the avenue is 53.3 miles.
If you have a few hours to spare for this rejuvenated part of town, here are some fun things to do while visiting Colfax, Denver's iconic main street.
Get your buzz going with a roasted coffee from Hooked on Colfax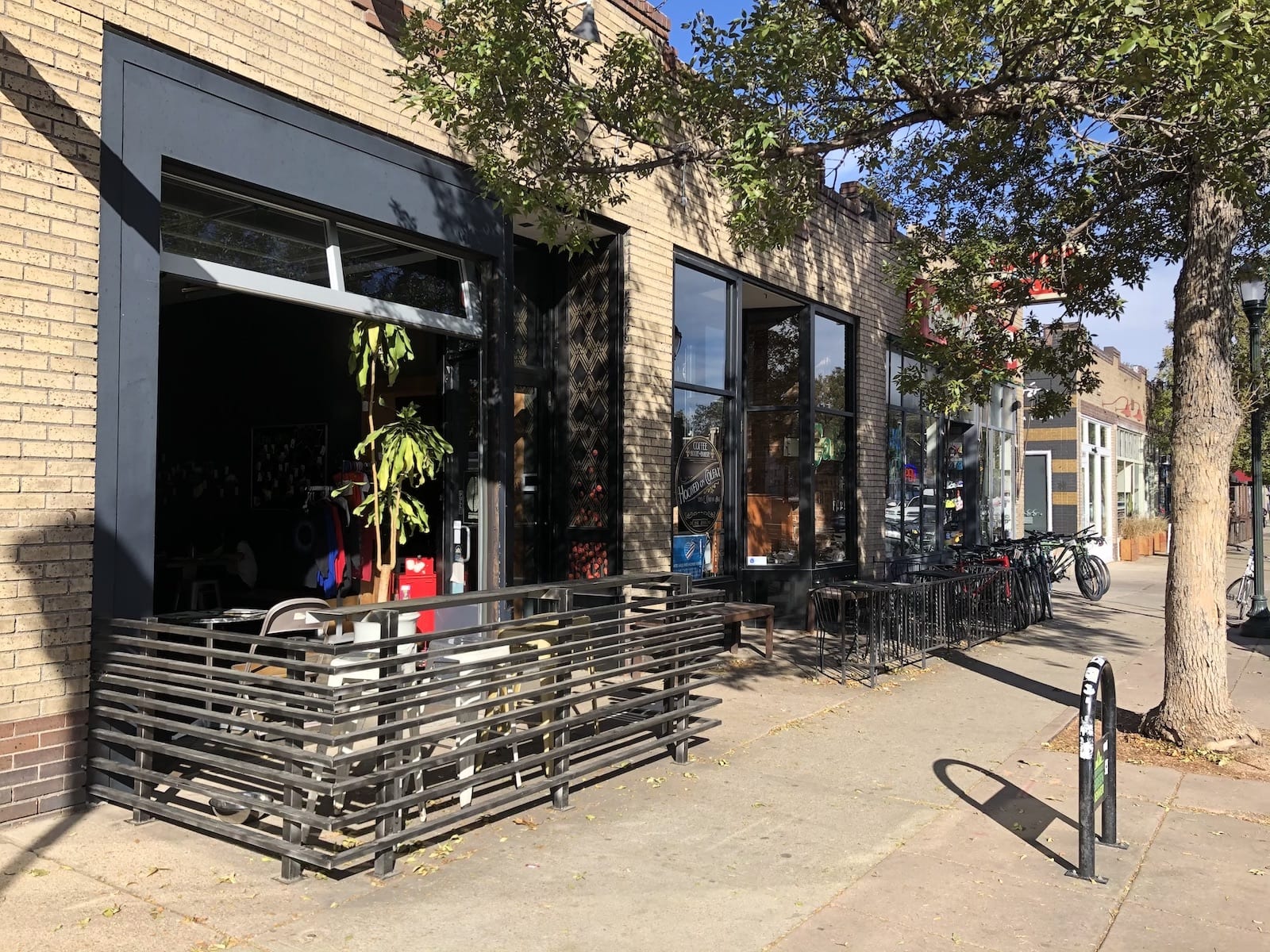 Hooked on Colfax | 3213 E Colfax
But first, coffee. Established in 2005, Hooked on Colfax has become a staple java stop. Their coffee comes from Jubilee Roasting and Conscious Coffees. Among proudly curated cups of coffee, they also serve booze, baked goods, and breakfast till noon!
The baristas at Hooked on Colfax are passionate about what they do, and it shows in every cup. So, whether you like a pour-over or a properly pulled shot of espresso, they've got you covered.
If you'd prefer your coffee fast and drive thru, consider it with a Colfax twist. Hot Chick-a-Latté serves up the standard coffeehouse drinks via bikini clad baristas. You can't miss its big pink roof on 4736 E Colfax Ave in Denver.
Experience the cultural milieu of the 40 West Arts District
40 West Arts District | 6800 Block W Colfax
Looking for the Art-Mecca of Colfax? 40 West Arts District is a certified Creative District located in Lakewood on West Colfax. The District thrives on community and culture with 13 Galleries to browse through and attentively curated events to attend.
Check out NEXT Gallery, CORE New Art Space, Lakewood Arts, Pasternack's Art Hub, Kanon Collective, EDGE Gallery, or the Gallery of Everything and Red Herring Art Supply (just to name a few). First Fridays they have an evening where all the galleries are open to the public. There's also the 40 West Artline, a 4 mile walk/bike tour of over 70 works of art and 3 public parks.
Stopping by for a brief visit? That's okay too, the street art itself is enough to inspire your day.
Fuel up on great eats (no matter what time it is)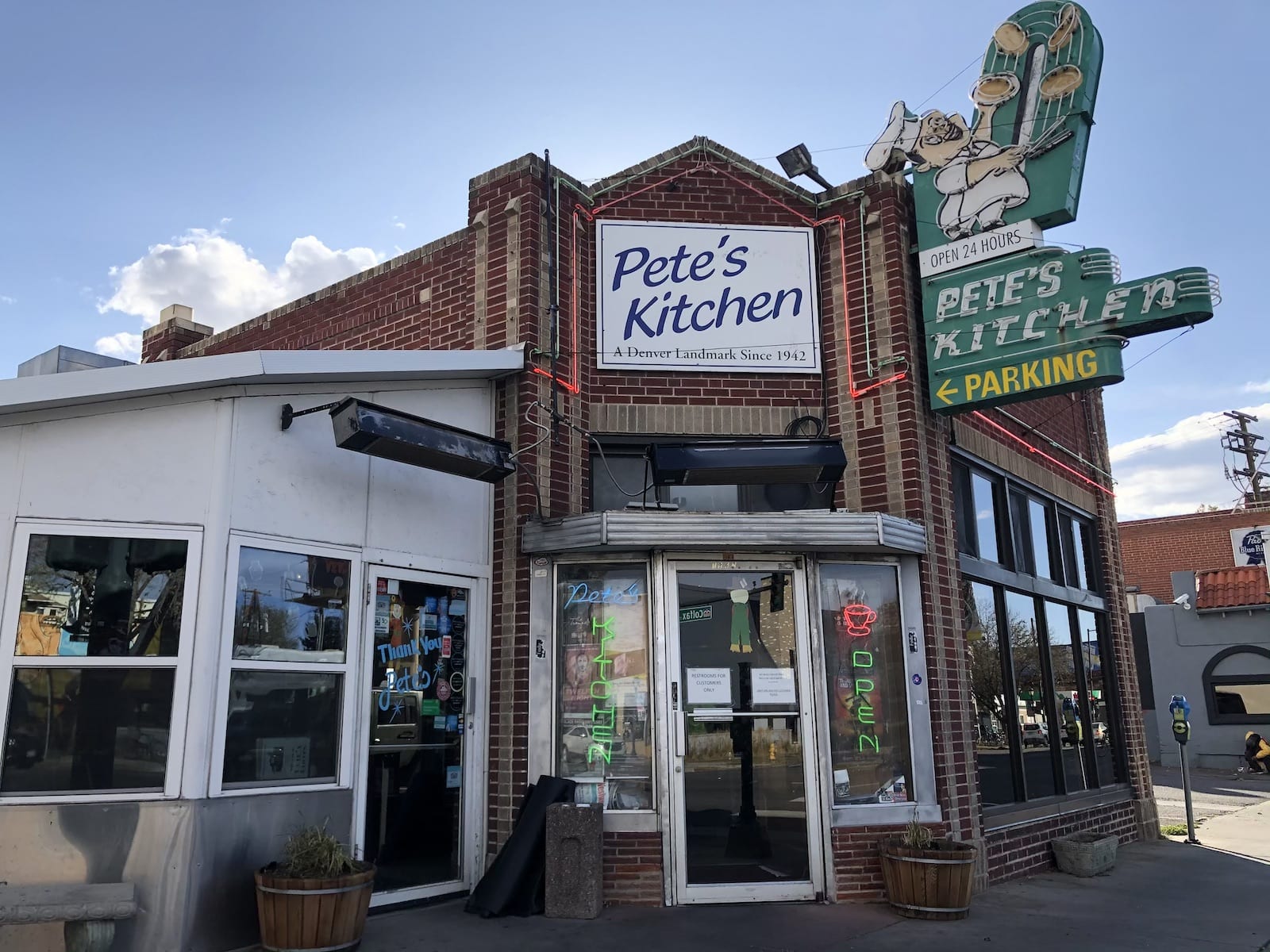 What's better than getting food at 2 AM? Pete's Kitchen is open 24 hours a day, and it's family owned and operated! For breakfast, try the Breakfast Burrito Supreme, or bask in the beauty of a late-night sandwich. You can't miss this Greek staple, look for their neon sign of a pancake flipping chef at 1962 E Colfax.
Early riser? Or maybe you're just craving something sweet on your Colfax adventure. Voodoo Doughnut is open 24 hours a day and is servin' up sinfully fresh doughnuts around the clock. They even have vegan options! However, be prepared to stand in line – these doughnuts are worth waiting for. Find them at 1520 E Colfax.
One more 24 hour restaurant, this time in the downtown section of West Colfax, is Denver Denver. As the name implies, it serves up familiar comfort food for hungry peoples at Mile High. It's packed in the after bar hours like the above two staples. It's on the edge of Spear Avenue in downtown at 740 West Colfax Ave.
Take a tour of the golden-domed Colorado State Capital Building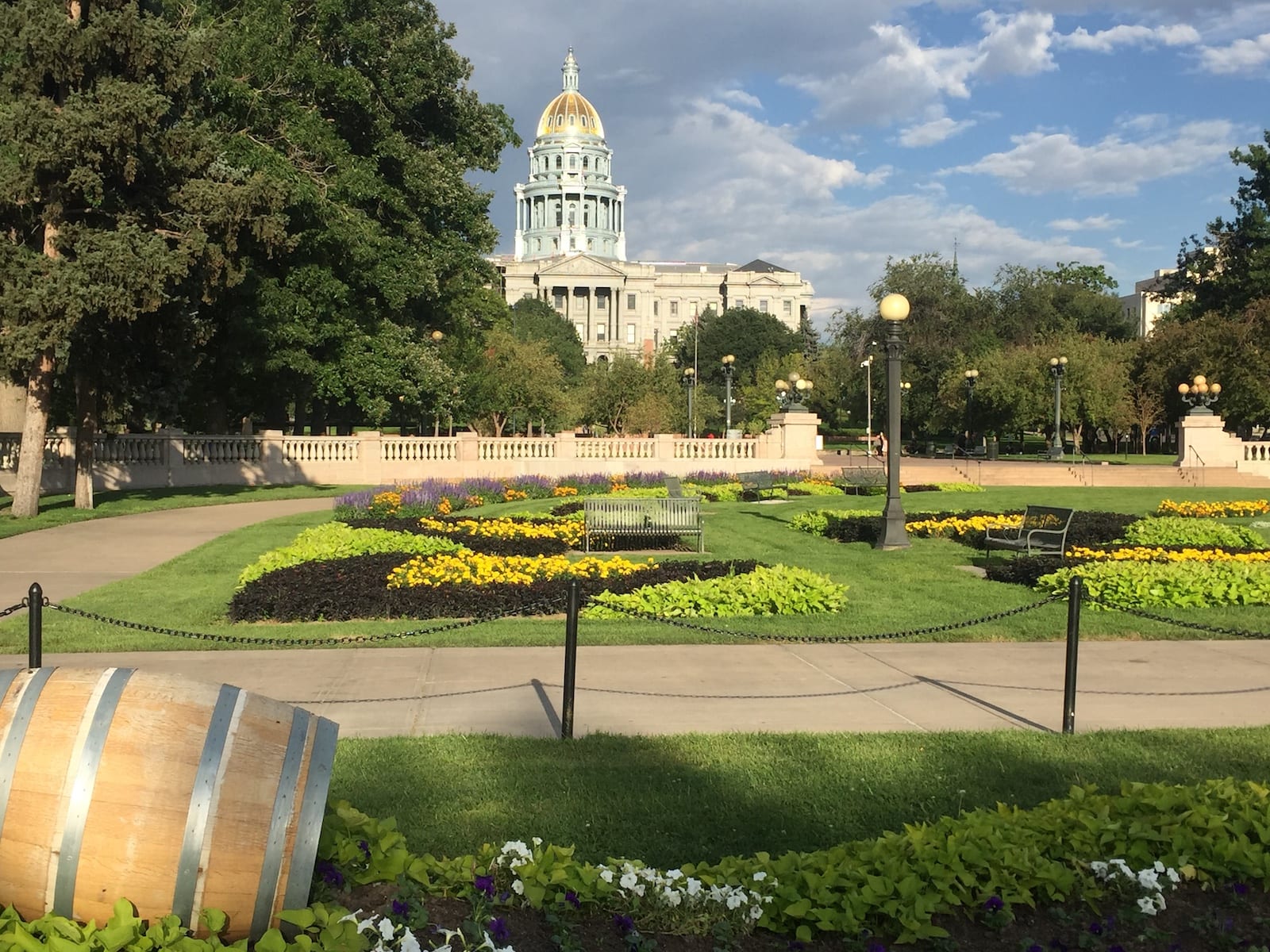 Colorado State Capitol Building | 200 E Colfax, Denver
If you're bouncing around and looking for something free to do while checking out Colfax, stop by the Colorado State Capitol Building. The Capitol offers free tours on weekdays, but make sure to check their website for tour times as they tend to fill up quickly. Learn a little history of our colorful state and our Governing Assembly.
Don't have time for a tour? Check out the unique architecture, stained glass windows, and the rare (and only) rose onyx marble-liked columns originating from the town of Beulah, CO.
Experience Salvadoran fare with a pupusa from Tacos Acapulco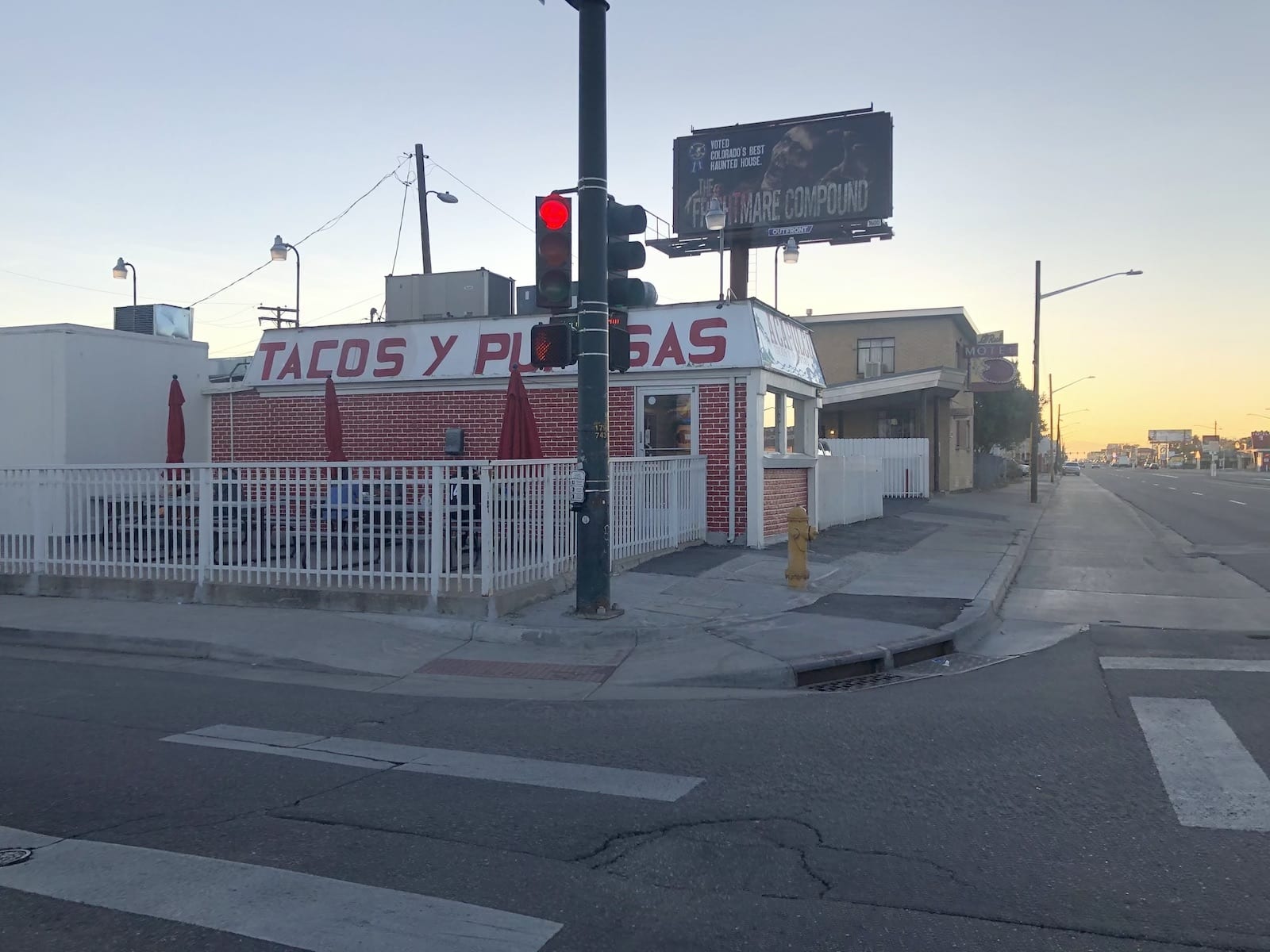 Tacos Acapulco | 8890 E Colfax, Aurora
Needing a little break after your morning adventure? Tacos Acapulco is a Mexican and Salvadoran street food inspired restaurant. They serve a delicious papusa, which is a thick corn (or sometimes rice) tortilla that is filled with ingredients like cheese, pork, beans, or loroco.
For those who don't know, loroco is a tropical plant that grows in El Salvador. The flowers from this plant are then used as an ingredient in Salvadoran dishes.
Tacos Acapulco is small but full of flavor, and they are open from 9 AM – 10 PM every day! A couple of helpful tips: Know what you want to order before getting in line as the line moves fast. There is no guacamole, but if you can't live without the glorious green fruit – you can order slices of avocado on the side.
Imbibe with a flight of beer at Fiction Beer Company!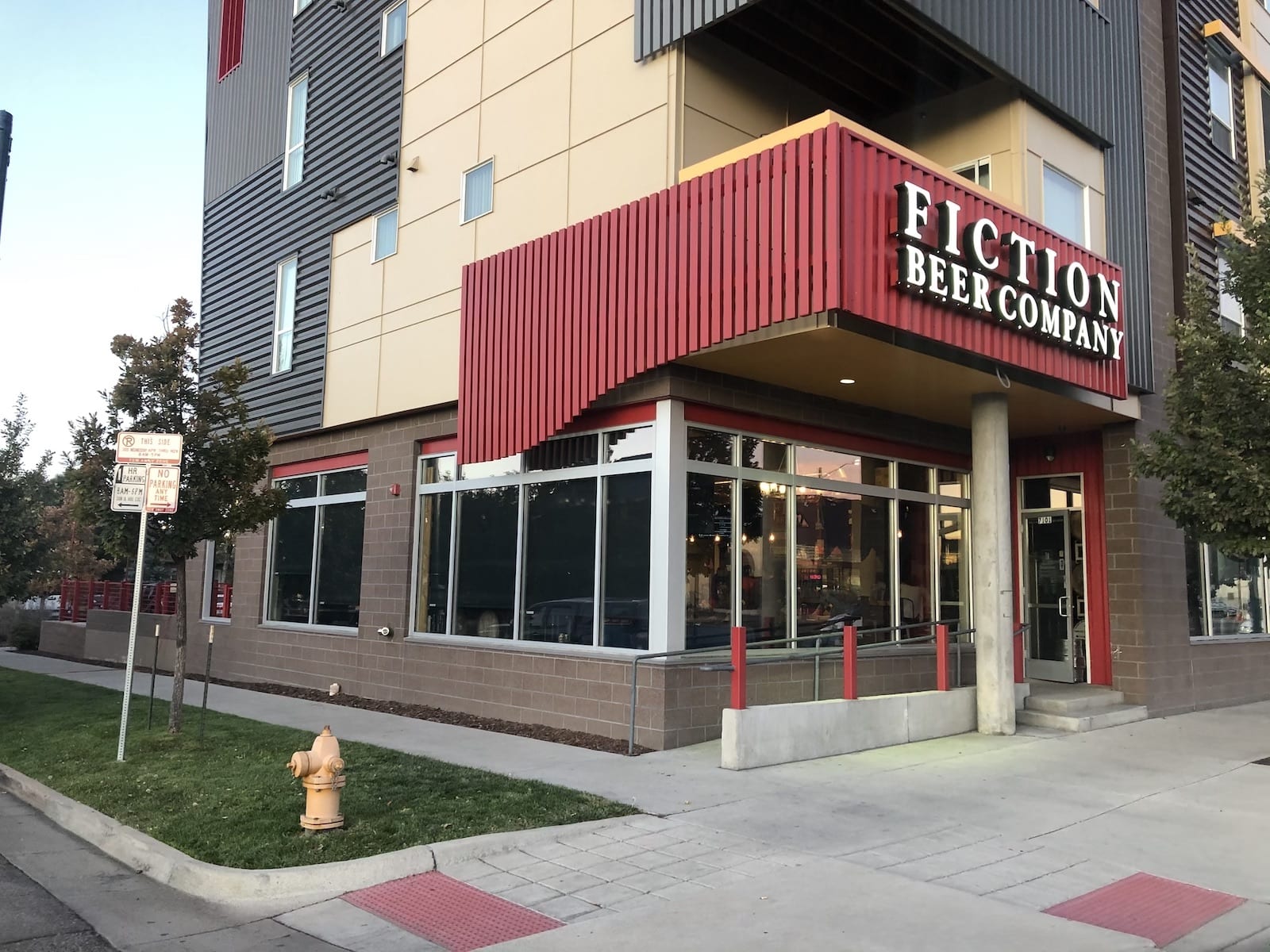 Fiction Beer Company | 7101 E Colfax, Denver
As the first brewery on Colfax, Fiction Beer Company is known for its literature-inspired beers. Fiction's beers are divided into fun genres like The Classics or Fantasy & Science-Fiction. Aside from a great beer, you can also join them for trivia and special tappings.
While sipping on the liquid gold, you can escape into one of the many books they stock or challenge a friend to a board game. Any papaya lovers out there? Madame Psychosis is a must-try and a Fiction Beer cult favorite.
Build up your music collection at Twist & Shout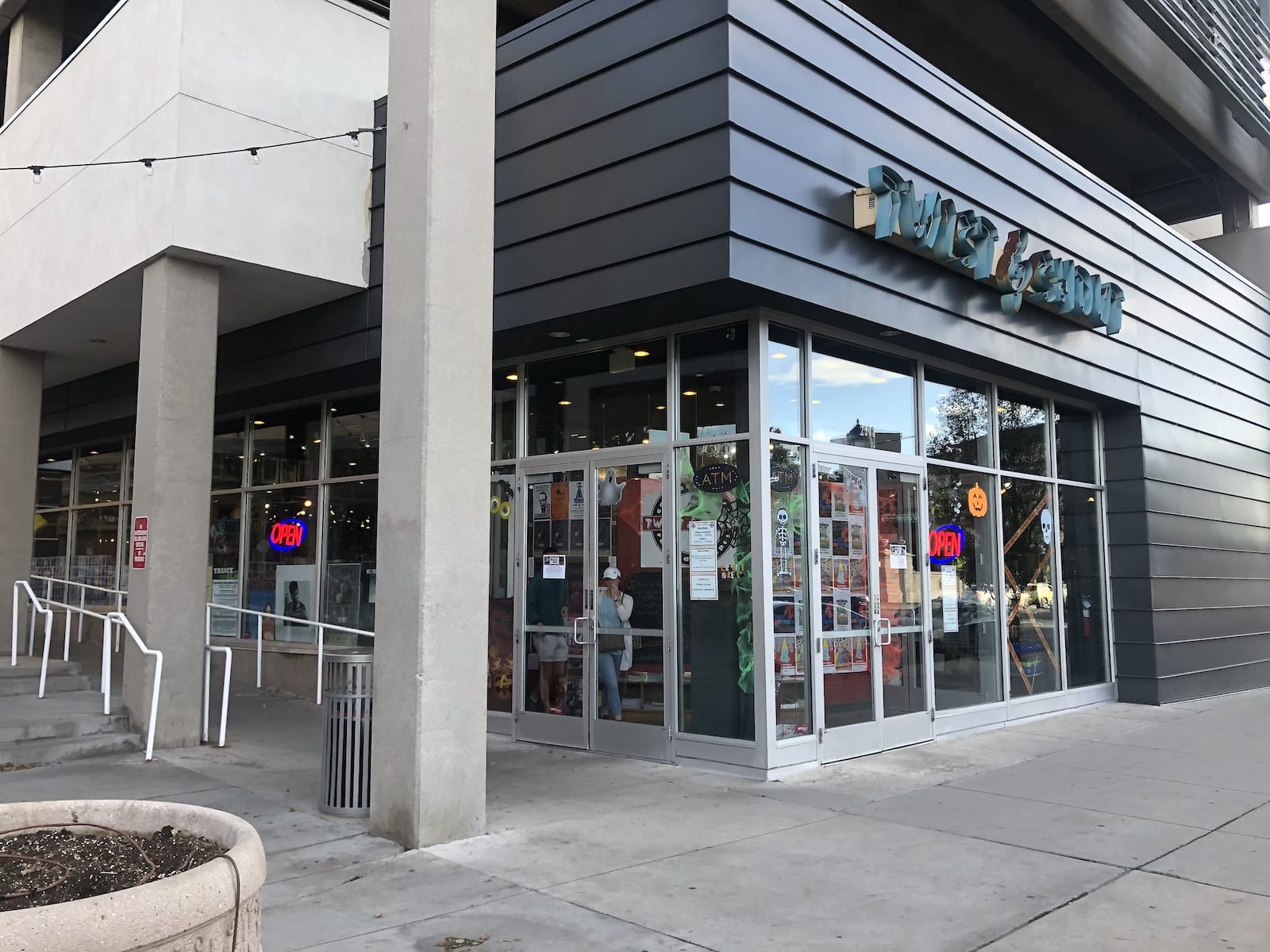 Twist & Shout | 2508 E Colfax, Denver
With 11,000 square feet (yes, it's that huge!) of Vinyl and three decades of music culture experience, Twist & Shout is a Congress Park favorite. It's located directly across from the historic landmark East High School.
Whether you are just looking for a way to spend an hour, or you're in the market to build up your record collection (no matter how unique), be sure to stop by Twist & Shout. They also offer pop culture favorites, band paraphernalia, and if you're lucky enough, you may even catch a live show.
Buy a book or two from Tattered Cover Bookstore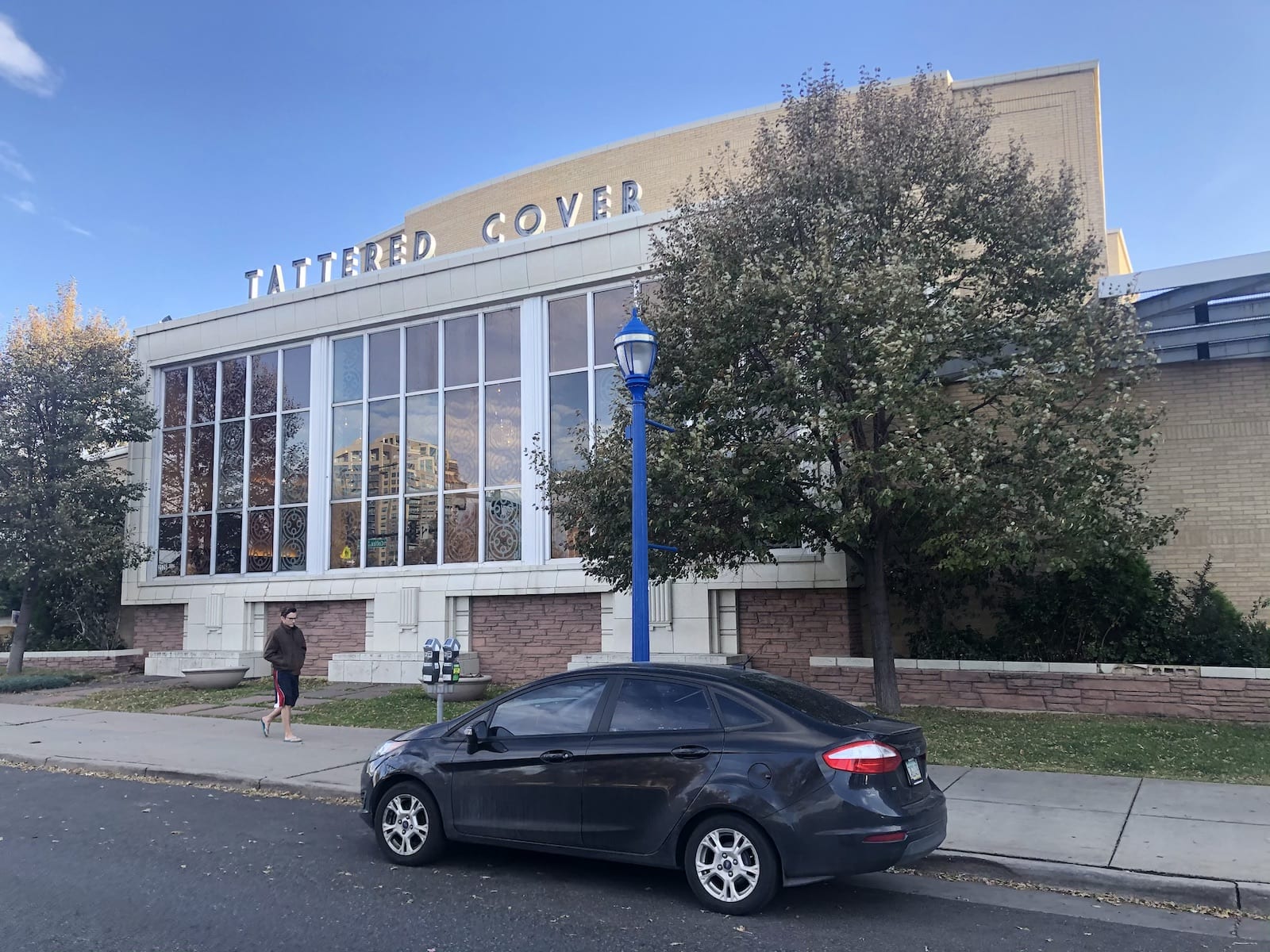 Tattered Cover Bookstore | 2526 E Colfax, Denver
Tattered Cover Bookstore is a Denver institute. There's another location downtown. This one on East Colfax took over a former theater. Come by and read a book while lounging in one of the overly comfy couches or meet one of your favorite authors at a book signing. Tattered Cover hosts live readings and events.
Stop in to purchase a few novels (both new and used) or spend some time in the bookstore's café. There's nothing like a day surrounded by your favorite literature and a warm cup of tea.
Check out the hottest bands playing at Bluebird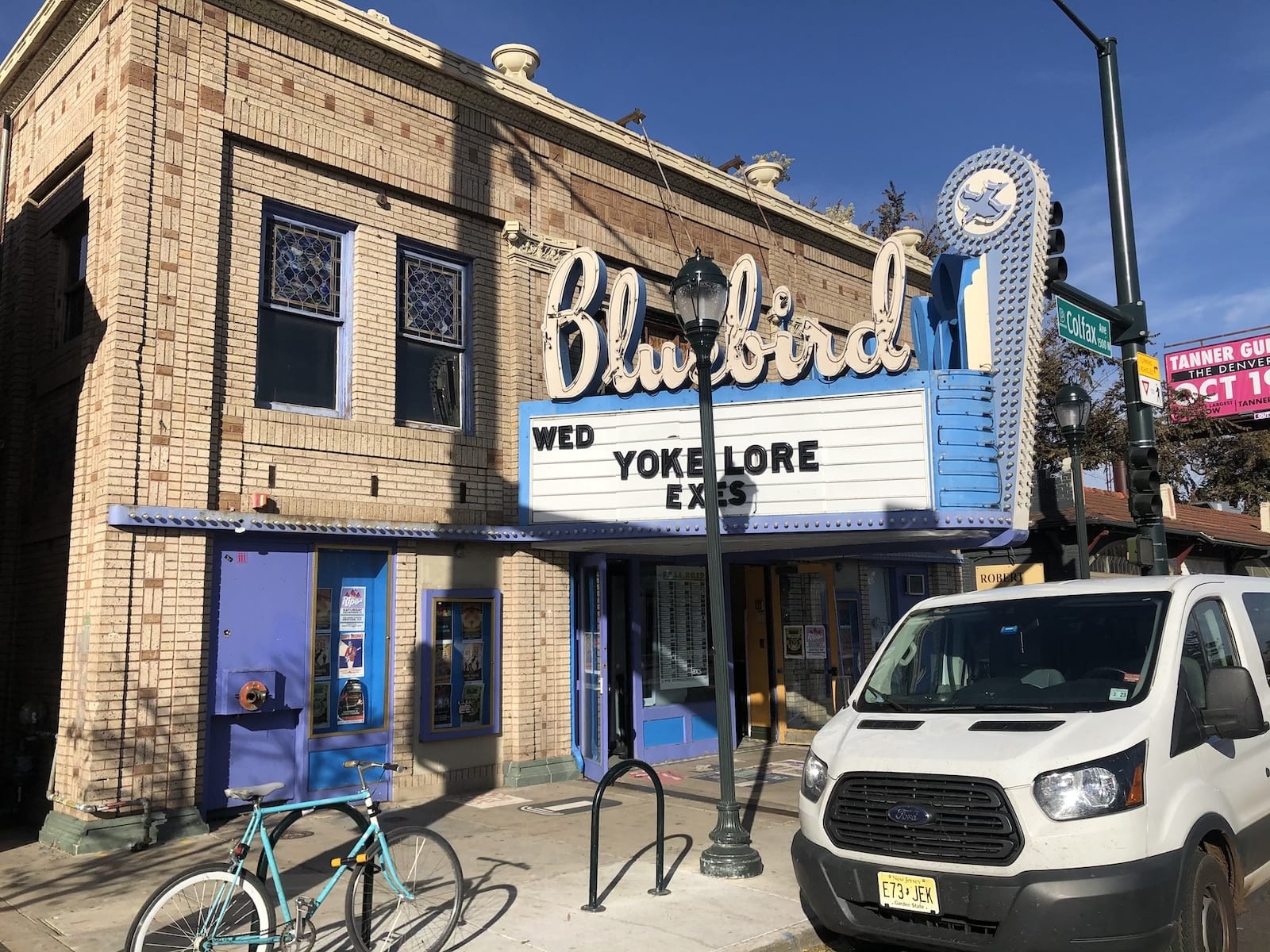 Bluebird Theater | 3317 E Colfax, Denver
The Bluebird Theater was originally built in 1913 and continues to welcome well-established names in music, as well as up-and-coming bands. Whether you are a fan of hip hop, funk, folk, rock, or pop, there's a show for you.
The Bluebird is on the smaller side as far as live venues go, so be sure to get there early for a prime spot! They also offer libations at their downstairs bar, and a balcony for those who prefer more of a bird's eye view. Want more live local music? After the show head across the road to Lost Lake Lounge, located only a few blocks east.
Fall in love with theatrics at Aurora Fox Arts Center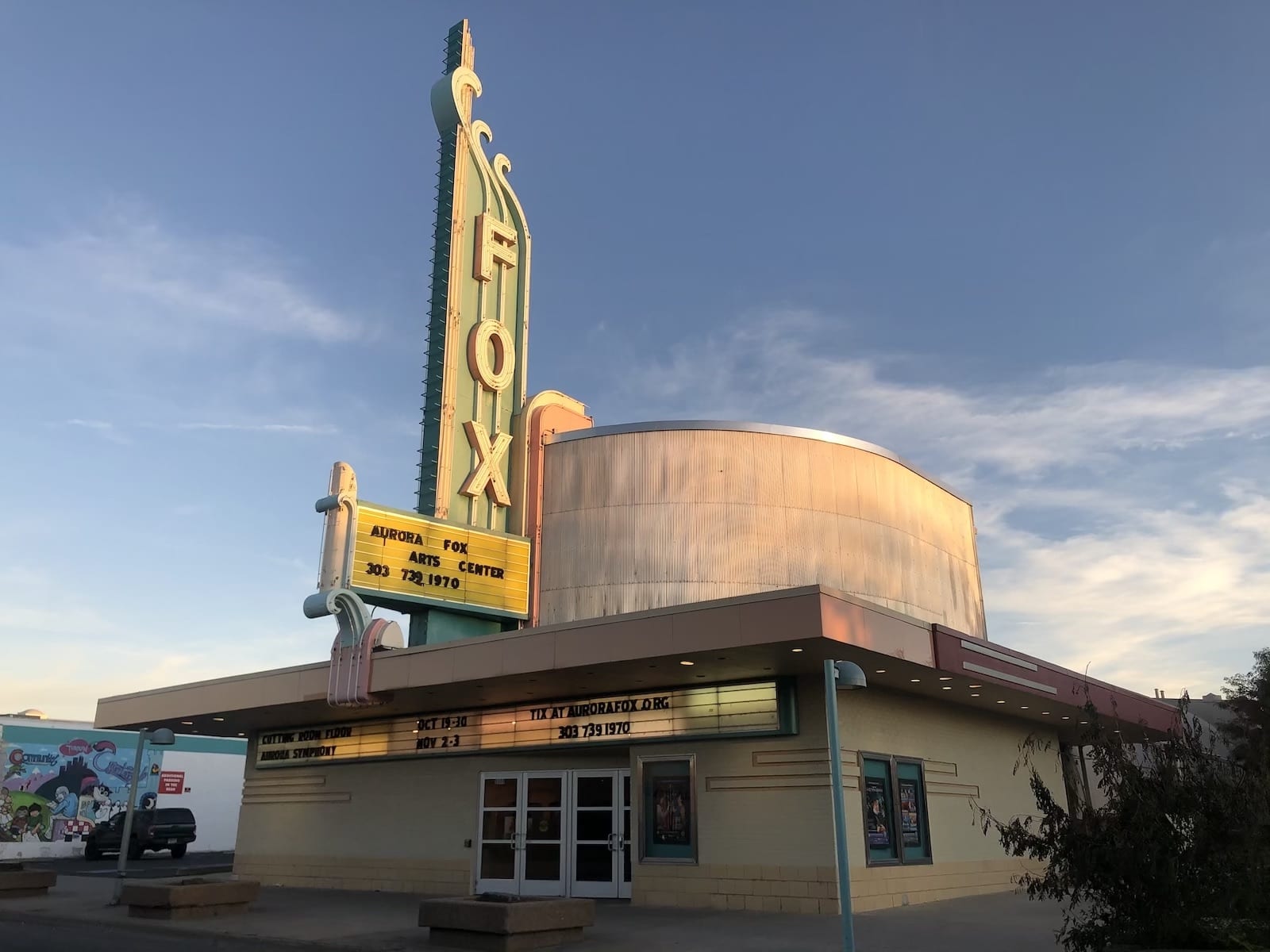 Aurora Fox Arts Center | 9900 E Colfax, Aurora
As an award-winning professional theatre company, The Fox is known for its diverse and genuine performances put on year after year by the Aurora Cultural Services Division. The historic venue seats around 200 spectators, which allows for a more intimate setting; there isn't a bad seat in the house!
Parking is limited, so if driving, get there a little early. It's located in downtown Aurora, which East Colfax passes by. Downtown is used loosely, it's not the best area around the theatre. The concession stand is reasonably priced, and the talent is unforgettable. If this is your first show at The Fox, it won't be your last.
Attend a punk rock show at Lion's Lair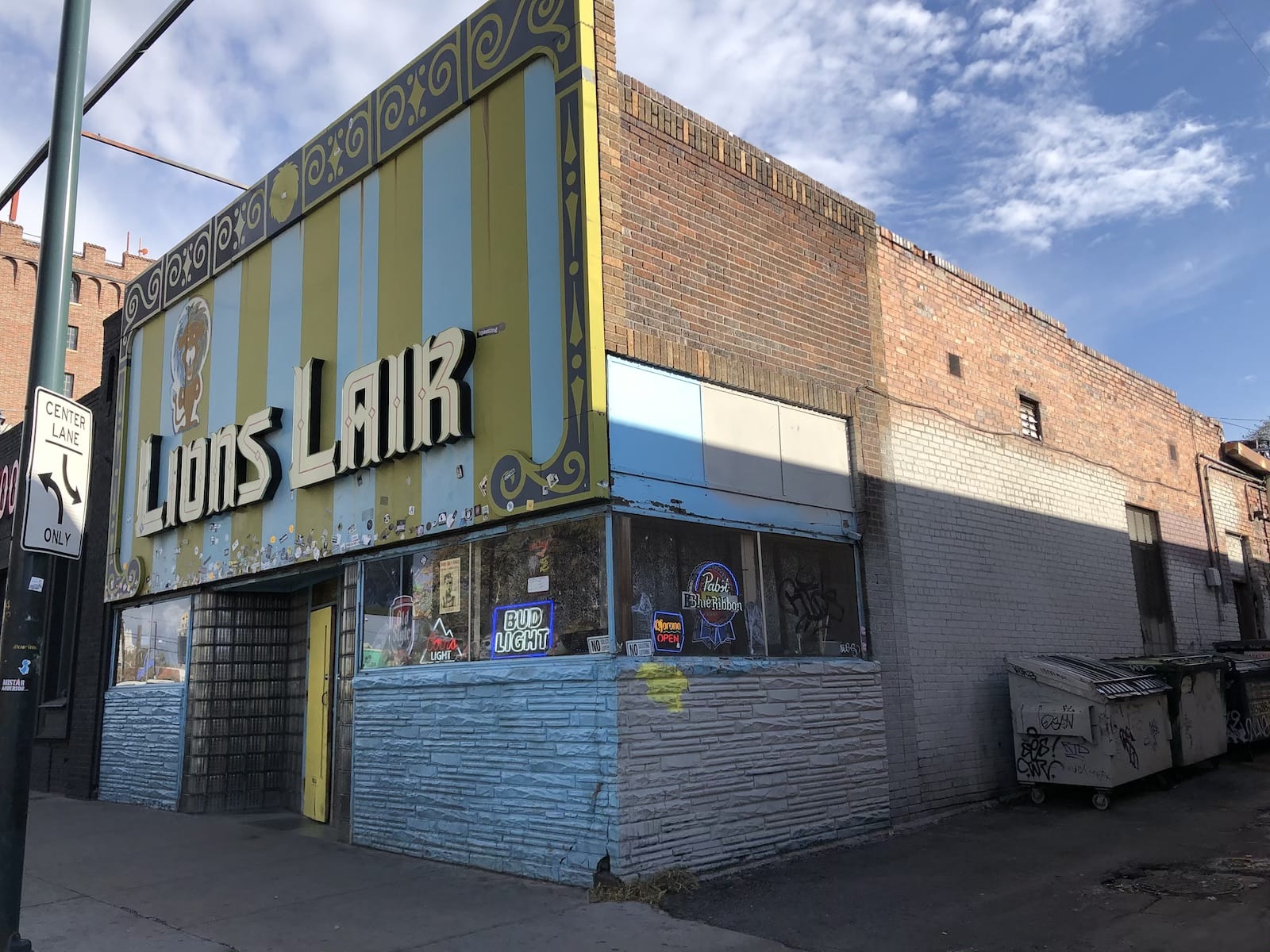 Lion's Lair Lounge | 2022 E Colfax, Denver
Are you even punk rock if you haven't been to Lion's Lair Lounge? This is Denver's oldest continuously operating independent music venue. Lion's Lair continues to host ultra-creative (and often extreme) musicians, bands, and comedy acts almost every single night.
If you're looking for a cold beer and a good time, check out Lion's Lair for great entertainment and an experience you'll talk about for years to come. Side note: This is a beer and a shot type of venue, but they do offer some interesting mix drinks if you're up for experimenting.
Get your gaming on at 1UP Arcade & Bar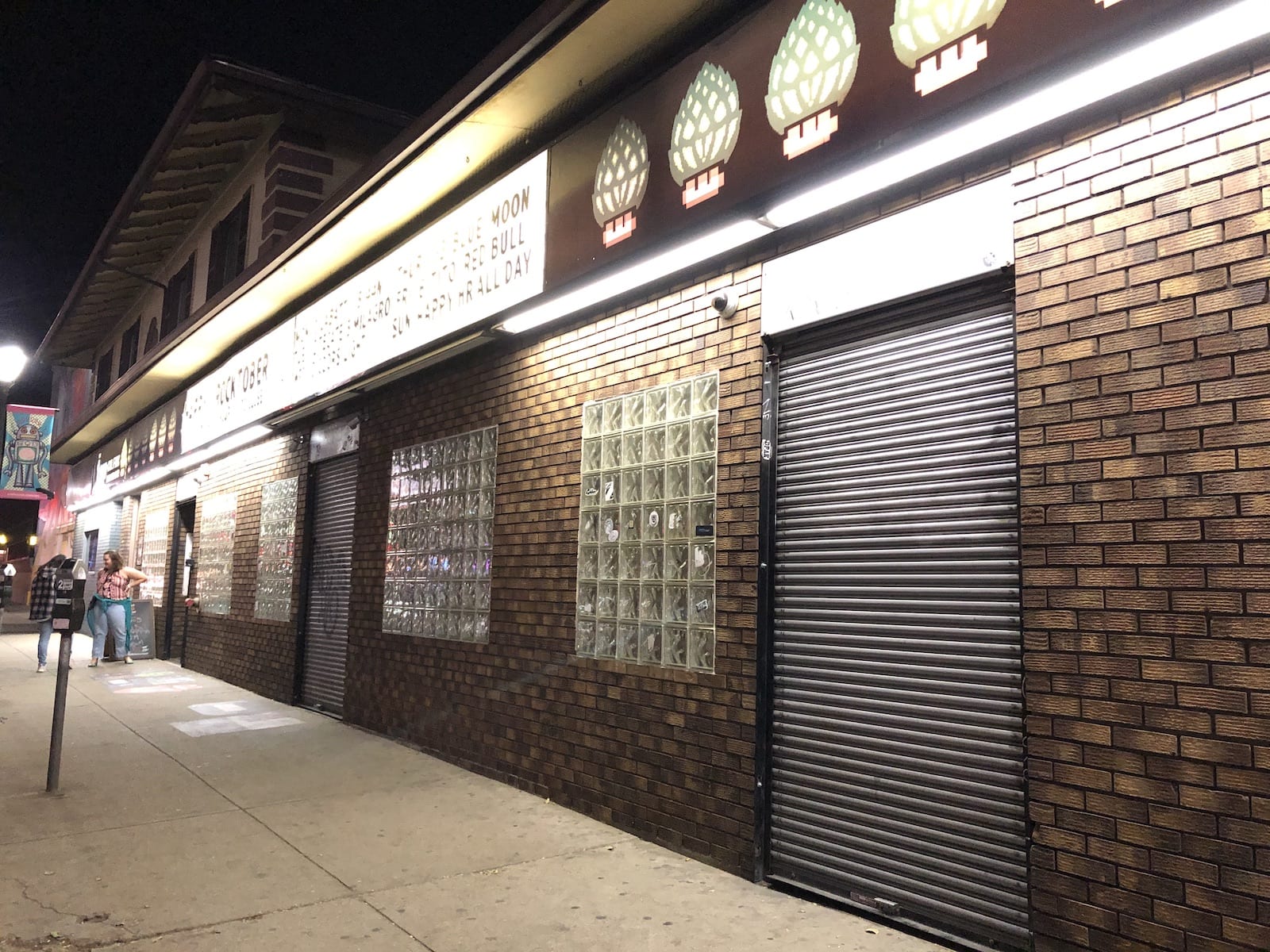 1UP Arcade & Bar | 717 E Colfax, Denver
Not only do they boast one of the largest pinball collections in the nation, but the weekly drink specials at 1UP on Colfax are seriously out of this world! With two giant rooms of games, the East Colfax location is the bigger of the two 1Ups (there is another downtown Denver).
One dollar beers and mimosas, plus you get a flash from the past with games like Donkey Kong, Mario Bros, Pacman, and Mortal Kombat?? Sign me up! Stop in for happy hour and get your name on the winners' board.
Stroll of Denver's first neighborhood Auraria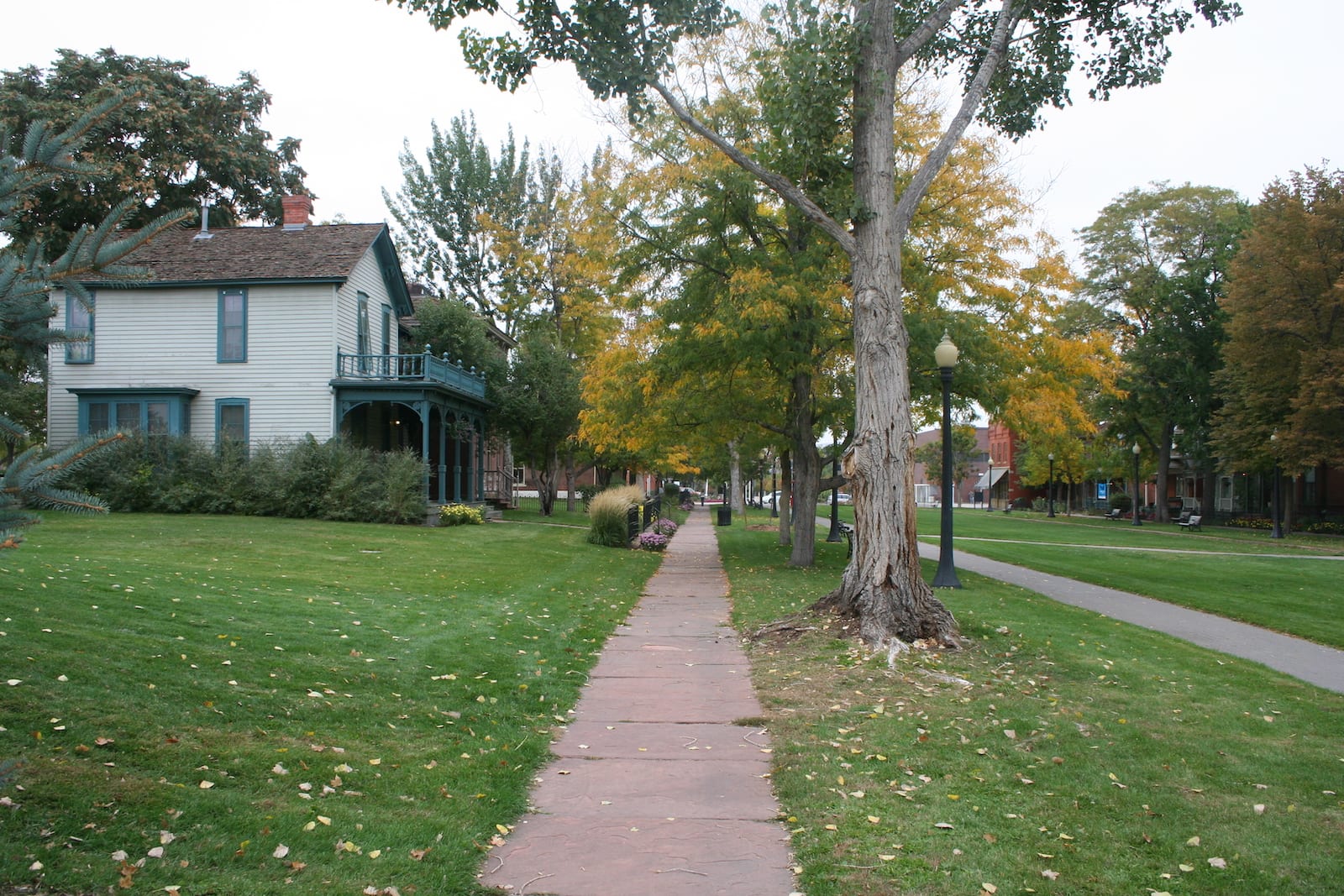 Original Auraria | W Colfax and Speer Blvd, Denver
Original Auraria, Denver's oldest neighborhood is located at the city's core, founded even before the city's establishment. In fact Denver City was founded several weeks after Auraria was settled, and they rivaled until 1860 when they merged under Denver. This first townsite is preserved in several of the historic buildings like Casa Mayan on the Auraria Campus, concentrated along Ninth Street Historic Park, a "main street" of grand historic houses that are mostly used for campus purposes.
Opened in 1976, the Auraria Higher Education Center (AHEC) is currently used for 3 colleges: Community College of Denver, University of Colorado Denver, and Metropolitan State University of Denver. Auraria is triangular-shaped, bordered by West Colfax Avenue on the south, Cherry Creek/Speer Boulevard on the east, South Platte River/I-25 on the west. After hours gives off more of a ghost town vibe on 9th St Park when less people are around, versus on a peak school day, so aim for a weekend visit.
Surround yourself in liquid spirits at Argonaut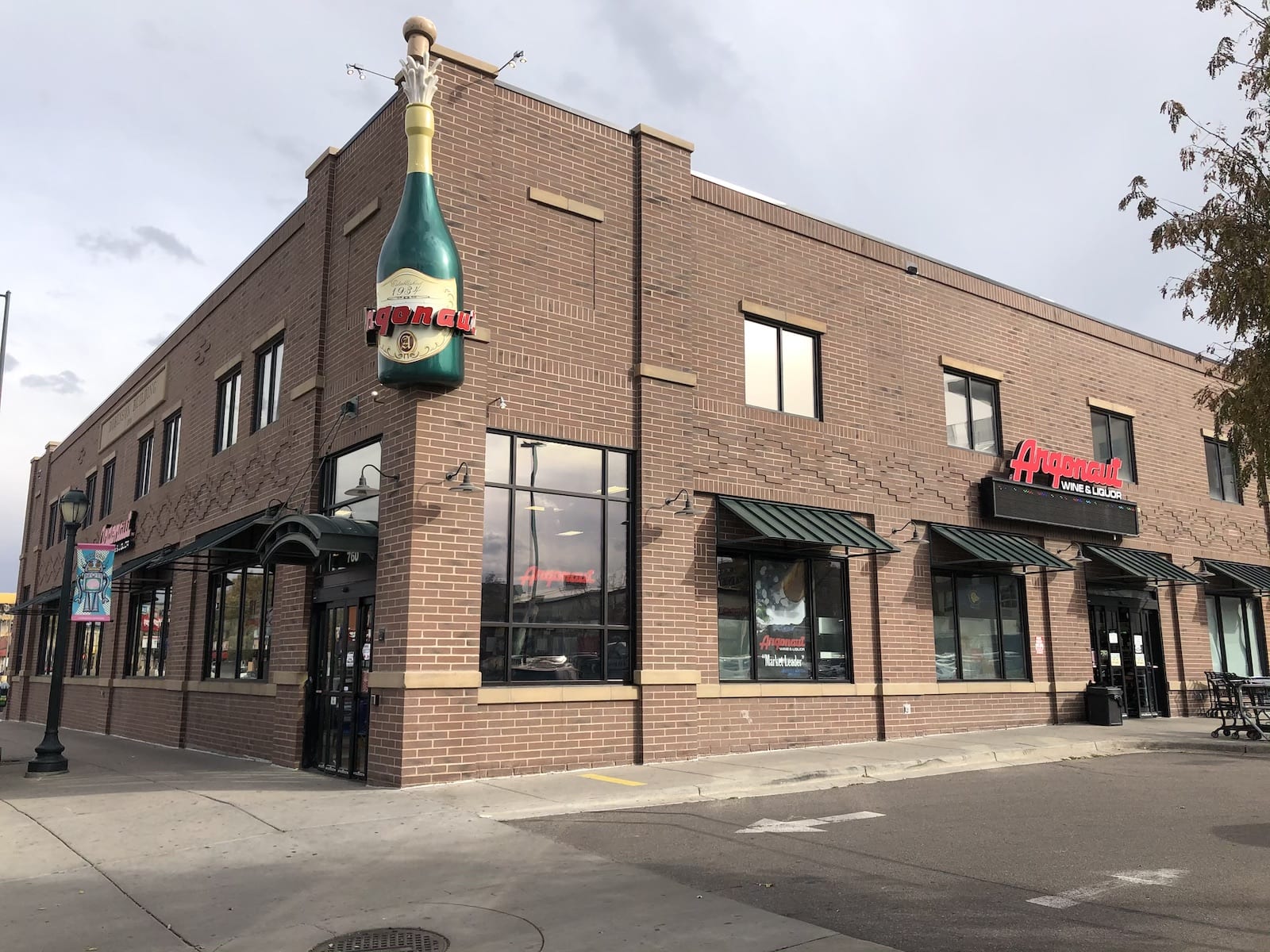 Argonaut Wine & Liquor | 760 E Colfax Ave, Denver
There are certain stores that fit the Colfax Ave stereotype. Some stretches are known for an abundance of pawn stores, liquor stores, and dubious motels, So if you're looking to get the full Colfax experience, why not stop in at the largest liquor store on Colfax.
Whether you fancy spirits, wine, or beer, Argonaut has a big time selection at reasonable prices. You can even join a loyalty program if you'll be back again.
Other iconic Colfax Avenue activities