Golden may be home to one of the biggest beer producers in the world, but there are plenty of other fantastic breweries in Golden. The town with a true Western feel at the base of the Rocky Mountains offers plenty of outdoor activities, scenic views and great beer.
Many of these breweries offer dog-friendly outdoor seating to enjoy the unique setting. Each place offers something different. Holidaily Brewing, for example, produces gluten-free beer, and the Coors Brewery tour is often a favorite activity for those visiting Denver.
Keep in mind beers can rotate quickly and dog-friendly policies can change. It's always best to confirm with the brewery. 
Here are some of the best breweries in Golden:
Golden City Brewery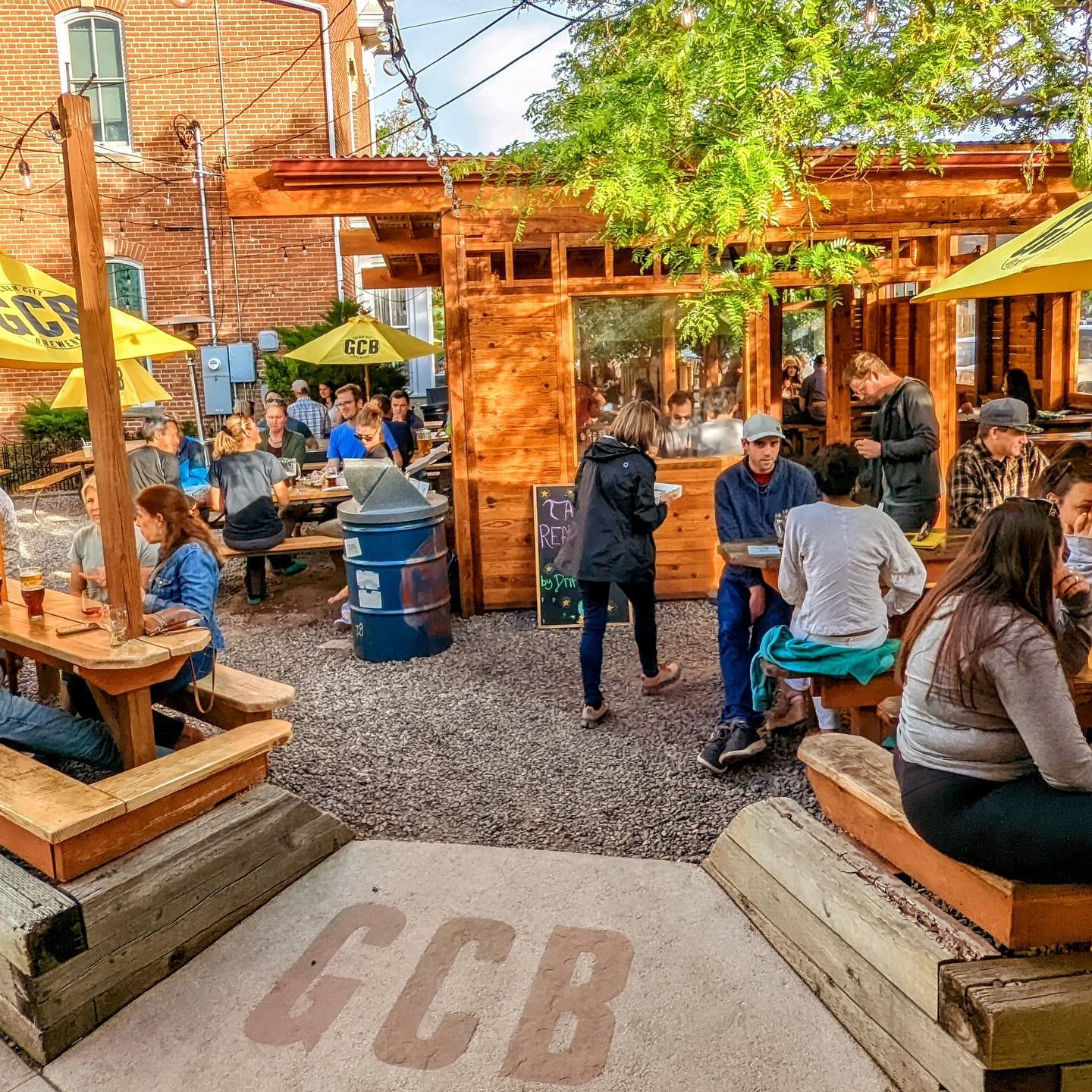 Founded in 1993, Golden City Brewery was launched by Charlie and Janine Sturdavant, two geologists. The brewery is in historic Golden in an old machine shop. It's the second largest brewery in Golden.
Rotating beers include the Clear Creek Helles, Tegridy Pale Ale, Legendary Red Ale, Coconut Ballistic Milkshake IPA and The Geologist Bock. Hoop A Joop is a spontaneous Brett Sour fermented on blackberry, boysenberry, blueberry and Meyer lemon.
There is a welcoming outdoor beer garden where you'll find different food trucks serving a variety of dishes. You can bring your dog along to the outside patio.
920 12th Street, Building 2 | 303-279-8092 | gcbrewery.com
Holidaily Brewing Company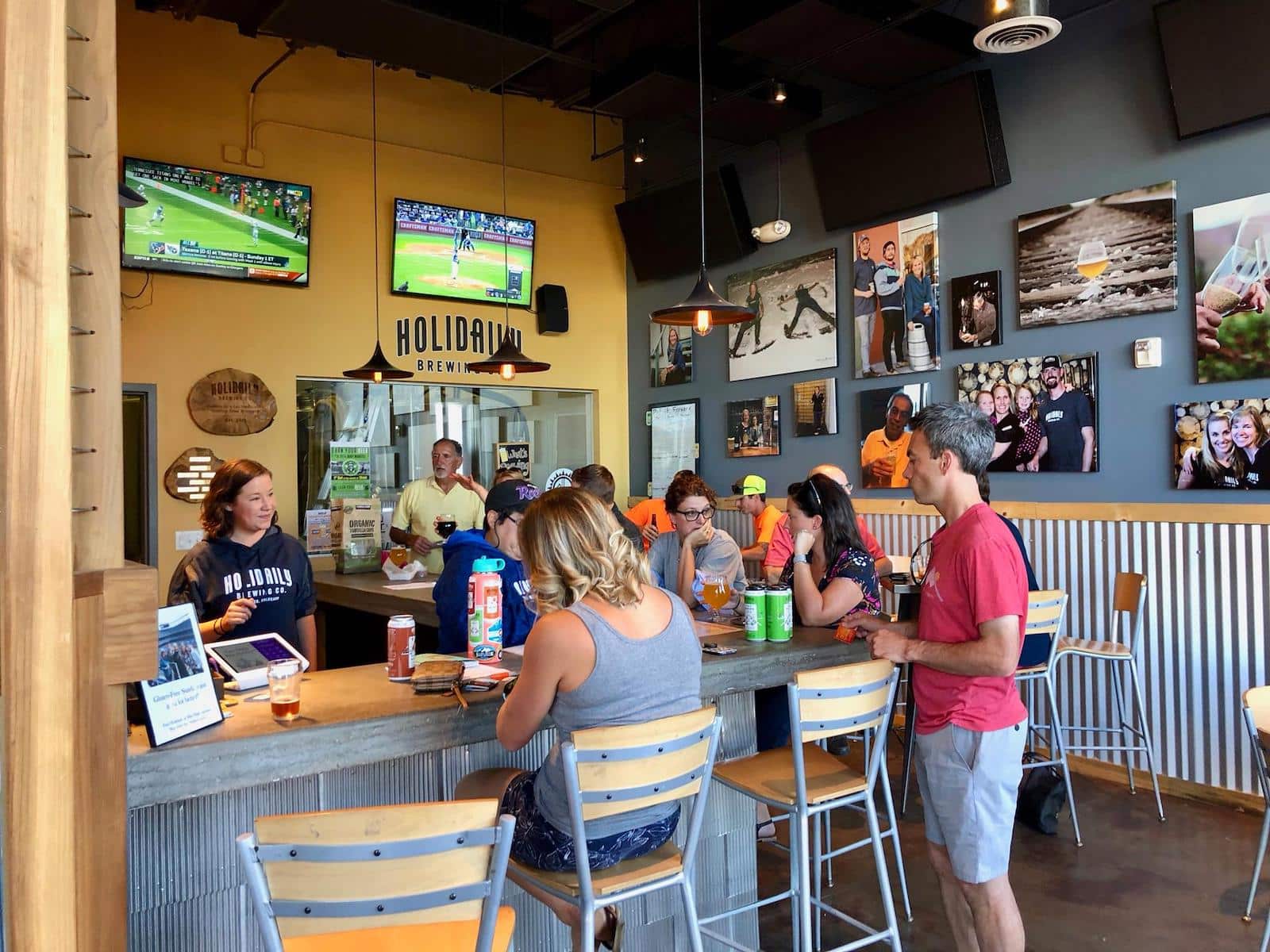 Holidaily Brewing Company was founded after owner and beer lover Karen Hertz made the decision to stop eating gluten. The brewery produces only gluten-free beer, and you'll find taprooms in Golden and Denver.
Favorite Blonde Ale and Fat Randy's IPA are mainstays here. In Fall, you'll find Patchy Waters Pumpkin Ale, in Winter there's a Red Ale and in Spring, there is a Buckwit Belgian. The Riva Stout has rich flavors of coffee and dark chocolate.
The taproom offers a happy hour deal of $1 off specific beers at various times. Flights of beers are available, either with suggested pre-designed selections or you can create your own. The Summer Vibes flight, for example, is Rose Gold, Big Henry, Dan's Gose and Buckwit Belgian.
801 Brickyard Circle, Unit B | 303-278-2337 | holidailybrewing.com
Mountain Toad Brewing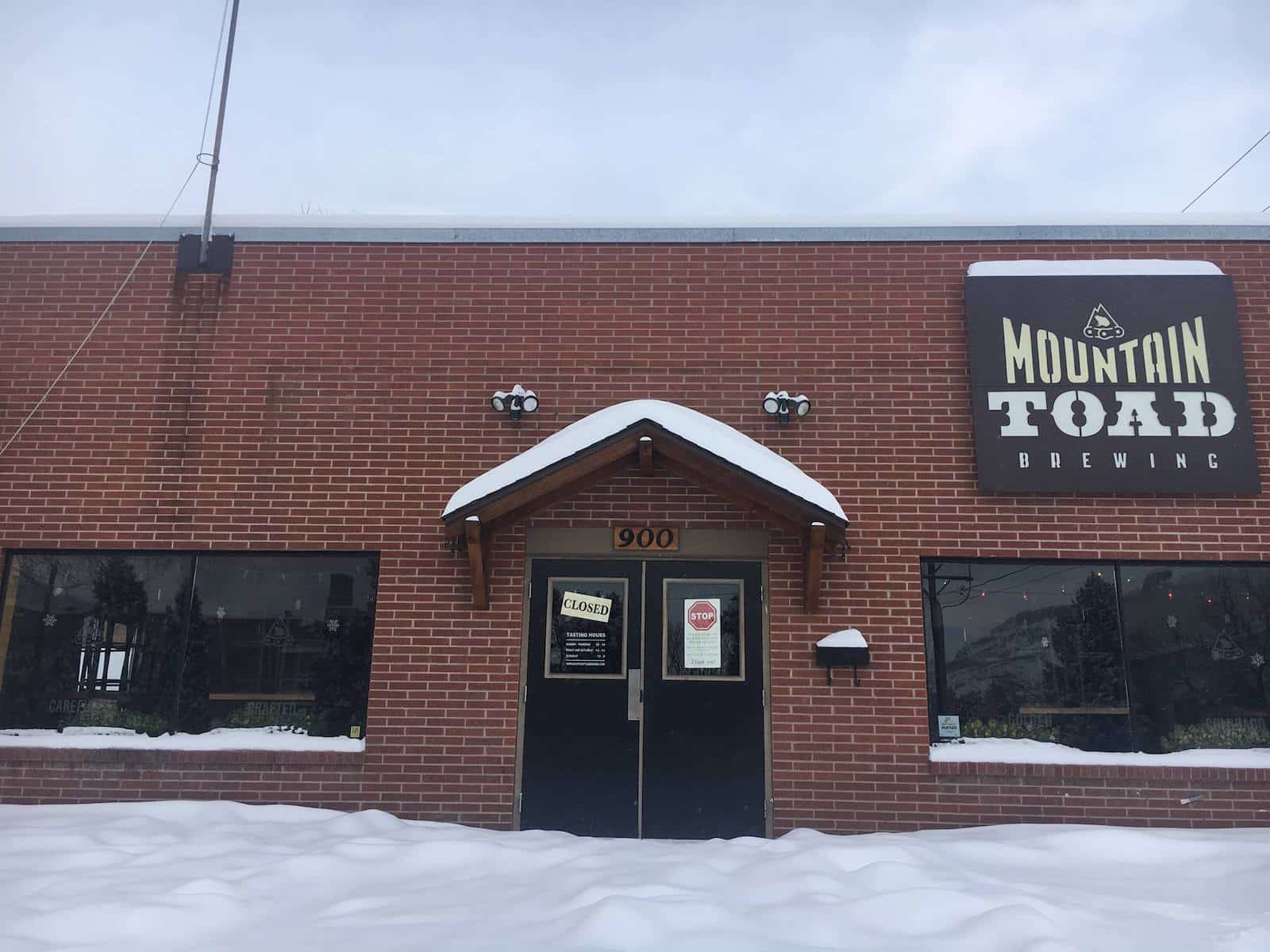 Mountain Toad Brewing has all different beers, from a Kolsch and IPA to a Belgian Golden and Kentucky Common. Local food trucks, such as Basic Knead, Deja Roux, Isan Thai Food and Gyros King are known to make a visit.
Blueberry Kolsch, Golden Lotus IPA and Irish Red are a few beers available. Pandan Porter has notes of coconut, vanilla and chocolate. The Pedal On Pale Ale is inspired by Colorado's cycling community.
The brewery hosts live music, yoga and other events. Dogs are welcome in the outdoor beer garden.
900 Washington Avenue | 720-638-3244 | mountaintoadbrewing.com
New Terrain Brewing Company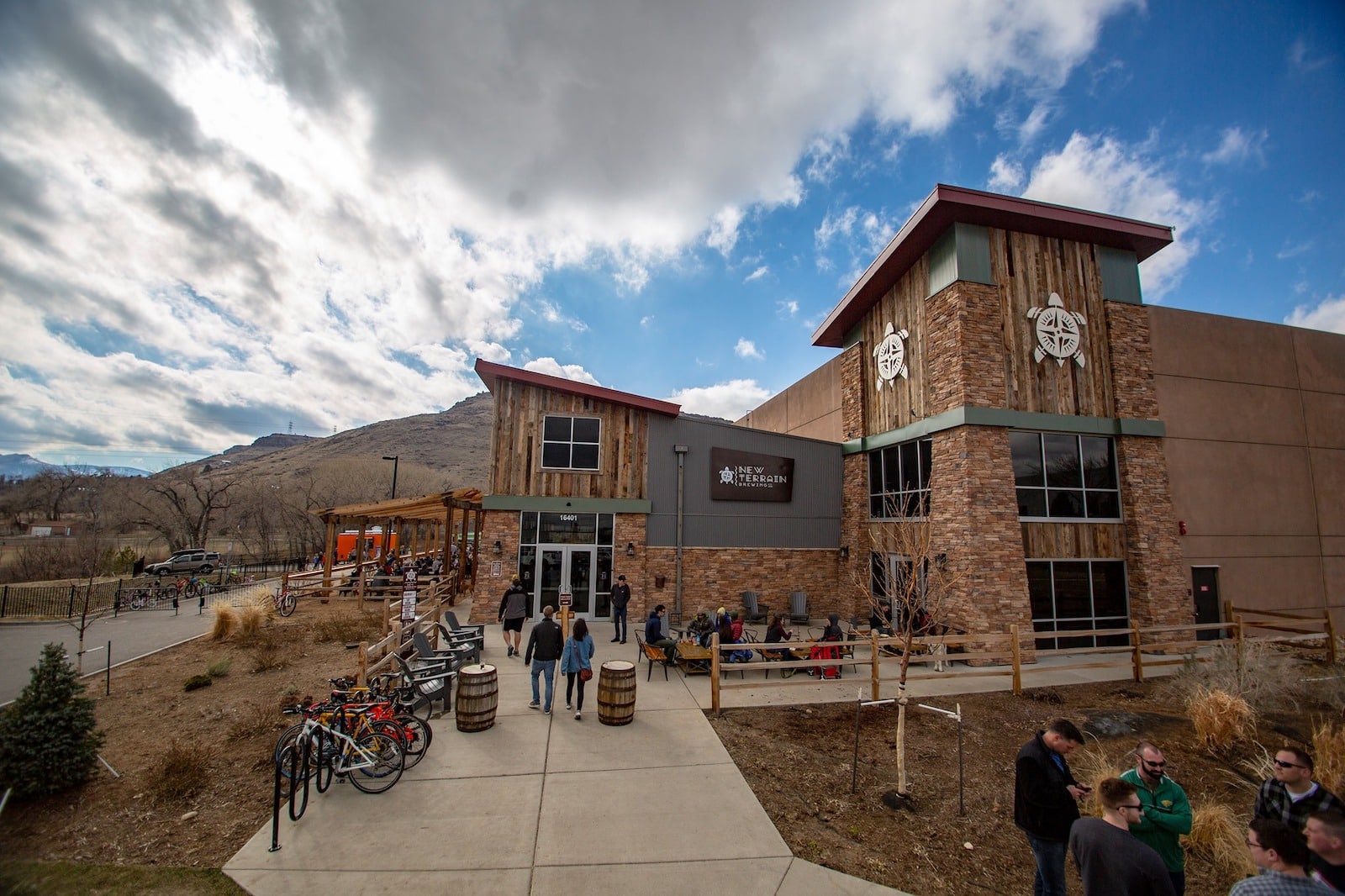 New Terrain Brewing Company is proud to create what they call exploratory beers. Their Suntrip Belgian Wit took home the silver medal at a Great American Beer Festival.
Beers are broken down by light and refreshing, bitter and bright and malty and roasty. In addition to beers, there are hard seltzers, sodas, kombucha and cold-brew nitro coffee.
The brewery is family friendly. Yoga on Tap occurs every Monday evening. An outdoor beer garden welcomes furry friends as well.
16401 Table Mountain Parkway | 720-697-7848 | newterrainbrewing.com
Coors Brewing Co.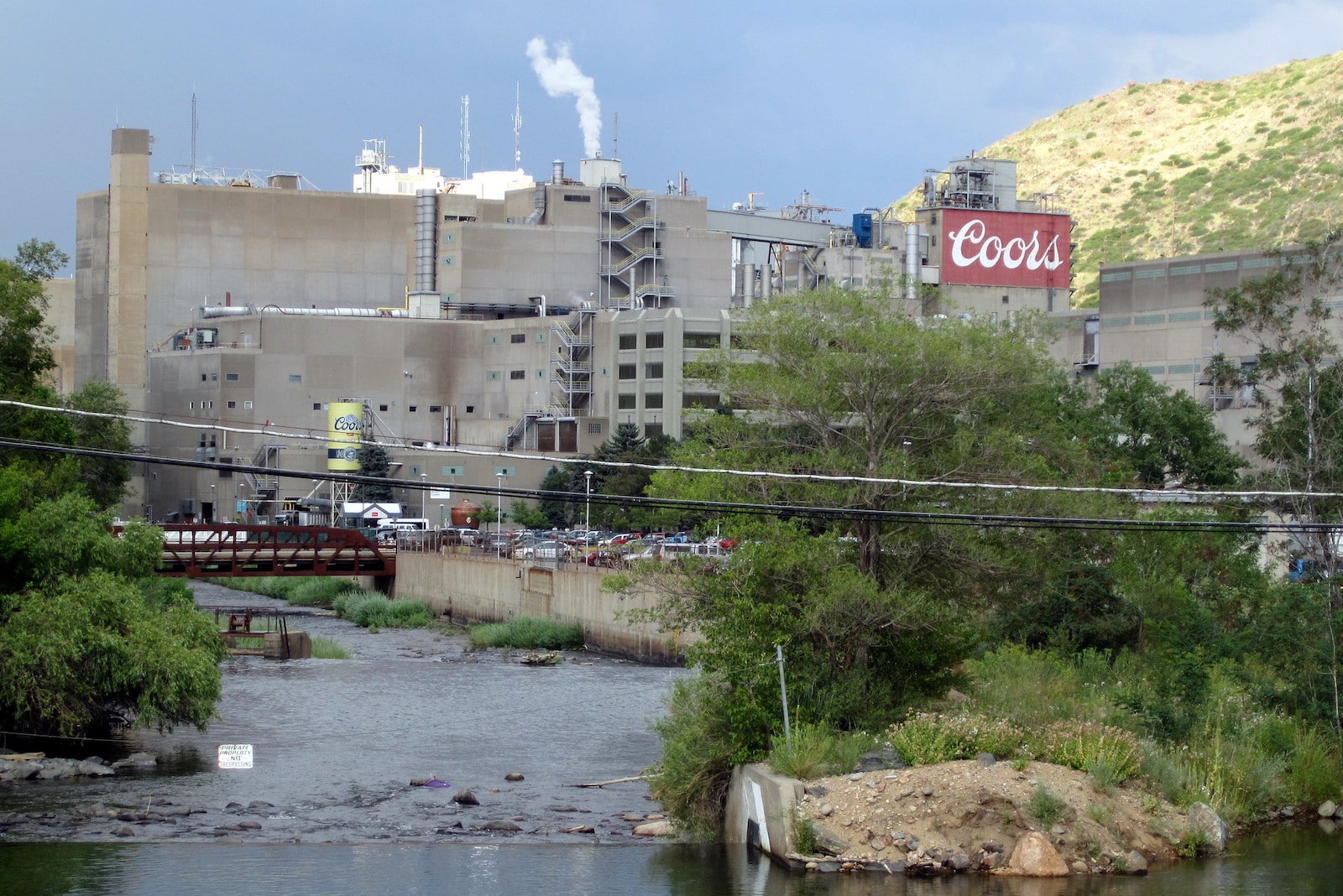 Coors Brewing is the largest single-site brewery in the world and has been a fixture in the Rocky Mountains since 1873. The Coors Brewery tour in Golden is a favorite for both tourists visiting the state and locals.
The brewery tour is a 60-minute experience where visitors can get a peek at the history of Coors and beer production. The tour includes three samples and a cup to take home.
You must make a reservation to take a brewery tour or for visiting the lounge without the tour. The sampling experience alone allows for three samples as well.
13th Street and Ford | 303-277-2337 | coorsbrewerytour.com
Barrels & Bottles Brewery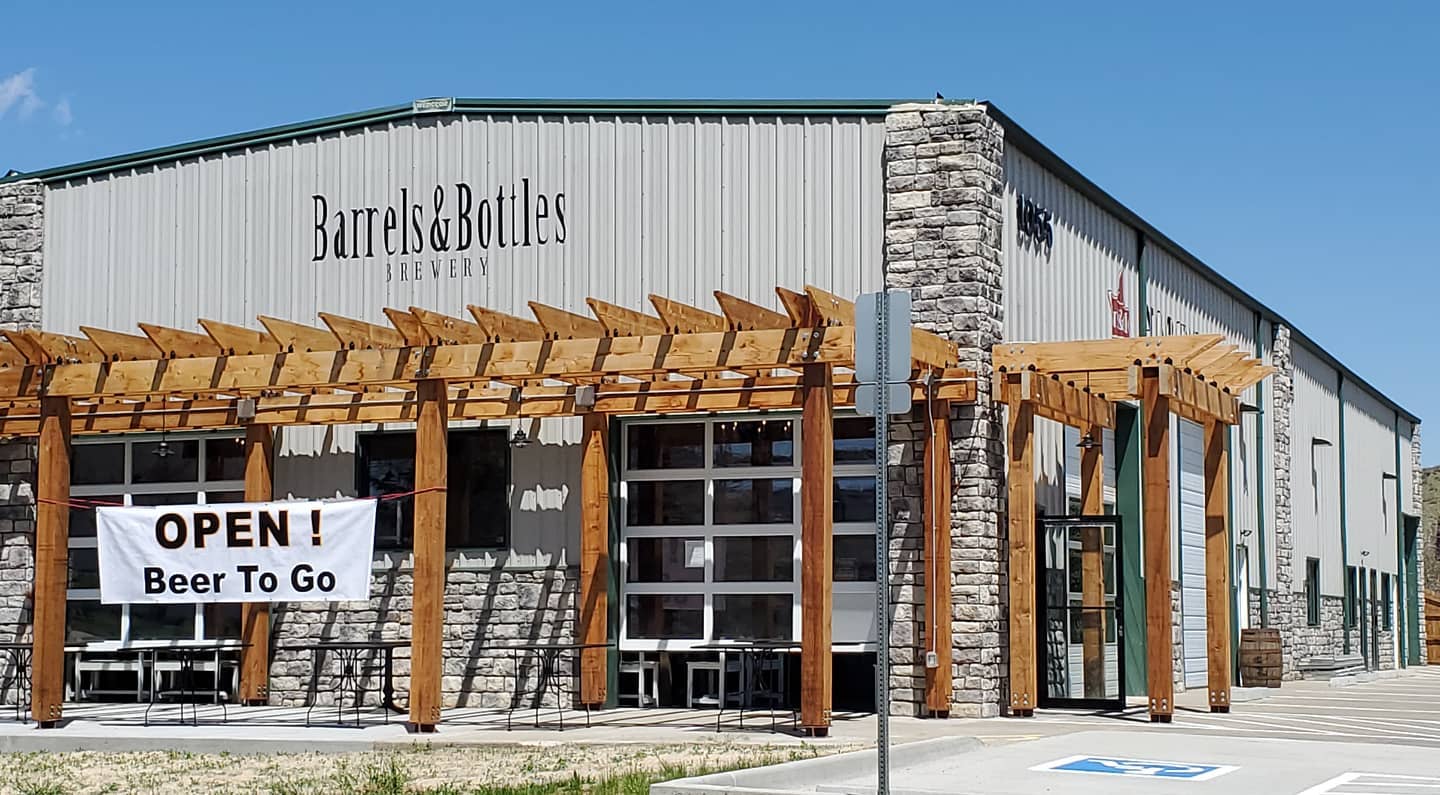 Barrels & Bottles has options for every taste, with an abundance of beers on tap as well as wines. There are two locations in Golden ­– one at Camp George West and the original downtown Golden location.
You'll find beers brewed in-house here, such as a Blonde Ale, American Wheat Beer, American IPA, Kolsch and Double IPA. They also serve guest beers, almost 30 wines (at the downtown location) and wine slushies.
Shareable snacks are available, such as hummus served with tortilla chips and peanut butter dip with graham crackers and apples. They also serve sandwiches, curated boards, salads and hand-rolled stuffed pizza dough.
Downtown: 600 12th Street | 720-328-3642 | barrelsbottles.com
Camp George West: 1055 Orchard Street | 303-353-9832 | barrelsbottles.com
Cannonball Creek Brewing Company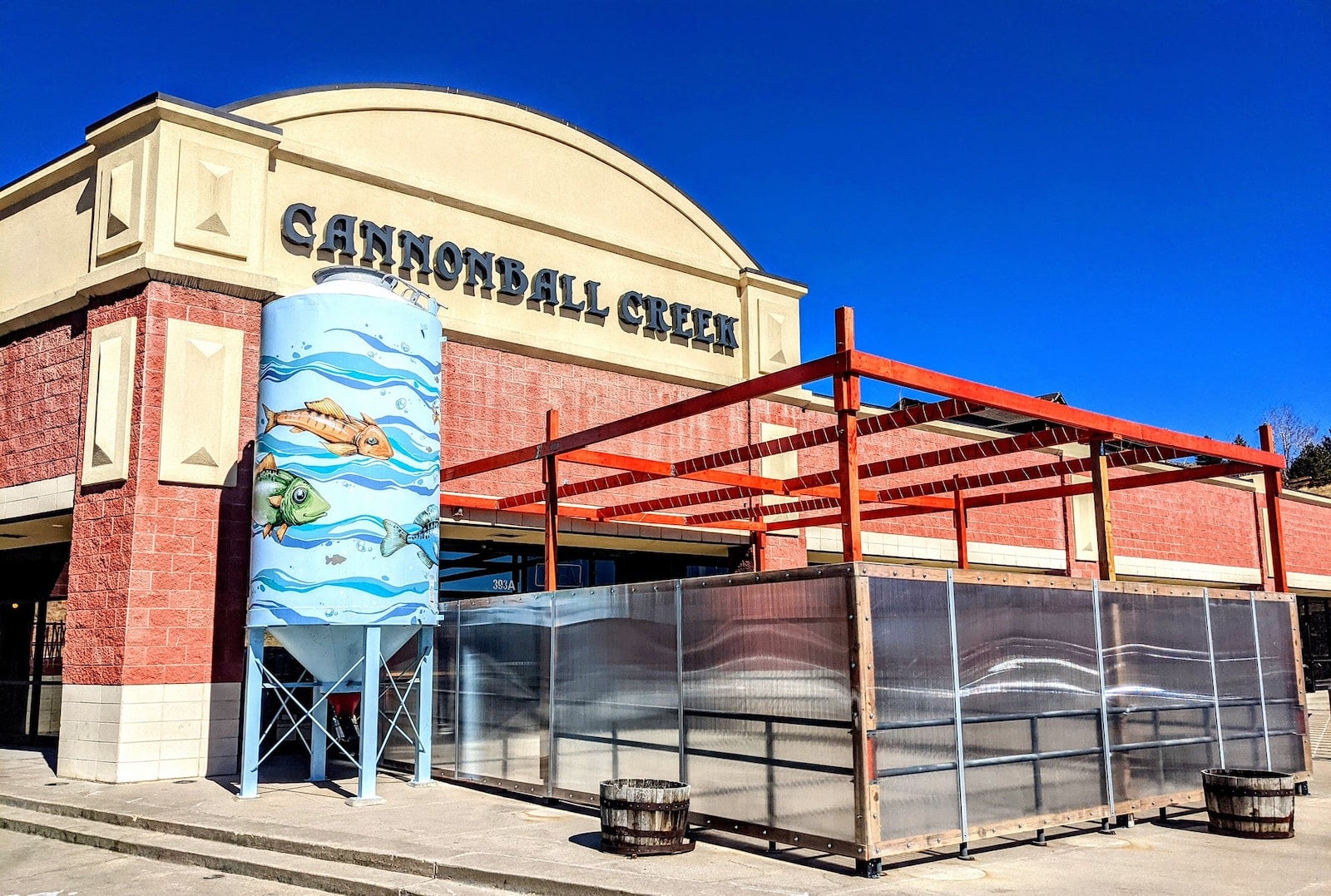 When launching Cannonball Creek Brewing Company in Golden, Jason Stengl and Brian Hutchinson wanted to name their brewery after the town they loved. The original name of Clear Creek, which runs through Golden, was Cannonball Creek.
Let's Talk About Mex! Mexican Lager won a Bronze medal for American-Style Cream Ale at the Great American Beer Festival. Other beers include the Dad Squad German Style Pilsner, a dry-hopped American Style Pale Ale and a Robust Porter with notes of coffee and chocolate.
Dogs are welcome on the patio. Rotating food trucks, such as Lucky Bird and McDevitt Taco Supply, can be found at the brewery for eats.
393 North Washington Avenue | 303-278-0111 | cannonballcreekbrewing.com
Over Yonder Brewing Company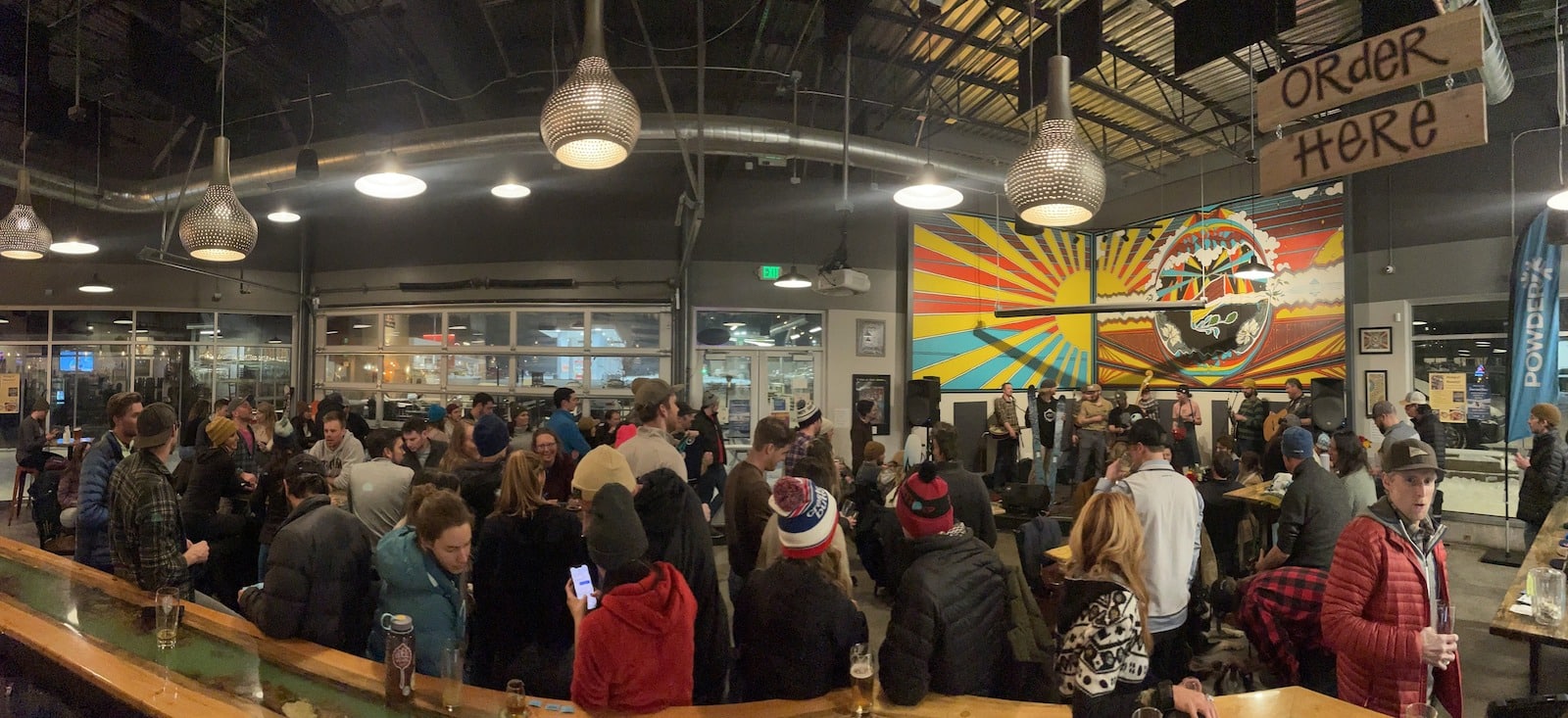 Located in Southwest Golden, Over Yonder Brewing Company produces a wide variety of rotating beers. There's always something going on at this dog-friendly brewery, including live music, yoga, beer releases, open bluegrass pick sessions and different food trucks.
For a Sour beer, Under the Cool Shade has flavors of pineapple, peach and guava. For something more hoppy, the Citranade is a single-hopped American IPA. The Maize Cream Ale won Bronze at the Best of Craft Beer Awards.
If you're headed to a concert at Red Rocks, they partner with Origin Hotel Red Rocks to provide shuttle services. You can also order beer to-go right online.
18455 West Colfax Avenue | 303-278-0399 | overyonderbrewing.com
CODA Brewing Co.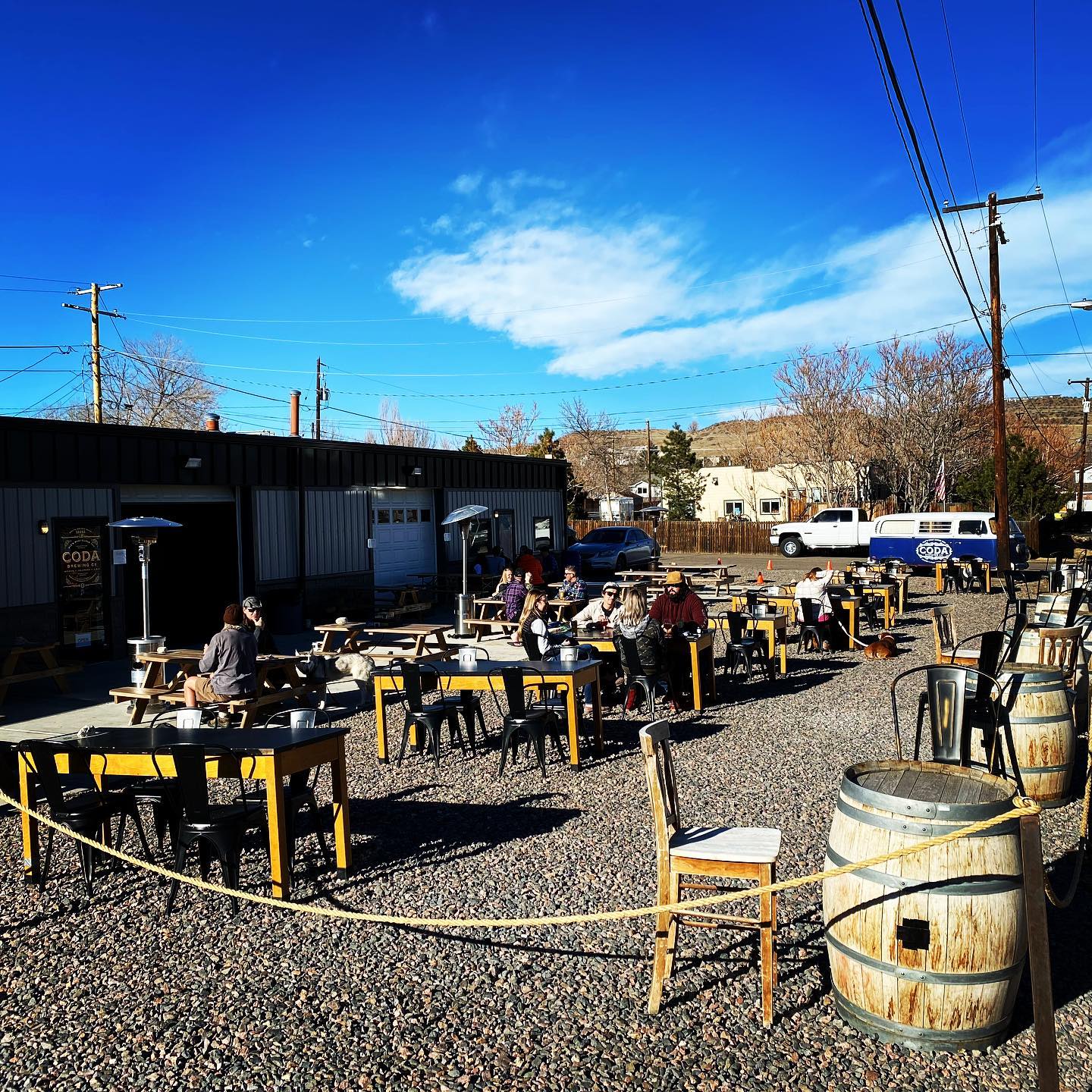 There's always something new in the works at CODA Brewing Co, and beers rotate quickly. A long list of awards includes honors at the US Open Beer, Great American Beer Festival, Can Can Awards and Colorado State Fair.
A few examples of beers here include, Dark Matter Oatmeal Stout, Duo Clash Peach Hazy IPA, Papa Joe Almond Joy Stout, One Drop West Coast IPA and Double Hybrid Raspberry Stout.
There are various food trucks on-site, such as Outside Pizza and Mama Jo's Biscuits and BBQ. If you're bringing a dog, there are treats and water bowls available outside.
15965 South Golden Road, Suite C 2 | 303-600-8591 | codabrewing.com
OHM Brewing Company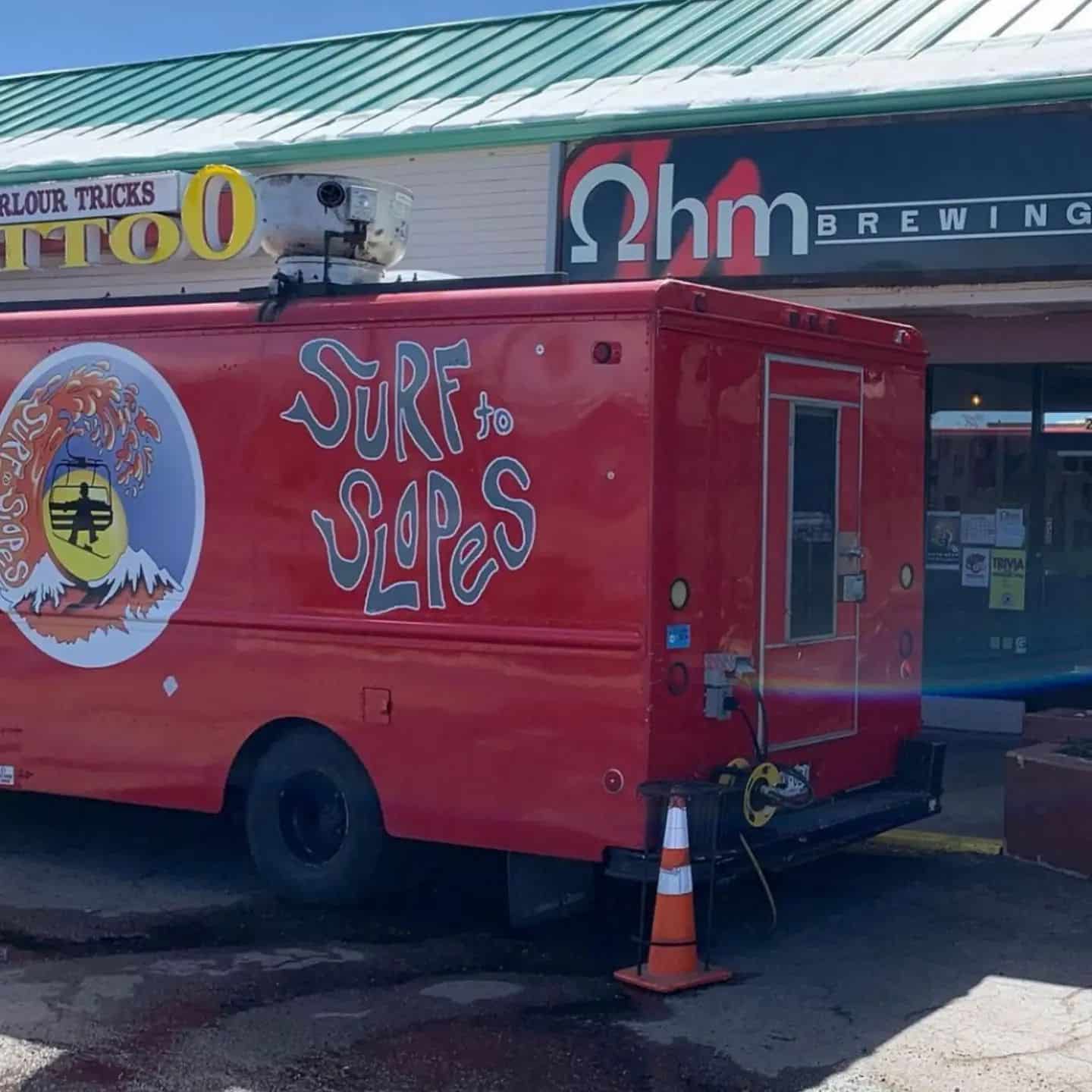 OHM Brewing Company all started with a love of homebrewing with pots and pans on a kitchen stove at home. Now the nano-brewery is making unique beers at their Golden brewery.
A Prickly Pear Kolsch is infused with organic prickly pear puree, and Jolt Breakfast Stout is brewed infused with Early Dog Espresso coffee. There are a variety of other styles here, too ­– Amber Ale, Imperial Red, Rye Pale Ale, Hazy IPA and a West Coast style IPA.
Outpost at OHM is a food truck located on the patio, serving sandwiches and sides. There is a pastrami Reuben sandwich, pulled pork sandwich and a veggie French dip with marinated mushrooms, pickles and mozzarella served on toasted marbled rye bread. Fries come with a variety of sauce options, such as peach habanero chutney, ranch, garlic, curry aioli, barbecue, bourbon honey mustard and horseradish cream.
1921 Youngsfield Street | 720-535-4279 |  ohmbrewingcompany.com
With a scenic, beautiful backdrop like Golden, an afternoon at one of these outdoor patios can't be beat. But regardless of the weather or if you're inside or out, the breweries in the city are certainly worth a stop.