Finding a well-made craft beer in Colorado is not hard. When you're looking for a bite to accompany that brew, there are several breweries in Denver that serve food to go along with their beverages.
One thing to note is that just because a brewery isn't listed here and doesn't have a kitchen to serve food, doesn't mean you won't be able to eat there. Many breweries that don't serve their own food host rotating food trucks on-site and have snacks to purchase behind the bar, such as pretzels or chips. Some microbreweries allow you to bring in outside food or order from local restaurants and get it delivered right to you.
Keep in mind that food and beer menus often change frequently, so it's always a good idea to visit the website to find the most up-to-date offerings. Check out a brewery's website to learn if food trucks are hosted and if outside food is allowed.
In no particular order, here are some of the breweries in Denver that have food:
Wynkoop Brewing Company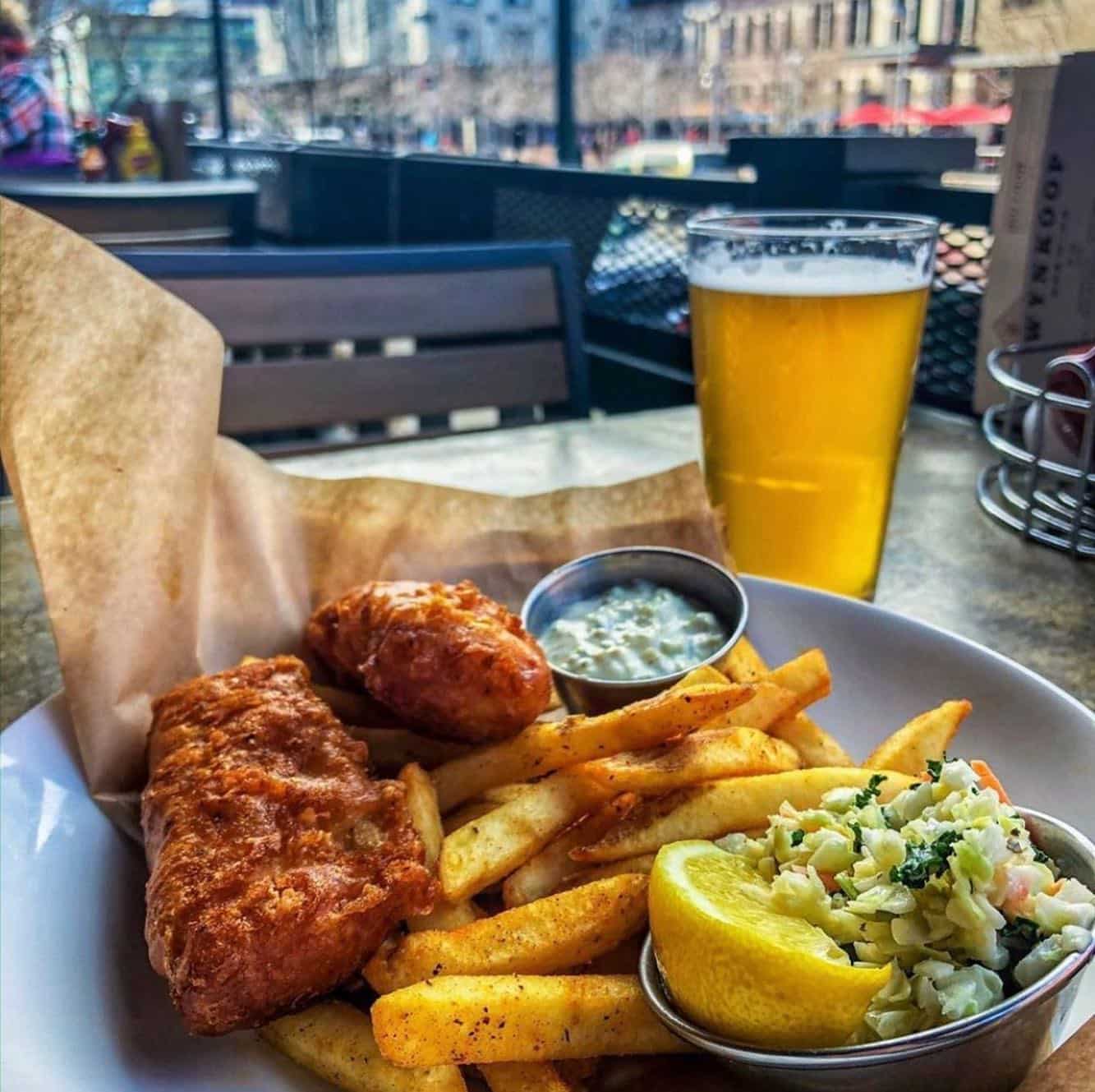 Wynkoop Brewing Company is Colorado's first brewpub located right near Union Station serving a wide variety of beer on tap and a large food menu. There's a little bit of everything here to eat: tacos, salads, burgers and sandwiches, fork and knife fare, and desserts, such as a key lime tart or peanut butter mousse pie. Brunch is even an option with breakfast burritos, biscuits and gravy, and a stout-glazed roll with cream cheese frosting.
Classic pub-style appetizers include loaded nachos, a pretzel served with beer mustard and beer cheese, fried pickles, spinach artichoke dip, and chicken wings. The menu highlights vegetarian options, including a cornmeal-crusted oyster mushroom po'boy, a hearty veggie shepherd's pie in beer gravy, hummus with naan, and a veggie burger.
1634 18th Street | 303-297-2700 | wynkoop.com
Lowdown Brewery + Kitchen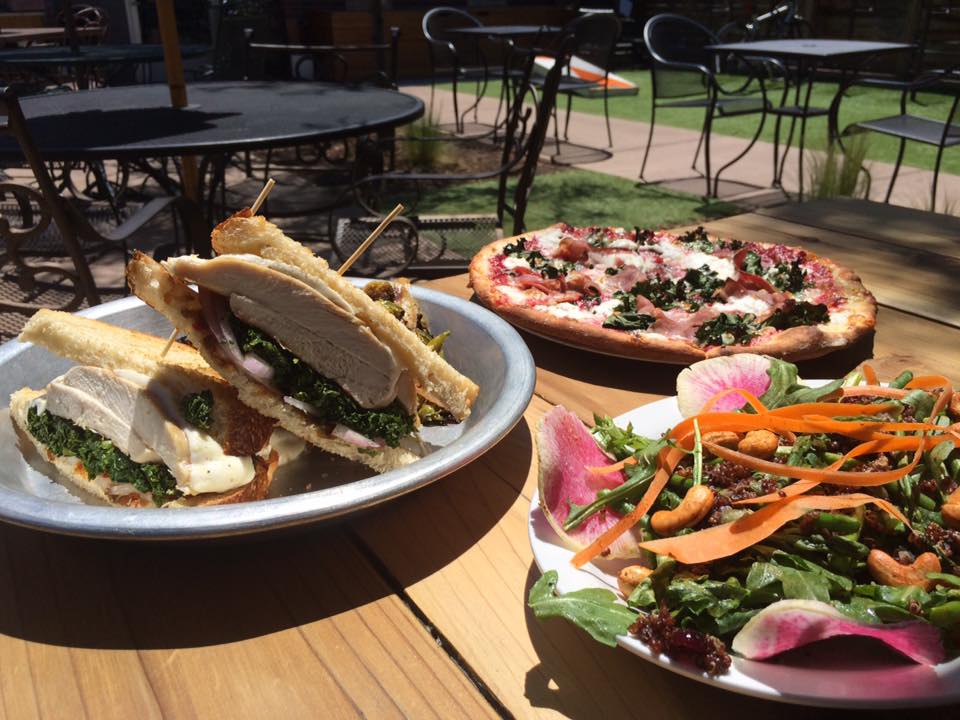 Lowdown Brewery + Kitchen offers plenty of salads, sandwiches, and pizzas to accompany the beer on tap. You can get creative and build your own pizza with a large variety of sauces, cheeses, and toppings: creamy pesto, garlic puree, green olives, caramelized onions, roasted tomatoes, and many more options.
A LowDown IPA is used in the cheese dip that's served with pretzel bread, roasted broccoli, and apple slices. Beer is used throughout the menu, in fact, with beer-braised pulled pork, barbecue brisket, and corned beef brisket in some of the sandwiches.
800 Lincoln Street | 720-524-8065 | lowdownbrewery.com
Black Shirt Brewing Co.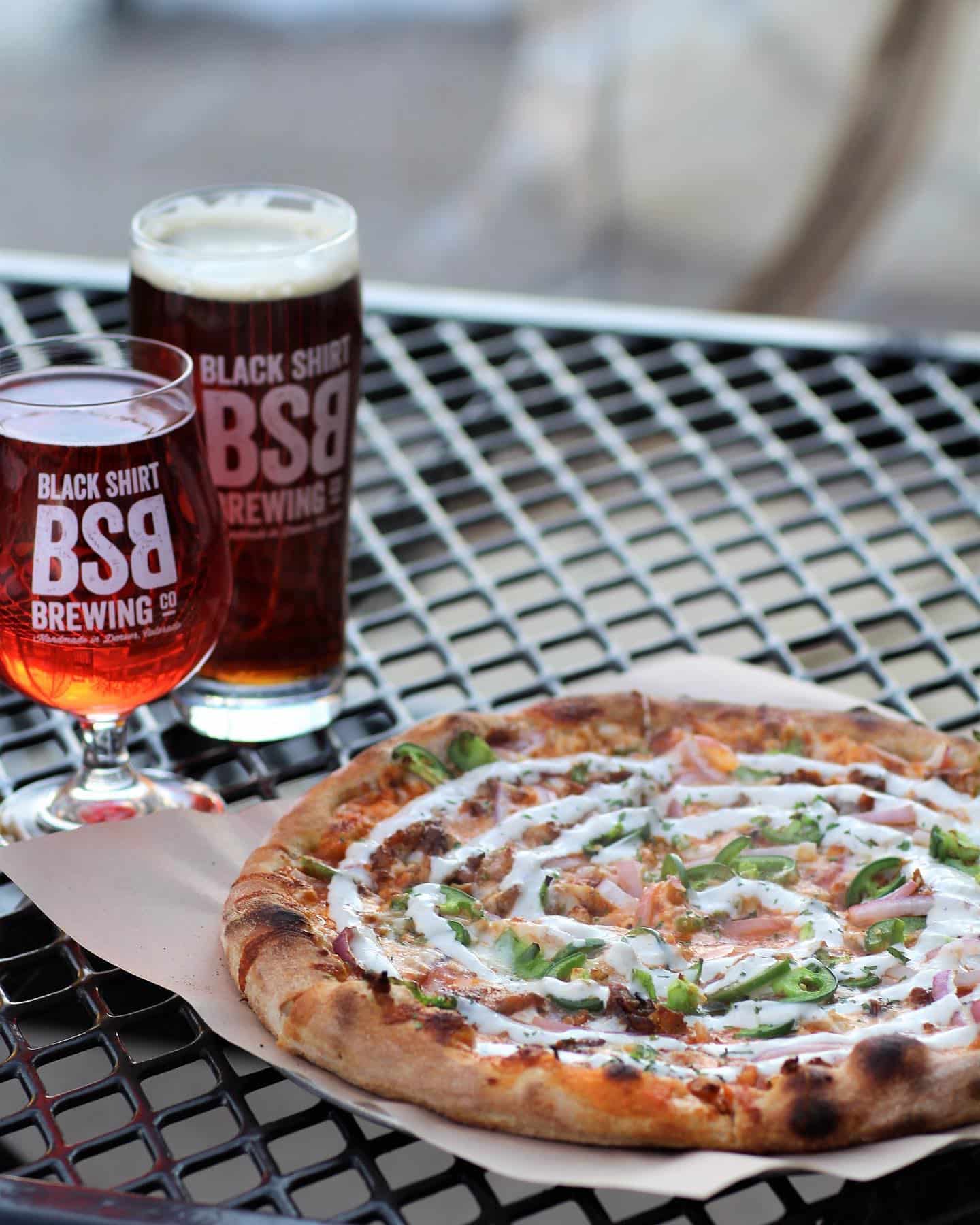 Black Shirt Brewing Co. was founded by two homebrewers and offers several styles of beers on tap. To eat, the brewery offers pizzas, salads, and appetizers, such as beer-battered cauliflower with a choice of sauces.
People can customize their own spent grain pizza starting with sauce options: red sauce, barbecue sauce, golden barbecue sauce, garlic olive oil, and buffalo sauce. Then choose from a handful of cheeses, meats, and many vegetables – cremini mushrooms, sun-dried tomato, artichoke hearts, fresh basil, and red onion.
3719 Walnut Street | 303-993-2799 | blackshirtbrewingco.com
Black Sky Brewery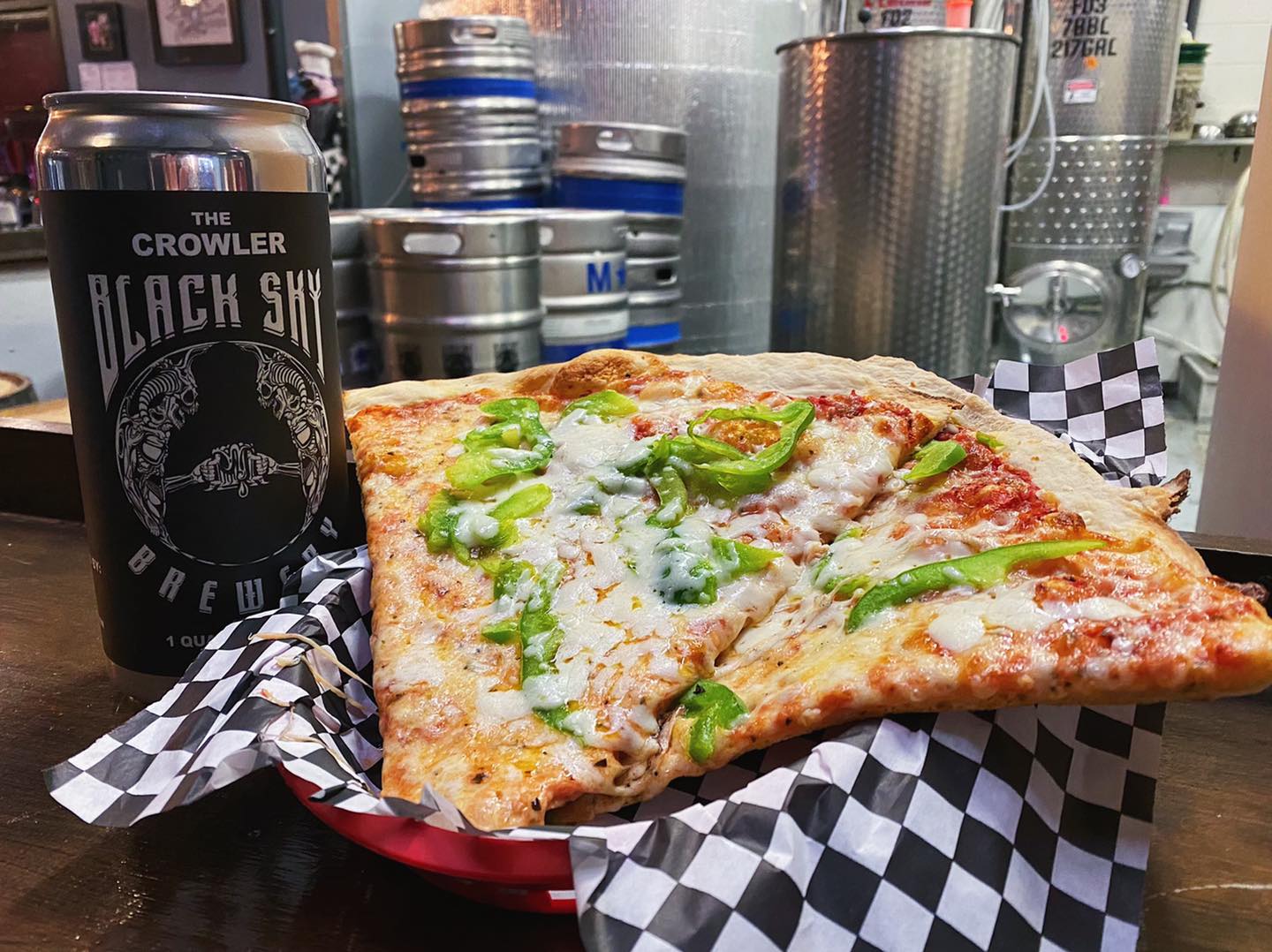 Black Sky Brewery is all about three things – beer, metal, and pizza. There are many pre-designed pizzas, such as The Shred with green pepper, tomato, mushroom, onion, and olive. Alternatively, you can make your own pizza with several toppers to choose from.
There is a large vegan menu here with calzones, headbangers (stuffed pizza dough pockets), pizzas, and starters, such as cheesy garlic bread, garlic bread squares, and quesadilla. Meat-free pizza toppings include vegan cheese, banana peppers, mushrooms, onion, garlic, green pepper, pineapple, and tomatoes.
490 Santa Fe Drive | 720-708-5816 | blackskybrewing.com
Briar Common Brewery + Eatery
Briar Common Brewery + Eatery offers a variety of creative house-made brews, along with wine and signature cocktails. A weekend brunch menu has breakfast staples – a smothered breakfast burrito, biscuits and gravy, a breakfast sandwich, Cajun grits, and a whiskey-battered French toast.
Buffalo cauliflower, fries, spinach and artichoke dip, and crispy Brussels sprouts are just a few of the snack options. There are also mains, sandwiches, and burgers to choose from, including a house-made black bean patty topped with avocado aioli.
2298 Clay Street | 720-512-3894 | briarcommon.com
Bull & Bush Brewery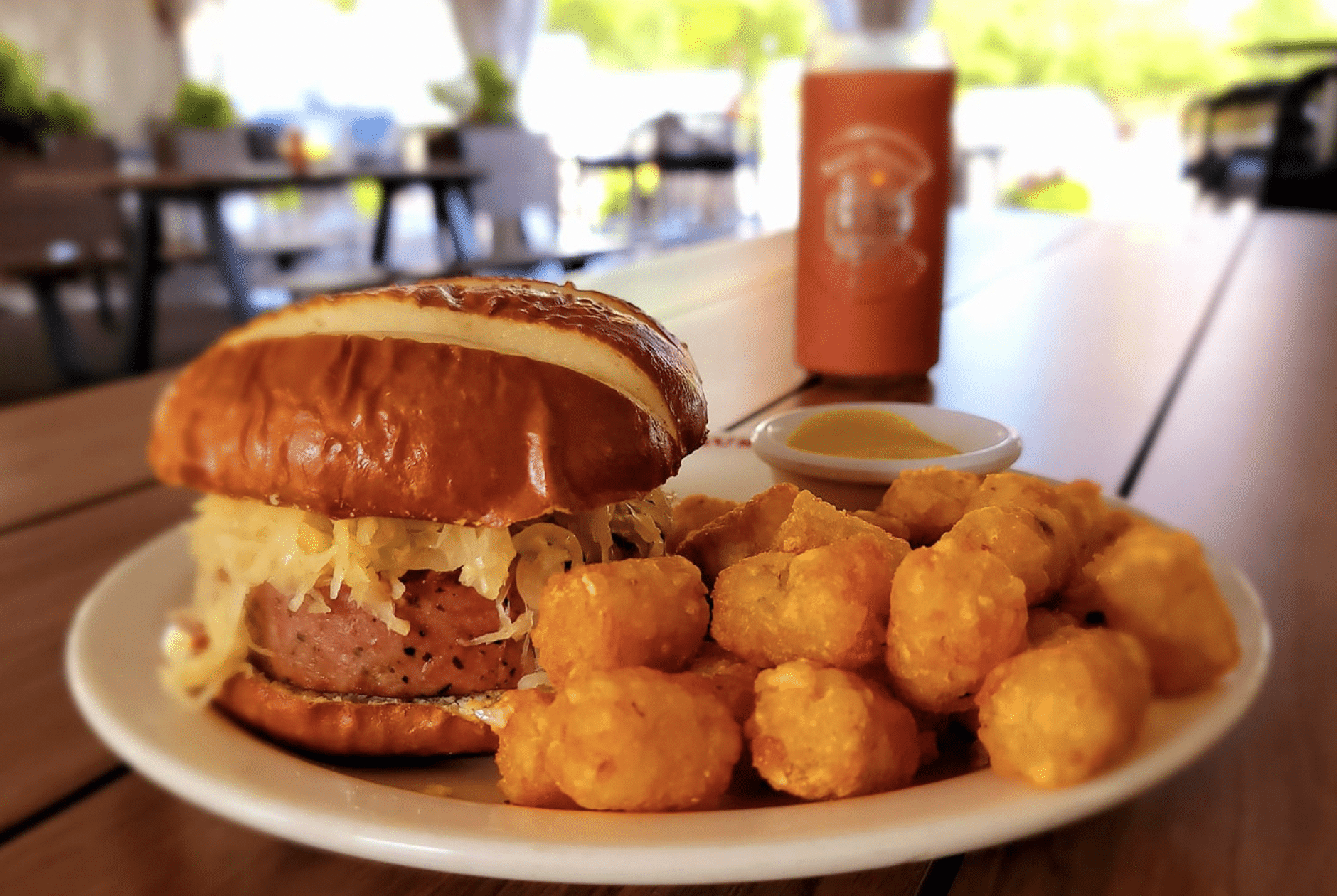 Bull & Bush Brewery opened in 1971 and serves beer on tap including guest beers from other breweries. There are many traditional starters to choose from, such as roasted red pepper hummus, street tacos, Colorado-style cheese fries, house-made chips and guacamole and salsa, nachos, and potato skins.
Fajita Night and Burger Night are two examples of various nightly specials offered. Salads, sandwiches, burgers (including a meatless option) are available. For dessert, there's a flourless chocolate cake, carrot cake, a salted caramel pretzel brownie sundae, and a house-made root beer float.
4700 East Cherry Creek South Drive | 303-759-0333 | bullandbush.com
Counter Culture Brewery + Grille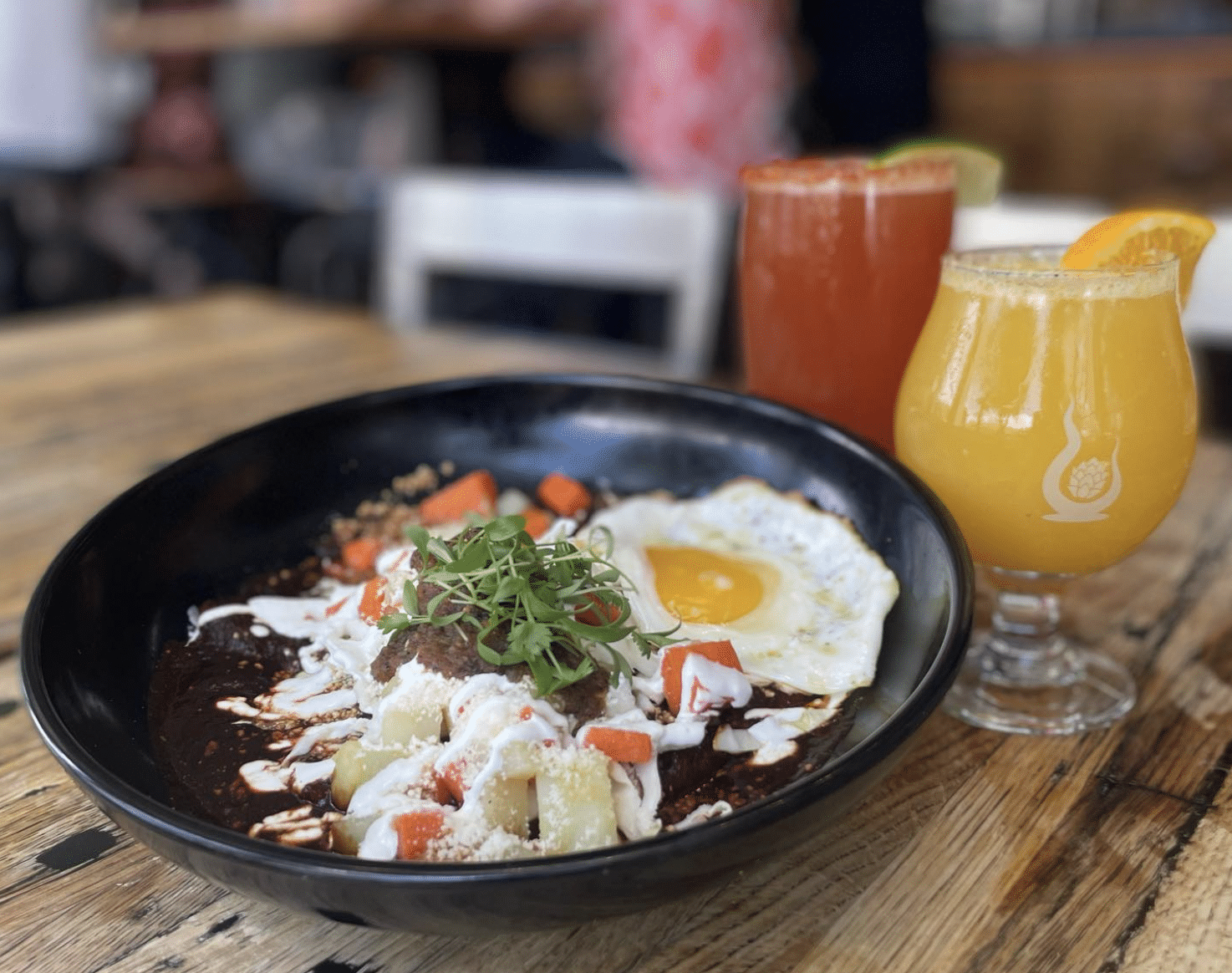 Counter Culture Brewery + Grille produces rotating house-made beer ranging from a Dry Irish Stout and Wheat Ale to a Belgian-style Trippel and Wee Heavy Scotch Ale. For food, it's all about the handhelds: different types of burgers, chicken sandwiches, and a vegetarian falafel burger.
There are also salads and appetizers, such as roasted cauliflower and house-cut fries topped with fry spice and served with Samal Aioli. Fresh fried tortilla chips are served alongside a house-made wood-fired roasted salsa for another starter.
205 East 7th Avenue | 720-638-8786 | counterculturebrewery.com
FlyteCo Brewing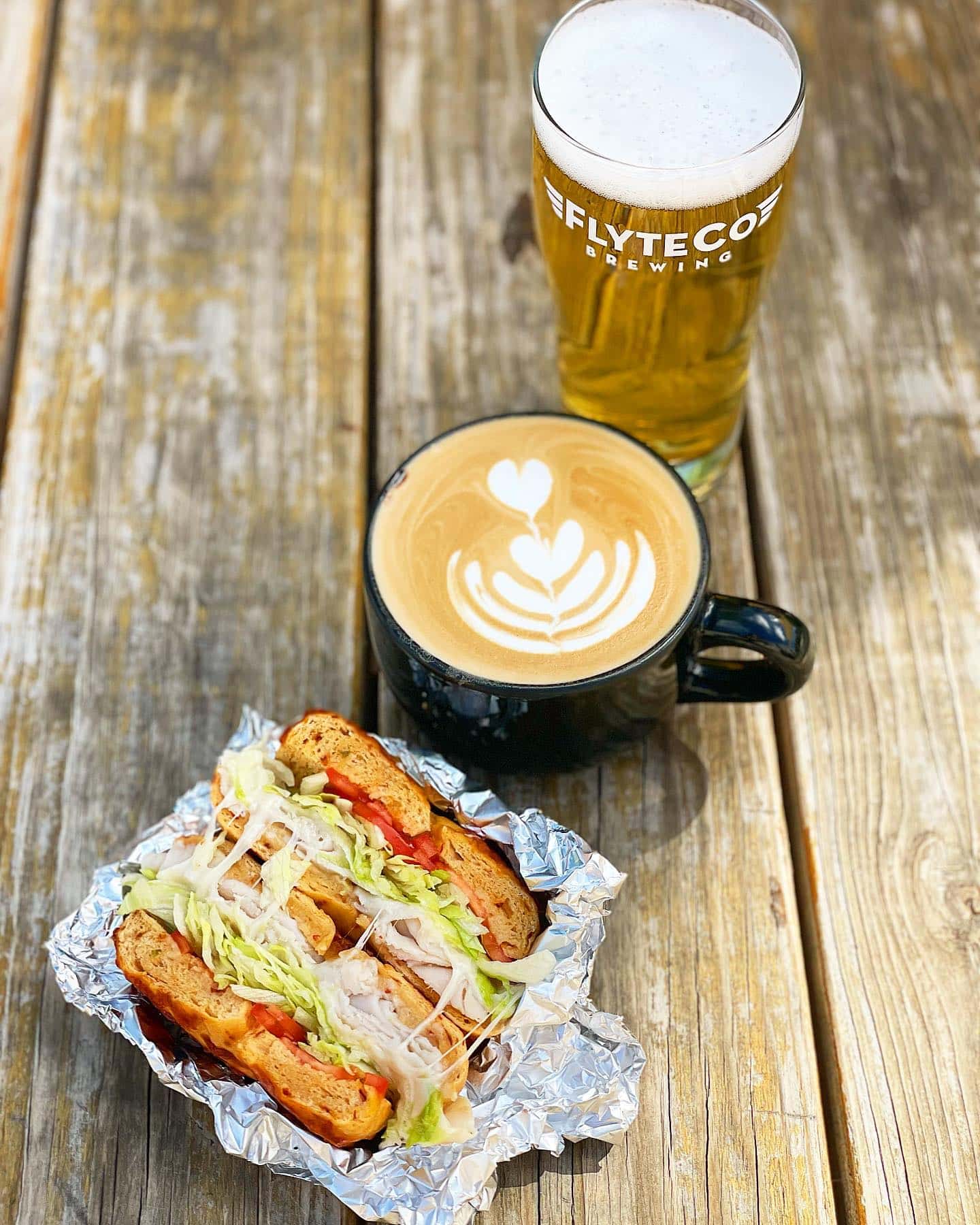 FlyteCo Brewing serves food all day starting with breakfast. A handful of breakfast sandwiches are available on several different bagels and breads, including sourdough bread or a gluten-free bun.
For lunch and dinner, sandwiches come on your choice of plain bagel, jalapeno cheddar bagel, kaiser roll, or an everything bagel. For a vegan option, there is a pizza bagel. Snacks include chips, a Bavarian pretzel, and popcorn.
4499 West 38th Avenue, Suite 101 | 720-772-7319 | flytecobeer.com
Left Hand Brewing Co. RiNo Drinks & Eats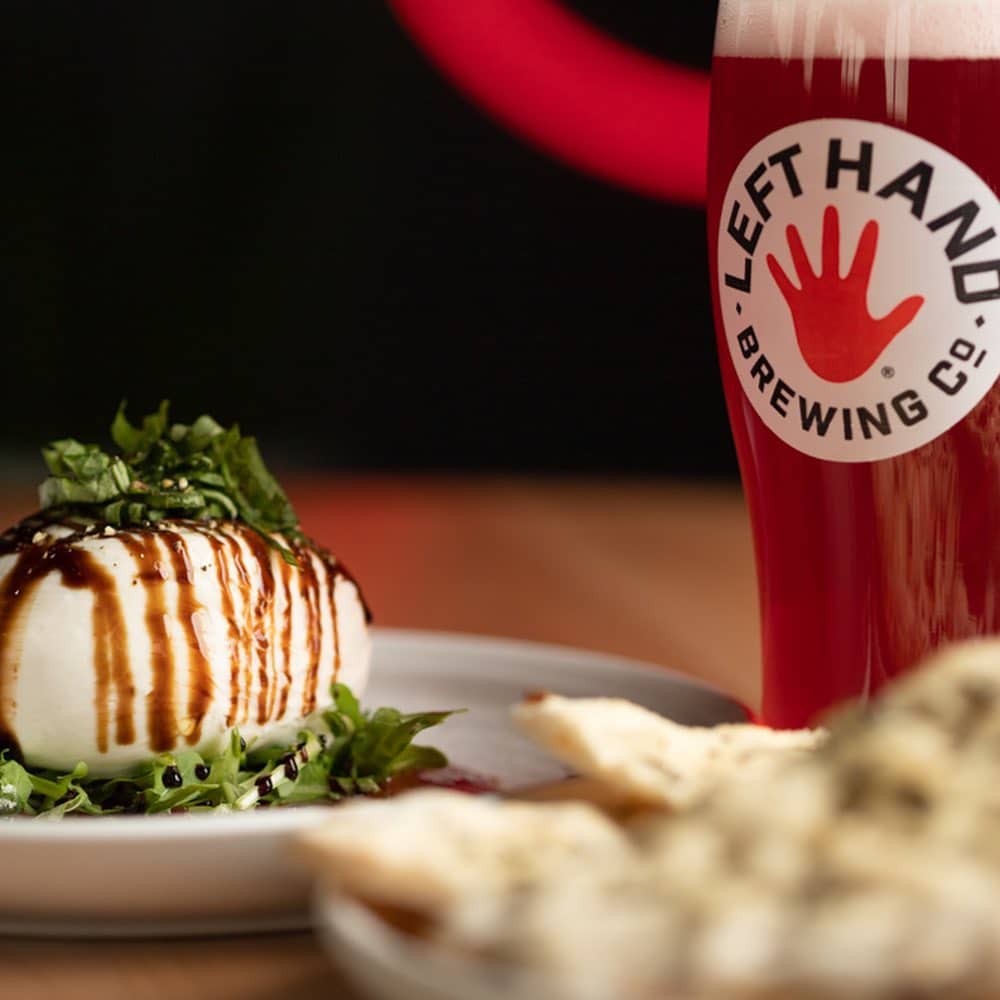 Left Hand Brewing has a location in Longmont with a large outdoor seasonal beer garden and the RiNo spot in Denver situated adjacent to Mission Ballroom. Along with Left Hand beers, there are non-alcoholic options, specialty cocktails, wine, and hard kombucha.
There are out-of-the-box Neapolitan pizzas, soups and salads, and plenty of appetizers. Some starters include a pretzel served with beer mustard, roasted cauliflower, chile rellenos, house-made queso, and a rotating hummus.
4180 Wynkoop Street, Suite 140 | 720-449-7535 | lefthandbrewing.com/rino
The Grateful Gnome Sandwich Shoppe & Brewery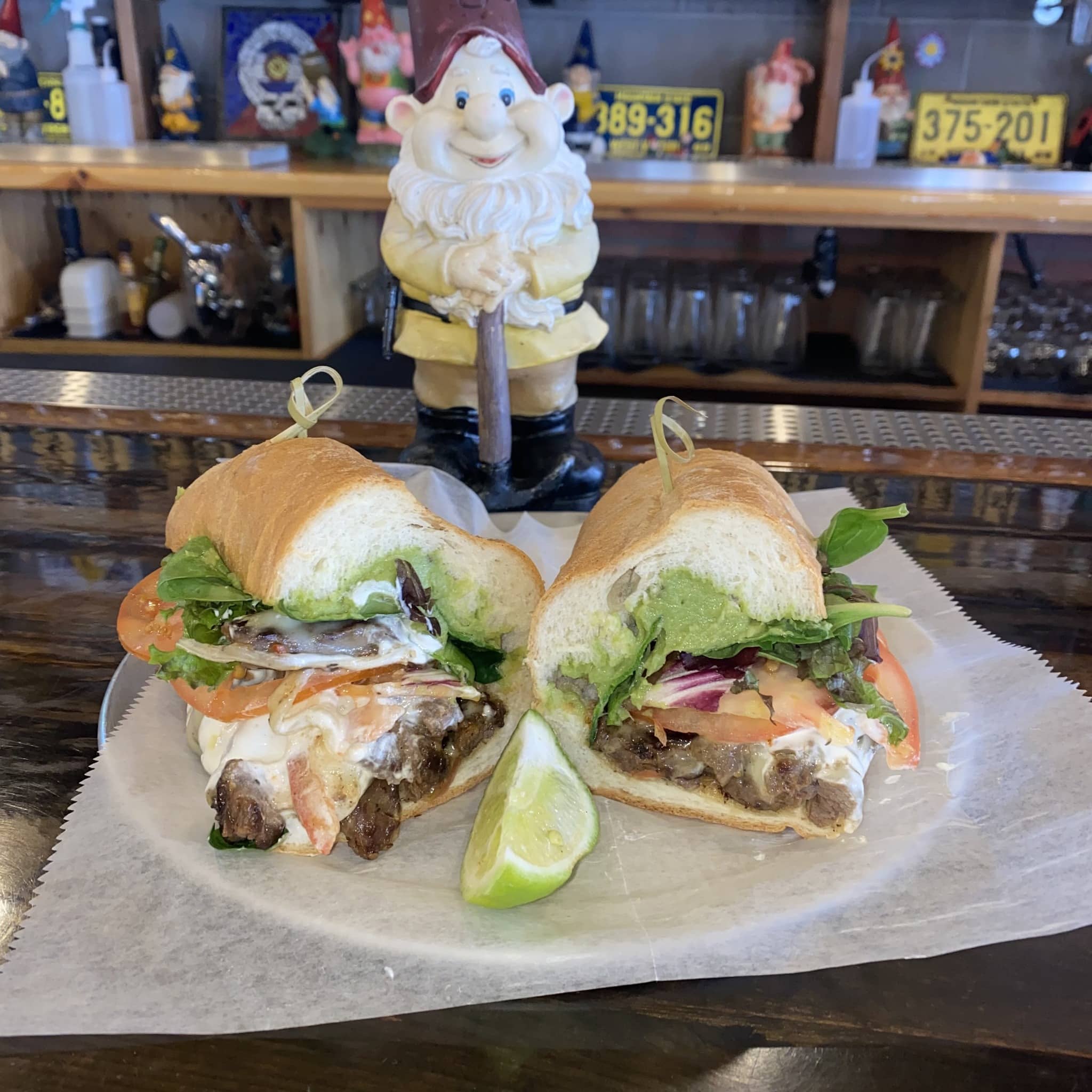 The Grateful Gnome Sandwich Shoppe and Brewery is part Italian-style delicatessen and party microbrewery. There are dozens of sandwiches here, both hot and cold, including a few veggie selections.
Sandwich options allow people to customize their meal. For bread, you can choose from a pretzel bun, bagel, dark rye, tortilla, and gluten-free bread. Choose from a variety of toppings including several types of cheeses, oil and vinegar, veggies, dressings, and sauteed mushrooms or onions, to name a few.
4369 Stuart Street | 720-598-6863 | thegratefulgnome.com
Raices Brewing Co.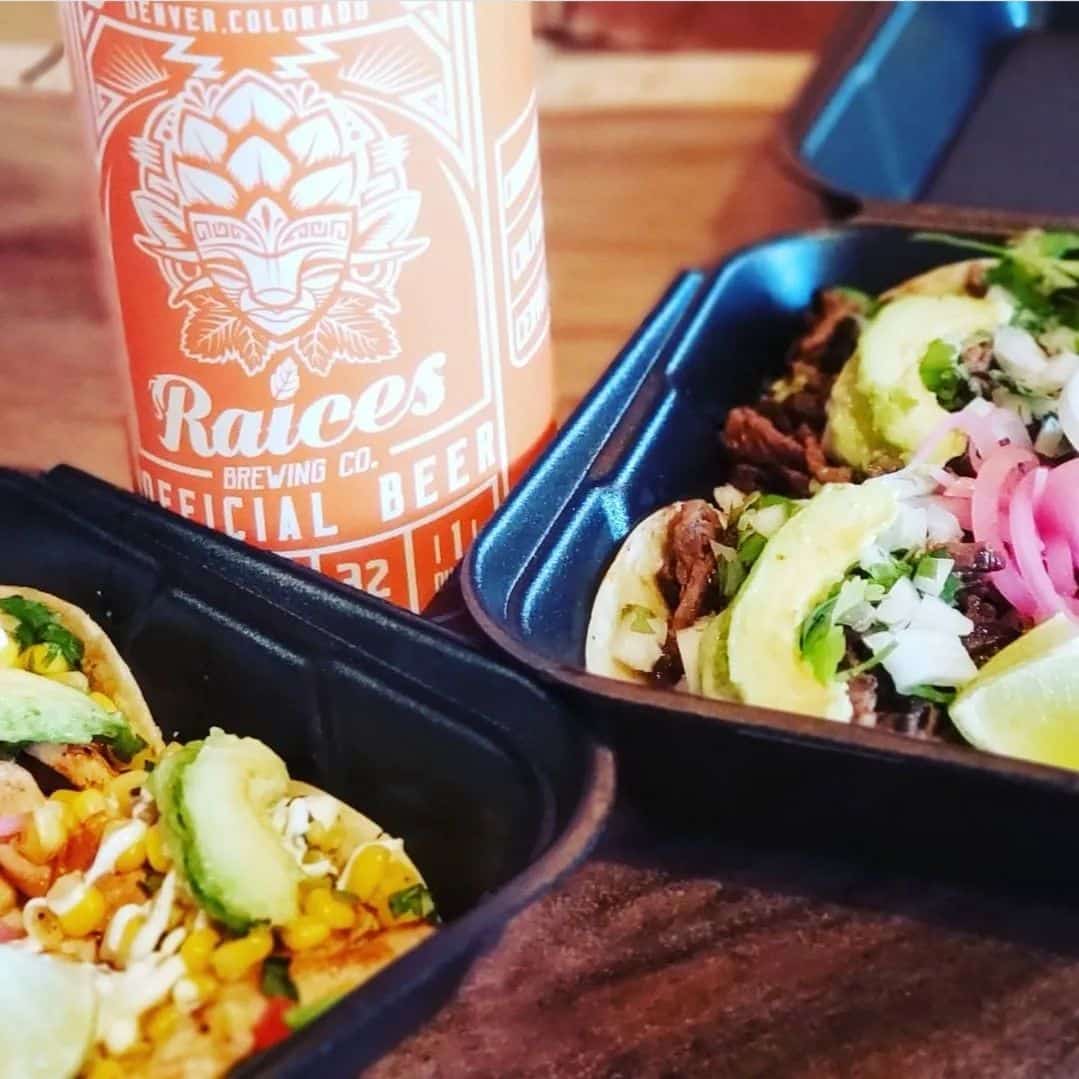 Raices Brewing Co. is a Latino-owned brewery featuring traditional Latin food, along with music, award-winning beer, and culture. In addition to beer, the brewery serves wine, guest beers, and non-alcoholic options.
Various types of empanadas are available – spinach, beef, chicken, onion and cheese, and Nutella and banana. Other snacks include pizzas and different kinds of pretzels.
2060 West Colfax Avenue | 720-324-8550 | raicesbrewing.com
Oskar Blues Grill & Brew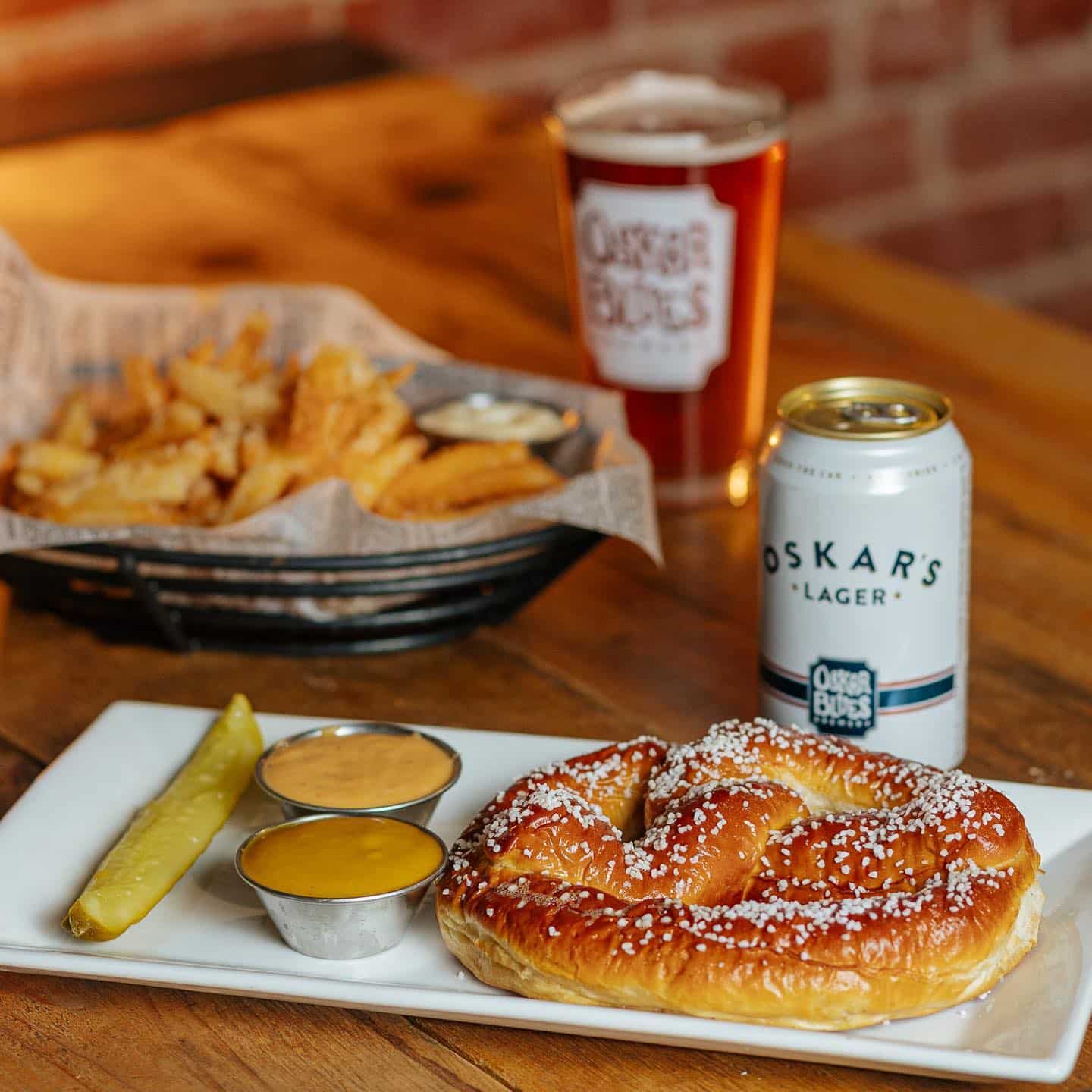 Oskar Blues Brewery has locations in Lyons, Longmont, and Denver. The Mile High spot has pool tables, live music, and plenty of food and drink options.
The Cajun-inspired food menu lists catfish bites, fried pickles, smoked chicken wings, fried chicken, and a Cajun pasta with elk sausage. There are also salads and a variety of burgers, where you can substitute a veggie patty.
1624 Market Street | 303-913-6001 | denver.oskarbluesfooderies.com
New Belgium Brewing – The Woods at The Source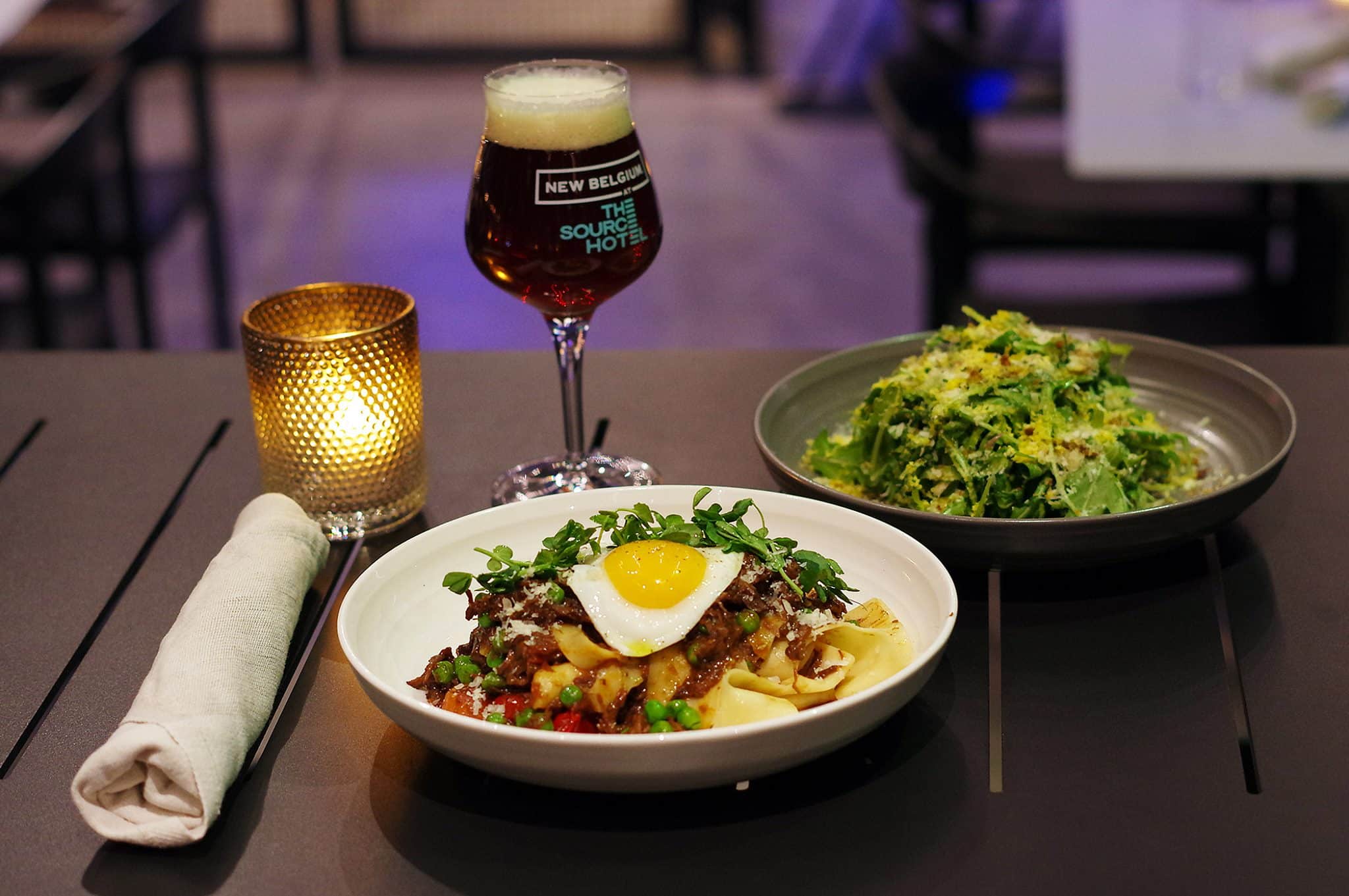 Located within The Source Hotel, New Belgium has an on-site pilot brewery. The Woods Restaurant is found on the rooftop, offering views of the city and the mountains.
Breakfast and brunch are served here, as well as weekday happy hours. Shared plates, pizzas, sandwiches, and large plates are available, including vegan options.
3330 Brighton Boulevard | 720-467-6913 | thesourcehotel.com/the-woods
These aren't the only places you can find a meal cooked in-house along with your beer. Here are other Denver breweries that offer food:
It is not difficult to find delicious food to accompany a well-made beer in Denver and throughout Colorado. Whether enjoying a lager and some appetizers or a Belgium beer and some fries, these are great options.