At over 13,000 feet in elevation along the Great Continental Divide, Argentine Pass is one of Colorado's highest off-roading destinations. Once the snow is clear in late July, high clearance 4×4 vehicles can enjoy a breathtaking trip in Rocky Mountain high country near Georgetown.
History
After prospector James Huff discovered silver in the hills west of Georgetown, the Argentine Mining District quickly became a popular destination during Colorado's mining boom. In order to cross the Continental Divide, a toll road was built over Argentine Pass in the 1860's.
In 1875, the pass was known as being the "highest wagon road in Colorado." Despite its elevation, the route was extremely busy with miners heading to some of Colorado's most popular mining areas. Originally, Argentine Pass was known as "Snake River Pass," however it was renamed to Argentine Pass in reference to the Latin word "Argent," meaning "silver."
Following the silver boom, in 1883, the road was purchased by Clear Creek and Summit County. This led to a slow decline in road conditions as it grew less popular and proper road management was neglected. Sixteen years later, the first telephone line connecting Denver to Leadville was fully completed over the pass. In the 1950's, an unfinished mining tunnel was completed in order to divert water east of the divide.
Argentine Pass Accessibility
From the East, Argentine Pass can only be accessed through a rough 4×4 road. It takes between one and two hours to reach the summit from Georgetown, and there is plenty of parking at the top. If you are hoping to spend the night, there are many dispersed camping sites lining the route to east of Waldorf. Along the way, there are also many side-roads worth exploring.
Seasonality – Typically there are snowbanks blocking access to the top of Argentine Pass until late July. Some years, people take it into their own hands and clear the route with a shovel. Argentine Pass is best driven in July, August, and September.
Vehicle Restrictions – Argentine Pass can only be accessed by high clearance 4×4 vehicles. The route is extremely rocky and gets very narrow at the top. Unlicensed vehicles, like ATVs, are allowed to travel to Argentine Pass, however over-sized vehicles are not advised.
Activities near Argentine Pass
From the West, Argentine Pass can also be traversed via the Argentine Pass Pack Trail. The pass marks the point of highest elevation along the American Discovery Trail, a coast to coast route for biking and hiking.
Argentine Pass is nestled in the front range of the Rocky Mountains with easy access to the Arapaho (by Clear Creek County side) and White River (Summit County side) national forests. From Argentine Pass, visitors are greeted with the incredible mountain views of some of Colorado's most popular summits, like Grays Peak and Torreys Peak.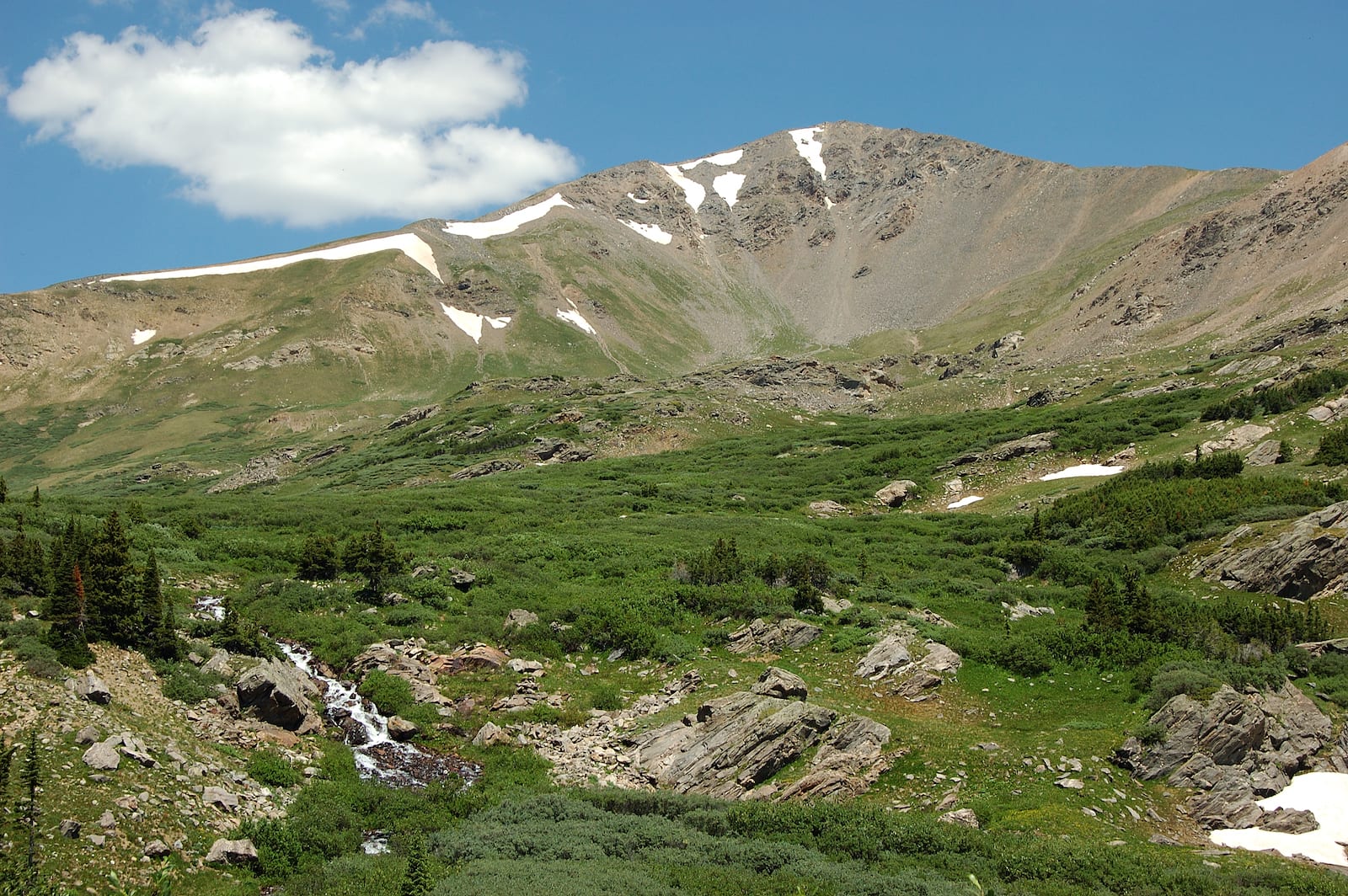 Details
Address: Offroad Trail, From Co Road 352/Leavenworth Creek Rd south of Georgetown, CO
Season: July – October (Snow blocks the top until mid-summer)
Elevation: 13,207 ft (4,025 m)
County: Clear Creek County / Summit County
Mountain Range: Front Range
Coordinates: 39°37′31″N 105°46′57″W
Access: From Guanella Pass Road, take a right and drive 11 miles up Co Rd. 352.