Telluride's Via Ferrata is one of the most spectacular climbing experiences in the state. It combines mountain hiking with the traditional via ferrata ladder/cable systems. Only experienced hikers, climbers and adventurers should attempt this 3 mile route without a guide.
The term via ferrata means "iron road" in Italian. In was in the Alps where the first ones were created to make difficult-to-climb mountains more accessible. It was a travel route from a to b. During the first World War they came about to move troops easier by using a combination of climbing aids including fixed cables, ladders and bridges.
Traversing the Iron Road in Telluride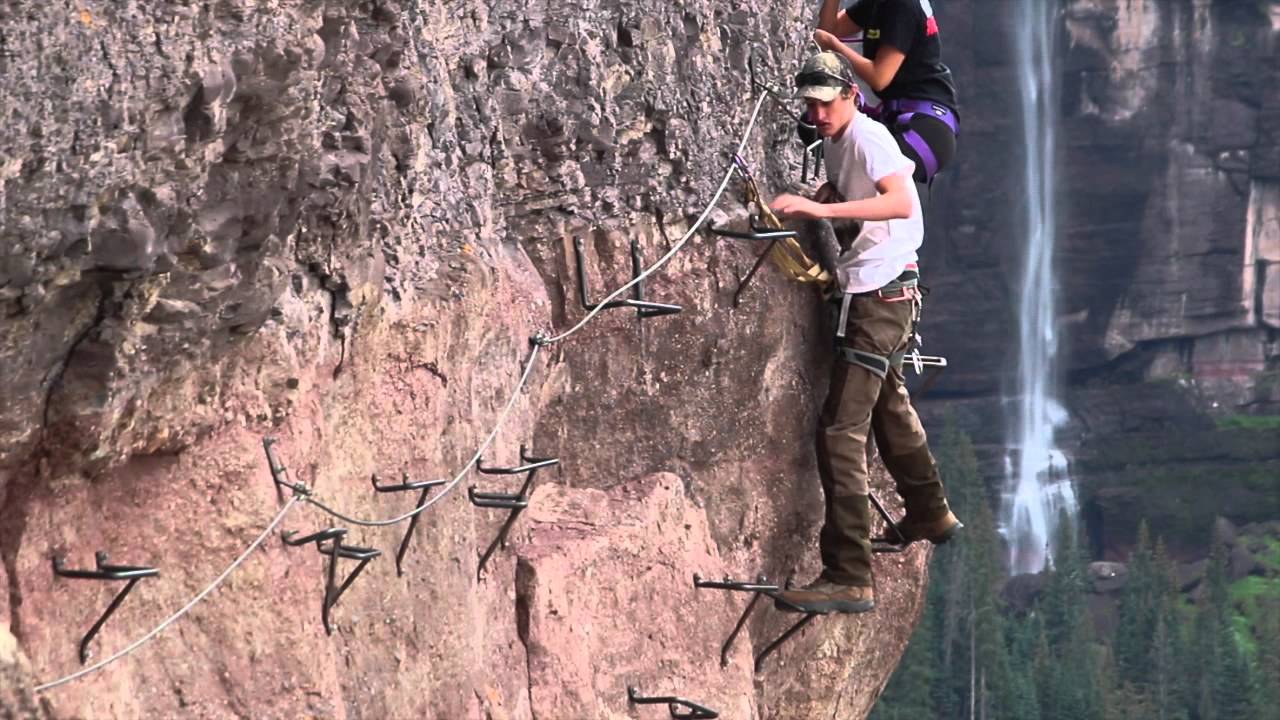 A local mountaineer, Chuck Kroger, established the route when he moved to Telluride. After he passed away due to cancer, the route was finished by volunteers. The views from the surrounding San Juan Mountains, town of Telluride and Bridal Veil Falls are outstanding! You'll actually be hiking the sheer rock side of Telluride's iconic box canyon. You'll be traversing the south facing box canyon wall below Ajax Peak.
The route requires both mountain hiking and technical climbing knowledge and is not for the feint of heart. Prepare to dangle by a thin cable 500 feet off the ground on the side of a steep mountain. There are some dramatic drop offs. It's only recommended for use in the summer, from May to October.
Via Ferrata Route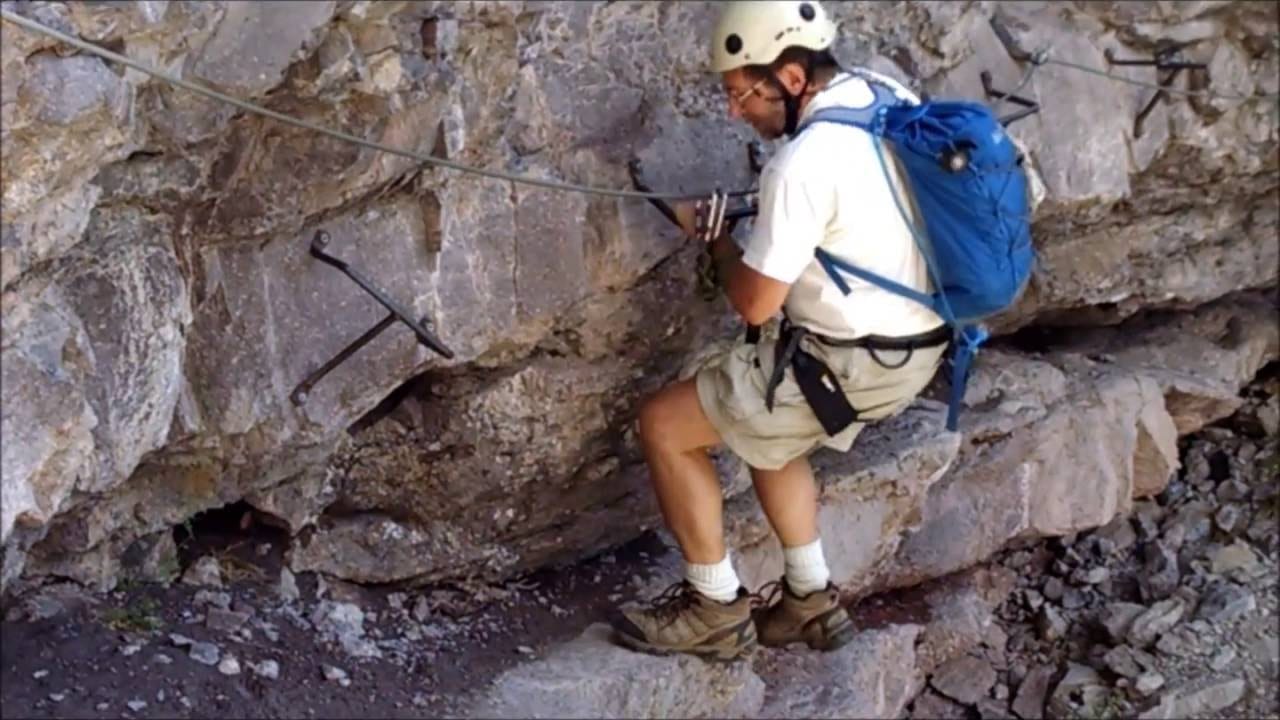 Also known as the "Krogerata" after its founder, his trail goes horizontal across the mountain, unlike some others that go vertical too. It takes about 2 hours to complete, although it can go longer due to crowds, more often taking 4 to 6 hours. Participants gain the safety of steel/iron rungs and cables. Wear your hiking boots as there are plenty of dirt paths between rock segments.
Due to the nature of the trail, once you start on the Via Ferrata it's best to finish. Otherwise you'd to turn back and go back the way you came, which puts you with others coming at you. Be patient. Naturally, weekends are busier. It can be done both as a loop and an out-and-back hike. It's rated a 2B.
There is significant risk involved throughout the Via Ferrata. Even at times when unclipped a fall could be fatal. Practice caution when hiking it and know your equipment. Some sections are un-cabled to add a technical mountaineering element to the hike. It's important to know proper hand and footholds to aid your climb.
Guides
If you've never been before, it's recommended you go with an experienced guide. There are several available like San Juan Mountain Guides who dubbed themselves "The Local Experts." They host all ages and ability levels with an adventurous attitude. It's not recommended for small children or very short adults.
Another local crew is the San Juan Outdoor Adventures, whom also guide hiking and mountain biking tours. You can also opt for the local experts Mountain Trip, accredited by American Mountain Guide Association (AMGA).
Local guides know the route, weather and equipment well. They provide you with all the well tested gear for the trek and practice using it.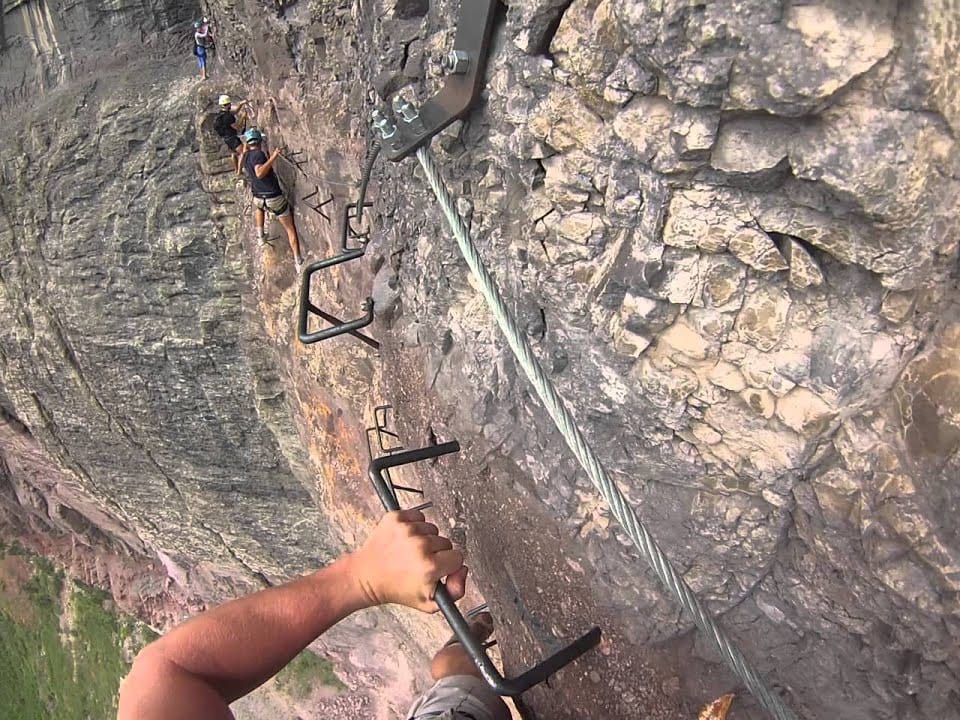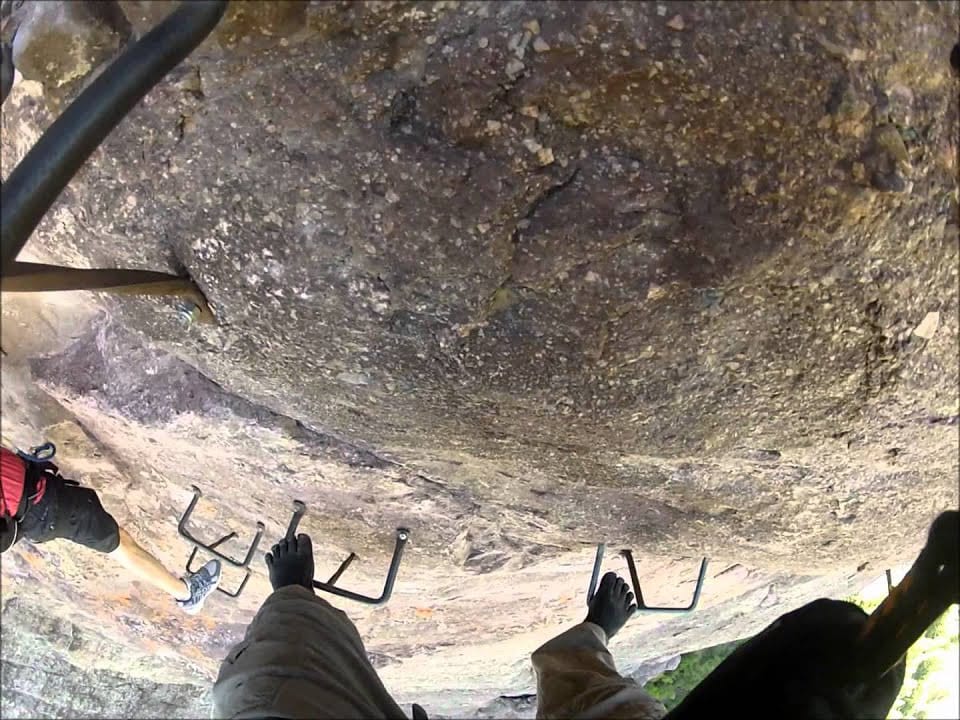 Equipment Needed
The worldwide safety standard for Via Ferrata travel is a special Via Ferrata harness attachment. There are shops in town, like Jagged Edge, which sell this product. Or you can order on online. If you don't have the recommended gear and experience, go with a guide who can provide it.
Climbing Harness
Helmet
At least three Locking Carabineers
Dynamic Via Ferrata Lanyard with shock absorber (affiliate link)
Hiking Shoes
Water and Snack
Headlamp, Rain Jacket, First Aid Kit (just in case)
Getting There
You'll start on the same route from downtown Telluride as you would to reach Bridal Veil Falls. There are two starting points on the east end of the box canyon, a higher and lower. The higher is by far more popular and thus recommended as it puts you going with the flow.
Take Bridal Veil Falls Road or park and hike up. Near the bottom are mine settling ponds with a little parking area. It's about a half mile hike from head to the Lower Trailhead. It's a little under 2 miles to reach the the Upper Trailhead.
To drive to the top, you'll ascend Black Bear Pass on Bridal Veil Falls Road. After you past the bottom of the waterfall is a little switchback. The trail is accessed from here, although it doesn't have any signage. Follow the trail until it narrows to a point where there are metal bars attached to the side of the mountain. Do not proceed further without being hooked into a secure harness with carabineers.
When you reach the "Main Event", be sure to peak closely around the corner or shout to see if others are coming. On the Via Ferrata's western end there is private property, please avoid trespassing and keep every clean and respected. Safe travels!
You can donate to the Via Ferrata Sustainability Fund, if you'd like to help keep the route free for all to use.
Details
Address: Forest Service Rd 648, Telluride, CO 81435
Season: May to October
Admission: Free
Website: telluridemountainclub.org/via-ferrata
Latest in Telluride Via Ferrata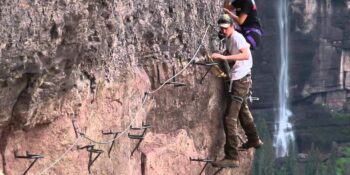 What's the latest craze in Colorado outdoor adventures? Most likely by now, you've heard the name,…