Founded in 1986, San Juan Mountain Guides provides adventures in ice climbing, rock climbing, backcountry skiing, alpine climbing and wilderness backpacking. They're known as "The Local Experts", based in both Durango and Ouray.
Rock Climbing
Year round guided trips are offered in Southwest Colorado. Everyone from first-timers to experience climbers will find routes suitable for them. Classes include:
Intro to Rock Climbing (2 days)
Rock Rescue Course (2 days)
Lead Climbing & Anchors Seminar (3 days)
Desert Rock Seminars (2-4 days)
Private Instruction & Guiding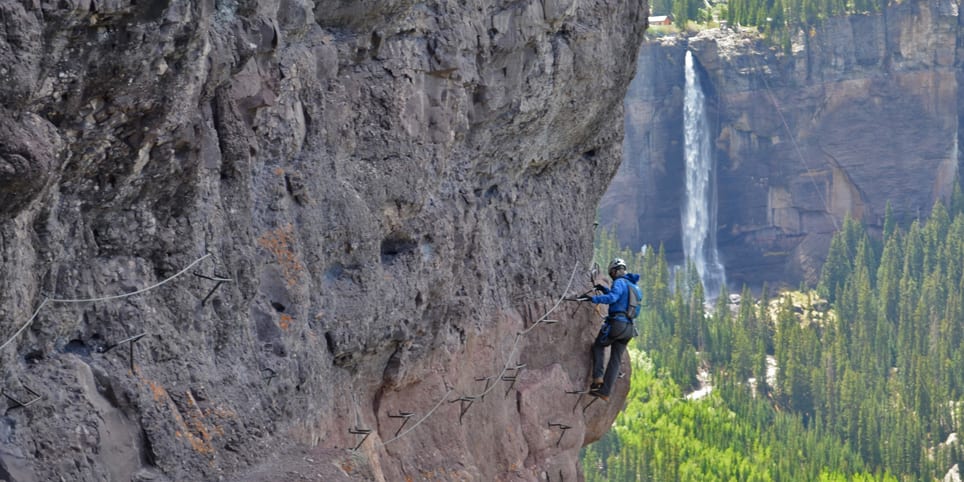 Ice Climbing
Climb a frozen waterfall in the Ouray Ice Park. Guided ice climbing courses and private programs offered in Ouray. Guides lead trips in Ouray Ice Park, Ouray backcountry, Silverton's Eureka Canyon and Telluride Area Ice, in addition to Cody, Wyoming and the South Fork Valley. Classes include:
Intro to Ice Climbing
Intermediate Ice Climbing
Ice Climber's Self Rescue
Advanced Ice Climbing
Mixed Climbing
Ice Leader's Seminar
Backcountry Ice Seminar
Early Season Ice
Alpine
From their San Juan Mountain headquarters, there is access to 14 fourteeners and hundreds of mountains over 13,000 feet. There is a variety of alpine mountaineering offered year round, with climbs for all ages and abilities. Courses include:
Intro to Winter Mountaineering & Expedition Climbing
Alaska/Denali Preparation
Private/Custom Mountain Guiding
Intro to Alpine Climbing
Fast & Light Alpinism Seminar
Alpine Leadership
Skiing & Avalanche
The San Juan's are an ideal location for backcountry skiing. Take a guided tour on Coal Bank, Molas and Red Mountain passes at over 10,000 feet for pure powder skiing. All experience levels are welcome.
Intro to Backcountry Skiing
OPUS Hut Experience
Alpine Hut Skiing/Snowboarding Trips
Private Ski Guiding
Avalanche courses have been provided since 1992. The San Juan's have a varied nature of the snowpack, making it an ideal location for field training. Courses include:
Level 1 Avalanche
Level 1 Avalanche – Hut Based
Level 1 Professional Avalanche
Level 2 Avalanche
Ski mountaineering is an extension of backcountry skiing, which combines the summit of a peak with downhill skiing. Offering include Private Ski Mountain Guiding, Ski Mountaineering Camp, Ski The Peaks, and Chicago Basin Ski Expedition.
Trekking
Guided trips are geared towards beginner and intermediate trekkers of all ages. They take place in the Weminuche Wilderness, usually either the Chicago Basin, Continental Divide, Ice Lakes Basin or the Colorado Trail. The wilderness area is access via the Durango & Silverton NGRR. In addition to overnight, multi-day hikes, single day hikes from Ouray are led.
Expedition
A mix of extended trips to foreign destination are tailored to each traveler. There are a select number of trips led by senior guides per year, including Alaska, South America and Europe.
Canyon & Via Ferrata
SJMG guides a number of canyoning trips to Moab and Ouray for every level of canyoneer. Canyoning combines technical descents and whitewater challenges. Join them on a summer trip to Telluride for its legendary Via Ferrata.
Details
Address: 725 Main St, Ouray, CO
Phone: 800-642-5389
Season: Year round (rock climbing)
Season: December to March (ice climbing)
Website: mtnguide.net