Driving during tough winter conditions in Colorado is tricky, so to curtail those risks as much as you can, follow these tips for safe winter driving. Snow and ice can happen at anytime in the Rocky Mountains.
There are so many fun snowy activities to enjoy in the Rockies that people from all over the country flock to the mountains. Weather that can be fun and adventurous on the slopes can be equally unpredictable on the roads.
Advice for Snowy and Icy Driving Conditions in Colorado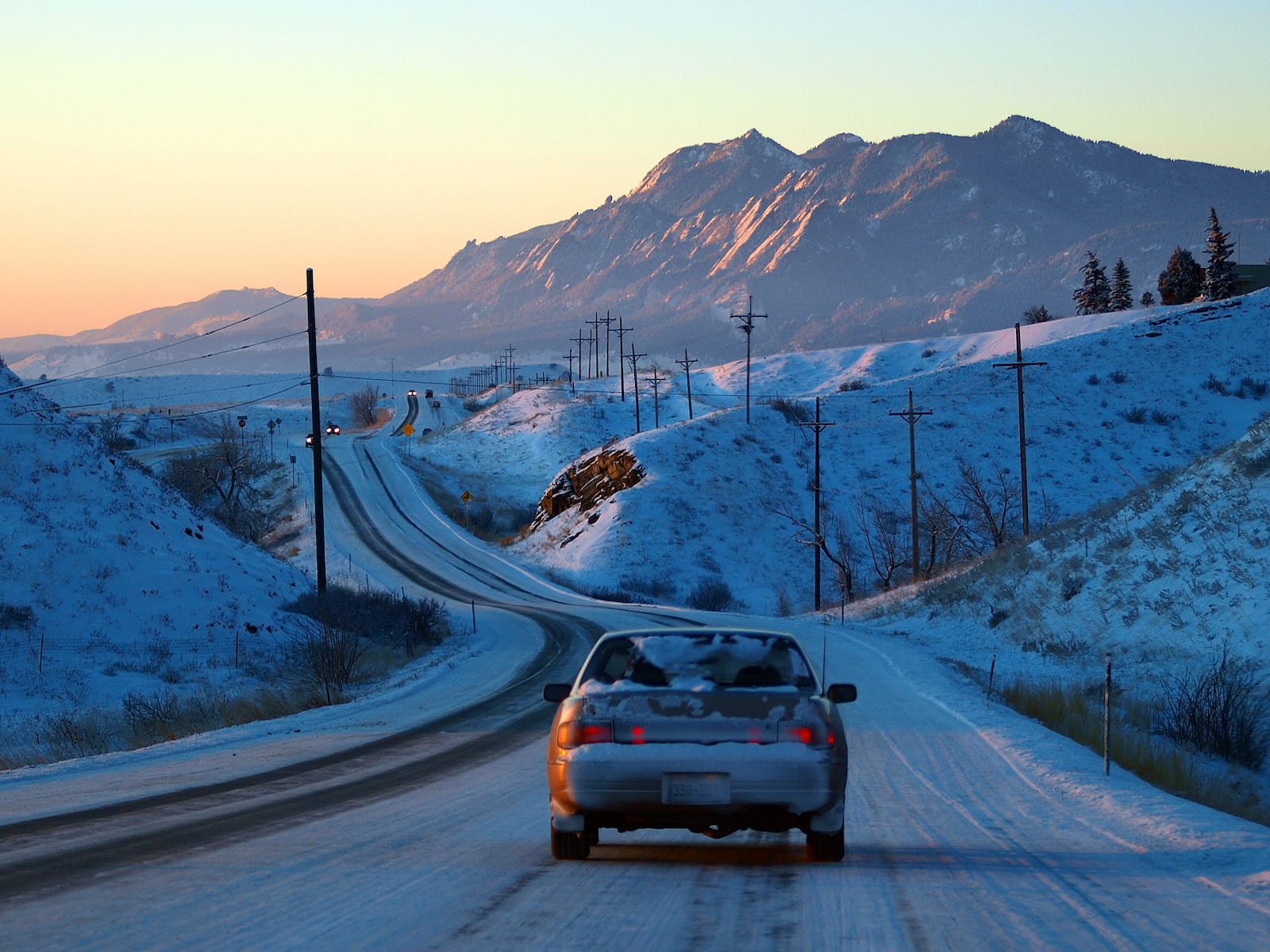 It doesn't take long for conditions to become treacherous in states that have winter weather for part of the year. Roads can get slick and icy fast, making driving a challenge for even the most seasoned driver. No one wants to ruin their skiing vacation by ending up in the ditch before you ever get to the resort.
Accidents can happen to anyone at anytime but, when you add slick winter roads into the equation, the number of car accident victims can increase drastically. To help you stay safe on the roads when the snow starts to fly, follow these safety tips for accident free driving.

1. Winterize Your Vehicle
If you're flying into Colorado for vacation, you'll probably need to rent a car to reach your mountain destination. Make sure you have a solid and reliable vehicle to take out on the road. It should have winter tires installed (or at least all season with great tread) and the appropriate safety accessories included in the car.
Driving in snow and winter conditions safely takes more than just skill. Folks from Denver can tell you that snowy roads can be a challenge even if you have lived in the area your whole life. Have your brakes checked prior to your trip and always make sure that you have a charged battery and full fluids in your vehicle.
You'll avoid a host of problems if you have your car winterized in the fall:
Have your engine tuned-up at the mechanics.
Confirm that all lights are working and that the headlights are clear.
Have the battery checked. Clean any corrosion with water and baking soda.
Ensure that all fluids are at their appropriate levels.
Either use all-season or winter oil.
Have the wiper blades cleaned and/or switch to winter wiper blades.
Make sure tires are inflated and have good traction – snow tires go a long way.
2. Prevent Carbon Monoxide
To prevent carbon monoxide from leaking into the car when the engine runs, you must always make sure that the exhaust pipe is never clogged with ice or snow. Make it a habit to check this every time before driving anywhere during the winter.
3. Plan Ahead
Winter driving conditions in Colorado have the potential to change in an instant. You can't assume that just because the sun is out now, the weather won't turn into a nasty blizzard later on. Plan ahead and be prepared for any type of weather that could arise. Also know your route. Study in advance so you are aware of any high mountain passes and directions you'll need to follow. And wipe any snow off your windshield, windows and lights prior to driving.
4. Traffic Cams
CDOT has an invaluable website, COTrip.org, which allows anyone to watch live traffic cams across the entire state. This way, you'll be constantly informed of road closings, weather conditions, and traffic. You can even download a free mobile app.
5. Have a Car Survival Kit
In case of emergencies on the road you should keep the proper supplies ready in your car. A first aid kit, a shovel, a set of tire chains
(affiliate link) and some sand or kitty litter can be invaluable during an emergency. Without question, every car on Colorado's winter roads should have a survival kit that sits in the trunk or beneath the seats 24/7:
Candles
Cat Litter (for trekking over ice)
Cell Phone
Cloth (brightly colored, for signaling help)
Water, Dried Foods/Protein Bars
Fire Starters (flint striker, lighter and matches)
First Aid Kit (familiarize yourself with the contents) (affiliate link)
Flares
Flashlight (durable, with spare batteries)
Hand Warmers
Knife (folding or fixed, and with a durable blade)
Jumper Cables
Metal Cup
Snow Scraper, Snow Shovel
Sleeping Bag, Space Blankets
Spare Clothes (boots, coats, snow pants, hats, wool socks, etc)
Sunglasses (to protect your eyes against the glare from snow and ice)
Tire Chains
Tow Rope
6. Avoid Cruise Control
There's no denying that cruise control is a very nice feature to have when driving in normal conditions, but in the winter the dynamics change and using cruise control is unfortunately unsafe. If your car skids it will accelerate by spinning the wheels, because it's trying to keep up with the predetermined speed. This makes it significantly more difficult to control the vehicle if such an event were to occur.
7. Keep Your Gas Tank Above ½ Full
You've probably heard before that you should keep your car's gas tank above half full at all times in the winter. This avoids gas line freeze and will give you plenty of gas to keep your car heated if you're stranded.
8. Slow Down
Driving too fast is easily the number one cause of winter driving accidents. Icy roads that may not look icy, de-iced roads that could still be slippery, low visibility, and other moving vehicles are all good reasons to slow down on the road. Don't tailgate and keep an eye on your rearview mirror to make sure nobody gets too close to you. Use your brakes sparingly, and like you're stepping on an eggshell if braking in the snow.
9. Easy On The Brakes
For most drivers, when things start to get slick, it's the natural instinct to hit the brakes to help slow your vehicle. When you are driving in the harsh weather of a Colorado winter, hitting the brakes can often just make things worse. Reducing your speed and only using your brakes when necessary can help you to avoid sliding and slipping along the road.
If you find yourself sliding or fishtailing on black ice or slick packed snow, avoid the brake and steer into the slide. Oversteering or overbraking can send you into the ditch.
10. Take Your Turns Wide
Avoid sharp turns. Take wide arching turns when driving on snow and ice. This will decrease the likelihood of slipping out of control. Take your turns very gradually and allow plenty of space.
11. Don't Idle Your Car
Contrary to what many people think, you shouldn't warm up your car by idling the engine. This will only worsen your gas mileage, potentially cause damage to your engine and won't warm up your car very quickly. The right way to warm up your car is to drive it.
12. Don't Stop Going Up a Hill
This doesn't mean you should power out and get to the top of a hill as quickly as possible, but it does mean that you need to gain inertia on a flat surface before reaching the hill to carry you to the top. Once you make it to the top, slow down and proceed very slowly. On narrow roads the vehicle going up hill has the right away. Car driving downhill must yield.
13. Know What to do if You Get Stranded
It's a very empty feeling to be stranded in your car out in a remote place, but as long as you know what to do when stranded, help will eventually come and you'll be rescued.
Never wander from your vehicle. The only times you should leave the vehicle are to tie a colored cloth to the antenna to signal for help, and to routinely remove any snow from the tail pipe to prevent carbon monoxide buildup.
Run the engine for five or ten minutes every hour to keep you warm, and remove any snow or ice from the tail pipe. You can set a candle on fire in the cup holder for extra warmth, though remember to open one of the windows just a little to keep your car from becoming air tight.
14. Don't Drive Alone
The buddy system can work well for you if you are driving in hazardous winter weather. Whenever possible, avoid heading out into a storm on your own. Make sure that you alert someone about your destination and your approximate ETA. This way, if you are overdue, someone can send help in case you have gone off the road. Put the stronger driver in front to set the slow pace as it's usually easier to follow someone else's lights during blizzard.
15. Practice Driving on Snow and Ice
Driving safely from A to B and wherever else you see yourself going should be a top priority. If you're new to winter roads consider putting in the practice in parking lots and other open spaces to allow yourself a chance to make mistakes. Even if you're a tourist with a car rental, spend some time learning how your vehicle operates in these conditions in a safe area. The more you do it the better you'll become.
Although driving is always unpredictable, everyone should acquire the skills needed to face the winter roads without relative fear. Know how to handle your steering wheel, and the subtleties of the brake and gas pedals on a slick road. Remember no high beams during a snow storm, only low beams.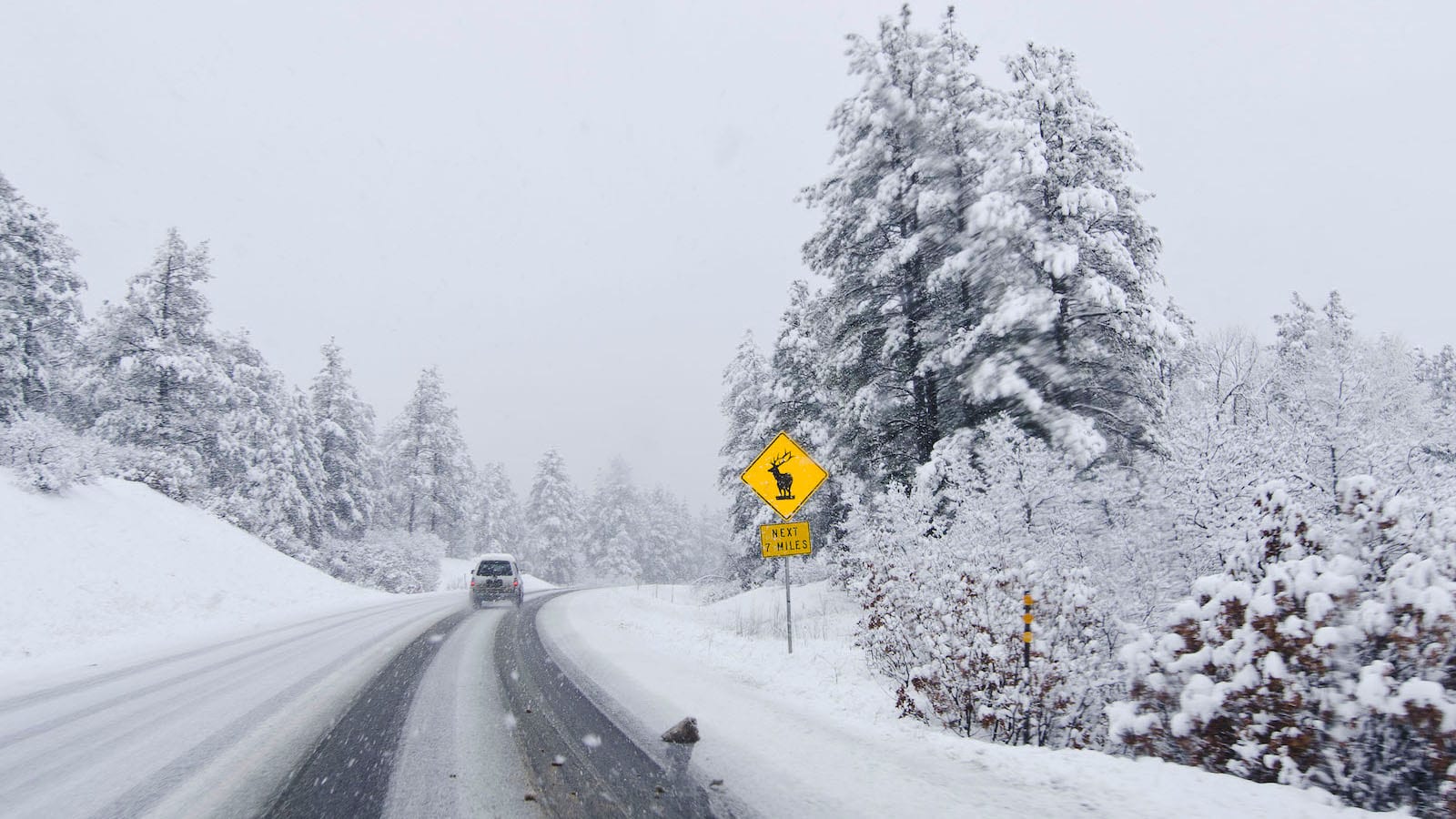 The winter in Colorado can be an absolute wonderland but it can also be a challenge for anyone that is behind the wheel. Keeping calm and being prepared for the worst case scenario can help you stay safe and have a great vacation. Thanks for reading over our winter driving tips. Most importantly drive slow! It's better late than never at all.