Hovenweep National Monument features five village groups of the Anaszi people, or Ancient Pueblo. It's located in Southwest Colorado, between Cortez and Blanding, Utah. All 5 sites are located along a 16 mile road in the high desert.
The Visitor Center is located just across the border in Utah. It's a modern facility with exhibits, info and a small gift shop. There's a 31-site modern campground situated next to the visitor center and next to an awesome 2 mile loop trail, the Square Tower Group.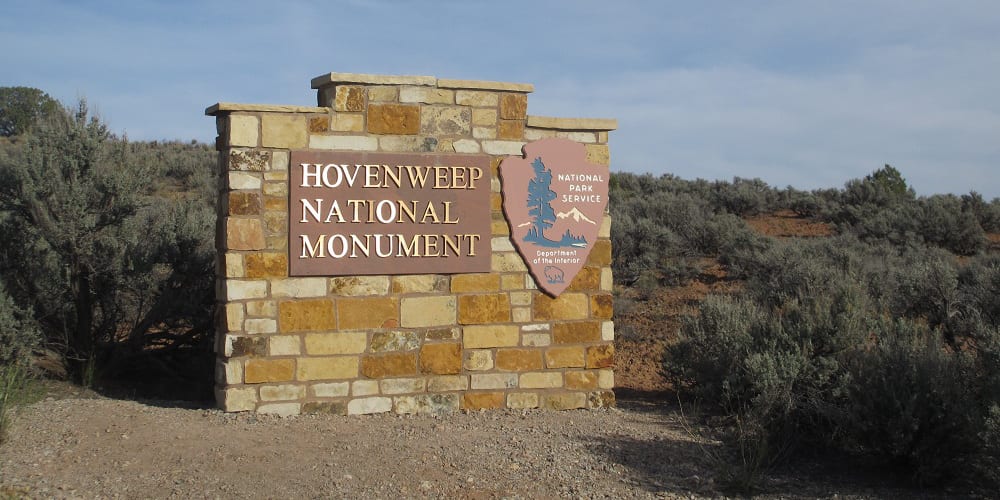 Although headquartered just across the border in Utah, Hovenweep Monument has several ruin sites to the east in Colorado. The main attraction is Square Tower, which is located by the visitor center in Utah.
Ancient Ruins at Hovenweep
All the sites offer something unique and are worth visiting. If you only have time for one, see Square Tower.
Square Tower – The most popular archaeological group at Hovenweep. A 2 mile trail wraps around all sites, including Hovenweep Castle.
Horseshoe & Hackberry – A 0.8 mile hike takes you by these two ruins.
Holly – Several ruins make up this exciting group.
Cutthroat Castle – Shares a dirt road with "Paint Hand" of Canyons of the Ancients. It's about a mile and half round trek if you don't a real high-clearance vehicle.
Cajun – Located furthest south is this group of several ruins.
Square Tower (Rim Rock Trail)
The main rim rock trail takes approx. 1.5 hours and is quite scenic. There are several old towers perched atop a canyon cliff. Hovenweep Castle is the main attraction.
Horseshoe and Hackleberry
Both are seen along the same mile round-trip hike. The ruins are in good shape and are quite the sight.
Holly
You can drive to the edge of the trailhead. It's a short hike from here. Several towers on top of a canyon.
Cutthroat Castle
The road is not very developed. Most cars should be fine, but SUV and high-clearance is performed. Be prepared to walk the last 0.8 miles trail unless you have a Jeep. The castle itself has several old ruins, each a sight to see. The road is the same as going to Painted Hand of Canyon of the Ancients.
Cajun
The Cajun group is located the most southerly in Utah. It's not super well marked, so keep your eyes peeled for it.
Activities at Hovenweep
Camping – Yes, the campground has 31 scenic sites in a circle, open year round on a first-come, first-serve basis. Several sites look out over a canyon, while others have the Sleeping Ute Mountain to gaze upon. Most are for tent camping, though some will accommodate RVs up to 36′.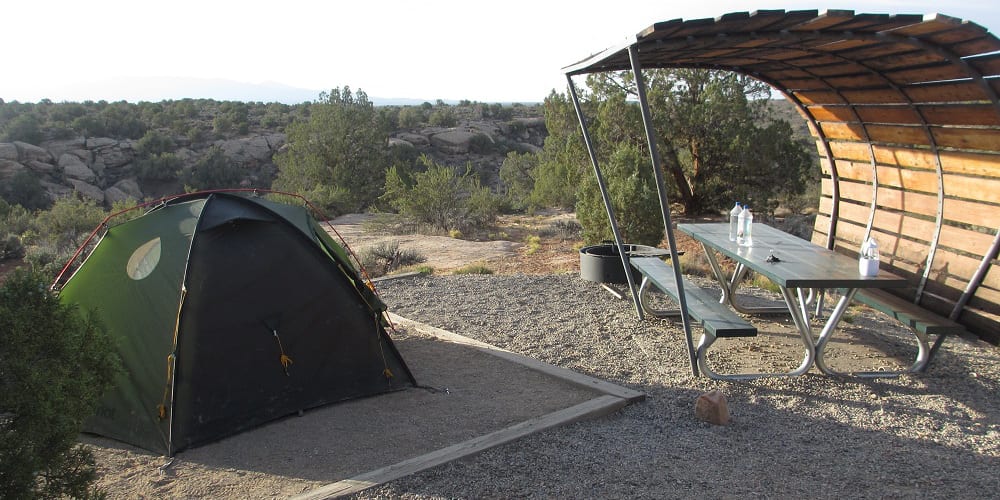 It's an ideal campground in the high desert, located next to the visitor center and the two mile hike around the monument's main attraction: Square Tower Group. This Rim Rock Trail is a can't miss and really adds to the campground experience!  Take a sunset walk.
Campsites are priced reasonably, water is supplied, restrooms, fire pits, and tables with sun awnings. To get into the park there is a fee for for a vehicle, as well as walk-in, motorcycle or bicycle.
Read about the more camping near Cortez and Mesa Verde.
Hiking – Rim Rock Trail near the Visitor Center is a remarkable hike 2-mile trek around the Square Tower ruins. It circles around the top of the canyon, passing by many ruins like Hovenweep Castle. There is an option to take a trail into the canyon as well. The trail takes 1.5-2 hours.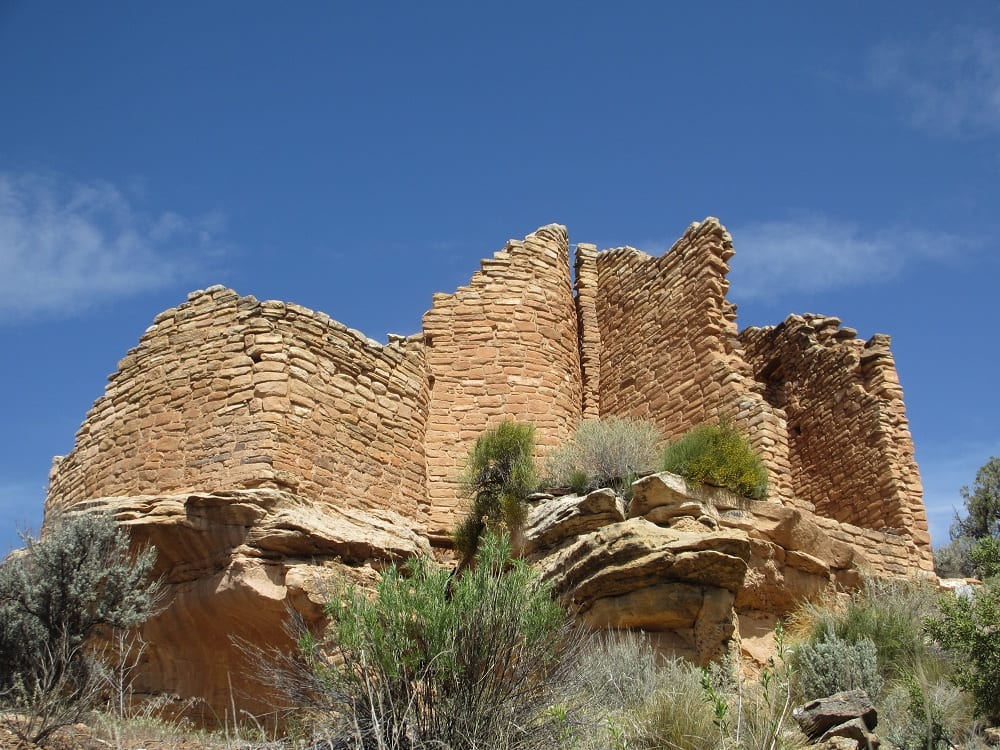 The trails on the Colorado side can be accessed most of the way by an unmanaged dirt road. Some are located next to the "Painted Hand" ruin from the Canyons of the Ancients, which is nice and makes it easy to see both national monuments at the same time. The ruin sites aren't as well marked on the Colorado side. They are marked just by a small wooden sign with a picture of a white dove. Check out Mesa Verde National Park for more archeological treks.
Tips:
It gets hot out here and there's not much around. Bring a full tank of gas, water and snacks.
One of the ruins takes you by "Paint Hand", part of Canyons of the Ancients National Monument. It's best to combine the two sites into one trip.
Details
Address: Montezuma County, CO
Nearby Towns:
Phone: 970-562-4282
Season: Year round
Entrance Fees: Yes, vehicle, bicycle and walk-in
Website: nps.gov/hove
Latest in Hovenweep National Monument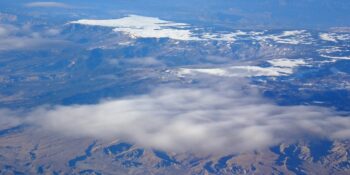 The Colorado Plateau encompasses a massive land area that features a series of plateaus or mesas…