The Mile High City boasts its fair share of summer theme parks to keep the young and young-at-heart entertained. With a myriad of amusing rides and attractions, all ages will find something they enjoy.
There are both your standard amusement park rides like roller coasters and merry-go-rounds, as well as water parks to beat the summer heat. Season dates very, however, most parks open by Memorial Day and remain open through Labor Day, much like your neighborhood swimming pool. A couple of the last listings aren't you're typical theme park, and are located just outside the Denver metro.
Here are the theme and water parks near Denver, CO, in no particular order:
Elitch Gardens Theme & Water Park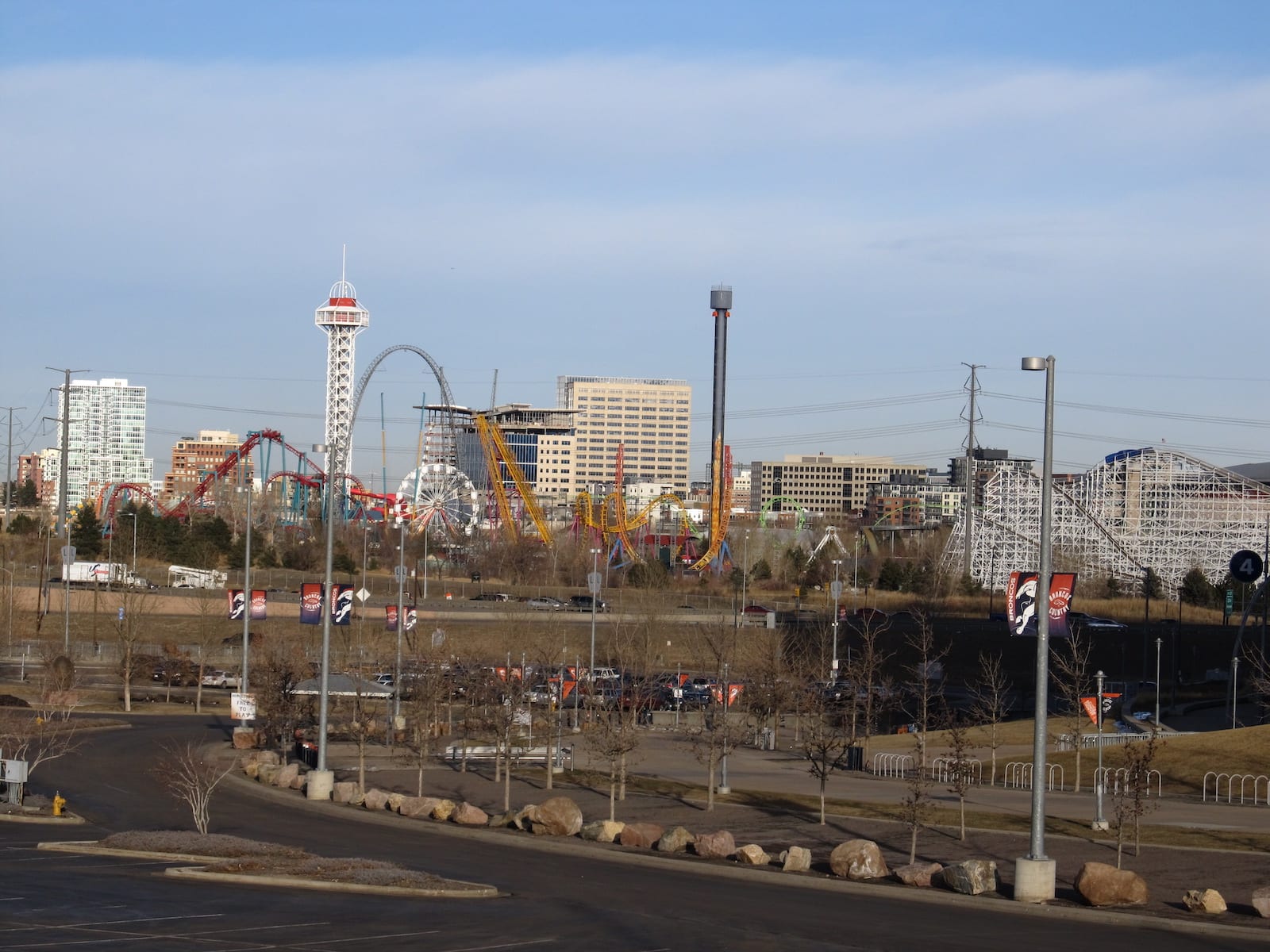 This is Denver's most well known and largest theme park. Elitch Gardens boasts both an amusement park and water park in the same riverside location by downtown Denver. The park, however, was sold to a group of local investors, led by billionaire Stan Kroenke, owner of the Colorado Avalanche, Rapids, Mammoth, and Denver Nuggets. Elitch will remain at its current location at least through the 2020 season, but eventually will close and relocate. The highly sought after 62 acres by the South Platte River will be transformed into a new residential and commercial neighborhood known as The River Mile, taking up to 25 years to complete.
For 2020 the Island Kingdom Water Park is open from Memorial Day Weekend through Labor Day from 10:30am until 6pm. The amusement park at Elitch Gardens has a longer season, open starting mid April for season pass holders, then on weekends until early May when it begins operating daily. It stays that way through mid August, then cuts back to weekends only through October for its Halloween festivities.
2000 Elitch Cir, Denver, CO 80204 | 303-595-4386 | elitchgardens.com
Water World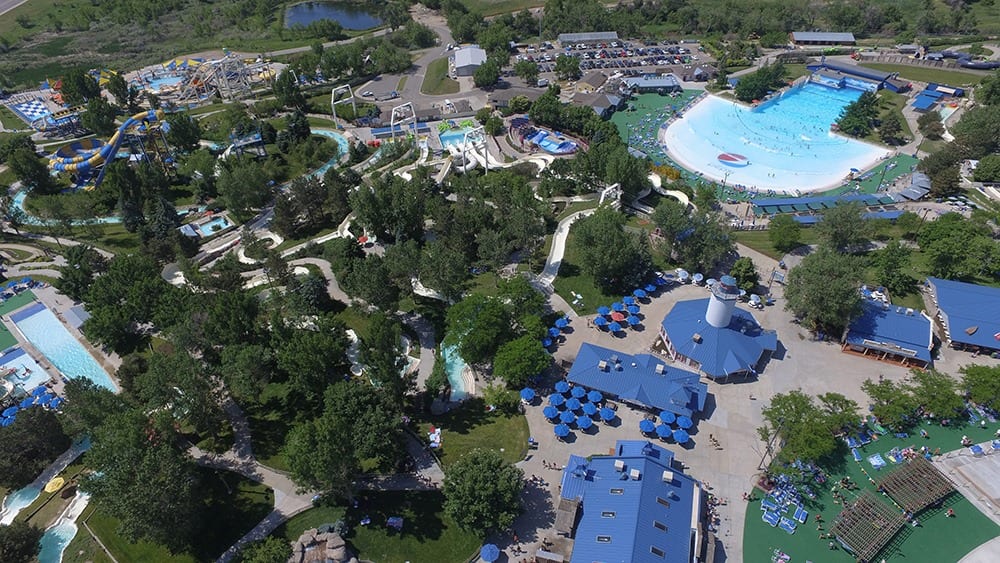 Located just 9 miles north of downtown Denver on I-25 in Federal Heights, Water World is Colorado's largest water park. It's a well known summer attraction for Denverites, and was even mimicked on an episode of South Park (as Pi Pi's Splashtown). There are over 300 certified lifeguards, at least one at every water ride available. All ages, from little ones to grown ups will find multiple attractions for them. Even adults will find many of the rides absolutely thrilling, and a bit scary for some.
The park is usually open from Memorial Day to Labor Day from 10am to 6pm. Your day pass gets you access to all of Water World's rides, and you can even leave the park for lunch and come back in. Although the food at the park is reasonably priced. If you're really hungry, go Pharaoh's Feast All Day Buffet for $15.99 + tax. You can pick up bathing suits, sunscreens and souvenirs at the Island Breeze Surf Shop.
8801 N. Pecos St, Federal Heights, CO 80260 | 303-427-7873 | waterworldcolorado.com
Lakeside Amusement Park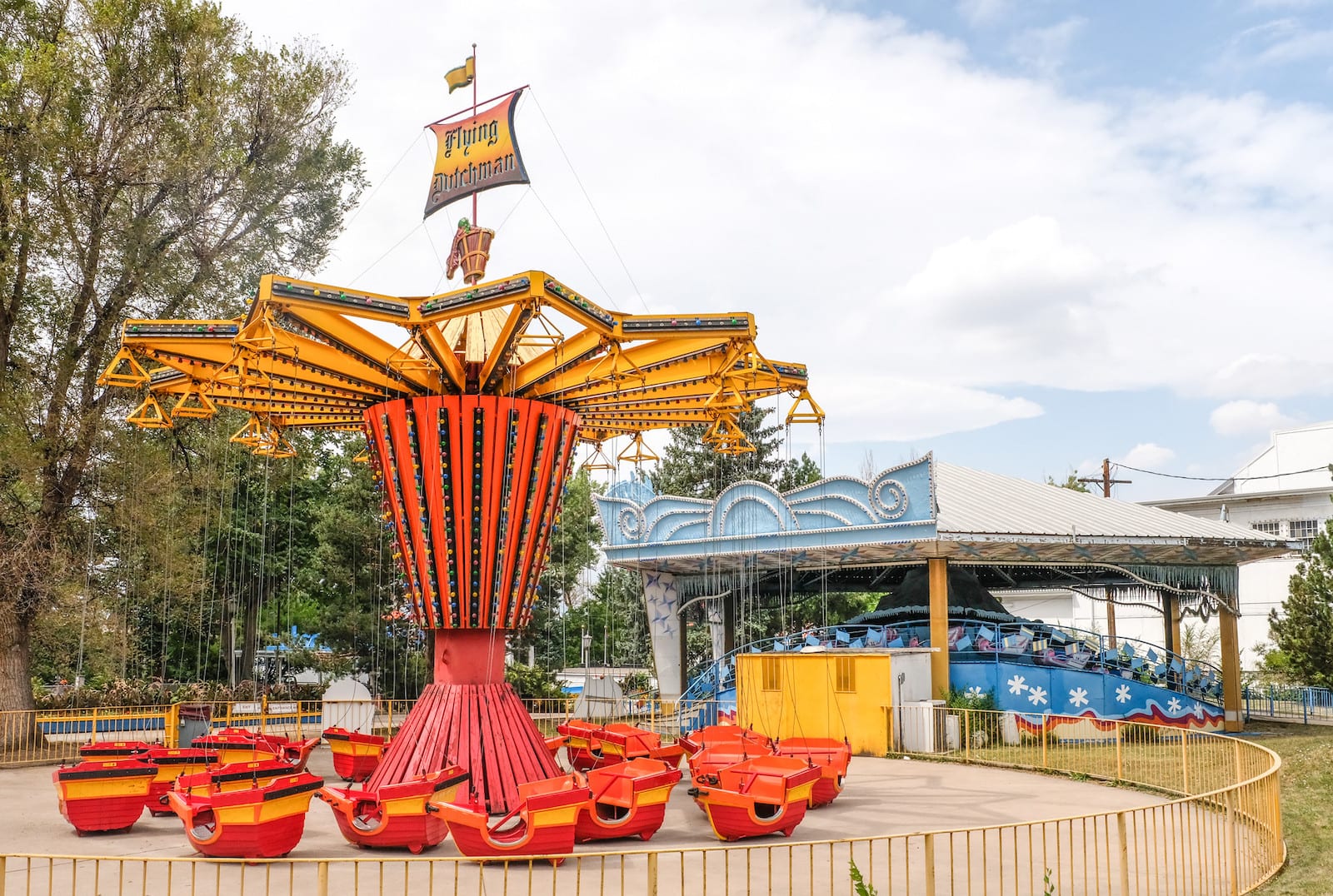 Opened in 1908, this is one of Colorado's oldest theme parks. Even if you're more into sightseeing than riding the rides, Lakeside Amusement Park is a perfect park for that. You can buy just gate admission for only $3.50 per person. Then pay per ride or just stroll around taking photos and enjoying the vibe. Or opt for entry combined with unlimited rides at only $17 on weekdays, and $27 on weekends and holidays. Plus parking is free and picnics are welcome (so byo food).
It's situated just off I-70 on Sheridan Blvd. The beautiful lake centerpiece gives the theme park's its name. Attractions include a merry-go-round, drop tower, roller coasters, bumper cars, sports cars and a myriad of spinning rides. It's scheduled to open May 8, 2020, stay open weekends in May, then go daily except for Tuesday through August 9, 2020. Then weekends only again through September 13, 2020. They even host summer camp trips for three fun Fridays during the season.
4601 Sheridan Boulevard, Denver, CO 80212 | 303-477-1621 | lakesideamusementpark.com
Tiny Town & Railroad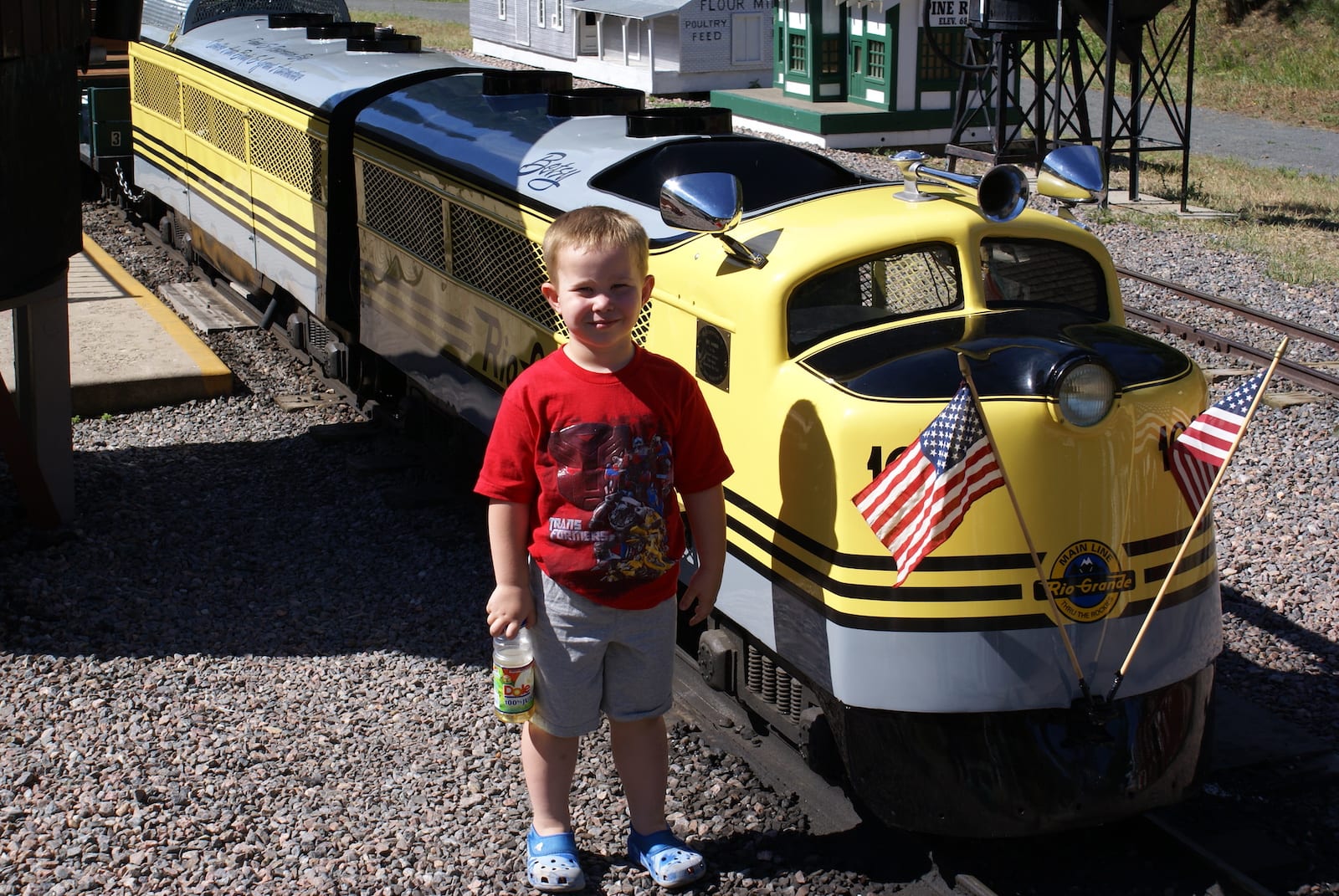 This next one's not your average amusement park, but it is a family-friendly park with a theme. That theme is tiny. So best suited for younger kids, not teenagers or adults. Located in Morrison just a little ways southwest on Highway 285 from CO-470 and the plains of Denver, Tiny Town is home to a miniature village and railroad. You can reach this "World Famous" gem in less than 30 minutes from downtown.
Kids can enjoy the playground, train rides and the child-sized buildings. Pack a lunch and enjoy a relaxing picnic full of fresh Rocky Mountain air. There's also a snack bar and gift shop. It's the perfect place for a birthday party. Tiny Town & Railroad is open weekends in May and September, and every day in between that from Memorial Day through Labor Day.
6249 S Turkey Creek Rd, Morrison, CO 80465 | 303-697-6829 | tinytownrailroad.com
Lawson Adventure Park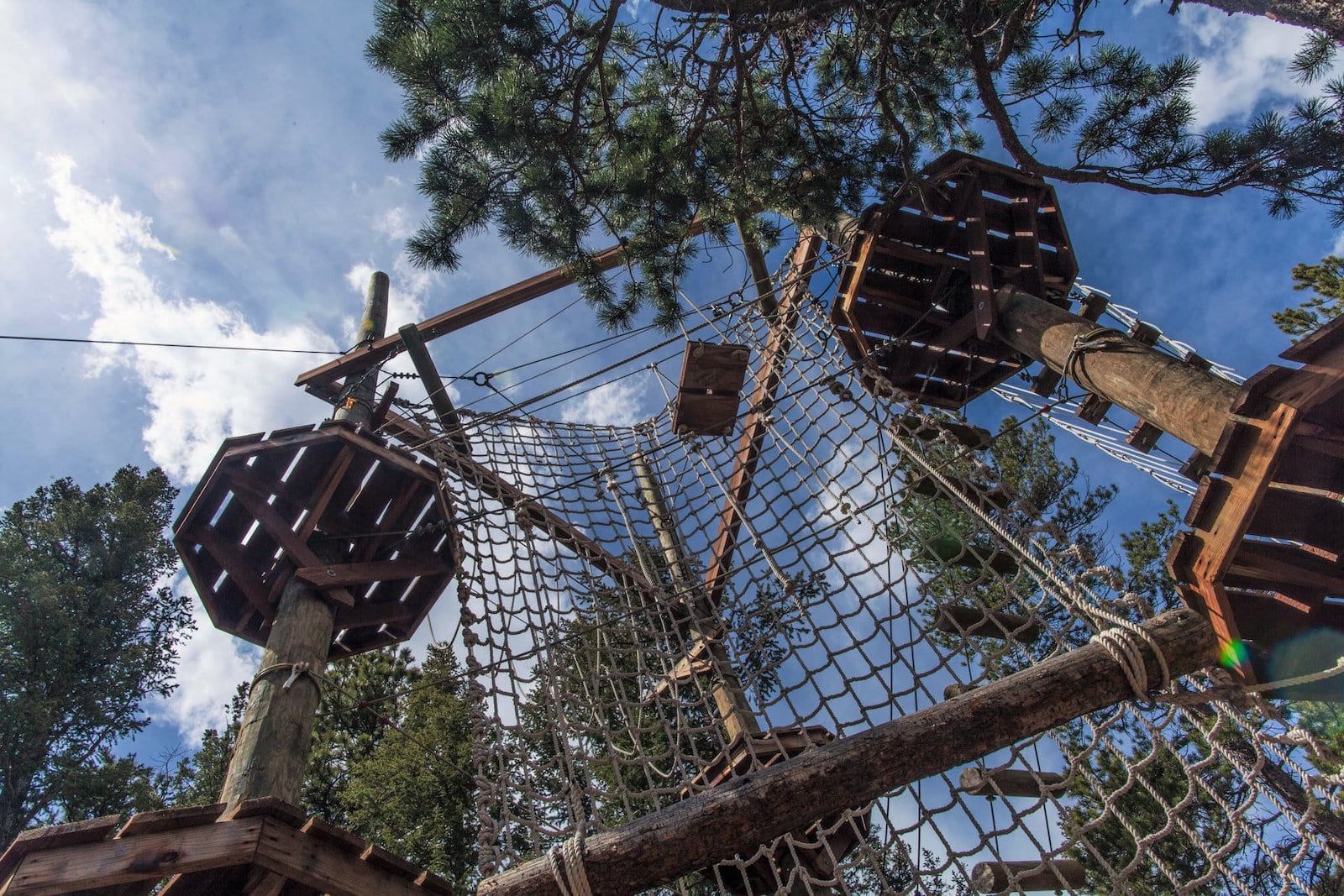 Lastly, is the Lawson Adventure Park, a "stay and play" destination due to it's year round lodging onsite. In fact they have a myriad of mountain accommodations, including fully furnished cabins and yurts, as well as campsites. They even have a full bar inside their main check-in cabin. It's located 45 minutes west of the capital via Highway 70 in Dumont, which is next to Empire. Their main attractions are open in the summer, though if you stay in spring or winter they have deals and itineraries on nearby outdoor recreation.
There aren't roller coasters or water slides here, instead it's outdoor, alpine-style activities. Summer fun includes whitewater rafting on the nearby Clear Creek or a short trip to float the Upper Colorado River.  Participants must be 8 years for beginner rafting and 14 years old for advanced. They offer a guided via ferrata on their own private course, starting at 8,200 feet on native rock. Go zipling  on their own course. Get your adrenaline going on the Mountain High Roller, which is an inflatable Zorb. The via, zip lines, and zorbs you must be 12+ years old.
3440 Alvarado Rd, Dumont, CO 80436 | 855-372-7238 | lawsonadventurepark.com
Check prices, availability or book Lawson Adventure Park & Resort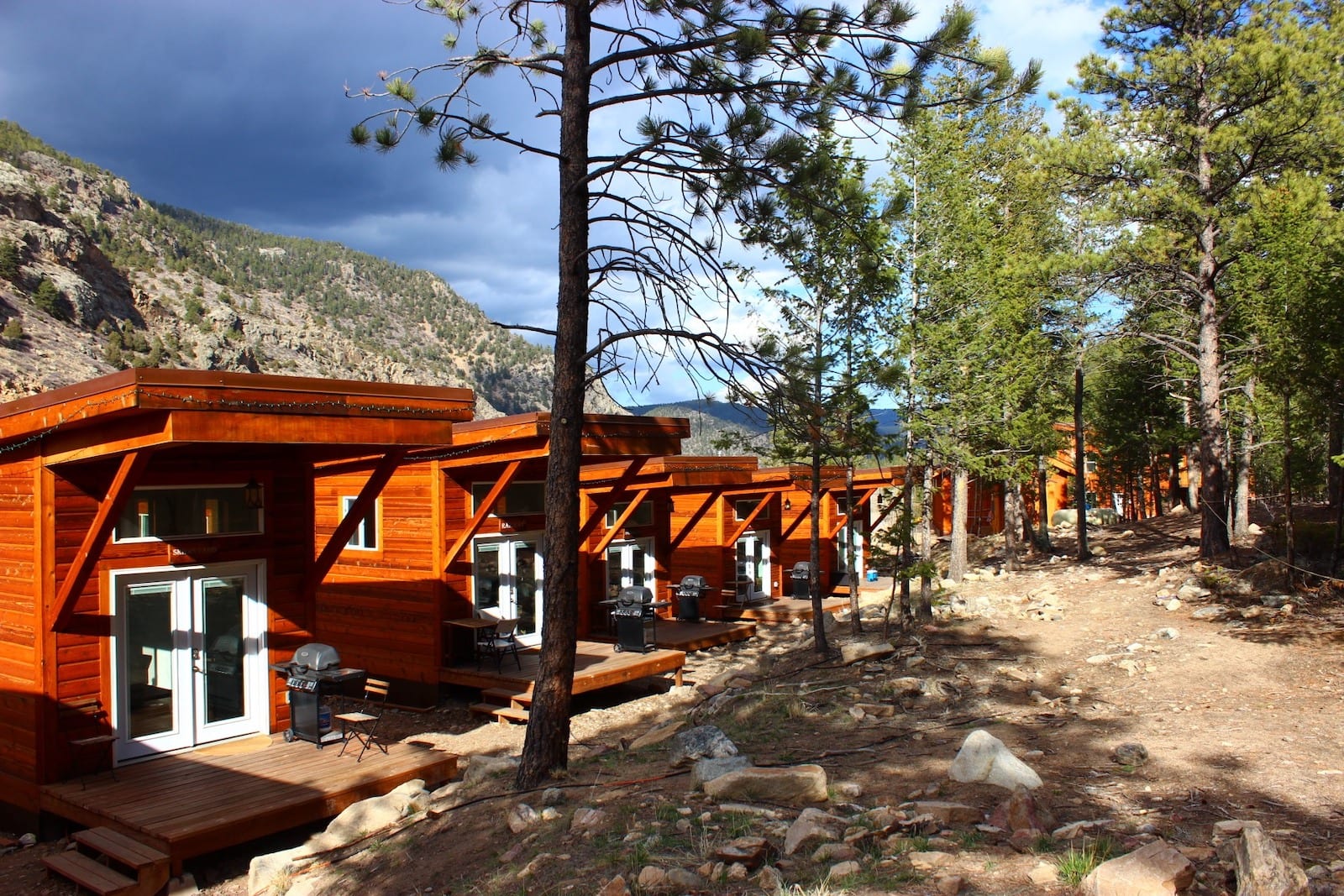 That's a roundup of the notable theme parks within an easy drive of Colorado's capital city. After Golden's Heritage Amusement Park closed in 2018, the Denver area lost one of its longtime family attractions. Hopefully, the one's mentioned above are here to stay and prosper.