One of the closest mountain retreats to the busy Denver Metropolitan Area, Idaho Springs offers tourists and locals plenty to do year round. Enjoy nearby winter ski trips or summer drives up the local 14er, Mt Evans.
Just 30 miles west of Denver along I-7o sits this quaint mountain community of nearly 2,000 residents. Idaho Springs features a historic downtown lined with shops and restaurants, all eager to greet those coming off the interstate. As one of the easiest day trip destinations to the front range, discover what this local hot springs town has to offer.
Year-round
Given its proximity to Summit County and the western slope, along with the largest city and highway in the state, Idaho Springs receives a lot of people looking for a quick reprieve from the road. And with its historic district and local mineral waters, it's always a fun time to visit.
Mine Tours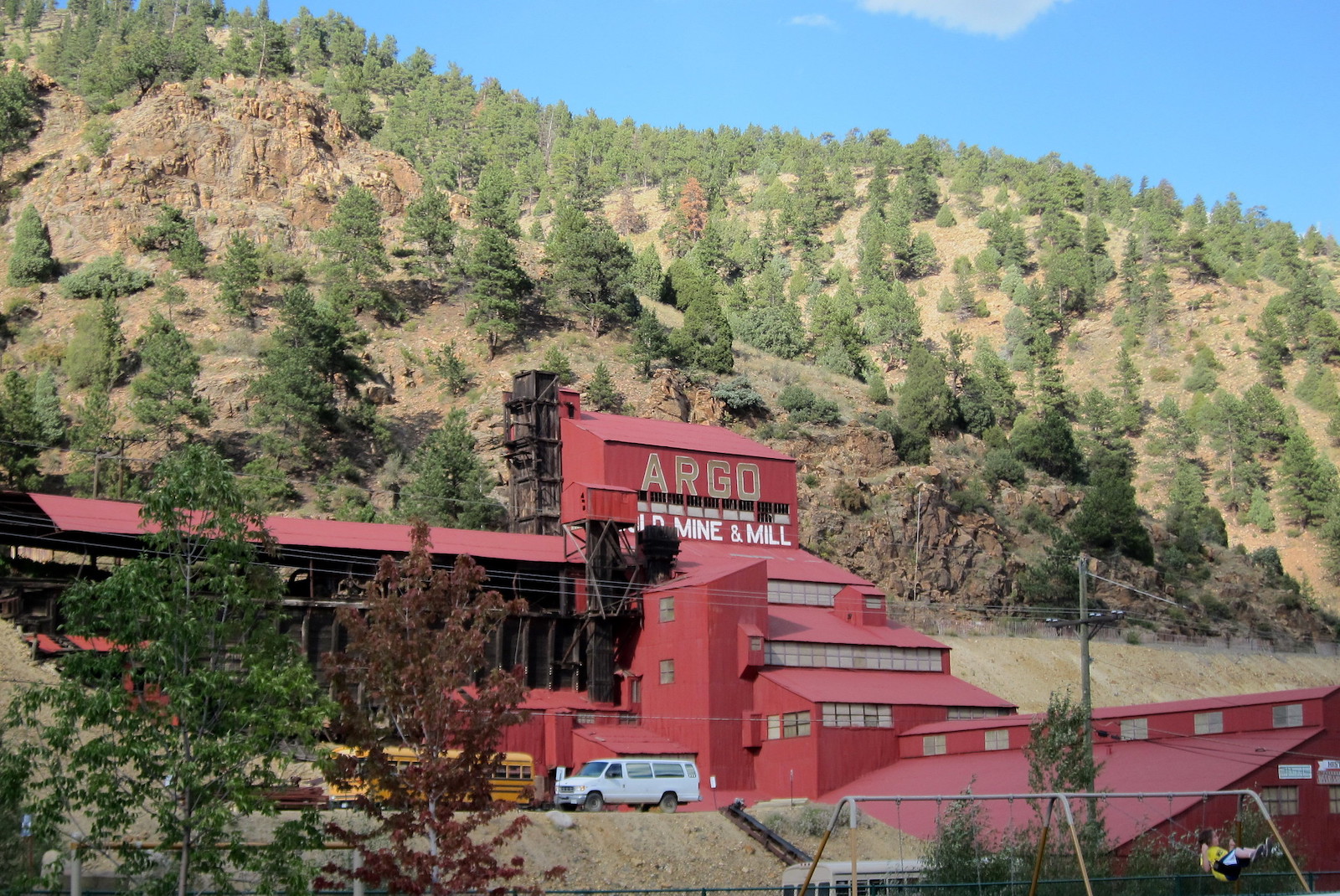 Idaho Springs is home to two authentic gold mines, both of which offer impressive tours perfect for visitors hoping to learn about the rich history of the area. The Argo Gold Mill and Tunnel is one popular option. Tours take approximately 75 minutes, and gold panning after each tour is included with the price of admission. Tickets can be purchased online.
Nearby Phoenix Gold Mine also has tours that venture deep underground. Each tour lasts approximately 45 minutes, and, like Argo, visitors have the chance to try out panning for gold after they reach the surface. Reservations are only required for groups greater than 10 people, but be sure to book ahead if visiting during the weekend to avoid a wait.
For both tours, be sure to dress warmly. Even during the summer, the mines stay at around 45° Fahrenheit.
Indian Hot Springs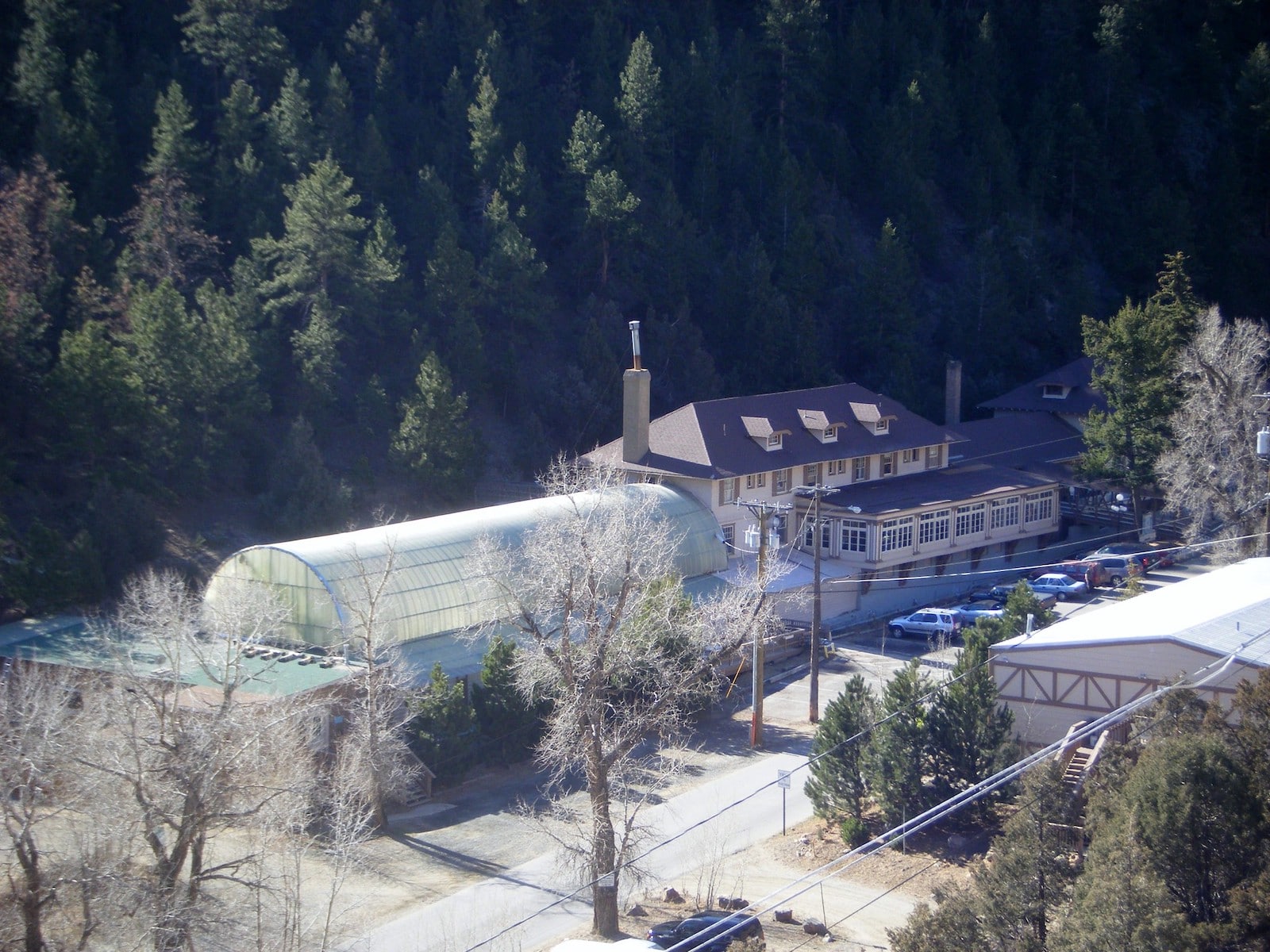 With hot spring tubs, a pool, and on-site lodging, Indian Hot Springs is the perfect destination for a relaxing retreat. Healing mineral water flows from a nearby spring at 125° Fahrenheit before being pumped directly into the resort's various pools and baths. The highlight of the resort is the swimming pool. Located under a large dome and surrounded by Banana trees, this pool is kept at around 95° F, making it the perfect temperature for relaxing and playing.
Another impressive part of the resort are the geothermal caves. Build into the mountainside between 1903 and 1911, these gender-separated caves are clothing optional and feature large, walk-in hot tubs. Additionally, the resort offers outdoor jacuzzis, 11 private baths, and a full-service spa. Accommodations can be booked at the main resort, a smaller building known as the Inn, or private cabins.
Visit a Gilpin County Casino
There are no casinos in Idaho Springs, but a few are located in nearby Central City and Black Hawk. In Black Hawk, consider stopping by Ameristar, a luxury hotel with a large casino floor. With a spa, tastefully-appointed hotel rooms, and five restaurants and bars, this is a well-appointed resort that makes a great getaway. The casino features a 24-hour poker room, sportsbook, 40 table games, and 1,250 slot machines.
In Central City, one popular choice is Century Casino. This resort offers a huge selection of slot machines, video poker, and table games. For food, stop by the Retro Deli and Tavern for pizza and ice cream, or visit Mid City Grill for a larger menu featuring burgers, tacos, spaghetti, and more. Options for accommodations include luxurious suites, king rooms, and double queen rooms, and all rooms include complimentary internet, a mini fridge, and TV.
Lawson Adventure Park & Resort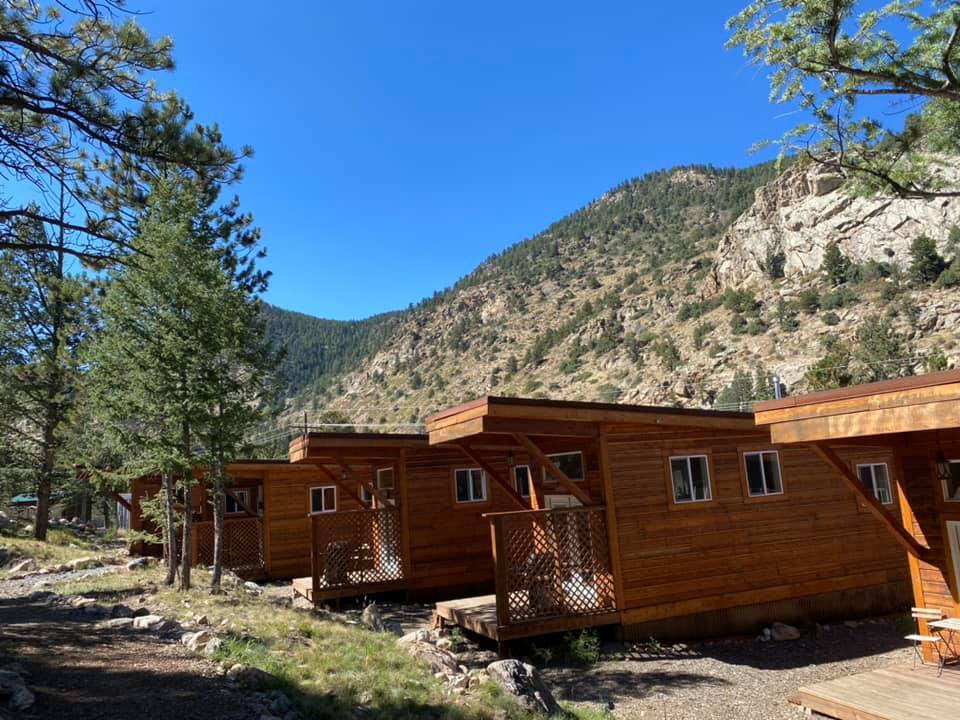 With a variety of activities available in each season as well as multiple types of accommodations, Lawson Adventure Park and Resort is a great year-round destination. During the winter, take a guided snowshoeing trip or learn to ice fish. When the weather gets warmer, visit the park for ziplining, a jaw-dropping via ferrata, disc golfing, and more.
After a day of adventure, visitors can return to one of the resort's fully-furnished cabins. Cabins are offered with both one and two bedrooms, and each one includes a bathroom, TV, and a front patio. For those searching for more rugged accommodations, consider staying in one of the resort's four yurts. With heaters, a propane grill, and close access to showers and restrooms, these are fun no matter the season.
Colorado Adventure Center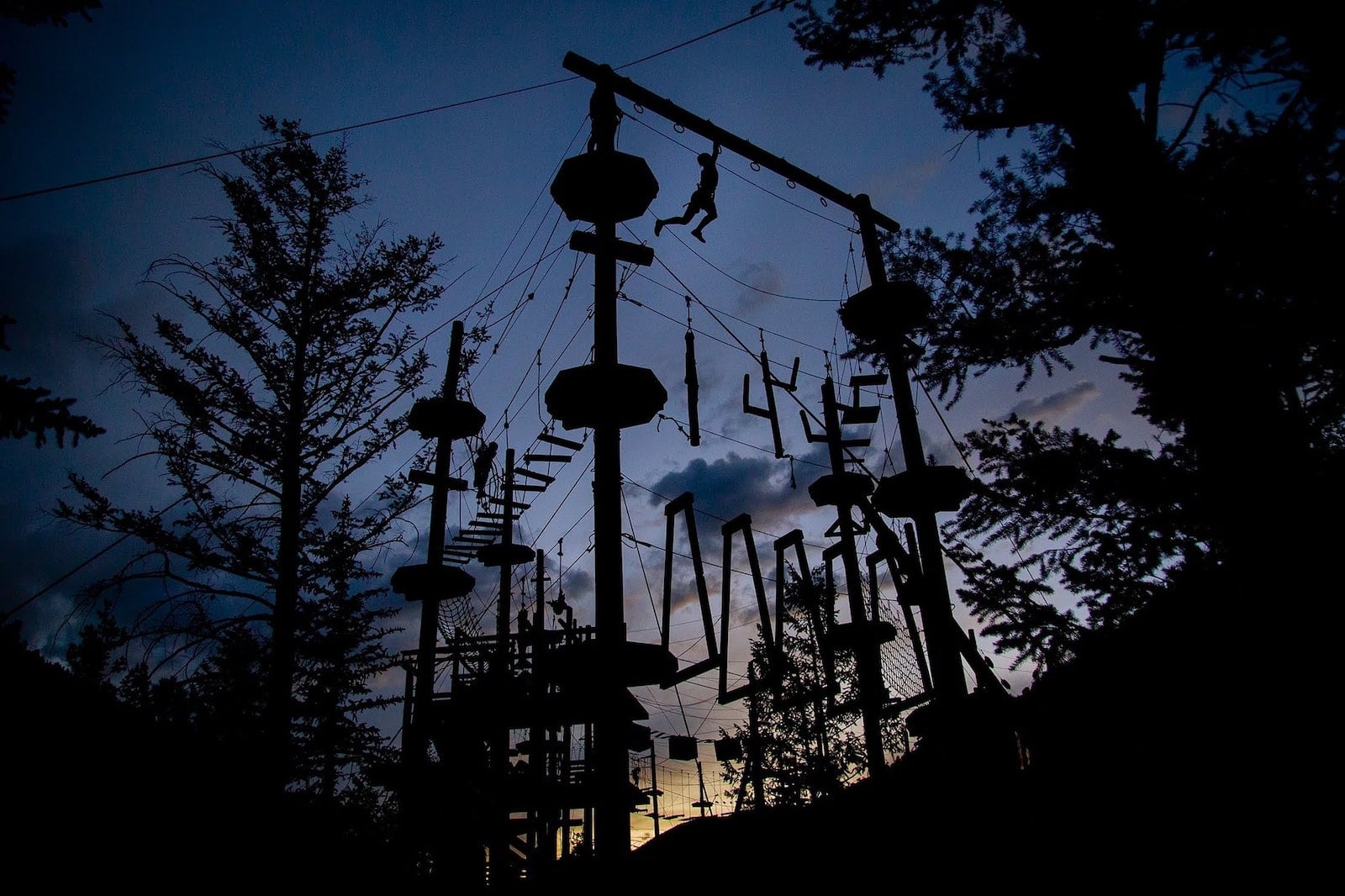 Located west of town near Dumont, Colorado Adventure Center is a thrill-seeker's paradise. One of the most popular activities at the center is ziplining. With five ziplines that span for nearly a mile along Clear Creek, this adventure provides great views and a guaranteed exciting experience. Visitors can choose a five or eight zipline package, and reservations can be made online. Be sure to arrive around 30 minutes before the scheduled time.
Besides ziplining, Colorado Adventure Center also offers an impressive high ropes course. Known as the Colorado Sky Trek, this course features over 60 obstacles spread out on three distinct paths that vary in difficulty. Children under four years old cannot participate, and only those seven and older can try out the Silver and Gold courses.
Summer
Due to Idaho Springs' relatively high elevation of 7,526 feet, it makes the perfect base camp for escaping the summer heat on the front range. And with options nearby to go even higher, up to 14,265 feet to be exact, it's easy staying cool.
Mount Evans Byway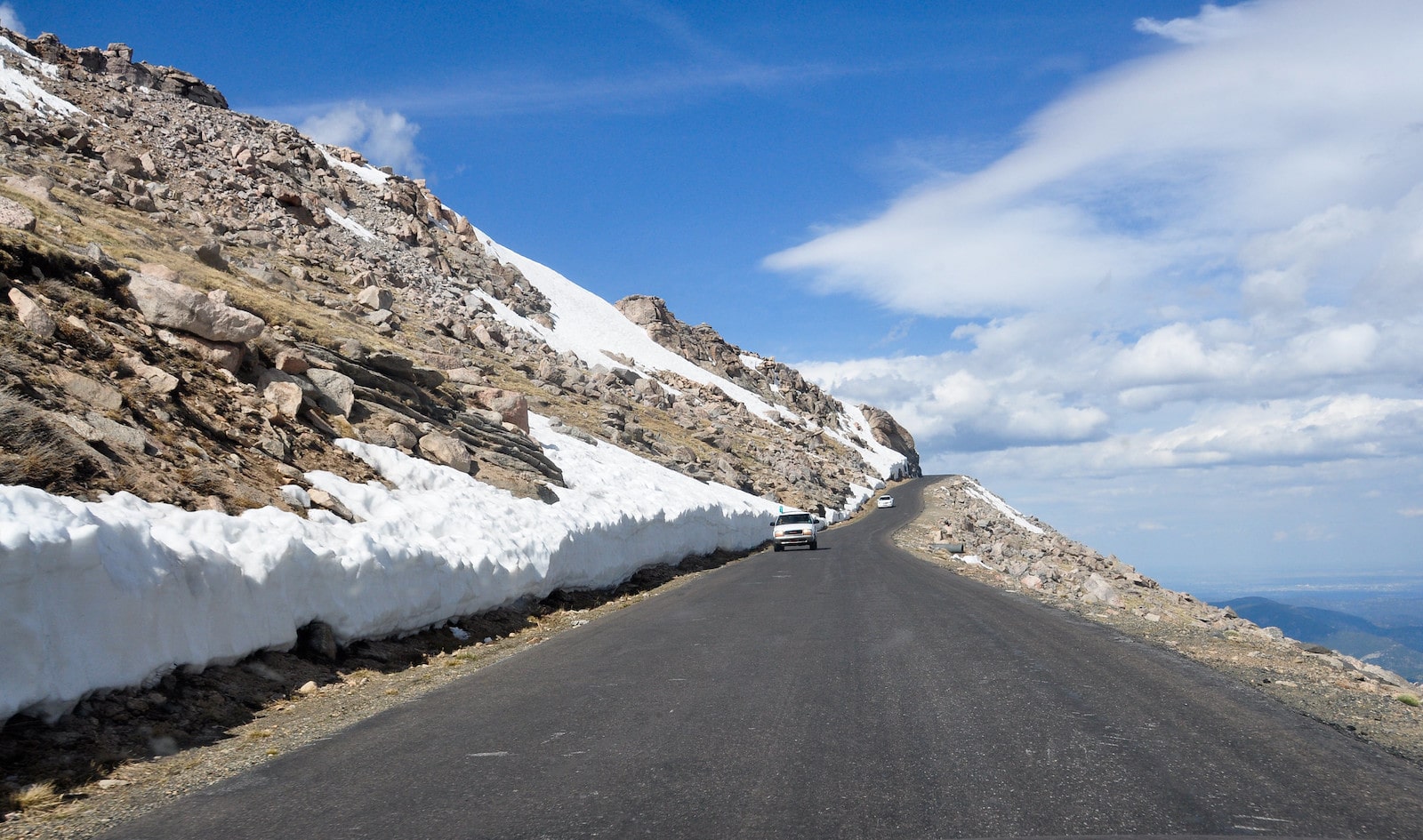 The highest paved road in North America, the Mount Evans Scenic Byway climbs to nearly the summit of Mount Evans at 14,130 ft. The extra 135 feet or so to 14,265 feet require a 20 minute hike.
The highway is free to drive, but those hoping to explore the summit must pay a fee to park. Besides the summit of Mount Evans, other highlights on the route include Echo Lake, a beautiful lake situated at 10,600 feet above sea level, and Summit Lake, which is located above 13,000 feet.
There's no camping past Echo Lake, so be sure to snag a spot at the lake or in the nearby Arapaho National Forest. At the top, make the short walk to the official summit and take in the jaw-dropping views that stretch for miles. The route is 28 total miles from Idaho Springs, but plan to spend a few hours on the round-trip journey to make time for stops.
Clear Creek Whitewater Rafting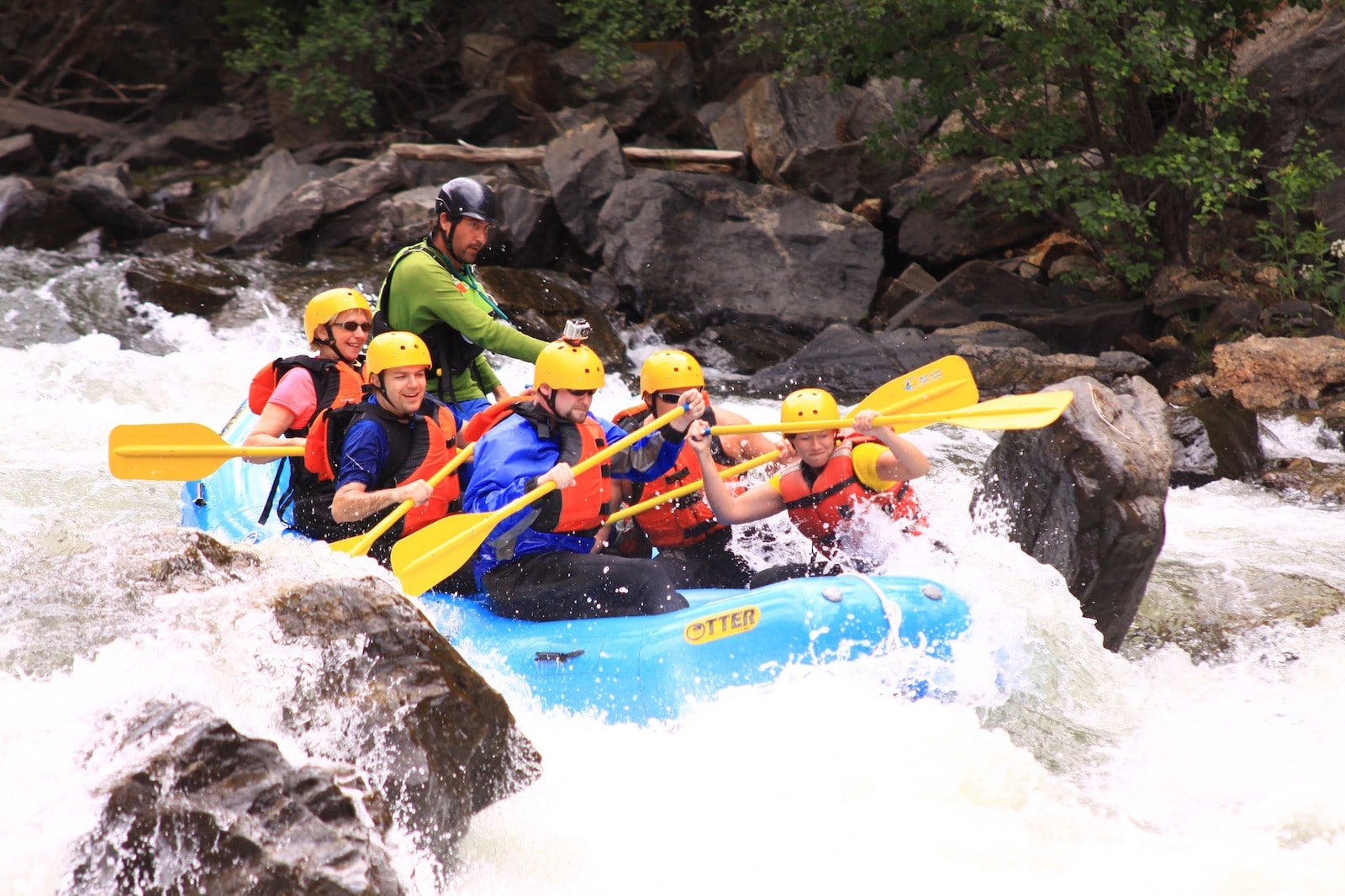 Clear Creek runs parallel to Interstate 70 through Idaho Springs and beyond, so visitors have easy access to world-class whitewater rafting. A number of local outfitters run rafting trips to different parts of the river, and there are sections ideal for first-timers as well as seasoned pros. Rapids on the river range from Class II and III on the easier sections to Class IV and V on the tougher sections.
One company offering trips near Idaho Springs is Clear Creek Rafting Co. With separate trips for beginners, intermediates, and advanced participants as well as plenty of choices for start times, this is a great option. For those looking for an unforgettable rafting trip, consider booking the Advanced Full Day, which includes 16 miles of rafting with more than 20 rapids. All trips include complimentary digital photos as well as free wetsuit rentals.
Echo Lake Mountain Park
Part of Denver's Mountain Park system, Echo Lake is a beautiful park set at 10,600 feet above sea level near Mount Evans. Besides the serene lake, one of the highlights of the park is the Echo Lake Lodge, a historic hotel built in 1926 that has been converted to a restaurant and gift shop. The Lodge Restaurant is open seven days a week and features a diverse menu with burgers, trout, and famous pies, and the gift shop is the perfect place to pick up a souvenir or collectible.
Hikers should be sure to walk the scenic trail that winds around Echo Lake, and anglers can try their luck by casting a line from the shore. The park is also home to a campground that is managed by the Forest Service. Each of the eighteen sites has a picnic table and campfire ring, and pit toilets and potable water is available.
Read about the camping near Idaho Springs and Mount Evans.
AVA Cliffside Zipline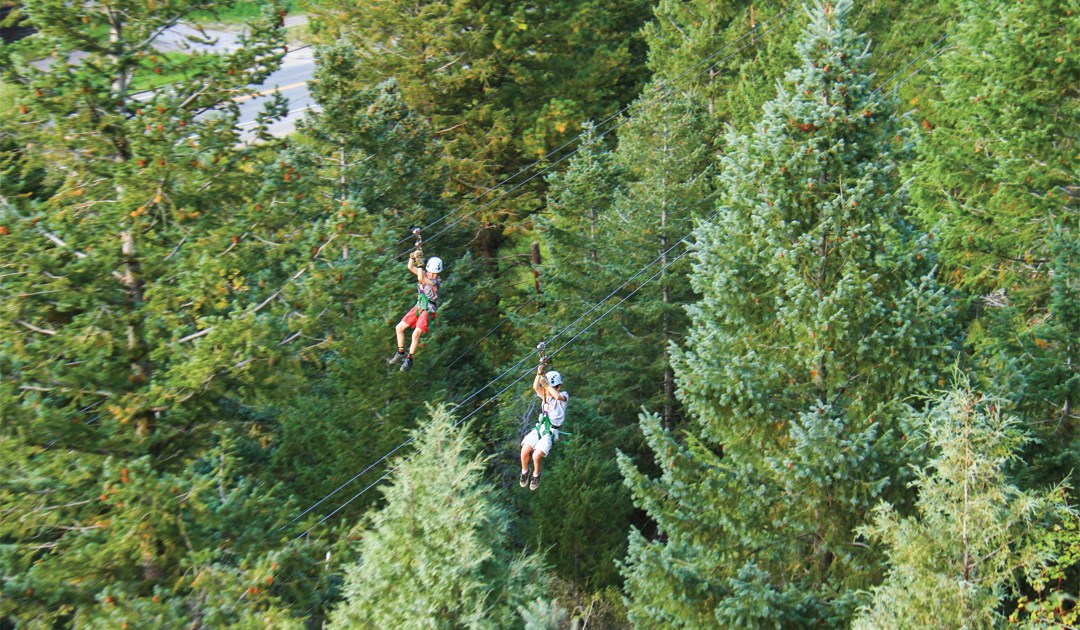 Situated right outside of town near the start of the Mount Evans Byway, AVA Cliffside Zipline is yet another activity ideal for thrill-seeking visitors. With six zip lines adding up to over 2,000 feet, participants can soar along the lines while taking in breathtaking views from all sides. Besides the exciting zipping, visitors can also try out other elements like the Jungle Bridge or the Bridge of Doom.
Guests must be at least six years old and weigh at least 50 lbs to participate. All riders are required to fill out a waiver before the tour begins. This is a popular summertime activity, so be sure to book reservations in advance.
Hike to St. Mary's Glacier
At only 1.5 miles round-trip, the short hike to St. Mary's Glacier should be on everyone's to-do list on a trip to Idaho Springs. With scenic views of St. Mary's Lake and the hike's namesake glacier, this is a short but rewarding trek. There is a small fee to park at the trailhead, and restrooms are available near the parking lots. Dogs are allowed on the trail.
Mt. Evans Via Ferrata
Via Ferrata, which translates to "iron road" in Italian, is a method of traversing steep mountainsides that makes use of metal ladders, steps, and cables that started in the Alps. Today, visitors can experience this exciting activity on the Mount Evans Via Ferrata. Featuring rappelling, ziplining, and navigating cliffsides, this three-hour tour brings visitors 300 feet above the ground.
Bookings include helmets and harnesses, so visitors only need to bring athletic shoes and extra water. The minimum age is 12 years old, and reservations can be made online.
Winter
Both Loveland Ski Resort and the hometown, Echo Mountain Resort, provide nearby options for skiing and snowboarding. Plus there's winter recreation in the surrounding Arapaho National Forest, such as snowshoeing, cross country skiing and snowmobiling.
Skiing and Snowboarding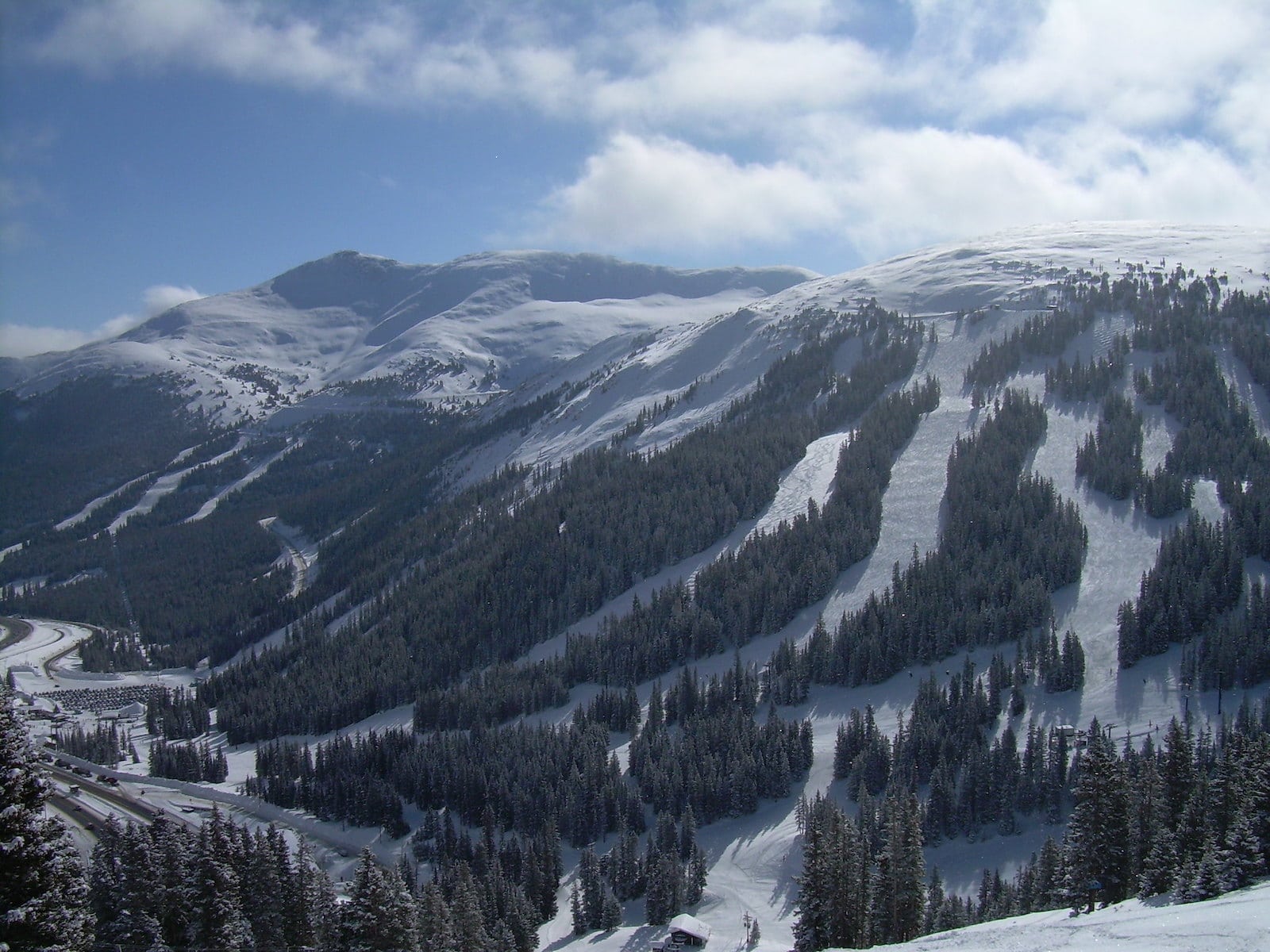 Set ten miles from downtown Idaho Springs, Echo Mountain is a small but affordable ski area that is home to primarily intermediate terrain. Equipment rentals are available, and lift tickets must be purchased online in advance. Besides skiing and snowboarding, Echo Mountain also features a fun area for snow tubing. Visitors must be at least 36" tall to participate, but all ages are welcome. Like lift tickets, reservations must be made online.
If Echo Mountain is too small, head approximately 25 miles west on I-70 to Loveland Ski Area, which offers 1,800 skiable acres and 94 trails. With a separate area for beginners known as Loveland Valley as well as rentals and lessons available on-site, this is a much better option for first-time skiers. After working up an appetite on the mountain, consider stopping by Loveland Grill, a restaurant located in the Basin Lodge serving burgers, salads, and a full breakfast menu.
Snowshoeing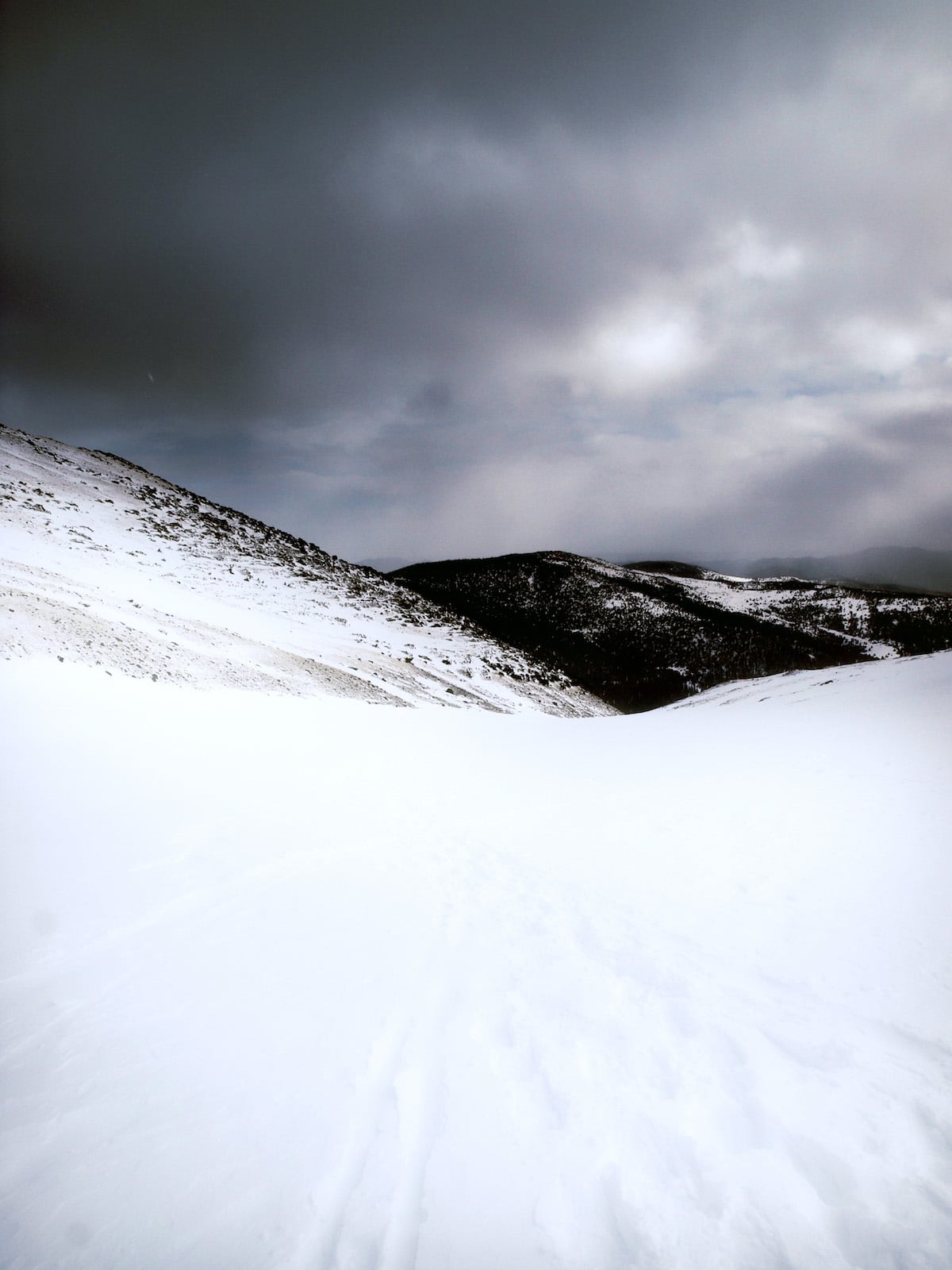 During Colorado's long winters, one fun way to experience the natural beauty surrounding Idaho Springs is by snowshoeing. Great trails abound in the nearby Arapaho National Forest, and equipment rentals are available at local outfitters in town. For an easy trip, explore the area around Echo Lake, or even consider heading to St. Mary's Glacier for a longer adventure.
Hopefully, you find a few things to do to add to your itinerary. Enjoy your trip to Idaho Springs!