[Halloween skeleton. Photo: Ryan Policky] What better way to celebrate fall than getting scared with your friends and family at one of the scariest haunted houses in Denver. The Mile High City boasts a large array of haunted houses and halloween focused fun.
Haunted houses in Colorado range from child friendly, family scares to adult only, pee your pants fun. Parents ultimately can make their own judgement, as age recommendations are merely that. We'll let you know below what ages are suggested by those running it.
Best Haunted Houses in Denver
Remember to show up earlier in the evening if you hate waiting because these places may have long lines. Some Denver haunted houses sell tickets online in advance and some even offer a fast pass or line skip.
Ghouls, goblins and ghosts lurk around every dark corner at Denver haunted houses. Experience the supernatural this season with your closest friends. Who will be the first to scream?
The halloween season kicks off in autumn when the nights get colder, darker and longer. Haunted houses open select nights from late September through October 31st, and some up to the weekend or two after. (in no order)
READ: 13 Chilling Halloween Stores in Denver
1. The Frightmare Compound
For the last 28 years, The Frightmare Compound has been scaring the socks off Front Range residents. It's the oldest and longest running haunted house in Denver. There are two haunted houses featured here.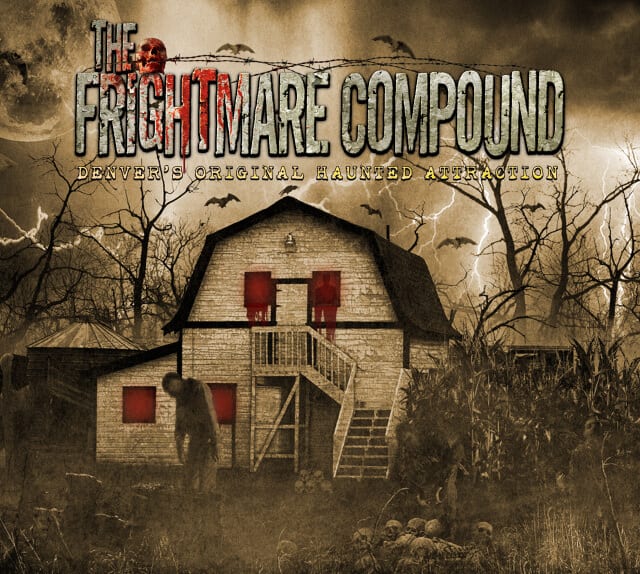 i. Freightmare Compound – Founded in 1983 by Brad Holder, this Westminster haunted house was the first. He painstakingly crafted the compound for 16 years before falling ill. They say his body is buried deep within the haunted house, making this one of the most authentic.
ii. House of Darkness – The clown's house, owned by Poppy Sycamore, was a highlight of his hometown's circus every year since 1947. It ran until Poppy fell ill in 1976, the night a bloody massacre occurred inside the fun house. It closed and reopened in Westminster all these years later.
iii. Lights Out – It's a three day event November 1, 2, & 3, with only 5000 tickets available. You and your friends are alone in the compound, lost in absolute darkness!
September 28-November 3, 2018 | 108th & Old Wadsworth, Westminster 80021 (Map)
2. The Asylum
Now situated at the City of the Dead, The Asylum dubs itself as "Denver's Favorite Haunted House". It's interactive and places you into a make-believe scenario. It's not recommended for children under the age of 12. Three main attractions include:
i. Primitive Fear Walkers
– You are one of the last survivors in a zombie appoclypse, can you make it out alive? Battle the undead and escape, or become one of them.
ii. Contagium The Escape – Inside the Asylum you'll witness a deceased body waiting for you on an autopsy table. The clock ticks and it's a race out for you and your group before the gas chamber fills.
iii. Ridgegate The Condemned – Ridgegate Hospital is a spooky place where you'll fear the doctors more than the crazy patients. Who can you trust? Friend or foe, be careful.
September 21-November 3, 2018 | 7007 E 88th Ave, Henderson 80640 (Map)
3. 13th Floor
The 13th Floor boats a brand new location that's 10,000 square feet bigger than previously! And it already had a reputation as one of Denver's scariest. It's open for two weekends after Halloween and recommended children over 11. Three big attractions include:
i. Mini Escape Games
– fully interactive group experience where you have 5 minutes to escape the room.
ii. Half Alive – a lab experiment known as Abyss, an underwater creature that can live on land. The Yeti, another monster experiment, escaped during the transfer of Abyss and now its chaos.
iii. The Possession – Ghosts haunt the orphanage, threatening to take the lives of those who cross their paths. Mara, the nun, is the most evil, look out!
iv. Trick or Treat– – The Femoral family are necrofarmers, who traveler around taking souls. They dress up in typical kids halloween customers and go house to house singing "Ding Dong Trick or Treat…"
September 21-November 10, 2018 | 3400 East 52nd Avenue, Denver 80216 (Map)
4. City of the Dead
The City of the Dead is Denver's longest and biggest indoor haunted house. It's been called the city's scariest too. It's located at the Mile High Flea Market, on the corner of I-76 and 88th Ave.
i. The Dead Rising
– Voted best Denver Haunted House, the City of Dead boasts amazing special effects and visual designs. The town has new victims every day, will you become a statistic?
ii. Dark Souls – Hair-raising trek through an old funeral parlor, chapel and cemetery, all run by thirsty vampires. Don't let them suck your blood become just another meal.
iii. Come Out to Play at the Carnival of Carnage – Carnival-style games, arcade games and interactive fun with your friends and the undead. Beer is served!
September 21-November 3, 2018 | 7007 E 88th Ave, Henderson 80640 (Map)
5. Reaper's Hollow
With 3 completely separate attractions, Reaper's Hollow is sure to satisfy your Halloween fix. Choose between the legendary Reapers Hollow, The Dead End Motel and Goblins Grove. Reapers is a giant haunted cornfield trail. The Motel is an indoor haunt that you can't stay at. Goblins is out in the woods. Each attraction has separate entrances and exits and are totally different themes.
11321 Dransfeldt Rd, Parker 80134 (Map)
6. Haunted Field of Screams
Three terrifying attractions combine to create Colorado's largest halloween experience, the Haunted Field of Screams. All are interactive haunt, with one tour, one maze and a paintball shootout. All children under 13 must be chaperoned by an adult.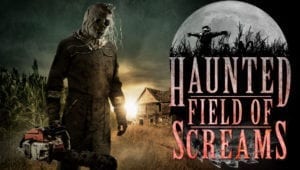 i. Haunted Field of Screams – Now in its 15th year, the Field daunts you with 16 foot tall cornstalks lit only by moonlight. Zombies, clowns, killers, crazies and the undead all track you down.
ii. Dead Man's Night Maze – It's just you, your group and a bunch of organ eating zombies and ghouls. They hunt you while on your through a dark cornfield maze.
iii. Zombie Paintball Massacre – Survivors armed with CO2 and balls of paint, shoot the undead. Make your way across an run-down farm to reach the zombie patrol outpost on the other side.
September 21-October 31 | 10451 McKay Rd, Thornton 80233 (Map)
7. Fright Fest at Elitch Gardens
Elitch's Fright Fest boasts three eerie haunts: No Vacancy, Big Top Freaks, and Séance. Guests participate in these interactive tours, making their way through thrilling hallways, a nighmareish inn, a carnival graveyard run by cannible clowns. Explore Elitch Gardens Theme Park after dark.
September 28-October 28, 2018 | 2000 Elitch Cir, Denver 80204
Additional Haunted Houses throughout Colorado
For those that live south of Denver, you have a few options for Halloween festivities. Canon City's Aftermath Haunted House features one of Colorado's best haunted houses. Colorado Springs boasts the bone-chilling HellScream Haunted House.