While Vail, Colorado may be best known for its world-class ski resort, it's also situated within easy driving distance of some of Colorado's best hot springs. From undeveloped pools to luxurious resorts, there are sure to be some mineral thermal springs nearby to your liking.
Listed based on proximity to Vail, what follows is a list of hot spring pools and resorts that make a perfect day trip or weekend getaway.
Radium Warm Springs (47 miles)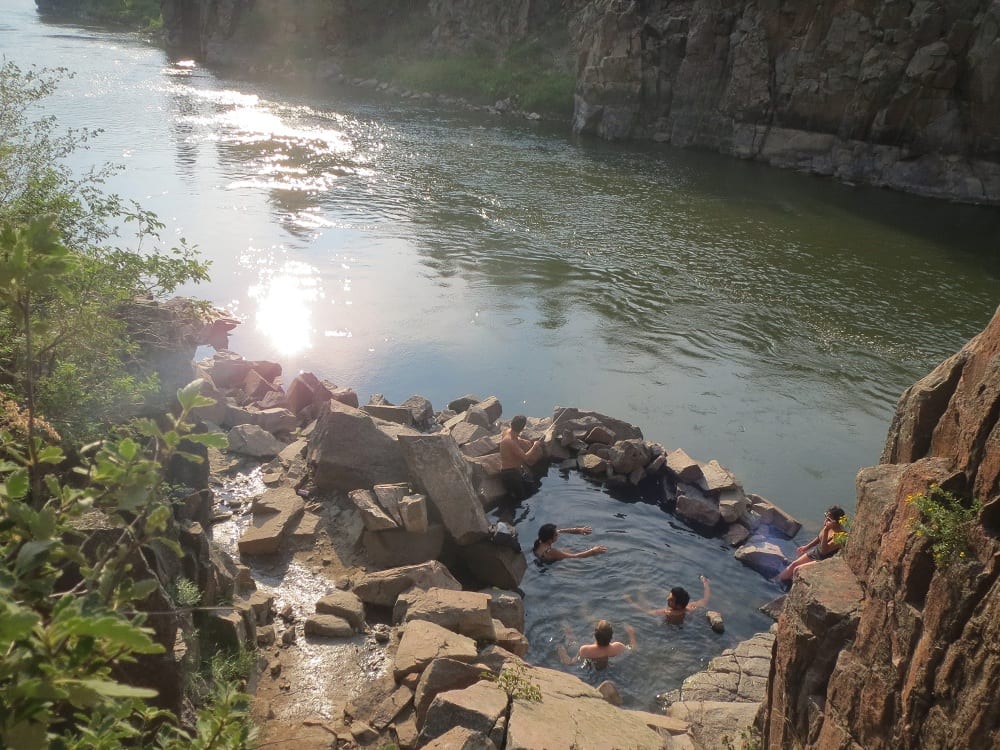 Located north of Vail, Radium Warm Springs is a primitive pool situated on the banks of the Colorado River. About 20 feet wide, the main pool is formed by large rocks and has a temperature of around 80° F. Water temperature varies depending on the level of the Colorado River, and the pool can even be washed away or inaccessible during spring runoff.
A popular spot for rafters and tubers floating down the river, Radium Warm Springs is also accessible by foot via a 3/4 mile hike. Parking is available at the start of the trail. For camping, consider spending the night at the nearby Radium River Access Campground, which is operated by the Bureau of Land Management and features picnic areas, boat launches, and 9 standard campsites.
Visitors should keep in mind that Radium Hot Springs is a popular destination. During summer, avoid visiting during holidays and weekends for the best chance at smaller crowds. As always, practice Leave No Trace principles when on public land, and follow all posted warnings and instructions.
Glenwood Hot Springs Resort (60 miles)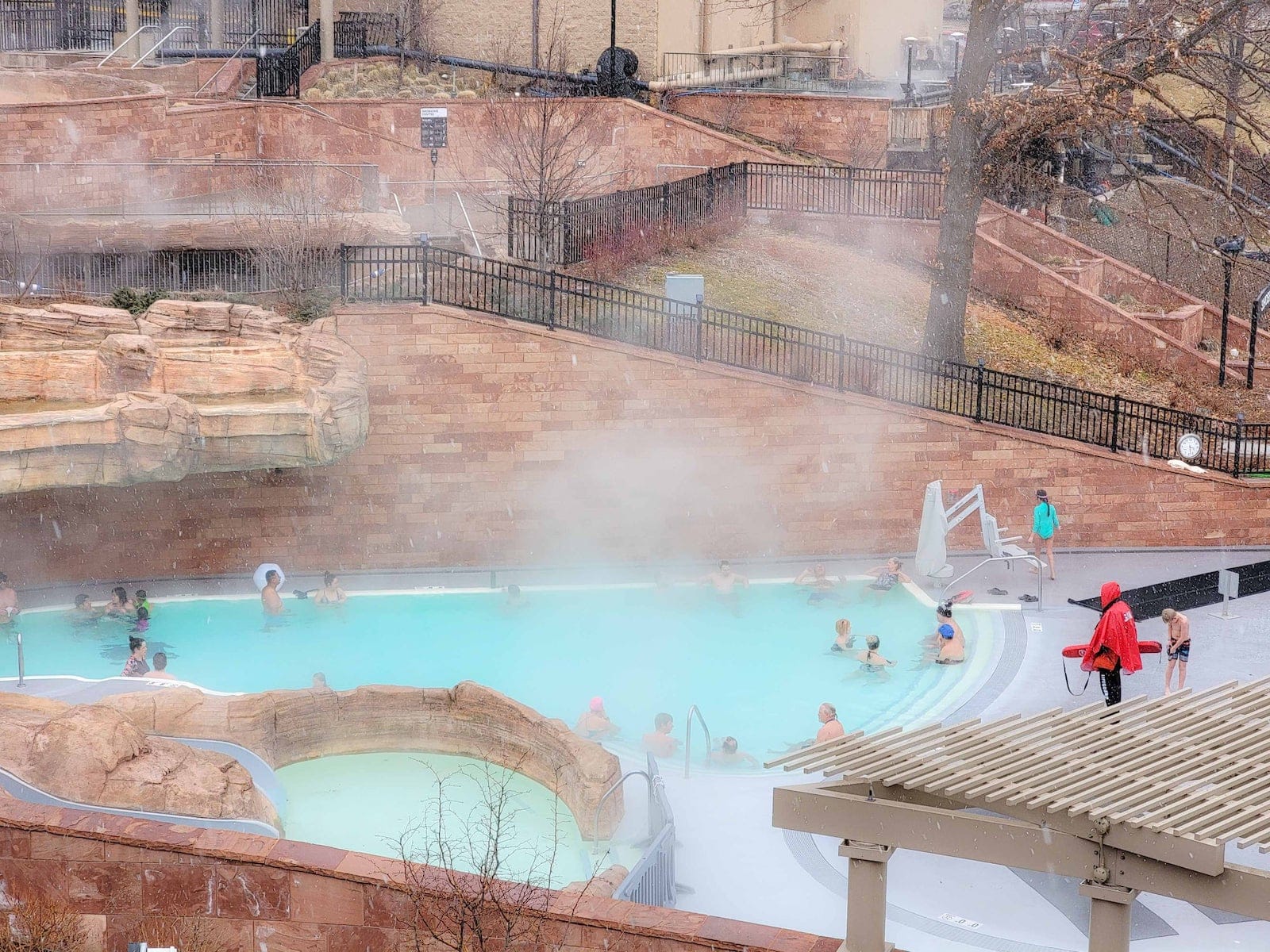 The largest hot spring destination in Colorado, Glenwood Hot Springs Resort is a top-tier resort featuring an impressive pool, on-site lodging, a spa, and much more. As expected, the highlight of the resort is the two pools. The large primary pool is maintained between 90 and 93° F, and it has sections for lap swimming, playing or jumping off the diving boards, and relaxing.
For those hoping for a warmer place to soak, try out the smaller, hotter pool, which sits right around 104° F. Both pools are filled with filtered, purified spring water, and a complete water change occurs every six hours. Locker rooms are located near the pool area.
Food is available at the poolside Grill & Snack Bar, where burgers and fries, chicken strips, and plenty of delicious snacks like nachos and onion rings are served. For guests hoping to stay the night, Glenwood Hot Springs Resort is home to 107 rooms (affiliate link), all of which include complimentary breakfast and unlimited pool access.
Finally, be sure to take advantage of the resort's luxurious spa. A variety of treatments are available, including massages, facials, body treatments, and a number of themed experiences and packages.
Yampah Spa & Salon (61 miles)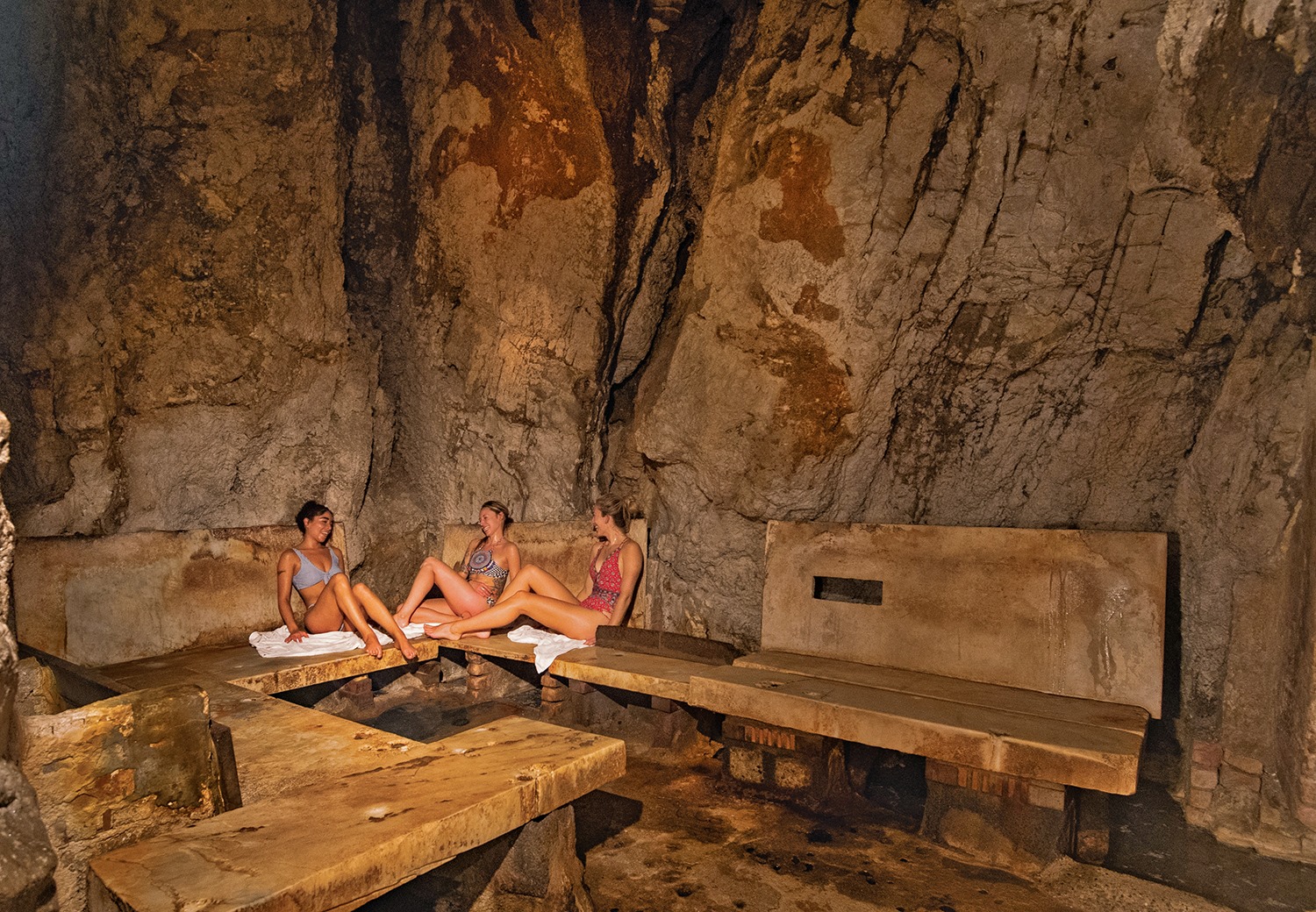 Also in Glenwood Springs, Yampah Spa & Salon is a unique facility that is famous for having the only known vapor caves in North America. Heated by nearby hot spring water that emerges from the ground at 125° F, the property's three chambers are heated to 110-112° F, making them the perfect environment for relaxation.
Since the rooms are so hot, visitors are recommended to have repeat visits in the caves that last 10-12 minutes. During the breaks, visitors can hang out in the cooling area or head upstairs to the resort's impressive solarium.
In addition to the Vapor Caves, Yampah also features a full-service spa and salon that offers hair styling, skin and nail services, and a large range of massages and spa treatments including body wraps and body scrubs. Private mineral baths for individuals and couples are also available.
Iron Mountain Hot Springs (62 miles)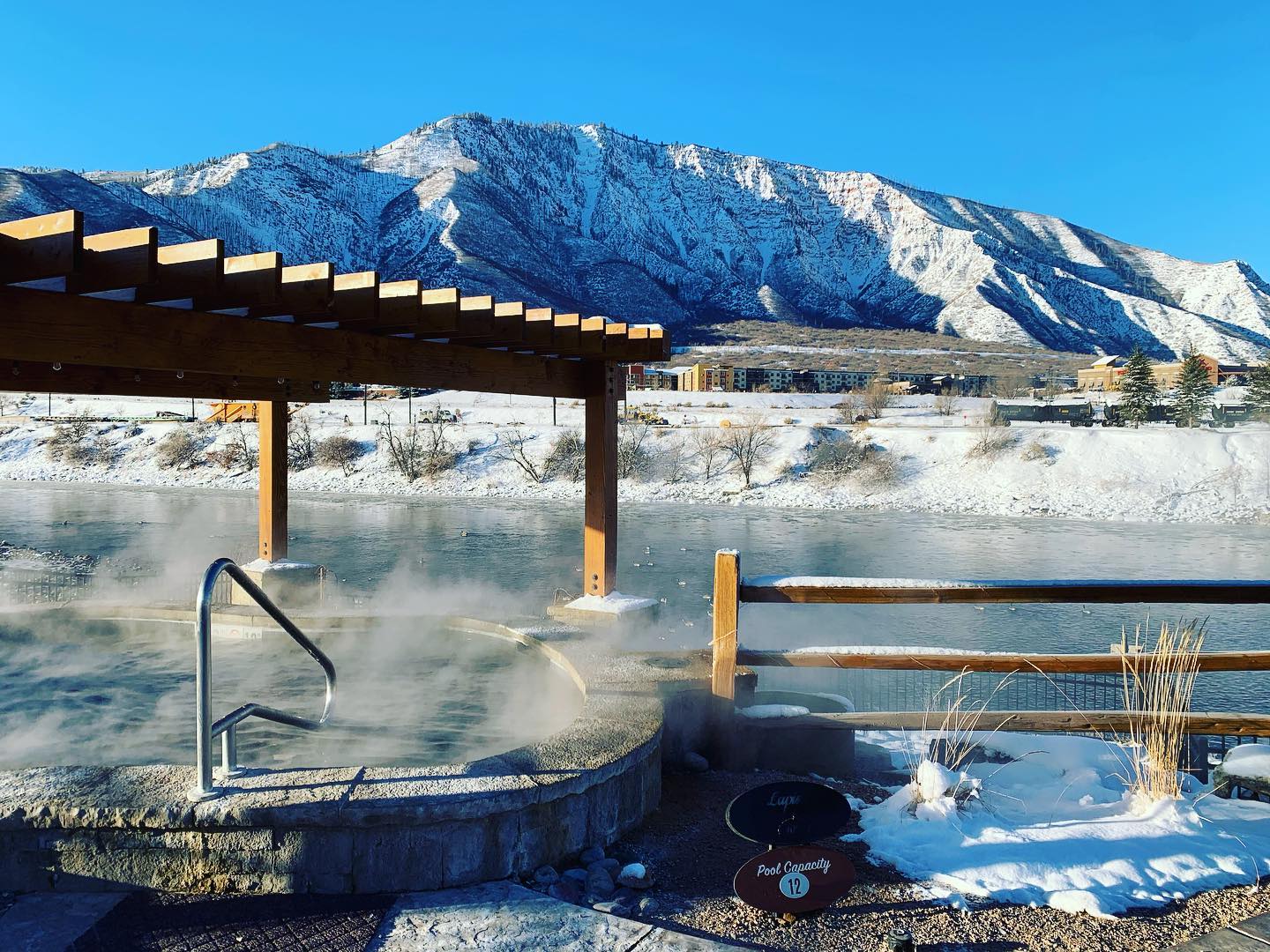 Set on the banks of the Colorado River, Iron Mountain Hot Springs is another good option for those looking to soak near Vail. A great destination for families or individuals, Iron Mountain has a 100,000-gallon Family Pool that is geothermally heated to 94° F. Nearby is the Whirlpool Spa, which sits at just over 100° F.
For a more private experience, try out one of the facility's 16 smaller pools. Varying in temperature from 98 to 108° F, these pools are even connected with a heated walkway, making them perfect for winter soaks. Showers and bathrooms are available in the Bathhouse's locker rooms.
Lunch, dinner, and snacks are served at the Sopris Café. The menu includes flatbreads, sandwiches, and more. Beer, wine, and limited cocktails are also for sale. Visitors should keep in mind that outside food and drinks are not permitted.
Indian Hot Springs (64 miles)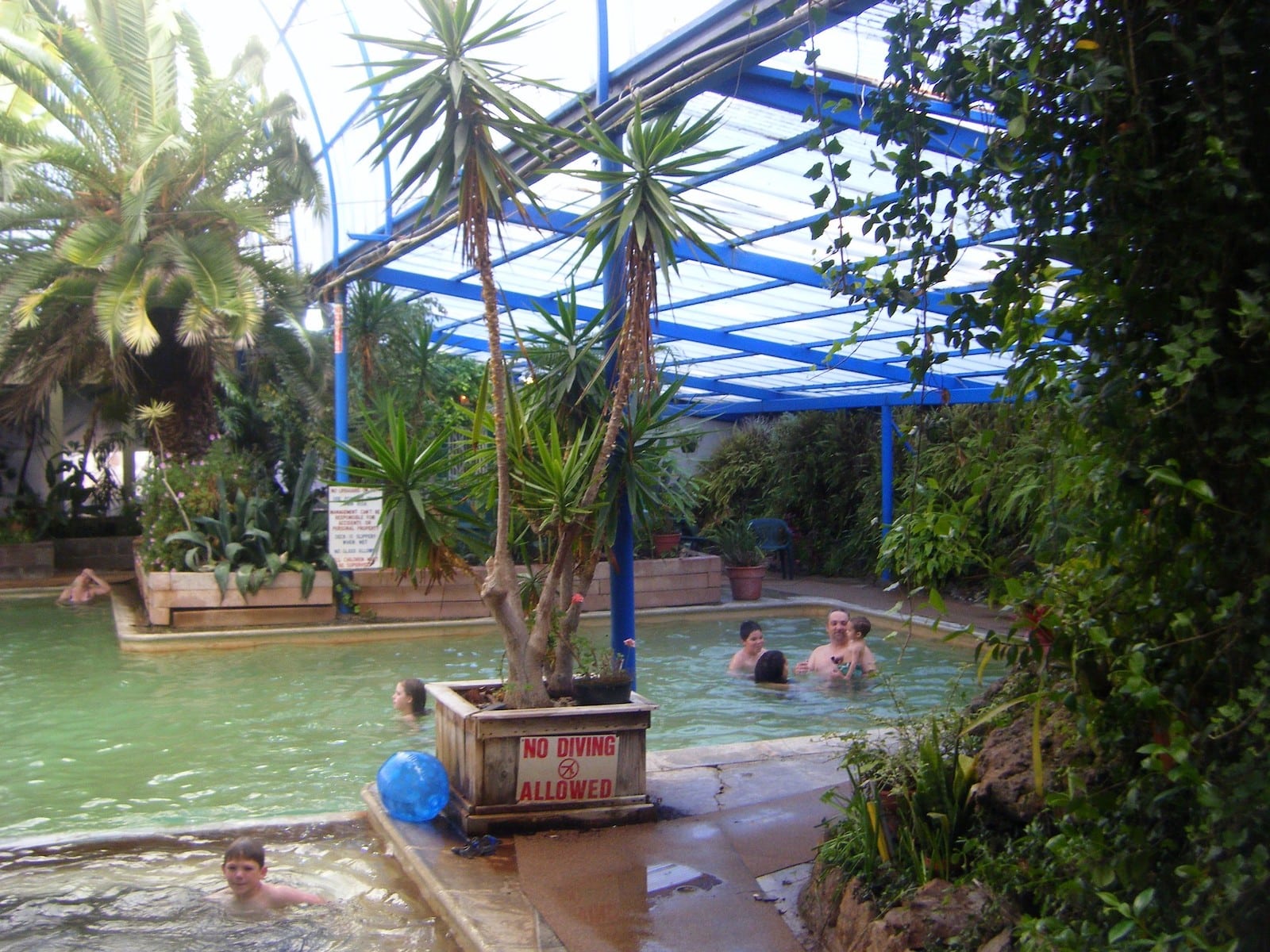 Situated about an hour east of Vail towards Denver, Indian Hot Springs is another full-service resort with hot spring pools, accommodations, and a spa. One of the highlights of the resort is the main swimming pool, which is located in a large glass dome full of tropical plants.
In addition to the above-ground pool, one of the primary draws of the resort is the geothermal caves. An underground oasis first dug out in the early twentieth century, the caves are gender-separated and are home to tubs filled with 108 to 112° F mineral water. The caves are clothing-optional, and they're only open to visitors 18 and older.
Private soaking experiences are available in the facility's outdoor jacuzzis and indoor private baths. The outdoor jacuzzis are perfect for small groups of people, but be sure to make reservations up to 14 days in advance. The indoor tubs are terrific for individuals or couples, and they sit between 106 and 110° F. In addition to the tub, each indoor area includes a shower and a bench.
At the spa, try out a variety of massages and body treatments. As a bonus, each massage includes admission to the pools and geothermal caves. Reservations for treatments are required and be sure to arrive a few minutes early to fill out the paperwork.
Indian Hot Springs has a few different options for accommodations. Modern rooms with comforts like a fridge and microwave are available at The Lodge, while more historic rooms can be found at The Historic Resort and The Inn. For those traveling in larger groups, consider staying in a cabin, all of which have decks and full kitchens.
South Canyon Hot Springs (66 miles)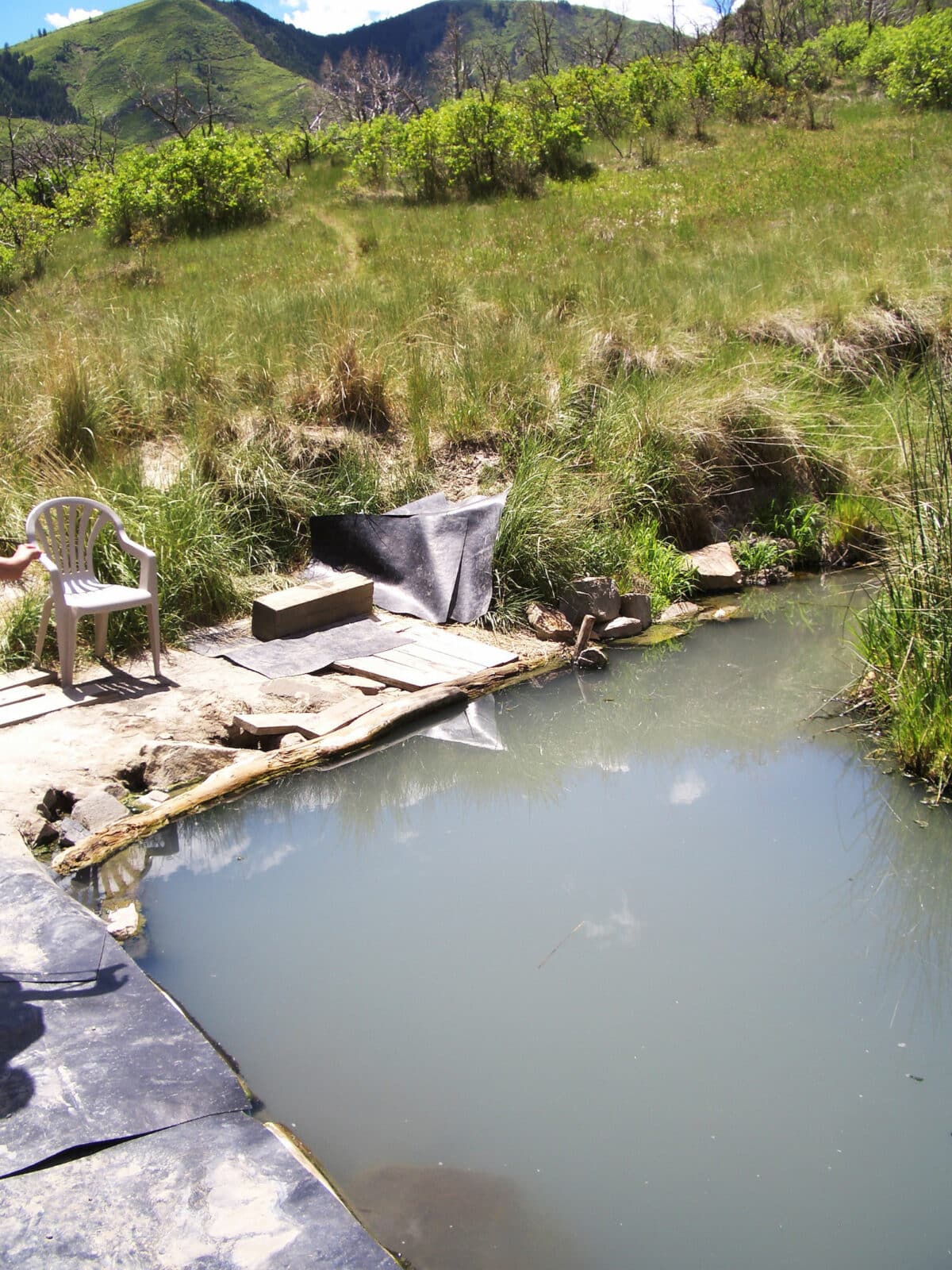 Back in Glenwood Springs, South Canyon Hot Springs is a primitive, undeveloped hot spring pool popular among locals. The size and temperature of the main pool vary depending on the elements, but it is generally between 100 and 112° F.
The pool is accessed via an easy 1/8-mile walk on a dirt path. South Canyon Hot Springs is often busy, and many visitors go without bathing suits, so arrive early or avoid weekends for the best chance at a solitary soak.
Hot Sulphur Springs Resort & Spa (77 miles)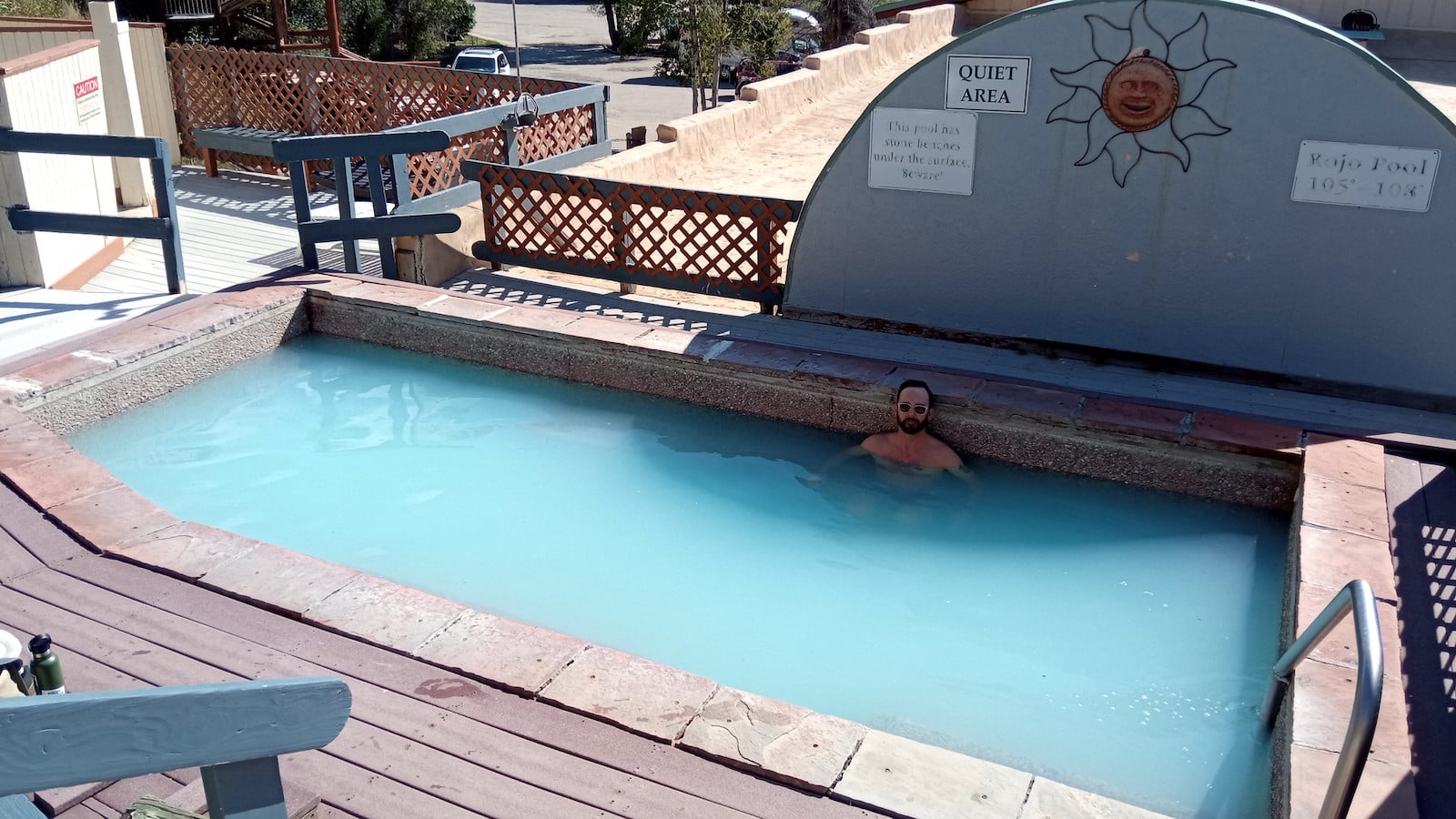 At about 80 miles from Vail, Hot Sulphur Springs Resort & Spa is the furthest resort from town on this list, but its 21 mineral pools and baths make it a worthy addition and a great destination. Located in a small mountain town, the resort is open year-round and features beautiful surroundings.
The resort's mineral pools range in temperature from 95 to 112° F, and there's also a cooler indoor pool for playing or swimming laps. For a more intimate soaking experience, consider booking one of the resort's private pools. At the spa, try out a Swedish or deep tissue massage. Reservations for all spa treatments can be made online.
Overnight accommodations include regular queen or king rooms, cabins, and even a larger apartment. All lodging stays come with free passes to the hot spring pools, and a simple breakfast of oatmeal, coffee, tea, and hot chocolate is provided to all guests.
That wraps up our list of the best hot springs to visit near Vail, Colorado. Have an excellent visit to these thermal waters!