Cañon City is a popular destination for those wanting to enjoy whitewater activities on the Arkansas River or visit the Royal Gorge in Colorado. But there are also many top events in Canon City that give even more reason for a trip here.
The Royal Gorge Whitewater Festival takes place in July and showcases the beautiful Arkansas River. People compete in world-class whitewater events as well as enjoy various land activities. Cañon City is also home to the popular Music and Blossom Festival, a large music competition for schools.
There are also events to celebrate the arts and other seasonal and holiday festivals. Keep in mind that the details of these can change or get canceled. It's always a great idea to visit the website for the most up-to-date information and what you should know about rules.
Here are some events in Cañon City based on the order of occurrence throughout the year:
Cañon City Music & Blossom Festival
The Cañon City Music & Blossom Festival is the largest community-run music competition for students taking place in Colorado. Performances are by national middle school, junior high school, and high school musicians in jazz band, concert choir, parade, and orchestra.
This festival dates back to 1860 and takes place in May over several days. In addition to the live music, there is a festival parade, vendors, a 5K event, and a giant carnival. There are rides and kid-friendly attractions. The website has information on past themes, the history of the festival, and a full list of events.
early May | ccblossomfestival.com
Run Blossom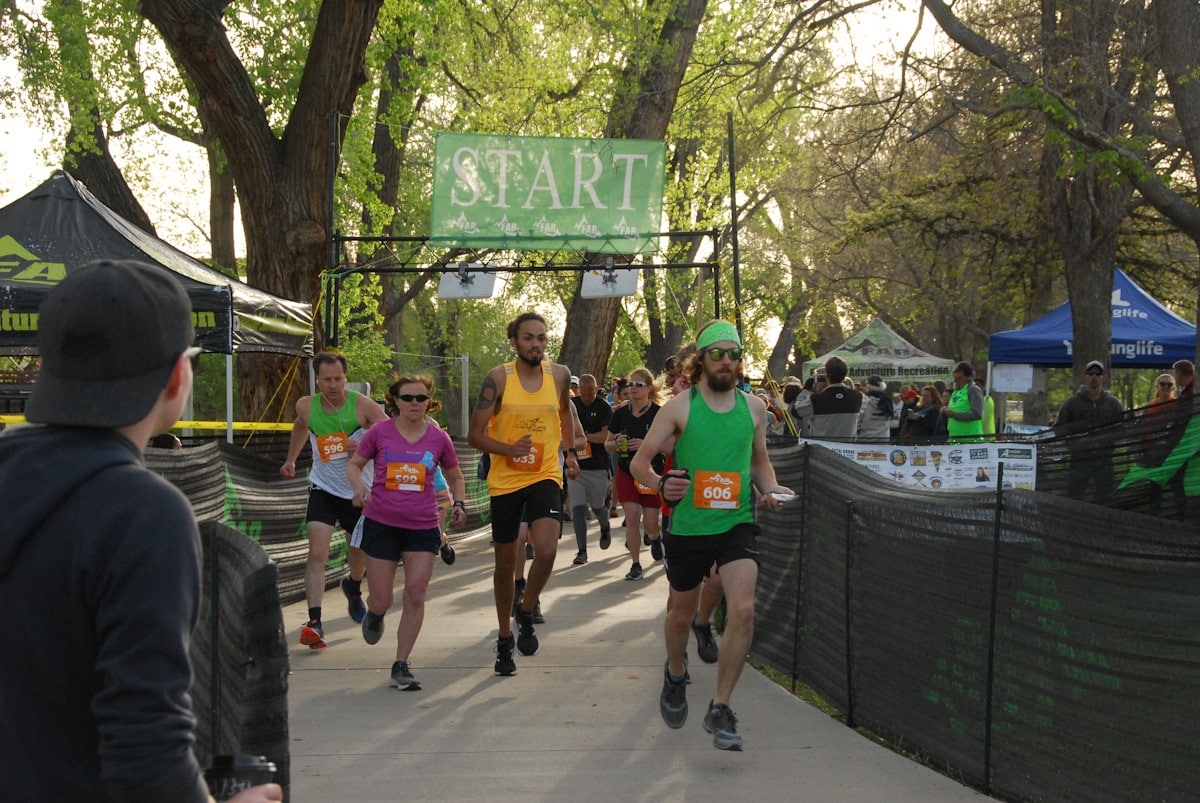 Run Blossom is an annual race on the Arkansas Riverwalk Trail in Cañon City. The event kicks off summer each May with a 5K run. You can find past race results on the website.
Previous races have also included a virtual option allowing people to participate at their own pace on whatever day is most convenient. The price for entry includes a commemorative tee and a swag bag. An awards ceremony takes place after the race is complete.
early May | runblossom.org
Royal Gorge Whitewater Festival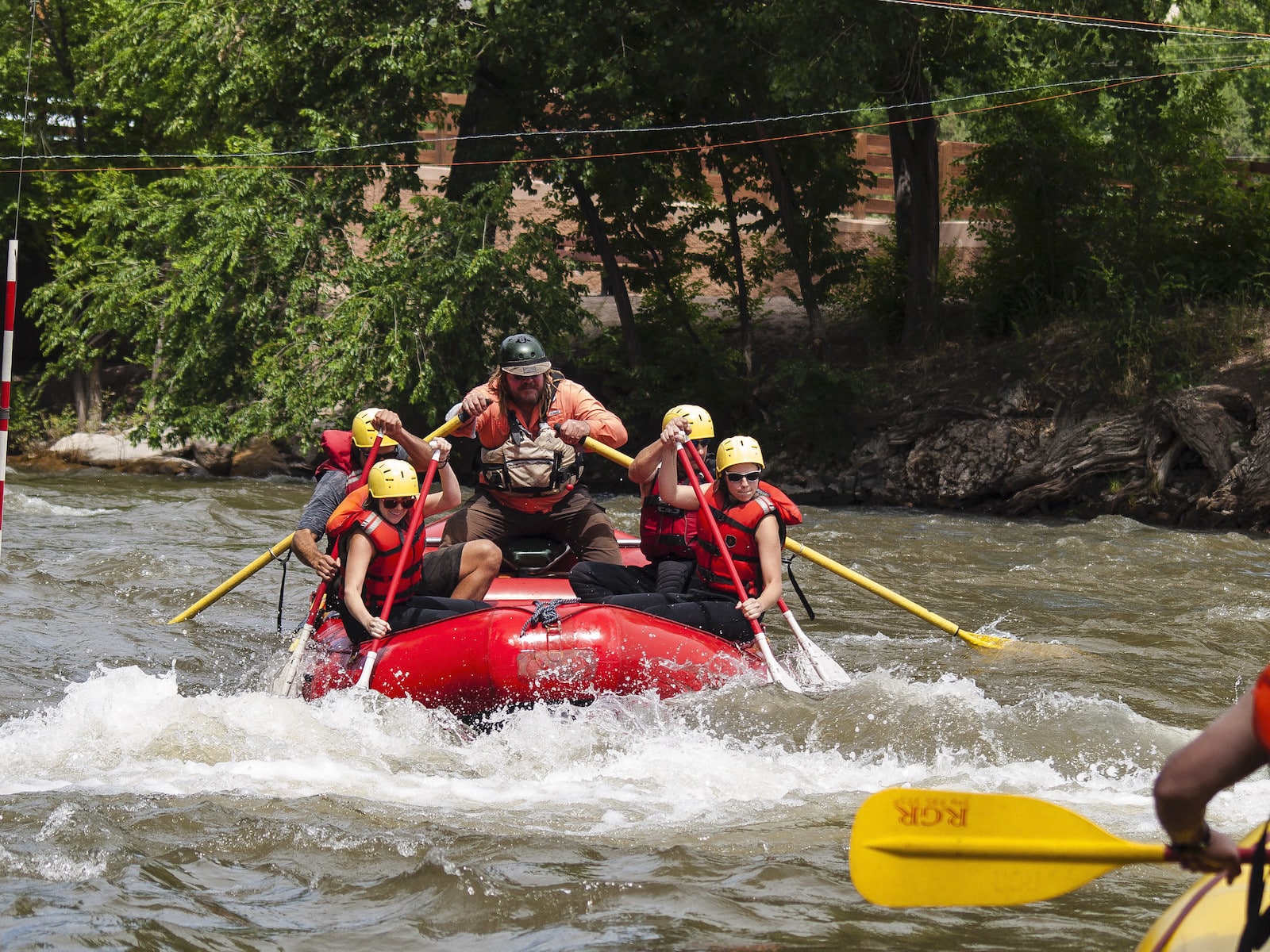 The Royal Gorge Whitewater Festival is an annual whitewater competition on the Arkansas River and other water-based activities. There are various demos, a stand-up paddle board parade, a surfing competition, and even an opportunity to build your own boat. Water events are ranked by difficulty from beginner to advanced.
The fun takes place at Centennial Park located near historic downtown Cañon City. In addition to the water events, there is live music happening all weekend. Land events include a 5K and 10K trail run, mountain biking events, and other trail activities. There is a detailed festival map available on the website, along with details on parking.
late July | royalgorgewhitewaterfestival.com
Cañon City 4th of July Celebration
The annual 4th of July Celebration in Cañon City takes place at Centennial Park. Past activities throughout the day have included live music a bounce house and face painting for children. There have also been food trucks on-site and other food options available for purchase.
Admission has been free and open to all with guests encouraged to bring a blanket or lawn chair for seating. The splash pad at the park is open during this time (with capacity limits and clothing restrictions followed). In years past, the event has concluded with a laser light show in the evening to end the day's celebration.
July 4 | royalgorgeregion.com/fremont-county-fourth-july-celebrations
Cañon City Art Festival
The Cañon City Art Festival is a weekend celebration of art showcasing all types of work from various artists. Attendees can find a wide mix, including glasswork, photography, ceramics, handcrafted goods, woodworking, sculptures, and painting.
The festival takes place in Veterans Park on Labor Day weekend and is free and open to the public. In addition to art, people can also enjoy live music. A music lineup, event schedule, and information on how to apply to be a vendor is available online.
early September over Labor Day Weekend | coloradoevents.org/canoncityartfestival
Annual Harvest Festival
The Annual Harvest Festival takes place on the last weekend of September at the Winery at Holy Cross Abbey. The two-day event features wine, food, artisans, arts and craft vendors, and live music. There is a traditional Blessing of the Harvest followed by various bands throughout the weekend.
While the event is free to attend, there is an added cost for food and beverages. There is wine, local produce, wood-fired pizzas, roasted chilies, and other products available. You can find a full schedule of the weekend's events on the website.
late September | abbeywinery.com/event/annual-harvest-festival
Rim to Rim Royal Gorge Races
Rim to Rim Royal Gorge Races is an annual event with various course options. There is a 5K and 10K course, a trail run, and a half-marathon. There is also a free run for kids and a Toddler Trot. Proceeds from the event benefit Starpoint, an organization providing essential services for children and adults and their families with cognitive and physical challenges.
On the website, you can find course maps, more details about each race, previous results, and information on how to register. The race fee also includes entry to the Royal Gorge Bridge and Park on that day until closing.
early October | rimtorimroyalgorge.com
Boo at the Bridge
The Boo at the Bridge is an annual Halloween celebration that takes place at the Royal Gorge Bridge & Park in Cañon City. Candy is provided by local non-profits and businesses.
In addition to trick-or-treating, there have also been other activities such as Instagram picture contests, a coloring contest, live music, and other live entertainment. This is a ticketed event, and children three years old and younger are free.
late October | royalgorgebridge.com/boo-at-the-bridge
Santa Express Train
Hope aboard the Royal Gorge Route Railroad to the North Pole. Train rides depart from Cañon City depot, throughout November and December, offering plenty of chances to experience the holiday thrill in Fremont County.
Enjoy a warm dinner with multiple options, sip on hot cocoa, and sing along to Xmas carols on your way to see Old Saint Nick. When you arrive at the North Pole, Santa Claus awaits! He'll come on board to greet all the eager passengers. Book your ticket online.
Discover other exciting Christmas trains in Colorado.
Christmas Tree Lighting Ceremony
The Christmas Tree Lighting Ceremony occurs every year in December to kick off the holiday season in Cañon City. The evening event takes place at Macon Plaza located at 5th and Macon.
Attendees can enjoy holiday music, hot chocolate, s'mores, and ornament decorating in addition to lighting the Christmas tree. There is also the opportunity to meet Santa Claus and purchase wood-fired pizzas. Years past have included a snowball fight area with fake plush snowballs and the kick-off for the community window decorating contest on Main Street.
early December | canoncity.org/CivicAlerts.aspx?AID=531
Christmas Parade of Lights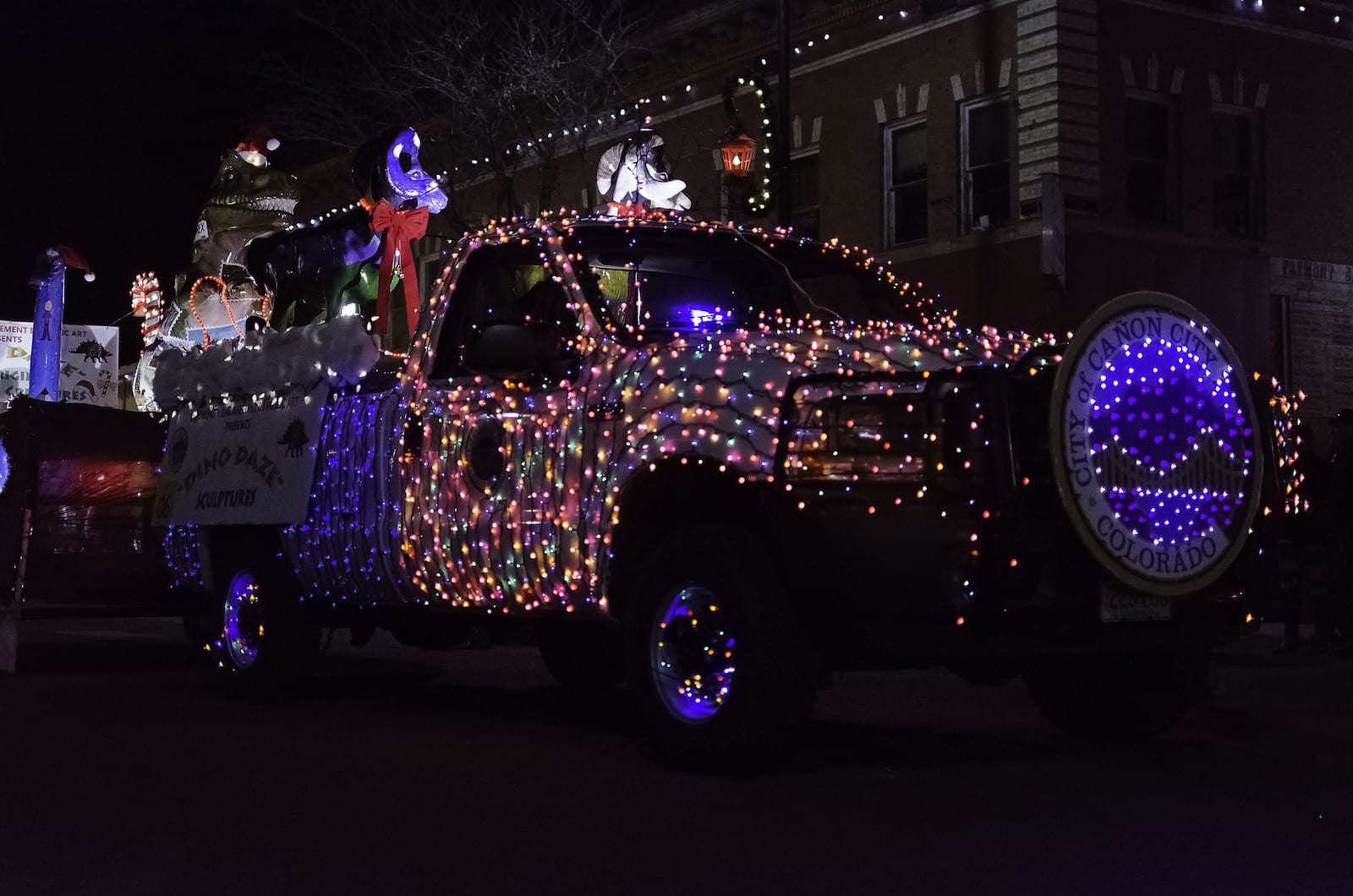 The annual Christmas Parade of Lights takes place every December to celebrate the holiday season. The parade typically begins around 6 pm in historic downtown Cañon City along Main Street from 5th to 10th.
In addition to the parade, there have been merchant specials, a window decorating contest down Main Street, and food trucks. Each year, the event has a theme, such as "A Very Victorian Christmas". More information can be found on the city's website.
early December
Whether you want to watch whitewater races on the Arkansas River or enjoy a holiday parade, there is a Cañon City event for everyone. Check out the event's website to learn more, and follow along on social media for any updates. And considering reserving a room at one of Cañon City's top hotels or nearby campgrounds.