While visiting the scenic Western Plateau, add one of the exciting festivals happening in Grand Junction to your itinerary. There are many fun things to do in the biggest city in Western Colorado and plenty of events to attend throughout the year.
Grand Junction is home to great places to bike, hike, and camp. The historic downtown provides plenty of places to enjoy art, shopping, and delicious food and drink. From seasonal and holiday events to bike races and music festivals, there's a plethora of special events to add to your calendar.
Keep in mind that the details of these Gunnison County festivals can change. It's always best to visit the official website for current info on pricing, parking, and any rules and restrictions. Reserve a room at one of Grand Junction's top hotels as early as possible.
Here's a look at Grand Junction's top festivals, in order of occurrence:
Southwest Arbor Fest
Southwest Arbor Fest is an Arbor Day celebration, which is known as a day to encourage people to plant trees. At this fest in years past, there has been the opportunity for guests to take home a free tree seedling to plant their own tree or participate in an auction for a large containerized tree to bring home.
The event is hosted by the City of Grand Junction Parks & Recreation Department. Other activities that have occurred at the fest include a notable tree tour, live music performances, food from local food trucks, and a craft beer expo with local and regional breweries.
late April | gjcity.org/228/Southwest-Arbor-Fest
Grand Valley River Fest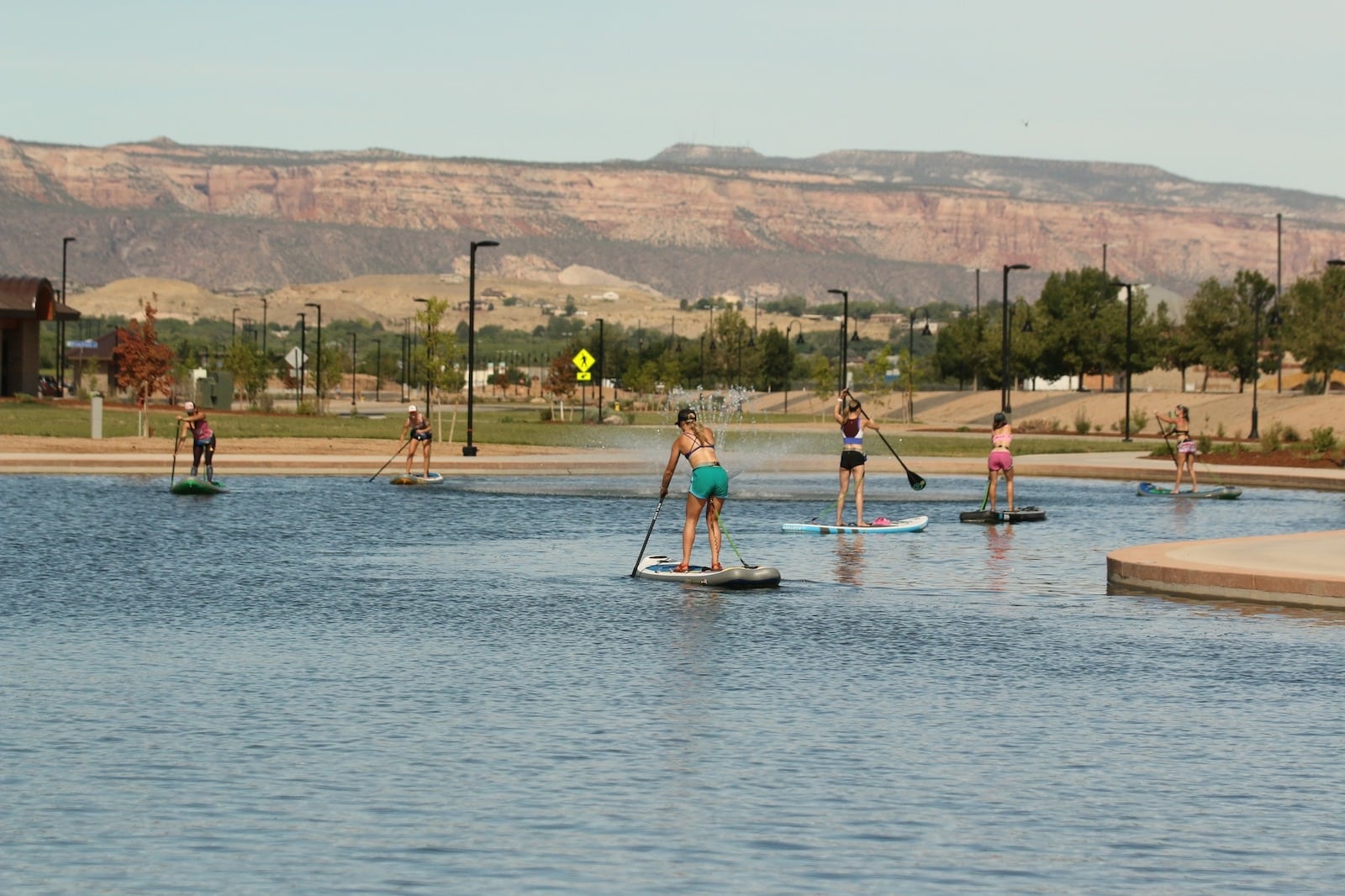 The mission of the Grand Valley River Fest is to engage and educate the community on local waterways. This includes recreation opportunities, stewardship, and environmental ethics, as well as boater safety on the water. The event takes place at Las Colonias Park, and partners have included River Rescue Dynamics, Save-A-Life-Jacket Program, Grand Junction Adventures, and RiversEdge West.
Some highlights during the fest have included a gear swap, a climbing wall for kids, a slackline exhibition, a throw bag tournament, and gear demos. A paddle contest includes a freestyle race, freestyle tricks, and a paddle joust between two paddle boarders.
mid May | grandvalleyriverfest.com
Grand Junction Rides & Vibes Downtown Music Fest
Grand Junction Ribes & Vibes Music Festival celebrates mountain biking and music. This is a multi-day event where riders can register for various races. There are awards distributed as well as prizes.
Several musical performers take the stage throughout the event. Previous bands that have played include Spose, Marc Broussard, Funk & Gonzo, Southside Highway, The Sean Moon Band, and Wozers. There is also a kids' race with doctors joining from Primary Care Partners, who present this event.
mid May | gjridesandvibes.com
Grand Enduro Mountain Bike Race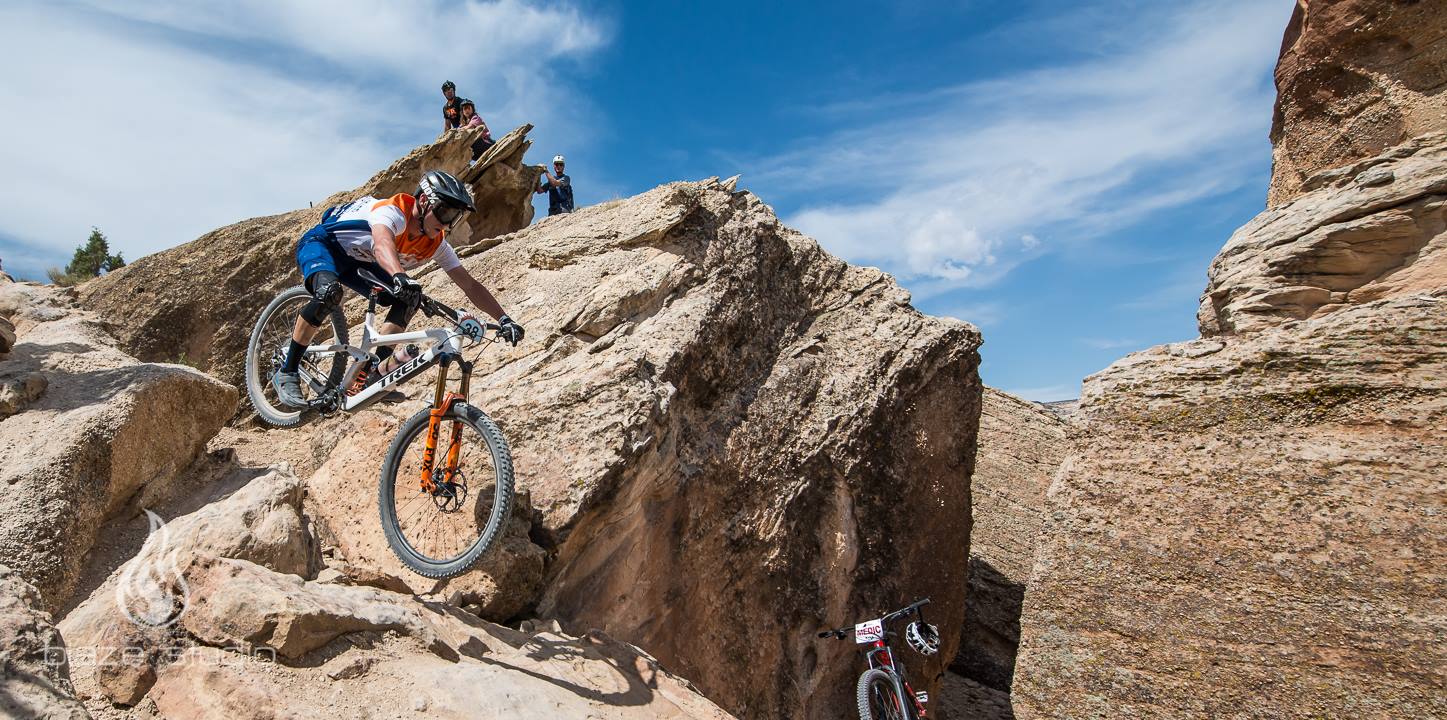 Grand Enduro Mountain Bike Race is a challenging bike race in and around Grand Junction's Lunch Loop trail system. The trails for this race are described as very technical and require solid fitness and expert handling skills, according to the website.
In addition to the race, there is live music and an awards ceremony. Participants of the event receive food and drink tickets to use at Handlebar Tap House. There is an option to camp at the race venue, either in a tent or RV. The website lists nearby hotels, rules, course details, and other things to know.
late May | grandenduro.com
Country Jam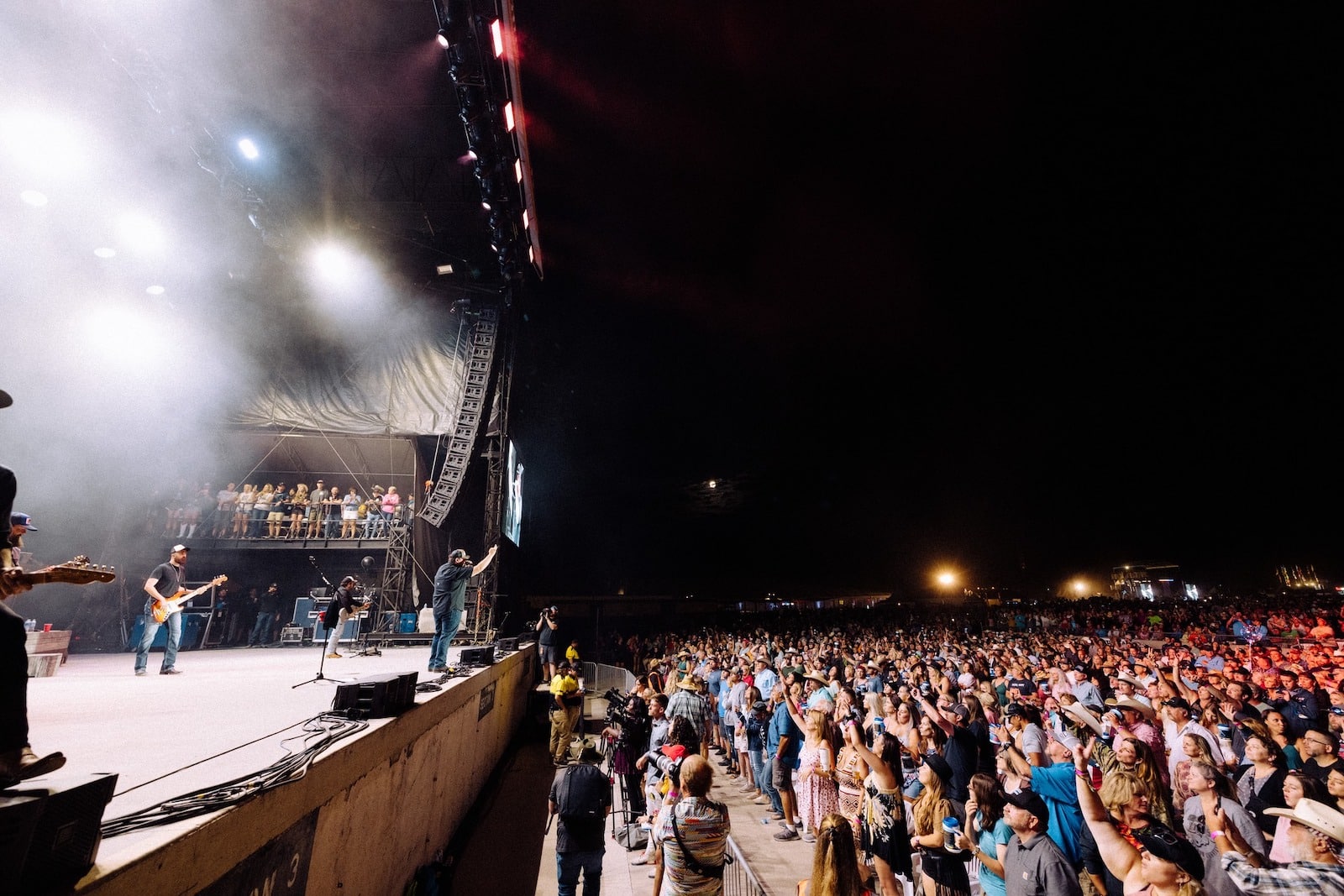 Country Jam is a multi-day festival featuring popular country music performers. More than 20 bands play on two stages during the three days of country music. Little Big Town, Luke Bryan, Rodney Atkins, Sam Hunt, and Eli Young Band are just a handful of artists who have previously performed at the festival.
Attendees can camp right on the grounds. The website provides a list of items that are allowed, such as chairs, food, and lawn games, as well as items that are not allowed at campsites. There are also food vendors during the festival. VIP packages include premium seating and access to a VIP hospitality area.
mid June | countryjam.com
Mesa County Fair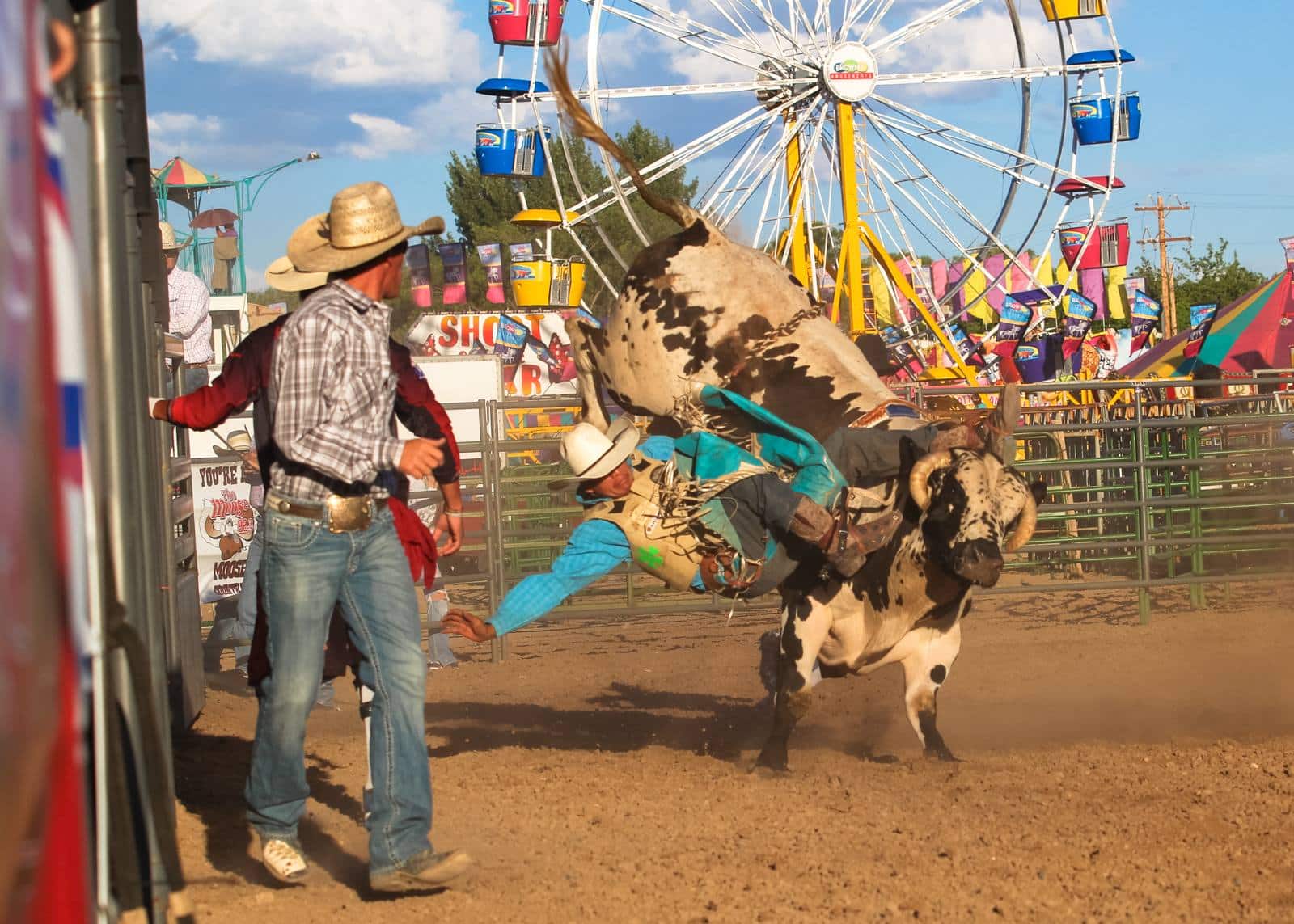 The Mesa County Fair consists of a carnival and a county fair for several days in July. The festivities are held at Mesa County Fairgrounds in Grand Junction. The event is organized by the Mesa County Fair Board and has been happening for more than 120 years.
There is a wide variety of entertainment, including live music performances, equestrian shows, aerial arts, and monster trucks. Daily shows are included with the admission.
mid July | mesacountyfair.com
Western Colorado Senior Games
The Western Colorado Senior Games is hosted by the City of Grand Junction Parks and Recreation Department. It gives senior citizens 50 years old and over a chance to compete in a variety of entertaining games. The competitions are held over several days.
Some of the games include axe throwing, basketball, billiards, track and field, swimming, bocce, pickleball, table tennis, golf chip/putt, bowling, and cards. It also includes a senior 5K walk and run. The website lists senior game results from previous years.
late August | gjcity.org/227/Senior-Games
Paint the Town
Paint the Town is the biggest fundraiser for The Art Center of Western Colorado, which works to enrich lives "by promoting the enjoyment and understanding of the arts". There are various exhibits, classes, and events during this event.
The annual fundraiser features a live auction with artwork from local artists, as well as regional and national artists. Other previous events have included a photo booth, live musical performances on the stage, appetizers, a cash bar, and a silent auction with items from local businesses.
mid September
Downtown Art Festival
The Downtown Art Festival celebrates everything art and Grand Junction's Creative District. The multi-day event features a variety of visual and performance art. Previous events have included a Female Filmmaker Friday, sculpture installations, dancers, aerial arts, and live musical performances.
A big part of the festival is the Grand Junction Film Festival, featuring both student and professional filmmakers. Past film categories have included documentary, narrative, animation and music, family-friendly, student films, and best of show.
early October | downtowngi.org/events/downtown-art-festival
Downtown Spooktacular
The Downtown Spooktacular is a family-friendly Halloween party happening in downtown Grand Junction. Main Street is closed down for this one-day event in the afternoon.
There are opportunities to trick-or-treat, live performances, and fun activities. Previous entertainment was provided by Lana Leigh & Co., Colorado West Aerial Arts, and Absolute Dance Company.
late October | downtowngj.org/events/spooktacular
Downtown Tree Lighting
The Downtown Tree Lighting launches the holiday season with a tree lighting in Downtown Grand Junction. The tree at 4th and Main gets lit up for the holidays in the evening.
In addition to the tree, the festive lights down Main Street are lit up as well to welcome the holidays. There may even be an appearance by Santa Claus at this event.
mid November | downtowngj.org/events/tree-lighting
Best of the West Music Festival
The Best of the West Music Festival is a multi-day event featuring hundreds of high school musicians. The event has grown from a one-day festival in 2000 to a three-day event with national attention.
The website lists the schedule of performances throughout the festival. There is a concert featuring Colorado Mesa State University faculty and students and masterclasses. There is also an opportunity for music teachers to gain continuing education credits.
early December | coloradomesa.edu/…
Parade of Lights
The Parade of Lights is Grand Junction's biggest parade of the year. There are more than 100 lighted entries to help celebrate holiday cheer.
The parade takes place on Main Street in downtown Grand Junction. Thousands of people are estimated to line the streets to view the displays.
early December | downtowngj.org
Santa Cause Run
The Santa Cause Run is an annual 5K race held at Las Colonias Amphitheater. The event is hosted by the Grand Junction Parks & Recreation Department and Kiwanis to raise money for inclusive playground equipment. An example of a completed project is a wheelchair-accessible swing at Canyon View Park.
In addition to the 5K route, there is also an option for a 1K route for children 11 years old and under. There are awards for the fastest combined 5K time for a male and female participant, the fastest time for a runner and their dog, and the fastest combined 5K for a runner older than 18 years old with a runner younger than 18 years old.
There are a limited number of t-shirts and Santa suits available to runners upon registration.
mid December | gjcity.org/226/Santa-Cause-Run
Regardless of the time of year, there is a unique event happening in Grand Junction. Whether it's art, music, or biking, there is something for everyone to do.