In addition to a robust wine scene, there are many festivals in Palisade that make it a great place to visit all year round. This Western Colorado town is synonymous with fresh peaches, locally produced wine, and biking in incredible scenery – and you can expect to find related events to all three.
Palisade is known for the dozens of wineries and tasting rooms located here. That is why you'll find numerous wine events, including the Colorado Mountain Winefest, which was named one of the best wineries in the country.
Keep in mind that details of an event can change, including date and location. It's always a great idea to visit the website for the most up-to-date information. You'll likely also find details on parking or transportation, any rules and restrictions, and other important things to know.
Here is a list of the top annual events in Palisade in order of occurrence:
Palisade International Honey Bee Festival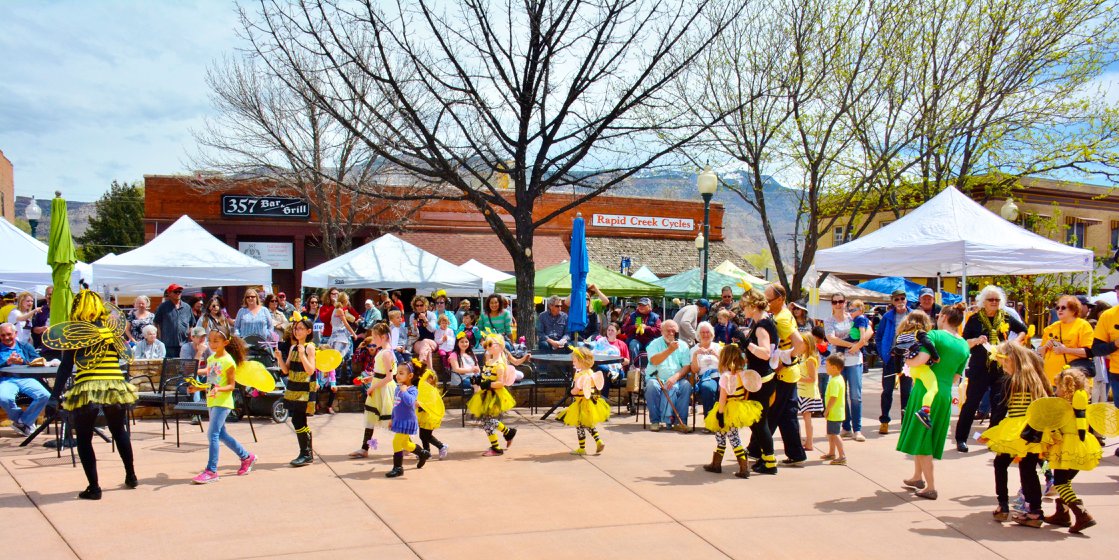 The Palisade International Honey Bee Festival is a community event that was founded to celebrate the town's agricultural roots and also bring attention to the threatened population of honey bees. The goal of the yearly event is to increase awareness of the honey bee crisis and the impact of bees on our food sources.
There has been a spelling bee competition and a wide variety of vendors at the festival. The event includes live music and children's hands-on activities. It all takes place in the Plaza and along Third and Main Streets in Palisade. A full schedule of the events, information on becoming a participating vendor, and additional resources can be found on the website.
April | palisadehoneybeefest.org
Barrel Into Spring
Barrel Into Spring is a multi-day wine tasting event. Attendees pick up a tasting glass, the official Barrel Into Spring passport, and an event wristband at an assigned location.
From there, each person takes a self-guided tour of seven wineries to enjoy barrel tastings and food pairings prepared from caterers and chefs. Sauvage Spectrum, Red Fox Cellars, Carboy Winery, and Whitewater Hill Vineyards are just a few of the past wineries featured.
If a person gets their passport stamped at each location before the end of the weekend, they are then up for a chance to win a free case of Colorado wine. The event takes place on two different weekends in Spring. The website offers suggestions for transportation services and lodging.
April & May | winecolorado.org/barrel-into-spring
Grand Valley Half Marathon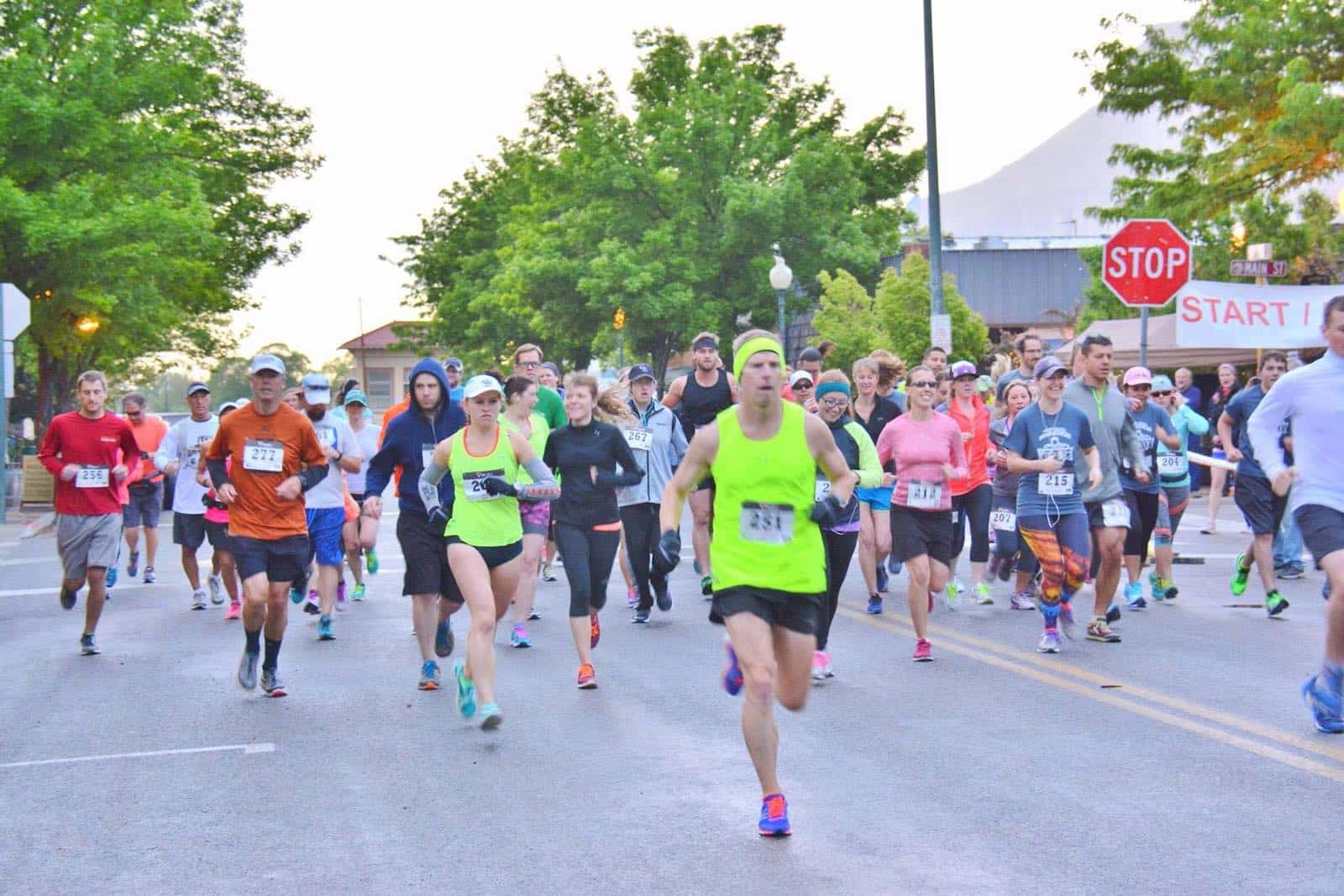 The Grand Valley Marathon is an annual race held in Palisade. The usual course goes along the Colorado River, the base of the Grand Mesa, through wine orchards, and through the town.
There are three length options that runners can choose from, including a half marathon, 10K, and 5K. The race is typically held prior to Palisade's Brews and Shoes beer fest.
May | facebook.com/grandvalleymarathon
Palisade Brews and Shoes
The Palisade Brews and Shoes event is a craft beer fest featuring local breweries. This festival celebrates Colorado's beer industry with more than 30 breweries in attendance pouring tastes of beer.
Tickets include unlimited samples of the beer and live music in Veterans Memorial Park. There are also vendors on-site, and brewer's education. This event typically follows the Grand Valley Half Marathon.
May | palisadecoc.com/events/brews-and-shoes
Palisade Bluegrass & Roots Festival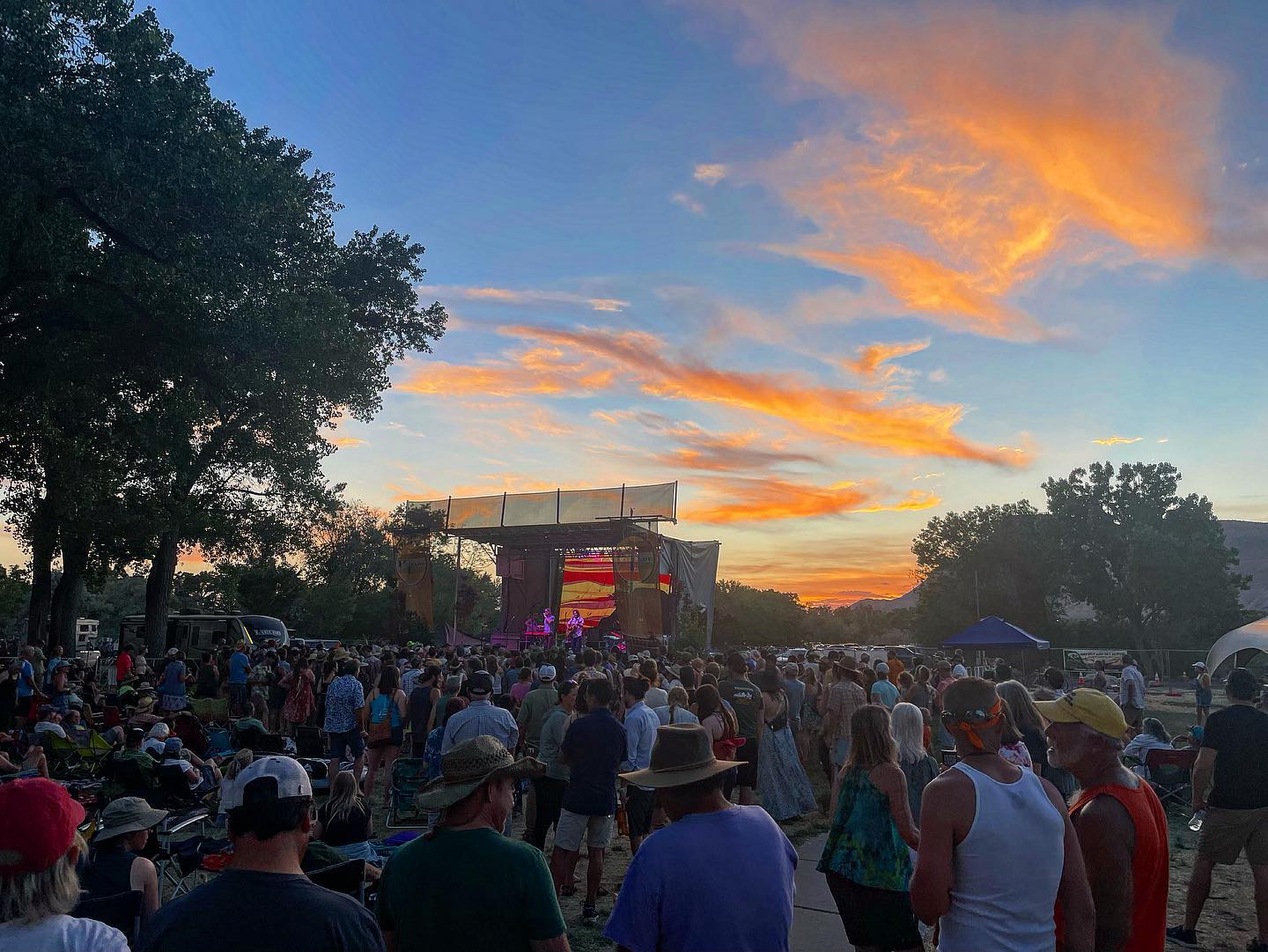 The Palisade Bluegrass & Roots Festival is a three-day event featuring both top bluegrass artists from around the country as well as emerging local performers. It all takes place at Riverbend Park in Palisade, along the Colorado River. The website has a full schedule of performances and information on how to buy tickets or volunteer at the festival.
Besides the music, attendees can also enjoy artisan vendors, painting workshops, lavender tours, paddle boarding, and local wine and distillery tastings. Festgoers can purchase camping passes to stay on-site in the premium or general camping areas.
June | palisademusic.com
Colorado Lavender Festival
The Colorado Lavender Festival is a three-day event celebration hosted by the Lavender Association of Colorado. The group's mission is to promote lavender through seminars, tours, festivals, and classes, along with research, networking, education, and market development.
During the festival, people can take a self-guided tour of select farms throughout Palisade and the North Folk Valley. There are seminars, classes, demos, booths, and live music at Riverbend Park. The festival has also included a separate Lavender & Wine Dinner and wreath-making classes.
June | coloradolavender.org
Edesia Wine and Food Festival
Edesia Wine and Food Festival features sample tastings from local wineries as well as restaurants. Some of the previous wineries that have participated are Carlson Vineyards, Maison La Belle Vie Winery, Talon Wine Brands, Grande Valley Vineyards, and Mesa Park Vineyards.
Past live musical acts during the event have included Frank Brager Orchestra with Krystyn Hartmann, piano and accordion player Mike Gazdak, and From the Top. Profits have benefitted MarillacHealth, a non-profit health center serving the Grand Valley community.
July | edesiapalisade.com
Palisade Peach Festival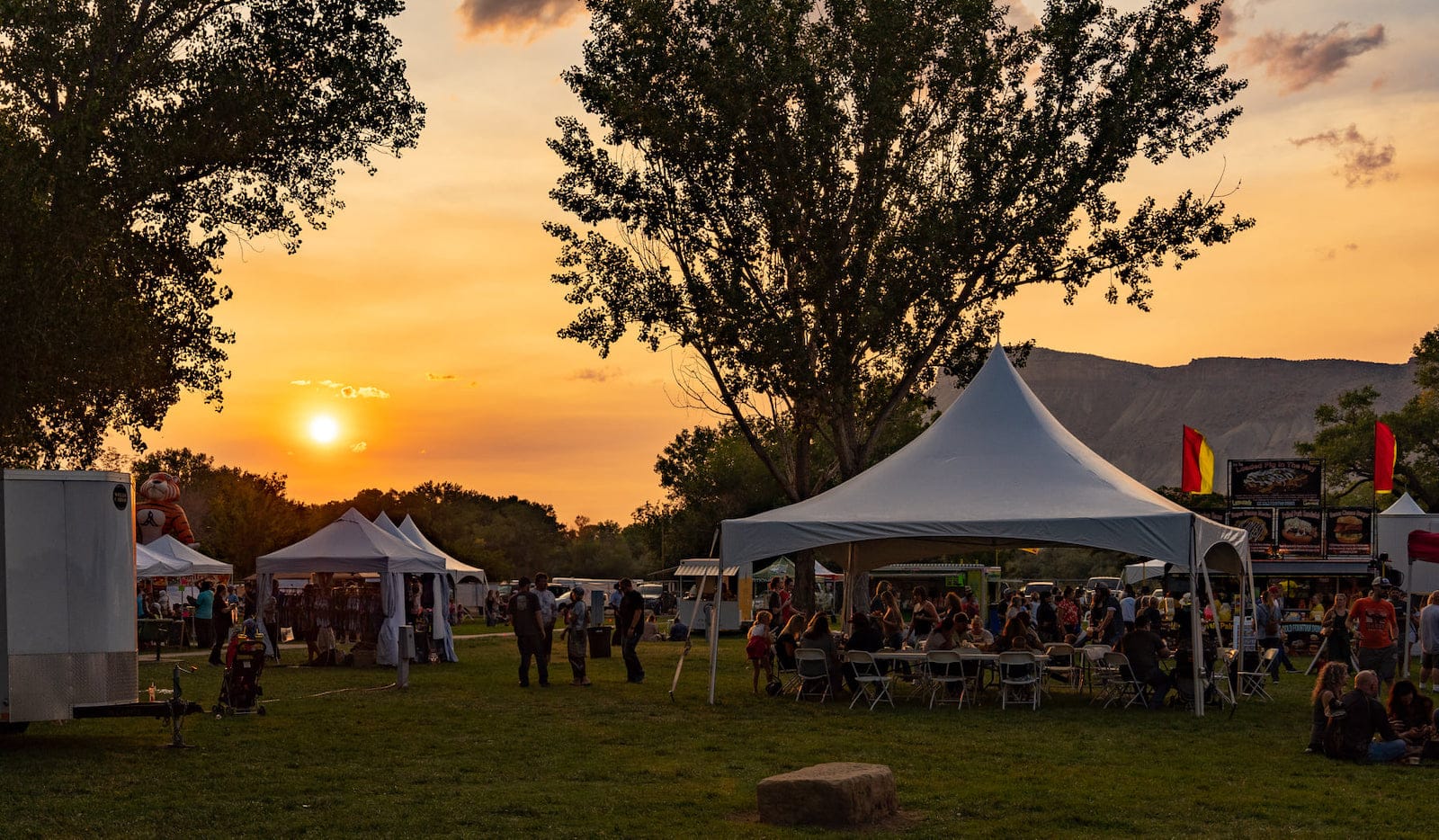 The Palisade Peach Festival is a longtime tradition of celebrating Colorado's beloved fruit for an entire weekend. The Just Peachy 5K Run is part of this event, as well as a festive peach parade. The festival at Riverbend Park has vendors, entertainment, food and drinks, and games.
Other activities during this multi-day celebration have been a peach eating contest, live music, farm-to-table dinners, chef demos, orchard farm tours, an ice cream social, a BBQ contest, and a pancake breakfast. There has also been a Peach Queen crowned, who has received a scholarship.
August | palisadecoc.com/events/palisadepeachfest
Tour de Vineyards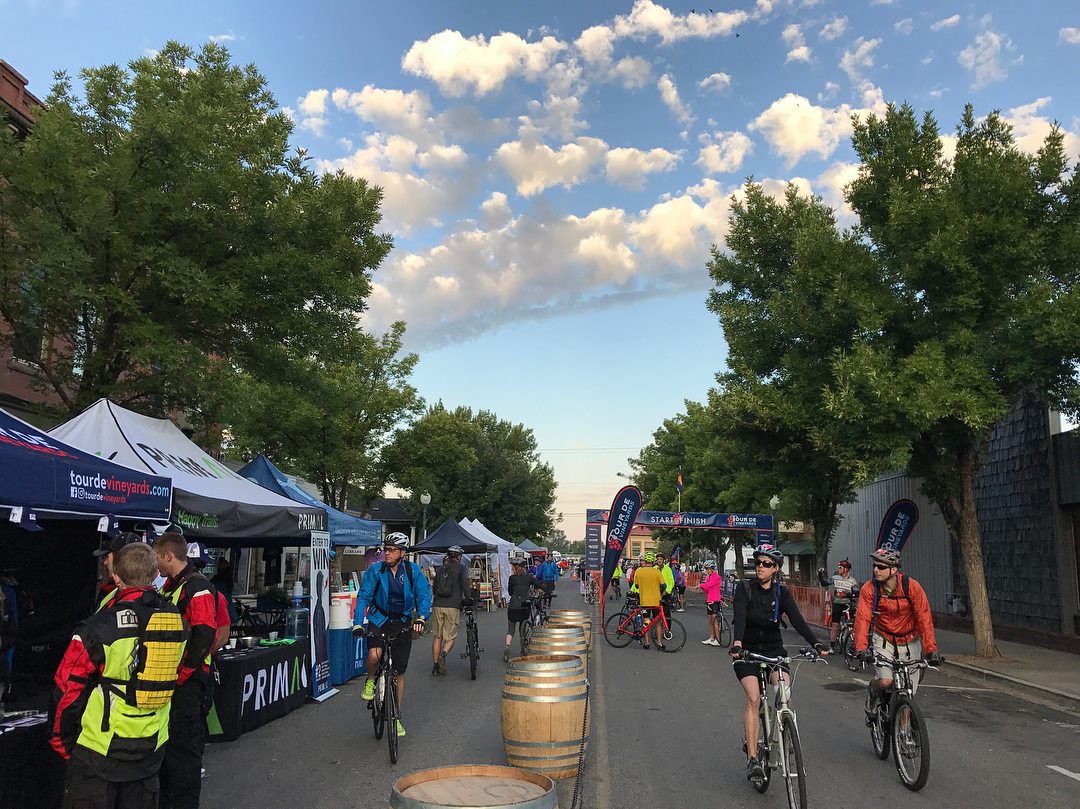 Tour de Vineyards is a bike ride along the Palisade Fruit and Wine Byway in the fall. This ride takes place prior to the Colorado Mountain Winefest at Riverbend Park. The website has details on the course, how to register, and more information.
There are two-course options: a 23-mile ride along the Byway or a more challenging 58-mile course, which adds on a loop up and over Reeder Mesa. The ride concludes with brunch and live entertainment. An expo showcases cycling gear, apparel, accessories, and nutrition products.
September | events.outsideonline.com/tourdevineyards
Colorado Mountain Winefest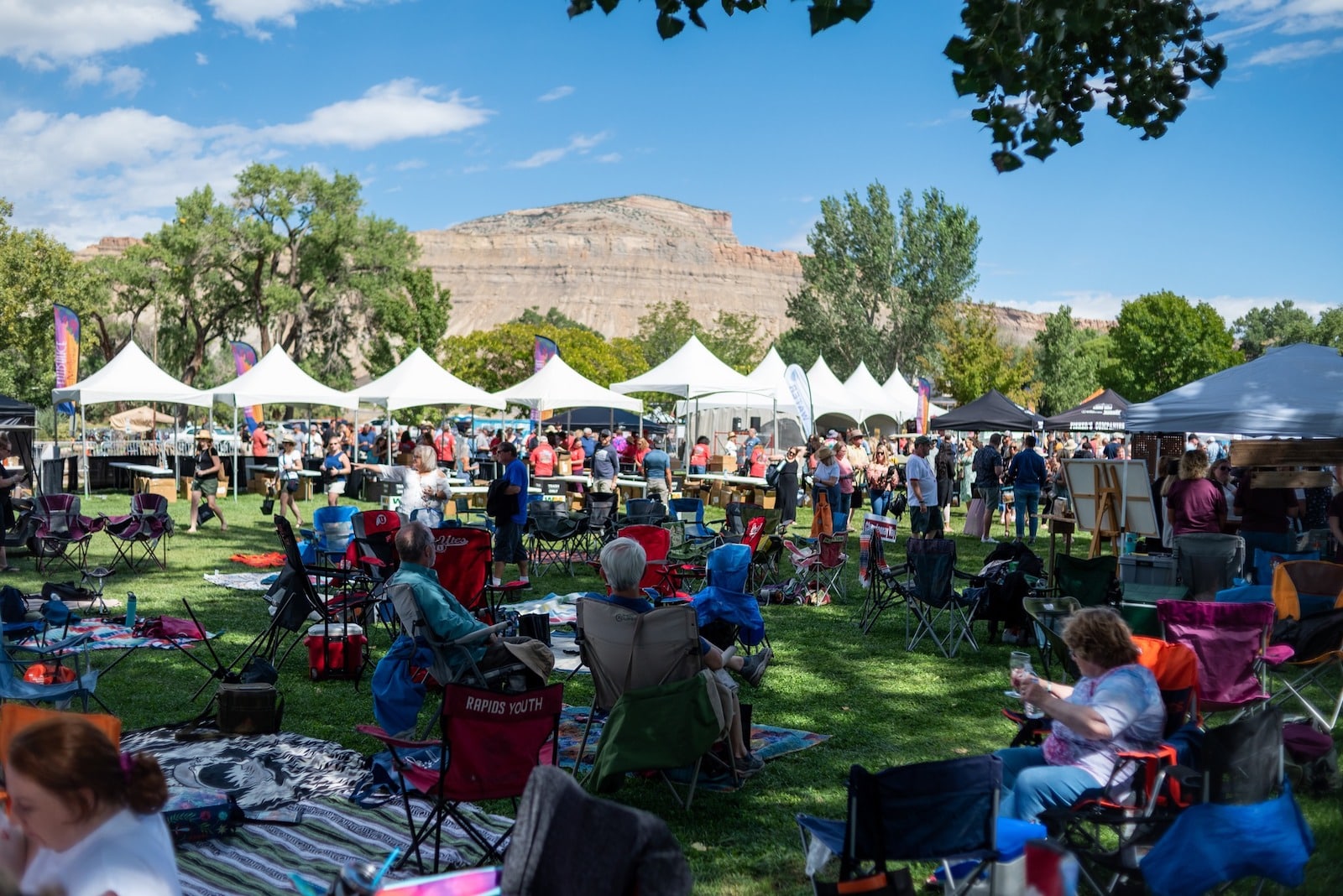 The Colorado Mountain Winefest is one of the largest wine festivals in the nation and was named as the best wine festival in the country by USA Today. It's the biggest fundraiser for the Colorado Association for Viticulture & Enology (CAVE), a non-profit group that strives to support winemaking and grape growing in the state.
Besides tasting unlimited wine samples in Riverbend Park, attendees can take part in educational seminars, shop at artisan vendors, watch chef demonstrations, and enjoy live music. Prior to the festival, there is an art contest held to decide the official artwork of the event. The website has information on different ticketing options, frequently asked questions, and transportation details.
September | coloradowinefest.com
Palisade Art & Chocolate Walk
The Palisade Art & Chocolate Walk is a one-day event on Main Street in Palisade. Stores and vendors offer complimentary chocolate samples to the public.
Enjoy sweet treats while viewing fine art from local artists. In the past, participants could get a card punched at each vendor, and completed cards were entered into a drawing for a basket filled with art, chocolate, and other surprises.
November | business.palisadecoc.com
Old Fashioned Christmas
Old Fashioned Christmas is an annual weekend of events to bring in the holiday season in Palisade. On Friday, there is a gingerbread contest showcase, Christmas carolers, the lighting of the tree, and a parade of lights.
On Saturday, the day kicks off with breakfast with Santa. Then there's cookie decorating, a holiday village market, a soup challenge, a warm clothes drive, live music, historical talks, and a book sale.
December | palisadecoc.com/ofc
Christmas in the Country Tours
Christmas in the Country Tours is a one-day, family-friendly event where people can enjoy carriage rides through Palisade. The carriage begins at Talon Wines and stops at orchards, wineries, and other spots along the ride.
Tickets include mulled wine or hot chocolate and s'mores by the fire at one of the stops. Along the way, there is also the chance to get a photo taken.
December | palisadecoc.com
These top events in Palisade are all great reasons to visit this scenic Colorado town. Whether sipping local wine or enjoying seasonal festivities, each event is a memorable one showcasing the best of the Western Slope.
If you need accommodation for your festival weekend, consider one of Palisade's top hotels.