Salida is a mountain town known for its thriving arts scene, plenty of outdoor activities to enjoy, and numerous top events throughout the year. In addition to skiing at Monarch Mountain, rafting, hiking, and strolling through the historic downtown, these festivals are sure to provide entertainment.
It's always important to visit an event's website and social media pages before going. Since details can change, here is where you'll find the most up-to-date information. The website can also provide details on pricing, parking, and any rules and restrictions you should know.
Here is a list of annual events in Salida in order of occurrence throughout the year:
Run Through Time Trail Marathon and Half Marathon
The Run Through Time Trail Marathon has three race options for the event: a full marathon, a half marathon, and a two-mile run. There is also a free children's 400-meter run at Riverside Park. Proceeds from the race have previously benefitted the Salida Mountain Trails and Chaffee County Search and Rescue-South.
The challenging course is through the Arkansas Hill Trail System, BLM and Forest Service Land, Chaffee County, and the City of Salida on narrow, hilly dirt roads. Participants receive a light meal post-race and custom race socks.
March | runsignup.com/race/co/salida/runthroughtime
Kayaks on Snow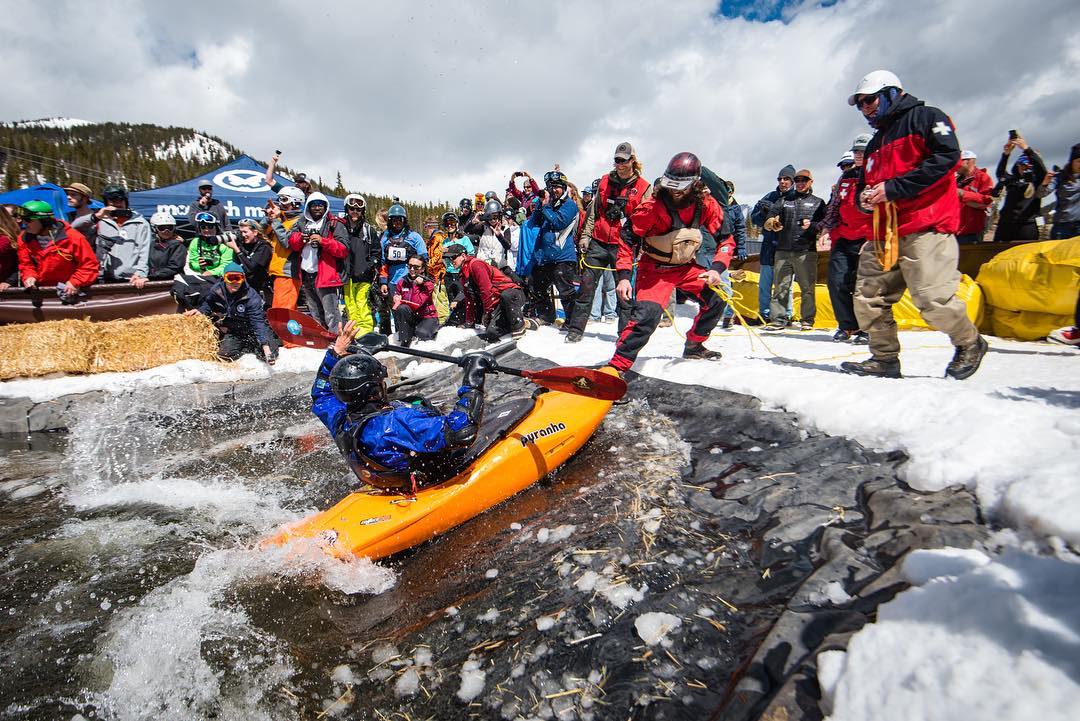 Kayaks on Snow is a yearly signature event at Monarch Mountain Ski Resort. Described as a "crazy event for those dreaming of water flowing to the river", contestants race head-to-head down a course in hard-shell kayaks. The course is specially designed with berms, banks, and bumps, and it all ends in an icy pond. This event is for experienced kayakers only, but the public is free to watch.
All participants are required to supply their own equipment for the race (hard shell whitewater kayak with skirts, helmet, PFDs, carabiner) and sign a waiver. There is a fee to enter the competition, and costumes are encouraged.
April | skimonarch.com/kayaks-on-snow/
Bluegrass on the Arkansas Festival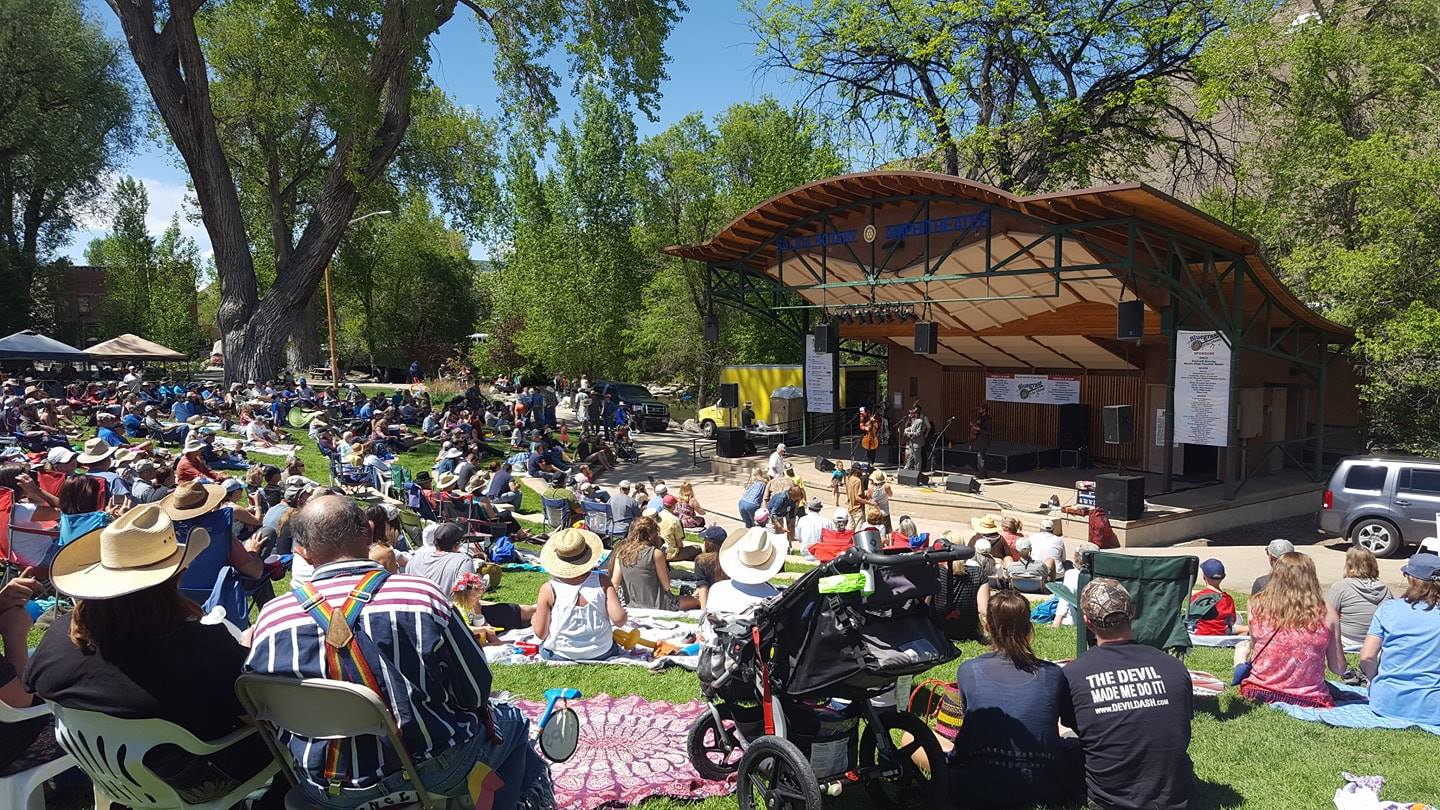 Bluegrass on the Arkansas Festival is a two-day music festival featuring a variety of artists. The fun takes place in Riverside Park in Salida on Memorial Day weekend.
This is a free event with food and drink available. Proceeds benefit a scholarship program with the Rotary Club of Salida as well as other local non-profits. Past performers have included Pint and a Half, Rapidgrass, Big Meadow, Red Mountain Boys, and Blue Canyon Boys.
May | bluegrassonthearkansas.org
FIBArk Whitewater Festival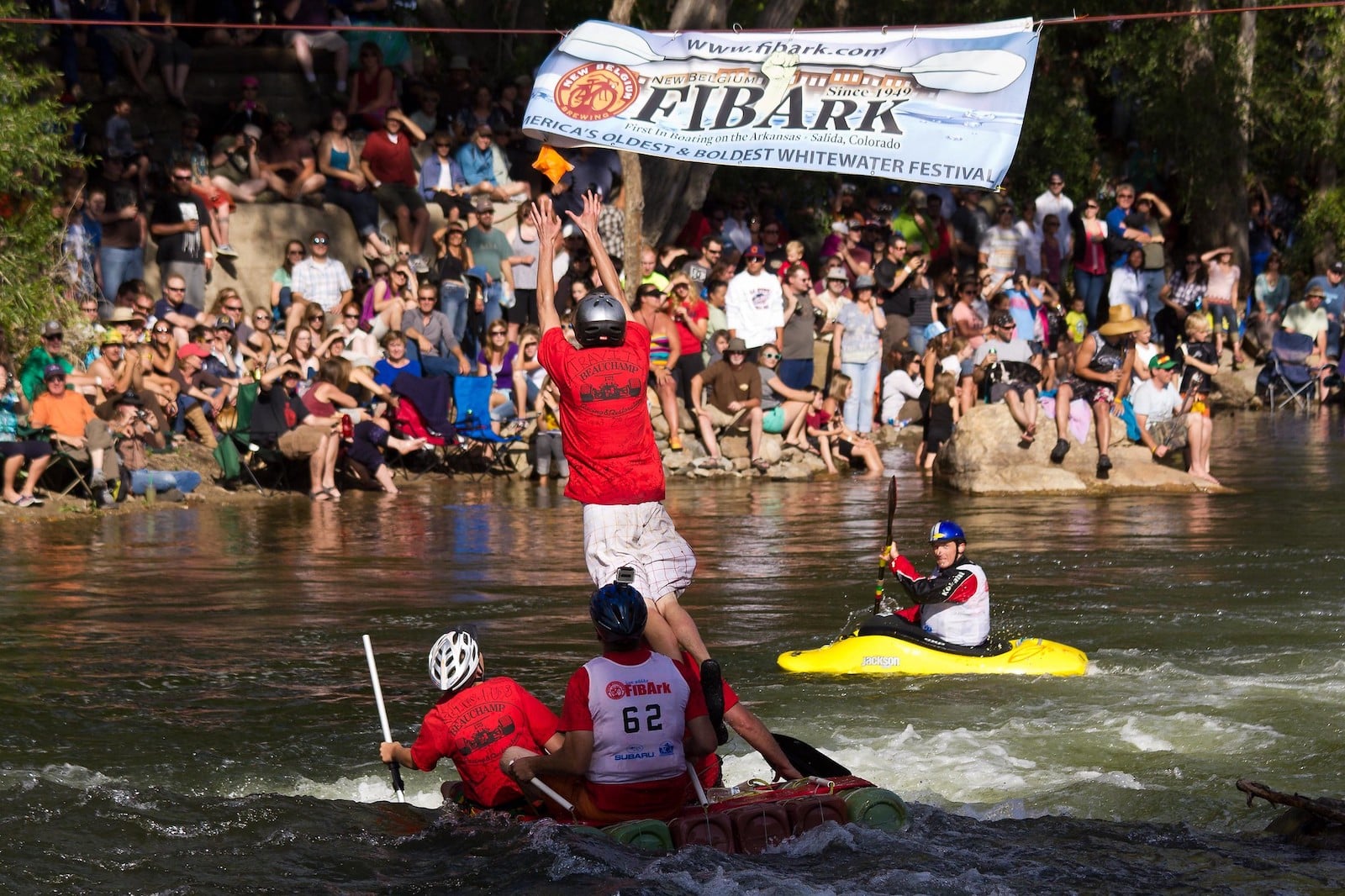 The FIBArk Whitewater Festival is a yearly competition and celebration of whitewater boat races and paddlers from all over the United States. FIBArk stands for First In Boating Arkansas and started all the way back in June of 1949.
The FIBArk Community Paddling Center is dedicated to encouraging the community to discover whitewater paddle sports through events and programs, as well as providing local youth the opportunity to safely learn about the sport.
The multi-day festival takes place every June and draws large crowds each year. In addition to the boating activities, there are live musical acts throughout the entire weekend, a Kid's Oasis with child-friendly activities, a skate competition, and a vendor village. There are also various running races, such as a 10k trail run, a 5k or 10k race, and the Tenderfoot Hill Climb.
June | fibark.com
Salida ArtWalk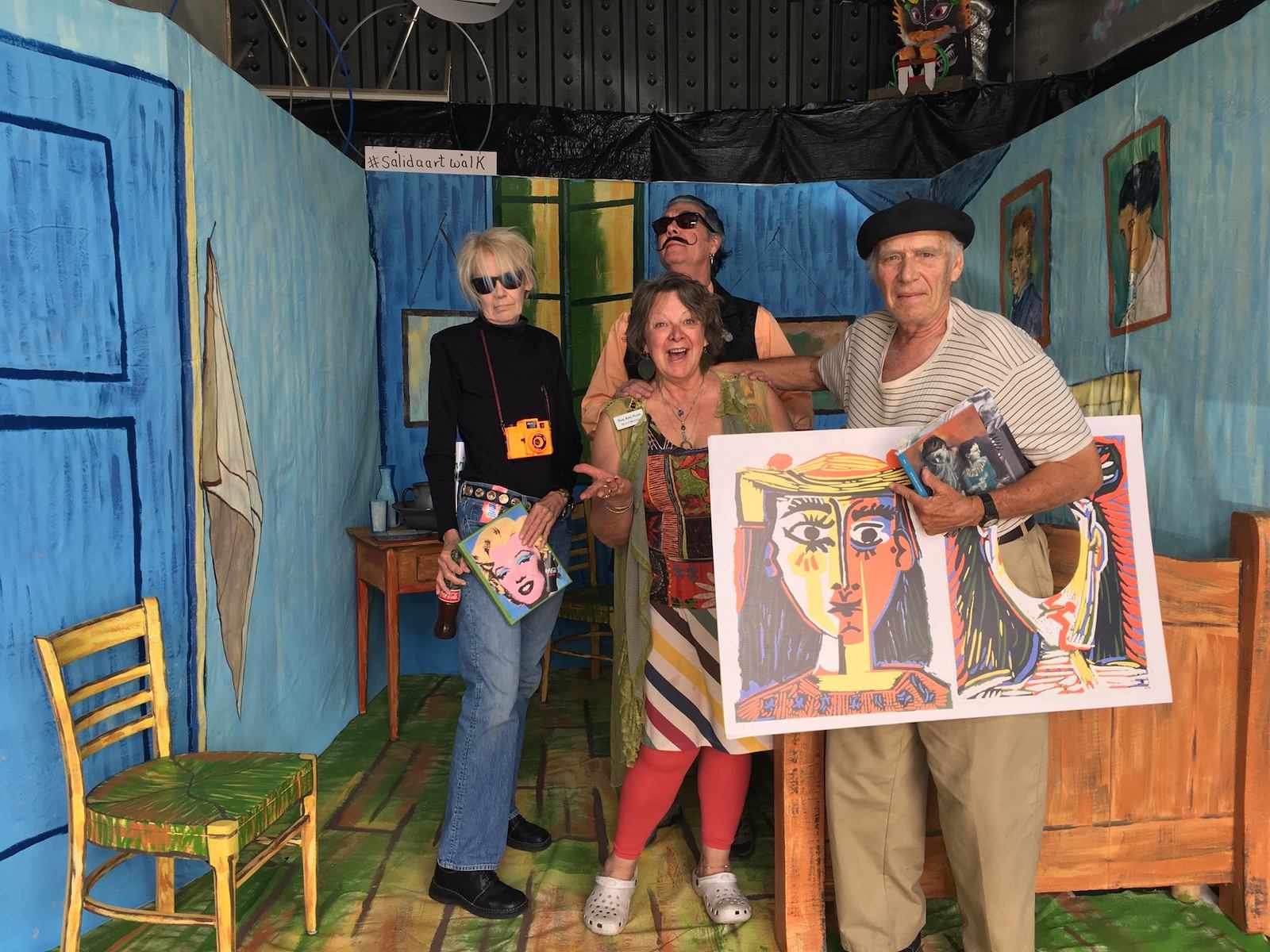 Salida ArtWalk is a weekend-long celebration of art throughout Salida. More than 30 various venues become temporary art galleries showcasing a variety of pieces. This is in addition to the permanent art galleries already in existence.
The festival highlights both local and regional artists. There have also been musical performances, live painting, dance acts, art talks, author readings, and gallery receptions. Some of the previous vendors have included The Book Haven, First Street Flooring, Benson's Tavern & Beer Garden, and Salida Mountain Sports.
June | salidaartwalk.org
Ark Valley Pride
Ark Valley Pride is a celebration and gathering of the LGBTQIA+ community, along with allies and families. The festival takes place in downtown Salida at Riverside Park for a weekend in June.
The Purple People Powered Pride Parade has been happening since 2017. The parade starts in Alpine Park with skateboards, bicycles, wheelchairs, tricycles, and wagons welcome to participate. Other events in the past have included a kick-off party in the park, youth pride presentations and awards, a dance party, a drag show, a picnic brunch, and Pride Village with resources and activities.
June | arkvalleypride.com
Fourth of July Celebration
The Fourth of July Celebration in Salida is one of the best Independence Day celebrations in the country, according to the City of Salida's website. The fun kicks off on July 4th at noon in Riverside Park.
There is a community parade, live music, and food available. A firework show begins at dusk and is weather permitting.
July | cityofsalida.com
Colorado Brewer's Rendezvous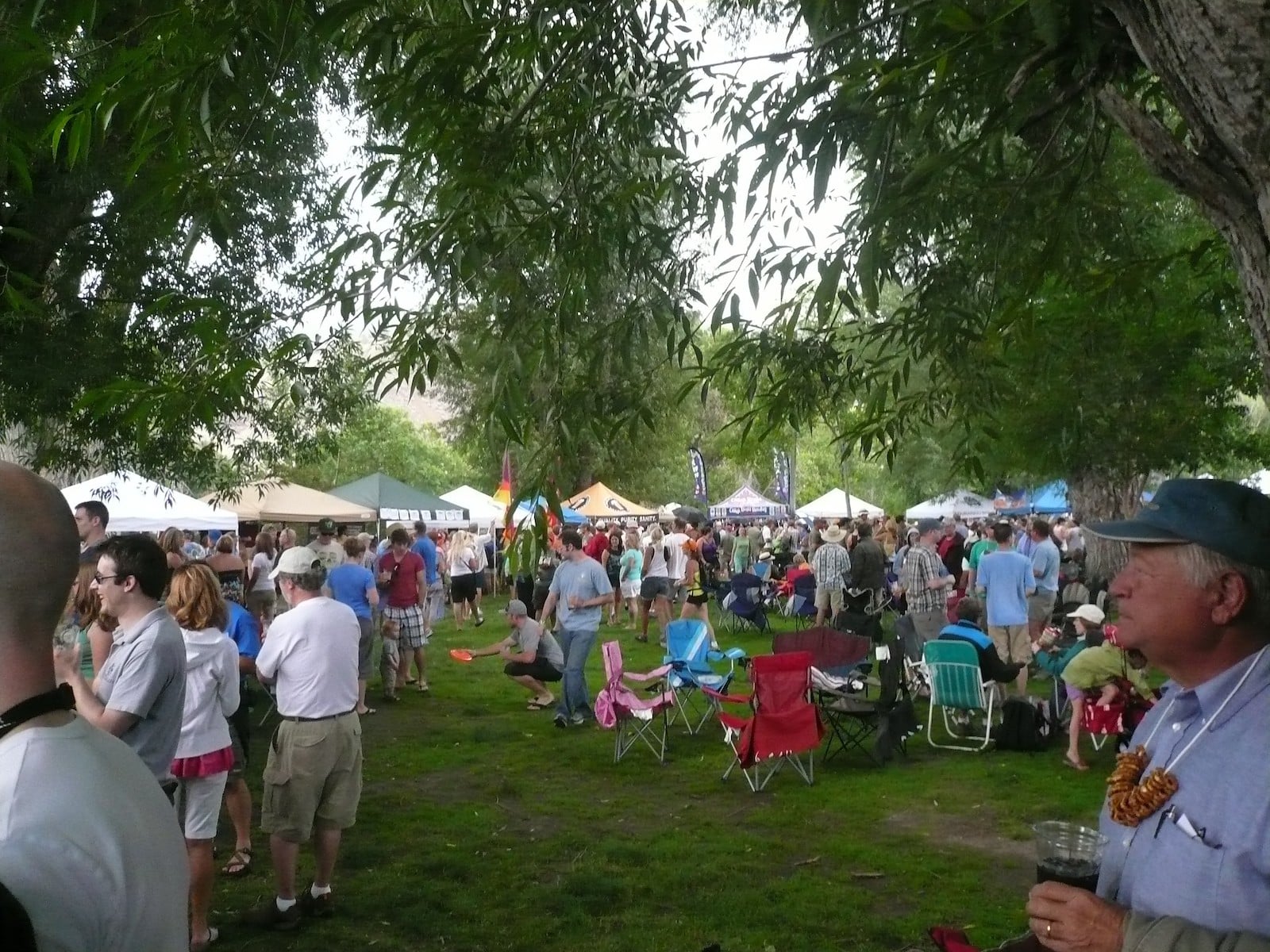 The annual Colorado Brewers Rendezvous is one of the state's most popular beer fests. Hosted by the Colorado Brewers Guild, the outdoor festival features 70 local breweries serving beer on the Arkansas River.
Previous Colorado breweries that have attended include Fossil Craft Beer Company, Strange Craft Beer Company, Soulcraft Brewing, Resolute Brewing Company, Ramblebine Brewing Company, and Cellar West Artisan Ales. There is also a more intimate event the day prior to the main event, featuring exclusive beers from select breweries.
July | coloradobeer.org/colorado-brewers-rendezvous
The Salida Riverside Arts Festival
The Salida Riverside Arts Festival is a two-day art fest featuring 2D and 3D art. The event is promoted and managed by experienced artists. It's held in Riverside Park, adjacent to the pedestrian mall in downtown Salida.
The festival features more than 50 new and returning artists. Some of the mediums include painting, glass, photography, metal, fiber, wood, and jewelry.
July | salidaartsfestival.com
Salida Jazz Festival
The Salida Jazz Festival is a celebration of jazz music with a variety of live performances throughout the day. The event takes place at Riverside Park.
The website gives a run-down of performers and a detailed schedule of performances. Past performers have included Hazel Miller and the Collective, Blue Recluse, Secret Six Jazz Band, Zephyr Jazz Trio with Special Guests, Jazz Merchants Big Band, and Gypsy Jazz Social Club.
August | salidasteamplant.com/salida-jazz-festival
Salida Bike Festival
Salida Bike Festival is a weekend-long event with a bike race and various other biking-related events. The race takes place on Saturday, departing from Riverside Park.
Past events during this festival have included a family-friendly cruiser ride, kid's bike decorating, a decorated bike parade, and an awards ceremony and after-party. There has also been a bike-in movie where costumes were encouraged to kick off the festival on the first day.
September | cityofsalida.com
Salida Fiber Festival
The Salida Fiber Festival celebrates the region's best in fiber. It was launched in 2011 and has grown to be one of the best fiber festivals in the West. In the past, the event is open to artists within 50 miles of Salida.
Various fiber techniques include knitting, crocheting, beading, dyeing, stitching, sewing, and weaving. The festival is held in September, the first weekend after Labor Day on both Saturday and Sunday at Riverside Park.
September | salidafiberfestival.com
Christmas Mountain
Christmas Mountain is the lighting of the 750-foot-tall Tenderfoot Mountain, summit to base in Salida. The tree lighting is typically held on the Friday after Thanksgiving at dusk.
The 4,500 LED-colored lights shine from late November into mid-January. This has been a local tradition since 1989.
November and December | salidachamber.org/christmas-mountain/
These events in Salida are just a portion of the fun awaiting visitors in this town. While you're in town for an event, consider checking out the eclectic shops, restaurants, and trails.