Rejuvenate your body in scenic Manitou Springs at the SunWater Spa. It's a wonderful hot springs resort, complete with numerous soaking pools and spa treatments.
There are seven outdoor cedar mineral tubs, ranging from 90℉ to 103℉. Inside there are three saline pools, consisting of a cold plunge of 80℉, a pool of 96℉, and a hot tub of 104℉.
Classes include yoga, Tai Chi, and meditation. A number of massages are available, such as couples, sacred stone, and open-air massage. Guests can also enjoy spa services, ranging from facials and waxing to water therapy and aqua cranial. There's even an infrared sauna.
SunMountain Center

Down the road from SunWater Spa sits the SunMountain Center. This is the perfect alpine retreat nestled at the base of the Rocky Mountains. There is a B&B you can rent from Airbnb.
The large Victorian-style bed and breakfast doubles as a retreat and event center. Your morning there will start with a carefully crafted hot breakfast waiting for you when you wake up.
Read about the Blissful B&Bs in Colorado Springs.
Details
Address: 514 El Paso Blvd, Manitou Springs, CO 80829
Phone: 719-695-7007
Bathing Suits: Required
Season: Year-round
Website: sunwaterspa.com
Latest in SunWater Spa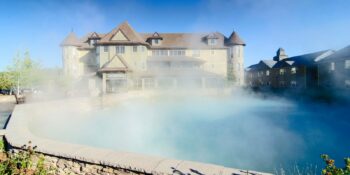 Sourced from deep under the Rocky Mountains, there are dozens of hot springs that exist around…