Quaint and charming are two words often used to describe Colorado Springs, and bed and breakfast hotels are one of the best ways to experience those two character traits of this historic city.
Often located in buildings of historic note, The Springs is a hotbed for gorgeous and unique B&B's. Thanks in part to its large number of old Victorians and beautiful examples of early nineteenth century architecture. While planning your next visit to the Pikes Peak region, take a look at the myriad of options to choose from to find your next bed and breakfast destination.
There are many great neighborhoods in Colorado Springs to explore during your visit or pick to stay overnight in. Probably the four most popular are where you'll find all of the following B&Bs.
Old Colorado City
Manitou Springs
Downtown Colorado Springs
North Colorado Springs
Here are among the best bed and breakfast hotels in Colorado Springs, in no particular order:
Old Colorado City
If you love the old-world vibes of Colorado Springs, you must add Old Colorado City to your list of places to see. This quaint and charming area west of I-25 is full of historic Victorian mansions and incredible shops, restaurants, and attractions.
This section contains referral links. If you click through and take action, we may receive a commission, at no additional cost to you. 
Old Town Guesthouse B&B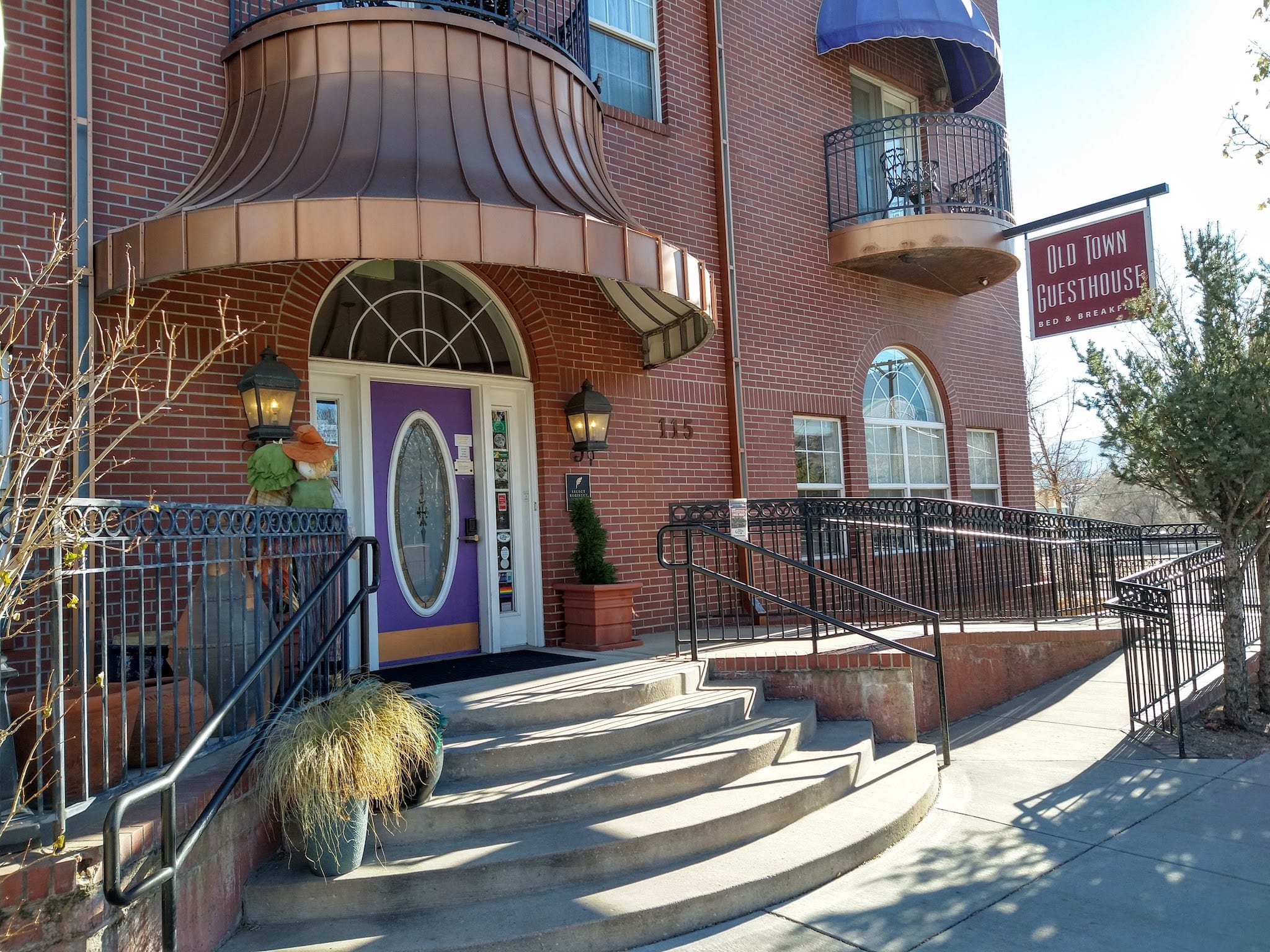 Arguably one of the most high-end B&Bs located in historic Old Colorado City, the Old Town Guesthouse has a long reputation for excellent hospitality services. They also boast rooms with incredible views and amenities and delicious breakfast offerings for their guests.
Each room comes equipped with a water bed that contours to your body and a balcony to enjoy the Rocky mountain air. Some of the more deluxe suites include a private hot tub to soak in.
After a delicious breakfast, take a walk out on the town, where many shops, restaurants, and bars are only steps away. Even Garden of the Gods is only a ten-minute drive, making this the perfect spot for a romantic getaway or special vacation.
INNHALE Cannabis-Friendly Bed & Brunch – adults only!
Visitors to Colorado Springs may want to partake in the legal marijuana that can be found at places like Maggie's Farm and Emerald Fields, just west of Manitou Springs. Although recreational weed is not sold within El Paso County, places like INNHALE offer an option to partake in a more homey environment, without the risks of getting caught by hotel management and charged a smoking fee.
Imbibe in the mountain highs and enjoy some delicious food offerings at this quirky stop, or spend a weekend enjoying a cannabis-inspired dinner with a loved one. Be sure to stop back by in the afternoon for high tea, served every day at 4:20, or make a reservation for one of INNHALE's exclusive spa and yoga services during your stay.
Holden House 1902 B&B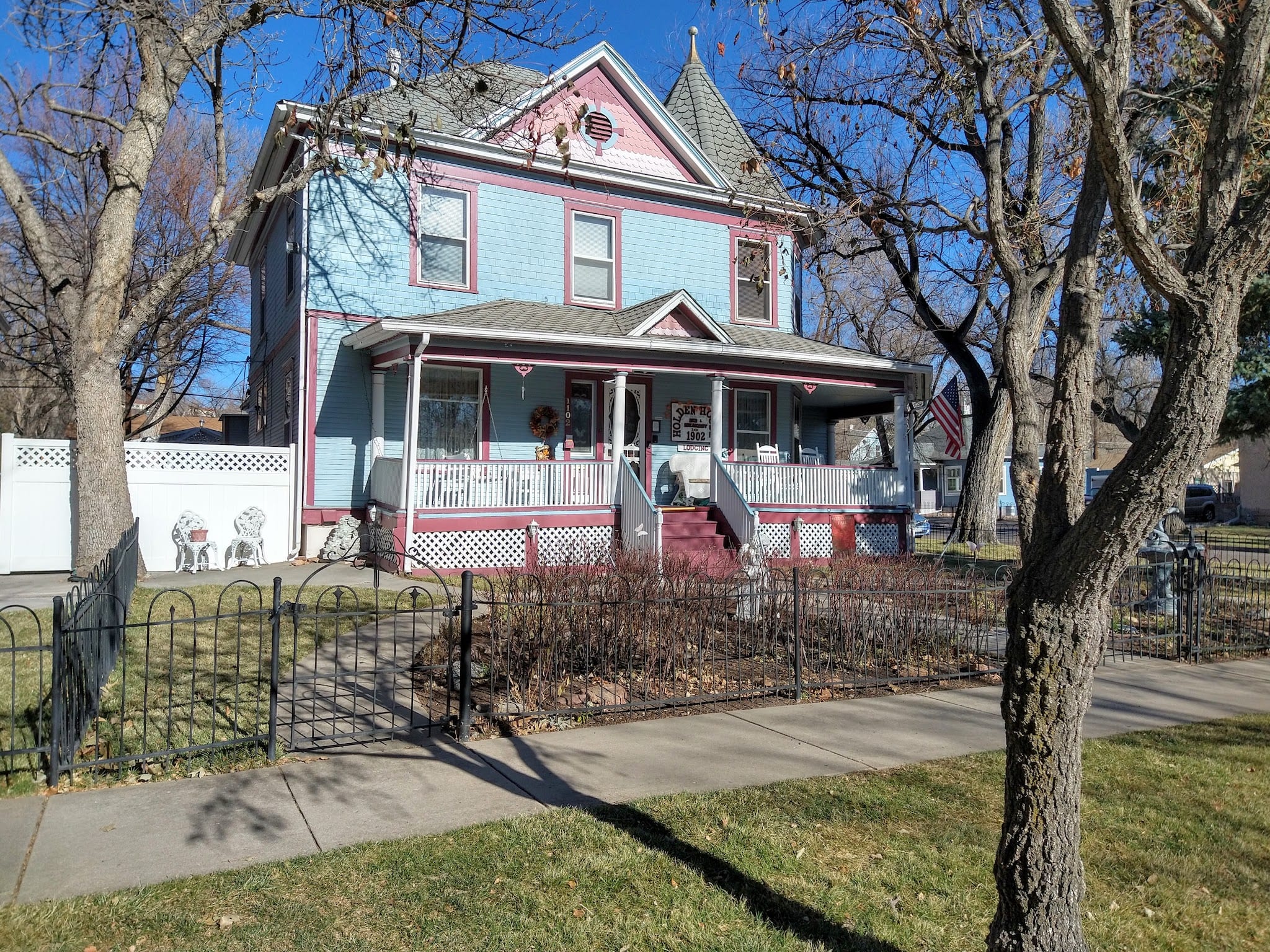 One of many Victorians on our list of the best B&B, Holden Hotel 1902, is a quaint and cozy accommodation tucked in the heart of Old Colorado City. Built-in 1902 by the widow of a prosperous businesswoman, the main house was created in the style of Colonial Revival Victorians, and its pink and blue color scheme reflects this historic style.
This beautiful inn obviously includes its namesake, Holden House, but the property also features the Rose Victorian as well as the Carriage House for guests to stay in, each offering its own unique set of characteristics. Be sure to stop by for a generous breakfast in the morning before adventuring more in Old Colorado City.
Spurs n Lace B&B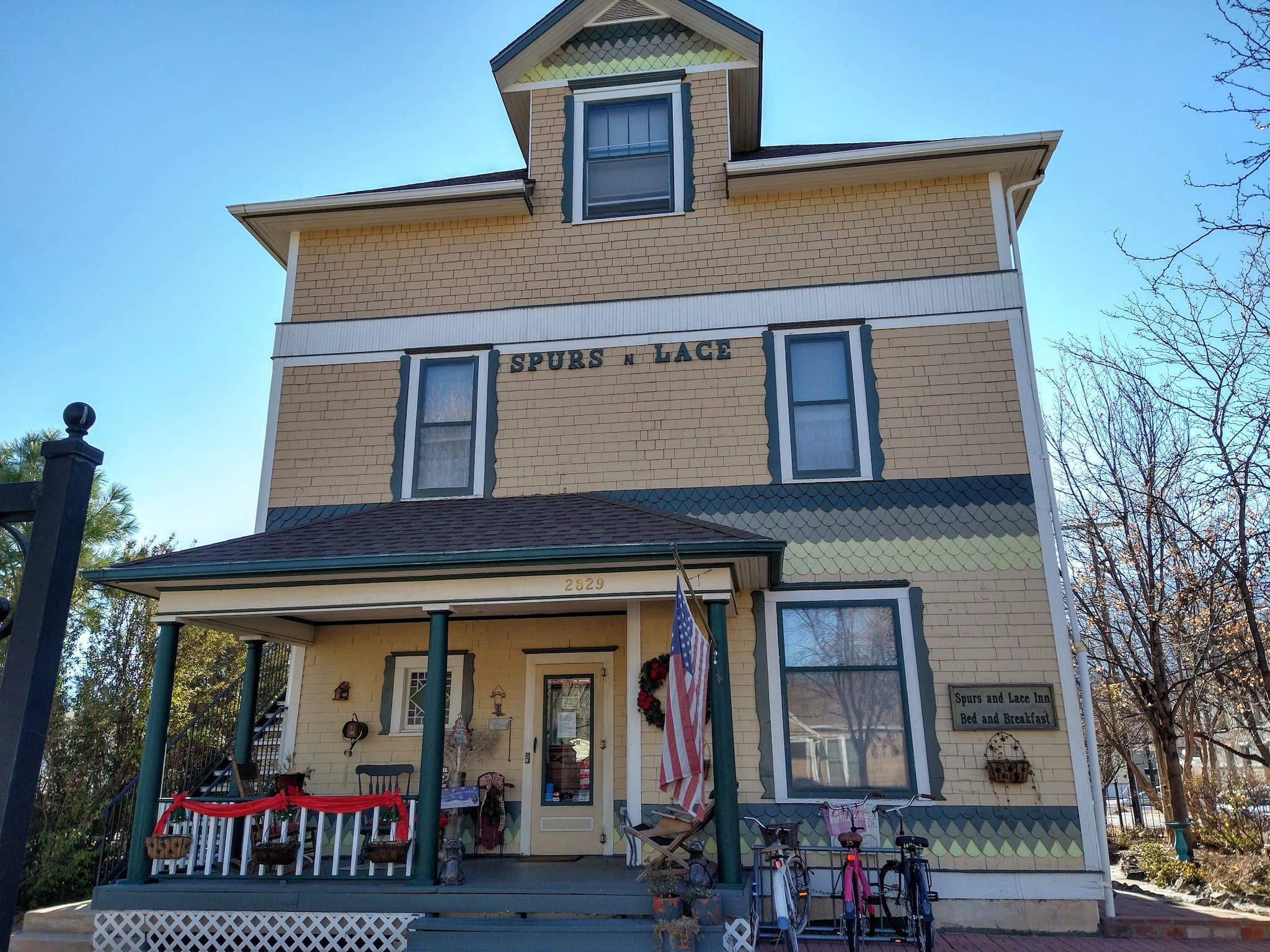 Spruce n Lodge B&B is located in yet another historic Victorian, this one originally built in 1885 and moved to its present location in Old Colorado City by the owners in 1993. With only five rooms on the property, this bed and breakfast is able to give guests the quiet, serene experience that larger properties cannot replicate.
All this, while also within walking distance of many shops, restaurants, and tourist attractions. Whatever reason you've come to this sunny city, Spurs n Lace is an excellent choice for a quiet B&B.
Manitou Springs
Manitou Springs is a special place–tucked into the foothills below Pikes Peak, this mountainous area is full of old buildings and history to explore. Take a walking tour of the town during your stay and discover the varying flavors of Manitou's mineral springs.
SunMountain Center

If you've ever visited Manitou Springs, it's hard to miss the gorgeous buildings that make up the SunWater Spa. But not many people know you'll find SunWater's B&B, the SunMountain Center, just down the street.
Reserve the SunMountain Center for a weekend and take advantage of the multiple amenities included in your stay. One of the perks is the neighboring SunWater Spa's thermal pools or wandering down the mediation paths lined with Colorado flora.
fEach morning, a beautifully-crafted breakfast is served in the serene dining room for guests, and then the day is yours to spend exactly as you wish. This unconventional B&B also doubles as a retreat and event center, perfect for your next peaceful large family vacation or a special getaway with your friends.
Blue Skies Inn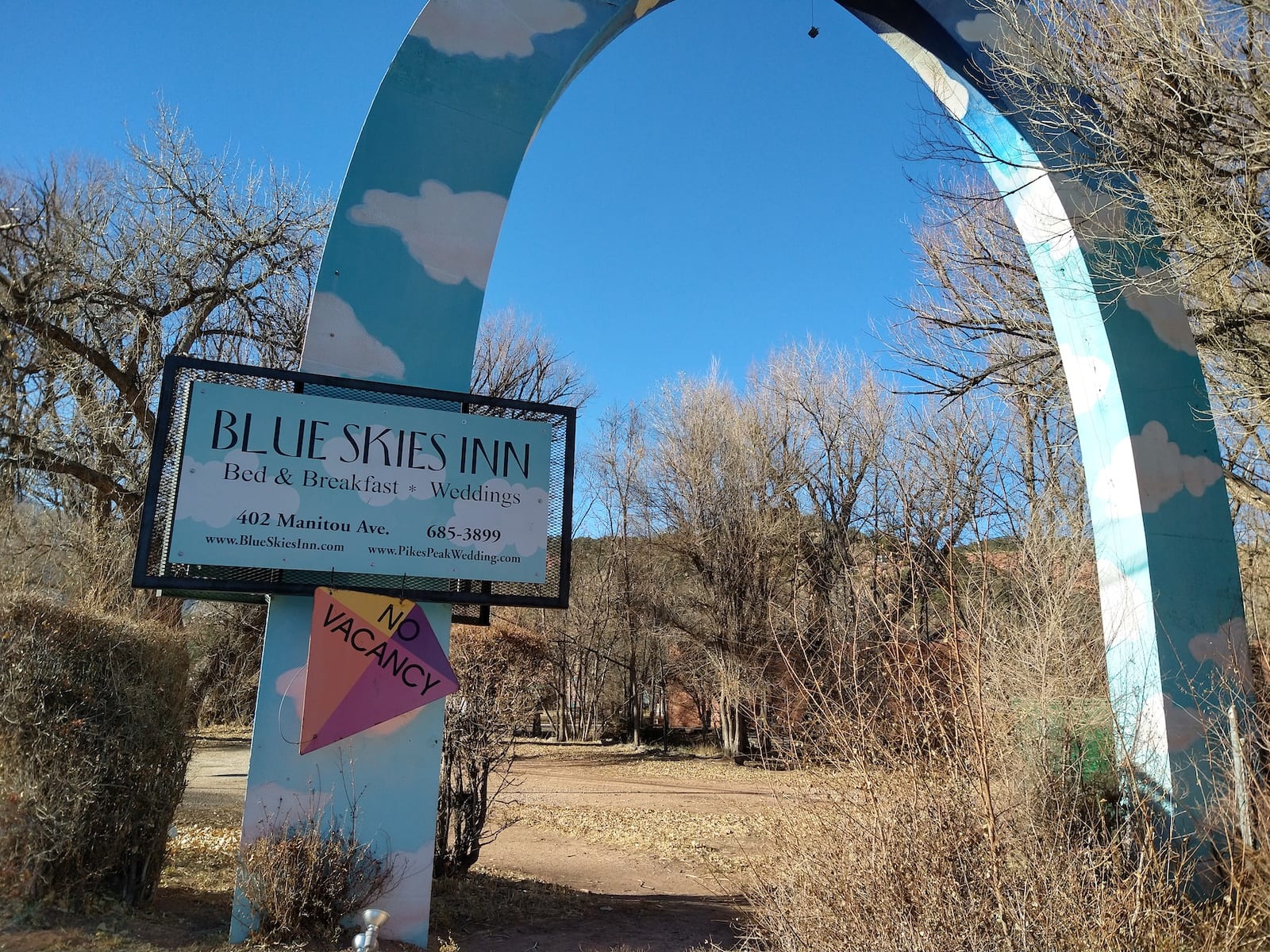 Another unmissable B&B on our list welcomes guests with its brightly-painted sign to Blue Skies Inn, located just off of Manitou Ave in Manitou Springs. This all-suite bed and breakfast allows guests to stay in their own freestanding buildings, giving them ample privacy as well as room to congregate.
While it may not be located in an old building like some of the others on our list, the Blue Skies Inn is unique because it was envisioned and built by an artist. It was designed to be a fun place to stay for those passing through Manitou, located right next door to the historic Briarhurst Manor.
Choose from a variety of suites, each decorated in different styles. Indulge in a hot breakfast each day in an artistic paradise before you set out to explore the mountains and springs that make this town so charming.
Downtown Colorado Springs
If you want to be close to the action, downtown Colorado Springs is the place to be. A mixture of 19th century architecture and more modern buildings, access to downtown is coveted by those who want to enjoy the nightlife that Colorado Springs has to offer.
The St. Mary's Inn B&B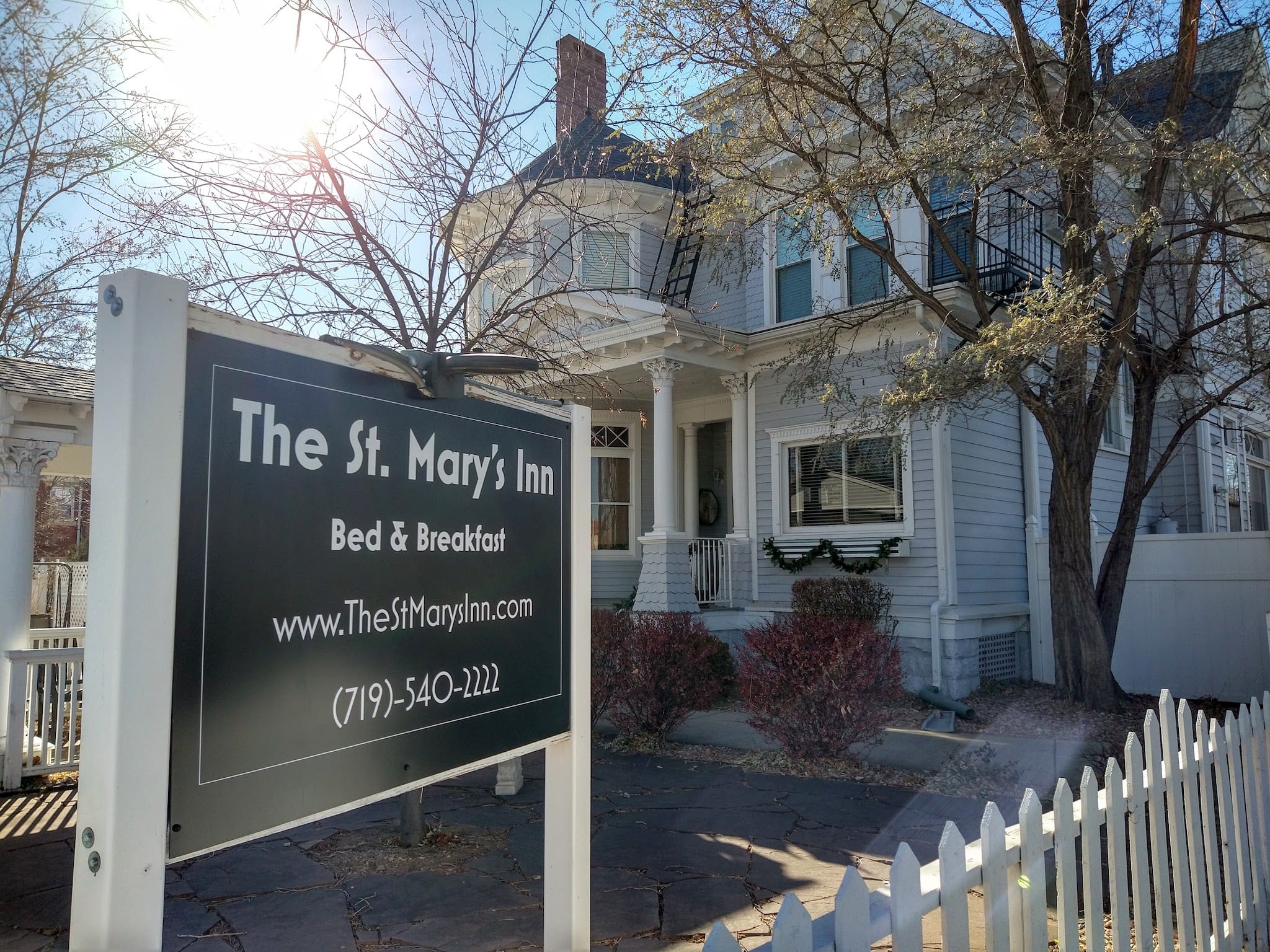 Originally built in 1896, The St. Mary's Inn is located within yet another large, historic Victorian home that was lovingly restored over eight years by its owners, Zeno and Conchita Nolet. This award-winning B&B is one of the most popular located in downtown Colorado Springs, with a central location that makes it easy for guests to explore as much as they can while staying at the inn.
Whether you've decided to come to Colorado Springs for a romantic getaway or a much-needed break from reality, St. Mary's Inn B&B will provide you with a cozy experience like none other in the city.
North Colorado Springs
North Colorado Springs North Colorado Springs tends to be a bit quieter than the rest of the city, due to its lack of development until recently. However, construction is booming in this part of town and its proximity to the Air Force Academy makes it a great place to stay during your trip to the Springs.
Chateau du Pikes Peak B&B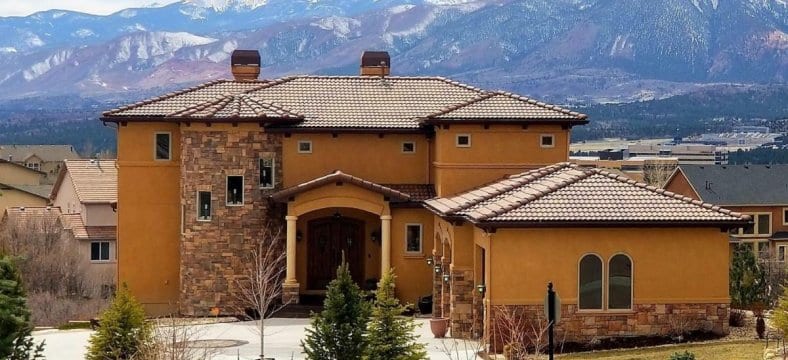 Looking for an escape with an unbeatable view of the mountains? Chateau du Pikes Peak will be right up your alley. The newest B&B on our list was built in 2015 by local homebuilders to be the perfect getaway for travelers looking for a modern getaway.
With private entrances and smart locks, there's no reason to be worried about security in your room while you're out perusing the sights. Especially since there are only two suites on the property and they are typically booked one at a time. During your stay, you'll have access to a wet bar and indoor theater, as well as access to attractions like the Air Force Academy for tours and visits during your stay.
Other Types of Accommodation in Colorado Springs
If none of the bed and breakfast hotels on our list have caught your eye, there are plenty of other types of accommodations to check out for your next visit to the Springs. This area is home to a number of historic resorts and inns as well as more modern hotels that will please any type of person, from the budget traveler to the luxury hound.
For a few more of those high-end options, we've compiled a list of the luxury 4 and 5-star hotels in Colorado Springs to help you decide. Also, check out the best hotels in town for more budget-friendly options.
If you're looking for activities to make the most of your experience in the shadow of Pikes Peak, take a look at our favorite museums. Spend a few hours learning a bit more about the fascinating local history of how people came to populate Colorado Springs and its surrounding towns.