Desert Reef Hot Springs is a clothing optional hot springs pool situated in the "banana belt" of Colorado. The resort is semi-private, located on ten acres with gorgeous views of the Sangre de Cristro Mountains.
Facility
Part of the Florence oil exploration project, Conaco drilled for oil here in the 1940's. After coming up short and only finding hot water, they moved on. Desert Reef has been transformed into a remarkable hot springs swimming pool. Water comes from a depth of 1,096 feet and is extremely hot, about 132 degrees F. It's cooled by air convection and adjusted seasonally.
There is one large single pool filled with hot mineral water from an artesian well. It measures 36'x50′. During warmer months it's kept below body temperature and in the winter just above 100° F. The mineral Travertine gives the water a bluish hue. The pool is completely drained once a week to ensure exceptional quality.
There is a sun deck, greenhouse lounge and plenty of seating and tables around the facility. An outdoor BBQ grill is available for use, as well as a microwave, water cooler and refrigerator. There are also changing rooms with restrooms and showers.
Atmosphere
Desert Reef hot springs is clothing optional; Alcohol permitted but no glass; Great views of the Front Range; Pool use limited to 60 patrons; Your entry is good throughout day, so you can come early and return at night; Only females and couples admitted, no single males.
​Getting There
From Penrose – Take CO 115 toward Florence. Then go east on CO 120 for a mile. Watch for the Tall Cactus sign. Go south on County Road 110 for one mile, following the blue and yellow signs to the hot springs.
Photos: Desert Reef Hot Springs
Details
Address: 1194 Co Rd 110, Florence
Phone: 719-784-6134
Season: Year round
Hours:
Closed Monday and Tuesday
Wed, 10am-10pm
Thur, 10am-6pm
Fri-Sat, 10am-10pm
Sun, 10am-6pm
Clothing: Optional
Chlorine: No
Website: desertreefhotspring.com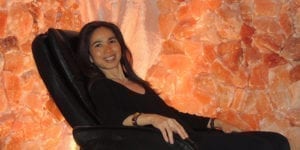 Breath clearly at a Denver Salt Cave (affiliate) - 46-47% off $19 ($35 value) for one 50-minute salt cave session , $56 ($105) for three 50-minute salt cave sessions at 5 Star Salt Caves in Denver. Europeans have long held that breathing in salt has therapeutic...