Who says you can't mix your adventures with a little rest and relaxation? To reach some of Colorado's most secluded, free hot springs a trek-in is usually involved. Get your heart pumping with these hikes to Colorado's remote and primitive hot springs.
There are dozens of hot springs located around the state of Colorado. Lucky to us, some of them are still free. Here are six undeveloped and primitive hot springs pools that require anywhere from a super short hiker to an uphill overnight excursion.
Undeveloped and Primitive Hot Springs Pools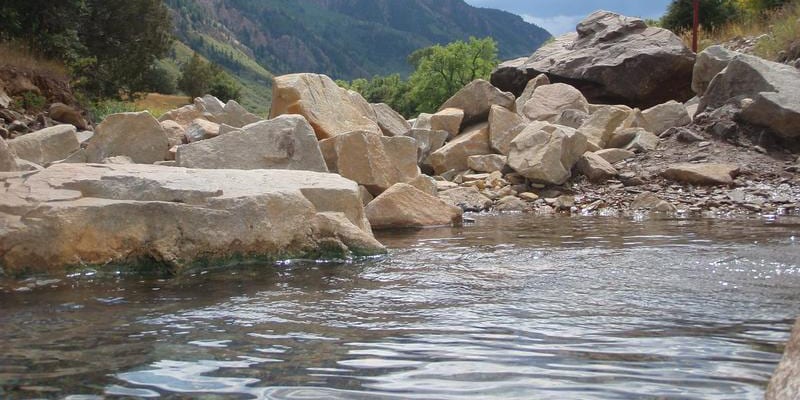 Please respect these Colorado hot springs pools. Leave them cleaner than you found them and pack out everything you take in. Because of the complimentary nature of these hot springs, many of them can get crowded, especially on weekends and other peak times.
It's recommended you visit during the weekday. One of these places, Conundrum, requires a permit to go.
Conundrum Hot Springs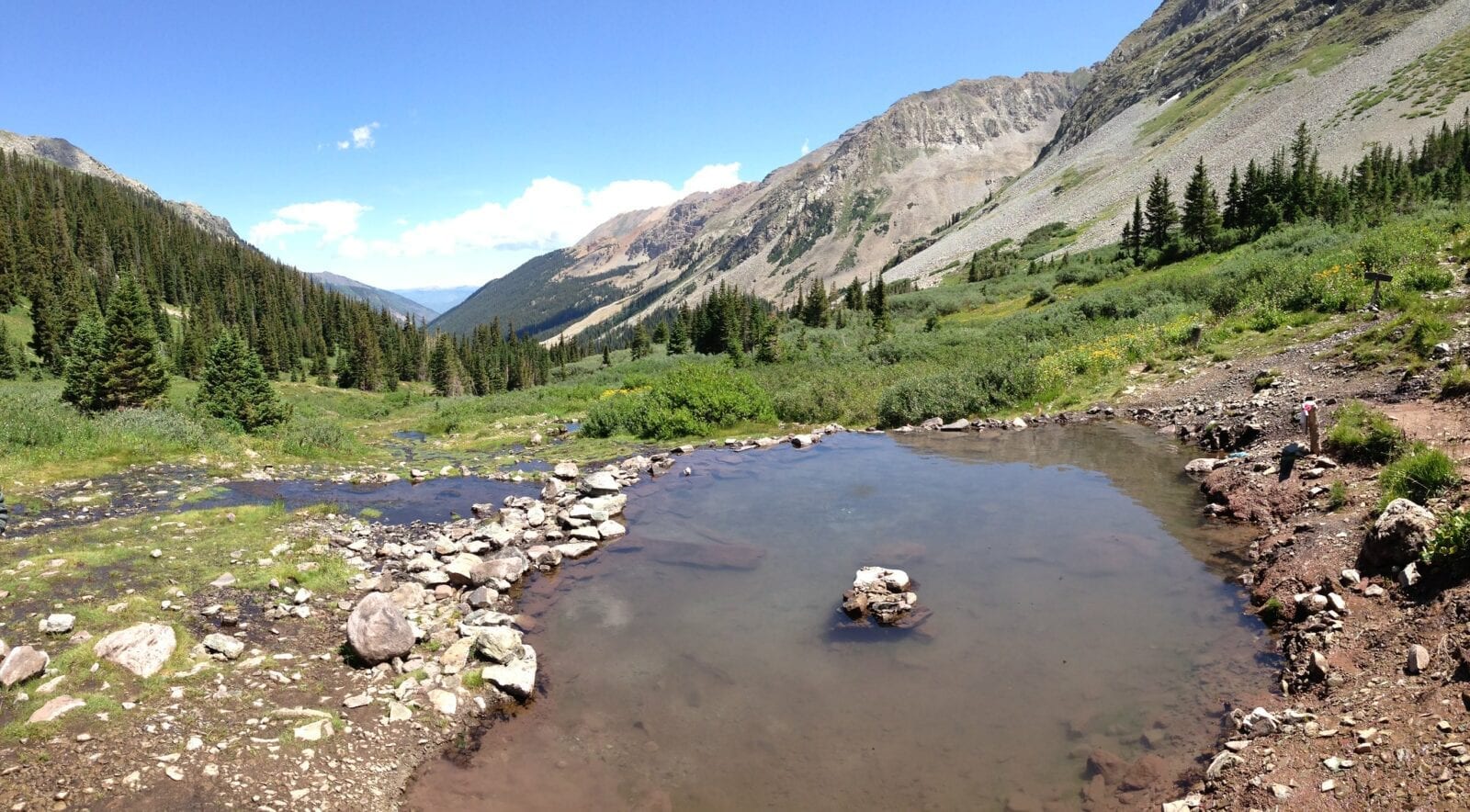 Trust us when we say, "the hike is worth the views," on the backpacking trip to the Conundrum Hot Springs. The Conundrum Hot Springs rests at 11,200 feet in elevation set amongst the beautiful scenery of the Maroon Bells-Snowmass Wilderness. There are two natural hot springs, with the upper pool holding plenty of people, and a slightly smaller pool, downstream.
Practically a straight shot, 8.5 miles of the trail brings hikers amongst expansive meadows, surrounding mountain peaks, and thick aspen groves directly to the hot springs. With an elevation gain of 2,400 feet, the strenuous journey crosses Conundrum Creek three times, with the third crossing requiring wading in the creek.
The best time to visit is July through September, as snowfall makes the trailhead and campsites inaccessible during the winter.
Note: Due to the popularity of the area, a permit for all overnight users is required.
Distance: 18 miles round trip
Starting point: begin at the trailhead at the end of Conundrum Creek Road
Nearest town: Aspen, CO
Clothing is optional
Rainbow Hot Springs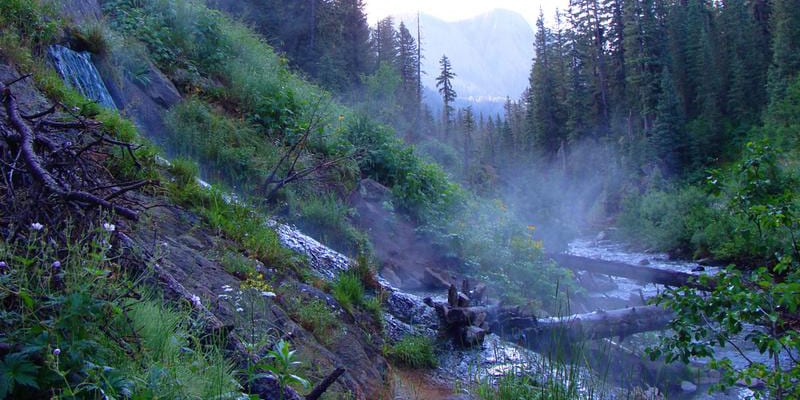 Embedded within the Weminuche Wilderness, a collection of three hot springs, called the Rainbow Hot Springs, lie along the San Juan River, offering one of the best scenic backdrops of any hot springs in the state. Climbing 1,500 feet, the 6-mile trail leads to a colorful rushing waterfall where the most popular hot springs pool is found.
There are two more bubbling pools found a quarter of a mile further up the trail amongst a mountain meadow. While there are no signs indicating where the sprigs are found, hikers will know when they have arrived as soon as the trail crosses a small creek at the waterfall.
It's recommended to visit Rainbow Hot Springs during the summer and late fall. Caution is advised due to the impact of the West Fork Fire in 2013 and continuous beetle kill that have all contributed to a dense forest of standing dead trees.
Distance: 12 miles round trip
Starting point: West Fork Trail, just beyond the West Fork Campground
Nearest town: Pagosa Springs, CO
Clothing is optional
Radium Hot Springs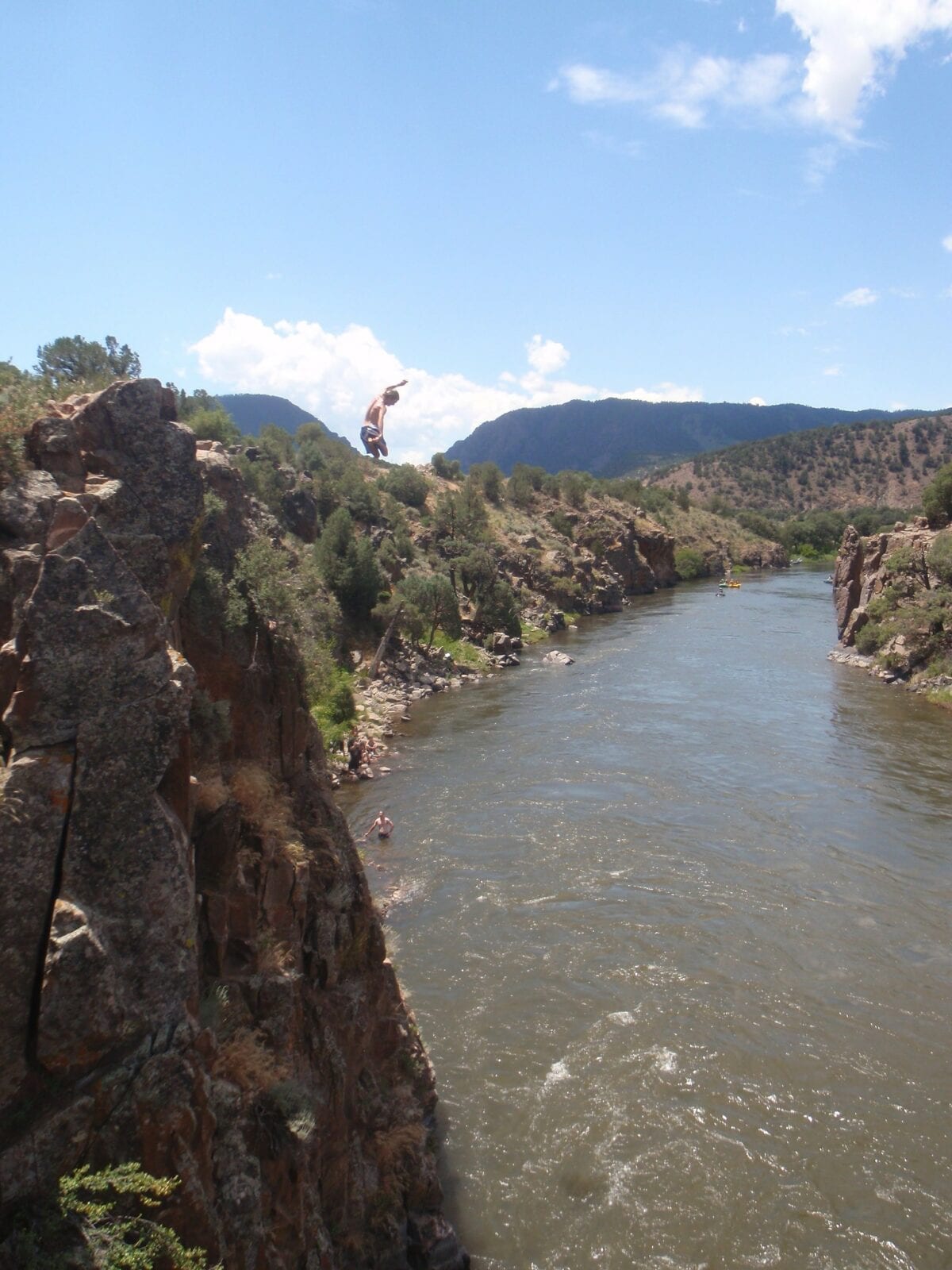 Resting along the Colorado River just 15 miles southwest of Kremmling, the Radium Hot Springs are one of Colorado's most treasured hot springs. Its mineral-rich pools, stunning landscape, short hike, and 45-foot cliff jump, make Radium Hot Springs a favorite amongst visitors.
Ideal for a day trip, the hot springs are easily accessed three-quarters of a mile from the parking lot on County Highway 11.
The short steep hike climbs up to a plateau, where a well-maintained dirt path follows the Colorado River to several dispersed campsites. Continuing just over a half-mile a steep descent guides hikers down to the hot springs.
Note: when the Colorado River runs high, the hot springs are typically washed out and not accessible.
Distance: 1.5 miles round trip
Starting point: the trailhead is accessed along HWY 11 or from the Mugrage Campground parking lot.
Nearest town: Bond, CO
Swimwear is required
Piedra River Hot Springs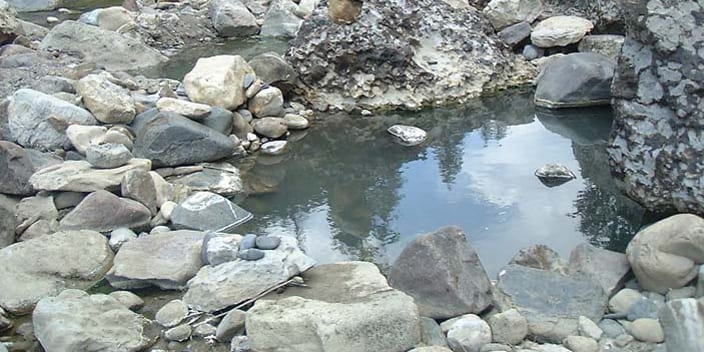 The three-mile round trip hike to the Piedra River Hot Springs is another great option for a hot springs-day trip. Naturally fed along the Piedra River, south of Pagosa Springs, these primitive hot springs are accessible via a 1.5-mile (round trip) hike near Pagosa Springs.
There are three different pools to soak in, all dependent on current weather conditions. The secluded pools can reach up to 100 degrees and offer a private setting amongst the San Juan National Forest, where wildlife viewing is often part of the scenery. The best time to visit is after the snowfall has melted, so generally summer into fall.
Distance: 3 miles round trip
Starting point: start at the Sheep Creek trailhead off Co. R. 166, off HWY 160
Nearest town: Pagosa Springs, CO
Clothing is optional
South Canyon Hot Springs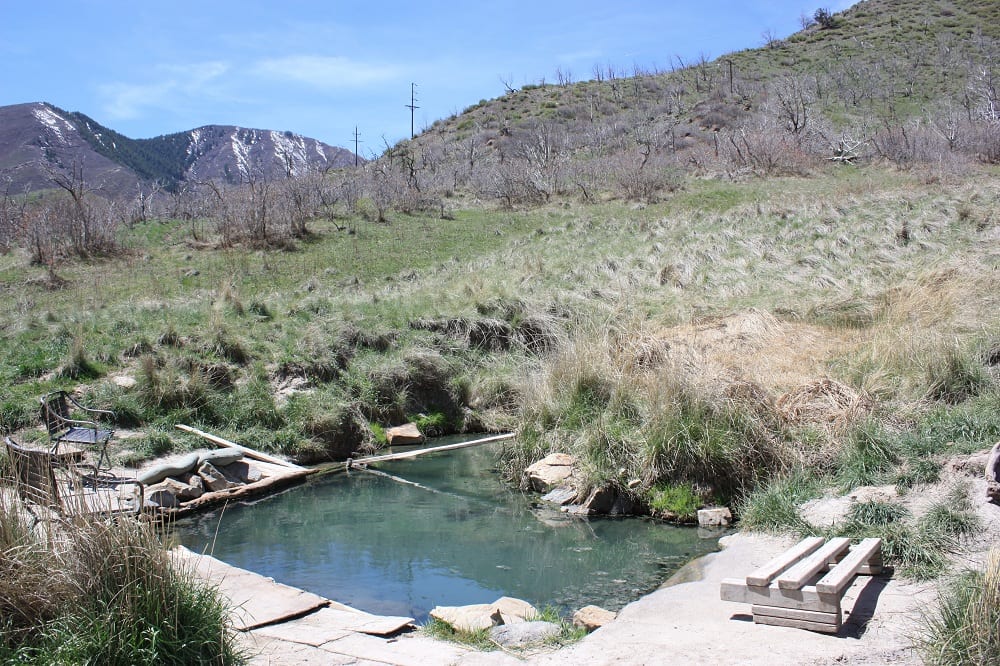 Only 15 minutes from Glenwood Springs, the South Canyon Hot Springs is the perfect option to avoid the crowds at Glenwood Hot Springs, for a quick dip in the morning or evening. A very short 0.2-mile hike brings visitors to a set of underdeveloped mineral hot springs.
There are two pools available, ranging anywhere from 100 to 112 degrees. Perched on top of a hillside, soakers are greeted with exceptional views of surrounding mountain peaks. The springs are best used from summer to early fall.
Distance: 0.2 miles round trip
Starting point: just after the bridge along South Canyon Creek Road (CR 134).
Nearest town: Glenwood Springs, CO
Clothing is optional
Penny Hot Springs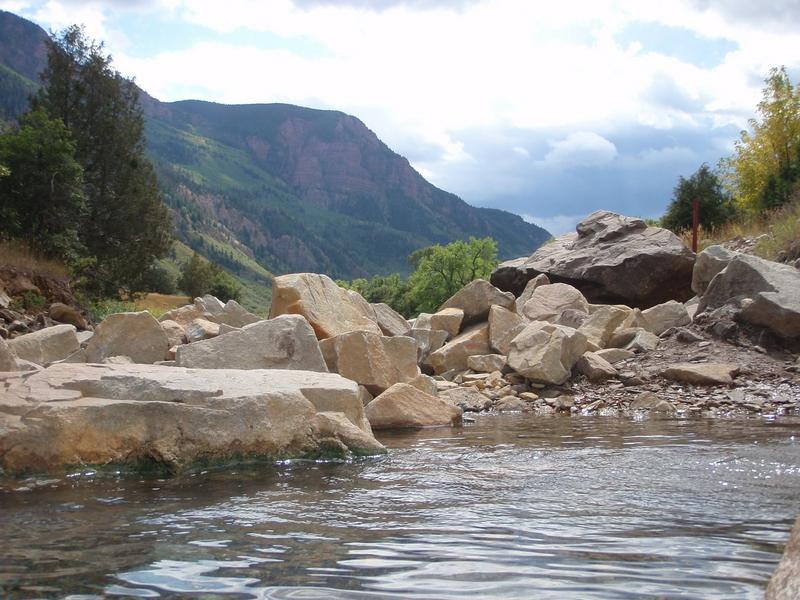 While there isn't necessarily a hike involved in getting to the Penny Hot Springs, this still makes the top of our list for one of the best primitive hot springs in Colorado. Located along the Crystal River near Carbondale, CO lies the Penny Hot Springs. These naturally-fed hot mineral pools offer a secluded reprieve from the hustle and bustle of everyday life.
The pool is closed off using large rocks to help keep the cooler water from seeping in. Its small capacity can usually only hold 10 – 12 people at a time. The best time to visit the springs is in the summer, fall, and even winter months, as the roads are well-maintained throughout the year.
Distance: a few feet from the parking lot
Starting point: 3.2 miles north of the main entrance into Redstone, along HWY 133
Nearest town: Carbondale, CO
Clothing is required
That's a roundup of some of Colorado's free, primitive hot springs hikes. Please leave no trace when visiting these amazing natural landmarks.