Dakota Hot Springs in Penrose is a clothing optional, developed hot springs pool. It's located in the scenic Arkansas River Valley.
This part of Colorado, west of Pueblo, is known as the Banana Belt of Colorado. The springs gets on average 350 days of sunshine each year.
Facility
The Dakota Hot Springs inhabits a former oil well. The mining operation was abandoned in 1924 when Conoco found water and not oil at a depth of 2000 feet.
There is one 70-foot long pool for soaking. The depth is about 3-5 feet. An artesian hot-water well feeds the pool at an average of 95-98 degrees F. A smaller, 6-foot round, soaking tub is kept hotter at about 108 degrees F. With people traveling from all over Colorado, don't be surprised if you see a few walking around nude.
The natural flow of the artesian well source circulates new water into the pool.The mineral water contains therapeutic salts, soda, and calcium. There are only trace amounts of sulfur and iron, so there is no rotten-egg smell.
Bring food and enjoy it under the sun deck. There are BBQ grills available for guest use. The closest town with lodging is Penrose and Canon City is close by. There are campsites at Dakota Hot Springs. RVs and tents are welcome, but there are no hook-ups.
Atmosphere
Nudists are welcome with clothing optional except on Tuesdays when swimsuits are required; Alcohol permitted but no glass; Great views of the Front Range; Entry is good for entire day, so you can leave and come back.
​Getting There
Dakota Hot Springs is situated on the south side of Hwy 50 in Penrose near Canon City. It's about one mile west of the junction of Hwy 50 and Hwy 115.
Details
Address: 1 Malibu Blvd, Penrose
Phone: 719-372-9250
Season: Year round
Clothing: Nude and Swimwear Optional, except Tuesdays
Temp: 95-98 F and 108 F
Chlorine: No
Hours: Wed-Sun 10am-10pm, Mon 10am-8pm, Tues 2pm-10pm
Website: dakotahotsprings.com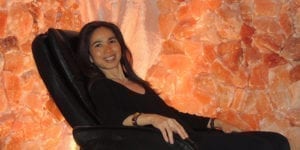 Breath clearly at a Denver Salt Cave (affiliate) - 46-47% off $19 ($35 value) for one 50-minute salt cave session , $56 ($105) for three 50-minute salt cave sessions at 5 Star Salt Caves in Denver. Europeans have long held that breathing in salt has therapeutic...