Stand-up paddle boarding (also spelled as standup paddleboarding) is becoming an increasingly popular water-based activity, especially in coastal areas. But you needn't move to the coast to enjoy paddle boarding. Colorado's got some of the best lakes and rivers suitable for all levels of stand up paddle boarding (SUP).
In fact, wherever there's a state park with a safe body of water, there's probably an opportunity for paddling! Although landlocked, Colorado is home to almost two dozen major rivers along with over 2,000 reservoirs and lakes, which makes it an ideal location for kayaking and paddle boarding.
Lakes and reservoirs in particular are great for beginners as they often have calm and still waters.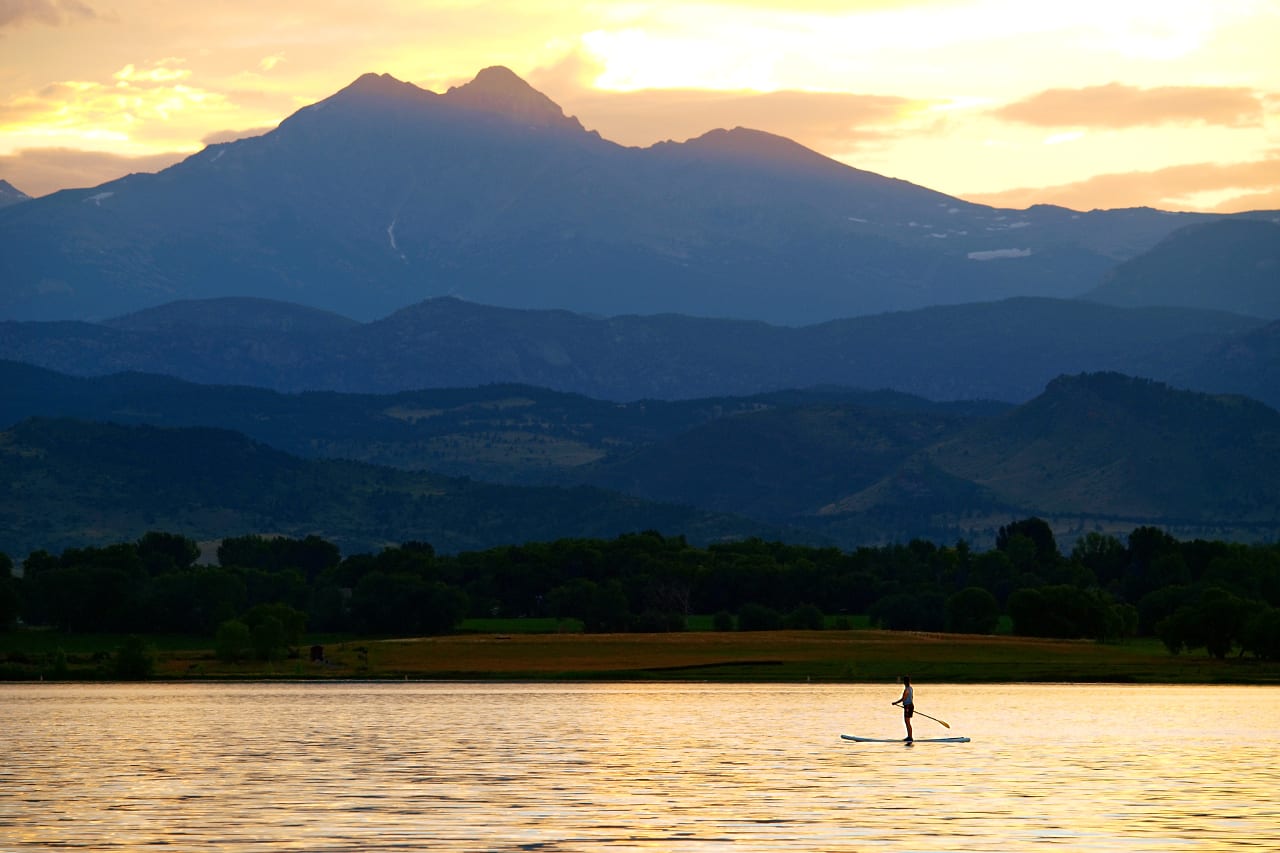 Colorado is also home to over 35 different species of cold and warm water fish, which makes it a great destination for fishing and/or kayak fishing. If you're feeling balanced enough on your SUP you can cast a fishing line along the way. And with the snowy mountains melting in spring and summer, the rivers make for fantastic whitewater rafting too.
With so much water to work with and with over a third of its land designated as federal lands, Colorado is a veritable playground for lovers of the outdoors whatever their age.
7 of the Best Places To SUP around Colorado
Colorado is loaded to the brim with great places to stand up paddleboard. These are a few of our favorites.
1. Grand Lake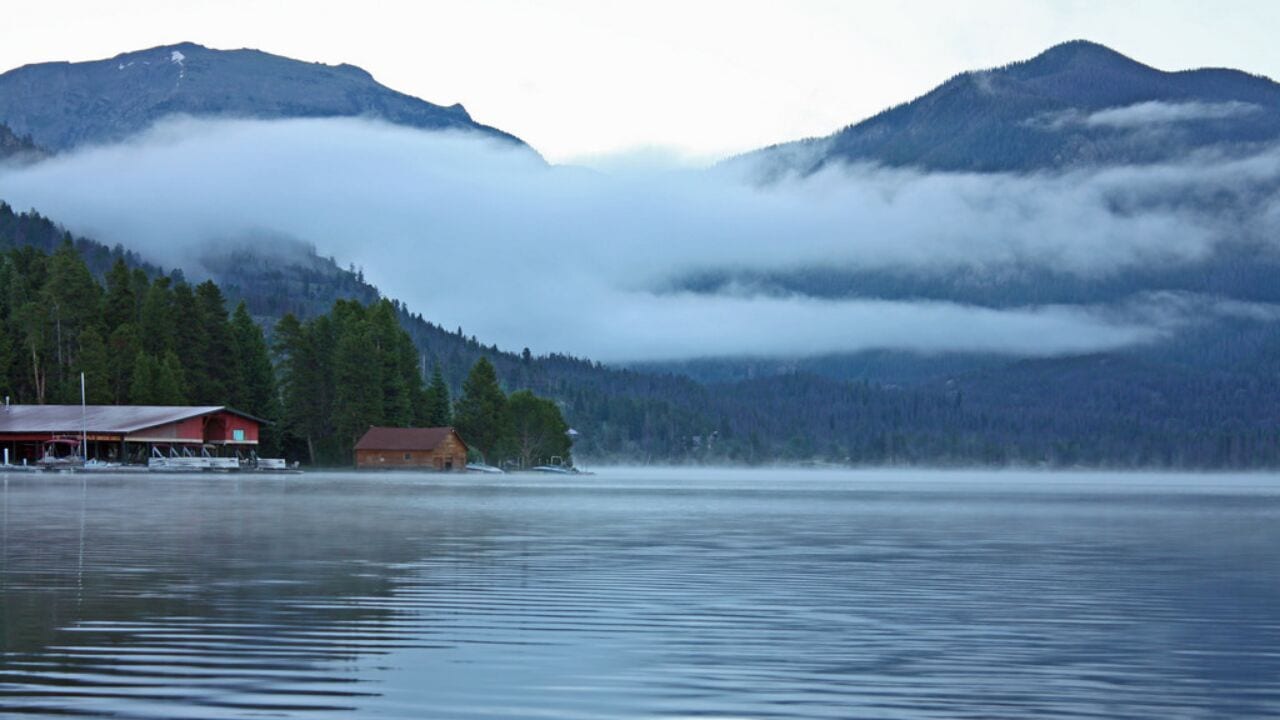 Located by recreation in the Rocky Mountain National Park and water sports in the nearby Arapaho National Recreation Area, Grand Lake lives up to every bit of its name. At 500 surface acres, it is the largest natural lake in Colorado and a popular spot for all sorts of water-based activities.
The town itself (also named Grand Lake) is nestled right on the side of the lake so there is plenty of shopping and dining options available before and after your paddle. There is also a beach where you can sunbathe and relax, and a marina where you'll be able to find several shops for rental equipment.
With breathtaking views and plenty to do, this is a great place to enjoy an active yet relaxing day, particularly if you're traveling as a family or a group.
2. Big Soda Lake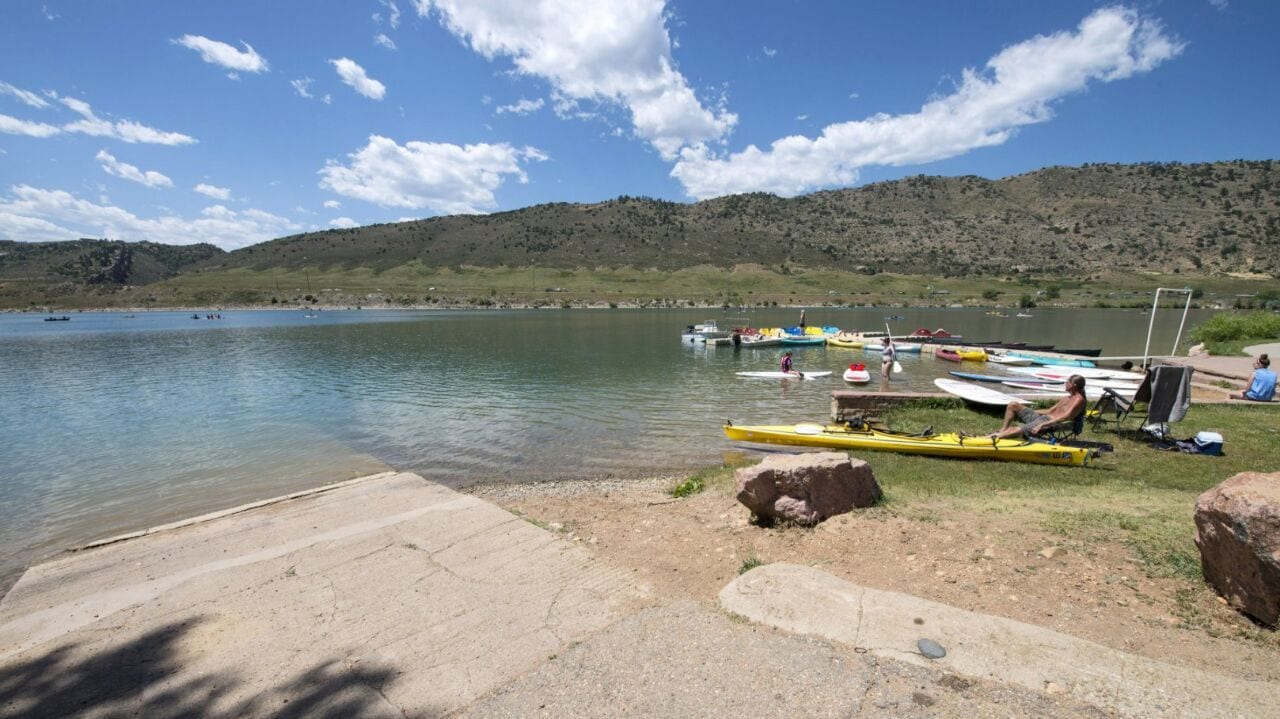 A short 20-minute drive from the state capital, Lakewood's Big Soda Lake is a very popular choice for city-dwellers in the summertime. It's one of the top places to SUP near Denver.
It has several places to rent SUPs along with equipment for various other water-related activities. Be mindful however that the season here runs from Memorial Day (the last Monday in May) to Labor Day (the first Monday of September) so the shops won't be open outside of these dates.
It's situated within the Bear Creek Lake Park for which there is an entry fee. The current fee for a day pass however is $10 per vehicle, which is very reasonable. Complete with volleyball courts, a 400m swimming lane, a beach, and several picnic shelters you can enjoy a whole range of activities or just relax with friends.
Top tip: On a sunny day, be sure to arrive early as this is a very popular destination. Try and book equipment ahead of time too to avoid disappointment.
3. Dillon Reservoir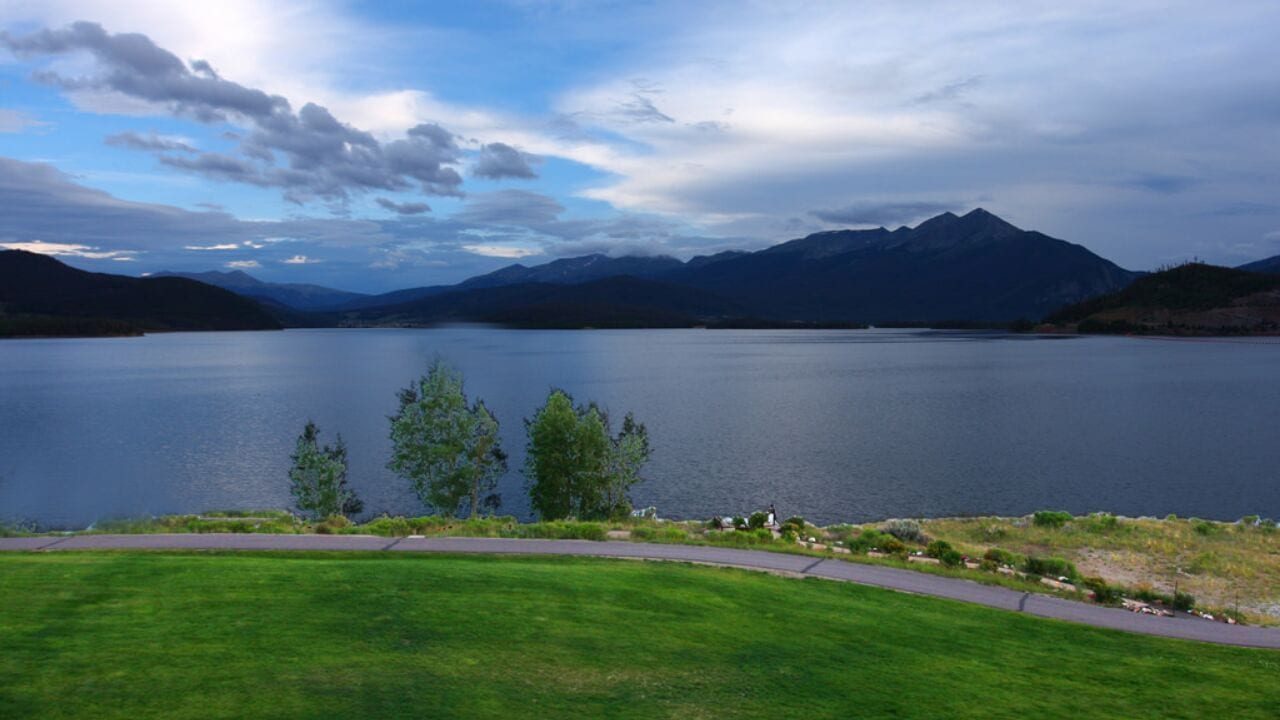 Located in Summit County, Dillon Reservoir covers 3,300 acres and 27 miles of shoreline. To rent your boards you can head to Frisco Bay Marina, which also has a beach and several restaurants, cafes, and bars.
There are several campgrounds available nearby along with an adventure park for some dry land activities. This area is also home to several world-class regattas so for the full Frisco Bay experience, plan ahead and visit during one of these events.
4. Vallecito Lake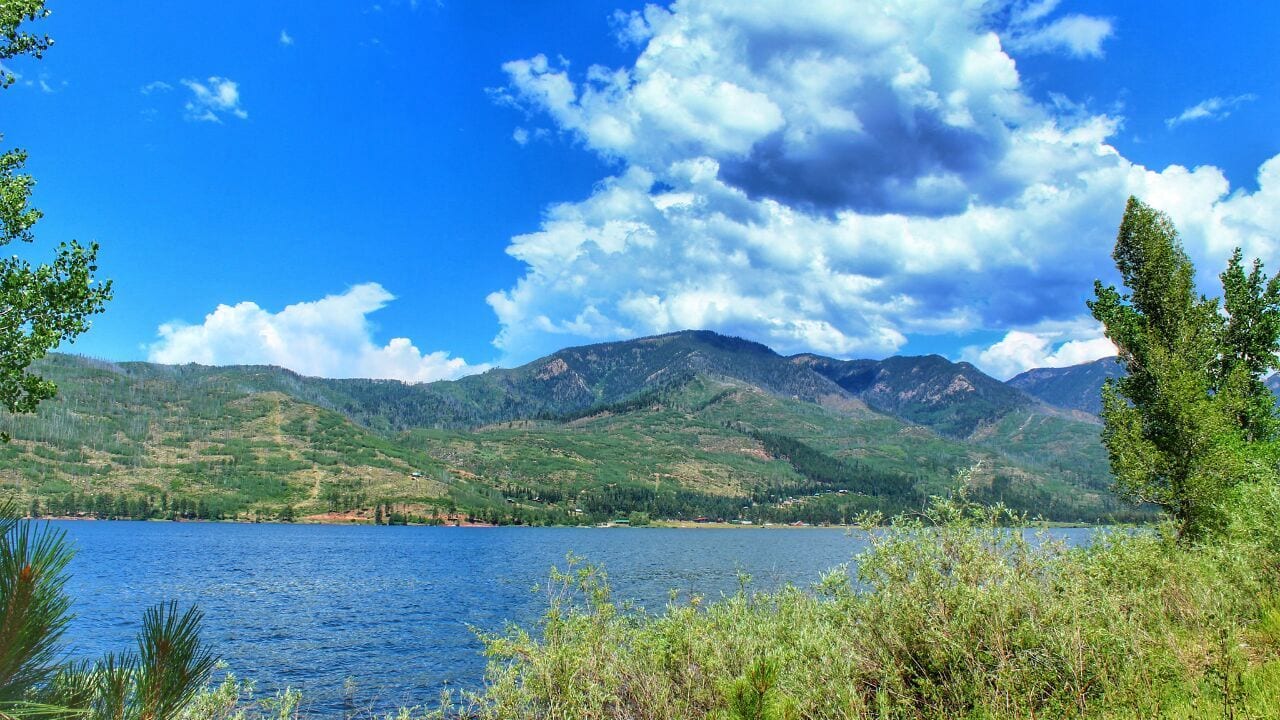 Situated 18 miles from Durango, this great lake is positioned in a beautiful valley that boasts some spectacular mountain views. At 7,800 feet above sea level, it is the largest body of water at this elevation across the whole of Colorado.
With just 300 residents year-round, it's a quiet town that can offer a relaxing time on the water as well as plenty of other activities. It's also a great place for fishing.
They welcome all sorts of boating activities including paddle boarding. They allow paddlers to bring their own boards or also have several rental options nearby in the Vallecito Marina.
5. Lake San Cristobal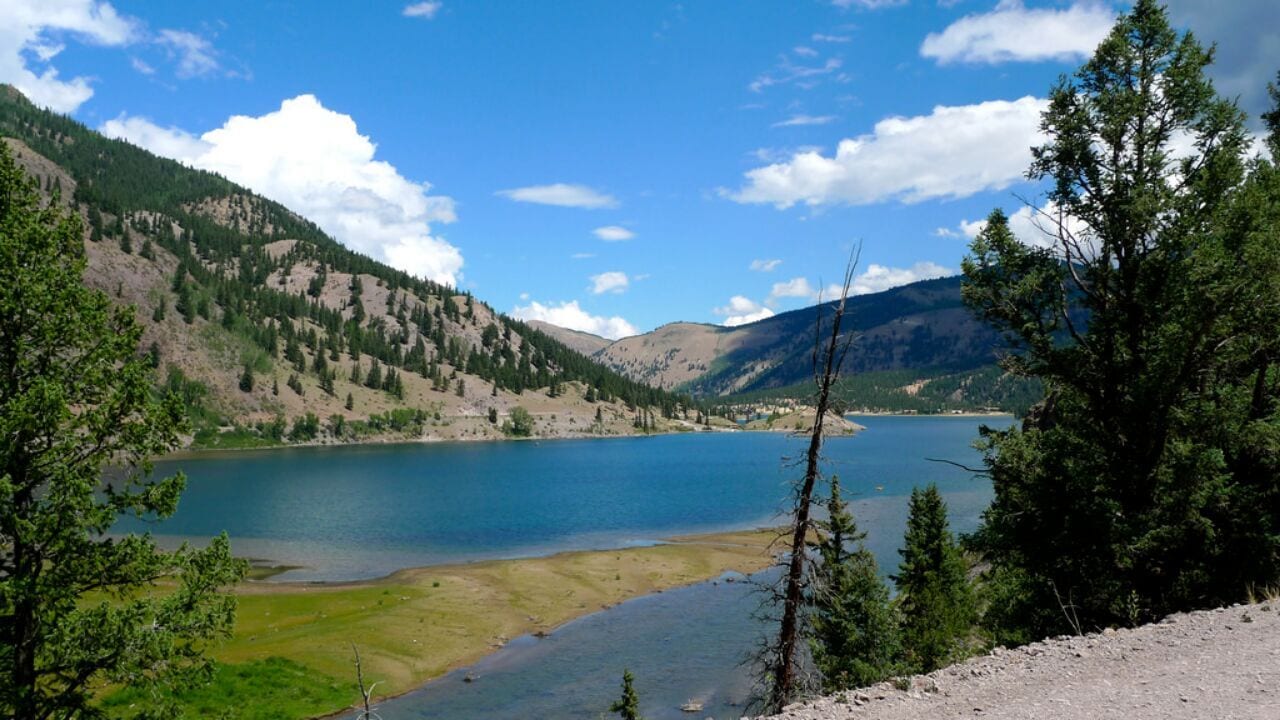 Nestled in picturesque Lake City in the San Juan Mountains, Lake San Cristobal is another beautiful expanse of water and the second-largest natural lake in Colorado.
With its cold, calm waters it's an ideal spot for beginner paddleboarders. It's also home to a variety of trout if you fancy a spot of fishing (whether on a SUP, in a kayak, or a fishing boat). You can take your own SUP or rent from a number of local shops.
There is also a campground nearby for those wanting to get away and enjoy the tranquility and local wildlife for a night or two.
6. Boulder Reservoir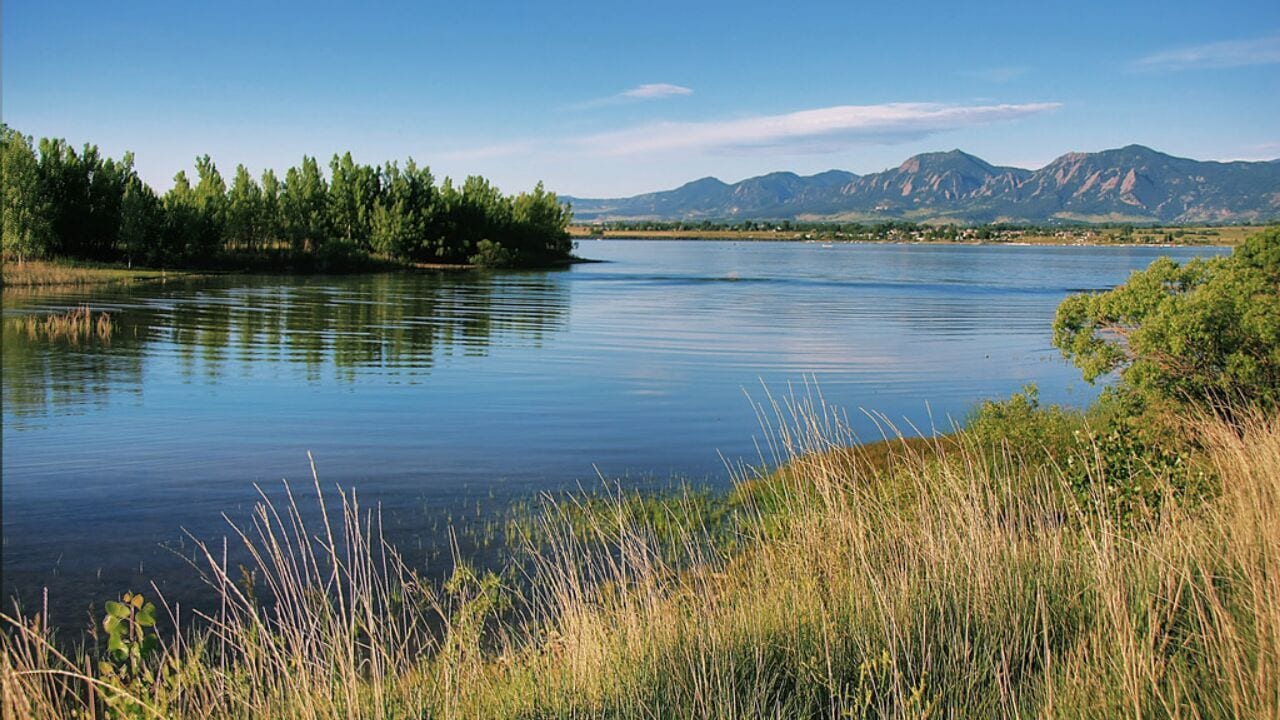 Located just north of the city of Boulder, 25 miles from Denver, Boulder Reservoir is another highly accessible and popular area for water recreation.
Although open for boating (including kayaking and SUP) all year round, the swimming season here runs from Memorial Day to Labor Day. During this summer season, there is an entry fee of $7 for adults per day. There are also specific opening times in this park. These have been known to change from time to time so remember to check the website prior to your visit.
Top Tip: This reservoir has "quiet hours" on certain days during the week. This means the lake is to remain wakeless except for lake patrols and city-sanctioned activities. So, if you're learning to stand up paddle board and want to make the most of the calm waters, head down during the quiet hours!
7. Horsetooth Reservoir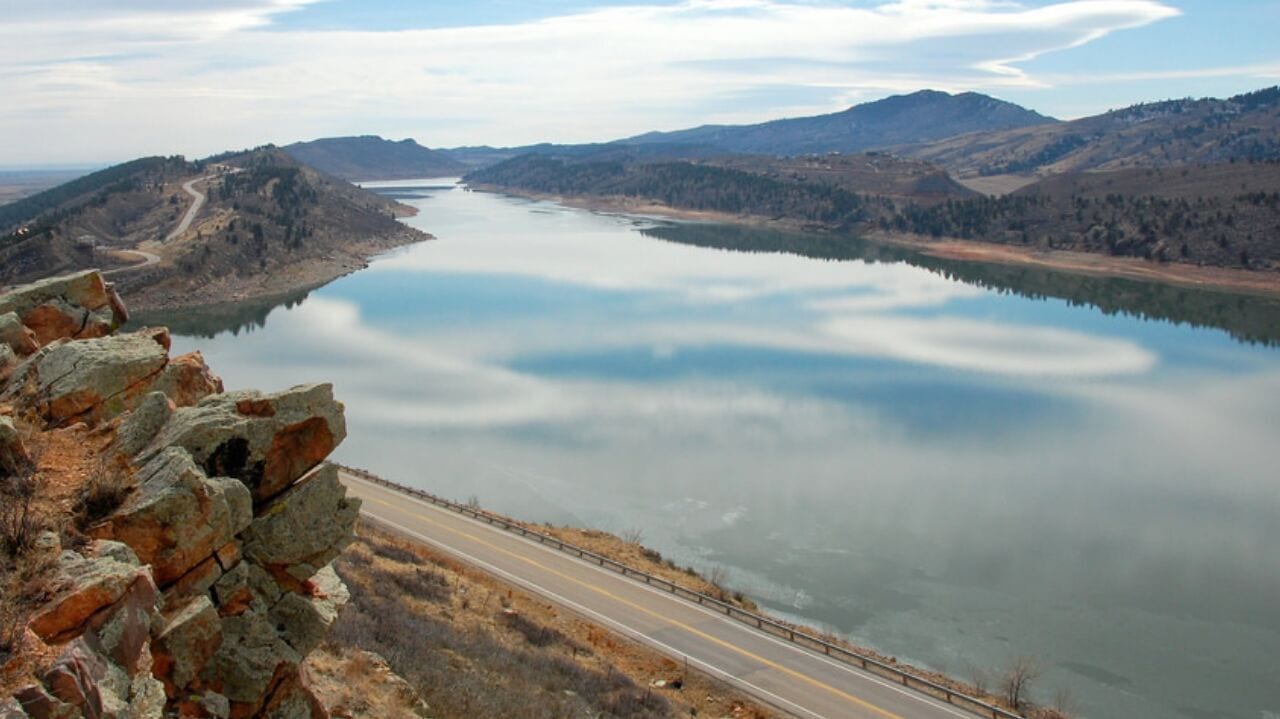 Just outside of Fort Collins, this man-made reservoir is 7 miles long and 1 mile wide. Due to its proximity to the city, this area gets very busy during the summer with all sorts of swimming and boating activities. It's also a beautiful spot to paddle board during autumn.
Due to the high level of activity on Horsetooth Reservoir throughout the summer season, the water may be rougher than some of the other areas we've listed in this article. If you're a beginner, you may find it difficult to remain balanced and upright amidst all the wakes and waves created by boats. But isn't falling in the water part of the fun of learning?
If you're around for a few days, a kayaking trip down the reservoir may be of interest. Or if you're feeling more chill, you can try some SUP yoga! Just be sure to head down early in the morning to avoid the crowds (and wakes). There is an entry fee per vehicle.
Tip: Stick close to the shore to avoid fast boats!
Colorado has a plethora of awesome lakes, reservoirs, rivers, and creeks where beginners and pro paddleboarders alike can enjoy some adventures on the water.
Best Times Of Year To Paddle Around Colorado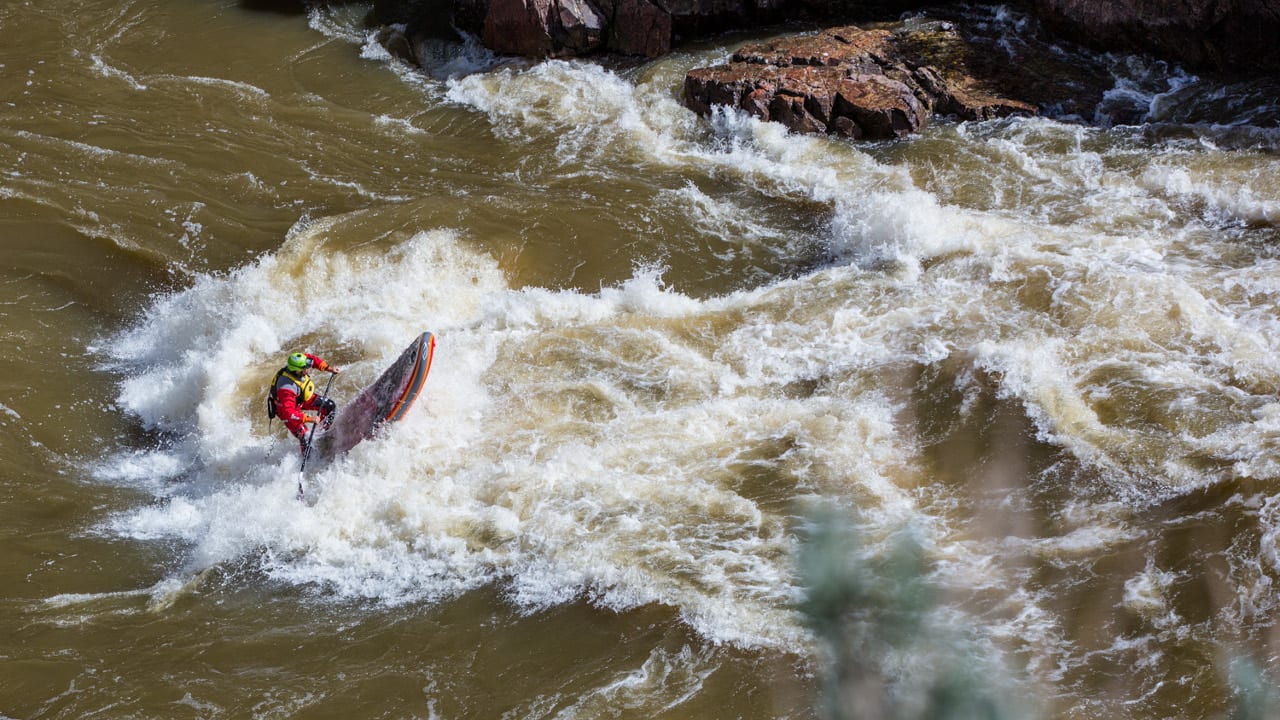 With Colorado's countless sunny days, it's to enjoy a day out on the board. Although mainly a summer sport, SUP can be found year-round if you're prepared.
Beginners & Recreational Paddlers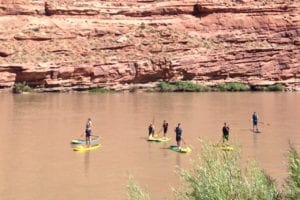 For the average recreational paddler, spring and summertime is the most relaxing and enjoyable time to experience paddleboarding. It requires very little equipment and falling in the water is a nice way to cool down in the heat rather than a potential near-death experience in freezing temperatures!
On the whole, rental companies and tour operators are open from May until September but each company and location may vary slightly on dates so it's a good idea to call ahead or check the website if you're planning on renting equipment or booking some lessons.
Experienced & Adrenaline Junkie Paddlers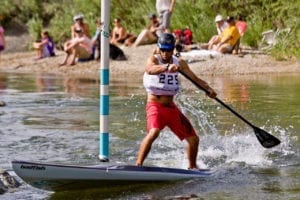 For the hardcore paddle boarders, you can technically paddle all year round, providing that the water isn't frozen and that you are prepared with the right equipment and clothing.
Most rental companies will be closed so you'll need to have access to your own gear. Make sure that you have the correct amount of layers for the temperatures you will encounter (both air and water temperature). A nice day on tranquil waters could turn into a disaster if you fall in and experience cold shock or even hypothermia due to a lack of clothing and preparation.
According to the American Canoe Association, cold shock can occur in waters as warm as 50 or 60 degrees Fahrenheit. Even if you're a pro paddler and don't intend on entering the water, you should still be prepared for the worst. Even the most experienced paddleboarders can get thrown off sometimes. Layer up, wear a wetsuit or even a dry suit, and stay safe.
If you're an experienced and capable white water paddler, there are also several local options for you throughout winter both indoor and outdoor across Colorado and its neighboring states. Once again, you must be prepared for the cold air & water temperatures and dressed accordingly. Safety is paramount.
What You Need To Get Stand-Up Paddleboarding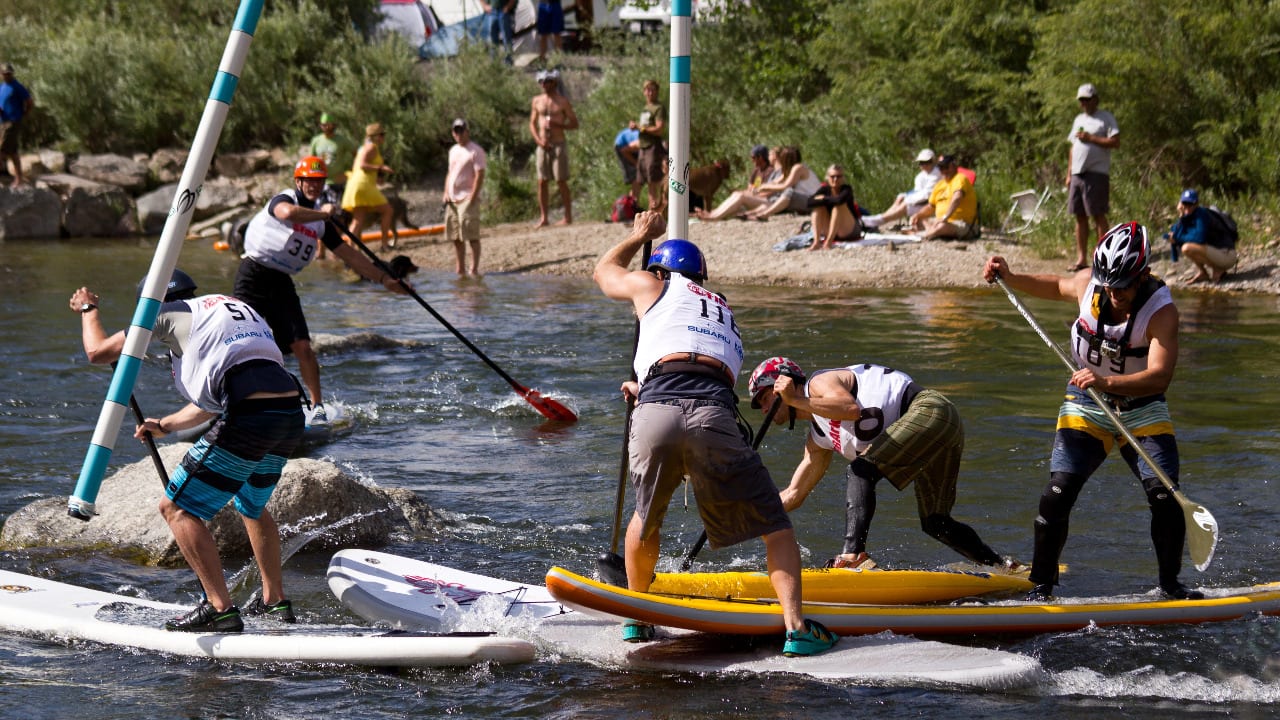 Generally speaking, you can go Stand Up Paddle Boarding with very little equipment. The amount of gear you need will however vary according to weather conditions and water temperature.
To keep it simple, we've broken it down into "Essentials", "Extra Safety" and "Optional / Weather Dependent".
There are Amazon Affiliate links below; Uncover Colorado is a participant in the Amazon Services LLC Associates Program, an affiliate advertising program designed to provide a means for sites to earn advertising fees by advertising and linking to Amazon.com.
Essentials
Board
– it goes without saying that you need a paddle board to go stand up paddle boarding. These can come in a hard shell or inflatable form. Inflatables are easier to transport and store, so if you're planning to rent a board for a period of time and travel around with it, consider this option.
Paddle
– Once again, this one's pretty obvious… you can't paddle board without a paddle!
PFD
– This stands for Personal Flotation Device. This will keep your head above water and potentially save your life. There are typically five types of PFDs and Type III is the most suitable for paddle boarding. Whatever your skill level and however strong a swimmer you are, you should wear your PFD for the entire time you are out on the water.
Extra Safety
The extra gear you need will depend entirely on the type of paddling you are planning on doing.
Shoes
– These are not necessary for lakes and reservoirs where your feet will never touch the ground or in shallow waters with sand, but for creeks and rivers you should consider wearing shoes or wetsuit boots.
Helmet
– Again, if you're paddling on calm waters in a lake or reservoir, you don't need a helmet. However, if you're venturing out in creeks, rivers, or anywhere with rocky terrain you should protect yourself by wearing a helmet.
Optional / Weather Dependent
In summer, many people enjoy paddling in their swimwear and a PFD. In the cooler months, you will need to consider a wetsuit or drysuit.
Wetsuit
– A wetsuit is designed to keep you warm when immersed in water. They come in various thicknesses for different weather and climates. The colder the water, the thicker your wetsuit needs to be. You can also get wetsuits suitable for warmer climates. These will be thinner and may not cover your whole body.
Drysuit
– If you'd like to stay dry or are paddling in waters below 45 degrees Fahrenheit, then you need to look at wearing a dry suit. This will keep you completely dry but you will also need to wear appropriate base layers underneath in order to stay warm.
Sun Protection
– If you're paddling in summer, you can either use waterproof sun cream or opt for a rash guard or similar piece of clothing to protect your skin from the sun. According to the Centers for Disease Control and Prevention (CDC), it can take as little as 15 minutes for your skin to get damaged by the sun's UV rays, so be prepared.
For beginners, stick to calm waters in the summer or warmer months and hire from a reputable equipment shop. Book ahead to avoid disappointment with equipment and check with each local park's rules and regulations about swimming (as some reservoirs prohibit this).
Always wear a life vest, make sure you're dressed for the temperatures you'll be encountering, be vigilant with sun safety and remember to enjoy the view!