Besides the popular ski resort, a lively downtown, and picturesque views, Telluride is also situated within easy driving distance of several great hot springs. The best way to relax after a day of skiing or golfing, these thermal water resorts offer pools, spas, and even overnight lodging.
Tucked away in the southwest corner of the state, Telluride is one of the top spots for an alpine getaway. No matter the season, this small town of around 2,500 people is absolutely beautiful. There is outdoor recreation in every direction from its box canyon location amongst the San Juan Mountains.
Listed by proximity to downtown, what follows is our list of the best hot springs near Telluride:
This section contains referral links. If you click through and take action, we may receive a commission, at no additional cost to you. 
Dunton Hot Springs (31 miles)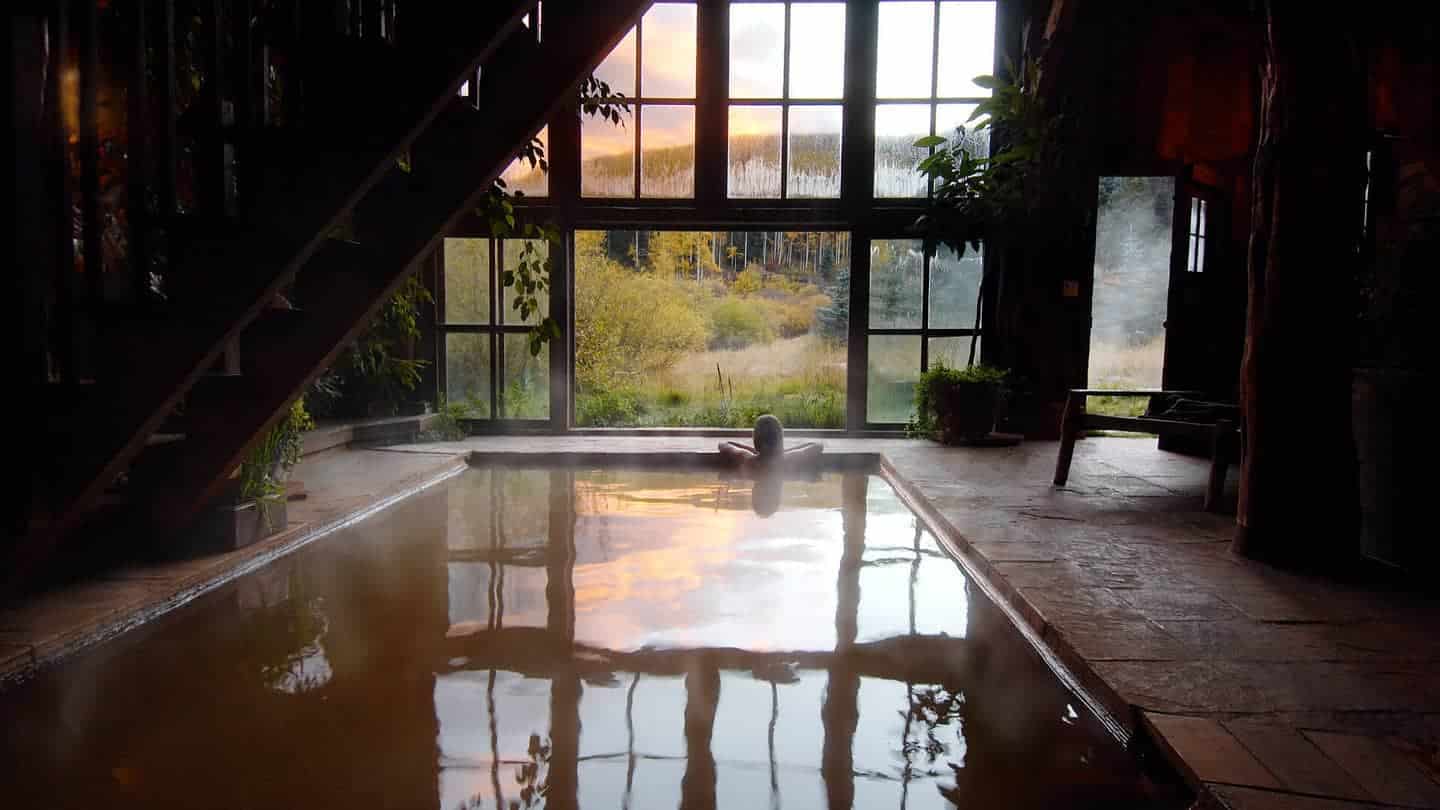 Located in a historic ghost town first founded in 1885 outside of Dolores, Dunton Hot Springs is a unique, all-inclusive resort catering to both small and large groups. As expected, one of the highlights of the facilities is its 5 different hot spring pools.
With multiple-size pools and temperatures ranging from 85 to 106°F, visitors can definitely find a good place to soak. The historic Bathhouse pool is a popular place to relax, but a number of more primitive, outdoor pools are also available.
Depending on the season, visitors can find plenty to do at Dunton Hot Springs. Many activities are complimentary, but some require separate bookings. Guided hikes in the San Juan or 4WD tours are always a fun choice in the summer, and dog sledding and snowshoeing are just two of the many activities available in the winter.
If outdoor activities aren't appealing, book a massage or body treatment at the Dunton Hot Springs Spa.
For accommodations, choose from 13 different restored cabins, all of which offer easy access to the resort's saloon and dance hall. If private soaking is a priority, book the Well House, which has its own hot spring pool as well as a cold plunge bath. Families or larger groups should try to stay at the New House, a two-story cabin with a king bedroom and a sleeping loft.
Orvis Hot Springs (41 miles)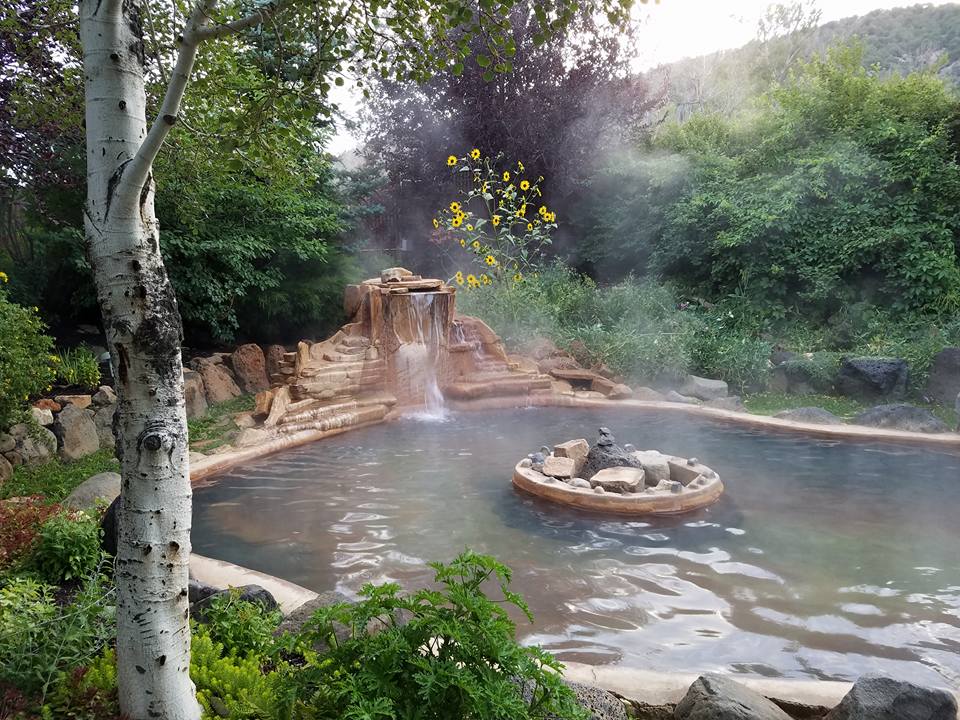 For a more budget-friendly option, head to Orvis Hot Springs, a clothing-optional resort located just outside of Ridgway. Outside, choose from four different hot spring pools of varying sizes and temperatures.
The largest is known as "The Pond," and it's 40 feet wide and about 5 feet deep. At the nearby Pool House, try out the indoor pool, which sits around 101°F and features a waterfall. For more privacy, two private tubs are available first come, first served.
RV and tent camping is available on-site, and six basic bedrooms can also be rented at the lodge. The rooms include small fridges, and visitors can prepare meals in the community kitchen. All overnight guests get 24-hour access to the hot springs, and day and overnight visitors are welcome to book a massage in one of the resort's yurts.
Ouray's 4 Hot Springs (49 miles)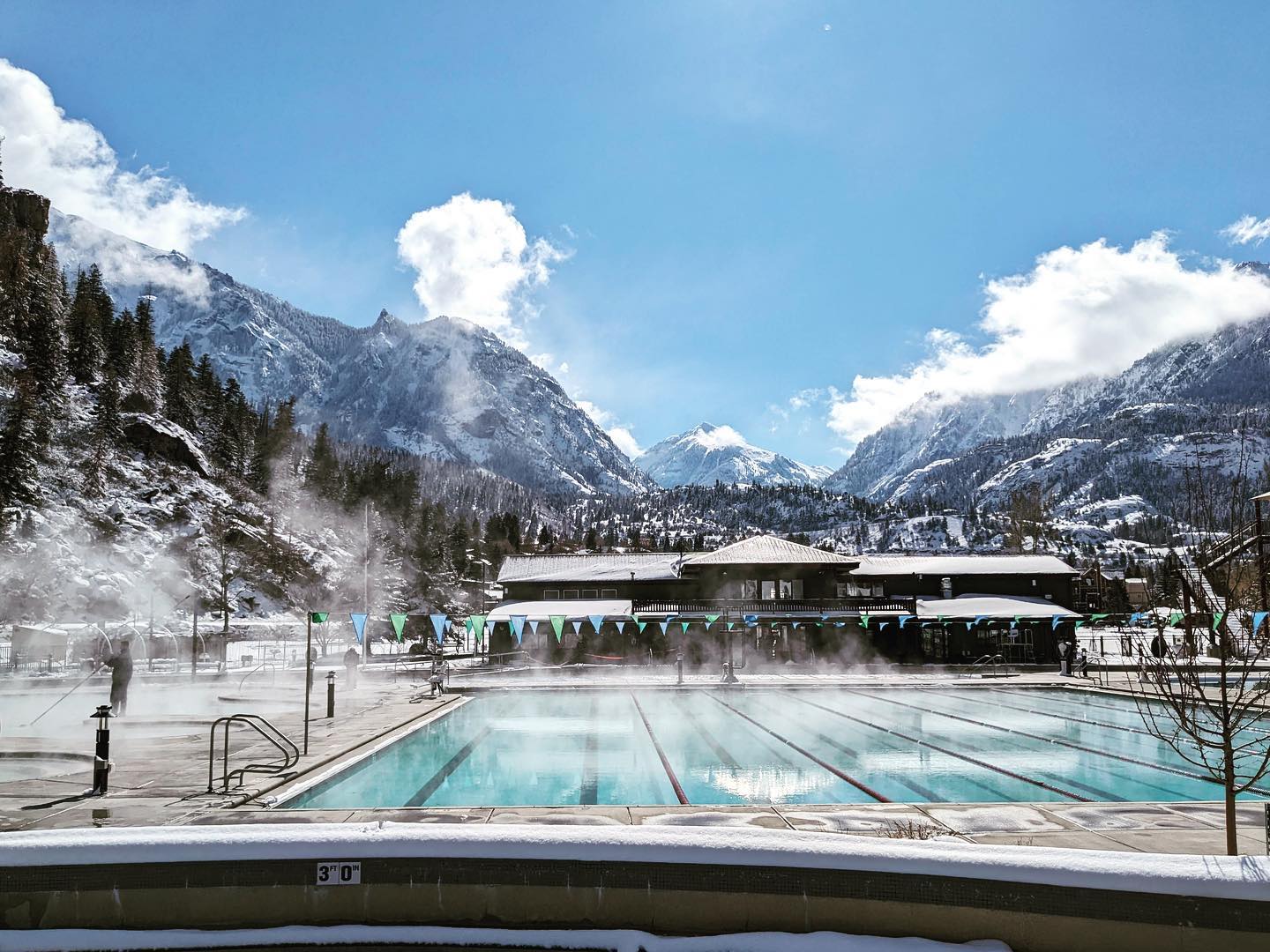 The "Switzerland of America" boasts four terrific hot spring resorts. The most famous in town is the Ouray Hot Springs Pool. It's open to day visitors only but features a number of soaking and swimming options, as well as a fitness center.
The other three options in Ouray all have lodging on-site, as well as their own pools filled with geothermally heated waters. Two of them are open to day visitors, while the third is reserved for the private use of its overnight guests.
Twin Peaks Lodge has a few options for soaking, including a large outdoor swimming pool and smaller hot tub, as well as an indoor adult-only area.  This full resort showcases an array of amenities, including a 24-hour gym and guest laundry. There's even a restaurant and tiki bar on-site. There are six room options to choose from, which all include a hot breakfast in the morning.
The Wiesbaden Spa showcases three unique relaxation choices: The Vapor Cave, The Outdoor Pool, and The Lorelei. There is also a spa on-site, all of which are open to day visitors. Guests spending the night can choose from rooms and suites, as well as a 3-bedroom home.
Out of the three resorts in town with accommodations, the Box Canyon Lodge is the only one that doesn't offer day visits to its hot springs pools. Instead, only overnight guests at this two-story abode get access to its seven pools. There are a variety of lodging options to choose from, ranging from standard rooms to larger suites.
Durango Hot Springs Resort & Spa (112 miles)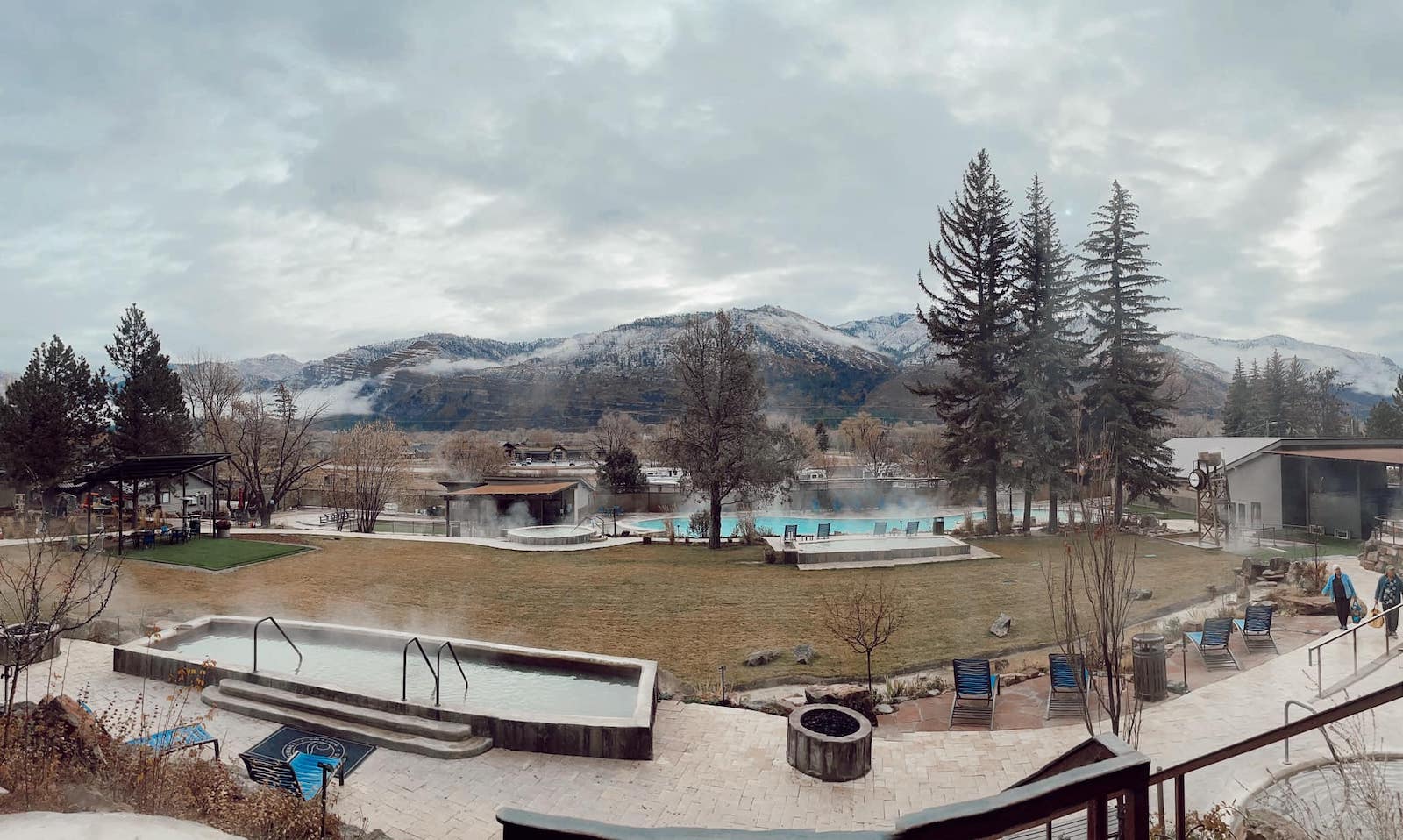 Though it's a bit far from Telluride, this resort's 22 soaking pools make it a worthy destination. A relaxing facility with great views, Durango Hot Springs Resort & Spa has soaking options ranging in temperature from 101-110°F. Most of the pools are adult-only, but children are allowed in the three mineral pools located near the saltwater swimming pool.
Besides the pools, Durango Hot Springs is also home to a full-service spa featuring a wide variety of massages and body treatments including hot stone massages, mud wraps, and scrubs. On-site lodging is limited, but there are two overnight units available, both of which offer after-hours access to some of the pools. The town of Durango is pretty cool too for an extended visit.
These have been the best hot springs near Telluride. Have a fun and relaxing time in the San Juan Mountains.