Along the border of Douglas and El Paso County, Palmer Lake is a natural small body of water located in Palmer, Lake Colorado, north of Monument and Colorado Springs. The lake sits within the Palmer Lake Regional Recreation Area which offers 36 acres for outdoor recreation below Ben Lomand Mountain.
Palmer Lake History
The earliest known inhabitants of the Palmer Lake Area include the Ute, Cheyenne, and Arapaho Native American tribes. After the Civil War, settlers embarking west steadily flocked to the area, using Palmer Lake as the only natural water supply. Palmer Lake is named for General William Jackson Palmer, founder of Colorado Springs.
Throughout the past century, Palmer Lake has been the site of many dances and celebrations. In 1986, a playground, parking area, pavilion, and restroom were constructed on the east side of Palmer Lake.
Due to an ongoing drought and increased water demand, efforts to preserve Palmer Lake began in 1995. Eventually, Palmer Lake completely dried out in 2012. 3 years later, the lake was refilled with water designated for the town of Palmer Lake as a part of the "Awake the Lake" reclamation project. Water levels continue to be altered and studied in an effort to better understand natural groundwater and drought cycles.
Activities at Palmer Lake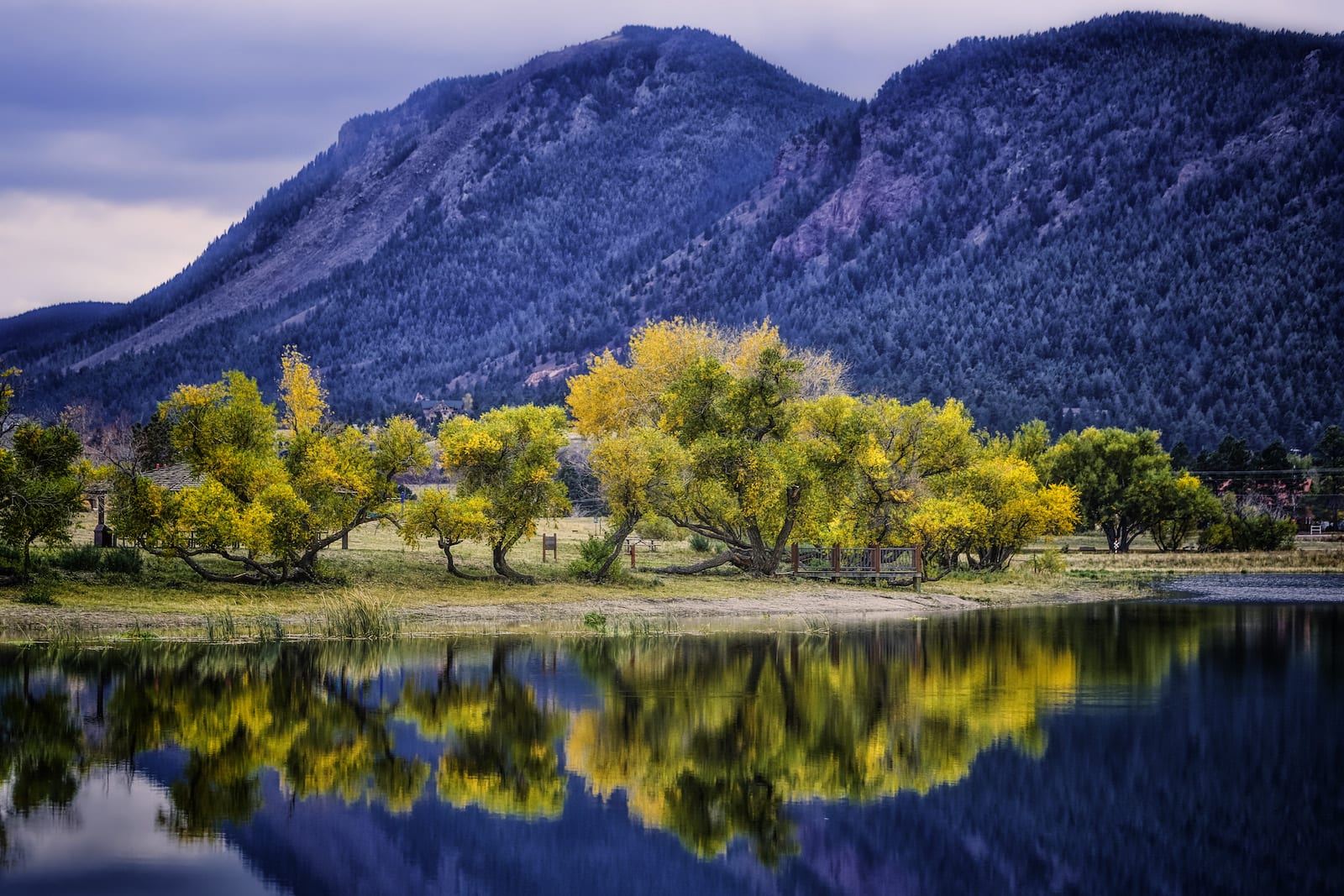 Although it is relatively small, the town of Palmer Lake offers restaurants, coffee shops, a library, a museum, a center for the arts, and more. The Palmer Lake Regional Recreation Area has a playground, volleyball court, disc golf, and ample opportunities for enjoying the outdoors.
Birding: Palmer Lake lies on the Arkansas Divide, making it home to many migrating waterfowl and shorebirds. Birders can spot ducks, geese, hummingbirds, and other rarer species.
Boating: Non-motorized boats such as kayaks, canoes, and stand up paddle boats are permitted to float on Palmer Lake. All boats must be hand launched. The nearby town of Monument permits electric trolling motors on its Monument Lake.
Fishing: Fishing is permitted in Palmer Lake, with a valid Colorado Fishing License. Most anglers either fish from the dock or around the shore. The lake is best known for catching rainbow trout, but there are also opportunities for pike, catfish, and perch in Palmer Lake. In the winter, ice fishing is possible.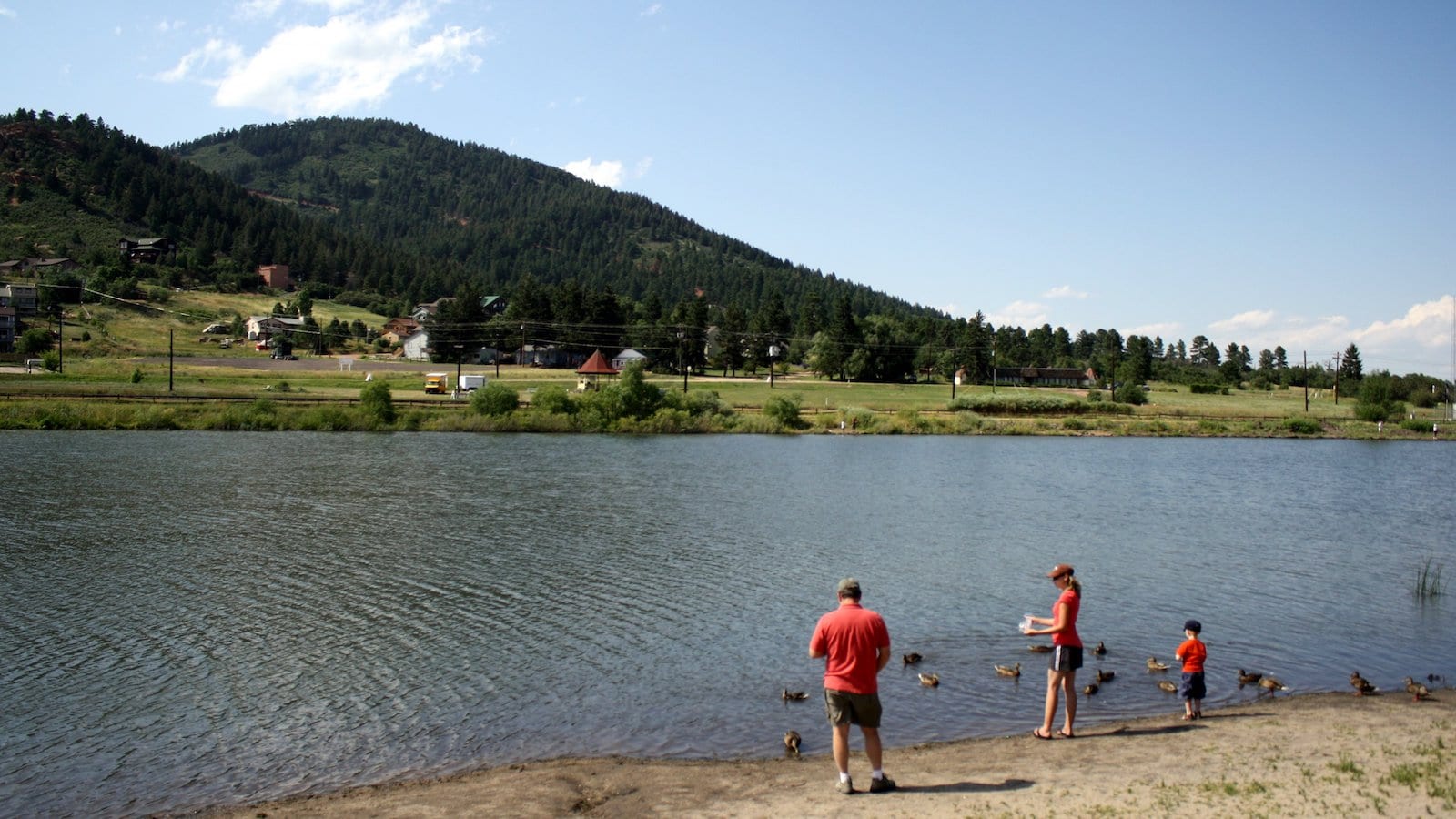 Hiking, Biking, and Horseback Riding: The New Santa Fe Regional Trail begins in Palmer Lake and stretches down for 17 miles toward Colorado Springs. The trail is great for hikers and bicycles, as well as cross country skiing in the Winter. Visitors can also circumnavigate Palmer Lake or take the Greenland Trail northeast of town.
Picnicking: There are many picnic areas with tables surrounding Palmer Lake. Additionally, there is a large picnic pavilion located that can be reserved through the town of Palmer Lake.
Swimming: Due to heavy vegetation, swimming in Palmer Lake is not recommended, although it is permitted.
Details
Address: 199 County Line Road, Palmer Lake, CO 80133
Phone: 719-481-2953
Season: Year round, Facilities are Open April 1st to October 31st
Hours: Dawn to Dusk, Visitor Center is typically open from 8:30 am to 5:00 pm
Fees: None
Maps: Palmer Lake Recreational Map (PDF)
Website: communityservices.elpasoco.com/parks-and-recreation/palmer-lake-recreation-area