Conundrum Hot Springs is a primitive set of hot springs, with incredible views of the surrounding wilderness. It's isolated deep in the Colorado Rockies, only accessible by a nine mile hike up Conundrum Creek Trail. The hot springs are at treeline near Castle Peak, surrounded by the Maroon Bells.
2018 Update: Conundrum Hot Springs will be transitioning to a permit-only system. All overnight users will be required to purchase and carry a permit during their stay at Conundrum Hot Springs when staying above Silver Dollar Pond. Permits are available at recreation.gov or by calling the U.S. Forest Service Carbondale office at 970-963-2266.
Facility
At 11,200 feet, the Conundrum Hot Springs are among the highest hot springs in North America.There are several pools of varying size and temperature. The larger pools can host about a dozen people and are around three foot deep. The temperature averages 100° F. The small pools tend to be little cooler.
The pools were formed in existing craters or rock through years of visitation. They offer therapeutic soaking in a natural environment. Around the springs are scenic views of waterfalls, flowers, snow patches, and steep avalanche chutes. While soaking you'll enjoy looking down into the valley, marveling at the hike you just completed.
Overnight camping can be found near the springs. The spots nearest to the hot springs prohibit campfires. Try to get there early to claim your spot, and bring a couple flash lights for navigating around. The best time to go is late spring to mid fall, once the winter snow has melted.
Atmosphere
Primitive, secluded hot springs; Scenic views; Clothing optional; Can get crowded on weekends, try and get there early to claim a good campsite; It gets cold at night.
​Getting There
Because of the length of the trip, plan on camping near the springs. It averages 4 to 7 hours to reach the springs. Head up the Conundrum Creek Trail early in the morning. After you reach the springs, set up camp at any of the marked spots and enjoy the reward. The hike begins near 9,000 feet and ascends to 11,200 feet.
From Vail: Take I-70 west for about 60 miles until you reach Glenwood Springs (Exit 116). Take a right onto North River Drive. This becomes Sixth Street. Follow this until you reach Grand Avenue (Highway 82). Take Highway 82 East for about 40 miles.
You'll pass through Carbondale and turn before Aspen. About a half mile west of Aspen you'll reach a roundabout. Turn onto Castle Creek Road. Follow Castle Creek Road for 5 miles, then turn right on Conundrum Road. Follow this road about 1 mile until you reach a parking lot at the trail head.
Please respect these public hot springs. Pack out all garbage and leave the place cleaner than when you came. Thank you!
Details
Nearby Town: Aspen
Season: late Spring to mid Fall
Type: Primitive; Hike access
Hike: 8.5 miles (one way)
Price: Free
Clothing: Optional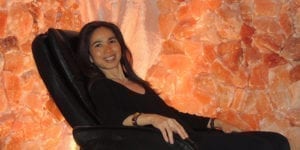 Breath clearly at a Denver Salt Cave (affiliate) - 46-47% off $19 ($35 value) for one 50-minute salt cave session , $56 ($105) for three 50-minute salt cave sessions at 5 Star Salt Caves in Denver. Europeans have long held that breathing in salt has therapeutic...