Covering 30,000 acres of Las Animas County, the Bosque Del Oso State Wildlife Area is a scenic and secluded outdoor destination west of Weston, Colorado. To enter or stay in the Bosque del Oso SWA, a valid state fishing or hunting license is required for visitors over eighteen. Beyond this, there are no day or overnight fees for use of the land.
Bosque del Oso translates from Spanish to "Forest of the Bear," or "Bear Forest." It became the largest designated hunting land in Colorado when it was established in 1998. The SWA is bordered by private land and offers breathtaking views of the Sangre de Cristo Mountains near Trinidad, CO, and Raton Pass.
Visitors should be prepared for wildlife encounters and potentially difficult driving conditions. The roads within Bosque del Oso SWA are made of gravel and dirt, which can be rough in some areas, especially after rain or snow. High clearance vehicles are recommended.
Activities in Bosque del Oso SWA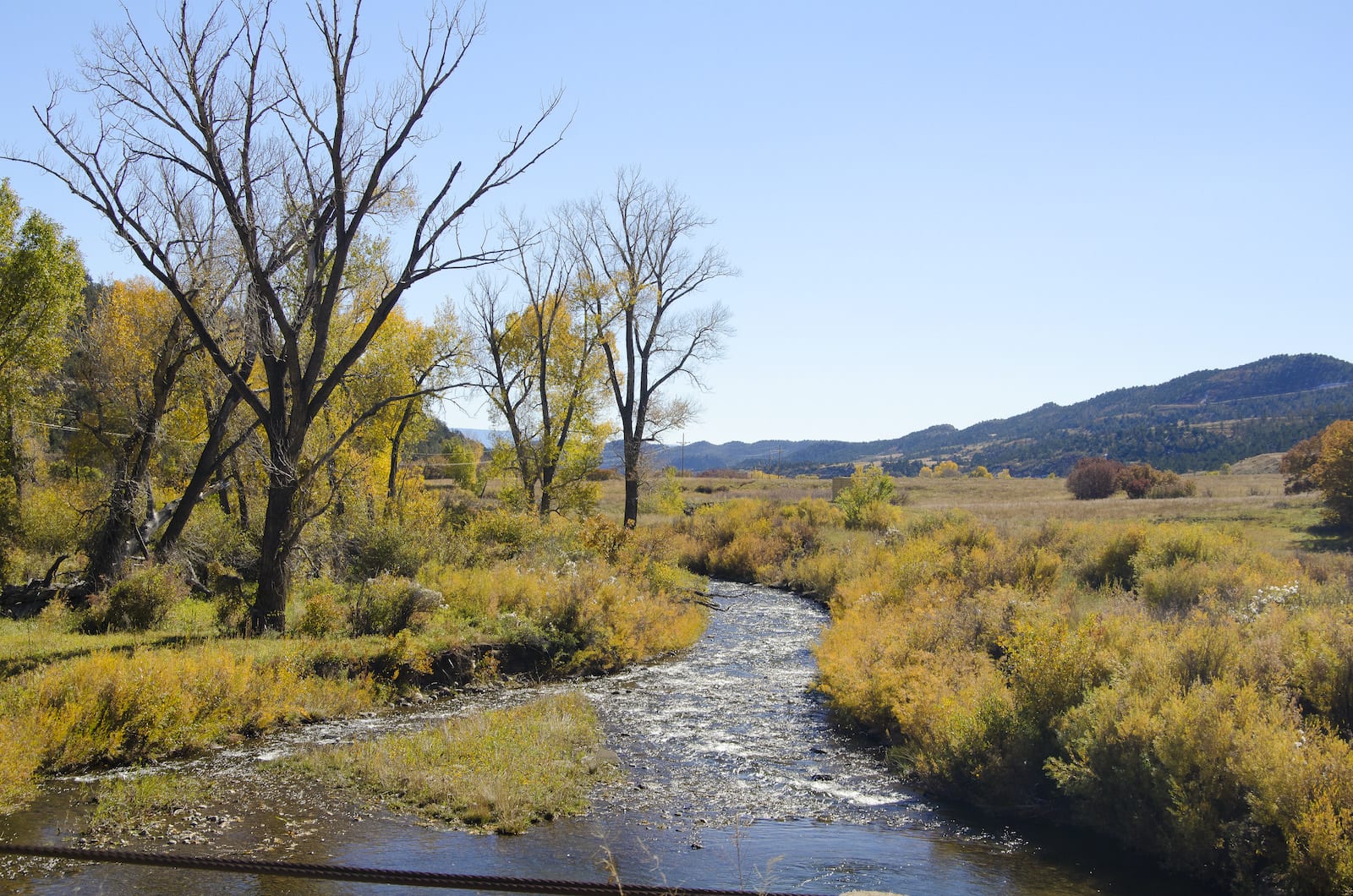 Birding & Wildlife: Thanks to its remoteness and protection, the Bosque del Oso is a thriving woodland with ample opportunities for birding and viewing wildlife. Namely, birders can spy turkeys, woodpeckers, and pigeons in addition to raptors such as owls and eagles.
Within the pines, visitors may also encounter elk, deer, bears, coyotes, mountain lions, bobcats, and more.
Camping: Camping is free in Bosque del Oso's designated first-come, first-served campgrounds. Sites contain a picnic table and access to water and a vault toilet. There is room for RVs, trailers, and tent camping with a limit of 14 days per visitor.
Annually, the campgrounds are generally open from May until the end of November. The most popular campground is located on the north border of the park, with easy access from State Highway 12. Secondarily, additional sites are available in the Oso Malo (Bad Bear) camping area, approximately 5 miles south of the highway on the Bosque del Oso access road.
Fishing: Licensed fishing is permitted in the Bosque del Oso SWA with anglers getting the chance to catch native coldwater stream trout species like rainbow, brown, and cutthroat. There are ten designated parking areas within the SWA that give access to a bounty of fishable waters including the Purgatoire River and its tributaries. Fly, reel, and bow fishing are all permitted in the wildlife area.
Horseback Riding: Off-road driving is strictly prohibited in the Bosque del Oso SWA to protect native species, however, hunting is permitted both on foot and on horseback within the grounds. To accommodate this, horse corrals are located near each campsite
Hunting: Primarily, the Bosque del Oso SWA was designated for the purpose of hunting. Permitted hunting is available for both big and small game including deer, elk, bear, mountain lion, turkey, and more.
In the winter, licensed big game hunters (along with one companion) are the only visitors permitted in the Bosque del Oso SWA. Additionally, camping outside of designated areas is only permitted for hunters within the season.
Picnicking: Visitors are free to use the picnic tables and vault toilets in the campground areas of Bosque del Oso SWA.
Details
Address: Bosque Del Oso State Wildlife Area, Bosque Del Oso Rd, Weston, CO 81091
Phone: 719-561-5300
Season: April 1st to November 30th, licensed big game hunting permitted outside of this season
Hours: 24/7
Fees: Colorado fishing, hunting, or public lands license required
Maps: Bosque del Oso SWA (PDF)
Website: cpw.state.co.us/thingstodo/Pages/BosqueDelOsoSWA.aspx