Situated near Craig, Elkhead Reservoir spans 900 acres of water and 1,300 acres of land. Enjoy your favorite outdoor activities surrounded by rolling sagebrush prairie and scenic cliff locations in the stunning Yampa valley of Northwest Colorado.
The reservoir opened in 1974 as a wildlife and recreation area. Elkhead Reservoir, for long, was used as a backup water source for the City of Craig and the Craig power station. The State Board of the Great Outdoors Colorado Trust Fund approved a Legacy Grant for the reservoir in 1996.
This money went to preserving natural values of the Yampa River System and upgrading recreational options. The Colorado River Water Conservation District finished a re-development and expansion of the reservoir in 2009, offering brand new boat ramps, picnic sites, swim beaches and camping facilities. Elkhead Reservoir used to be an extension of the nearby Yampa River State Park.
Activities at Elkhead Reservoir

The reservoir offers countless recreational opportunities. Head over to Elkhead to swim, ski, watch wildlife and birds, hike, camp, horseback ride, bike, hunt, or fish.
Biking/Hiking – There are 10.5 miles of trails at Elkhead Reservoir for you to explore. You're bound to meet new people, or at minimum, you'll have the perfect photo opportunity.
Camping – Elkhead Reservoir has two campgrounds. Bear's Ears, on the south end of the reservoir, offers 16 non-electric campsites. Pronghorn, near the shoreline of the reservoir, offers 30 electric campsites. Elkhead's campgrounds have hardened gravel pads, picnic tables, shade shelters, and fire pits. Do note that there is no water or sewer available on either campground.
Read about the Camping near Craig and Hayden.
Fishing – If you love to fish, this reservoir is great for warm water species, such as Largemouth Bass, Northern Pike, Smallmouth Bass, and Crappie. Hunters should heed to the northern portion of the park, where hunting is allowed after Labor Day.
Wildlife – Are you an animal lover? Seasonal appearances of large herds of elk, pronghorn, and deer are an Elkhead staple. Owls, eagles, and hawks can be spotted as well, in addition to bobcats, mountain lions, coyotes, and even bears.
In order to access the reservoir, your vehicle needs to display a Colorado Parks Pass on the windshield. Daily passes are valid on the day purchased through noon the following day. Annual passes are available as well, should you want to visit frequently. If you want to camp on Elkhead, you'll need to purchase a camping permit in addition to the park pass.
Details
Address: 135 Co Rd 28, Craig, CO 81625
Phone: 970-276-2061
Season: Year round
Website: cpw.state.co.us/placestogo/parks/ElkheadReservoir
Latest in Elkhead Reservoir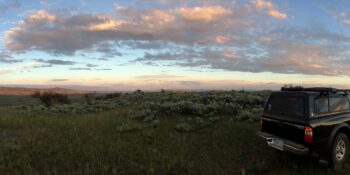 There are plenty of public lands to explore near Craig and Hayden, CO, with ample campgrounds…