Photo: juniperhotsprings.com
Established in 1880, Juniper features a few soaking pools outside of Lay in Moffat County. Secluded in northwest Colorado, Juniper Hot Springs offers a unique retreat for those lucky enough to be passing through.
There is one large pool with a concrete floor, filled solely from the overflow of four smaller pools. These smaller pools have a sandy, clay bottom, which allows water to easily rise. The water flows at around 102°F.
There is a small day fee to use the springs, which are open during daylight hours. Gravel campsites are also available, but without hookups. Please pack in and pack out.
Bathing suits are required and alcoholic beverages are prohibited in the pool area. Guests must be 18 or accompanied by an adult.
History
The Native Americans camped beside Juniper Mountain and used these springs for years. Numerous relics have been found, which showed at least 5 permanent camps inhabited the region. They called the springs "Healing Waters".
The U.S. Government determined in 1939 that the springs contained 24 minerals. This many beneficial minerals exist in only two other hot springs found in Europe.
At present time there are no remaining structures. Buildings were burned years back because of their deterioration.
Getting There
Follow Highway 40 two miles west of Lay. Take a left on Highway 53 and follow that across the river. The hot springs will be on your left.
Details
Address: 8090 Moffat County Rd 53, Lay
Phone: 970-756-4688
Suits: Required
Season: Year round
Website: juniperhotsprings.com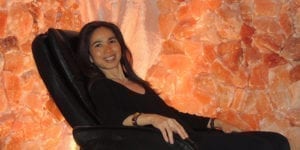 Breath clearly at a Denver Salt Cave (affiliate) - 46-47% off $19 ($35 value) for one 50-minute salt cave session , $56 ($105) for three 50-minute salt cave sessions at 5 Star Salt Caves in Denver. Europeans have long held that breathing in salt has therapeutic...