The US Olympic and Paralympic Museum is a unique sports museum dedicated to the extraordinary athletes who have competed on the US team. Visit 60,000 square feet of history, hope, and culture, and discover the incredible journeys that led these athletes to represent their country.
Inside the Colorado Springs museum, you'll find artifacts, photographs, videos, and more that highlight the Olympic and Paralympic core values of respect, equality, and courage. Explore 13 interactive galleries in a family-friendly environment suitable for all ages and abilities.
History
For decades, athletes, coaches, and sports enthusiasts have considered Colorado Springs to be the epicenter of the US Olympics and Paralympics. It's even earned the nickname "Olympic City USA."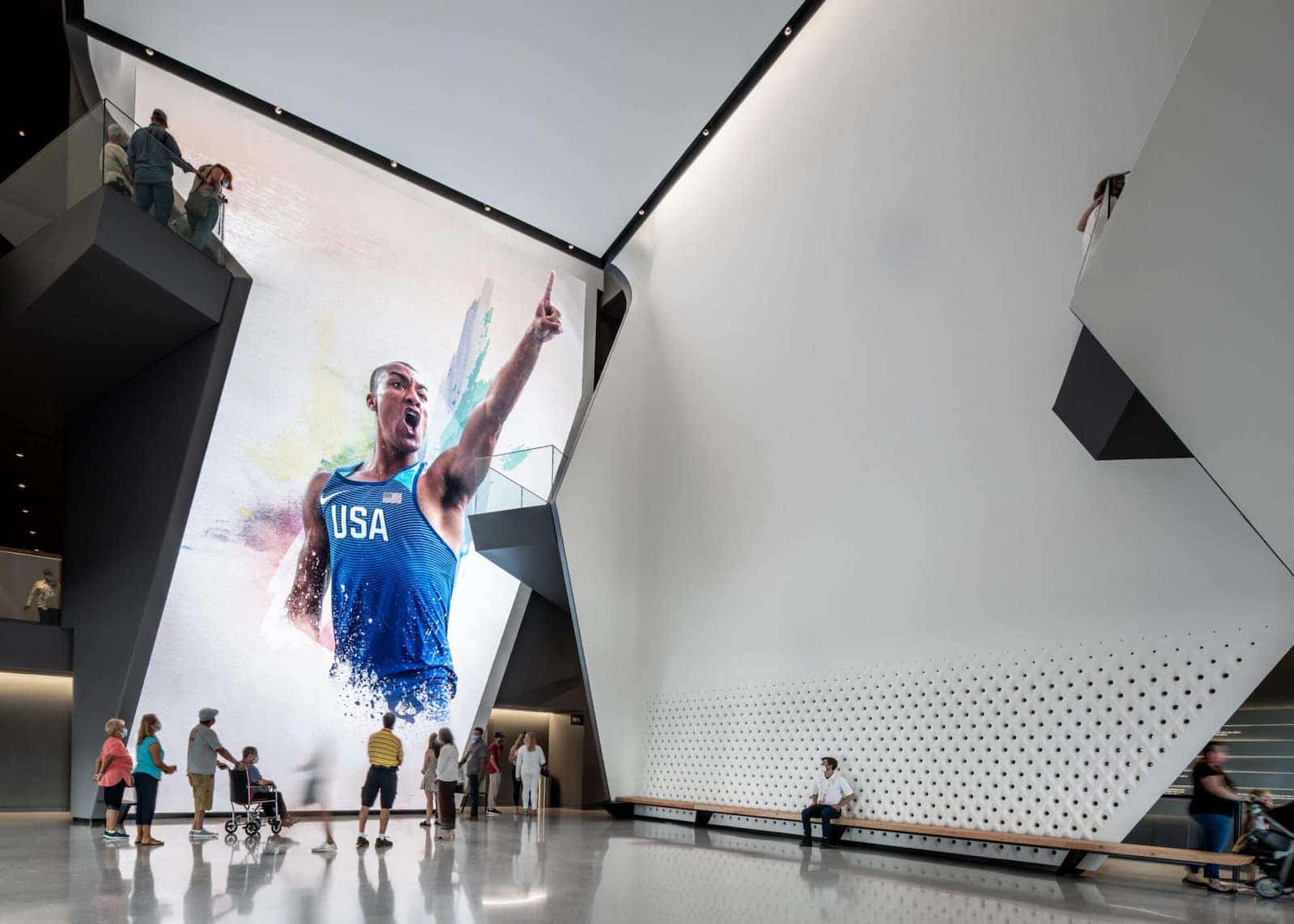 Within the city, you'll find the Olympic and Paralympic Training Center and the U.S. Olympic and Paralympic Committee, as well as over 50 National Sports Organizations and two dozen National Governing Bodies.
With that in mind, it made sense for the first and only US Olympic and Paralympic Museum to open in Colorado Springs. The groundbreaking ceremony was held in 2017, and the museum officially opened its doors in 2020.
Exhibits
Museum exhibits are designed to give visitors the feeling of actually walking through an Olympic arena, allowing everyone to experience the excitement and apprehension of competing in an actual event.
Highlights at the museum include:
Parade of Nations – Experience the exhilaration that comes with stepping into an opening ceremony.
Winter Games Gallery: Bobsleds, snowboards, and skeleton sleds line the angled pathways, creating the feeling visitors are walking down an icy slope.
Hall of Fame – Relive the Olympics and Paralympics' greatest triumphs and their most celebrated athletes.
Pedestrian Bridge – It connects the museum to the America the Beautiful Park, this bridge is an architectural symbol of fitness, hope, and courage.
The museum is proud to be one of the most fully accessible museums in the world with assistive technologies on every floor. Through the use of open captions, assisted listening, universal keypads, ramps, and other ADA-compliant devices, the museum delivers a one-of-a-kind experience to all visitors.
Admission
Discounted tickets are available for seniors, children 3-12, active or retired military with ID, and first responders with ID. Children 2 and under are always free. Bike racks are located directly in front of the museum. Paid parking lots and garages are within easy walking distance.
Details
Address: 200 S Sierra Madre St, Colorado Springs, CO 80903
Phone: 719-358-6325
Season: Year-round | Closed on holidays
Hours: Sunday – Friday (10 am – 5 pm) | Saturday (9 am – 6 pm)
Admission: Yes, a fee to enter
Website: usopm.org