Aspen Colorado ski instructor Kate Howe has a blog called Skiing in the Shower. That alone should spark your interest. Adventurous, spiritual yet surprisingly down-to-earth, her blog name is just one of the things that makes her stand out among the red ski jackets. Need inspiration? Read on!
Living the Dream in Aspen Colorado
The story begins in 2006, with a  35 year old mother of two. She was 60 pounds over weight, and had completely given up on any future athletic pursuits. Before her pregnancy, she was a competitive figure skater and owner of a rock climbing gym,  where she coached world cup climbers. Kate writes:
Our family situation was challenging, and although I tried every day to get back outside (I had been training for an ironman distance triathlon when I got pregnant) and start getting healthy, the obstacles I faced in getting more than ten minutes of sustained exercise were immense. After six years of being thwarted daily, I gave up on a goal for the first time in my life.
The turning point occurred while watching one of her children on the ski slopes.
I was standing at the base of the Powder Park lift at Bridger Bowl waiting for my five year old to come down so I could put a snack in his pocket. I was looking at all the happy, fit skiers, and I was, quite frankly, a bit angry that I had completely resigned my place in the legions of the fit. There was neither time nor money to get back outside, and my kids would not sit in a stroller, or any other device that strapped them down.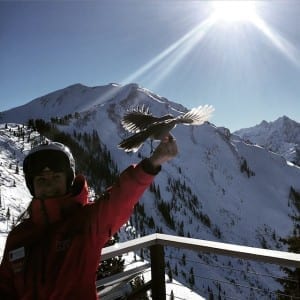 Dave, the snowsport supervisor asked if she ever taught skiing. She said that she had, but it had been awhile. "That's fine," he said. "We need alpine instructors."
I was alarmed! No, no, no, apparently you didn't realize that I am an overweight stay at home mom with two insane kids and no money for babysitters? And I don't ski very well?
Dave explained that they could help her improve her skiing.
What I don't think that Dave understood was that I had about 40 days of skiing total from the time I was four years old, and that the teaching I did was NOT PSIA, but that I was hired by a private family who had a house in Northstar to teach their Indian business associates how to ski on the weekends. I had NO business teaching like this, but I also had no idea I was in over my head. Because I was comfortable on my ice skates, I learned to ski backwards with relative ease, and got their friends turning and stopping.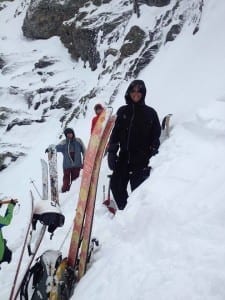 So she started teaching at Bridger Bowl. The rest, as they say, is history. Kate currently teaches at Aspen where she is a certified Diamond Pro.   She was honored to be an invited candidate to the 2012 National Alpine Team Selection, and she currently skis all over the globe with her private clients, taking them on adventures from powder skiing in Japan to Heli Skiing in Canada.
Kate is also working through her AMGA Ski Guide Certification, a six to eight year process. She currently is AIARE Level 2 Avalanche Certified and qualified this year to participate in the Ski Guide Course, leaving her with about two years left in the AMGA certification process.
An Unconventional Approach
Don't take a lesson with Kate Howe if you're looking for  a "same old, same old" approach to ski instruction. Kate's passion is about unlocking your hidden potential. She feels that we all have more inside of us, and accessing excellence is the underlying theme of every class she teaches, whether that is on the hill to guests, training instructors, teaching meditation at the Jaywalker Lodge in Carbondale to recovering addicts, in the yoga room, or laying on her massage table. We all have things we believe are a part of our make up, we all have the capacity to let go of those stories and step boldly into who we are becoming.
Kate believes this strongly because she has lived it herself, and her passion for teaching stems from the inspiration she finds every time one of her clients navigates their way into a deeper sense of freedom.
Watch this video about leveling the hips during ski turns:
Massage Therapist, Yoga Teacher, Woman of the World
Need a massage after one of Kate's killer ski lessons? No worries! Kate is also a massage therapist in private practice. She was voted Best of Aspen in 2014.
Kate's early training was as an artist. She has been commissioned for murals all over the US, and has done three for Aspen Skiing Company, you can find her work in the Cloud 9 Restaurant at the top of Highlands, in the Conference Center in Aspen Highlands, and in the locker room as well. Check out the mural she created for the Aspen Highlands locker room: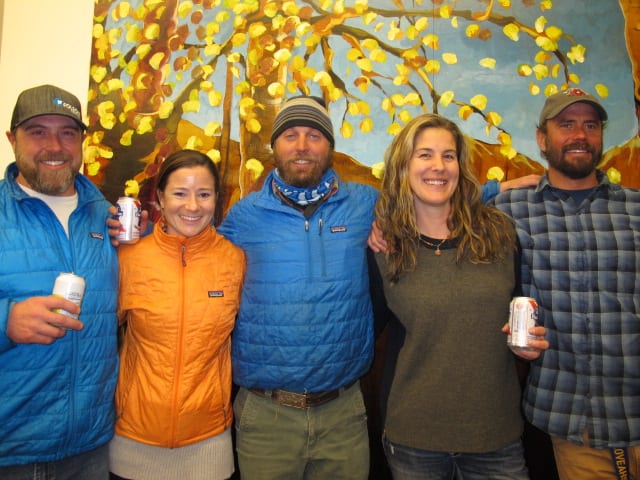 As if that was not enough, Kate is also a yoga and meditation teacher. Last year, she and her kids spent nine months traveling to Bali, Malaysia, Singapore, Cambodia, Laos, Thailand and all over India. In Mysore, she practiced yoga and assisted Saraswathi Jois, a 74 year old guru.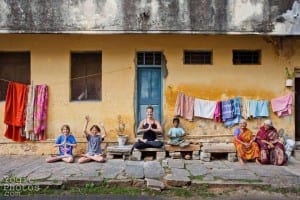 This May, you can  join her in Thailand at the Samahita Retreat.  This special week based on her most recent writing: a book titled Happier. Kate has been studying Buddhist philosophy for 18 years and this book and retreat is a culmination of practical applications for mental and emotional health and happiness in the real world.
This retreat focuses on understanding our self-imposed limitations, examining them, unpacking and letting go of many ideas we have that stop us from becoming who we can really be. It will be a week of massage therapy, yoga, meditation and pranayama practice on the pristine beach at Koh Samui, Thailand.
Ski Tips from Kate
You don't have to be more okay with being afraid to ski steeper or more difficult terrain. You need to develop basic technique, which, over time with diligence, makes scary terrain ski like easy terrain. That technique comes a lot faster if you hire a pro to show it to you!… Chaos and Precision are two polarities of skiing (as Weems would say). Discipline is the piece that ties them together
Want a a ski lesson with Kate Howe? Book it here!
Read about a previous Colorado ski instructor or see them all.