I've taught, watched people teach, and watched people learn skiing (and other snow sports) for 45 years. It has been a long apprenticeship (and one not over yet) with lots of research, fun, and wonderful people. What a thrill it is to be part of the collaboration when people improve.

The same goes for any sport, whether I'm the teacher or the learner (or, of course, both). And some of it has been pretty funny. -Weems Westfeldt: Brilliant Skiing: Every Day (affiliate link)
Born in Boulder and schooled at Dartmouth, Weems Westfeldt is a ski instructor extraordinaire. As creator of the Sports Diamond, a special program at Aspen/Snowmass, his unique teaching methods often trigger EUREKA moments in even the most cynical students.
The Dartmouth Days
During his Dartmouth days, back in 1964, Weems started teaching skiing at Sugarloaf. He told Askmen.com,
Being in a commercial ski school as a young man — there just isn't anything better. We worked hard. We worked in restaurants and bartended and taught skiing and stayed out all night and played and partied, and it was wonderful.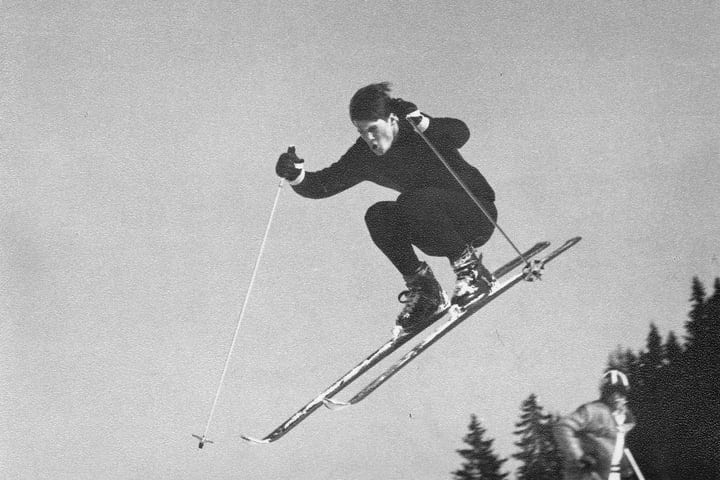 Sugarloaf instructors have fond memories of Weems, describing him as a "wild and crazy guy" and a "superb instructor." Wild and crazy is part of his charm. He rides a motorcycle with an attached ski rack. In the event of an accident, he has the letters "DNR" tattooed to his ankle.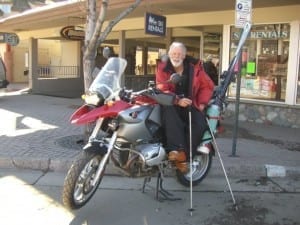 After Sugarloaf, he went on to teach at different locations throughout the US, and throughout the world. Weems served as Director of Operations for the Ski and Snowboard Schools of Aspen/Snowmass.
He has been an Examiner for PSIA-Rocky Mountain since 1970, and is a past member of the PSIA Alpine Demo Team.
 The Biomechanical Cookie
Thus from Weems, you learn not merely to ski — a finite-sounding thing — you learn skiing in its implied endlessness. – Denise McCluggage: The Centered Skier (affiliate link)
In 1984, McCluggage took a lesson with Weems at Taos Resort. Weems told his class that he was about to offer them a "biomechanical cookie." The cookies are small, simple movements, which make immediate changes in how you ski.
These movements allow students to feel the change, and, more important, to feel that change in itself is not scary. In fact, the ability to change and adapt is essential to Weems' teaching philosophy:
One thing you learn when you take a lesson from Weems: Skiing is all about the constantly changing relationship between your skis and the snow. This understanding is one of the keys to the Sports Diamond Method.
The Diamond Sessions
Most sports have a critical event or maneuver that marks the nature of the sport. It's the shot of the sport — like a golf or tennis shot. To descend a mountain on snow, you have to change directions frequently in order to choose your path, have fun, and maintain a semblance of control.

Turning is a synonym for skiing. Turning is the fun. Just getting down the mountain is not meaningful. Turning is the sacred art of skiing. Furthermore, every turn has a moment of transition in which the old turn connects to a new one. Riding and skiing well require the transition to be smooth, seamless, rhythmical, and energetic.

The transition is the change of edges from one side to the other. The edge change is the secret to the sacred art. – Weems Westfeldt: Brilliant Skiing: Every Day (affiliate link)
Weems describes The Sports Diamond™ as "a model for skiing based on four points and the relationships between them." Thus, the comparison to the corners of a diamond.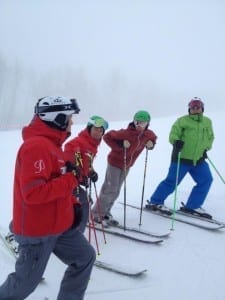 Power describes the relationship between technique, movements, physical forces, your body, and your equipment.
Purpose is about intention, strategies and goals for manipulating the snow and controlling your direction.
Touch is about the senses, emotions, connections, rhythm, flow, timing, finesse, and intensity.
Will is about choosing, preparing, moving, doing, balancing, centering, managing anxiety and commitment to action.
This framework helps you understand:
what you are doing
what you are missing
where to focus next
To reserve your Private Diamond Session, call 877-282-7736
Read about a previous Colorado ski instructor or see them all.