Roughly halfway between Denver and Boulder, the 1STBANK Center is a large indoor concert venue and event space located adjacent to U.S. Route 36 in Broomfield, Colorado. The 1STBANK Center holds up to 6,500 people for year-round mid-sized events managed by Peak Entertainment.
Hosting a wide variety of attractions, the 1STBANK Center is popular for live music, comedy, sports, and more. The stadium features bleachers and a large floor area, which may be open to general admission, depending on the event. Within the1STBANK Center, there are also 26 luxury suites that can be reserved with seating for parties of up to 32 people.
History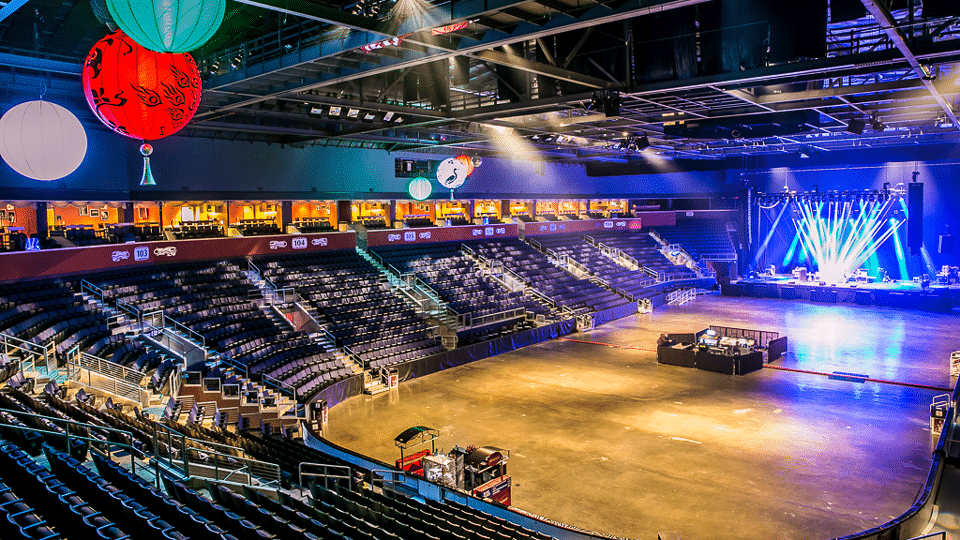 Holding its first concert on November 9, 2008, and originally called the Broomfield Event Space, the 1STBANK Center was built with the intention of hosting Denver metro area sports events. After a few years of poor acoustics and reported profit failures, it underwent a renovation and was temporarily referred to as "Odeum Colorado" while in construction from 2009 to 2010.
On March 5, 2010, the new and improved 1STBANK Center hosted a concert by Further, a band featuring Bob Weir and Phil Leash of the Grateful Dead. Since then, the venue has hosted hundreds of events and notable performers such as Macklemore, LCD Soundsystem, Lady Gaga, Green Day, Skrillex, the Lumineers, Justin Bieber, and Radiohead.
Amenities & Activities
Inside, the 1STBANK Center offers a variety of food stands for snacks and meals along with both alcoholic and non-alcoholic beverages. Visitors can expect typical stadium prices with plenty of booths and stands to choose from. Clean, well-kept bathrooms can also be found throughout.
There are handicap-accessible seating options available for most 1STBANK Center events, and the venue also has a special nursing suite for new mothers. Although no outside food or drink is allowed, attendees are welcome to bring in a refillable water bottle.
There is a large parking garage adjacent to the 1STBANK Center, which often features free parking on most nights. Occasionally, parking fees may be charged during certain events and the lot generally opens 2 hours before the event's advertised start time. Doors to the venue typically open one hour before the event is scheduled to begin.
If traveling by transit, the 1STBANK Center is easily accessible via the US 36 & Broomfield Station at the Broomfield Park-n-Ride lot. There is a long, pedestrian bridge available to safely cross the highway.
Details
Address: 11450 Broomfield Ln, Broomfield, CO 80021
Phone: 303-410-0700
Capacity: 6,500
Founded: November 9, 2006
Season: Year-round
Website: 1stbankcenter.com