Located on the east side of Marble, Colorado, Beaver Lake is a high elevation, 20 acre reservoir that can be easily accessed in Gunnison County. Beaver Lake is a part of the Beaver Lake State Wildlife Area, which offers visitors panoramic mountain views next to a picturesque historic Colorado mountain town.
Beaver Lake History
The town of Marble was incorporated in 1899, named after the very resource that the area was famous for. Over the next 50 years, resources were extracted from the mountains surrounding the town and shipped to be a part of many famous American monuments and buildings such as the Lincoln Memorial and the Tomb of the Unknown Soldier. Beaver Lake was created to accommodate the industry and population of Marble, by damming the Crystal River.
Activities at Beaver Lake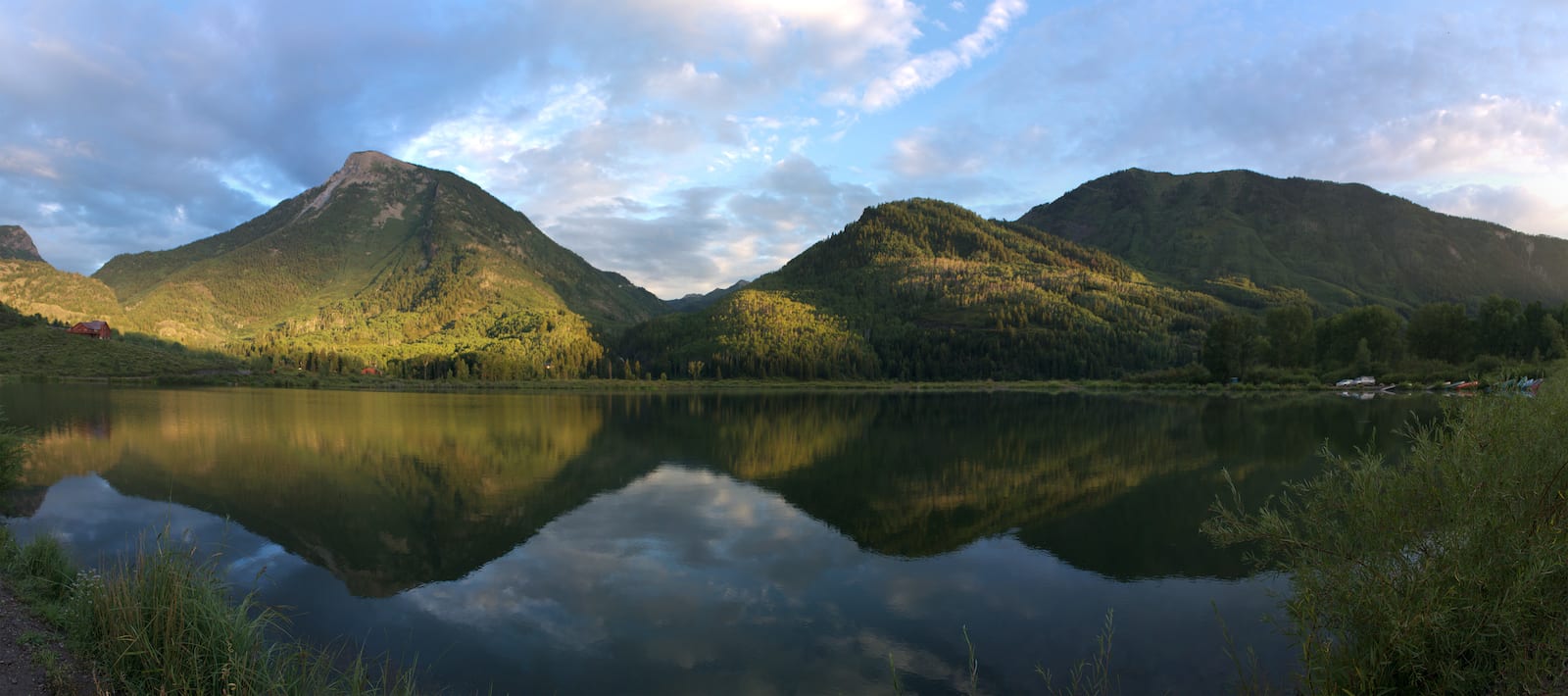 Although camping is prohibited, visitors can still stop by Beaver Lake in order to enjoy a variety of activities during the day. There are public restrooms available on site, and accommodations are available close by at the Beaver Lake Lodge.
Birding: Marble, Colorado is a bird watcher's paradise as an enormous list of species are known to visit or inhabit the area. Spending time at Beaver Lake can lead to sightings of eagles, hawks, jays, falcons, swallows, geese, duck and more.
Boating: Non-motorized boats such as tubes, kayaks, and standup paddle boards are permitted on Beaver Lake. Canoes are also available for rent in town.
Fishing: With a valid Colorado fishing license, anglers are welcome to cold water lake and stream fishing with Beaver Lake and the surrounding wilderness area. The Crystal River is a popular fly fishing destination and the lake is stocked each year with a variety of trout. Most fishing is done by canoe, however there is a dike on the western end of the lake, which gives plenty of room for casting from the shore.
Hiking, Mountain Biking & Horseback Riding: From the Beaver Lake Lodge, hikers, bikers, and horseback riders can access the White River National Forest's Carbonate Creek Trail which travels through about a mile and a half of private property. Beyond that, the trail leads to the defunct Marble Ski Area and offers seldom seen views of the Raggeds Wilderness Area.
Picnicking: Although there are toilets there are no public picnic tables or trash facilities at Beaver Lake. Instead, visitors are encouraged to pack out all of their own waste.
Swimming: Swimming is permitted in Marble Lake, although the water is very cold. There are also many beaches along the crystal river that are also popular for swimming, or simply dipping your toes in the water.
Wildlife Viewing: Aside from the fish and the birds, there are also many species of wildlife that can be spotted in the Beaver Lake State Wilderness Area. From the lake, visitors may be able to spot black bears, big horned sheep, mountain lions, coyotes, bobcats, foxes, butterflies, rabbits, and more.
Details
Address: Co Rd 3, Marble, CO 81623
Phone: 970-947-2920
Season: Year Round
Hours: 24/7
Fees: none
Maps: Beaver Lake SWA (PDF)