Although most people only know it as the Keystone Lake Ice Rink, Keystone Lake itself is actually a 5 acre body of water tucked right into the Lakeside Village of Keystone, Colorado. The prominent water feature located in Summit County is a great opportunity for photos and outdoor activities all year round.
Activities at Keystone Lake
Keystone Lake is surrounded by the amenities of a resort as well as breathtaking mountain views of the area. Visitors are welcome to stop by to feed the ducks, enjoy the lake's scenery or else partake in a few available, seasonal outdoor activities.
Paddle Boating: In the summer, paddle boats are very popular to rent in Keystone's Lakeside Village. Paddle boaters are supplied with lifejackets and are given the opportunity to relax atop Keystone Lake while taking in the mountain and resort views. Visitors may also rent stand up paddleboards, canoes, and cruiser bikes for getting around town.
Fishing: Despite a healthy population of stocked fish, fishing is not permitted in Keystone Lake. Instead, licensed anglers can try their hand at catch and release fishing along the Snake River which runs through town.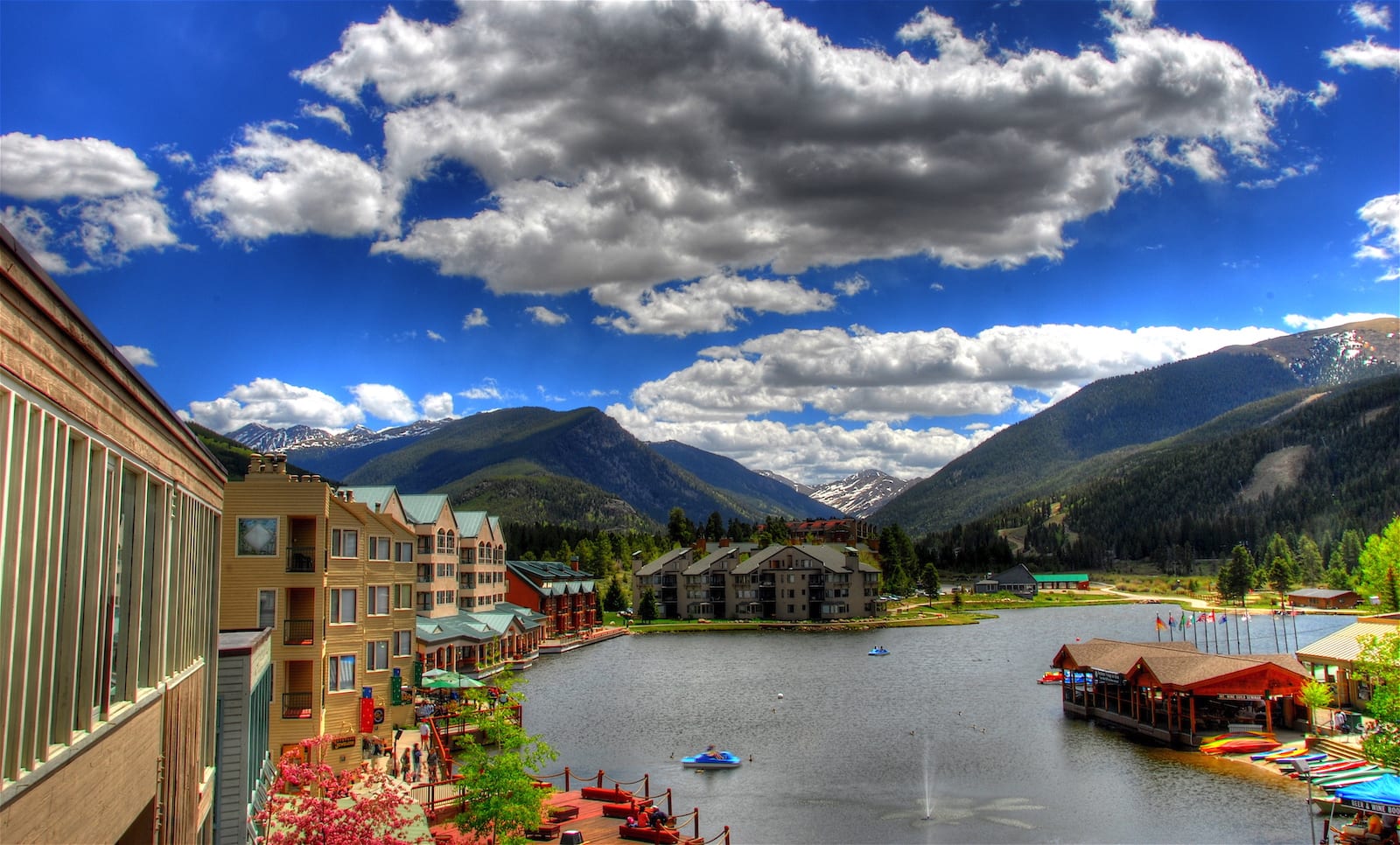 Hiking, Walking, and Biking: Keystone Lake is surrounded by a paved pathway which extends throughout the town and beyond the resort via the Snake River Trail. For those looking for a more isolated, nature experience, visitors can access the Keystone Gulch trail less than a mile southwest from the lake.
Ice Skating: In the winter, Keystone Lake becomes one of the largest maintained outdoor ice skating rinks in the country. Skating is popular among visitors who are also welcome to bring a hockey stick and a puck onto the ice. There are rentals available, seasonally for skates, walkers and more. The town of Keystone typically has music playing around the rink and may close it to the public for private events like pond hockey tournaments.
Swimming: Swimming is not permitted in Keystone Lake.
Details
Address: Lakeside Village, Keystone, CO 80435
Phone: 970-496-4386
Season: Year Round
Hours: Rental Hours are usually 9 AM to 9 PM
Fees: Ice Rink Admission Fee & Rental Fees
Maps: Map of central Keystone, Colorado (JPG)
Website: Lakeside Village Website