The Palmer Park Trails in Colorado Springs is a haven for outdoor recreation enthusiasts, containing 25 miles of rural hard-packed dirt routes ideal for hiking, biking, horseback riding, and dog walking. Hitting the paths in this region can feel remote, but it offers stunning metro views of the city and scenic overlooks from various points.
These are some of the city's go-to trails for exercising and spending time in the fresh air.
Top Trails in Palmer Park
There are four main trailheads at Palmer with parking lots: Yucca Flats, North Canyon, Sentinel Point, and Council Grounds. Most of the trails are single track, but several also include dirt roads and double lanes. The difficulty level varies by route, and many of the courses connect and can make for all-day hiking or shorter loops.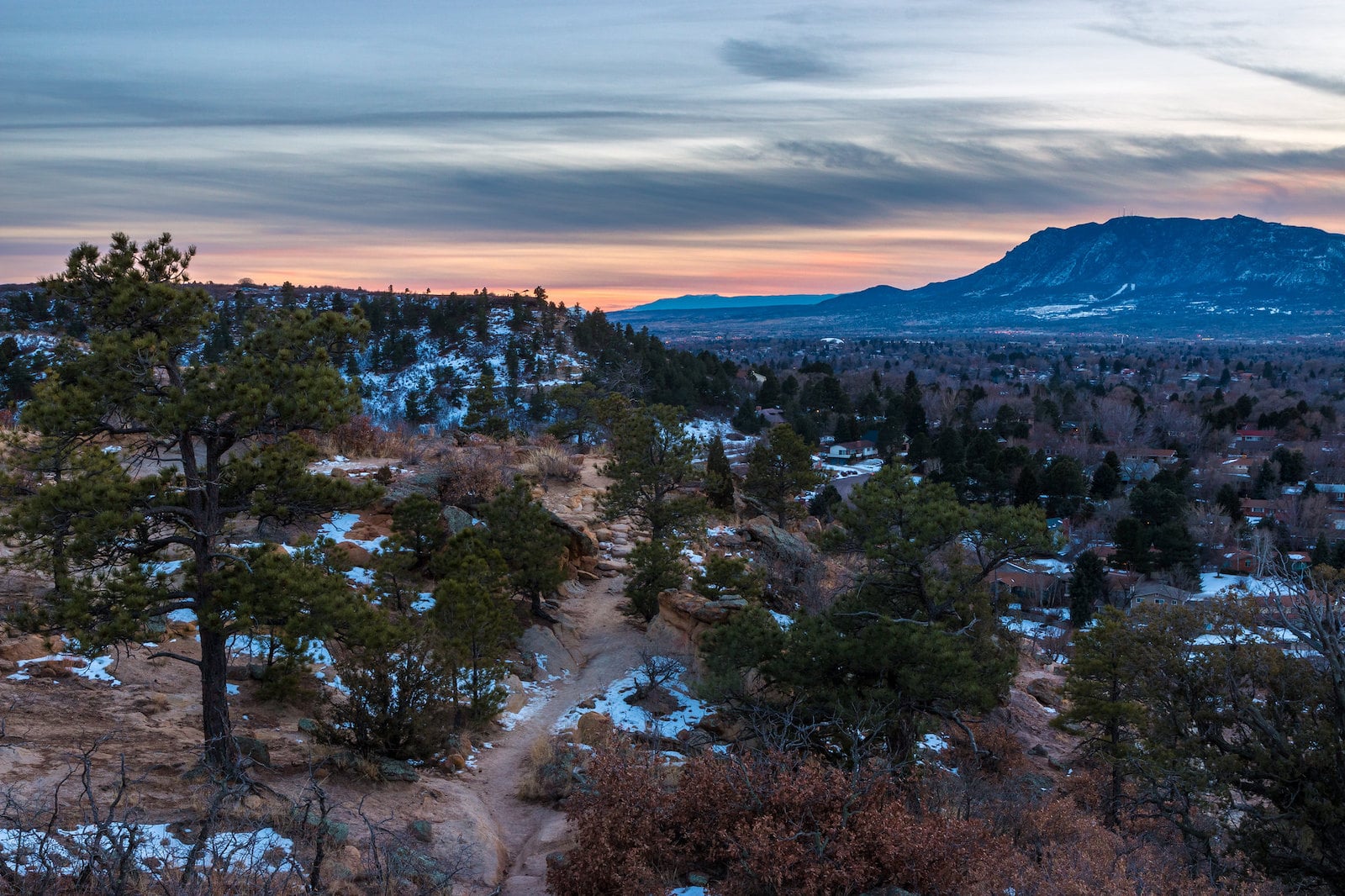 This network of trails can be used in many combinations, but consider some of these top routes for your next hiking journey in Palmer Park. Dogs are welcome on the trails as long as they're leashed.
Cheyenne and Grandview Trail – Explore this 1.9-mile loop for birding, hiking, and horseback riding opportunities. Not as frequented by hikers as others in the park, there's a good chance for solitude. This path is easy and takes less than an hour to do.
Edna Mae Bennet Nature Trail – An easy to moderate one-hour hike that loops for 2.3 miles and is excellent for hiking, horseback riding, and birdwatching. This trek has a lot of rocky areas, so it might be more challenging for bikers.
Greencrest Trail Loop – Only being 1.5 miles long, this loop is quickly accomplished in a little over half an hour and has a mild 124 feet of elevation gain. It's often busy with other hikers, birdwatchers, dog walkers, and trail runners but has great rock formation views.
Kinnickinnick Trail – Venture out on this 1.6-mile moderately difficult loop that only takes about 40 minutes and has 173 feet of elevation gain. The trail is clearly marked and great for hiking and mountain biking. The path can get a bit slick after snowmelt in the winter.
Palmer Park Inner Loop Trail – A 1.9-mile moderate loop that takes roughly an hour to accomplish. Lots of beautiful views of Colorado Springs at the top, rocky natural stairs, and not as crowded as others.
Palmer Park Outer Loop Trail – Taking about three hours, this loop trail is 7.4 miles long and has excellent views and a well-maintained path. It has 849 feet of elevation gain. This is a busy area and great for hikers with dogs and kids.
Palmer Park Ramble – A nice 2.2-mile loop that's ideal for hiking, birdwatching, and biking and features a beautiful setting. The difficulty is moderate, but it's an enjoyable path.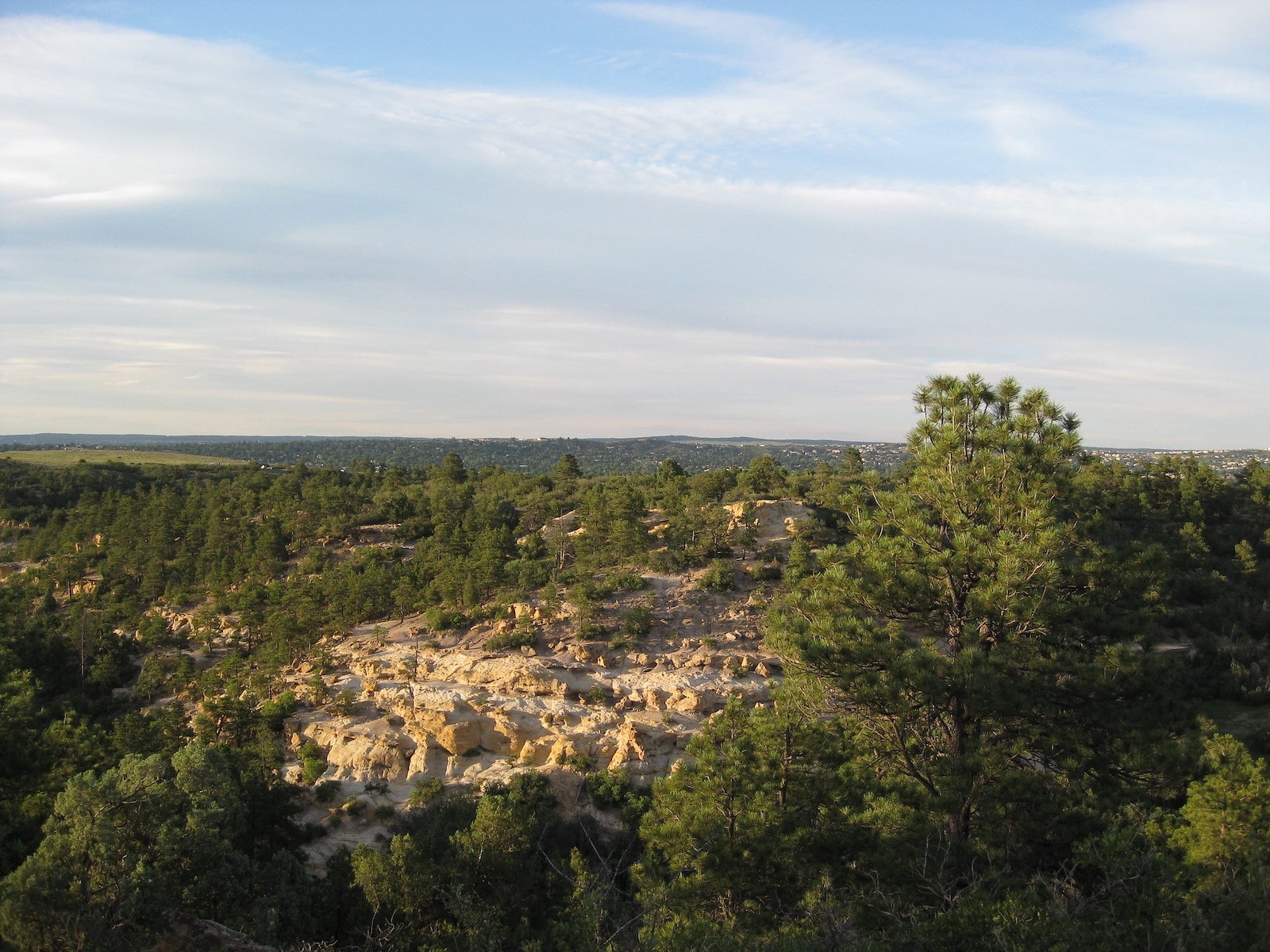 Palmer Point Trail – A nice 3.2 out and back trail with 246 feet of elevation gain and takes about an hour and ten minutes to complete. The path is mostly flat and very popular with walkers and birdwatchers. It's ideal for people interested in squeezing in a quick walk near the Austin Bluffs area.
Sentinel Point via Grandview and Cheyenne Trail Loop – This loop is 3 miles long and takes over an hour to finish. It offers beautiful landscapes, lots of birds, and some rocky terrain. It has 269 feet of elevation gain.
Seven Castles Trail – A mild, easy 0.6-mile out-and-back trail with just 82 feet in elevation gain. It takes about 15 minutes to do and is perfect for bringing kids along. There are large rocks that can be fun for some safe scrambling opportunities and great views.
Templeton and Mesa Loop Trail – This 3.8-mile loop takes about 1.5 hours to complete and is open for mountain biking, hiking, and walking. It offers a great variety of terrain and a stunning panoramic view of the route.
Templeton Trail – This 3.9-loop trail is moderately complex, has 524 feet of elevation gain, and takes a little over an hour and a half to complete. It is heavily trafficked with hikers and birdwatchers, so expect to see other people.
Templeton Trail to Mesa Trail Loop – A popular trail for hiking, trail running, and mountain biking that loops in 3.4 miles. Terrain can be rocky, meaning good shoes are a must-have. It takes around 1.5 miles to finish.
Yucca, Templeton, and Mesa Trails Loop – Rated as an easy route, this 2-mile loop takes around 45 minutes and provides plenty of gorgeous scenery. This one is accessible in the winter and often has a snow-packed path.
More About Palmer Park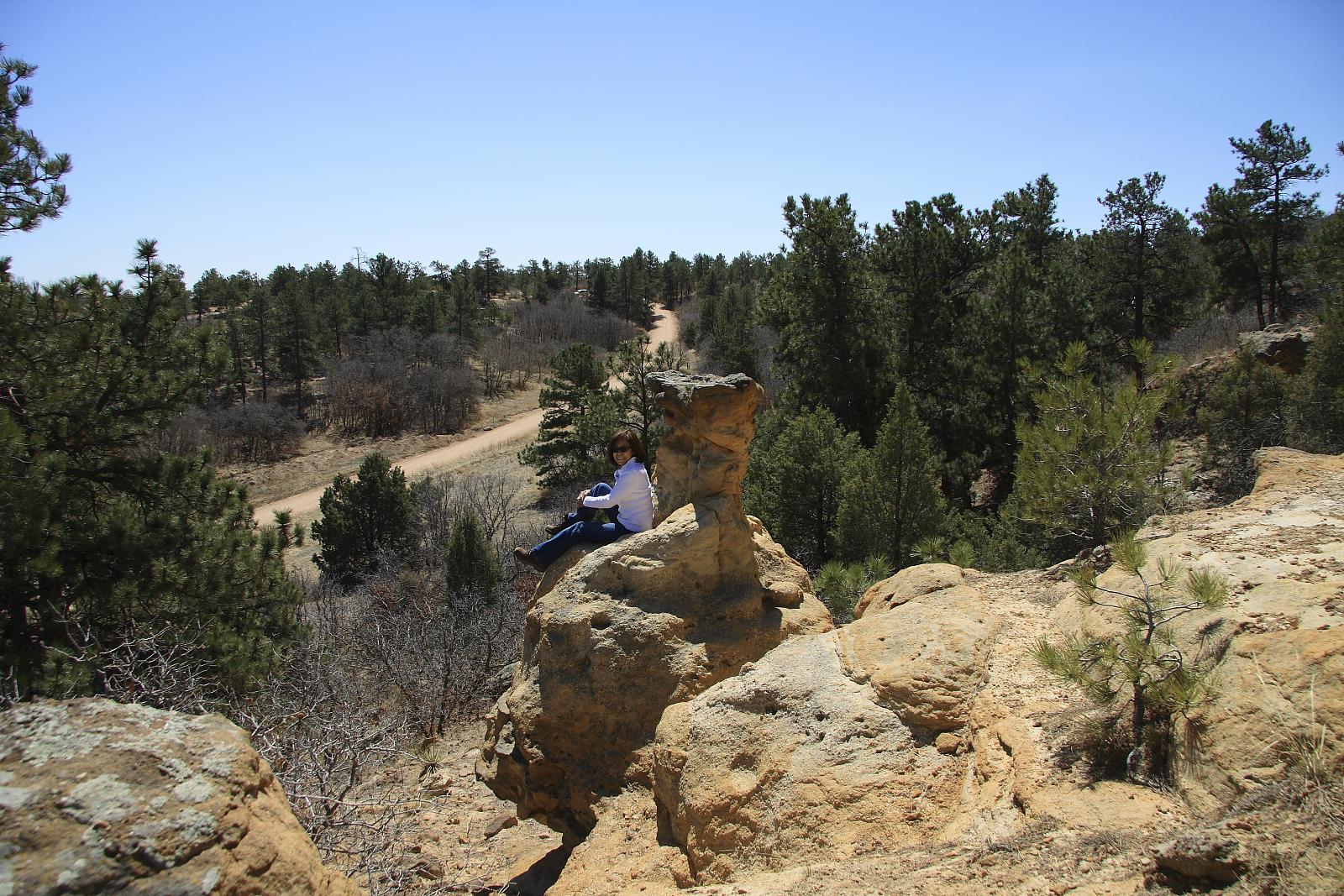 Created and donated in 1902, Palmer Park covers 730.7 acres and is found a few miles away from the Downtown Colorado Springs area. The park was named the "Best Urban Park" by Elevation Outdoors Magazine in 2017 as part of their Best of Rockies list.
The scenery at Palmer Park is diverse and beautiful, thanks to its many geological formations, rock spires, hoodoos, open fields, cliffs, and views of Pikes Peak. Various flora and animals live in the park, including coyotes, rabbits, deer, snakes, foxes, oak trees, and pine trees. Birdwatchers also come to Palmer to see if they can spy on the several types of bird species that live in the area.
One of the park's highlights is the Seven Castles botanical reserve that houses many yucca plants. There are many other amenities inside the park, such as its two baseball fields, soccer field, horse stables, playground, a dog run, and a picnic area. Bathroom facilities and free parking are also available at the park.
Details
Address: 3344-3376 Paseo Rd, Colorado Springs, CO 80909
Phone: (719) 385-5940
Season: Year-round
Website: coloradosprings.gov/trails