In east Red Feather Lakes, Colorado, Parvin Lake is a remote and scenic 62-acre body of water. To access Parvin Lake, visitors are required to park in the designated area on Red Feather Lakes Road and travel to the shore on foot.
The lake is primarily used for fishing, and visitors must check-in at the gate. Parvin Lake is found within the Parvin Lake State Wildlife Area (SWA), which protects about 167 acres of Larimer County for public use. To enter a Colorado SWA, all visitors 18 and older are required to carry a valid state fishing, hunting, or public lands license.
Parvin Lake History
Parvin Lake is actually a reservoir, which was created by Colorado's State Game and Fish Division in 1926. By damming Lone Pine Creek, Parvin Lake was developed and initially stocked with one million rainbow trout eggs. The lake opened for public fishing in 1945, with the hatchery closing in 1980 and reopening in 2003.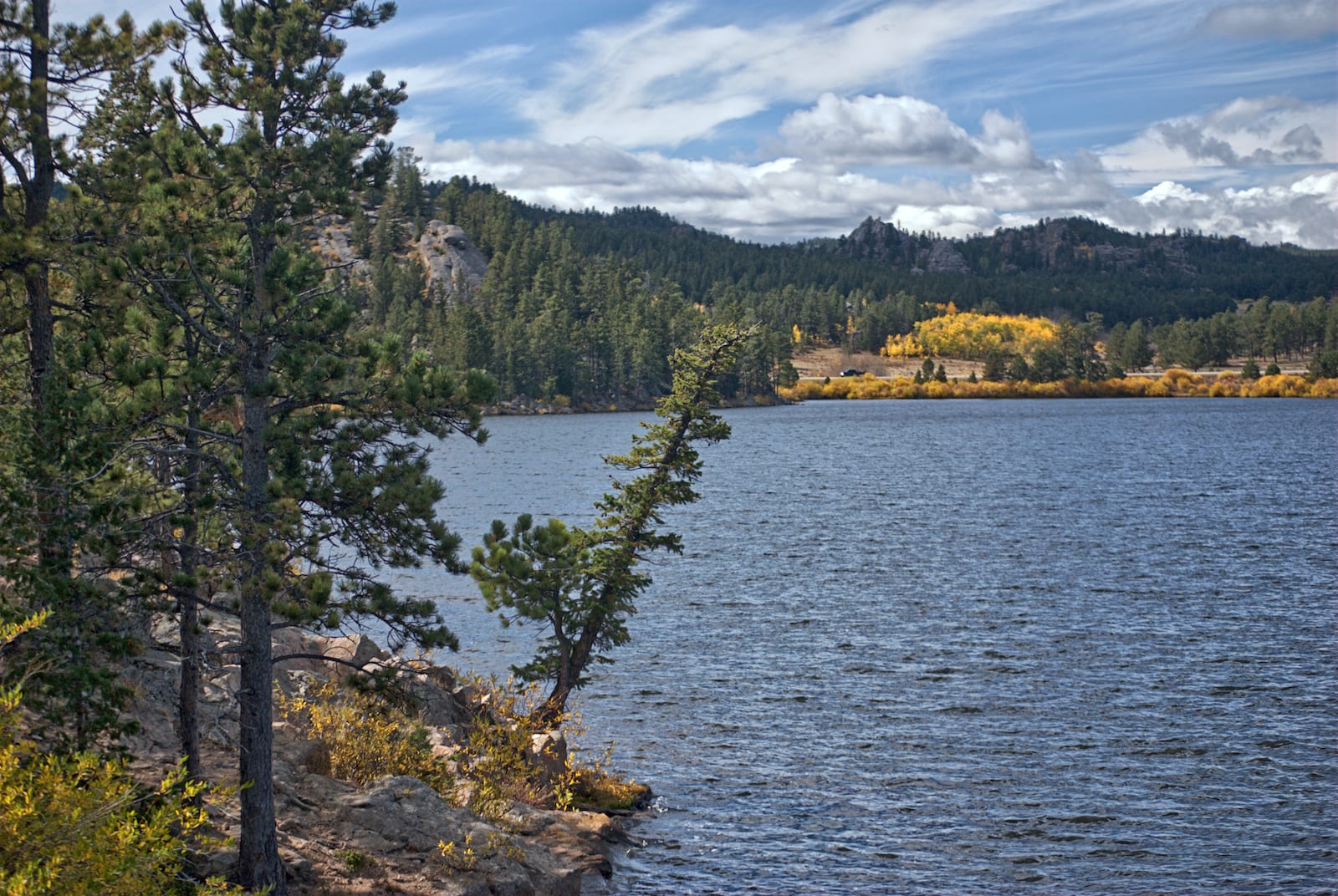 Activities at Parvin Lake
The Parvin Lake SWA is used almost exclusively for hunting and fishing in a remote and peaceful setting. There are several bathrooms available near the parking lot and along the north shore of Parvin Lake.
Birding & Wildlife: Parvin Lake is surrounded by dense, high-elevation forests which give visitors the chance to spot many native Rocky Mountain species. From a safe distance, black bears, moose, elk, foxes, coyotes, and more can be seen near Parvin Lake.
Boating: No boating is allowed in Parvin Lake aside from float tubes used only for fishing purposes. There is no boat ramp, so all floats must be hand launched.
Camping: There is no camping permitted in the Parvin Lake State Wildlife Area, but visitors have plenty of options in the Red Feather Lakes area. The closest campground to Parvin Lake is the Dowdy Lake Campground, which is located between Parvin Lake and Dowdy Lake.
Dowdy Lake Campground is open year-round and operated by the National Forest Service. Reservations can be made during the peak season (May to September), and some of the campsites remain open through the winter on a first-come-first-served basis.
Fishing: Parvin Lake is a public fishing lake open all year round. A 2-trout limit is enforced and a valid Colorado fishing license is required for anglers 16 years and older. All visitors are required to check-in at the entrance station. The lake is very shallow, and only artificial lures and flies are permitted.
Fishing is available all year round in Parvin Lake. In addition to rainbow trout, it is possible to catch species previously stocked by Colorado Parks and Wildlife such as splake, brown trout, and tiger muskies.
Hunting: The Parvin Lake SWA permits licensed hunting for small game, big game, and waterfowl. State and seasonal regulations apply.
Details
Address: Parvin Lake, Red Feather Lakes, CO 80545
Phone: 970-472-4300
Season: Year-round
Hours: 24/7
Fees: Seasonal entrance fees, CO fishing license required
Map: Dowdy, West and Parvin SWA Map (PDF)