[Charging up Pikes Peak Ascent. Photo: Bryan Oller] If you're a trail runner, Colorado is like your veritable mecca. It's home to a rich and diverse landscape, tons of varying weather, urban running locales and ones that couldn't be further removed from society.
There are options in Colorado that are good for first-timers and ones that will challenge even the most hardened and experienced veteran runners amongst us. In other words, if you're a trail runner, you simply must come to Colorado to run.
Many trail runners find solace and rich experiences in running by themselves in the wilderness, and I totally get it. Sometimes it's just nice to disconnect from the world and run with yourself, alone with your thoughts for hours (and hours and hours) on end. For those of you looking for a little different experience, like trails with a side of people and partying, Colorado's got your back.
Best Trail Races in Colorado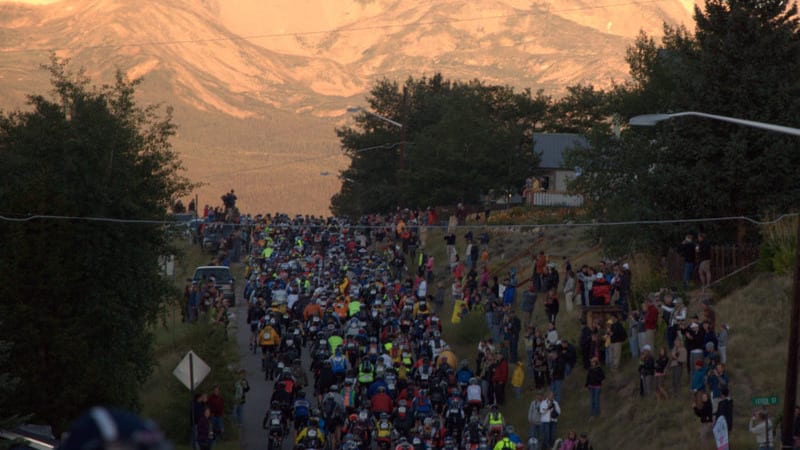 As you can imagine, the trail running and racing scene in Colorado is vibrant and varied. If you looked hard enough, you could probably find a trail race somewhere in the state on almost every weekend of the year, year-round. Who knows? Maybe there's someone out there who has already taken on that undertaking!
Below, I'll provide a quick hotlist of 3 bucket list trail races in the state of Colorado. If you're a trail runner, I can't encourage you enough to get these races on your radar. Checking these babies off your bucket list will be an accomplishment in and of itself.
Pikes Peak Ascent half marathon and marathon
Held each year in August for the past sixty-three years, runners can choose to run the half marathon ascent — 7,815 feet straight up, the marathon — which the race calls America's ultra challenge — or both. Because the races are so physically demanding, in order to register for any of the Pikes Peak races, entrants actually have to run qualifying races beforehand and submit their finish times to guarantee entry.
The course description is both exhilarating and terrifying, as the race director describes:
Elevation gain (start to summit) is at 7,815′ (2,382m); the start is at 6,300′ (1,920m) and the summit is 14,115′ (4,302m). The Ascent finish/Marathon turnaround is at approximately 14,050′. The Ascent (and ascent leg of the Marathon) has very few stretches which are not going uphill, with the average grade being 11%.
Pikes Peak is most definitely not for the faint of heart, but what an incredible experience it can be, if you're among the lucky few who get to complete it.
Leadville Race Series
If you've been in the trail running community for long, you already probably know about Leadville. Runners have tons of options at Leadville throughout the year — the Leadville Trail 100 (!!) miler in mid August, the Leadville Trail Marathon & Heavy Half Marathon in mid June, and the Silver Rush 50 miler in early July, just to name a few.
There's a reason why Leadville is synonymous with "tough," because in my view, anyone who completes any of these Leadville events are about as tough as they come. Leadville also offers running camps, too, so if you want to participate in the grit but aren't yet ready to toe the line, you could consider enrolling in a camp to prepare yourself: both mentally and physically.
Garden of the Gods 10 Mile and 10K
Finally, the Garden of the Gods 10 Mile and 10K Run is yet another fantastic option for the trail runner out there who wants the challenge of beautiful and tough climbs but with less technical terrain. Held in mid June, elevation varies from 6,210′ to 6,530′, and it's a consistently rolling journey, up and down. The course:
winds its way through the heart of the Garden's most amazing rock formations. Indeed, the formations are so amazing they bring visitors from around the world!
Running the Garden of the Gods is an opportunity to not just challenge your physical fitness but also one that will allow you to behold and experience the beauty of our planet, up close and personal, as you get unfettered (and vehicle-free!) access to the Garden in a way that precious few people can. Don't let this opportunity pass you by!
There are so many amazing trail race opportunities in Colorado, and I think the aforementioned three are a great sample of what's out there for you to experience. You'll leave Colorado forever changed and blown away, and we'll welcome you back with open arms next time you want to rock your world and forever change your life.