[Hiking in the Great Sand Dunes. Photo:
Zach Dischner
] Every spring the weather will go from "frightful" to "delightful", with ice and snow giving way to fresh green grass and flowers everywhere. It's the perfect Colorado weather to go on a hike.
The mountains are wonderful in spring, you can see them come alive with all the creatures emerging after a long winter sleep and resuming their endless cycle of life.
Safety Gear for Hiking in Colorado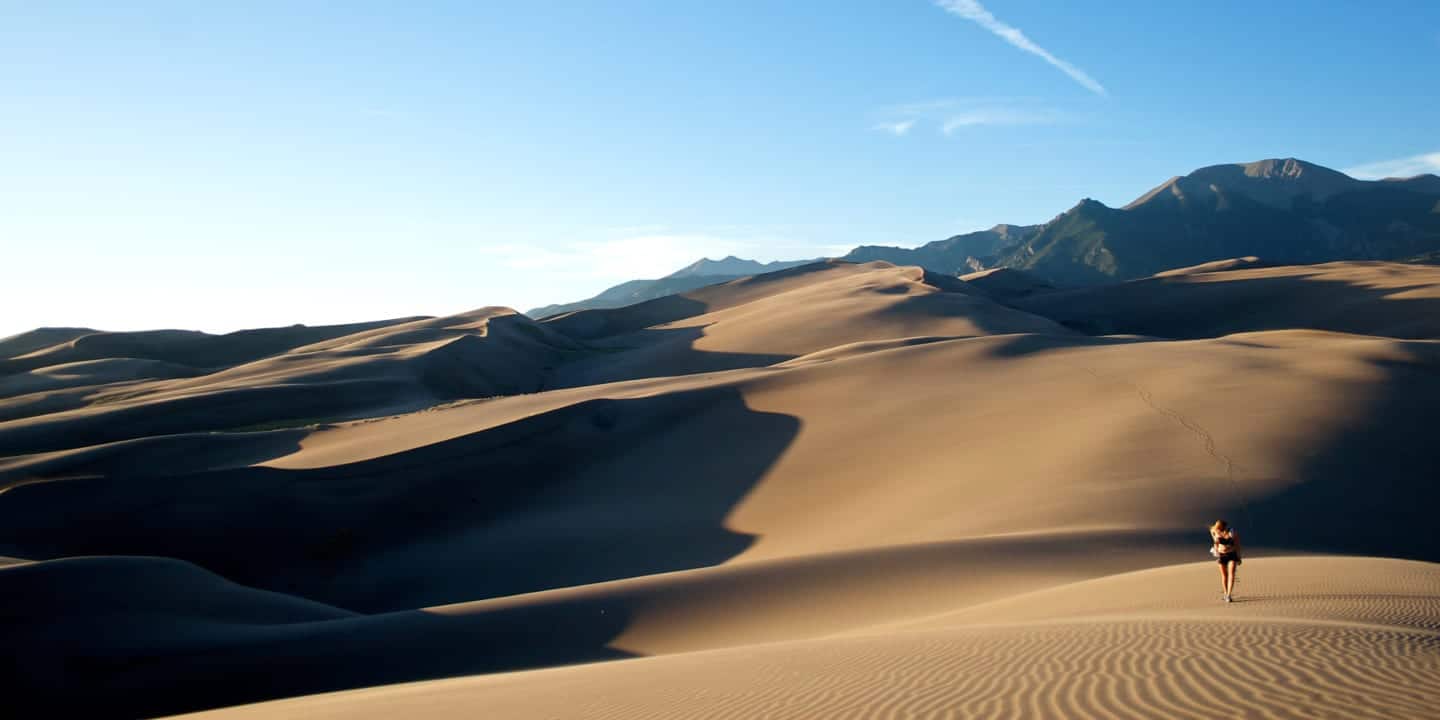 And with all these obvious (the melting snow part) and subtle changes, the mountains become one of the most inviting destinations for hikers who can hardly wait to dive deep into the entrails of forest tracks. Make sure to put these life-saving gadgets on your packing list for your next Colorado hike. Because, you know, it's better to be safe than sorry.
A cellular phone
Smartphones are the perfect companion in an urban environment where you always have a power outlet at hand, and they can also make use of the 4G connection that offers them lightning-fast internet. They are perfect for researching area attractions, mapping important routes, and even reading pretty much wherever you are. But they are not that useful in the mountains where the closest wifi signal can be miles away.
A feature phone
(affiliate link), in turn, will take care of most of your communication needs while on a hike – it tends to work on 2G networks, and likely last for days or more with one full charge, and it is much more resistant to falls, hits, scratches, maybe even water than a smartphone. Feature phones cost much less than smartphones – you can buy a rugged variant for as little as $100 – and they are good to have at hand when needed.
LifeStraw personal water filter
The water of a spring or a creek might seem perfectly clean but it hides parasites and bacteria that can cause serious harm – so don't drink it as is. If you can, you should boil it. If not, there's LifeStraw
(affiliate link) to save the day.
LifeStraw allows you to drink from pretty much any water source, no matter if it's a creek or a puddle, without putting your health at risk. It is a great tool to have, especially if you plan to spend more than a day hiking.
A flashlight with an alternative power source
You know what's unreachable whenever you go deep into the forest? If your guess was "convenience stores", you're right. So, you have to carry everything you'll need while hiking – including batteries for your flashlight. Unless, of course, you have one with alternative energy sources.
There are many flashlight and torch variants out there with a variety of charging methods – solar cells, dynamos, and such. Some of them, like this LED Solar Wind-Up Flashlight
(affiliate link), has more than one way of charging, so you will always have it show you where to step, day and night.