When people come to visit Colorado, they immediately head for the Rockies or spend their days scouring Denver for locally sourced delicacies that just can't be found in other cities across the U.S. Hikers are looking for new trails, new peaks, and new experiences, and it's impossible not to find that here, but sometimes, it pays to look a little lower. Down on the plains, just east of the Rockies lies Castlewood Canyon State Park, a wonderful little gem the locals like to keep secret.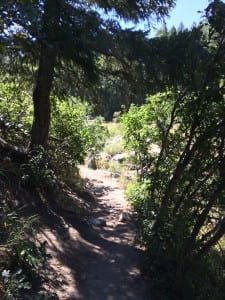 Located in
Franktown
, this state park is an easy (and gorgeous) one-hour drive from both
Denver
and
Colorado Springs
. You must pay $7 per car to get in, so load everyone into the van and head for the trails. The parking lot in the middle of the complex seems rather large, but there are many trails here, and by midday, it's next to impossible to find a spot. (Basically, get there early.) Bathrooms and water fountains are next to a little park and sand volleyball courts where you can picnic and play the day away if you choose.
If you are a hiker, like me, there are a few trails meandering through the park that you can tackle, but I'd head straight for the Inner Canyon Trail if you can manage it. This intermediate trail has something that everyone will love.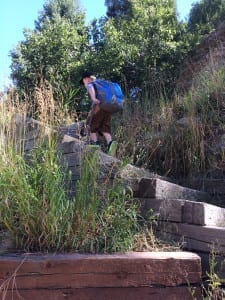 You start by entering the canyon by climbing down a nature-inspired staircase that goes back and forth until it hits the bottom. (It seems like a great, quick solution until you remember that you need to climb back up the stairs before you can leave.) After crossing the first of five unstable wooden bridges that hovers over a small stream, you're on your way down the trail.
The trail itself is narrow and full of surprises. Small boulders peak out amongst the trees and must be climbed over if you plan to make it successfully to the end. This makes it a bit more challenging and a bit more fun for younger children who relish the opportunity to climb. Luckily, a good portion of the trail is covered by overhanging tree branches, taking the trek out of the burning sun. That doesn't mean you can't step off the beaten path, however. The canyon is full of humungeous boulders just waiting to be explored, and you can add a bit of challenge and adventure to your experience by traversing that rocky path instead.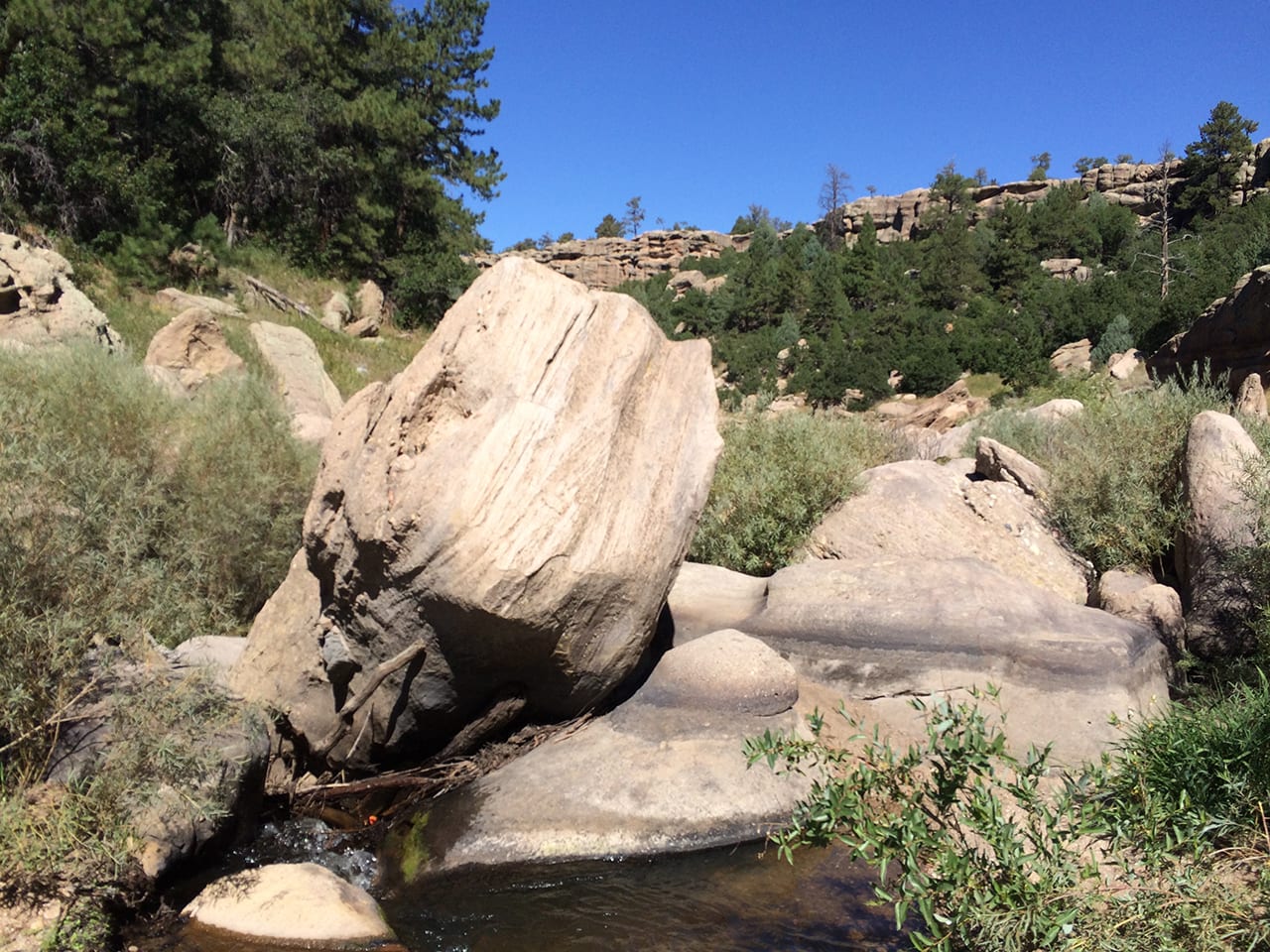 It doesn't take too long until the trail opens up to gorgeous views of the canyon, and you and your companions can take a break to splash about in the stream below. This is the ideal place to stop for a snack or simply to lounge and take it all in. Move on to another trail from here or head back the way you came for a shorter hike.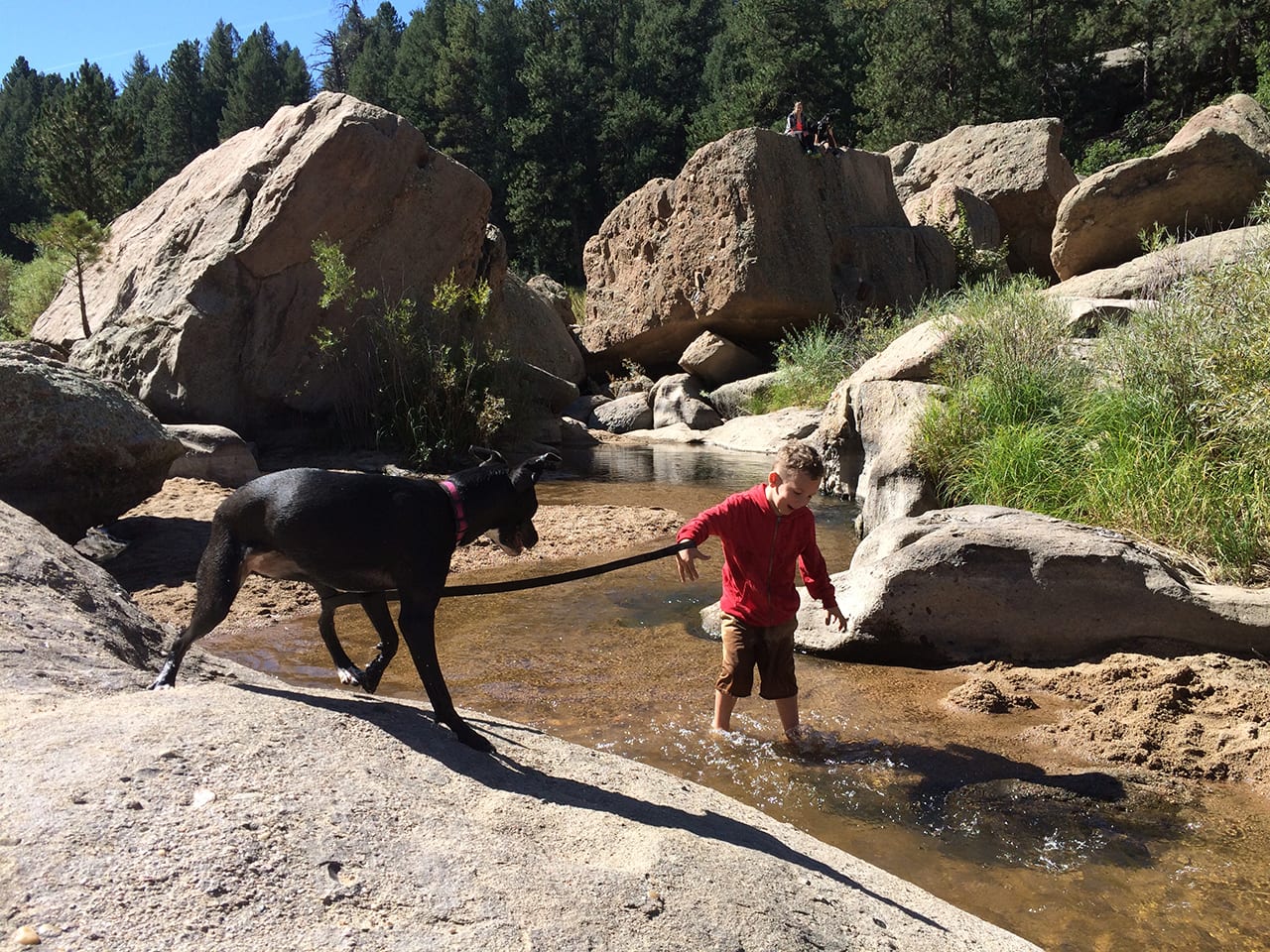 Although it may not appear to be anything crazy, it's important to remember that your time in Castlewood Canyon State Park is spent among nature—poison ivy and rattlesnakes included. Keep an eye out for these guys as well as over 100 different species of birds, as well as rabbits, deer, fox, lizards, and warm water fish to name a few. Little ones especially will love to discover new creatures as they crawl, climb, and slide over the rocks and along the paths.
This is a great place to go to escape the bigger cities for a day and see another beautiful side of Colorado; a side that isn't so widely known. When you want to be a traveler instead of a tourist, do as the locals do and head to Castlewood Canyon.