With its focus on eating fresh and healthy, Denver offers a myriad of cooking classes and schools to match. For the occasional home cook to the seasoned restaurant chef, you'll find a range of classes held at various schools and restaurants.
Locals and visitors have the opportunity for year-round cooking classes in the Mile High City. There are classes for a wide array of cooking methods and styles. Learn international cuisine like Italian and Vietnamese, or pick up a particular skill in the kitchen such as knife cutting. Dessert and cocktail classes. There's something for everybody!
Cooking Classes and Schools around Denver, CO

Some area restaurants host food-related events. Stoic & Genuine offers a School of Fish on the first Saturday of every month. It highlights different methods and preparations for fish. These classes will enhance your trip to the market.
Learn something new, save money on takeout and make your meals better at home. Use the oven if possible, or microwave when necessary for reheating your own homemade leftovers. Cooking classes are fun and affordable. In addition to recreational cooking classes for the public, some schools offer ongoing curricula. Find a good class at these top Denver cooking schools, in no particular order:
The Seasoned Chef
Assistants are on-hand every step of the way during your cooking classes at The Seasoned Chef. They provide all the ingredients and recipes to get started, you do the measuring and every bit of the cooking. Take unique classes like Mastering Sauces or Cocktail Party.
Owner Chef Dan Witherspoon is the lead instructor, classically trained and specializing in French cuisine. Along with a talented staff of pro chefs. It's located southeast of Colorado Boulevard and East Colfax Avenue.
Uncorked Kitchen & Wine Bar
The professional chefs at Uncorked Kitchen guide every participant during the class. There is a range of choices, some great for date nights others perfect for brunch. There are fun evening classes like Reds vs Whites and Steakhouse Showstoppers. Uncorked provides special classes for families, teens, and kids. It's located in Centennial just off I-25 on County Line Road.
Colorado Free University
Open to anyone, Colorado Free University has both cooking and tasting classes. Learn a range of cuisines, from making pho to brewing kombucha. They have a class specializing in Afternoon Tea, as well as indulging in chocolate. The Lowry campus is located at near 1st & Quebec in Denver, which is northeast of Glendale. CFU Membership is not required to sign up for classes, although you can get a yearly one for $25 and still save on the price of the class.
Stir Cooking School
Tucked away in the Denver Highlands, Stir Cooking School provides recreational cooking classes to the public. Novices to pros will find a challenge and way to develop their skills at Stir. Classes run for 2 to 3 hours. Take an Appetizers and Hors d'oeuvre class, Friday Night Out, or French Brunch.
There's even a bar area for mixology education. the wonderful kitchen and entertaining venue can be rented out for private events. Or get in-home lessons or dinner parties with Chef Katy.
Cook Street School of Culinary Arts
In addition to their top Culinary Arts Program Cook Street has an impressive lineup of recreational cooking classes available year round. With both single-night classes and ongoing series classes available, everyone should find something to fit their schedule. One Night classes include High Altitude Baking, Culinary Date Night: France, and Street Food: South America, among many others.
The Cook Street School of Culinary Arts headquarters is located in Downtown Denver at 1937 Market Street, a block from Coors Field. Try these classes:
One-Night Classes
Classic Techniques
Baking & Pastry Classes
Series Classes
Wine, Beer & Spirits Classes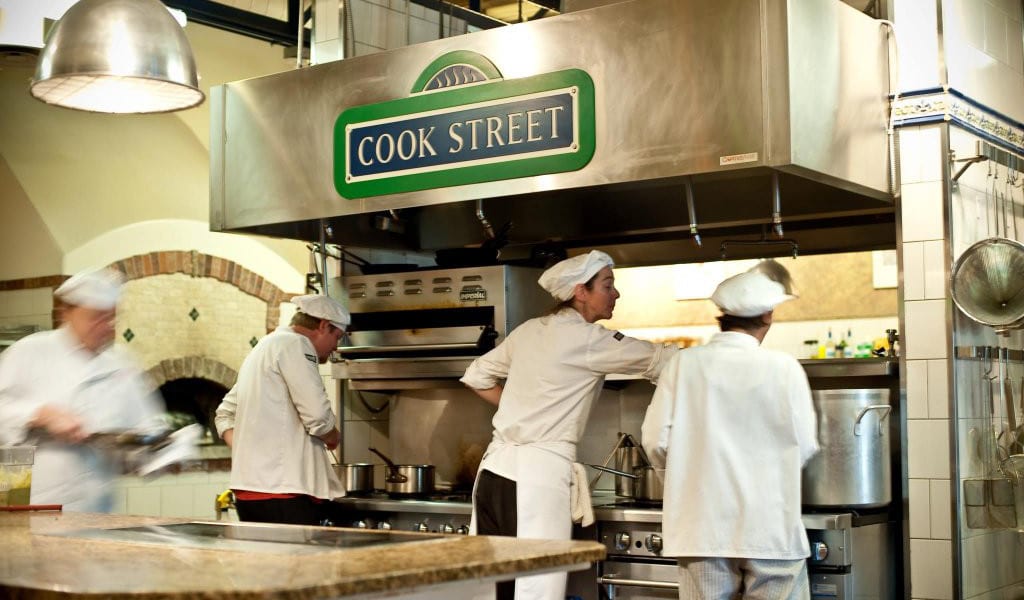 Enhancing your culinary skill set is more than possible in a city like Denver. Make it a date night and dine on what you cook. Or sign yourself up for something beneficial. Whether you're a home cook or a professional chef, it's good to keep on learning. Thanks for checking out our list of cooking classes around Denver!