Nightlife in Colorado's capital city is vibrant and varied. Denver offers more things to do on a date night than just dinner and a movie, or meeting up for a drink.
Whether you're having a romantic night out with your longterm significant other, or just testing the waters on a first date, these fun Denver date ideas will keep things interesting and interactive. Invite that special someone and plan a wild night out on the Mile High City! There's a lot for two people to see and do. And check out these top local restaurants if you want to add a little food to the mix.
Best Date Ideas in Denver, CO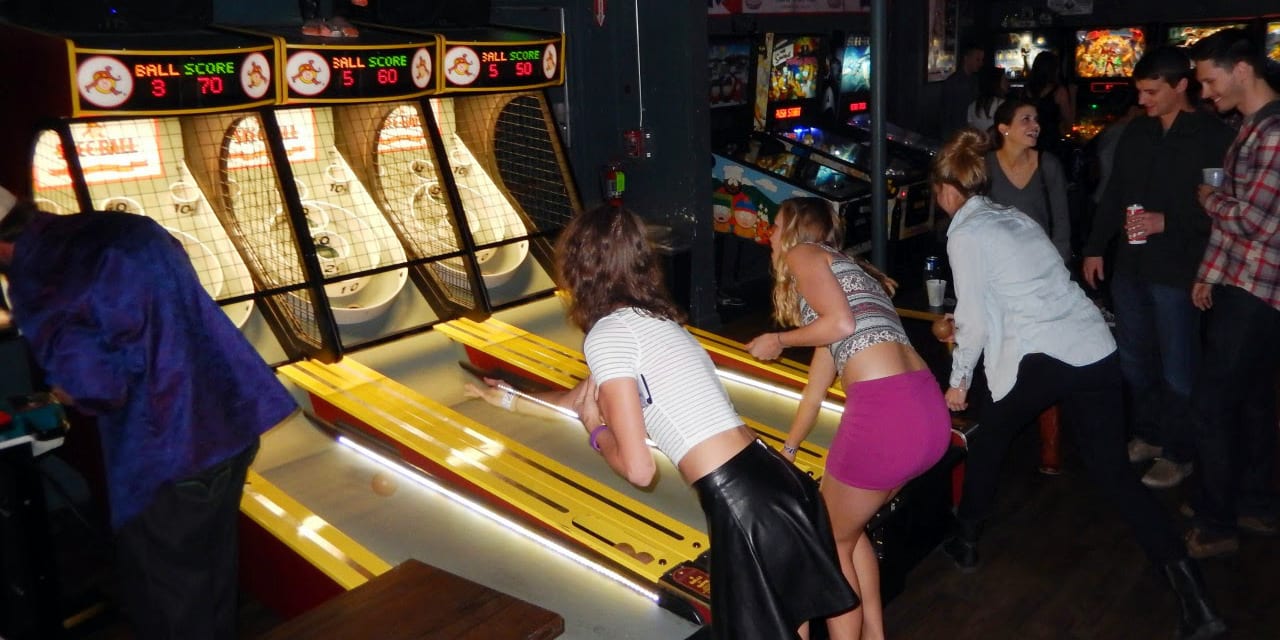 These potential dates all occur in the evening, or at least can, and nothing requires a trip outside the Metro area. All you need to do is set up a date. Treat your special someone to a night on the town. Or if you're single and looking, go flirt and meet someone special. We share some ideas for your next night out, some romantic, some adventurous, some obvious, hopefully all a little fun.
Here are among the top date night ideas in Denver, CO, in no particular order:
1. Escape rooms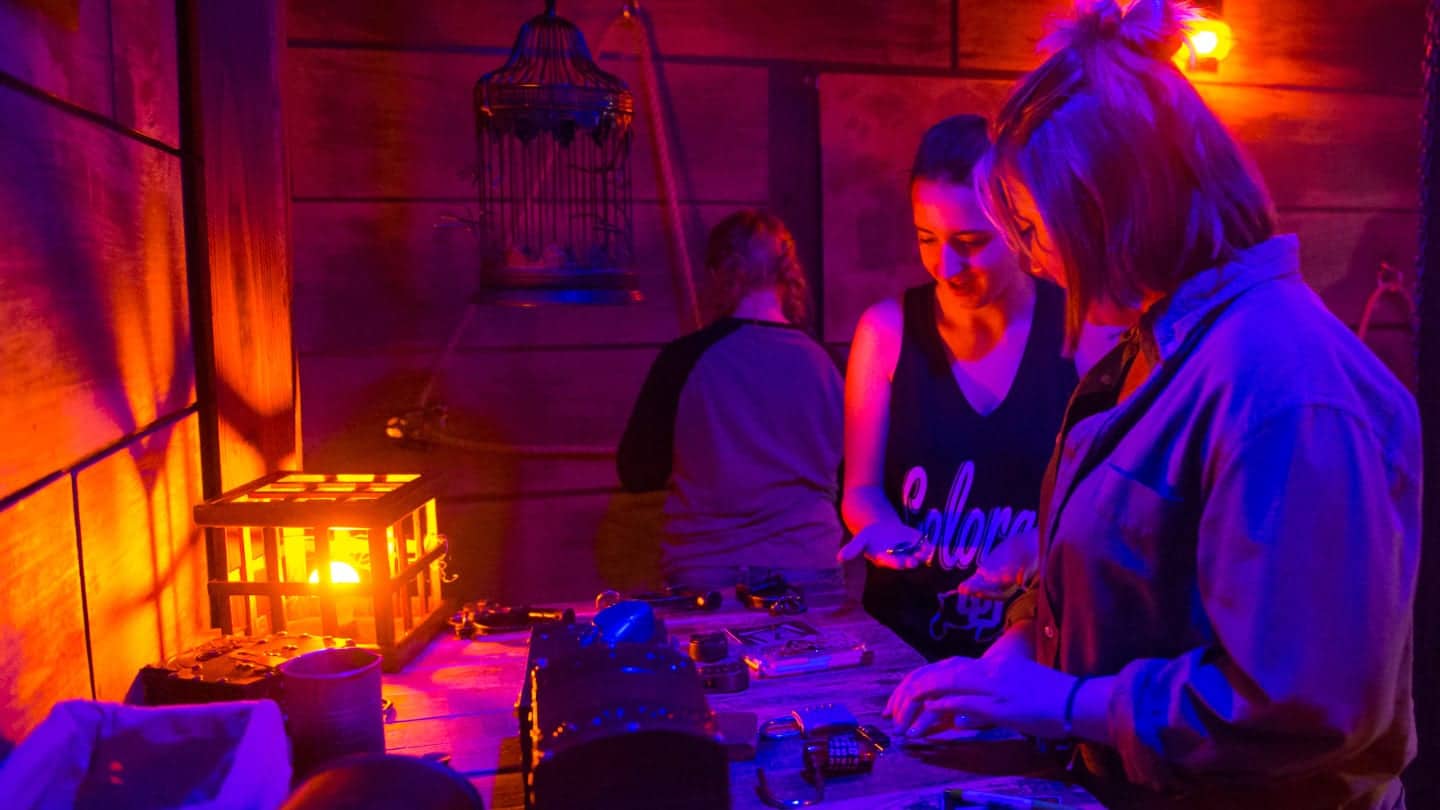 Have you tried an escape room yet? It's an hour or so long problem-solving with your partner, and probably a few strangers. It's a fun activity to do after dinner when you want move around.
There are a lot of escape rooms spread all across the state, with a big concentration in Denver. Most places are are open later or weekends. The Denver Escape Room stays open until 11pm. They usually offer several rooms to choose from of varying themes and difficulties.
2. Mile High sports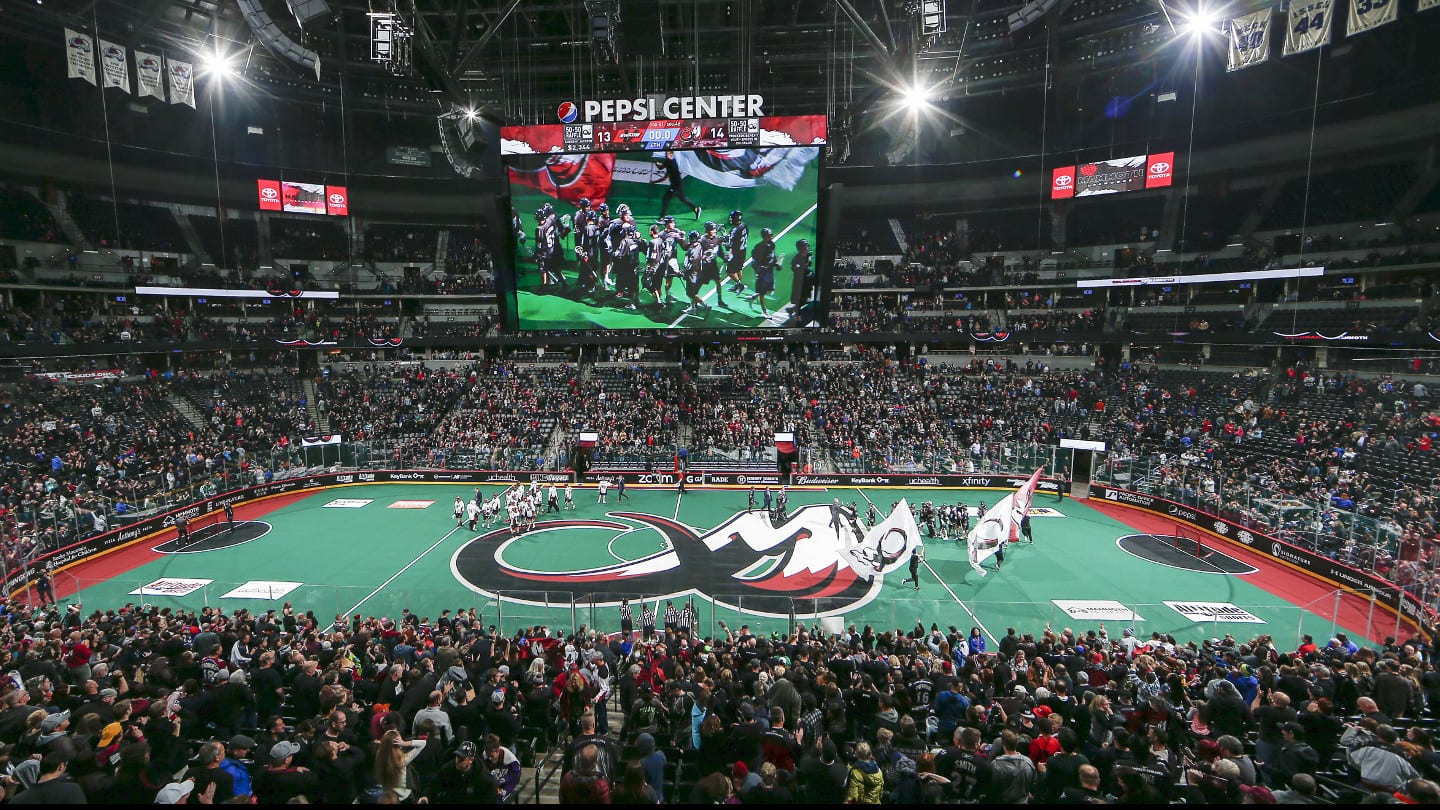 Year round chances are strong you can arrange a professional sporting event. Denver has teams in professional: baseball, basketball, football, hockey, soccer and lacrosse. Season dates below are estimates and don't account for playoff runs, knock on wood.
Colorado Avalanche – NHL hockey in Pepsi Center from September to June
Colorado Mammoth – NLL lacrosse in Pepsi Center from December to April
Colorado Rapids – MLS soccer at Dick's Arena from March to October
Colorado Rockies – MLB baseball at Coors Field from April to September
Denver Broncos – NFL football at Mile High Stadium from September to January
Denver Nuggets – NBA basketball in Pepsi Center from October to June
Denver Outlaws – MLL lacrosse at Mile High Stadium from May to August
Choose an evening game and prepare to be entertained. Venues like the Pepsi Center always put on a good show, and you'd be surprised at how exciting a lacrosse can be with a few beers. Games beat a movie because they offer plenty of chances for talking and exploring the stadium. Splurge on decent seats.
3. Speakeasy night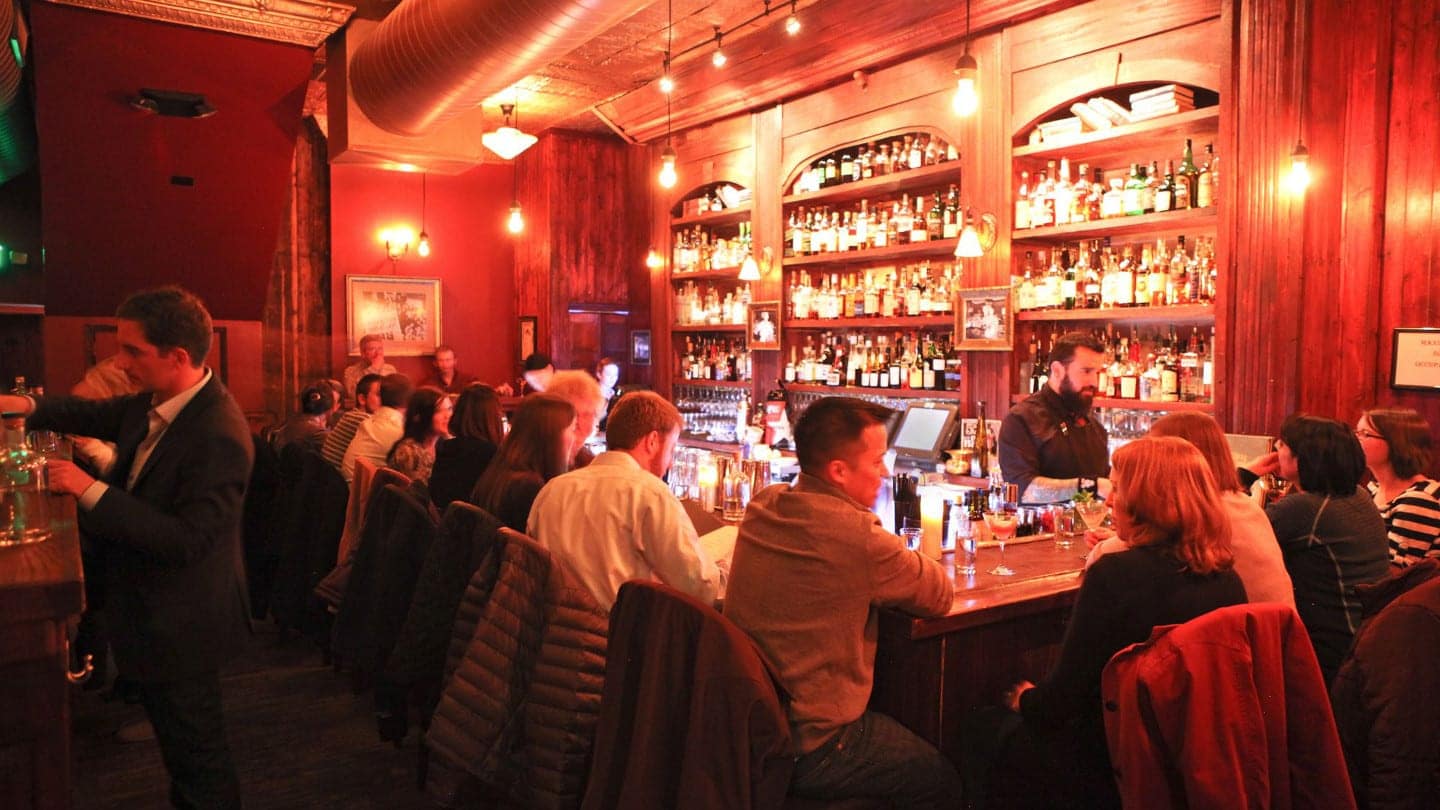 Bars are bars, so sometimes it's fun to do something different and sip on fancy cocktails. The Mile High City has a range of speakeasy bars, some hidden, some less so. Make it a night and hop around to a few.
Williams & Graham is probably the most notorious Denver speakeasy, located behind a mock bookstore. Uptown has a speakeasy hidden behind an ice cream shop's freezer! Keep it a surprise from your date because no one wants a spoiler.
4. Ice creams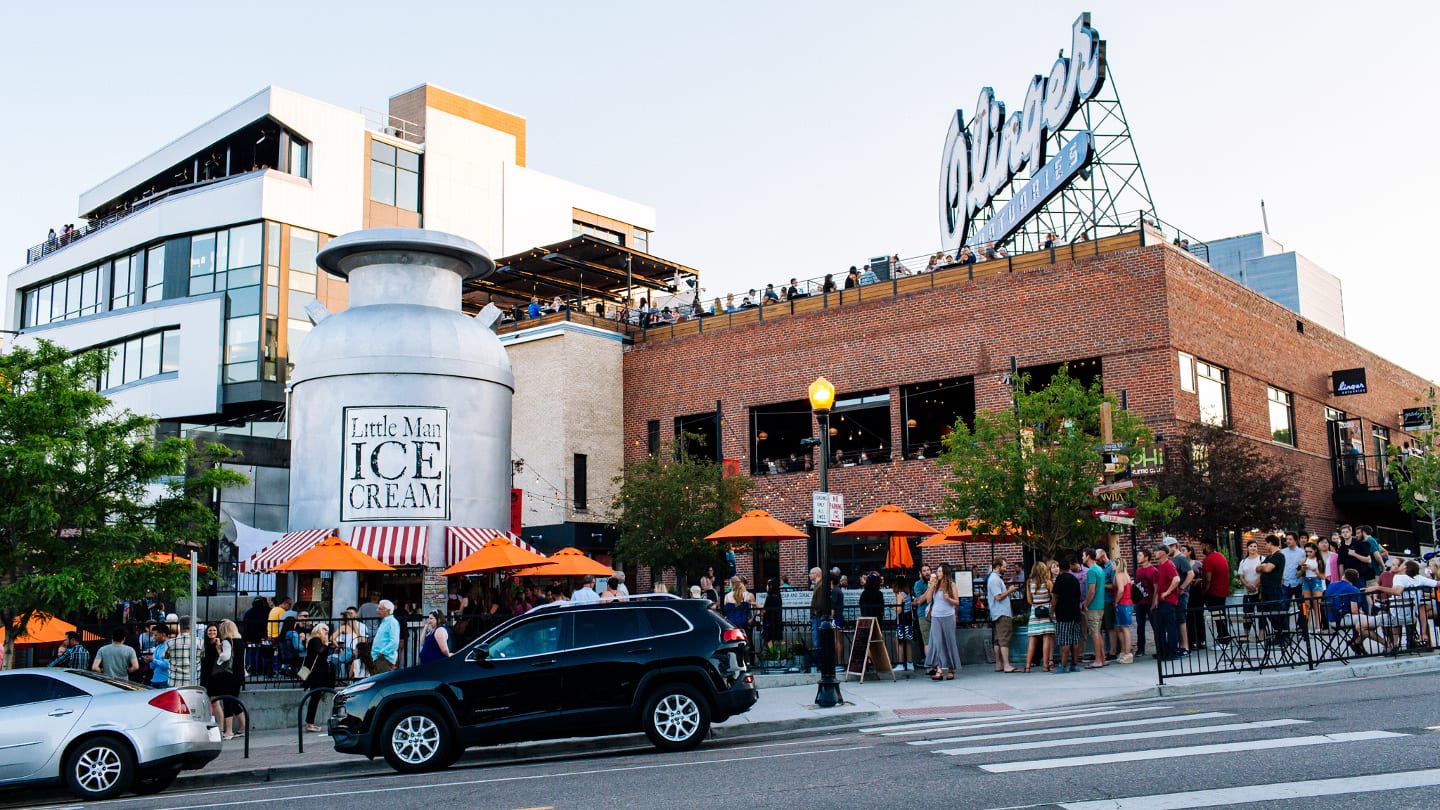 Ever drive by Little Man in Highland? It's tough to miss the line outside nearly anytime ice is called for. Expect a line as well on Friday and Saturday, so there's time to talk, if you're a half-glass full type.
Everyone who's a fan of ice cream has a local favorite. Try a few of them back to back and make it a fun, fat evening. I recommend biking between parlors. Do something different and go frozen yogurt or Korean shaved ice, available at East Evans Avenue's SNOWLAB.
5. Brewery, winery, cidery, distillery, meadery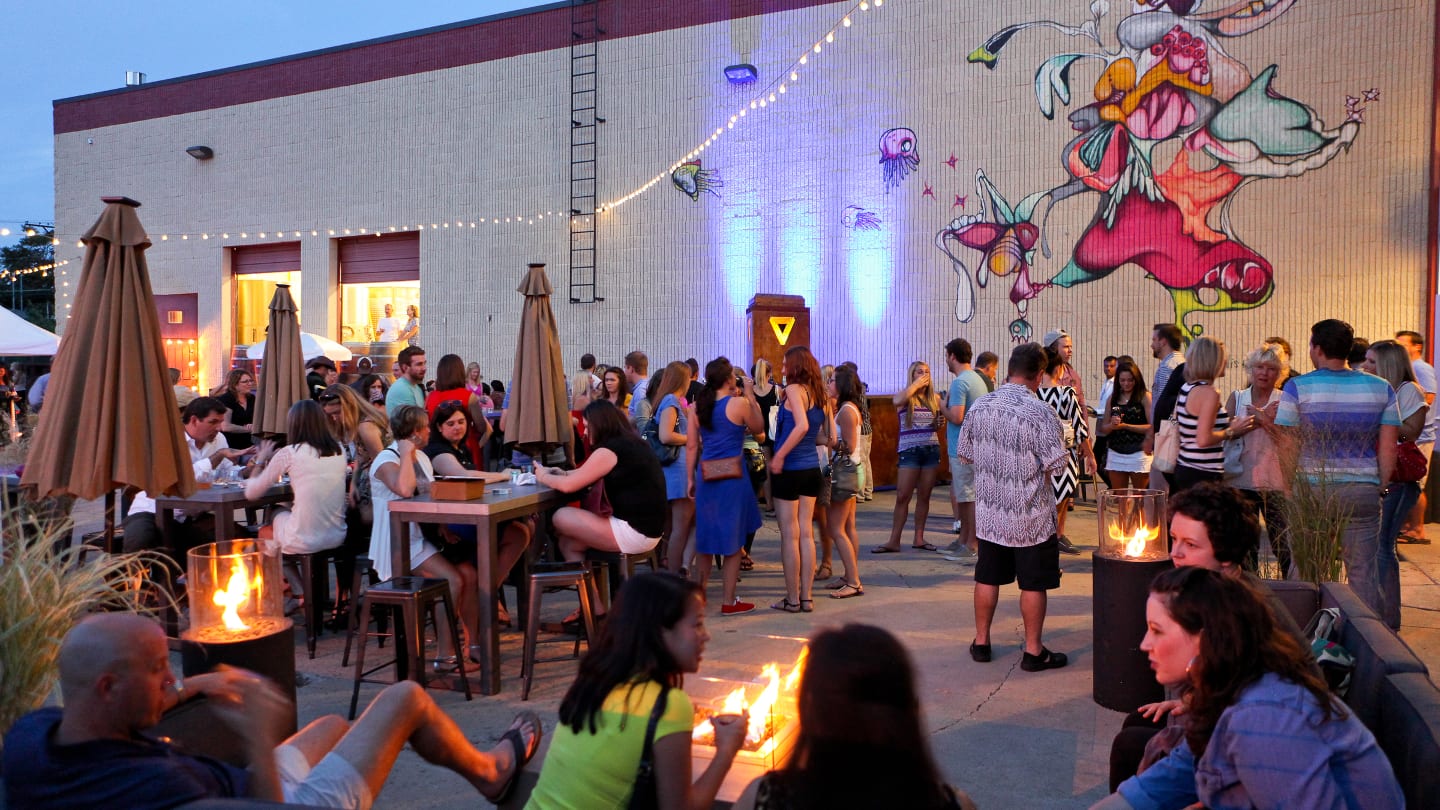 Dates often require a social lubricate to get the conservation flowing. Find out what your date is into drink-wise and check out a local fermentor. Any large city nowadays has a range of microbreweries, most offering a range of flavors, some specializing in types of beer, like reds or sours. Go on a wine tasting at RINO's hit warehouse winery, The Infinite Monkey Theorem.
Some places offer tours, so you might be able to a arrange a look behind the scenes, while you enjoy their product. If your partner doesn't drink but you do, perhaps you can find a place with Kombucha on tap. Breweries often have a slew of board games too, if some old school nostalgia is what you're after.
6. Art walk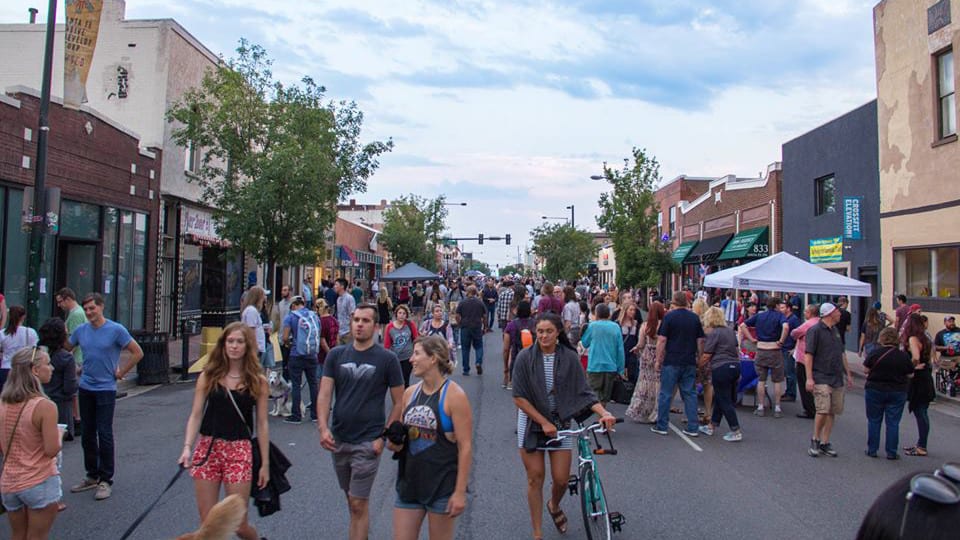 First Fridays in the Santa Fe Art District are a layup of a date. It's a free, entertaining, and a bit mysterious evening on the town. There are plenty of bars, restaurants and food trucks present while you're pursuing from gallery to hidden gallery. Live music can be found around the neighborhood, in back patios, and in galleries. You can find bulk of the action between 7th and 13th Avenues on Santa Fe in Denver. Parking is free in the neighborhood, but get their early. Festivities began to pick up between 6 and 7pm, and slowly begins thinning out after 9pm.
Exhibits range from classic painted artworks to strange, contemporary sculptures. Some studios offer interactive displays. Outside of the First Friday of each month year round, you can still visit a myriad of galleries on Santa Fe each weekend. Or head over to the RINO Art District or even the Denver Art Museum for the latest revolving exhibit.
7. Bowling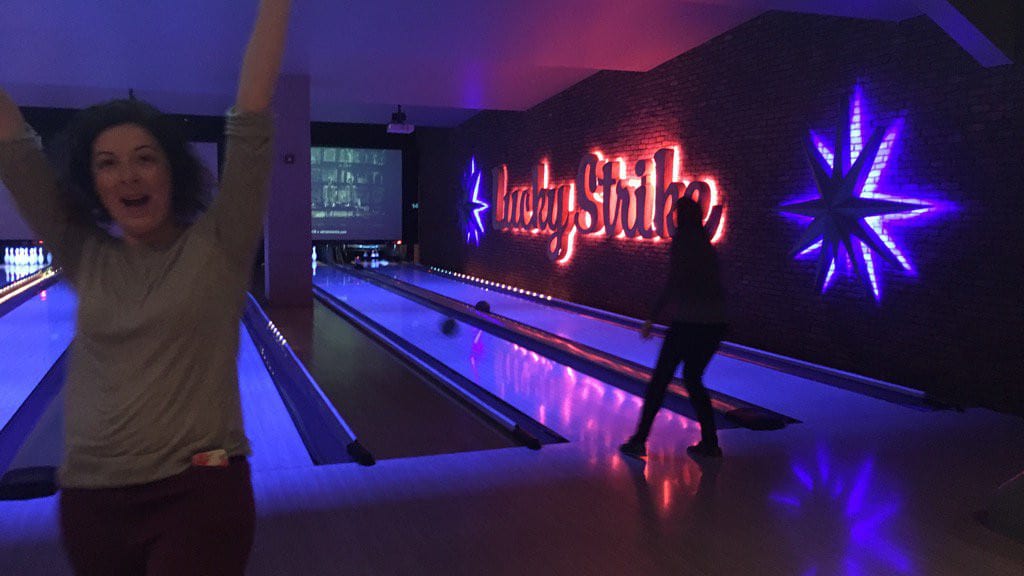 Bowling is a classic date idea that's just plain fun. All levels are welcome, hell put on the bumper rails. There are a lot of bowling avenues around, some with varying levels of night lighting and disco vibes.
It's best to call ahead an reserve a lane. Popular alleys like Lucky Strike in downtown, often have a long waitlist. In addition to bowling, pool tables, arcade games and a bar are usually present.
8. Mini golf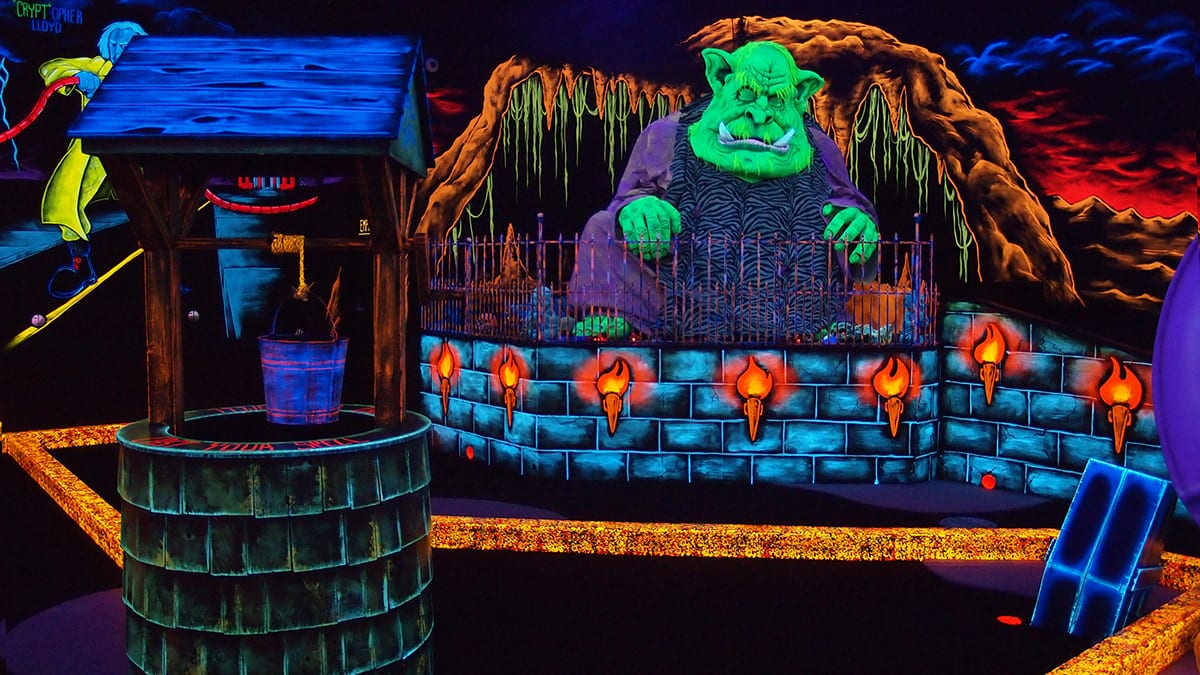 Just like bowling, mini golf is an oldie, but goodie. You can find a range of mini golf courses around the Front Range. Themes are across the board, from traditional greens, to a pirate world at Pirate's Cove. For a unique experience, head south to Centennial for glow-in-the-dark fun rain or shine at Monster Mini Golf.
If you got the gusto, Centennial's Topgolf is a sure to deliver some no-pressure laughs. It's a 3 tiered modern driving range with all the amenities. It's definitely more of a production than the average driving range, with a fun social vibe. You can rent golf clubs or bring a set and share.
9. Go karts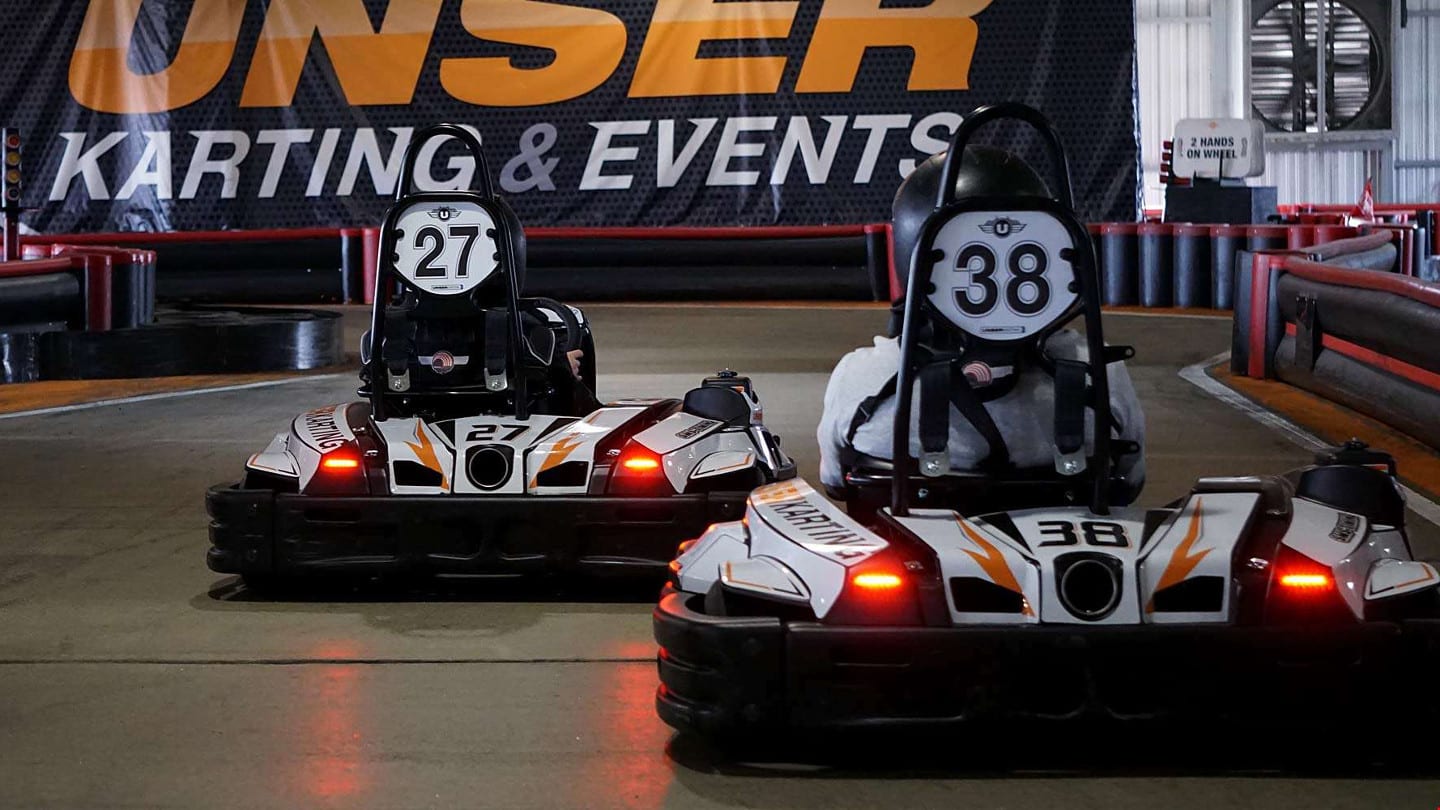 Adult go karts go fast, a lot more so than their smaller models for kids. Get your adrenaline going with a few races around the track. Both indoor and outdoor tracks can be found. The gas-powered carts at Unser Karting reach speeds up to 50 miles per hour. Relax between victories at the Trackside Tavern.
Typical races last around 5 minutes with a handful of strangers and friends vying for 1st. Riders receive a quick training and full face helmet. Most go kart tracks offer food, drinks and a handful of other games.
10. Live music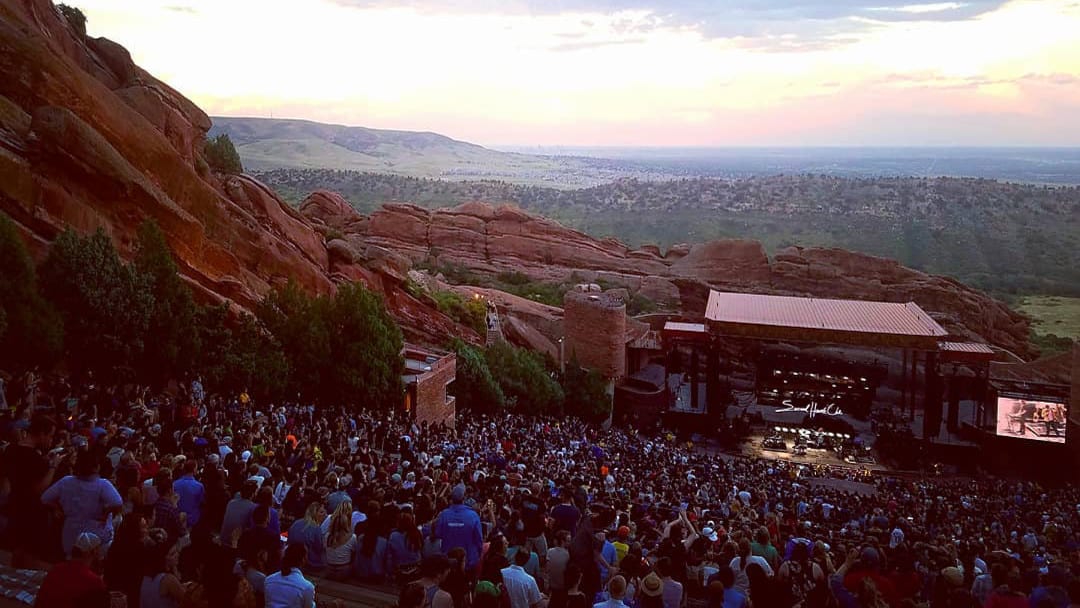 Whether you're attending a huge show at the iconic Red Rocks Amphitheatre or stumbling into an underground venue with local talent, Denver's full of great music. There are dozens upon dozens of live music venues in the city limits, each with its own flavor and genres. Flip through a Westword to find a cool band to see, or search for a local Jazz bar, pianos or whatever else you're into.
If I were not a physicist, I would probably be a musician. I often think in music. I live my daydreams in music. I see my life in terms of music. ― Albert Einstein
Every weekend there are dozens and dozens of concerts at those music venues, so it's easy to find the flavor you're looking for. The Ogden, Bluebird, Paramount, Gothic theatres are all hugely popular venues for talented bands.
11. Arcade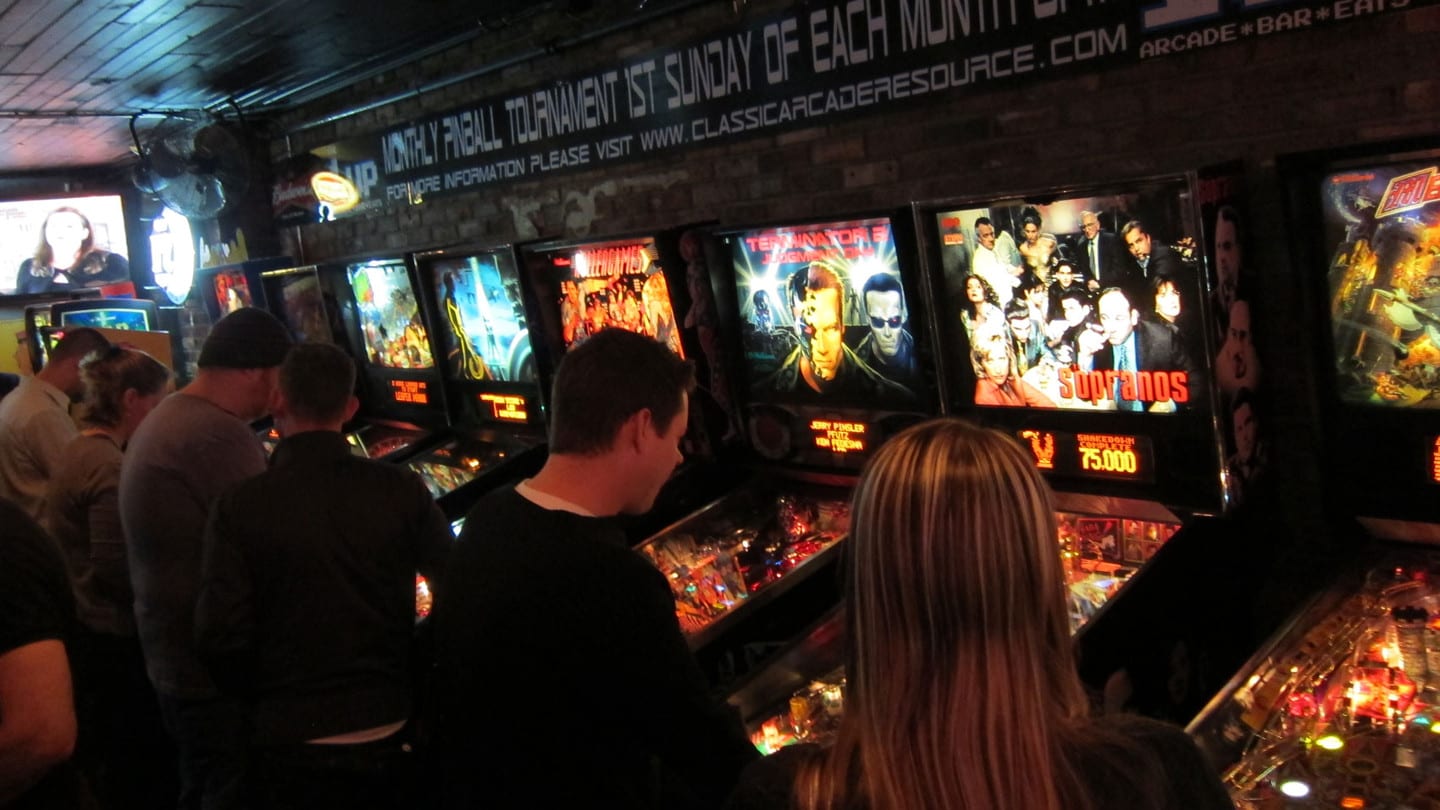 Break out your quarters and make a night at the arcade. It's only 25¢ a game at The 1Up, which has a location in Lower Downtown and one on East Colfax. Every type of game from new to old, racing to shoot 'em up can be found at area arcades, including a pinball lineup.
Off I-25 and Colorado Blvd there's a Dave & Buster's, another good choice for dinner and gaming. This place has a few more carny type games than 1Up, and a slightly less inebriated crowd. Eat and Play package deals are common, and there's even a Power Hour from 4:30-7pm: get 60 minutes of video game play for only $10.
12. Theatre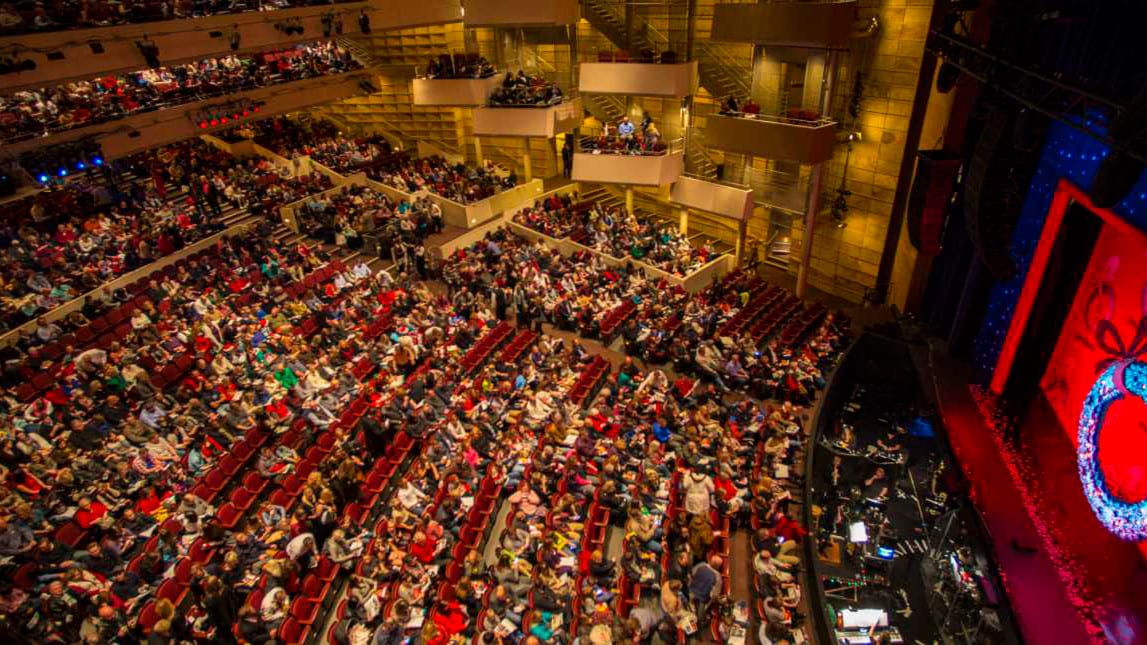 Colorado has a surprising theatre scene, especially considering it's tucked away from the lights of Broadway. The Denver Center for the Performing Arts is a top place to go in the city, with multiple venues and shows year round. There are numerous other venues in town ranging from large to small.
Performing arts range from a classic play, to opera and dance. Check shows just like you'd a concert and book your tickets in advance. Arrive early and silence your phone. Most theatres serve refreshments. There are a number of dinner murder mystery companies in town.
13. Comedy club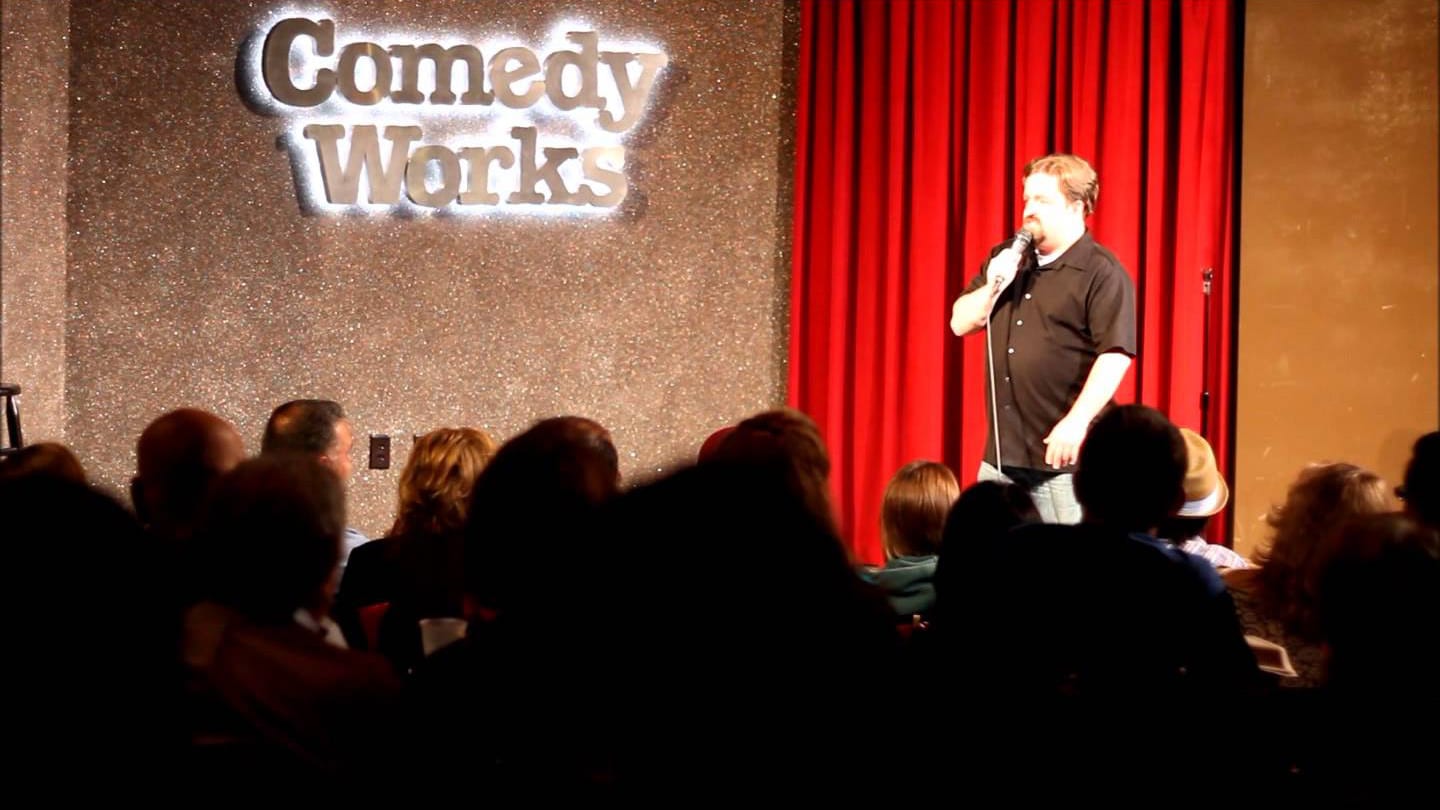 Laughter is the best medicine. It may be not the most interactive of events, however, there's certainly time for quiet chatting in between sets and laughs. There are a few comedy venues in the city, with additional stand-up comedy found in certain bars on certain days of the week.
Comedy Works has two locations: one downtown and one in Greenwood Village. Both offer intimate venues and host a rotating list of hilarious stand-up comedians. RISE Comedy and Improv Comedy Club are two other Mile High options.
14. Dancing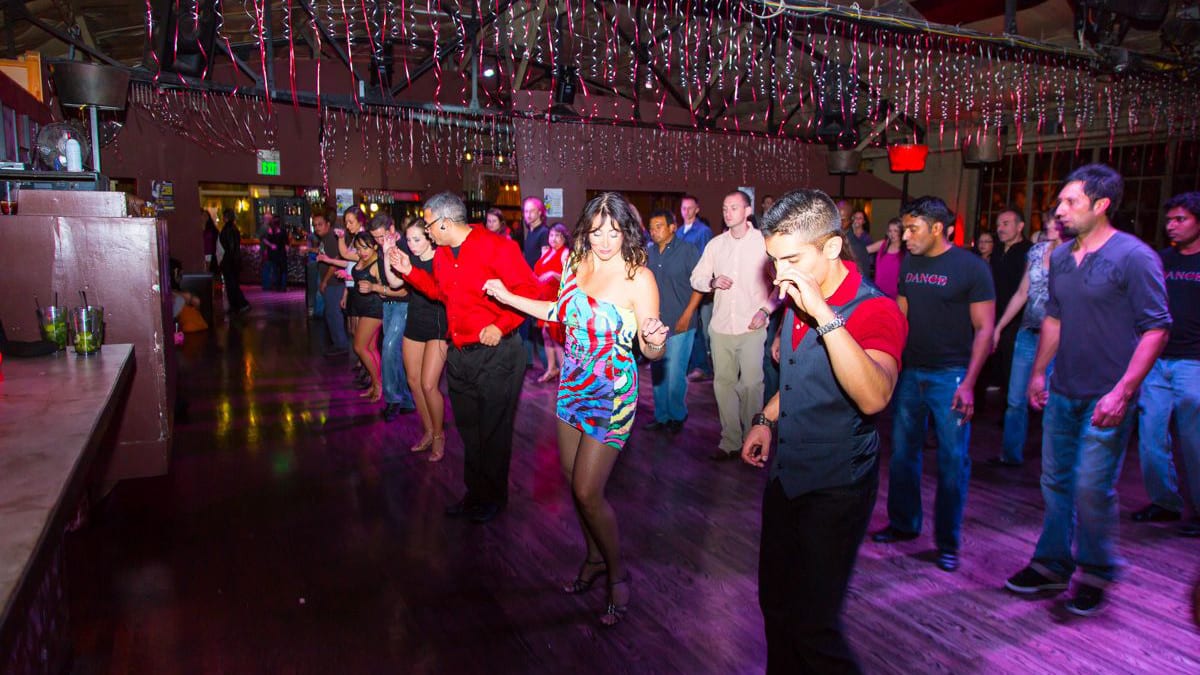 Two-step, salsa, hiphop, whatever you're feeling, you can find here. Denver's Grizzly Rose, Aurora's Stampede, and Downtown's Cowboy Lounge are all places to 2 step and line dance. Most places offered reduced or free entry early on, and a ladies night Wednesday or Thursday.
Latin dance lovers will find bachata and salsa at La Rumba on 9th Ave. It's open four nights a week for dancing, with dance classes daily. Many dance venues offer complimentary lessons if you're there early in the evening.
15. Speedways and monster trucks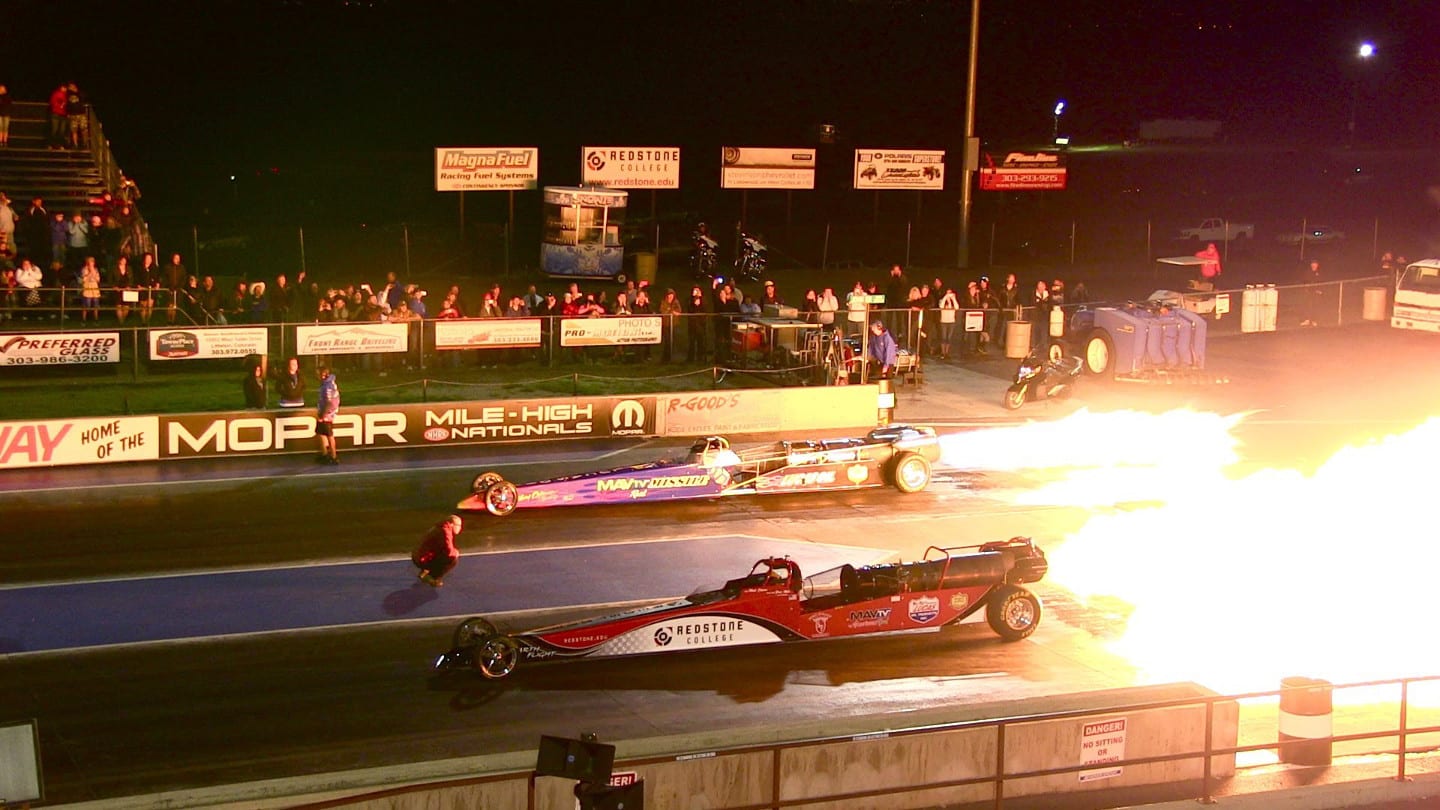 Tap into your inner redneck and attend a local racing event. Bandimere Speedway in Morrison hosts a myriad of races from late April to mid October. Stock car, funny car, and other hot rod races on a quarter mile drag strip.
There are other speedways and raceways around Colorado. Venues, such as the Pepsi Center, often host Monster Truck Shows for those looking for something different.
16. Indoor rock climbing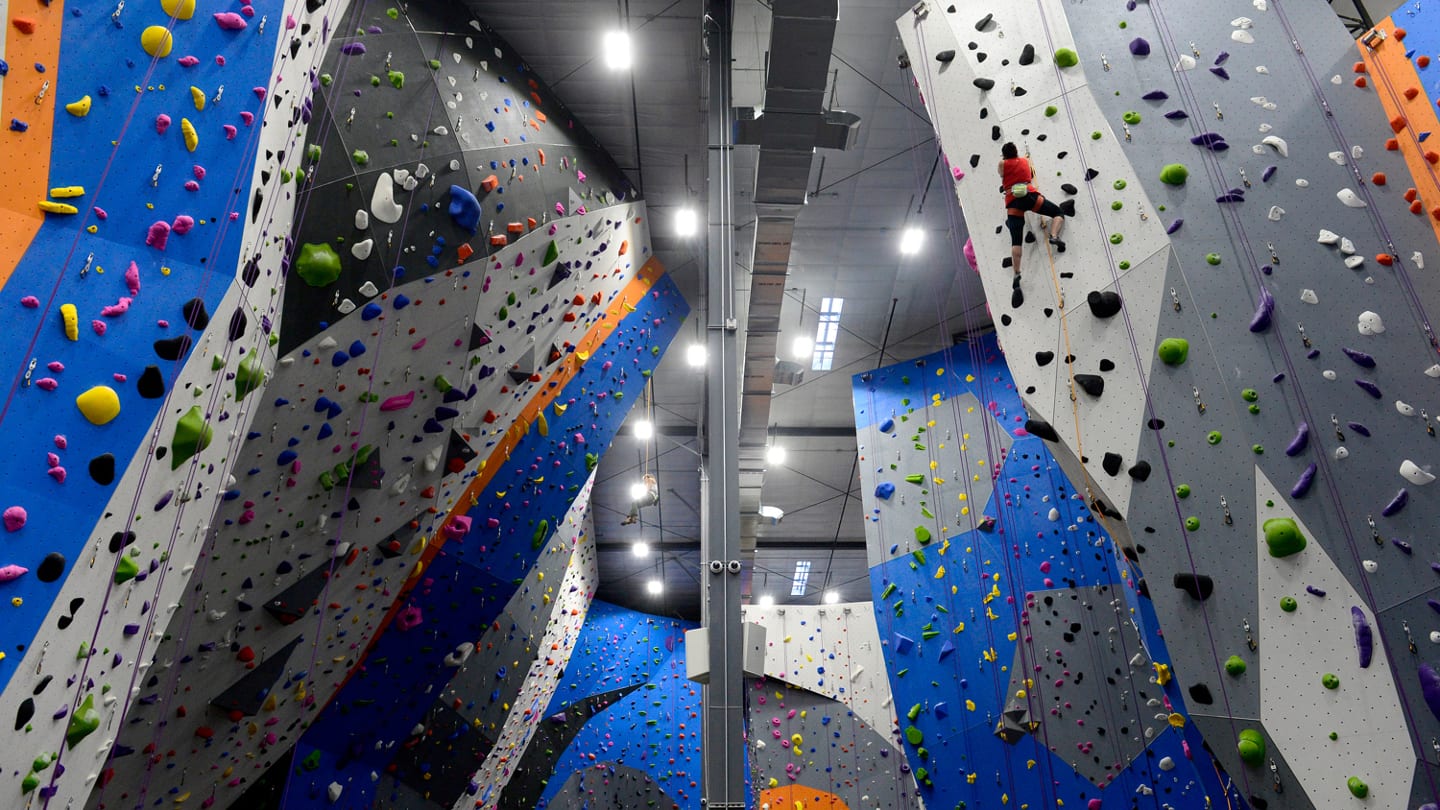 Whether you're an avid rock climber or a complete newb, indoor rock climbing can be for anyone. It's an exhilarating evening out sweating and testing your limits. There are a number of gyms around the metro area, each with showers and some refreshments for after.
Movement is a huge climbing facility, complete with bouldering, which requires no harness or ropes, and indoor climbing walls of all levels. They have three locations: Baker, RINO and Boulder. You could schedule a lesson, rent equipment, or just go bouldering with no experience.
17. Marijuana tours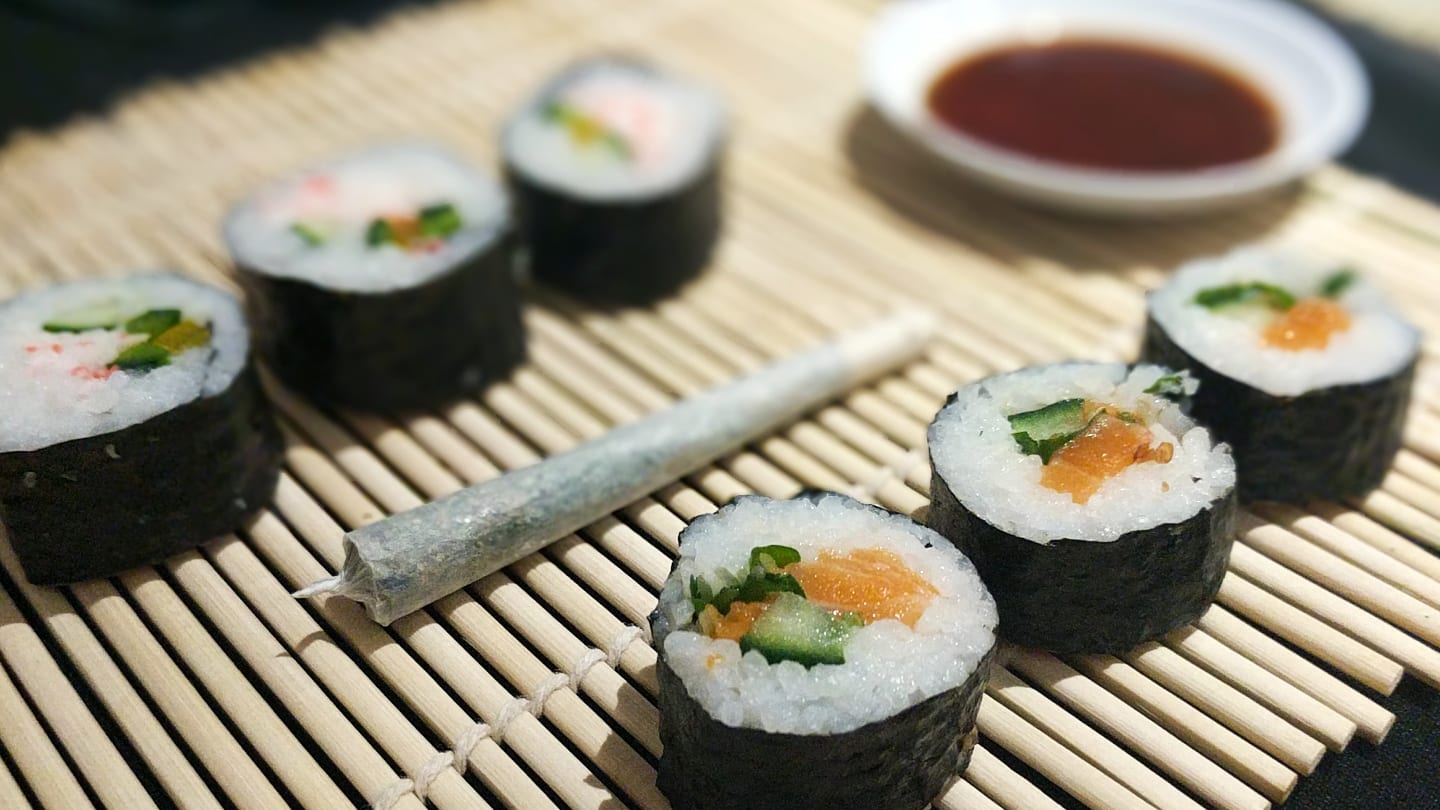 Colorado is the weed capital of the USA. There are still hoards of visitors coming for pot tourism. Even if you're a local, these behind-the-scenes tours of dispensaries and grow houses are entertaining and educational. Pot tours are available from a variety of companies in many Colorado towns, especially Denver.
My 420 Tours are the OGs of cannabis tourism in Denver, offering an insider's look into the world of retail marijuana. They offer a menu of special packages, some perfect for a date night, like: Buds & Beers: A Grow & Brewery Tour and Sushi and Joint Rolling Class.
18. Drive-in movie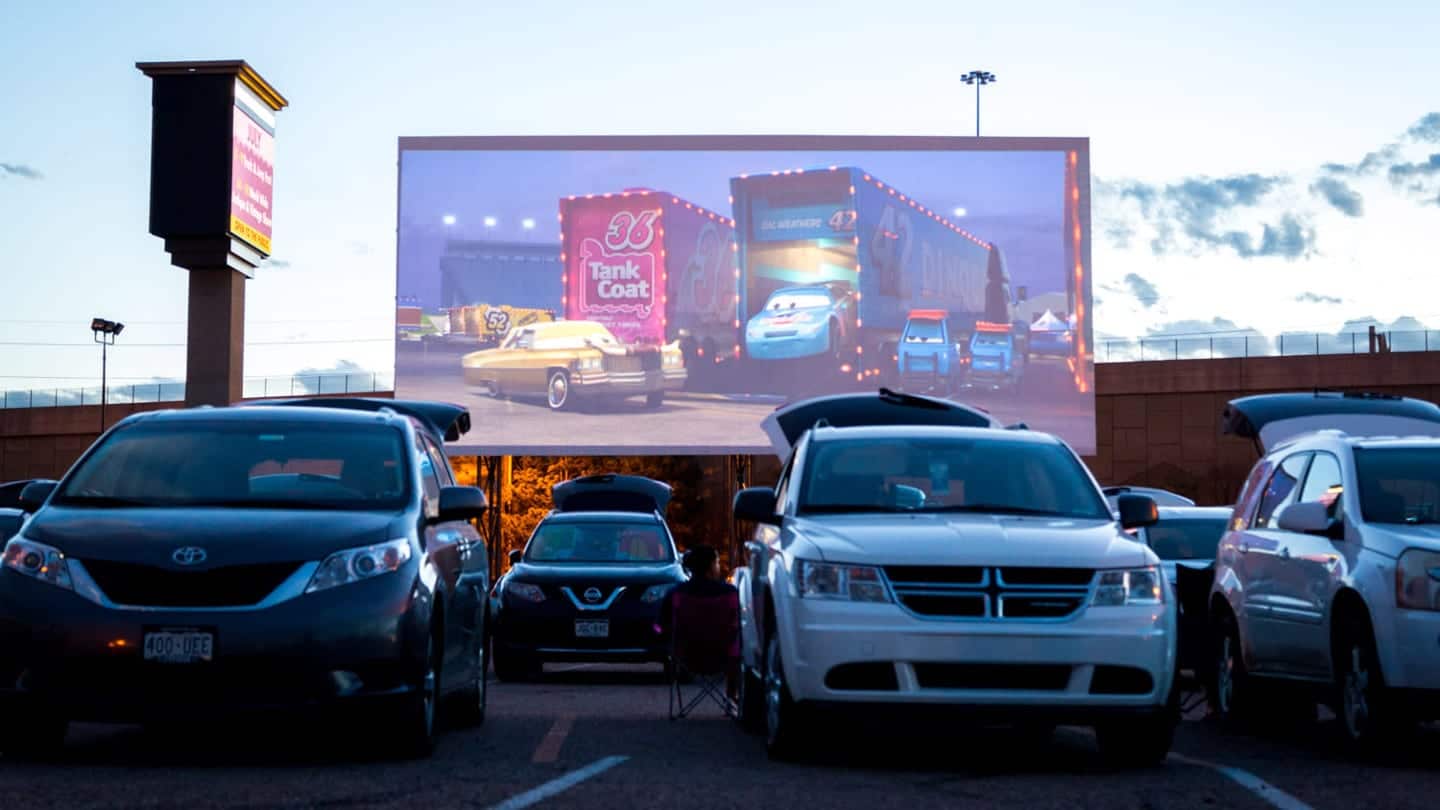 Drive-in movie theatres offer the privacy and comfort of your own automobile, along with a unique viewing experience and chance for asking plot questions without getting hushed. The Denver Mart Drive In on 451 East 58th Ave, Denver, showcases the latest Hollywood flicks, alongside the fan classics.
Commerce City holds the 88 Drive-In Theatre, which plays movies all summer long. You can find a snack bar there too. Their street address is 8780 Rosemary St, Henderson. Northern Coloradoans flock to Holiday Twin Drive In in Fort Collins. Open seasonally, on Fridays they offer first-run double features, plus a snack bar.
19. Casino night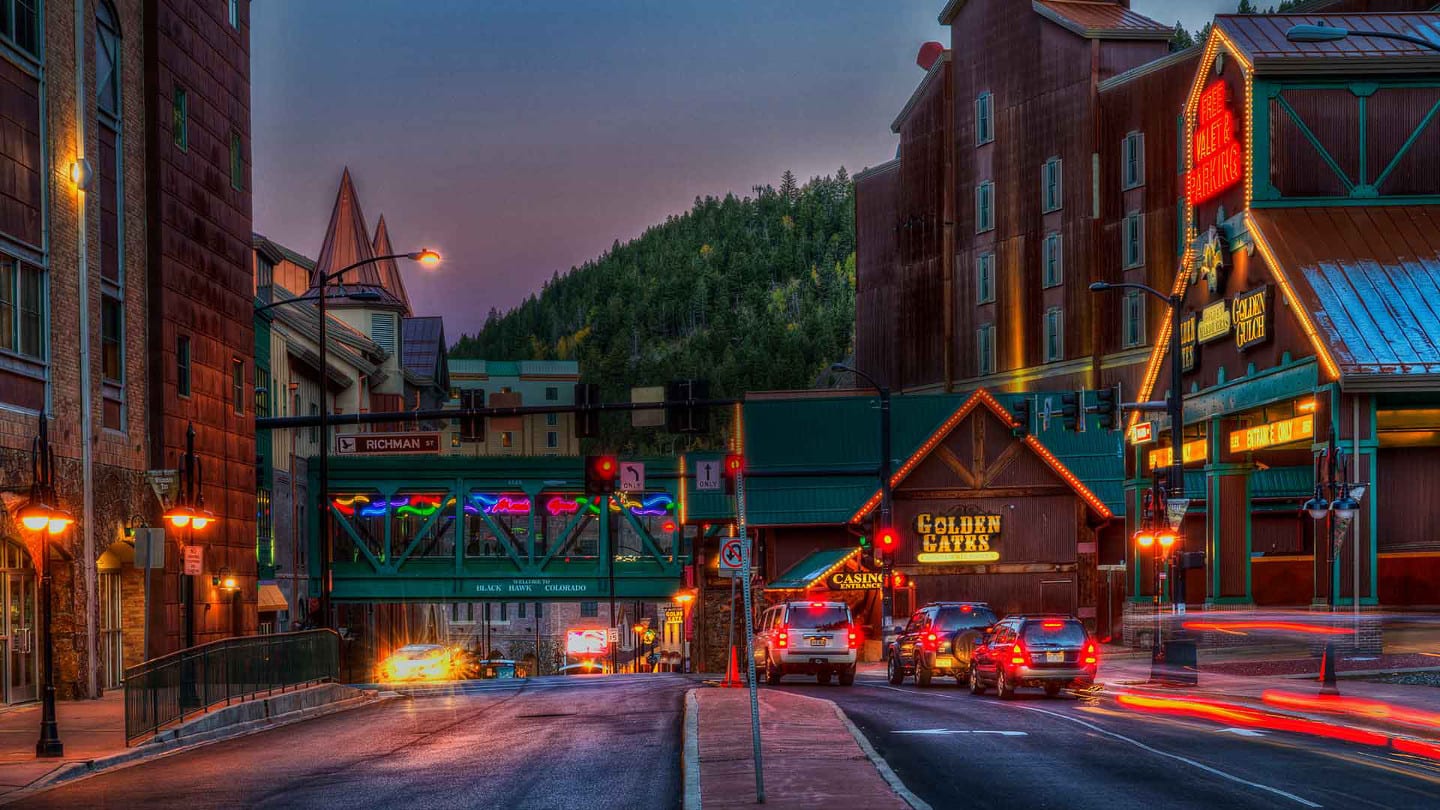 Black Hawk and Central City await 45 minutes from Denver. The capital city's two local casino towns are full of 24 hour gaming and hotels to accommodate. Take the trip up the hill via Central City Parkway, a gorgeous, and maybe lucky, route from I-70 exit 243 toward Central City.
Start the date out at Dostal Alley Casino, the local microbrewery, for a tasty pint and loose slots. After make your way slowly down to Black Hawk, stopping at whatever casino tickles your fancy. Plan something unexpected with a spa date at Ameristar, get in some craps, and if you're feeling lucky, book a room for the night.
20. Denver Cruisers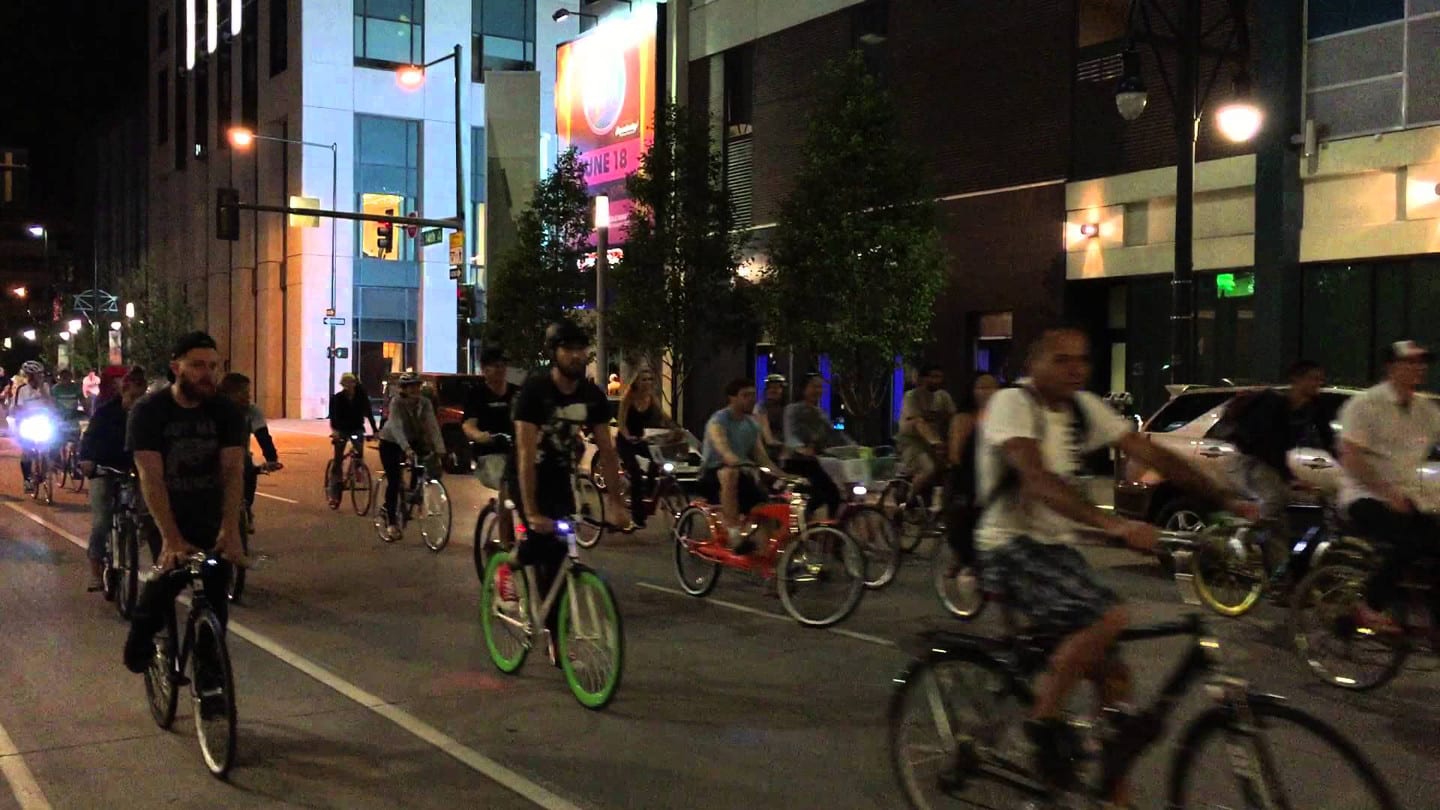 A wacky Wednesday night should be reserved for a neighborhood bike cruise. Every summer the Denver Cruiser Ride pedals out on Wednesday evenings, visiting a handful of area bars, before ending at an iconic point, oftentimes a circle of death.
Hundreds of people join in the May through September shenanigans. No invite is necessary, just show up, and make sure you know that week's theme. Costumes and flare are commonplace.
21. Wine painting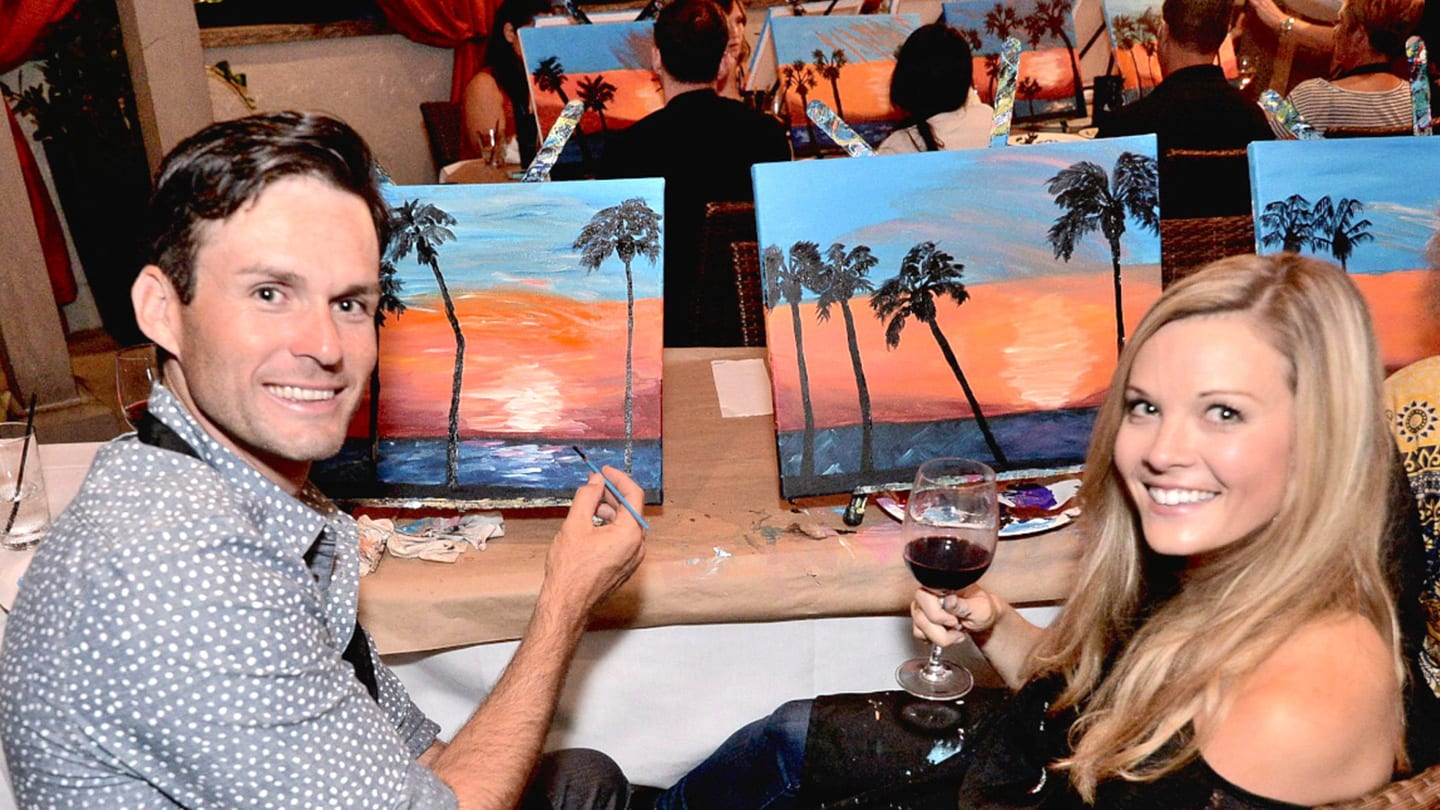 Let your inner Picasso! This is a trendy way to spend a night in the suburbs. Wine painting is available around town at places with funny names like: Sipping n' Painting and Pinot's Palette. Sip on your favorite vino, while expressing your creative side.
Sessions typically last a couple hours. Instructional classes are available, as well as a variety of events at the different wine studios. Pinot's Palette has a bottomless sangria on Saturdays from 4-6pm, a sure fire way to get these loose before sunset.
22. Axe Throwing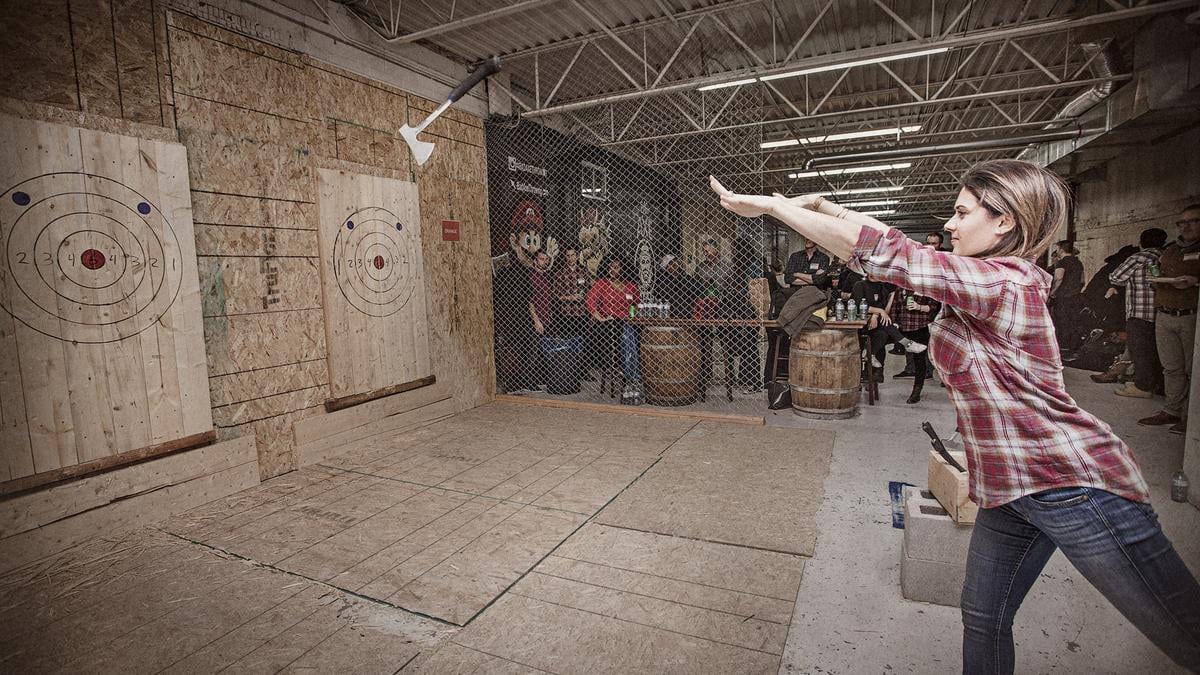 Sure, why not. This one is for the athletic couples out there that don't mind throwing a few axes around. In addition to longer group rates, Bad Axe Throwing in Denver nearby I-25 and Hwy 36 junction, 7338 Washington Street. They offer 1 hour walk-in time slots. They recommended checking in two hours prior.
The Downtown Art Gallery & Axe Room in the Ballpark neighborhood is both an art gallery and axe throwing room. For groups of 2 or more you can make 2 and 3 hour reservations. 1 hour walk-ins are possible when available. DAGAR is located next to Jagged Mountain Craft Brewery, so a pint is ready while you wait. You can play until 11pm on Friday and Saturday nights.
In addition to the above, be sure to keep an ear to the ground for special events happening around town. Festivals often celebrate into the evening hours, making them a perfect place to take a stroll, listen to some music, indulge in some craft food and drink.
If you're looking for outdoor recreation beyond the Mile High City, browse for things to do in Colorado, which lists everything from camping and hiking, to exploring a hidden hot springs.